The Rocky Mountains Colorado becomes an outdoor lover's playground. After spending 12 years here, I've come up with a complete list of the best places to visit in Colorado.
With countless gorgeous places to go in Colorado, you'll be spoiled for choice. The summers are all about soaking up the mountain life from gorgeous wildflower hikes to epically scenic drives. While in winter you can hit the slopes or explore red rock deserts.
Colorado in the spring lets you enjoy the lower-elevation blooms and experience the cities coming back to life. While visiting Colorado in the fall lets you enjoy color displays that are out of this world.
It doesn't matter if you're looking for the best day trips from Denver or if you're traveling to Colorado on a road trip, there's an amazing array of places to visit in Colorado this summer, winter, or fall.
When it comes to the best places to go in Colorado, I've got you covered. I've lived here for over 13 years and spent much of that time uncovering the most beautiful places in Colorado. In fact, I'm traveling nearly every week to bring you the places to visit in Colorado that will knock your socks off.
This year, travel through Colorado like a local, not a tourist. With this insider's guide to must-see places in Colorado for every season, you'll have an endless selection of amazing getaways to choose from.
The Local's Guide to the Best Places to Visit in Colorado
Get real, local travel advice. Not from a tourist board and not from just another blogger passing through. Fox in the Forest is the only spot to find honest, local Colorado travel advice.
This Colorado bucket list is designed to bring you the most scenic spots with the best adventures. In this guide you'll find:
The Must-See Places to Visit in Colorado Year-Round
This list of amazing places to visit in Colorado gives you plenty of unforgettable adventures no matter what your activity level is. You'll get local advice on the best activities at each spot, as well as any notable landmarks worth checking out.
1. Enjoy Denver's Social Scene
Denver comes alive in the summer with an array of entertainment from attending concerts to brewery hopping. Denver is all about celebrating small businesses. You'll find local shops, eateries, and a fun-filled urban environment.
The best part? The mountains are really close. You can easily head out on a day hike near Denver, then head to a hopping outdoor brewery in the afternoon.
Be sure to check out Denver's music scene. From live concerts at the Botanical Gardens to amazing nights at Red Rock Amphitheater, there's a show for virtually any taste.
With so many things to do in Denver, you'll be busy all summer long. Enjoy Denver's amazing outdoor eateries or head to a Rockies game. There are lots of ways to spend a weekend in Denver during the summer, winter, spring, and fall.
Best Seasons: All Year
2. Explore Rocky Mountain National Park
One of the best national parks in the USA, Rocky Mountain National Park has an array of things to do from world-class hiking to wildlife viewing. Get to the park early (like before the sun) for your best chance at spotting wildlife such as moose, elk, ram, bear, and more.
Be sure to check out one of Rocky Mountain National Park's best hiking trails (psst, it's one of the top national parks for hiking) to get those classic mountain views. The Emerald Lake hike is a popular choice for beginner hikers, while those that want a challenge should check out the stunning Sky Pond Trail.
Afterward, drive the scenic Trail Ridge Road – one of Denver's most scenic drives. You'll gain the Continental Divide, where the rivers of America flow either east or west depending on what side you are on. Plenty of pullouts exist to soak in those gorgeous alpine views.
Local Tip: Reservations are required for the park. Wildflowers bloom from early July through mid-August so plan your visit accordingly.
Related: Visiting Rocky Mountain National Park Like a Local
Best Seasons: Mid-June through the end of September. Trail Ridge Road closes over winter, making it difficult to see the entire park in one day, but Rocky Mountain National Park in winter is a real treat!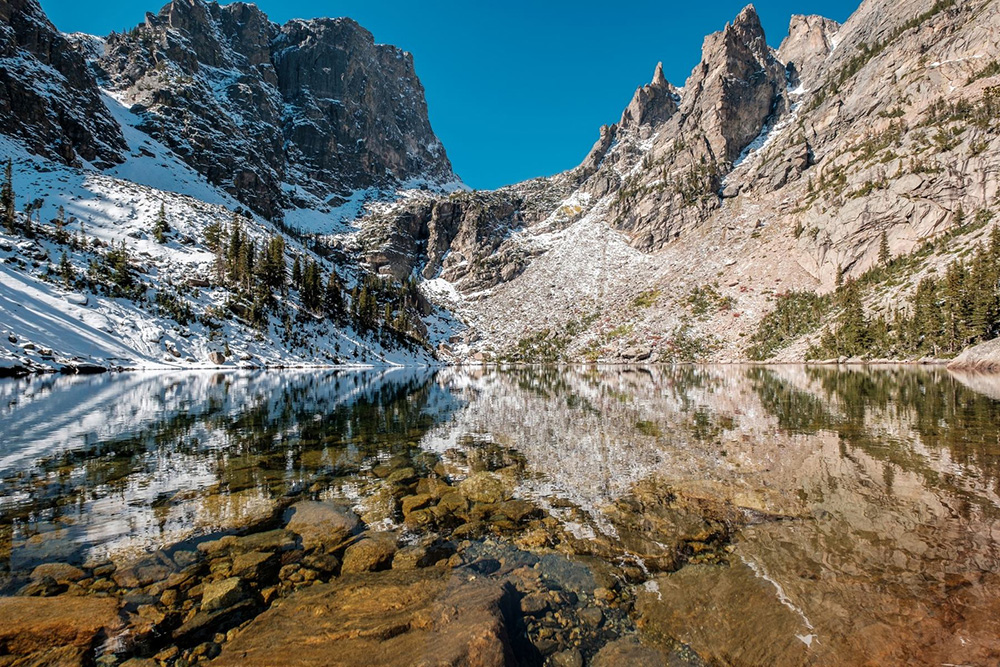 3. Go for a Bike and Brew Tour in Fort Collins
The best places to visit in Colorado in summer aren't just the mountains, but the cities are filled with fun too. Rent a bike (or bring your own) and bike from brewery to brewery in Fort Collins. You can opt to ride on your own terms or join the annual Tour de Fat bike parade at the New Belgium Brewery. The event is free and makes for the perfect party for beer drinkers.
If drinking isn't your thing, then check out the Horsetooth Reservoir for a fun-filled day on the water. As one of the best Colorado Lakes, it's a must-visit. You can even rent a boat for the day to tube, ski, or relax.
Alternatively, you can drive the Poudre Canyon or just hang in downtown Fort Collins and try the local food. All in all Fort Collins makes for a relaxing day trip from Denver.
Best Seasons: Spring through Fall
4. Experience the Garden of the Gods
One of the most beautiful places to visit in Colorado in summer, the Garden of the Gods defies gravity with towering sandstone spires that shoot directly out of the ground. Home to some of the best hiking trails in Colorado Springs, Garden of the Gods is a place to get lost in.
Various hiking trails circumnavigate the rock formations. There are paved trails for wheelchair access and easy hikes that are totally kid-friendly. As one of the easier hikes near Denver, this is a must-see spot.
Local Tip: It gets absolutely smashed here – even during the week. Arrive before 7 am if you want some solitude.
Best Seasons: Year-round. Summers are exceptionally busy, so avoid the summer if you want to beat the crowds.
5. Experience the Alps of America in Ouray
Arguably one of the best mountain towns in Colorado, Ouray needs to be on your list of places to visit in Colorado this summer. Nestled in the heart of the San Juan Mountains, this quintessential mountain hideaway is surrounded by some of the most gorgeous scenery in the state.
Known for its plethora of scenic drives (most requiring a 4×4 vehicle) and stunning mountain hikes, there is a lot of Ouray activities. An absolute must-do activity is to drive the Million Dollar Highway or the San Juan Scenic Byway.
Known as one of the most beautiful roads in the world, the Million Dollar Highway descends from the top of the mountain pass all the way down to Silverton – Ouray's sister town. Gawk at the absolutely unbelievable views and marvel at the unique engineering that allows avalanches to sluff right off the road.
Local Tip: Hit up this road around 8 am to avoid tour busses and crowds and capture that brilliant morning light.
Other notable drives in the area require a high-clearance 4×4 vehicle. Or get frisky and rent a side-by-side for the day (my preferred way to explore). Be sure to drive:
Black Bear Pass
Ophir Pass
The Alpine Loop (Engineer Pass and Cinnamon Pass)
Best Seasons: Mid-June through end of September. Ouray in the winter is home to hot springs and the Ouray Ice Park, where you can try ice climbing.
6. Uncover the Beauty and Culture of Colorado Springs
Often overlooked as a military town, Colorado Springs is actually a happening place. Located just 1.5 hours from Denver, there's a lot to see. Of course, you should visit Garden of the Gods, but there are plenty of other Colorado Springs hikes to explore too.
Drive or take the narrow gauge train to the top of Pike's Peak a famous Colorado 14er. Go on a tour of the Airforce Academy and see the historic buildings. At the end of it all, you can walk around the grounds of the famous (and beautiful) Broadmoor Resort. Catch a bus from there to visit Seven Falls, one of the most beautiful waterfalls in Colorado.
Best Seasons: Year-round.
7. Drive to the Top of Pikes Peak
Driving to the top of Pikes Peak is a bucket list item for any trip to Colorado. There's nowhere else on earth where you make your way up perfect tarmac turns to the top of a 14,000-foot peak. Pack your camera because the views are EPIC.
There's a car race up this precarious road every year. It makes my knuckles turn white just thinking about it!
Local Tip: This drive makes for one epically beautiful fall drive!
Best Seasons: Mid-June through mid-October
8. Hike to a Fairy Hideout at Hanging Lake
There is one Colorado lake that stands above the rest and that's Hanging Lake. Located just outside of Glenwood Springs along I-70 you'll find the start of the Hanging Lake hike. This easier, straightforward hike takes you to a magical place that honestly blew me away the first time I saw it.
It's almost as if you expect gnomes and fairies to appear out of the hillside. The gentle trickle of water, tranquil clear waters, and birds create a magical scene. You'll need a permit to embark on the hike, but it's worth the little bit of homework to reach this incredible place.
Best Seasons: May through November
9. Enjoy the Mountain Vibes of Breckenridge
One of the largest mountain towns in Colorado is Breckenridge. Often called Breck by locals, this happening spot has all the mountain fun in one convenient location.
From an amazing lineup of Breckenridge hikes, mountain biking trails, and even a large lake (the Dillon Reservoir) nearby there's a lot of things to do in Breckenridge. Kids and families should make a pit stop to check out the Breckenridge Troll – he lives in the forest and is truly a work of art.
There are plenty of single-track rides for avid MTBers from the easier Lower Flume to the difficult Wheeler Pass. Water lovers should opt to kayak, SUP or even sail the Dillon Reservoir. No wake is allowed and you can't swim, but the gorgeous lake views are certainly unique to Breck.
If you visit Breckenridge in winter you can enjoy everything from world-class skiing to dog sledding. Snowshoeing in Breckenridge is also a popular pastime, just be sure you're hiking on a trail that's safe from avalanche terrain.
Best Seasons: Year-round
10. Catch a Concert at Red Rocks Amphitheater
There's a reason why so many world-famous artists head to Red Rocks Amphitheater every year. This naturally occurring amphitheater is surrounded by beautiful red rock formations. It's incredibly scenic and makes for an epic concert backdrop.
You can easily scope out Red Rocks during your time in Denver. In fact, if you can't catch a show, it's free to visit during the day. Certainly a worthwhile trip to see this unique concert venue.
Best seasons: May through September
11. Experience Luxury and Mountain Beauty in Aspen
Certainly a unique mountain town, Aspen is all about being seen. With posh designer stores and exclusive clubs, this is the upper crust of the mountains. Of course, you can enjoy views of the Maroon Bells without being dressed to the nines, but you'll want to pack some fancy threads.
Other activities include taking a ride up the scenic Silver Queen Gondola, catching a live music show at Belly Up Aspen, or indulging in a 5-star culinary experience. Of course, you can shop til you drop too!
For more exotic adventures go for a hot air balloon ride or even go paragliding to see this beautiful mountain town from the air. Or you can learn to fly fish on the Roaring Fork River.
Best Seasons: Summer, fall, and winter
12. Take a Scenic Drive
Every local knows the best scenic drives in Colorado. If you're looking for a low-key way to get jaw-dropping mountain vistas, then drive one of Colorado's scenic byways.
You don't need a special vehicle to drive any of these scenic roads, which is what makes them ideal for the everyday adventurer. If you're planning to visit multiple places in Colorado, then you can plan your route through a few of these incredibly scenic drives.
Trail Ridge Road in Rocky Mountain National Park
The Million Dollar Highway in the San Juan Mountains or Engineer Pass
Monarch Pass en-route to Crested Butte
Mount Evans Scenic Byway outside of Idaho Springs
Independence Pass to Aspen
Top of the Rockies Byway near Leadville
Best seasons: Summer and fall
13. Spend the Weekend in Estes Park
Many people choose to stay in Estes Park while exploring nearby Rocky Mountain National Park. But there are a lot of other reasons to stay in Estes too. First, there is a wild herd of elk that virtually hang out all around town. You can visit the spooky Stanley Hotel – an inspiration for the movie The Shining.
You'll never have a lack of things to do in Estes Park. Take a glass blowing class in town and learn how to make various objects from molten glass. Or satisfy your sweet tooth at one of the many candy shops.
Don't forget to strap on your boots and check out some of the beautiful hikes near Estes Park. Afterward, drive the Peak to Peak Highway for some scenic mountain views (sunset recommended).
Best seasons: Late spring through late fall.
14. Visit the Scenic Maroon Bells
One of the most iconic vistas in Colorado is the scene from a fairytale. Take the Maroon Bells Scenic Loop to Crater Lake in order to catch a glimpse of this iconic viewpoint. Keep in mind you'll need to make advanced reservations to park, or book a seat on the shuttle to reach nearby hiking trails.
Local tip: This trail gets SMASHED in the summer, it's more like a conga line. Come prepared and leave it better than you found it. To avoid the crowds, head out before dawn and catch a sunrise over Crater Lake.
Best seasons: Summer and fall. Winter requires a long hike in
15. Check Out the Iconic Glenwood Springs
One of the more unique places to visit in Colorado is Glenwood Springs. Nestled in the steep walls of Glenwood Canyon, this iconic Colorado town features a scenic gondola, hot springs, and an adventure park.
There's a lot to see and do, making it one of the best weekend getaways in Colorado. Nearby Hanging Lake is a must as are the famous hot springs (Iron Mountain and Glenwood Springs) that give the town its name.
The Glenwood Caverns Adventure Park is great for families who want some high-flying fun with a view. Rafting, SUPing, fishing, and kayaking are other popular choices with the nearby Colorado River. And with steep canyon walls nearby adrenaline can paraglide and parachute the canyon.
Best seasons: Year-round
16. Spot Dinosaurs
Take a step way back in history at Dinosaur National Monument. Here you can see real dinosaur footprints and fossils right in nature. The visitor's center is a really cool place to learn about the big creatures that once inhabited the earth. Dinosaur National Monument is one of the must-see places in Colorado for fossil lovers.
Best seasons: Fall, winter, and spring. Summers are exceptionally hot.
17. Relax in Downtown Golden
If spending time in downtown Denver isn't your thing, why not post up in the relaxing town of Golden. You can go sport climbing in Clear Creek Canyon or check out one of the many breweries in town.
Make a splash tubing down Clear Creek or go on a rafting adventure in nearby Idaho Springs.
There's an American Mountaineering Museum where you can learn all about Colorado's favorite pastime – climbing mountains.
Don't forget to catch a sunset on top of Lookout Mountain. Drive to one of the many pullouts where you can see nearby Denver bathed in the afternoon light. Continue onwards through Evergreen to take on the scenic Lariat Loop – a mellow scenic drive right near Golden.
Downtown Golden has a relaxed, small western-town feel and offers up plenty of awesome places to eat and drink. Personally, I'm a huge fan of the Sherpa House nearby the Colorado School of Mines.
Best seasons: Year-round
Where Should I Go in Colorado this Summer?
I often get asked by newbie locals and visitors alike about where should you go in Colorado in summer?
The answer largely depends on what you'd like to do. Are you interested in getting deep into nature? Then Vail, Ouray, Silverton, and the Sangre de Cristo Range are for you.
More interested in mountain vibe life? Then scope out Breckenridge, Aspen, Telluride, and Georgetown. More urban adventures can be had in Boulder, Denver, Colorado Springs, and Fort Collins are excellent.
If your mission is to beat the crowds, then you must follow the golden rule. Get up and at it EARLY. My biggest piece of local travel advice is to see at least one sunrise in the mountains. It's a sure way to get solitude at some of the hottest places to visit in Colorado this summer.
Local Tip: I-70 weekend traffic is real. Budget at least an extra 45 minutes if you plan on taking this road on a Friday or Sunday.
Is Colorado Cool in Summer?
Colorado spans many climate zones, but in general, when the sun is out, it's hot! However, higher elevations do see cooler weather, so you'll want to pack a puffy jacket, gloves, beanie, and raingear (we'll get to the rain in a second). If you're planning on camping, bring cold-weather clothing – it gets a bit chilly at night.
One important thing to know about visiting Colorado in summer is the annual monsoon season. From about mid-June through beginning of August, quick and violent thunderstorms plague the mountains. These near-daily storms present quite a lightning threat to hikers, campers, and backpackers.
Expect the monsoon rains to come out of the west starting around noon. Storms tend to be quick, lasting about 30 minutes or so, but very violent. Heavy rains, hail, thunder, and lightning are common. Always check the weather before heading out and keep an eye on the weather so you don't get caught.
The eastern plains, Western Slope, and the Front Range (think Fort Collins, Denver, and Colorado Springs) frequently see summertime temperatures ranging from the 90s to 100s. In the mountains you can expect the temperatures to range from:
June: Highs in the mid-60s, lows in the 50s
July: highs in the mid 70s, lows in the mid 50s
August: Highs in the low 70s, lows in the low 50s.
The Best Places to Visit in Colorado in Summer
If you're looking for where to go in Colorado in summer, then look no further than the Rocky Mountains. July is high time for wildflower blooms in the high country, making it an amazing time to enjoy some of the best hikes in Colorado. Camping and water sports are also summer activities in Colorado.
Local Tip: Be sure to check out the 'Places to Visit in Colorado Year Round" segment towards the end of this post for more summer-y recommendations.
18. Camp, Hike and Raft in Buena Vista
As a long-time favorite mountain town among locals, Buena Vista (pronounced "bew-na vista") offers up plenty in the way of hiking, camping, and even white water rafting.
Book a half-day rafting trip down the Browns Canyon and then go for a stunningly scenic hike in Buena Vista at the base of the Sawatch Mountains. Afterward, take a relaxing dip in the Princeton Hot Springs for the ultimate classic Colorado day. Cap it all off with a campfire at one of Colorado's best free campsites.
With plenty of things to do in Buena Vista, you can spend several days exploring the area. In fact, it's one of the best weekend trips from Denver.
One of the best things to do in Colorado during the summer is to pack up the car and head for the hills. Spend a day (or weekend) exploring some of the best mountain towns in Colorado. There's a wide array to choose from, but a few local favorites are:
Ouray, Colorado. Nestled at the start of the Million Dollar Highway and home to some of the best Jeep trails in the state.
Breckenridge. Easy accessible as a day trip from Denver with plenty of mountain fun including the famous Breckenridge Troll
Crested Butte. A favorite amongst mountain bikers and wildflower lovers.
19. Drive the Million Dollar Highway
If you want a bit of a thrill while you pick your jaw up from the ground, then take a spin along the Million Dollar Highway. Hands down one of the best places to visit in Colorado. The 25-mile stretch of tarmac winding from Ouray to Silverton is an absolute must-see.
But keep your eyes on that ribbon of road – since many parts don't have any guardrails. Precarious drops into steep canyons and towering red-stained peaks make this one of the top scenic drives in the world.
July is an amazing time to head out for a drive along this scenic track since the contrast of reds, greens, and whites is just to die for.
Local Tip: Head out about 2 hours before sunset or an hour after sunrise for the best lighting.
20. Durango, Colorado
Located in the southwest corner of the state, the laid-back town of Durango has quite a bit to offer. As one of the top places to visit in Colorado in summer, you can enjoy several amazing Durango hikes, scenic drives, and more. A few must-do activities include:
Taking the narrow guage railway to silverton
Mountain biking at the Purgatory Bike Park
Check out the funky art galleries
Nosh at the food trucks on 11th Street Station
Tube or raft down the Animas River
21. Mountain Bike in Crested Butte, Colorado
As one of the best places to go on vacation in Colorado, Crested Butte is a gem of a mountain town. Boasting incredible scenery, this charming mountain town is not to be missed. During the summer months, there is an array of top-notch mountain biking trails to explore.
Not a biker? No problem! Most of the nearby trails double as hiking trails too. You can enjoy some of the top wildflower hikes in Colorado during your stay and see the best Colorado wildflowers.
Or you can opt to relax in town, which is just too cute not to explore. Plenty of local shops and eateries await you. Don't forget to snag a slice at Secret Stash!
Horseback ride this iconic landscape and fit right in with the variety of nearby ranches. Paddleboarding is another popular choice – where you can sup the gentle Slate River.
22. Georgetown
Conveniently located right near I-70 Georgetown is one of the top places to visit in Colorado during summer. A perfect pit stop for your Colorado road trip or a great day trip from Denver, Georgetown has that classic mountain town feel without being too far off the beaten path.
Notable activities include driving the famously scenic Guenella Pass, one of the most beautiful scenic drives near Denver. From here you can hike or try the challenging Mt. Bierdstadt Peak. Camping is also available along the road in designated sites.
While the historic downtown has lots of cute shops and delicious eateries (make a stop at the bakery, thank me later). Gold mine tours and gold panning are also popular choices for families with kids.
23. Hike to an Alpine Lake
One of the best places to go in Colorado in summer is the high alpine. The best alpine lake hikes in Colorado can be found throughout the state. Simply pick one that suits your ability and soak in the views. Bonus points if you get up early and catch a sunrise.
A few local favorites are:
Local Tip: Start your hike early to avoid afternoon thunderstorms. Getting caught above treeline during a thunderstorm is extremely dangerous. People die every year from lightning strikes so plan to be below the trees before noon.
24. Leadville
An often-overlooked town in favor of more crowded spots on this list, Leadville is a great home base for exploring the incredible Sawatch Mountain Range. Located super-close to Twin Lakes (excellent fishing and camping) this top Colorado destination has a real local feel.
Not to mention you can drive the paved Independence Pass for sky-high views. Or hike your way to the roof of Colorado, Mt Elbert, 14,439 feet above sea level.
Reasonably priced AirBnBs and easy access to fishing, hiking, ATVing, scenic drives, and white water rafting make Leadville an amazing Colorado location.
25. Red Feather Lakes Area
Located in a remote area of the mountains, near the border with Wyoming, the Red Feather Lakes area is the ideal place to enjoy outdoor activities without the hustle and bustle of the central Rocky Mountains.
With plenty of lakes, you bet that there is ample fishing, paddling, and lakeside recreation available. Rent a house on the shores and enjoy the tranquil waters while you unwind in this natural retreat.
26. White Water Raft at the Arkansas Headwaters Recreation Area
Beat the heat with this splash-tastic Colorado summer activity. Head to Browns Canyon for some epic fun on the water. There are a lot of white water rafting opportunities around Buena Vista for families and seasoned paddlers alike. Browns Canyon standard route is jaw-droppingly beautiful while the Numbers will give you a run for your money with class V rapids.
Local Tip: You can base yourself in Leadville, Buena Vista, or even Salida for this amazing adventure.
27. Drive the Alpine Loop
Easily one of the most scenic drives in the USA, the Alpine Loop is an absolute must on any Colorado bucket list. This 92-mile 4×4 road loops from Silverton to Lake City and back again through the utterly scenic San Juan Mountain Range.
Crawl your way over 2 alpine passes – Cinnamon Pass and Engineer Pass for jaw-dropping views and drool-worthy mountain scenery.
This trip is best done on a side-by-side (you can rent one at Rock Pirates for the day) or as a 3-day trip in a 4Runner, Jeep Wrangler, or equivalent. A truly classic experience, the Alpine Loop is a perfect thing to do during the summer in Colorado.
28. Summit a Colorado 14er
Many people seek to summit a 14,000-foot peak in their lifetime. Colorado's 14ers are well-sought-after summits. The easiest Colorado 14ers are still a real challenge and it's important to be properly prepared for a 14er hike. However, if you're in great hiking shape, you start early, and take your time, you should be able to make it to the top.
Local Tip: The best places to find great beginner 14ers are outside of Breckenridge (Mt Quandary), the Buena Vista area, and there are a few 14ers near Denver that are great for beginners – like Grays and Torreys Peak.
29. Ride ATVs in Steamboat Springs
Mostly known as one of the best ski resorts in Colorado, Steamboat Springs is actually a pretty fun place to visit in Colorado during the summer too. There's ample fishing, ATVing, and even a rodeo.
Rent ATVs and go exploring through the Flattops with a unique ride! Afterward, float down the Yampa River or try your luck at fly fishing.
In the evening you can catch the Steamboat Springs Pro Rodeo (a long-time pastime) or go for a soak in the Strawberry Park Hot Springs, one of the top hot springs in Colorado.
30. Camp at the Great Sand Dunes National Park
In the southern part of the state, you can walk on the biggest sand dunes in North America. Coming seemingly out of nowhere, these tall mountains of sand are something of legends. Home to some of the best camping in Colorado, Great Sand Dunes National Park is well worth a visit.
If you're lucky, you can even score a permit to backpack to Star Dune, one of the top backpacking routes in Colorado.
What makes the sand dunes so unique is that the sand actually bubbles out of the ground. The origin spring is inaccessible since it's sacred to the Navajo.
This area is also a designated Dark Sky Territory – meaning there is no light pollution blocking your view of the Milky Way. Stargazing is incredible here.
Local Tip: Campsites are first-come-first-serve and fill up fast! Get here early or come during the week to reserve your spot.
31. Grand Lake
Arguably one of the best Colorado Lakes, Grand Lake is where to go in Colorado if you're looking for a big body of water. Grand Lake and Shadow Mountain Lake are two sister lakes in the heart fo the Rocky Mountains.
If you're looking for access to west Rocky Mountain National Park, then Grand Lake is an excellent home base. Aside from the park, you'll also be able to enjoy:
The Indian Peaks Wilderness: hiking and camping
Boating
Fly fishing
Trail Ridge Road
Horseback riding
Golf
And more!
Local Tip: If you've only got 4 days in Colorado, a stopover at Grand Lake is an excellent place to soak up some watery views!
32. Nederland
Known as Ned by locals, Nederland is one of the top places to go in Colorado if you're looking to escape the city, but feel like you're in the wilderness.
This tiny mountain town is home to a lot of the best hikes in Nederland, including the 4th of July Trailhead. Here you'll find unbelievable high-alpine hikes that deliver all of the incredible views you could ever ask for.
Offering even more beauty than the nearby Rocky Mountain National Park, Nederland is the gateway for the Indian Peaks Wilderness. Be sure to check out the Brainard Lake Recreation Area (advanced timed-entry permit required), Hessie Trailhead, and Moffat Tunnel area.
33. Ride the Narrow Gauge Railway in Silverton
Take an old narrow-gauge train from Silverton to Durango on a scenic journey through the stunning San Juan Mountains. This rail line is a fan-favorite among backpackers since you can hop right off the train and straight onto one of Colorado's best backpacking trails. Now there's an adventure of a lifetime!
34. Check Out a Festival in Telluride
Telluride is one of those places that's so picture-perfect, you might just never wipe the smile off of your face. Aside from amazing Telluride hikes, this town is also known for its lineup of summer festivals.
Virtually every weekend there's something fun going on in this isolated mountain town. From the famous Telluride Bluegrass Festival to outdoor movie nights, you'll want to check out Telluride this summer.
Other nearby activities include a trip to Ouray, Orvis hot springs, 4×4 driving, mountain biking, and the Telluride via Ferrata.
35. Gawk at the Wildflowers in Vail
Located along the I-70 Corridor, there are a variety of easily accessible Vail summer activities to enjoy. Many people love to hit one of the most scenic Vail hikes with the company of a llama – yes llama hikes are a bit of a thing in Vail.
See stunning views on the Eagle Bahn Gondola. You'll get sweeping views of the rugged Gore Range (very difficult to access) and the nearby Holy Cross Wilderness. Bring (or rent) a mountain bike and ride down the steep ski trails with this high-flying summer adventure.
Vail is also home to amazing Colorado wildflower hikes if you're willing to put a little butt-busting effort to get out there. Booth Lake is a personal favorite. But if you don't want a grueling hike, you can spot the blooms at the Vail Nature Center and Betty Ford Alpine Gardens too.
Road bikers should pack their wheels – you can actually bike along paved paths that wind their way through beautiful scenery. Or ride up and down Vail Pass and feel the alpine wind in your hair.
36. Black Canyon of the Gunnison
In total, Colorado is home to four amazing national parks. And the Black Canyon of the Gunnison is easily one of the most impressive.
In fact, during your time here you can stand in awe of two thousand-foot, granite, canyon walls that plummet down into the river below.
Accordingly, this unique natural landscape makes this an ideal spot for Black Canyon of the Gunnison hikes, climbing, rafting, and more.
So, be sure to do the Rim Drive and admire sweeping panoramas from Chasm View, Painted Wall, Pulpit Rock, and Sunset View.
Afterward, use the East Portal to drive into the inner depths of the canyon as you navigate various switchbacks.
However, because it's a smaller park, it doesn't get the number of visitors that RMNP gets. Therefore, it's a great place to visit if you love sweeping views but hate crowds.
37. Silverton
This low-key mining town is a little rough around the edges. But that's okay since there's something about the dirt roads that keeps pulling you in.
So, Silverton is a great little spot to explore – especially since it's right near Ouray and well-located along the Million Dollar Highway.
Therefore, take some time to explore the downtown since it has a wealth of charming buildings that date all the way back to its mining days.
Afterward, hop aboard a narrow-gauge train and take that all the way to Durango as you enjoy epic views of the San Juan Mountains.
38. Palisade
Located right near Grand Junction. Palisade is a great place to go if you love wine and want to see what Colorado's wine country is all about.
This place is also known for its incredible peaches. So, be sure to stop by a local farm and grab some before visiting Carlson Vineyards Winery and Varaison Vineyards and Winery.
You can also make some fuzzy friends at Suncrest Orchard Alpacas and then admire some local art at the Blue Pig Gallery.
Places to Visit in Colorado in Fall
Fall in Colorado is an unbelievable time to experience the mountains. The wildly hot temperatures of summer have drifted far away from both the Front Range and Western Slopes, making it a great season for exploring virtually all of Colorado.
If you're looking for where to go in Colorado in fall, you literally can't go wrong. The top fall activities in Colorado can be found all over the state thanks to the mild weather.
Local Tip: Late fall can be a bit dull in the mountains. High winds, dead flora, and closed roads can make the high alpine a little unpredictable, so always check local conditions before you go.
When Do the Leaves Change in Colorado?
If you're interested to know when the leaves change in Colorado, it's important to remember that these brilliant displays fluctuate every year. Rain patterns play an important role.
However, if you time it just right, you'll see the mountainsides light up in brilliant seas of yellow, orange, and red.
In general, the aspens in Colorado change colors around the third weekend in September, plus or minus a week depending on latitude and weather.
39. San Juan Skyway Scenic Byway
For one of the most absolutely epic fall drives in Colorado, take a few days to travel the San Juan Skyway Scenic Byway. The 233-mile scenic loop starts in Ridgeway. From there you'll make your way through the Million Dollar Highway all the way to Durango before looping back via Delores and Telluride.
What makes this drive so epic during the fall months are the brilliant displays of Aspens. You'll want to take at least 4 days to drive the entire loop, since you'll stop at many of the other places to go in Colorado along the way.
Local Tip: The San Juan Scenic Byway is also extremely stunning in summer too, but it truly shines during the fall months.
40. Check Out the Great American Beer Festival in Denver
If you're into beer, then the Great American Beer Festival in Denver needs to be on your bucket list. Featuring brews from the best around the country, this mega-festival is a taster's dream. Try beers from all over the US as they compete for medals in various categories.
Long-known as the largest beer festival in America, tickets sell out almost immediately so be sure to mark your calendar.
2022 Dates: 10/6 through 10/8
41. Go Leaf Peeping at Kenosha Pass
There are a lot of amazing fall hikes in Colorado, but Kenosha Pass is certainly the most popular. And with good reason. These enormous, spanning aspen groves quiver in the fall breezes. So strap on your hiking boots and hit the trails this fall and see what the magic of the aspens is all about.
Not into hiking? Kenosha Pass has some spanning views with plenty of color too.
Local Tip: Crowds here are insane during the weekends, so plan an early morning weekday visit if you want any chance at parking or solitude.
42. Revel in Native History at Mesa Verde
Located in the southwestern part of the state, Mesa Verde is steeped in rich history, making it one of the best places to visit in Colorado for history buffs. Take a tour of the ancient Puebloan structures built into sandstone walls to learn about the ancient native people who once inhabited this land.
You'll want to spend at least 2 days here exploring the ruins. Take a guided tour to get closer to the ruins and learn about the incredible history of the American West.
The closest lodging is in Cortez, a tiny town that centers around the ruins.
Local Tip: It gets extremely hot in this part of the state during the summer, so be sure to arrive early to beat the heat.
43. Blue Sky (formerly Mt Evans) Scenic Byway
Yet another scenic drive the Mount Evans Scenic Byway takes you right into the heart of color displays. Located contently just 45 minutes from Denver, you'll need an advanced permit for this drive. However, it's worth it to sign up in September as you wind your way through the aspen groves.
And when the trees thin out, the views get even better. At the top, you'll be near to the summit of Mount Evans, a 14,265-foot tall mountain. Talk about droop-worthy views near Evergreen.
44. The Colorado National Monument
Looking to soak up the last of the summer rays? Then head to the Colorado National Monument outside of Fruita. Here you'll find sweeping red rock canyons, funky rock spires, and plenty of desert magic. You might just think you've transported yourself to Moab as you enjoy epic Colorado National Monument hikes.
The Monument features plenty of stunning hikes (no dogs), a dreamy scenic drive that's perfect for sunset, and a few backcountry adventures for the thrill-seeking crowd.
Local Tip: Your America the Beautiful Annual Pass gets you free entry. Otherwise, it's $15 per vehicle.
45. Camp at Kebbler Pass
Just outside of Crested Butte, you'll find the beautiful Kebler Pass. A gentle dirt road that connects Highway 133 to the town of Crested Butte. Home to some of the most incredible free camping in Colorado, this is the perfect spot to pitch your tent and enjoy the fall colors.
Hurry though. Rumor has it that this will all become paid, permitted camping only in the near future. Check before you go and make reservations well in advance.
Local Tip: A lot of the camping has been over-loved so do your part to clean up after yourself and only camp in designated areas.
Where Should I Go in Colorado in Winter?
If you're an avid skier, then you'll certainly want to visit epic ski towns such as Crested Butte, Telluride, Breckenridge, Vail, and Aspen. Skiing here is world-class! Just avoid the weekends if you want to have fewer crowds.
Skiing isn't your thing? Don't worry, there are plenty of things to do in Colorado in winter if you don't ski. Fruita and Grand Junction are great towns that don't have too much snow in the winter. While Ouray features a fun-filled ice park, scenic driving, and epic hot springs. Buena Vista is another great choice for winter if you want to go for a snow-filled hike and then take a soak in the nearby Princeton Hot Springs.
Got a mix of skiers and non-skiers in your group? Then you should check out winter activity hot spots like Breckenridge and Steamboat Springs.
46. Snowmass Village
Known for a fancier crowd, Aspen is one of those uber-classic Colorado ski towns. Snowmass Village is the heart of winter fun in Aspen. You can opt to ski at the famous Snowmass Resort, enjoy gourmet eats, or wander luxurious shops (always free to browse).
Nearby Aspen has a host of wintery events including the Winter X Games, concerts at Belly Up Aspen, and a beautiful art musueum.
47. Enjoy Colorado's Best Ski Towns
The best ski towns in Colorado really come to life in the winter. We've named a lot of them already and each has it's own vibe. From the most budget-friendly ski resorts in Colorado, to world-famous destinations there is something for every kind of skier and rider. A few of the top ski towns include:
Telluride: Exclusive, remote, and stunning scenery
Breckenridge: With 4 ski resorts nearby, there's a lot going on in Breck
Vail: Well known for its back bowls and endless ski terrain
Steamboat Springs: Home to some of the best tree skiing in the country.
48. Scope Out Colorado Springs
Colorado Springs in winter is a real treat. Take a walk at the Garden of the Gods or head to the Broadmoor Resort to see the dazzling lights and giant gingerbread display. The Air Force Accademy is also a huge hit. The road to the top of Pikes Peak might be closed, but if you book a seat on the Cog Railway, you can summit a 14er without all of the effort.
After a day of fun, be sure to go for a relaxing soak in nearby Manitou Hot Springs.
49. Ice Skate at Evergreen Lake
If you're looking for places to go in Colorado in winter, look no further than Evergreen Lake. Known as one of the top places to go ice skating in Colorado, Evergreen Lake provides easy access to outdoor skating. After you've had your fill, be sure to check out the charming downtown Evergreen for some cozy cafes.
When Does it Snow in Colorado?
The snow in Colorado is surprisingly unpredictable. So if you're planning on visiting Colorado in winter, you'll want to remember that it can snow pretty much any time from October until May anywhere in the state.
If you're interested in skiing, then you'll want to plan your trip in January or February for the best chance at powdery conditions.
The snow creates dangerous avalanche conditions on most hiking trails. So be sure to stick to safer Colorado winter hikes in order to not get caught. Even road walking on closed dirt roads buries and kills people every year.
Top Places to Visit in Colorado in Spring
With the thawing of winter, comes the wild and unpredictable spring time. Granted, Spring is not a mega-popular time to visit Colorado, it's an awesome time to travel if you're looking to miss the crowds.
There is still plenty of snow in the mountains, but the powdery days of skiing are long gone and it's not quite thawed out enough to go camping. This is an excellent time to enjoy Colorado's city scenes and desert landscapes. Denver neighborhoods bloom with tulips, while the desert locales deliver deliciously warm weather.
What's the Weather in Colorado in Spring?
The snow doesn't melt in the high country until around mid-June. Hiking becomes less prone to avalanche activity (as long as you start early) during mid-May, but camping may be tough to find.
Expect variable and unpredictable weather during spring in Colorado. It may snow 3 feet one day and be 80 degrees the next. The lower elevation tend to have more predictable, warm, yet wet weather. No matter where you are, expect more windy days.
50. Pagosa Springs
Home to some of the most geothermally active areas in Colorado, Pagosa Springs makes for an excellent spring getaway. If you're looking for where to go in Colorado in spring to thaw out, then visit one of the 7 hot springs in Pagosa Springs.
The middle of town is literally steaming with hot bubbly water just waiting to thaw you out. Temperatures can still be a little cold, but it's an excellent way to enjoy the snowy mountains without completely freezing your butt off.
Local Tip: Plan a trip around a new moon to enjoy some of the darkest skies in the state.
51. Royal Gorge Bridge and Park
If you're looking for where to go in Colorado to catch a bit of drama, then the Royal Gorge Bridge and Park is a must-see. Hiking along the Royal Gorge Canyon is completely free, but for a small fee you can walk across the highest suspension bridge in the States.
The adventure park offers an array of adrenaline-pumping activities. Ziplines, bungee swings, and one of the top Colorado via Ferrata are all additional ways to soar high above the canyon floor.
Local Tip: Avid sport climbers will want to check out nearby Shelf Road. The Bank Campground is a great spot for an early season night under the stars too.
52. Go Rock Climbing, Hiking and Shopping in Boulder
Located just 40-minutes from downtown Denver, the city of Boulder offers up a fun way to spend the day.
Hit the trails with some scenic Boulder hikes. The Flatirons are a popular choice. You'll find enormous rock fins that jut sky-high from the hillside. Or tackle the tough Royal Arch trail.
Or hire a guide and check out one of the classic Eldorado Canyon climbing routes. Eldorado State Park is home to some of the best rock climbing in Colorado. Experienced climbers should absolutely test their skills in Eldo.
Being suspended from ropes isn't your thing? No worries! Stop to shop at the Pearl Street Mall or float down the rapid-filled Boulder Canyon.
53. Grand Junction
Often one of the warmest places in Colorado for spring, Grand Junction is totally worth a visit. The nearby Colorado National Monument hosts an array of the most beautiful hiking trails in Grand Junction. Spring and fall are the two best times to visit.
If you're into single track, nearby Fruita is home to some of the most engaging mountain biking in the Centennial State. Palisade, home to Colorado's famous peaches and wineries, is also a happening place. For a scenic drive, take a tour of Unaweep Canyon.
54. The Denver Botanical Gardens
Throughout the spring (particularly in April) the Denver Botanical Gardens comes to life. Come enjoy the splashes of color in April during the annual bulb bloom. With over 10,000 bulbs planted throughout the gardnes, it's a celebration of spring.
What is the Number 1 Attraction in Colorado?
Rocky Mountain National Park sees roughly 4.5 million visitors a year. In fact, it's the fourth busiest national park in the country. The dramatic rocky peaks, stunning alpine meadows, and abundant wildlife make Rocky the number 1 attraction in Colorado.
What is the Number 2 Attraction in Colorado?
The number 2 attraction in Colorado is Garden of the Gods which receives around 4 million visitors annually.
What Place do People visit the Most in Colorado?
The place that people visit the most in Colorado is Rocky Mountain National Park.
After all, this park receives around 4.5 million visitors each year – people who want to visit Estes Park, Grand Lake, and everything in between.
What is the Most Beautiful Town in Colorado?
The most beautiful town in Colorado is a hotly debated topic. Many locals fiercely defend their hometown's beauty, and to be honest, there are many to choose from. Ouray often gets high marks, while nearby Telluride and Silverton are also stunning. Crested Butte holds its own as one of the prettiest places in Colorado.
What is the Prettiest Place in Colorado?
When it comes to finding the most beautiful places in Colorado, there are many different places to explore. The most stunning place I've ever seen is actually 3 miles from a trail, deep in the Colorado wilderness and is largely inaccessible to most people.
However, when it comes to the prettiest places in Colorado, there are a few postcard-perfect places you can check out that don't require 10 miles of aggressive, off-trail hiking to reach. Here are a few of the prettiest places in the Centennial State:
Hanging Lake (Glenwood Springs)
Maroon Lake (Aspen)
Emerald Lake (Rocky Mountain National Park)
Dallas Divide (San Juan Mountains)
Red Rocks Amphitheatre (Morrison/Denver)
Crystal Mill (Marble)
Kebler Pass (Crested Butte)
Lone Eagle Peak (Indian Peaks Wilderness)
Gore Lake (Vail)
Ice Lake Basin (Ouray)
How Many Days Should I Spend in Colorado?
You could spend a lifetime exploring all of the amazing places to visit in Colorado. Trust me, I've been here for 12 years and I'm still getting to know the Centennial State.
If you're short on time, you can hit some of the highlights with just four days in Colorado. However, I would recommend spending at least one week in Colorado in order to really see the diversity in the landscape. Two weeks would be epic and you'd certainly be able to visit off-the-beaten-path places in Colorado.
Planning a Trip to Colorado? Get more local resources
Headed to Colorado this summer? I've got a ton of resources to help you plan: