Far up into the alpine lies a lake so beautiful, it'll take your breath away. Nestled amongst towering granite spires, Sky Pond, Colorado is an amazing hike in Rocky Mountain National Park. Here's everything you need to know to hike the Sky Pond trail.
This uber-iconic challenging hike isn't just one of the best hikes near Estes Park, but it's one of the top national park hikes too.
As a local Coloradan and full-time freelance writer, I know quite a bit about hiking throughout the state of Colorado. I visit Rocky Mountain National Park several times a year and super familiar with the hike to Sky Pond. In this post, I will give you all the insider info about hiking Sky Pond like a pro, not a tourist.
About this Guide to Sky Pond Colorado
As a resident expert, I'm giving you all the details about the Sky Pond hike. In this guide we'll cover:
Practical information about the Sky Pond Trail
The best time to visit Sky Pond Colorado
Tips and tricks for your Sky Pond hike
Nearby attractions
Additional Rocky Mountain National Park trip planning resources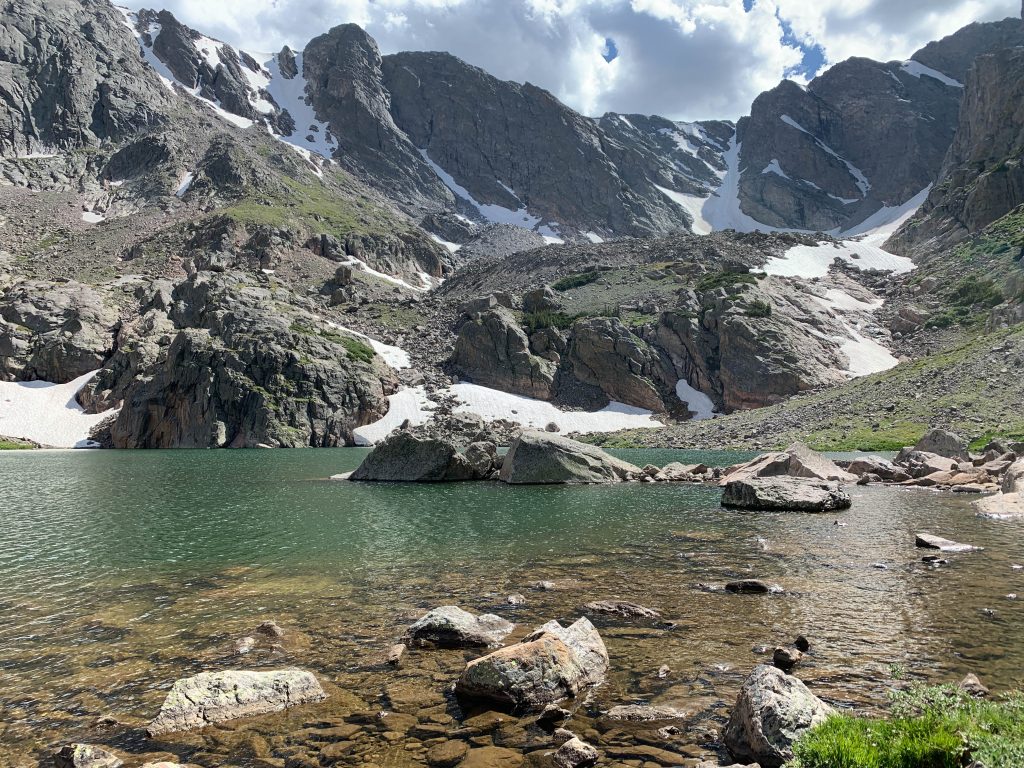 Practical Information about the Sky Pond Hike
Before you hit the trail, it's important to be prepared. The Sky Pond Trail is a difficult out-and-back trail in Rocky Mountain National Park. As one of the best hikes in Rocky Mountain National Park, you'll want to enjoy this gem early in the morning to beat the crowds.
Although the trail is difficult, it's certainly managable for the avid hiker. The good news is that all trails in Rocky Mountain National Park are well maintained and marked.
However, before you go, understand what you're getting into. Check out the following details about the Sky Pond trail that you'll need to know:
Distance: 8.1 miles out and back
Elevation Gain: 1,765 feet
Lowest Elevation: 9,162 feet
Highest Elevation: 11,014 feet
Difficulty: Difficult
Average Time: 4 to 5 hours
Dogs Allowed? No
Red Tape: You'll need to get here early. The parking lot fills up fast so plan to arrive well before 6:30 am (even on weekdays) or you'll need to take a shuttle. Don't forget you'll have to pay a park entrance fee ($20 per day per car).
Local Tip: For the 2021 year, you need to make advanced reservations to visit Rocky Mountain National Park. This includes the Bear Lake Corridor (where the trail is located). Timed entry permits are required from 5 am to 6 pm in that area from May 28th through October 11th.
When is the Best Time to Hike to Sky Pond Colorado?
There are a few things to know about visiting Sky Pond Colorado. First, the only way in and out is via the Glacier Gorge Trail. The end of the trail leading up to Sky Pond is often impassible from November through early June.
During this time there is a lot of ice and travel over avalanche territory is required, making it a serious endevour that is often very unsafe.
Therefore, the best time to do the Sky Pond hike is between mid-June through mid-October. Keep in mind, this also coincides with the best time to visit Rocky Mountain National Park, so expect crowds on this trail. Start early (before 6 am) for the most solitude.
Sky Pond Trail Location
Head toward the Bear Lake Trailhead and pull out at the Glacier Gorge Parking Lot. Keep in mind, once this parking lot is full, you'll need to either park nearly a half mile down the road (adding a total of one mile to your journey) or you'll have to take the park shuttle (which runs from 6:30 am to 7:30 pm).
Local tip: Hiking is popular this year, expect to see a full parking lot on weekends by 5:30 am and on weekdays by 6:30 am. Come early or expect to wait.
Getting to Sky Pond in Rocky Mountain National Park
Make your way along the Glacier Gorge Trail for a little bit. Just under a mile in, you'll pass Alberta Falls. Even though it's early in the hike, it's worth taking a quick stop to admire this beautiful 30-foot waterfall.
Continue along Glacier Gorge for several miles, passing a few marked junctions. Once you reach the Glacier Gorge and the Loch junction, head towards the Loch (away from Glacier Falls).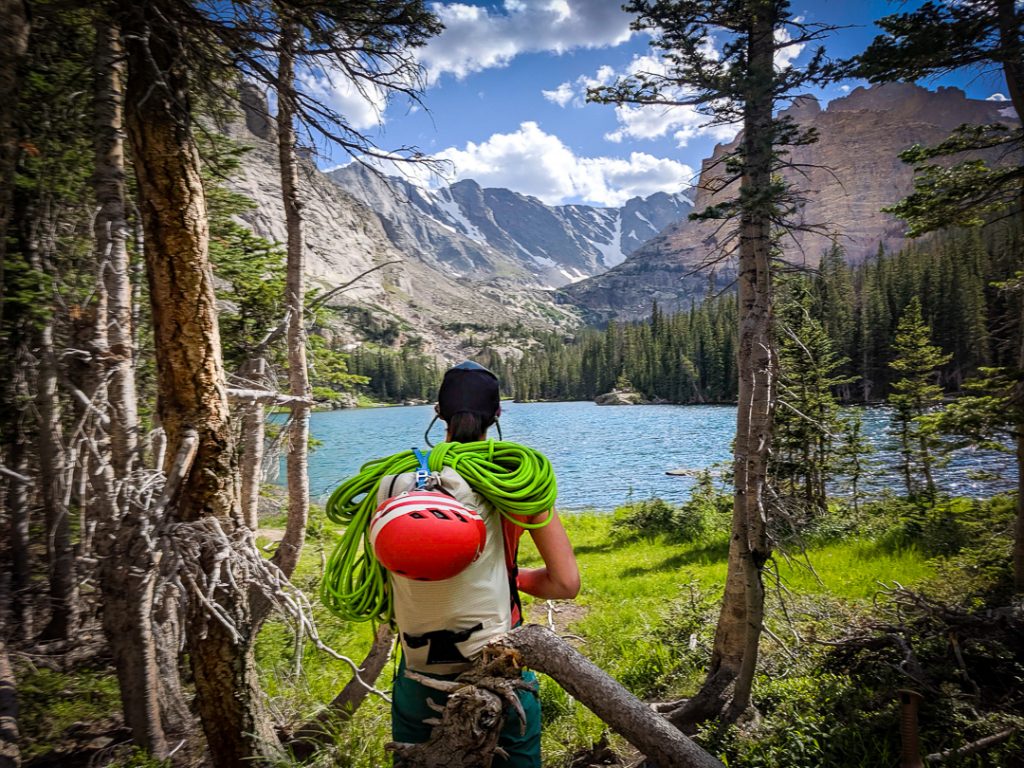 Continuing to Sky Pond
The hike goes over mostly gentle terrain with a few steeper sections, but this part of the Sky Pond trail is generally considered easy. Pass the Loch on the north (don't forget to stop for photos).
You'll see the mighty peaks in the distance, this is your destination. A little ways past The Loch (about a mile or so) you'll start trending uphill.
From here, the trail gets steep and travels through Timberline Falls. You'll literally be hiking up a gentle waterfall. The rocks are extraordinarily slick from water and hikers so take your time.
Expect to use your hands in a few spots where the rocks are slick. Eventually, you'll reach a beautiful lake, the Lake of Glass. This gorgeous lake offers incredible views, and you might even mistake it for Sky Pond. Definitely stop to take it in, but keep going, you're not quite there yet!
Continue another 0.7 miles until you reach Sky Pond, a beautiful, tranquil lake nestled amongst jagged granite spires. These spires (mostly on the right) are home to some of Colorado's most famous rock climbing.
It's not uncommon to see climbers using this trail (I used it when I climbed the Petit Grepon). The large tooth-like formation towards the north west corner of the pond is called Sharkstooth. Heading north (towards the trail) you'll see the Petit Grepon, the Saber, and other famous spires. While Powell Peak is to the south.
Make your way back the way you came to complete this bucket list Colorado hike.
Packing List for the Sky Pond Hike
When heading out on the Sky Pond Trail, here's what you want to have on you and in your pack:
Sturdy hiking shoes – parts of the Sky Pond hike are steep and rocky, so you want to have comfortable shoes with good support.
Rain jacket – precipitation is always a possibility in Colorado, so be prepared with a rain jacket.
Fleece jacket – while you might work up a sweat on this hike, it can still get chilly in the mountains.
Beanie – keep your head warm!
Headlamp – if you're starting early to avoid the crowds, you'll want light. And, really, no matter what time you hike, it's good to bring one just in case.
Plenty of water – make sure you bring enough to stay hydrated the whole hike!
Snacks – don't bonk on the trail by bringing your favorite portable snacks.
Bathroom kit – if you have to go, be sure to Leave No Trace by bringing a trowel, hand sanitizer, TP, and a ziploc to put used TP in and pack it out.
Quick Tips for the Sky Pond Hike
Sky Pond Colorado is certainly a noteworthy destination. As one of the most beautiful alpine lakes in Colorado, it's well worth a visit. But before you go, keep these quick Colorado hiking tips in mind.
Practice Leave No Trace. Pack out all of your trash including your toilet paper, food wrappers, fruit peels, and used feminine products. Stay on marked trails. And let wildlife be wild. People get killed every year in Rocky Mountain National Park for approaching wildlife.
Start early! Colorado has a monsoon season that dumps quick yet violent thunderstorms in the mountains nearly every afternoon. Start early to avoid crowds or getting caught above treeline in a thunderstorm.
Check the weather. Most of the top of this hike is exposed, leaving you open to lightning strikes. Never hike to Sky Pond in a storm.
Acclimatize safely. Don't forget you are at altitude and that can take some getting used to. Be sure to acclimatize properly before your hike.
Be kind. Say hello to fellow hikers. Understand that if those heading up hill have the right of way. It's always a good idea to let climbers pass you since they are carrying lots of heavy gear and if you encounter them in the afternoon, they are likely on hour 15 of being outdoors.
Nearby Attractions
There are plenty of awesome things to do in Rocky Mountain National Park. You can continue to enjoy the park after your hike. Here are a few notable options:
Places to Eat Post-Hike
There's nothing quite like a post-hike meal. You'll work up an apeptite on your Sky Pond hike, so be sure to check out one of these local eateries in Estes Park:
Smokin' Daves BBQ and Brew (BBQ and beer)
Notchtop Bakery and Cafe (brunch, breakfast, coffee)
Nepal's Cafe (Nepalese and. Indian)
Rock Inn Mountain Tavern (Bar food)
Have the perfect day along the Sky Pond trail, complete with beautiful mountain vistas and an excellent physical challenge. You'll be wowed by the amazing scenery along this world-class hiking trail.
Additional Planning Resources for Rocky Mountain National Park
Planning a trip to Rocky Mountain National Park? I've got you covered with these local resources.
PIN THIS POST