Backpacking in Colorado is a bucket-list activity for locals and visitors alike. The best backpacking trips in Colorado can be found all over the state. There's a trail for all ability levels, making Colorado an epic place to backpack.
There's something magical about spending the night in the Rocky Mountains.
Green valleys butt against beautiful rocky peaks streaked with snow. Backpacking in the alpine offers stunning beauty and plenty of challenging terrain.
I've lived in Colorado for over 13 years and I've had the privilege of going on some amazing backpacking trips in Colorado. It's my mission to give you the inside scoop on the best Colorado backpacking trips so you can get out there like a local, not a tourist.
Not to mention, I write about the outdoors for a living, meaning I'm a literal pro at backpacking in Colorado. Be sure to check out the insider tips in this guide to the best backpacking in Colorado.
About this Guide to the Best Backpacking Trips in Colorado
When it comes to the best backpacking trips in Colorado, this is the ultimate local guide. You'll find info on 13 amazing backpacking trails in Colorado including:
A locally-curated list of amazing backpacking trips in Colorado
Difficulty, duration, and location of each trail
Is Colorado Good for Backpacking?
Colorado has long been considered a backpacking mecca. One of the reasons Colorado is so great for backpacking is that water is readily available.
Not to mention, there is a wide range of trails to choose from. You can backpacking in the mountains, desert, and lush pine forests throughout the state.
Do You Need a Permit to Backpack in Colorado?
That depends. Some trails require you to purchase a backcountry permit in order to go backpacking in Colorado. Particularly national parks, and special wilderness areas such as the Indian Peaks Wilderness require advanced permits.
However, most trails don't require any permits. Just note that as Colorado becomes more popular with backpackers, more and more places are becoming permit-only. Always check your specific trip before you go!
When Can You Start Backpacking in Colorado?
There are a limited amount of backpacking trails in Colorado that you can use year-round. However, if you're planning to backpack in the mountains, particularly at higher elevations, you should look to start your backpacking trip around mid-June at the earliest.
High elevation trails tend to be snowy from October through mid-June most years. By about mid-September, the nights get below freezing, so be prepared with the proper gear.
Where are You Allowed to Backpack in Colorado?
Most public lands are open for backpacking in Colorado. The big exception to this tends to be state parks, many of which do not offer any overnight camping options, including backpacking. Places you're allowed to backpack include:
National Forests
Wilderness Areas (permits may be required)
National Recreation Areas (permits required)
National Monuments (permits required)
National Parks (permits required)
BLM Land
Limited state parks
A Map of the Best Backpacking Routes in Colorado
Get oriented with this map of featured backpacking trips in Colorado. These pins mark the trailheads described below. Be sure the check out the interactive map for planning.
The Best Time to Backpack in Colorado
Backpacking in Colorado is possible year-round depending on where you go and how much you're willing to deal with the snow and cold.
However, if you are planning to head to the mountains, the best season for backpacking is from July through September.
June is still pretty snowy in the high alpine, although trails at lower elevations are typically snow-free.
Temperatures start to drop in October, although you can still sneak in a warm-weather weekend, just be prepared for the cold once the sun goes down.
July is considered a monsoon season in the mountains. This means you should be prepared to encounter quick and violent thunderstorms in the afternoon. Stay below the treeline to avoid getting hit by lightning.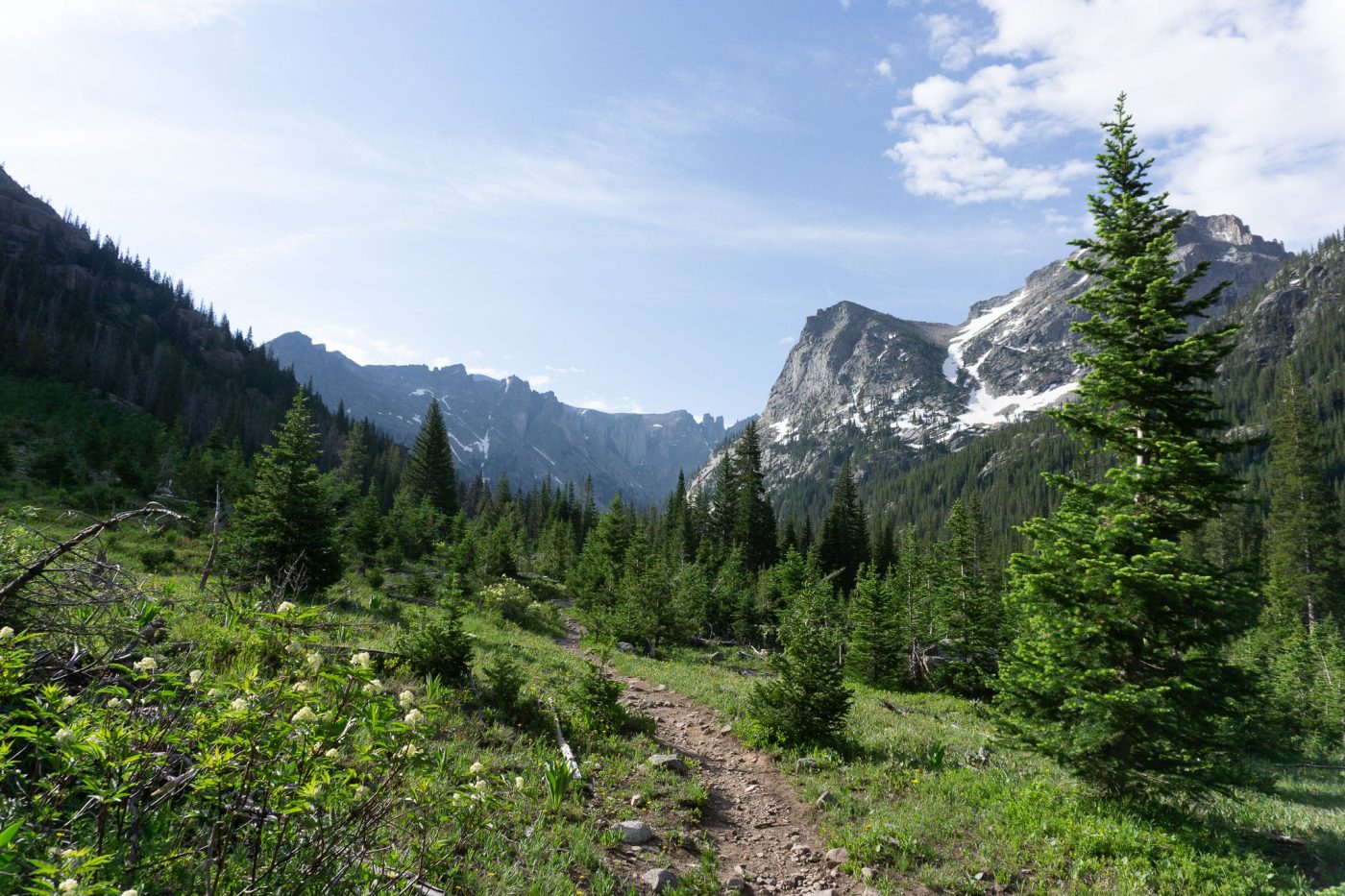 Amazing Beginner Backpacking Trips in Colorado
New to backpacking? Start here! These easier Colorado backpacking routes give you all the beautiful mountain scenery without too much pain for gains.
1. Early Season Backpacking in the Lost Creek Wilderness
The Lost Creek Wilderness, located near Denver, off of Highway 285, used to be one of Colorado's best-kept secrets. Unfortunately, the cat is out of the bag, but with a wide variety of trails, it's easy to find solitude here in the early season.
Since it's lower in elevation, the snow melts here first. So if you're itching to get out in April, May or even early June, check out the Ben Tyler Trail.
The 11.8-mile, difficult trail winds its way through the Lost Creek Wilderness, terminating with some spectacular views. Be sure to check up on water sources before heading out.
Distance: 11.8 miles round trip
Elevation: 3,402 feet of gain
Average time to complete: A perfect, pre-season overnight
Local Tip: Want more mileage? The Lost Creek Wilderness Loop is a 28.3-mile loop that circumnavigated the greater wilderness area.
2. Best Beginner Backpacking Route in Colorado in Fairplay
Buffalo Peaks Loop, located just south of Fairplay is an excellent high-alpine beginner backpacking loop. Loop trails in Colorado are a rarity, so enjoy the fact that you'll never see the same thing twice along this route.
The trail spends most of its time in the aspen and pine forests before popping up into a high alpine valley with gorgeous views.
There are plenty of spots to camp and excellent water sources throughout the trail. Beginners can opt to break the trail into two nights, or more avid backpackers can choose to make this a quick overnight jaunt.
Distance: 11.4 miles
Elevation: 2,024 feet, mostly done in two steep sections
Average time to complete: one night
3. Mohawk Lakes Backpacking near Breckenridge
As one of the top hikes near Breckenridge, many people head to Mohawk Lakes. For a real adventure, give this 8-plus-mile roundtrip hike an overnight to really soak in all the views.
You'll start at the Spruce Creek Trailhead as you wind your way up several steep sections.
The trail passes by four distinct lakes, providing for an opportunity to rest your weary legs. Take your time until you reach Mohawk Lake, where you'll find plenty of amazing places to pitch a tent.
From here, you can drop your bags and continue upwards to upper Mohawk Lake for even more dreamy views.
Distance: 8.6 miles from the lower lot, the upper lot cuts about a mile or so off each way (see Crystal Lake)
Elevation: 2,129 feet from the lower lot (see Cyrstal Lake)
Average time to complete: one night
Local Tip: This area sees a lot of traffic and is considered a moderate hike. It's probably one of the tougher beginner backpacks. But with so many places to stop and enjoy the lakeside views, a beginner will find this trail rewarding.
Moderate Backpacking Trails in Colorado to Check Out
Looking for a challenge, but without feeling totally spent? Then be sure to check out these moderate backpacking trails for your backcountry fix.
4. Backpacking to Lone Eagle Peak
The drama of seeing Lone Eagle Peak reflected perfectly on Mirror Lake is well worth the nearly 15-mile journey deep into the Indian Peaks Wilderness.
The sky-piercing Lone Eagle Peak is an absolute icon and the surrounding dramatic cirque will take your breath away. In fact, it's one of the best lake hikes in Colorado.
Hike from Cascade Creek to Mirror and Crater Lakes. It is possible to day hike this trail, however, you should spend the night here.
Climbers and mountaineers will love the opportunities for nearby alpine trad routes, a rugged class 4 route to the top of Lone Eagle, and plenty of couloirs.
Overnight trips require a permit, so be sure to reserve yours in advance, since you are only allowed to camp in designated sites.
Keep in mind, this area is moose territory (we saw 5 when we hiked here), so if you bring your pup, keep them leashed.
Distance: 14.6 miles
Elevation: 2,375 feet
Average time to complete: overnight
5. Wildflowers Galore from Crested Butte to Aspen
In the July months, the high alpine of Colorado comes to life. The Maroon Snowmass Trailhead that goes from Crested Butte to Aspen is a wildflower lover's dream.
This moderately-strenuous trail blooms with color in the summer months. This is the best backpacking trip in Colorado for those seeking dramatic alpine views without tons of ass-kicking el-gain.
Most people hike one way and bus their way back (or swap rides with friends headed in the opposite direction). But it's just as nice as an out-and-back.
Distance: 10.45 miles one way, 20.9 round-trip
Elevation: 3,322 feet of gain
Average time to complete: An overnight or weekend.
6. Backpack Colorado 14ers in the Chicago Basin
One of the best ways to backpack in Colorado is to combine your backpacking trip with a couple of peaks.
The Chicago Basin in the San Juan Mountains is an excellent place to backpack and climb some of Colorado's famed 14,000-foot peaks.
The journey starts with a scenic train ride to the Needleton trailhead (how freakin' cool is that?!??).
Next, walk a 1/2 mile from the train stop (you'll purchase a backpacker's ticket, it'll be obvious when to jump off) and then continue 6 more miles to the Chicago Basin.
From here, you can set up a base camp and climb Elous, Windom, and Sunlight Peak.
Although you can hike in, a round-trip train ticket will run you about $70 and is certainly worth the extra few days of hiking.
Local Tip: Due to the heavy use of this area, you are required to carry out your human waste, camp only in designated sites, and use bear protection for your food. Be sure to check in for the most up-to-date info.
Distance: 15 miles to the basin and back to the train stop. Peak mileage varies.
Elevation: 4,393 feet to the basin from Needleton
Average time to complete: A long weekend or 3 nights recommended
7. Rito Alto Four Pass Loop Fall Backpacking in Colorado
If you can stomach 6 miles of road walking, the Rito Alto Four Pass Loop is an amazing, crowd-free affair in the mighty Sangre de Cristos.
Furthermore, this (rare) loop trail is the perfect fall backpacking foray. Challenge your alpine skills with four distinct passes complete with stellar mountain scenery.
Distance: 23-mile loop
Elevation: 5,843 feet of gain
Average time to complete: 2 nights or one burly overnight
8. Savor the Views at Willow Lakes in the Gore Range
For a drool-worthy adventure with a big payout, head to Willow Lakes outside of Silverthorn. Located in the heart of the Gore Range, this incredible lake system bumps right into the impressive Zodiac Spire rock formations. 
When it comes to backpacking Colorado, this trip needs to be on your list. Don't be fooled, it's an epic slog to make it here – the Gore Range always makes you earn it. But you'll be rewarded with out-of-this-world mountain drama. 
Local Tip: You'll be hiking over a mile uphill through deadfall, so start early to beat the heat and save yourself from suffering too much.
Distance: 11.9 miles round trip
Elevation: 2,716 feet of gain
Average time to complete: Overnight.
Challenging Backpacking in Colorado
Ready for a real butt buster? These Colorado backpacking trips are all burly outings. Expect long days on the trail with endless uphills. The reward? Some of the most solitude you can find!
9. Backpacking Gore Lake The Best Alpine Lake in Colorado
If you're looking for a dramatic alpine lake with unbelievable mountains, take a weekend to backpack to Gore Lake. The Gores have a special appeal for the adventurous backpacker looking to tackle tougher terrain. As a dog-friendly hike featuring incredible Colorado wildflowers, you'll be spoiled along this epic backpacking route trail.
Even a moderate hike in the Gores will feel like a total butt buster. Trails are often not well maintained, and this area is a pristine wilderness. This means that you should take extra care to follow Leave No Trace principles when venturing out here.
Distance: 12.5 miles out and back
Elevation: 2,890 feet, with a large majority of that gain in the last two miles.
Average time to complete: Overnight
10. Aspen's Four Passes Loop
You can't talk about the best backpacking in Colorado without mentioning the 4 Passes Loop. This iconic trail winds its way over four distinct passes all while delivering breath-taking views of the Elk Range.
This is certainly a more strenuous backpacking loop, but it's worth it. Keep in mind that parking fills up early, and you'll have to plan your entry and exit with a bus service that runs daily.
Bear cans are required on this popular loop. be sure to check with the Forest Service for the most up-to-date information.
Distance: 26.8 miles
Elevation: 8,115 feet
Average time to complete: 2 nights or a long weekend
11. The Colorado Trail: The Highest Thru-Hike in America
The Colorado Trail winds its way from Denver to Durango over 486 of mountainous terrain. This is the United State's highest thru-hike, with a majority of the trail above 10,000 feet.
If thru-hiking isn't your thing, it's certainly possible to section hike this incredible trail (I've done over 120 miles of section hiking with my dog).
Segment 6, segments in the San Juans, and the Sawatch Range are a few of the most beautiful parts of the trail. I'd highly recommend picking up the Colorado Trail Guide book and Field Guide.
Distance: 486 miles. Each segment is between 12 and 20 miles on average
Elevation: 89,000 feet!
Average time to complete: One month as a thru-hike. Most segments can be completed in a day or a weekend.
12. Best Backpacking Route in Rocky Mountain National Park
Hop on the iconic Continental Divide Trail in Rocky Mountain National Park to hit all the highlights of Colorado's most famed National Park.
No visit to Rocky Mountain National Park is complete without spending the night in the backcountry.
Hop on the iconic CDT  as it makes its way from Mexico to Canada, crossing through the state of Colorado. The trail tops out on Hallet Peak, Flattop Mountain, and Ptarmigan Peak.
This 30-mile stretch of the trail can be looped from the Bear Lake trailhead or you can hitch a ride back to your car on the opposite end of the park.
Keep in mind that no dogs are allowed on the trails in Rocky Mountain, you'll need to book your permits in advance, and the entire loop takes around 5 days to complete.
Distance: 30 miles of Continental Divide Trail, 45 miles as a loop
Elevation: around 11,600 feet of gain
Average time to complete: 5 days
13. Winter Backpacking at Rattlesnake Arches
You may be surprised to learn that Colorado is home to some beautiful sandstone canyons. Backpacking to Rattlesnake Arches, just outside of the Colorado National Monument in Fruita is one of the best trails for backpacking in Colorado.
What makes this one of my favorite backpacking trips in Colorado is that you can make the trip year-round. The trail treats you to epic canyon views along with plenty of amazing rock formations and arches.
You'll likely want to camp at the water source, below the final climb. The water source typically runs through mid-spring, so be sure to check up on local conditions before heading out (otherwise, you're carrying your water with you).
After that it's a sustained, grueling march to the arches, but wow is it worth it.
In 2020, it recently became illegal to camp at the Rattlesnake Arches, but you can find camping in the gulch before you climb the hillside leading to the arches.
Local Tip: Don't forget, you're in the desert and you'll need to pack in all of your water.
Distance: 14 miles round trip
Elevation: 2,444 feet of gain
Average time to complete: Overnight.
14. Zirkel Circle
Located near Steamboat Springs, this challenging climb is one of the best backpacking trips in Colorado that takes you through the Zirkel Wilderness and on a loop hike past Gilpin Lake and along the Gold Creek Lake Trail. 
It's also a great trip for anyone looking to get off the beaten path since a lot of travelers don't stop here to check out area's amazing mountains, stunning alpine lakes, and vast meadows – area's of natural wonder that come alive with vivacious summer and fall colors. 
Also, while this trail can be hiked in either direction, hiking counterclockwise will result in a bit more of a gradual climb. 
Additionally, while Gilpin Lake is super picturesque, Gold Creek Lake is better for swimming if you need a spot to cool off during the summer. 
Distance: 10.6 miles round trip
Elevation: 2,444 feet of gain
Average time to complete: Overnight.
Tips for Backpacking in Colorado
Backpacking in the Rocky Mountains is certainly a rewarding experience. However, if you're new to mountain environments, take these tips into consideration before backpacking in Colorado
Always follow Leave No Trace principles, fire bans, and bear protection regulations. Every year backpackers encounter wildlife, start wildfires, and leave pristine wilderness areas a mess. Don't be that person.
Be sure to check recent trail conditions by either calling a local ranger station or checking AllTrails.com. Snow can linger late into summer on some trails, so be prepared.
Protect your food against unwanted wildlife. This goes for tiny critters too! Always hang your food and keep it stored in odor-proof bags. Some areas require the use of bear cans, so know the rules before you go.
Plan to start early if you are going above treeline. You want to be below the trees by noon. Storms roll in quickly in the mountains and hikers die each year from being struck by lightning.
Follow all drone regulations. Drones are banned from most wilderness areas in Colorado, so please respect the area you are traveling in.
Colorado is home to some of the most beautiful backpacking trips in the US. Backpacking in Colorado can be a bit tougher with the altitude, but the views and mountain scenery make the extra effort worth it.
Additional Colorado Backpacking Resources
Want to get to know the REAL Colorado? Then check out these local hiking resources for the Centennial State: