If you're willing to endure the challenge, Willow Lakes in Colorado brings the drama of the Gore Range to life. This lesser-known gem not only hosts one of the most stunning mountain ridges in all of Colorado, but it's home to some pretty fantastic backpacking too.
The route to Willow Lakes defines what it means to hike in the mighty Gore Range. Known for its rugged trails, butt-busting inclines, and burn-it-to-earn-it distances, the Gores are where it's at if you're into challenging hikes in Colorado.
You'll work up a sweat and be treated to some utterly awesome scenery at Willow Lakes in Colorado. Situated just beyond Buffalo Mountain in Silverthorne, a hike here makes for one of the finest weekend trips from Denver.
If you're serious about your Colorado alpine lake hikes, you'll be dying to put Willow Lakes on your to-do list.
I've lived in Colorado for nearly 12 years and I've hiked nearly every single named trail in the Gore Range (and a few backcountry routes too). As an absolute expert in the area, I'm so stoked to give you the best of the Gore Range.
It's my mission to get you outdoors like an expert, not a tourist. This challenging hike is worth the sweat (and likely tears) to get there. I'll give you the inside scoop on everything you need to know to hike
About this Guide to Willow Lakes in Colorado
This challenging hike is worth the sweat (and likely tears) to get there. I'll give you the inside scoop on everything you need to know to hike Colorado's Willow Lakes. Inside you'll find:
Reaching Willow Lakes via the Gore Range Trail
Practical info for your hike
How to reach Willow Lakes
Backpacking to Willow Lakes
Things to do
Nearby attractions
Additional planning info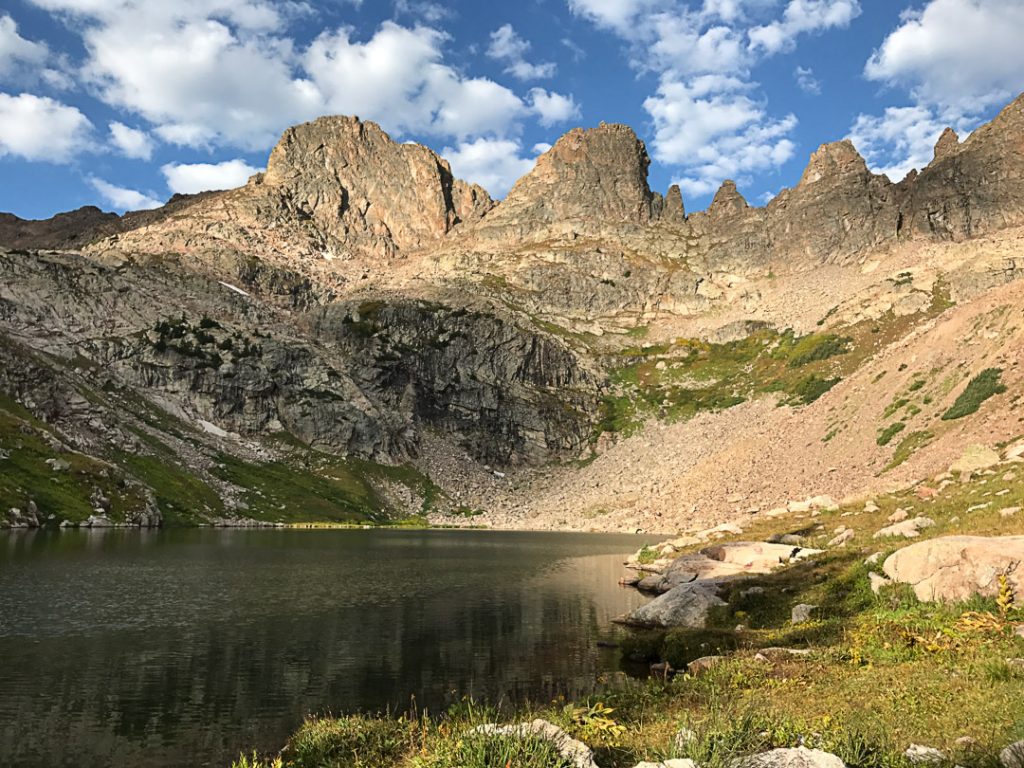 Where is Willow Lakes?
Tucked just north of Red Peak at the southern spine of the Gore Range, there's a dramatic ridgeline that commands your attention. These spires and fins will utterly inspire you the moment you set eyes on them.
The Gores are known for their remoteness, quieter trails, and eye-popping ridges. Willow Lakes is no exception.
Although Willow Lakes is one of the more popular trailheads in the area, it's still a worthwhile journey to see this place.
There are two main ways to access Willow Lakes in Colorado. The first is the Willowbrook Trailhead near the Raven Golf Course at the end of Willowbrook Road in Silverthorne (an amazing Colorado mountain town) on the eastern side of the Gore Range.
There is no overnight parking in the lot, although you can park in the overflow lot across from Trent Park. This is the preferred method of reaching Willow Lakes, but overnight parking is not available.
Your alternative is several miles north, at the Rock Creek Trailhead. Here you'll find a large, overnight parking, but it will add 6.3 miles to your journey (making the entire run 17.2 miles).
This is the ideal spot to park if you want to take on more of the Gore Range Trail or embark on one of the many awesome side trails. We opted to hike from Rock Creek and the added mileage wasn't too bad.
Practical Info
First, you definitely do not want to attempt to reach Willow Lakes unless the trail is predominantly snow-free and the avalanche danger has subsided.
Second, this place is absolutely worth an overnight (or two). It's one of the best backpacking routes in Colorado and watching the sun dance across the rock formations in the evening is an absolute show-stopper. Not to mention, in the evenings, you'll have the place to yourself.
Therefore, the best time to visit Willow Lakes is from late June through October.
Other important info to remember:
Round trip distance: 11.9 miles (if you're starting from the Willowbrook Trailhead – day use only)
Elevation gain: 2,716 feet, most of it in the last 3 miles
Estimated time: 6 to 7 hours depending on stops
Dog-friendly?: Yes
Permits required? Yes, but they are free. Register at the box on the trail.
Red tape: No drones
Highlights: Zodiac Spires, Red Peak, Salmon Lake, fishing, gorgeous mountain views, wildflowers.
Reaching Willow Lakes
As with all Gore Range hikes (ahem Gore Lake, ahem) be prepared for a shlep.
You'll start by heading north along the Willowbrook trail for 1.1 miles.
The trail starts out steep immediately, reminding you that you're in the mightiest mountain range in Colorado and it doesn't take any prisoners.
Make your way up the slog through the trees and continue onward until you reach the Gore Range Trail junction. Head northwest on the Gore Range Trail.
Luckily things mellow out a little for several miles as you slowly gain a subtle ridge. Things steepen when you'll reach a fork, veer left (west) along the Willow Lakes Trail.
Prepare yourself – this is when things get "Gorey" (see what I did there? The next 1.5 miles of the trail makes its way through an intense blow-down area. Expect countless downed trees and very little shade.
Local Tip: Aim to hit this section of trail before 10 am to avoid the blazing sun.
Be prepared to go over and under fallen trees for what seems like an eternity. The landscape is uninspiring and you'll likely be second-guessing your choices to come here.
Keep going.
Once you round a small bend, the jagged, never-ending east ridge of Red Peak gives you something to get excited about. It's stunning and a tease for what's to come.
You'll reach another fork for Salmon Lake (0.5 miles further). This worthwhile side trip has some quiet, treed camping if you're looking for a sheltered place to camp.
It's another 1.3 miles to the furthest of Willow Lakes. Small lakes start popping up and that classic Gore Range alpine valley scene starts to show itself.
Once you reach the final lake, you'll be greeted by the awe-inspiring Zodiac Spires – an impressive series of gendarmes (rock spires) that stops you in your tracks.
Red Peak is to your left (south) and East Thorne looms to the north.
Soak it allllll in – this one was worth it!
The Zodiac Spires in the Gore Range
The most famous feature that makes so many people flock to Willow Lakes and endure the horrid deadfall is the Zodiac Spires. Named after the signs of the Zodiac, these impressive lumps of rock inspire climbers to take on this adventurous challenge.
The route requires ropes and if you're keen to hit all of the spires – a light rack too. Having attempted it, I'd definitely recommend approaching from the opposite sides, since bailouts are few and far between.
But if rugged, off-the-beaten-path alpine trad climbing adventures aren't your jam, then Willow Lakes gives you the best views of this incredible feature.
Camping at Willow Lakes, Colorado
To be straight up with you, I don't see the point in day hiking to Willow Lakes. It's the kind of place you come to and wish to stay the night.
There are several awesome campsites along the last mile of this trail. And if you're not totally exhausted by the end, you can find some hidden campsites flanking either side of the lake.
In the spirit of Gores, I won't give too much away here, but it's worth having a look around before you set up camp.
Things to Do at Willow Lakes in the Gore Range
For such a remote area, this place is packed with places to explore nearby (hence the need for a night or two).
When we visited, we planned to come for the night, and stayed for two.
If you're into scrambling, then making your way up the grass ramp on the south side of East Thorne will bring you to a fun-filled class 4 ridge that takes you to the summit proper. The entire east ridge (accessed via Salmon Lakes) has a couple of pitches that go at around 5.7.
Summit seekers who don't like wearing helmets can scope out Red Peak (less than a mile away).
For easy fishing (although everything is too small to keep) Upper Willow Lake and Salmon Lake deliver.
Or just soak in the views and wander around. You'll never get bored of the scenery.
Nearby Attractions
After you've spilled back to the trailhead, you can swing into Silverthorne for some post-hike snacks or even head into Frisco for a stop at Ollies Pub and Grill (mmm…nachos anyone?).
If you're still not satisfied with hiking, you can check out some of the best hikes in Breckenridge or spend your time:
Road biking on the many paved trails from Breckenridge to Vail
Climb Mount Royal in Frisco
Go fly fishing
check out Quandary – one of Colorado's easiest 14ers
Catch a sunset on the Dillion reservoir
Additional Planning Info
Want more on the Gores and beyond? Check out this list of Colorado's secret hiking trails:
PIN THIS POST