Travel like a local, not a tourist with this list of weekend trips from Denver. Catering to everyone from the hardcore outdoor adventurer to the casual weekend getaway from Denver, you'll have it all.
Seriously.
I've lived here for over 13 years and I write about the outdoors for a living folks.
Having personally traveled to every location on this list, multiple times, I know this is these are the absolute best weekend trips from Denver.
Hands down.
From the unbelievable mountain views of the San Juan Range to the family-friendly streets of Breckenridge and Steamboat, there is a weekend trip from Denver for everyone.
Don't miss out on a chance to experience some of Colorado's most scenic drives, or take a dip in one of Colorado's most relaxing hot springs after challenging yourself on one of Colorado's best hikes with this list of weekend getaways from Denver.
About this Guide to Weekend Trips from Denver
As a local Denverite, you'll get exclusive, local know-how in this guide to weekend trips from Denver.
Inside you'll find local tips that will help you make the most of your weekend getaway from Denver town.
I can guarantee that after reading this post, you'll travel more like a local and less like a tourist.
It's what I do best.
In this guide you'll find:
Incredible suggestions for weekend trips from Denver by a local, not just another travel blogger.
What makes each location unique
Things to do and see
The distance of each weekend getaway from Denver
Quick tips for your Colorado road trip
Additional Colorado travel resources
A Map of Weekend Trips from Denver
You can see quite a bit in just a weekend away from Denver. This map pins the location of each of the weekend trips from Denver that you need to know about. Don't forget to check out the interactive map to get drive times from your doorstep.
The Best Weekend Trips from Denver
Ahem…it's time. The moment you've all been waiting for!
Pack your bags for an ah-mazing weekend trip from Denver. These getaways each have their own flavor, so choose what's best for your ideal escape.
1. Telluride: Denver's Best Weekend Getaway for Mountain Lovers
Telluride is everyone's favorite mountain town, and for good reason. Nestled in the heart of the San Juan Mountains, this charming mountain locale has everything: waterfall hikes, some of the best alpine lake hikes in Colorado, great eats, an adventurous Telluride via Ferrata, and more.
In the winter, you'll be treated to world-class skiing at Telluride Resort and you can even hop over to Ouray for a day at the ice climbing park (no experience required). Afterward, relax in the TK hot springs for a warm soak.
It's easy to spend a lifetime here indulging in Telluride's best hikes and tackling on some of the most scenic dirt roads in the state. You'll for sure what a vehicle with some clearance and 4WD to make the most of your stay here.
Distance from Denver: 6.5 hours, 327 miles
2. The Switzerland of America: Ouray
A little ways past the turnoff for Telluride you'll find Ouray, Colorado. Dubbed "the Switzerland of America" this jaw-dropping mountain town got its start with mining. Nearby you'll find the famous Million Dollar Highway – the most scenic drive in Colorado.
Ice Lake Basin is a world-famous hike nearby. Not to mention there are plenty of 4×4 trails, fishing opportunities, and drool-worthy vistas to keep you occupied for a weekend getaway from Denver.
The town itself boasts plenty of adorable shops and delicious eats. A must-do weekend trip from Denver for sure!
Pro Tip: July is prime time to see the wildflowers blooming in the mountains. Coupled with dramatic views of red-capped peaks, this place is unbelievable.
Distance from Denver: 5.5 hours, 301 miles
3. Go Wine Tasting in Palisade
I bet you didn't know Colorado had wineries. Snuggled right at the base of the western slope, just before Grand Junction, lies the tiny town of Palisade.
For a small locale, this place packs a punch. World-famous peaches dominate the late summer season, while you can enjoy unique wineries throughout the year.
Enjoy a wine tasting or opt to go for a hike at the nearby Colorado National Monument (see "Fruita").
Distance from Denver: 3.5 hours, 321 miles
4. Mountain Bike and Hike the Deserts of Fruita
Continue past Palisade for another half hour and you'll reach Fruita. This budding little hipster town on the western slope is best known for some of the best mountain biking trails in Colorado.
As an excellent option for a weekend trip from Denver, Fruita often gets overlooked. If you're looking for quiet, amazing desert scenery, visit Fruita in the spring and fall (winters are cold but beautiful, and summers are far too hot).
After you're finished with single track riding, check out some incredible hikes in the Colorado National Monument. You'll feel like you're in Moab with these stunning sandstone canyons. Don't forget to check out hikes like Devil's Canyon Loop Trail just outside the park too.
Afterwards, snag a slice at the Hot Tomato, an amazing pizza joint in town!
Distance from Denver: 4 hours, 254 miles
5. Visit the Little Grand Canyon in Gunnison
Colorado is home to four National Parks and the Black Canyon of the Gunnison has to be one of the most unique. Here you'll find sweeping views of 1,000-plus foot black granite walls.
Camp along the rim in the national park and enjoy easy rim hikes, a challenging hike to the bottom of the canyon, or explore the trad climbs in the area.
You can also see the canyon by boat – a really unique way to grasp just how large this canyon system is.
Relax in the nearby town of Gunnison, known for its classic ranching charm. Eat at High Alpine Brewing for some post-canyon noshing.
Distance from Denver: 5 hrs, 262 miles
6. Experience the Mountain Magic of Breckenridge
Breckenridge has to be one of the more famous weekend trips from Denver. With famous ski resorts such as Breckenridge Resort, Keystone, and Arapaho Basin nearby, it's a great option for those that want to hit the slopes. During the summer months, there is an endless array of things to do in Breckenridge.
Don't miss the Ice Sculpture Festival every January.
In the summer months, this place is a hiking and road biking mecca. Road bike the paved path around the Dillion Reservoir, or opt to SUP in the water. You can even bike all the way to Vail from here.
Hikers will literally be in heaven here. There is a vast array of amazing hikes in Breckenridge that take you straight to the high alpine. Don't miss Crystal Lake, Chicago Lakes, and Quandary Mountain.
Local Tip: I-70 traffic is a real nuisance. Expect to wait in hours of traffic on the weekends unless you're prepared to head out early (before 8 am) or come home late (leave after 5 pm).
Distance from Denver: 1.5 hours, 80.3 miles
7. Skip the Crowds in Frisco
Frisco often gets overlooked in favor of Silverthorn and Breckenridge. However, not exploring this small town at the base of the Tenmile Range is a huge mistake.
Reservoir access gives you tons of options for water-based recreation. While the bike path literally goes through town. You can road bike on paved trails all over the I-70 corridor. Don't miss the opportunity to climb to the top of Vail Pass (keep going – the ride down is AWESOME!)
Hikers will love the easy access to simple hikes right from their lodging. If you're a sport climber, then rope up and climb the Royal Flush (5.9, 7 pitches) for an alpine climbing-like experience to the top of Mount Royal.
Distance from Denver: 1.5 hours, 69 miles
8. Experience Vail: Colorado's Resort Town
People come from all over the world to enjoy the resort vibes at Vail, but that doesn't mean that locals still don't use Vail as a weekend getaway from Denver. In fact, with so many different Vail summer activities, I'm here regularly.
Most locals come to Vail for some of the best backpacking trails in Colorado. For some of the best hikes in Vail, both the Gore Range and the Holy Cross Wilderness bring literally hundreds of miles of challenging trails right to your boot tips.
Yes, the skiing at Vail and nearby Beaver Creek really is that spectacular. And during the winter the Vail Valley boasts some of the most famous mixed and ice climbing in the world.
Professional athletes train here, but you can come out and get a taste for the ice with a guided trip. Alternatively, learn to cross country ski at the Vail Nordic Center.
In fall, head to the Piney River Ranch for some of the best (and less-trafficked) fall hiking trails in Colorado.
Distance from Denver: 1 hr 40 mins, 94 miles
9. Getaway from Denver in Estes Park a Hiker's Paradise
Rocky Mountain National Park may be the third busiest park in the nation, but that doesn't mean that locals don't come to Estes for a weekend getaway from Denver.
Another popular – yet worthy – way to spend your weekend is to explore Rocky Mountain National Park. Littered with incredible things to do, Rocky Mountain is a must-see any time of year. Don't miss some of the other beautiful hikes in Estes Park like Sky Pond, Emerald Lake, and Gem Lake!
For a quieter experience, visit the nearby Indian Peaks Wilderness for a few fantastic views and even more beautiful trails.
Wildlife is everywhere here. Don't miss the fall elk rut. Or go for an early morning drive along Trail Ridge Road, one of the best scenic drives near Denver to spot the ram in the high alpine.
Local Tip: Virtually all of the hiking trail parking lots to the best hikes in Rocky Mountain National Park fill up before 7 am, especially on weekends (you'll need a permit to enter Rocky for 2021). Arrive before sunrise for solitude in Estes Park – even in winter.
Distance from Denver: 1.5 hours, 65 miles
10. Enjoy the Hot Springs at Glenwood Springs
Alright, for a quintessential Colorado experience, you should visit Glenwood Springs at least once. Packed with a cool (and kid-friendly) adventure park, gondola, and plenty of awesome hot springs options, this is a chilled place to spend the weekend.
Don't miss the iconic Hanging Lake hike, an easy hike that also happens to be one of the best hikes in Colorado. You'll need to make a reservation for a $12 permit, but it's worth it.
The town of Glenwood Springs offers plenty of entertainment, with lovely local eating options and a charm that welcomes you with open arms to the great Centennial State.
Distance from Denver: 2 hrs 45 mins, 157 miles
11. Visit Canon City: The Weekend Getaway for Climbers and Hikers
One of the more off-the-beaten-path locations you won't find on other lists is Canon City. This place rocks! As a kick-ass weekend trip from Denver to escape winter, you'll be glad you came.
Sport climbers have to check out Shelf Road. With over 1,000 routes, this is hands-down one of the best places to rock climb in Colorado.
If climbing isn't your thing, you can drive the beautiful Shelf Road as it winds its way through limestone canyons. Check out the Royal Gorge. The Royal Gorge fee area is certainly overly touristy and not really worth it in my opinion, but if you want to enjoy a few of the activities like walking the bridge or taking a cable car, go for it.
My personal fave are a few easy hikes in the vacinity (totally free). The nearby trails are actually quiet, local, and beautiful.
Eat at Pizza Madness in Canon City. The pizza is awesome and I've heard the beer selection rocks (I don't drink). Camping options exist at Shelf Road and you can camp almost year-round – the summers get quite toasty.
Distance from Denver: 2 hours, 116 miles
12. Buena Vista: The Best Weekend Trip from Denver for Camping
Local's know that Buena Vista is one of the best weekend trips from Denver if you're into camping. You'll find some of the most scenic free camping in Colorado nearby.
With free camping, this is one of the best cheap weekend getaways from Denver too and there's plenty of things to do in Buena Vista.
Activities include hiking the Colorado Trail, fishing at Twin Lakes, white water rafting Brown's Canyon, driving to the top of the super-scenic Cottonwood Pass or challenging yourself with one of Colorado's best 14ers.
For free camping, simply drive down one of the many dirt roads and find a previously established spot! Just make sure to bring a trash bag, all the water you need for drinking, firewood (cutting live trees is illegal), and a proper bathroom kit.
Distance from Denver: 2.5 hours, 123 miles
13. Enjoy the Fall Colors of Crested Butte
Okay, so you can certainly visit Crested Butte year-round, but the best time to visit has to be the fall.
Kebler Pass is the most amazing place to view the aspens. In fact, it's got one of the largest aspen groves in the world. Did you know that each grove is actually a single tree? How's that for some local know-how?
Enjoy hiking or biking Snodgegrass Mountain trail for even more fall colors.
The winters are an excellent time to ski Mount Crested Butte, Colorado's favorite local mountain. While the summer is prime time for mountain biking – a Colorado hot spot.
The town of Crested Butte is the Colorado mountain town you dream about. Uber-cute boutique shopping is everywhere and Teocalli Tamale serves up an excellent breakfast burrito. Enjoy that post-hike hunger at the Secret Stash a pizzeria serving up unique flavors with attitude.
Distance from Denver: 4.5 hours, 228 miles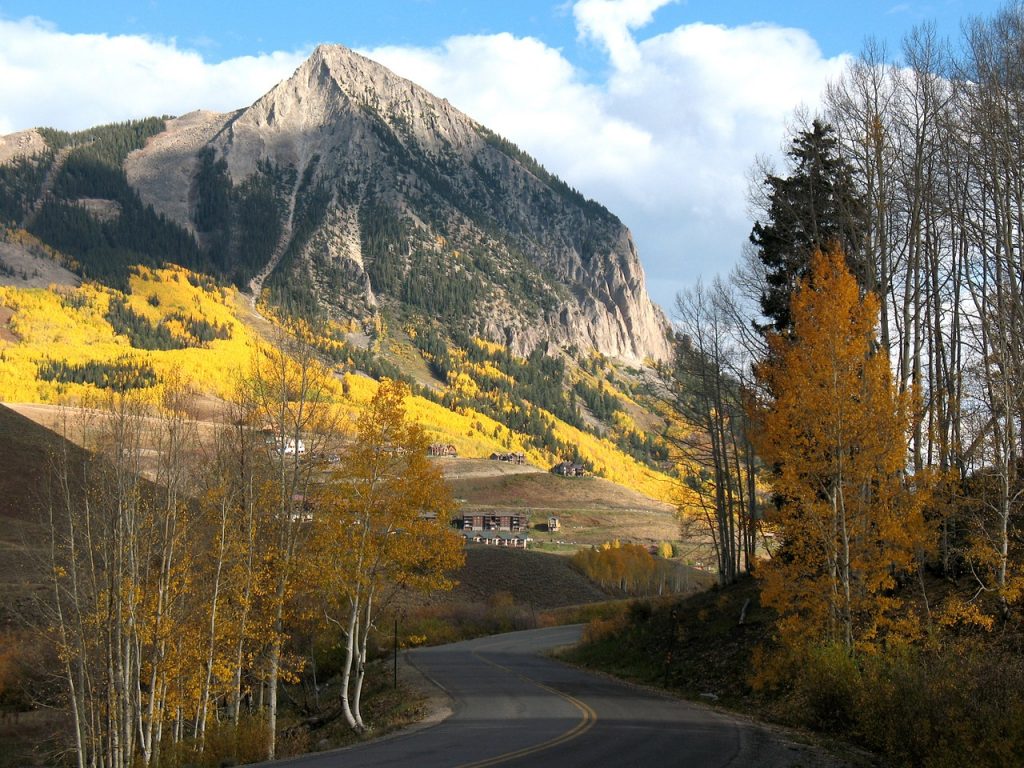 14. Ski and Relax in Steamboat Springs
Wanna break from the I-70 traffic? Head to Steamboat Springs. Located off of the scenic Highway 40, Steamboat offers a relaxed, low-key mountain west vibe. Oh ya, and there's a ski resort that has some of the best tree skiing in the country.
As one of the few places in Colorado where you can ride on dedicated snowmobile trails, you'll want to book a rental or tour for this classic Colorado winter activity.
After a day of high-adrenaline fun, hit up Strawberry Park Hot Springs for a natural soak. This is THE hot springs to visit in Colorado, so don't miss out!
Distance from Denver: 3 hours, 156 miles
15. Go for a Brew Tour in Fort Collins
Beer lovers need to spend the weekend touring the breweries of Fort Collins. Home to Fat Tire, the first net-zero (totally off-the-grid) brewery in the nation, you're in for a brew tour like no other. Many people opt to bike from brewhouse to brewhouse.
Enjoy live entertainment, special events, and the widest selections of beers in the state. Have a DD and make a weekend of exploring Fort Collins. Pack a few beers and watch the sunset over the famous Horsetooth Reservoir, or climb in the Poudre Canyon.
Distance from Denver: 1 hr 15 mins, 65 miles
16. Make Memories in Colorado Springs
Colorado Springs is home to several of the top tourist sites in Colorado. Even locals venture down here for a quick weekend getaway. Drive to the top of Pike's Peak – one of the most accessible 14ers near Denver (and one of only two with a road to the top).
Get up early to beat the crowds and hike along the easy, accessible trails at Garden of the Gods. The zoo offers a kid-friendly atmosphere and you can visit Seven Falls via the free shuttle at the famous Broadmoor resort.
Distance from Denver: 1hr 15 mins, 71 miles
Local Tip: Colorado Springs in winter is a real treat if you're looking for an easy getaway from Denver.
17. Pamper Yourself in Aspen
If the Maroon Bells aren't enough to get you to Aspen, then the lux, upscale town will grab your attention.
If you're into the finer things, then Aspen is the place for you. Exclusive luxury shopping, upscale hotels, and three ski resorts put all the high-end entertainment at your fingertips.
For the more adventurous crowd, head out on the Four Passes Loop, arguably the most scenic backpacking trip in Colorado. Photographers should wake up early and photograph the famous Bells at Maroon or Crater Lake.
Indulge with a weekend trip from Denver to Aspen, Colorado.
Distance from Denver: 3.5 hours, 198 miles
18. Enjoy Solitude in Carbondale
As an alternative to the pricey Aspen, Carbondale delivers the same awe-inspiring scenery without the bougey storefronts and pricey hotels.
Think of it as the local's getaway, where many people come to enjoy the spectacular scenery of the Elk Mountain Range without the pretentious mindset.
The first Friday of the month features a budding art scene – where downtown Carbondale turns into a hot spot for local artists. Head up Mt Sopris or go for a gravel bike ride in the mountains to soak in the beautiful scenery.
After a long day outdoors, skinny dip in the Penny Hot Springs for a real local experience.
Distance from Denver: 3 hours, 170 miles
19. Climb, Camp, and Hike in Laramie, Wyoming
Even locals need to leave Colorado every now and again. For a quick getaway from Denver, head to Laramie, Wyoming. Known as "Laradise" by locals, this quirky, western college town has a lot on offer.
Nearby Vedauwoo is something from another planet. Hiking trails and camping are abundant (and accessible) through these huge, lumpy rock pillars. Trad climbers flock here to try their luck at the brutal off-width climbing.
After a day of exploring head to Laramie for endless food options, quirky bars, and fun shopping (check out Laramie Basecamp for your outdoor needs).
Distance from Denver: 2 hrs 15 mins, 129 miles
20. Take a Weekend Trip from Denver to Moab, Utah's Adventure Capital
If you ask me what one of the best parts of living in Denver is, I'd tell you that you can make a weekend trip to Moab in the dead of winter.
Seriously, there are so many things to do in Moab, your weekend trip from Denver will never be the same twice. Here are just a few of the activities on offer:
Local Tip: Avoid this place in the summer. It's chock full of obnoxious tourists. Visit in November through March for the slowest season. Or for a special treat check out Moab in winter if you want zero crowds and don't mind the cold.
Distance from Denver: 5.5 hours, 355 miles
21. The Closest Weekend Getaway from Denver: Idaho Springs
Hot and new on the radar, everyone's raving about Idaho Springs. If you want a weekend getaway from Denver without a long drive, Idaho Springs is it.
Crawl up the windy road to the top of Mt Blue Sky (formerly Mt Evans). Go for a soak in the Indian Hot Springs, or explore some of the awesome hikes in Idaho Springs.
You can book a rafting trip of Clear Creek or head out on a zip line tour.
You'll find Jones Pass, some of the best free camping near Denver right around the corner. It's a budget-friendly stay that doesn't require long hours of sitting in traffic.
Local Tip: Don't have a weekend? No problem! Idaho Springs offers up one of the easiest day trips from Denver.
Distance from Denver: 40 mins, 33 miles
22.Get off the Beaten Path with a Weekend in Nederland
A tiny, quirky mountain town that's got a fierce love for locals, Nederland is an escape from the normal hustle of Colorado mountain towns. In fact, it's one of the most local spots on this list.
Use it as an alternative to access Rocky Mountain National Park or explore the vast Indian Peaks Wilderness.
The 4th of July Trailhead is home to several of Colorado's best 13ers and easier hikes. It gets busy here on weekends (arrive before 8 am if you want to park), but with so many hikes, it's easy to spread out. There is also a shuttle that will add some road walking to your journey.
Brainard Lake Recreation Area is also nearby and a worthwhile stop. Moffat Tunnel not only has hiking in the summer but ice climbing and backcountry skiing in the winter.
Ned is charming, and you should for sure scope out New Moon Bakery and Cafe.
Distance from Denver: 1 hr 5 mins, 45 miles
23. Go for a Swim in Lake McConaughy, Nebraska
Sick of the mountains? Head east. Okay, so before you knock me for putting a flatland locale on this list, Lake McConaughy is actually pretty unique.
It's the largest (think speed boats, jet skis, kayaks, and spear fishing) lake within a weekend trip from Denver.
It's huge, the water is warm (unlike the icy alpine lakes of the Rockies), and you'll find incredible beach-front camping.
The sand here is like being on a Caribbean beach. Fishing and camping permits are available and you can pitch your tent – or, more popular – RV right on the water's edge.
Come for the sand, stay for the sunsets.
Distance from Denver: 3.5 hours, 209 miles
24. Stay in a Yurt in the Never Summer Mountains
Yes, backcountry adventures are certainly my thing, but that doesn't mean that you can't get outside in style.
If shlepping a tent into the backcountry isn't your thing, but you want some solitude to check out the Never Summer Nordic Yurts.
Open year-round, these yurts offer walk up or drive-in (depending on the time of year) glamping you'll love.
Bring the basics (food, clothing, toilet kit, hiking supplies, and a few games) and the rest is all there!
My favorite part about the Never Summers is you don't have to deal with the dreaded mountain traffic found along the I-70 corridor.
Keep in mind, these hurts are only dog-friendly in the summer. Advanced bookings are recommended.
Distance from Denver: 3hr 15 min, 134 miles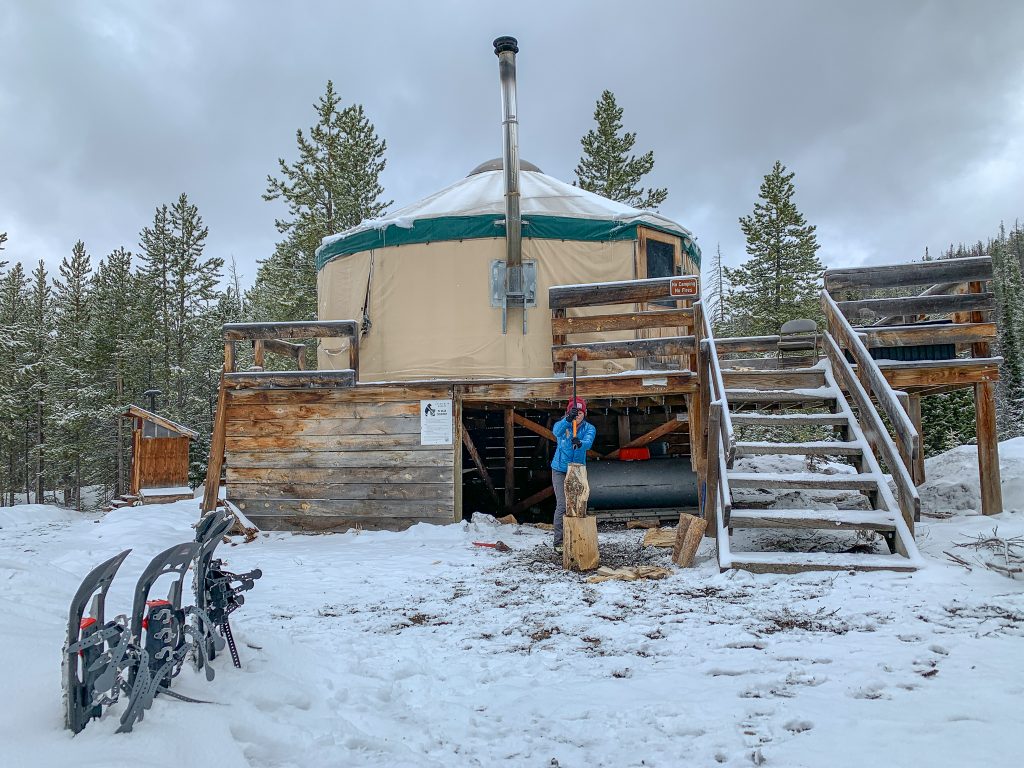 25. Silverton: A Weekend Trip from Denver into the Wild West
Okay, so as the furthest destination on this list, it may seem like a stretch to see Silverton on a weekend, but hear me out.
This town, nestled in a valley just past Ouray, is literally the most beautiful mountain town in Colorado. If you're really into the offerings in the San Juan Mountains, and you want a real western feel, head to Silverton.
Mostly known for its nearby Jeep and OHV trails, roadsters will enjoy the overlanding options nearby. Not to mention the ample hikes, scenic drives, and excellent fishing.
Distance from Denver: 6.5 hours, 324 miles
26. Check out the Art in Sante Fe, NM
Wanna go on a weekend trip from Denver and feel like you've gone someplace else?
Scope out the wild, fun, and relaxing art scene of Sante Fe. This upscale artist's locale draws its inspiration from the ancient cultures and deserts nearby.
Meow Wolfe's interactive gallery is a must-visit – you've got to see it to really understand it. While the Canyon Road Art's District will satisfy your shopping spree side.
Hike or bike the many trails in Sante Fe's surrounding foothills. Then take a visit to Puye Cliff Dwellings, and learn about the Puebloan cultures that call this region home.
Distance from Denver: 5 hr 45 mins, 392 miles
27. See Native American Culture and Unique Architecture in Taos, NM
Whenever I want to escape the dreary Denver winters, but I'm not hunting for a desert bonanza I plan an annual trip to Taos, New Mexico.
This sleepy town features some of the country's most unique architecture – scope out the Earthship homes. Or enjoy some entertainment at the Taos Mesa Brewing.
Experience an inside look at the Taos Pueblo, a traditional Native American community that's been in existence for well over 1,000 years.
The Manby Hot Springs are a fun little side trip, as is the nearby Rio Grande Gorge Bridge.
Afterward, enjoy authentic New Mexican cuisine, artisanal coffee, and boutique shops in downtown Taos.
Distance from Denver: 4 hrs 45 min, 288 miles
28. Hike the Largest Dunes in North America at the Great Sand Dunes National Park
Did you know that the largest sand dunes in North America are in Southern Colorado? These mega-dunes create one of the best weekend trips from Denver.
The sand bubbles up from a spring (considered sacred to many Native Americans in the area) and created a natural masterpiece.
With backdrops of the Sangre de Cristo Range, this picture-perfect landscape is ripe with opportunities for enjoyment.
Make your reservations in advance to camp at the Great Sand Dunes National Park. Nearby hiking opportunities and a chance to scale the tallest – Star Dune (permit required) – are just a few of the activities on offer.
During the spring, there is a stream that traverses the dunes, making it an ideal place for kids and dogs to play.
Don't forget to bring your camera. Sunsets from the campground are incredible. Not to mention the park is in designated Dark Sky Territory.
Distance from Denver: 3 hrs 30 min, 230 miles
29. Get Away from it All in Ridgway, Colorado
The quaint, quiet town of Ridgway is often overlooked. En route to Telluride and Ouray, this is a much more budget-conscious option for exploring the area.
Not to mention, there's quite a bit to do here too. Snuggled at the base of the San Juans, there are vistas galore of Mt Sneffels and other iconic peaks.
Ridgway State Park has a massive reservoir that has options for kayaking, fishing, SUP, and more.
Head into the mountains to explore some of the best hiking trails in the San Juans and then take a dip in the (clothing optional) Orvis Hot Springs to relax.
Distance from Denver: 5 hrs 16 min, 320 miles
Tips for Your Colorado Road Trip
Travel less like a tourist and more like a local. Here's how to make the most of your weekend getaway from Denver.
Plan ahead. There are lots of amazing places to visit in Colorado. Some are better during certain times of the year. Always look into permits, lodging, and camping in Colorado beforehand.
Pack it out. Your mom doesn't pick up after you. Always pack out all trash including toilet paper, dog poop (carry that doo-doo, don't leave it behind for others to see), fruit peels and all trash. Dispose of it at home.
Camp in designated, previously established sites. Finding free camping in Colorado isn't difficult, but it does fill up.
Get there early. Weekends in Colorado get crowded. Try to leave early to beat traffic, find great camping, and have a more enjoyable time.
Stick right except to pass. We can spot out-of-town drivers (even recently relocated drivers) from MILES away. On dirt, uphill has the right of way. Share the road, and don't clog up the left lane.
Additional Colorado Travel Resources
Tired of playing the tourist? Get local, real advice about how to see Colorado like a local.
PIN THIS POST