A true Colorado classic, the Hanging Lake hike should be on everyone's bucket list. As one of the most beautiful hikes in Colorado, you've got to check out this fairytale-like setting nestled in Glenwood Canyon.
What makes Hanging Lake, Colorado so special is its unique geological formation. Mineral-rich water cascades down this spur of Glenwood Canyon to create a lush scene with crystal clear water gently tinted with vibrant shades of teal and blue.
Listen, I've been all over the world and I found Hanging Lake in Glenwood Springs to be one of the most beautiful places I've ever laid eyes on. And that's really saying something.
You literally expect fairies to jump out of the lush green waters. The setting is utterly beautiful – even with the nearby damage from the Grizzly Creek Fire, it's still a must-see Colorado hotspot.
However, the Hanging Lake hike is exceptionally crowded – even with the permit system in place. So if you're looking to beat the crowds on the Hanging Lake Trail, then you've come to the right place.
I've lived in Colorado for over 12 years, making my way to the most beautiful places in the state. Oftentimes, I'm the only one around for miles.
The Hanging Lake hike was no exception. We experienced a magnificent spring day and had the ENTIRE lake to ourselves. Yup. We only saw 2 other people the entire time.
Considering Hanging Lake is one of the most scenic spots in Colorado, this was a real treat.
So if you want to uncover how to visit Hanging Lake, Colorado like a seasoned local and not be stuck in an endless line of tourists, keep reading.
About this Guide to the Hanging Lake Hike
You won't find a better guide to the Hanging Lake trail anywhere else on the web. With real, local advice in this guide you'll get info about:
Hanging Lake location and driving directions
The best time to enjoy the Hanging Lake hike
Getting a Hanging Lake Permit
Practical information about the Hanging Lake Trail
Frequently asked questions about Hanging Lake, in Glenwood Springs
Reaching Hanging Lake
Visiting Spouting Rock
What to bring
Nearby attractions
Camping and lodging near Hanging Lake
Additional planning resources
Is Hanging Lake Open?
Hanging Lake does close from time to time. This is usually due to water damage or high run off. The area around Hanging Lake isn't very stable and it's prone to landslides.
Ever since the 2021 landslides, the trail has undergone significant damage. However, there are planned closures in 2024 to repair the trail. Specifics have not yet been released (as of late 2023) so check the website often for any potential closures.
Where is Hanging Lake?
One of the reasons why so many people flock to Hanging Lake is thanks to its easy access right off Interstate 70 in Glenwood Canyon, making it one of the best road trip stops in Colorado and one of the easiest day trips from Denver if you're up for spending a day in nature.
The one tricky part is that you can only access the Hanging Lake Trailhead from the eastbound side of the highway. This means that if you're coming from Denver, you'll need to take exit 121 on I-70 (the Hanging Lake Rest Stop), get off the highway, and head in the eastbound direction.
Your next exit is the Hanging Lake exit. When the trail is closed, you'll be unable to exit the highway, as several guard arms block the exit.
There's a second manned gate where a ranger will check your permit by looking up the first and last name of the primary permit holder.
Drive time from Denver: around 3 hours
Nearest town: Glenwood Springs (13 minutes west)
Hanging Lake Trailhead Location
The Hanging Lake Trailhead is actually a little ways away from the parking area. The parking area is paved and has plenty of space (although it will fill up on a summer weekend). There is a restroom as well, but it is only open from June 1 through September 30th.
You'll be parking right alongside the Colorado River in the heart of Glenwood Canyon. You'll walk north (heading away from the way you drove in) along the paved Colorado River bike path until you reach an obvious junction with a paved trail.
This is the start of the official Hanging Lake Trail. You'll find a vault toilet, a few picnic tables, trash disposal, and a ranger who will check your permits (for the second time).
The Shuttle Service
As of 2021 the Hanging Lake shuttle is not currently operating from Glenwood Springs. The only way to access the Hanging Lake trail is from the parking area, or by taking the paved bike path (permit still required) from Glenwood Springs (about a 30-minute ride, slightly uphill).
When is the Best Time to Visit the Hanging Lake Trail?
You can hike to Hanging Lake, Colorado year-round, but a permit ($12 per person) is required from May 1 through October 31st. During this time, you'll only be able to hike from 6:30 am through 5:30 pm. Multiple gates guard the entrance.
As one of the top things to do in Glenwood Springs, Hanging Lake gets crowded, even with permits.
The absolute best time to visit Hanging Lake is during the first 2 weeks of May during the 6:30 am slot on a weekday. We had the entire trail to ourselves during this time. Weekdays are generally better if you want to avoid big crowds, as this is a very popular Colorado weekend getaway for locals.
What makes this timeframe so special is that there are literally waterfalls everywhere. So if you're into Colorado waterfall hikes and you want to avoid the crowds, this is the time to see Hanging Lake.
Morning times during the week tend to have a better chance at not filling up, so if you're seeking solitude this is a great time to visit.
As the summer wears on, the waterfalls tend to turn into a trickle. By August through fall, there is not a lot of water flowing and Spouting Rock will not be very impressive. However, during September you'll have some fall foilage that makes for a beautiful hike.
Local Tip: The Grizzly Creek Fire in 2020 ravaged the area surrounding the Hanging Lake Trail. The lake itself was not affected (thankfully), but the foilage may be a little different for several years after the fire.
Hanging Lake in Winter
Winter is another great time to hike since you won't need a permit. However, the lake may freeze over and the waterfall won't be flowing.
You'll want to bring hiking poles and traction such as microspikes in order to navigate the often icy and very slick trail.
Also, in 2020 the trail closed over winter. It's unclear whether or not that will happen in 2021.
Getting a Hanging Lake Permit
You'll need a permit to hike to Hanging Lake between May 1 and October 31. The permit system opens the last week of April.
It's super easy to snag a Hanging Lake Permit. The entire permit system is online and really easy to use.
Permits are $12 per person and non-transferable. You'll need to purchase a permit for everyone in your group and each time slot (1-hour time blocks) only allow for 51 people.
You'll reserve your time slot and be required to show up plus or minus 15 minutes from your reserved time. Print out your permit (or save it for offline use on your phone) since you'll be asked to show it many times.
If you need to cancel – simply follow the links on your permit email and sign up for a different time within 48 hours in order to change your reservation. We did this due to bad weather, and it was an easy process.
Local Tip: Permits for summer and fall weekends typically fill up a month in advance as this is a popular weekend getaway from Denver. Weekday permits can be available day-of, but if you want an early time slot (recommended, the lighting is amazing), you'll want to book at least a couple of days out.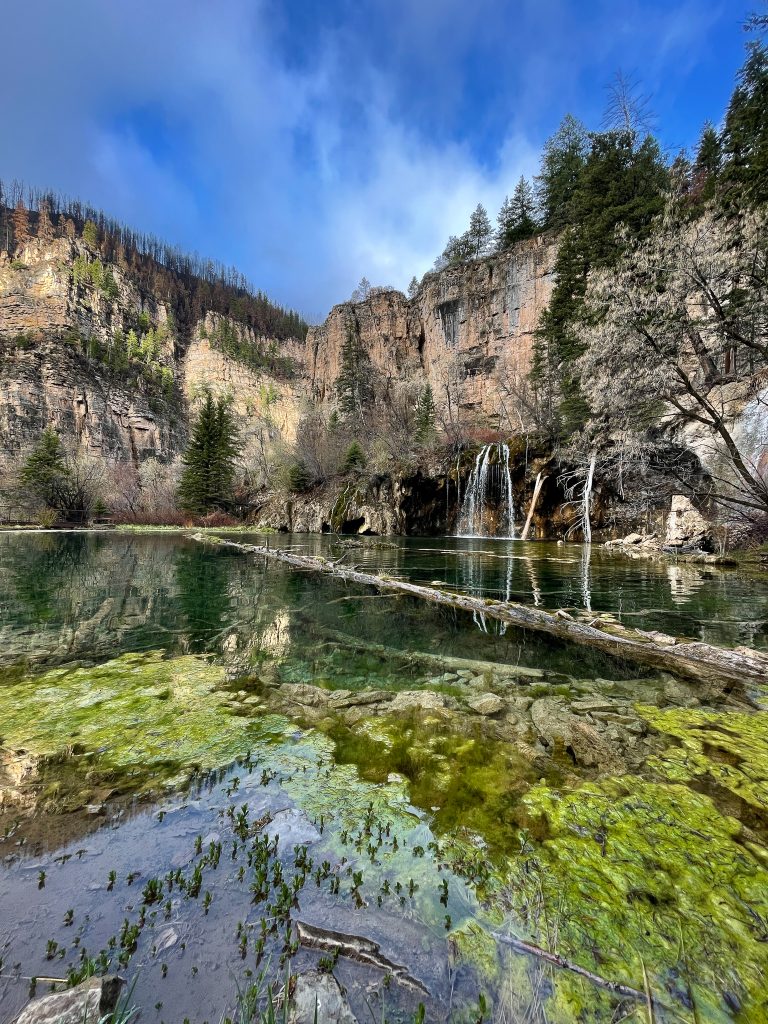 Practical Info About Hanging Lake in Glenwood Springs
The Hanging Lake hike itself is extremely straight forward and easy to follow. The signed trailhead gives you ample info and the trail is well-marked with plenty of sturdy bridges and handy benches for a break if you need it.
Here are a few other pieces of handy info about the Hanging Lake hike.
Round-Trip Distance: 3.1 miles including Spouting Rock
Elevation Gain: 1,187 feet
Highest elevation: 10,065 feet at the lake
Difficulty: easy to moderate depending. on your mountain hiking experience.
Estimated Time: 1.5 – 2 hours of hiking time plus 30 minutes to 1 hour at the lake and spouting rock.
Red Tape?: Permits required, no dogs, no swimming, no fishing, no standing on the log, no entering the lake of any kind.
Highlights: Trickling waterfalls, creek, stunning lake, canyon views, and the unique Spouting Rock
Is the Hanging Lake Hike Difficult?
For the uninitiated, the rocky, steeper trail may prove to be difficult if you haven't done much hiking in Colorado. If you're visiting Hanging Lake from out-of-town, be sure to acclimatize properly first.
Towards the end there is a steeper section with rock steps, but railings have been installed to help you out.
Local Tip: The average hiking speed is a 1/2 hour per mile or 1 hour per 1,000 vertical feet of gain.
Many people rate this hike as moderate, but I found it to be pretty easy, even with the 4-figure elevation gain. If you regularly hike in the mountains, this is a really quick jaunt.
The trail is well-trafficked, well-marked, and well-trodden. The rocky bits are like anything you would encounter on any hiking trail in Colorado. Switchbacks help out with the steeper terrain.
What is the Hanging Lake Hike Time?
It took us about an hour and 30 minutes to do the entire hike, but I was out with a friend who I regularly go on epic, 18-hour alpine tours with. We took plenty of photos and visited Spouting Rock. For avid mountain hikers, expect a total time of around 2.5 hours.
For the average hiker, expect to budget about 1 to 1.5 hours of hiking each way. You'll want to spend time at the lake (and Spouting Rock – which was cooler than I thought it would be) so a total time of 3.5 hours is pretty reasonable.
Can I Bring My Dog to Hanging Lake?
Nope! This is a dog-free zone. Please don't leave your dog in your vehicle while you hike. Dogs can't handle hot cars and may experience heat stroke, even in 70-degree weather.
Is the Hanging Lake Hike Kid-Friendly?
Absolutely! One of the great parts about the Hanging Lake hike is that even though there is a lot of elevation gain, you'll have plenty of spots to take a break.
There are benches everywhere. Whenever the trail gets super rocky and a fall could be dangerous, there are guard rails. Some of the stairs towards the end are pretty big, but with a little helping hand, a kiddo can easily manage this hike.
What Makes this Place so Special?
When it comes to Colorado lake hikes, Hanging Lake is truly unique. The flow of the water, combined with the minerals makes this place a haven for unique plant life that grows directly under the gently cascading waterfalls. Birds happily nest beneath the overhung rocks and you can see tiny fish enjoying the nutrient-rich waters.
The Hanging Lake Hike
You'll start your journey along the Colorado River Bike Path. Aftera bout 0.25 miles (5-10 minutes) you'll see a junciton out left to a hiking trail.
There are vault toilets, a trash can, and some picnic tables. Now you've reached the trailhead and the climb begins.
Local Tip: Be sure to Leave No Trace! This is an over-loved area, so don't litter, pack out your trash, don't stray off of the trail, and use the bathroom here.
The hike starts out on the steep side, with plenty of rocky trail ahead of you. Take your time as you make your way up Deadhorse Creek – a Glenwood Canyon tributary.
Use the rest areas with the benches if you need to take a break and let faster hikers pass. On the trail, the uphill hiker has the right of way.
You'll make your way up, following a creek with several well-maintained bridges for crossing.
Eventually you'll see a few trickling waterfalls on your right (if you're visiting in spring). These give you a teaser of what's to come!
The next part of the trail – at around 1.4 miles – crawls up the hill via several switchbacks. For the newbie hiker, this section may feel never-ending, but you're almost there!
After the switchbacks you'll find a steep section of rock stairs crawling up a very steep drop off.
Use the railing if you need it. Don't forget to look back, you'll get amazing views of Deadhorse Creek (look how far you've come!) and Glenwood Canyon.
After the stairs you'll see a turnoff for Spouting Rock – come back to this, first it's time to reach Hanging Lake!
Continue onwards until you reach a boardwalk. You've arrived!
Beat the Crowds at Hanging Lake
Even though each permit block only allows for 51 people to hike at one time, the Hanging Lake hike still gets CROWDED. There is no limit to the time you can spend here, so as the day wears on, so do the crowds.
If you're looking to beat the crowds and find some solitude, you'll want to:
Plan to visit in the morning. You'll be some of the first people at Hanging Lake and you have a better chance at having the place to yourself.
Visit the first two weeks of the permit system or the last two weeks. We went on May 4th at 6:30 am and saw only two other people.
Visit in winter. The lake isn't quite as beautiful (my friend I hiked with visited during this time), but it's less crowded.
Visit during the week. Weekends will always be full but a weekday visit may not have a full-time slot.
Photographing Hanging Lake
Hanging Lake offers a variety of beautiful photo ops. If you're taking your tripod, then I would absolutely recommend visiting during the 6:30 time slot. The lighting is amazing and the boardwalk isn't crowded which will give you enough room to set up.
Local Tip: Bring a variety of lenses – including a wide-angle. Hanging Lake is actually quite large – larger than I expected it to be. A wide-angle will let you get the entire lake in one shot.
Visiting Spouting Rock Waterfall
It's about a 0.5 mile walk round trip to visit Spouting Rock. To get there, walk briefly uphill at the turnout until you reach the obvious cliff. Here you'll find one of the best waterfalls in Colorado (SURPRISE!).
In the springtime, water rushes out of a hole (hence the name) like a cannon. It's actually a pretty powerful experience. You can walk behind it and check out this amazing natural phenomenon.
This place reminded me a lot of Kuang Si Falls in Laos. I have yet to see anything else like this in Colorado. These waters are mineral-rich – which gives them their unique blue hues.
What to Bring
You don't need a ton of special gear to enjoy your hike to Hanging Lake, but I'd recommend taking the following essentials:
A rain jacket (even in summer). The weather turns really quickly in Colorado and you won't be able to see any storms coming since you're in a tight canyon.
A light puffy jacket – it does get cold (especially with the waterfall mist), even in summer, so be prepared!
Water and snacks. Bring about 2 liters of water per person. Remember to pack out all of your trash.
Sturdy walking shoes or hiking shoes. This is not a sandal-friendly hike. The trial is pretty rocky and sturdy footwear is a must.
A camera or your phone for photos! You'll be snapping plenty of pics. Note: there is no cell service along this trail so come prepared.
Sunscreen, sunhat, and sunglasses. Colorado sunshine can give you a nasty burn, so bring plenty. of sun protection.
Trekking poles. These are optional but they certainly help with the steep gains and save your knees for the downhill.
A proper toilet kit. A small shovel, hand sanitizer, toilet paper, and a baggy to pack out your TP. There are no toilets after the trailhead. Remember, you'll need to walk 70 adult steps from the trail or any water if you need to go. As always, PACK IT OUT.
A small first aid kit. Be prepared with a basic hiking first aid kit. There are no services along the trail.
Things to Do Nearby
Glenwood Springs offers a variety of activities that are suitable for all types of adventurers and is one of Colorado's best mountain towns. Or, if you're on a Colorado road trip, you can head to nearby destinations like Aspen, Vail, Moab, Grand Junction, and more.
Other nearby activities include:
A soak at the Iron Mountain Hot Springs, one of the best hot springs in Colorado.
Take a ride up the Glenwood Canyon Gondola.
Hit the rapids on a Glenwood Canyon Rafting Trip.
Bike the Glenwood Canyon Bike Path
Get a post-hike meal at Glenwood Canyon Brewing, Coloradodough, The Daily Bread, or Rocky Mountain Pizza.
Is There Any Hanging Lake Camping Nearby?
There isn't any camping allowed at or near Hanging Lake. In fact, camping in the Glenwood Springs area is quite a challenge (unless you want to stay at a KOA right on the side fo the freeway). Coffee Pot Spring Campground is about an hour and 15 minutes away.
If you're really in a pinch, you can always opt for a night of sleeping in the car at one of the nearby rest stops (the one that once offered campsites is currently closed for renovations).
Additional Colorado Travel Resources
Planning a trip to Colorado? You've come to the right place! Travel like a local, not a tourist with these awesome Colorado resources:
PIN THIS POST