Wanna get in on the most beautiful places in Colorado? You've come to the right place.
This mega-list of the best views in Colorado features everything from picture-perfect alpine lakes to unbelievable sandstone monoliths.
Of course, the Rocky Mountains are a major attraction for killer scenery, but Colorado has some surprising views.
As a local of over 12 years, I know where to find all of the most beautiful places in Colorado.
And I'll one-up every other article about these Colorado views and show you a few of my own secret spots that no one knows about.
It's my mission to get you out on your Colorado adventure like a local, not a tourist.
I've lived in Colorado for over 12 years and this makes me an absolute expert at finding the most scenic views in Colorado.
You're in good hands! I've been to all of these epic places.
This guide to the most beautiful places in Colorado features plenty of must-see spots in Colorado while also giving you insider tips about how to visit like a local.
So go ahead and check out the best Colorado views throughout the state.
About this Guide to the Most Beautiful Places in Colorado
Discover the most beautiful places in Colorado. Inside, you'll find juicy details about where to go for the best views in Colorado, expert tips for each location, and highlights as to what makes each location great. You'll also find:
Where to find the best views in Colorado
Best views in Denver
A list of the best mountain views in Colorado
Places to see the fall foliage in Colorado
Surprising scenic spots in Colorado
Additional Colorado travel resources
Where to Find the Best Views in Colorado
Your knee-jerk reaction to finding the best views in Colorado may be to start with a Colorado bucket list.
Sure, that's loaded with goodies, but to really get out into nature, you'll want to go beyond the "best of" lists.
Pro Tip: If you want to beat the crowds, start early. Balance your time between popular hot spots and just-as-good-if-not-better nearby spots.
You'll find epic beauty across the state of Colorado (yes, even in the plains).
It would take a long time to see them all, but that's the beauty of this incredible state.
The Mega-List of the Most Beautiful Places in Colorado
Let's dive in with this list of amazing Colorado views. We'll work our way through the most scenic spots in the Centennial State and what it takes to get there.
Best Views in Denver (and Around)
You'll find some incredible Colorado views right inside downtown. Sure, the city proper may be a ways away from the mountains, but there is still plenty of scenery in and around Denver.
Boulder Flatirons
Along the Front Range, you'll find one of Colorado's most famous landmarks – the Boulder Flatirons. Home to some of the most scenic Boulder hikes, you can hike, climb, or scramble these incredible rock ridges.
Not to mention, the view in between the First and Second Flatiron is pretty sweet.
Local Tip: Check out nearby Eldorado Canyon for even more scenic views. From hikes to some of the most stunning rock climbing areas in Colorado, there's something for everyone.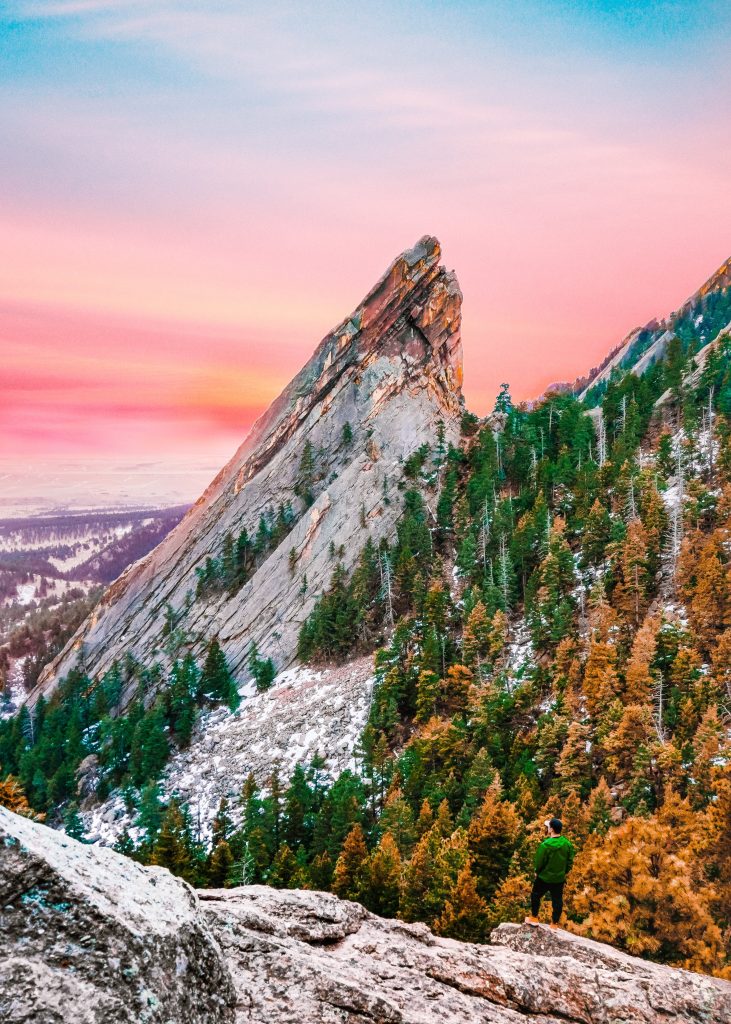 City Park in Denver
For that iconic Denver view – you know – the one with the skyline and the snow-capped mountains – head to City Park. This free park features the best view in Denver, especially for sunset. Find a hillside to get a bit above the nearby area for a classic look at downtown.
Mount Evans Scenic Drive
There are a variety of scenic drives near Denver, but Mount Evans has to be one of the best. This snaking ribbon of tarmac winds its way to the top of Mount Evans, one of the easiest 14ers in Colorado.
From here, it's a quick 15-minute walk to the summit, or you can soak in all the views from the drive and parking lot.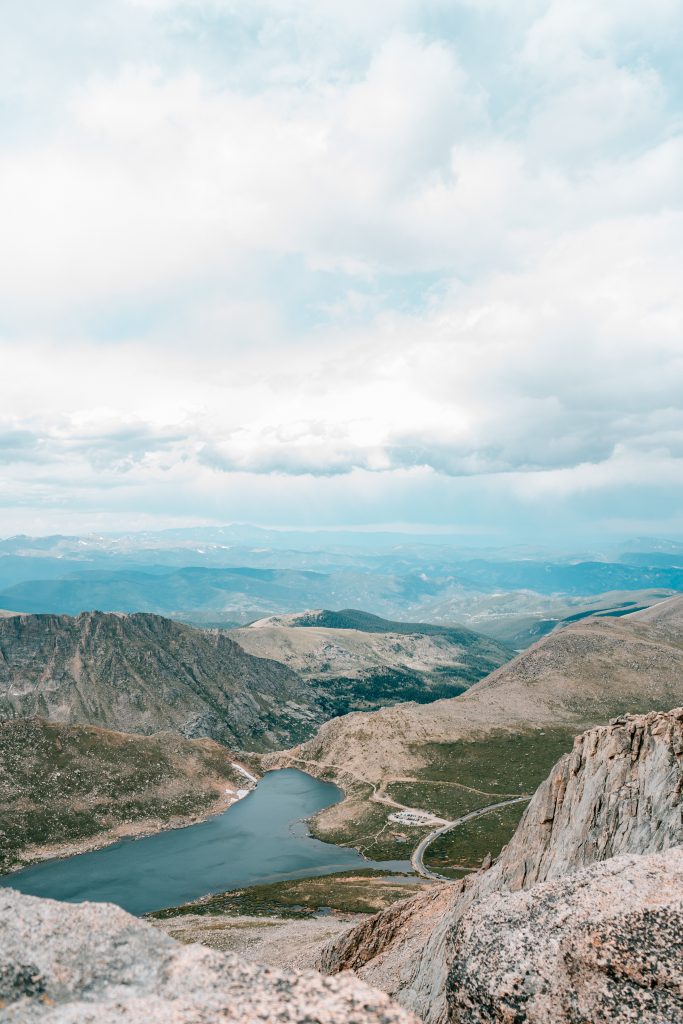 Red Red Amphitheater
Likely one of the most beautiful amphitheaters in the world, you can't miss this Denver attraction. As one of the only naturally occurring amphitheaters in the world, you can come to visit Red Rocks and experience the beauty of this phenomenon.
The best part? It's only 20 minutes from downtown.
Local Tip: It gets crowded here. Arrive early in the morning and hike the surrounding trails or even scope out the theatre for free.
Roxborough State Park
Just 40-minutes south of downtown, you'll find one of the best views in Denver. Similar to the flatirons, except fancying more of a red rock vibe, Roxborough State Park has hiking and mountain biking trails that bring you to the heart of these stunning formations.
It's a $10 fee to get in, and dogs aren't allowed, but it's still well worth a visit – especially for sunrise! You'll find some of the best hikes near Denver inside the park.
Local Tip: This place fills up fast on weekends. Skip the line and show up before 7 am to snag a parking spot.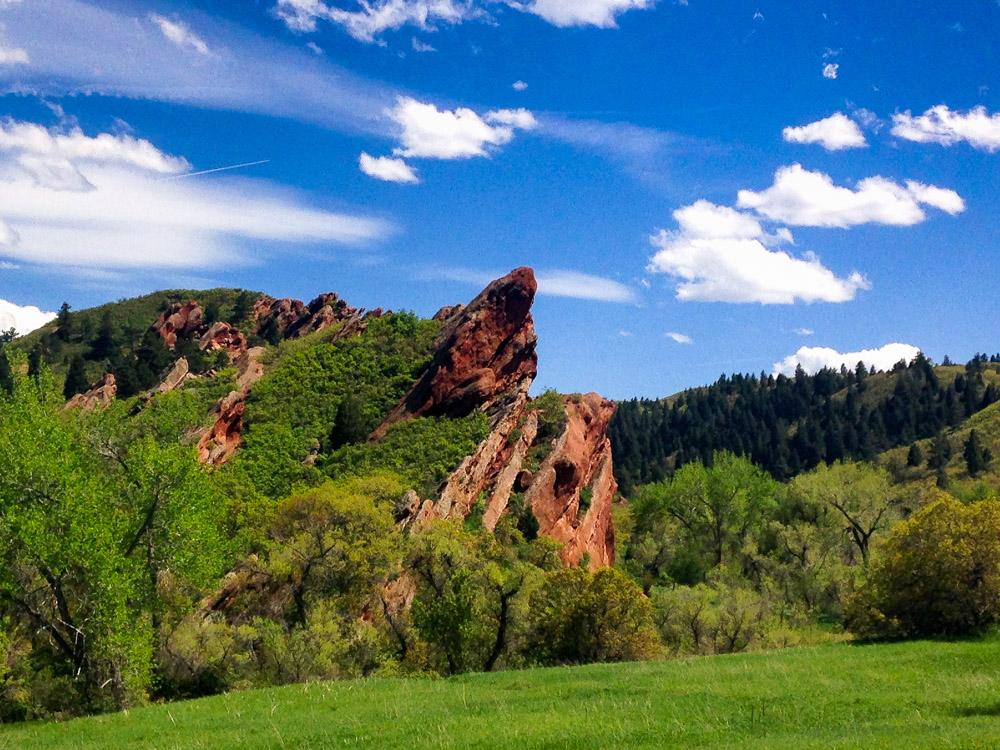 The Highlands Neighborhood
For hip eats and amazing views, the Highlands neighborhood must be on your Denver itinerary.
Check out a sunset from the rooftop bar of Linger or go for a walk around nearby Sloan's Lake. You'll get excellent city views with plenty of neighborhood charm.
The Best Mountain Views in Colorado
It's no secret that the most beautiful places in Colorado happen to be in the mountains. You'll find absolutely epic mountain scenery here.
A few of these spots are well-known for a reason, but I sprinkled in a couple of secret spots in Colorado that you should for sure checkout.
Ice Lake Outside of Ouray
The Ice Lake Basin outside of Ouray will blow your mind! The evervensence in the water creates a bright blue hue that's simply out of this world.
It's a difficult schelp to get there – a 10-mile-round-trip hike with a little under 3,000 feet of vertical gain. But what did you expect for one of the best lake hikes in Colorado?
The stunning views almost the entire way will keep you motivated.
Local Tip: Visit during July or August to catch the wildlflowers blooming. Start before 6:30 am to beat the crowds.
Breckenridge
For one of the best day trips from Denver, head up I-70 to Breckenridge. This mountain town features amazing mountain views and has a giant reservoir to explore.
Road bike around the reservoir or explore the amazing array of alpine lakes, waterfalls, and more on one of the hikes in Breckenridge.
Local Tip: Silverthorn, Frisco, and Dillon are all nearby towns with just as much mountain charm.
Independence Pass
Often referred to as one of the most scenic drives in Colorado, Independence Pass is a seasonal road connecting Twin Lakes to Aspen.
Open from May through October, this scenic byway is a must-drive. The pass tops out at a whopping 12,095 feet above sea level. You'll get those drool-worthy mountain views without having to leave your vehicle.
Psst: Local secret here – but you can find some of the best free camping in Colorado in this area.
Rocky Mountain National Park
Visiting Rocky Mountain National Park is a must-do for any Colorado road trip itinerary. There is so much mind-blowing scenery here, you'll need at least a day to take it all in.
Avid hikers will want to visit Sky Pond, one of the best hikes in Rocky Mountain National Park.
Beautiful mountain scenery galore exists along Trail Ridge Road – a 48-mile stretch of paved roadway that takes you across the stunning Continental Divide. You're all but gaurunteed to come across wildlife here too.
Local Tip: Trail Ridge Road is only open weather-permitting and closes throughout winter. The best time to visit is from mid-June through October.
Million Dollar Highway and the San Juan Scenic Byway
If you're looking for a stunning weekend getaway from Denver, then drive down to the San Juans and explore the Million Dollar Highway.
There is no road more perfect than this. Red-capped peaks with verdant green mountain valleys surround you as you wind your way through arguably the most beautiful road in the world.
Known to be home to some of the best mountain views in Colorado, you can't miss this amazing highway.
Ouray, Telluride, and Silverton are all nearby, giving you ample options for recreation.
Mayflower Gulch near Copper Mountain
If you're looking to make the most of your winter adventure to Colorado, then gear up and hit the short (2.8-mile-round-trip) easy hike to Mayflower Gulch.
This is one of the most beautiful winter hikes in Colorado and it's super simple – even for a novice hiker. Little effort and big rewards make Mayflower Gulch a popular scenic spot in Colorado for locals.
Lone Eagle Peak
You can't mention the best mountain views in Colorado and not mention Lone Eagle Peak. Many people refer to this dramatic mountain as the prettiest mountain in Colorado.
It's a 14-mile out-and-back hike to get there, but don't let the distance fool you. Most of the trail is pretty mellow. If you've got the stamina, the average hiker can certainly get here in a day.
Or, if you're lucky, you can nab one of 12 daily permits to backpack to Lone Eagle. The choice is yours.
Loveland Pass Hiking
Most people don't think much about Loveland Pass, but that would be a mistake. This gateway to Denver's best ski resorts also houses some pretty amazing Colorado scenery.
There are actually quite a few incredible viewpoints from here. The pass alone has a parking area – so you can enjoy amazing views if you're not up for a hike.
However, the intrepid hiker should pack a picnic and head up to Mount Sniktau for sunset. As one of the most scenic 13ers near Denver, you'll get sweeping views of the Continental Divide.
Not up for a summit? No problem! Hike just 15 minutes west of the parking area at Loveland Pass (aim for just beyond the ridge you can see from the parking lot).
Just on the other side of the ridge are views all the way from the foothills to Mount of the Holy Cross.
Local Tip: It's almost always windy here – so bring a windbreaker and pack layers!
4th of July Trailhead
Another local favorite – the 4th of July Trailhead is one of the best mountain views in Colorado for wildflowers.
Late June into July, this uphill-trending trail delivers on big mountain views and plenty of pretty wildflowers.
The well-marked route splits at many points. You can opt to choose your own adventure or follow signs to Arapaho Pass.
At the top of the pass, the views are top-notch in every direction. Overall, it's a moderate mountain hike. Bonus points: it's dog-friendly too.
Pro Tip: The road to the trailhead is bumpy and requires at least a little clearance (sedans will struggle). It isn't maintained in the winter so check local conditions before you go.
Gore Lake near Vail
Another locally-held secret, Gore Lake outside of Vail delivers as one of the most scenic places in Colorado.
The 12-mile out-and-back hike is a real butt buster – and best done as an overnight. Gore Lake easily makes the list as one of the most beautiful backpacking routes in Colorado.
Can it be done in a day? Sure, but watching the sunset over Red Mountain is a real treat.
Local Tip: Hike left around the lake (if it's snow-free) and up the steep hillside until you reach a scenic perch for a bird's eye view!
Telluride
As one of my favorite Colorado road trip stops, Telluride literally embodies everything you love about a Colorado mountain town.
A historical Main Street showcases amazing shops and eateries. Just a 10-minute drive from downtown you'll find some of Telluride's best hikes, including the famous Telluride Via Ferrata and Bridal Veil Falls.
The via Ferrata is a heart-pumping adventure that takes you across the towering cliffs that enclose Telluride.
Other awesome activities include 4-wheel driving, summing some of Colorado's most beautiful 14ers, or hitting up one of the many annual festivals in Telluride.
Hanging Lake near Glenwood Springs
Arguably the best hike in Colorado is Hanging Lake. Everyone knows this super-famous Colorado landmark.
Despite the crowds, there's a reason that Hanging Lake makes the list of the most beautiful places in Colorado. It's like stepping into a fairy tale.
Dramatic mosses, still waters, and tranquil trickling waterfalls make this a must-see spot.
After your hike, be sure to check out the Glenwood Hot Springs, one of the best hot springs in Colorado.
Local Tip: $10 permits are required for this hike. Get yours in advance. Opt for an early-morning time slot to beat the crowds.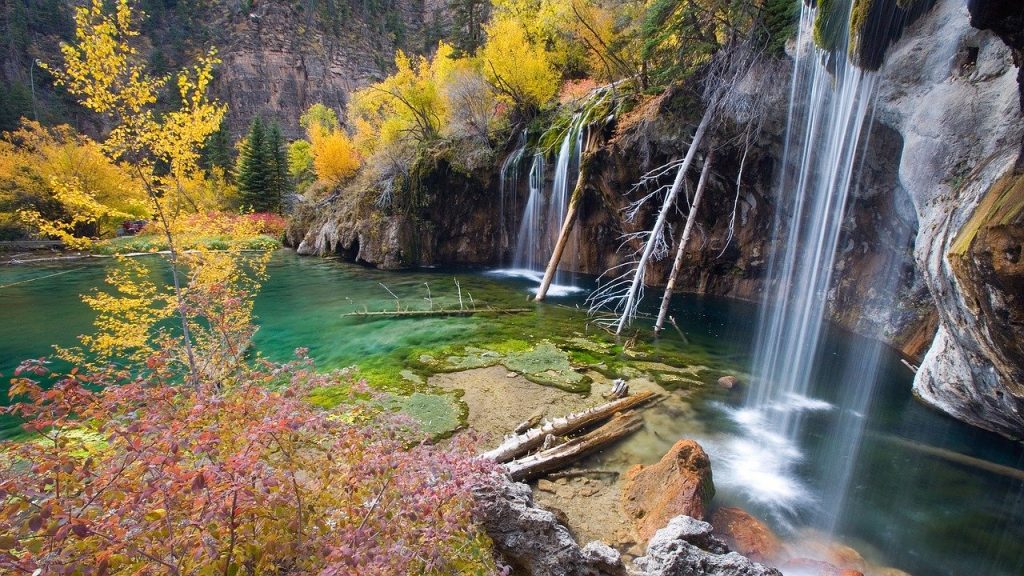 Silverton to Durango Scenic Railway
Another amazing Colorado road trip spot – take a spin on the Silverton to Durango Scenic Railway.
Wind your way away from the roads and straight into the heart of the San Juan Mountains on this narrow-gauge train. Stay a few nights in either spot or choose a round-trip tour.
You'll get to see some of the most beautiful mountain scenery in Colorado all while riding a historic steam engine train.
Jones Pass
Home to some of the best free camping near Denver, almost every local knows about the beauty of Jones Pass.
For a relaxing weekend of boondock camping, you can drive your vehicle (SUV or truck recommended) to Jones Pass.
Opt to camp at one of the many dispersed campsites (don't forget to practice Leave No Trace) and drive to the top of the pass for sunset.
I'll come here often with some takeout and a blanket just to watch the sunset. It's only 40-minutes from Denver and is a must-see spot!
Best Places to See Fall Colors in Colorado
One of the best ways to enjoy fall in Colorado is to head out on a weekend adventure. Immerse yourself in the brilliant yellows and oranges of an aspen grove.
These amazing places to see fall colors in Colorado are great any time of year, but during the fall season, they really shine.
Piney River Ranch
I might be a little biased here, but Piney River Ranch outside of Vail is – simply put – one of the best fall hikes in Colorado.
It's about an hour down a gentle dirt road to the Piney River Ranch, but once you're there you are face-to-face with a stunning wooded lake that's flanked by an aspen grove.
Make your way along the trail and feel as if you've stepped into a magical world.
Serious hikers can continue along the bushwhacking route to Knee Knocker Pass (experts only), while leisurely hikers can stop at the Piney River Falls.
Kenosha Pass
Kenosha Pass contains a massive aspen grove that lights the hillside on fire during the fall months.
People come from all over the state to oggle at this unbelievable landscape. Arrive SUPER early if you want any hope of having solitude here (even during the week).
But I promise you, I wouldn't put it on here if it wasn't worth it. Hike part of either Segment 5 or Segment 6 of the famous Colorado Trail and listen to the breeze pass through the Aspens.
Crested Butte and Kebbler Pass
Kebbler Pass is hands-down the most scenic drive for fall colors in Colorado.
Located near Crested Butte (famous for its amazing skiing, mountain biking, and – of course – beautiful Colorado views), Kebbler Pass has to be on your fall bucket list.
It's a popular haunt for some late-season camping, so pack your tent and plan to stay the weekend.
Maroon Bells in Aspen
You can visit the Maroon Bells during any time of year, but fall is something special.
A sunrise in fall at Maroon Lake really needs to be seen to be believed. It's also the least crowded time to pop into this famous Colorado Landmark.
The trail is easy to follow and is an easy 1.9 mile loop. Bring your tripod – this one is worth photographing.
Best views in Colorado That Will Surprise You
Oh wait – there's more! Colorado is home to a wide array of scenic spots. These amazing Colorado views still show off the best of the Centennial State, but they have a few wow-factors that put them in a league of their own.
Great Sand Dunes National Park
Did you know that the largest sand dunes in the Americas are actually in Colorado?
These unique, towering dunes butt right against the beautiful Sangre de Cristo mountains. Seeing the juxtaposition between the sea of sand and some of Colorado's mightiest peaks will take your breath away.
Spring offers a great time to visit, because the natural spring from which these dunes have been build is running at it's highest.
Local Tip: This is Dark Sky Territory – meaning no light pollution exists here. Stay during a new moon to greet the Milky Way at night.
Colorado National Monument
Want to see towering red rock cliffs and amazing rock spires without leaving the state?
Head to the Colorado National Monument outside of Fruita. Put this place on your Colorado winter bucket list.
This is a great spot to visit in the winter – when the mountains are shut in with snow.
A stunningly scenic drive, plenty of awesome hikes, and a few drool-worthy viewpoints make this place a must-see. You might just think you've been transported to Moab.
Black Canyon of the Gunnison
Colorado has 4 national parks and the Black Canyon of the Gunnison is one of the most impressive.
Thousand-plus-foot canyon walls of sheer granite dominate the landscape here. Many people flock here to camp, hike, and climb in the canyon.
It's a truly unique location and one of the deepest canyon systems in the country.
As a smaller national park, it gets good accolades for not being too crowded either.
Mesa Verde National Park
Experience the complex, wonderful native history of western Colorado at Mesa Verde.
The Ancestral Puebloans built a massive cliff dwelling structure here that's been standing for over 1,000 years. Nestled high in the cliffs, these complicated structures housed one of the greatest societies in humanity.
Although no one really knows why this society collapsed, you can walk through the beautiful ruins and take a step back in time.
Garden of the Gods in Colorado Springs
Garden of the Gods has to be the most beautiful place in Colorado Springs. Giant red-rock spires pierce the sky while the famous Pike's Peak towers in its snow-capped glory in the background.
There are hikes and wheel-chair friendly trails all over this beautiful park. Even though the crowds are immense, everyone needs to make the pilgrimage to the Garden of the Gods at least once.
Local Tip: Visit during the week in winter – preferably arrive before 7 am – to get some solo time here.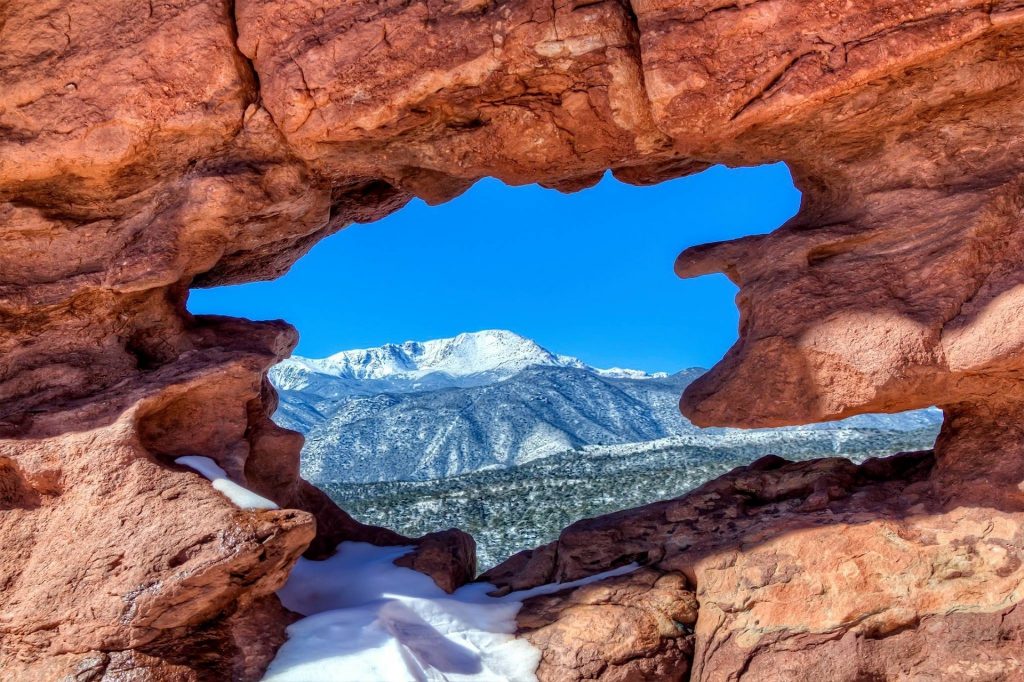 Crystal Mill Outside of Carbondale
If you really love tranquil places and old settler architecture, then Crystal Mill is your jam!
Everyone loves photographing this hot spot – and in the fall it's particularly busy.
Drive the bumpy 4-wheel drive road (high clearance required) to this famous perch.
Snap your photo of the idlyic scene – an old mill with a water wheel situatied on a cliffside. Then ponder the beautiuf of this special palce.
If you'd rather move on your feet, you can hike this trail – but the vehciles are pretty distracting.
Local Tip: This is private property. Obey signage, fencing and respect the owner's space.
Unaweep Canyon
If you're looking to take the scenic route to the San Juans (or onwards to Moab), ditch I-70 in Grand Junction and drive through Unaweep Canyon.
What makes this canyon so unique is that it starts as a desert, sandstone environment and quickly changes to a high-alpine canyon with beautiful granite walls.
You can stay at the uber-luxurious Gateway Canyons Resort and Spa for a real treat.
Local Tip: This canyon is a s-t-u-n-n-i-n-g sunset drive if you're hanging out in Grand Junction.
Additional Colorado Travel Resources
Planning a trip to Colorado? Looking for a fun way to enjoy your home state? I've got your back.
These local guides give you the expert advice you need to travel like a local, not a tourist.
PIN THIS POST