Touted as the most beautiful mountain in Colorado, Lone Eagle Peak is a striking mountain that appears to defy gravity. Visiting Lone Eagle Peak requires an extremely long day hike or an overnight, but it's certainly worth the effort to visit this fantastic piece of Colorado scenery.
Lone Eagle Peak is hands-down the most photogenic mountain in Colorado, but it takes a little effort to get there. Fortunately, if you're an avid mountain hiker, the trail to Lone Eagle Peak isn't too tough.
I've lived in Colorado for over 13 years, and this is still my favorite hike to date. It's just beautiful the entire length of the trail. For a mountain hike, the elevation gain isn't too terrible, but it is long, so come prepared.
Hiking to Lone Eagle Peak in Colorado
Lone Eagle Peak is one of the best hikes in Colorado. It's a scenic jaunt through and through. Since it's over 14 miles long, most people opt to backpack to Lone Eagle Peak. In this guide to Lone Eagle Peak, we'll cover:
How to get to Lone Eagle Peak
Backpacking Lone Eagle Peak
Trailhead information
Hiking trail facts for Lone Eagle Peak
Other things to do
Nearby activities
Additional tips and tricks for hiking in Colorado
Colorado planning resources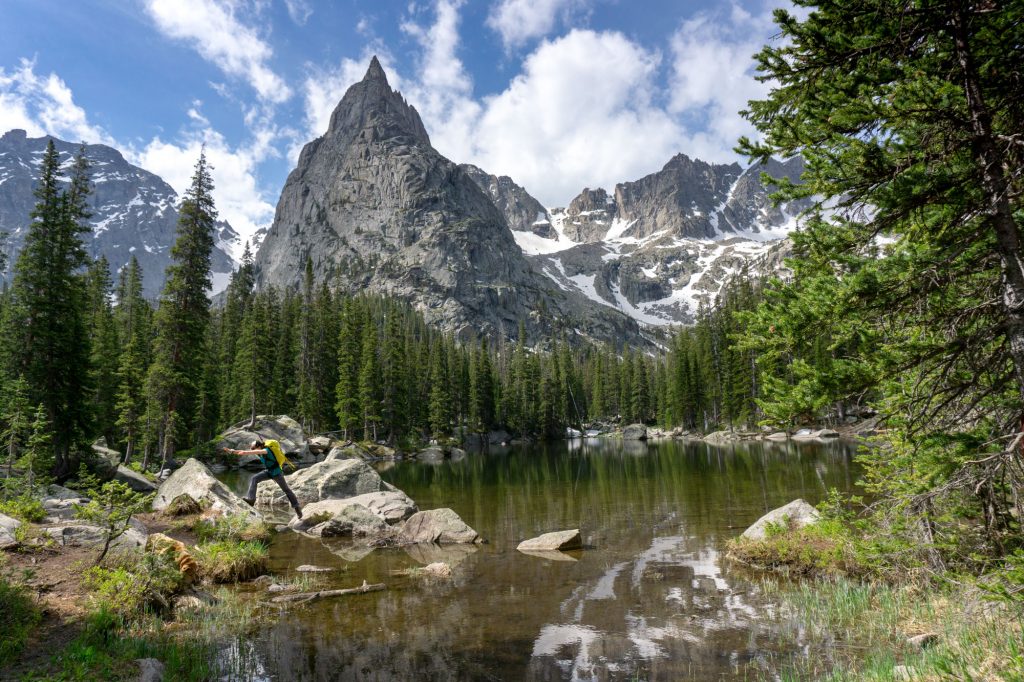 How to Get to Lone Eagle Peak
First, Lone Eagle Peak is most easily accessible from the Monarch Lake Trailhead. The peak itself is nestled deep in the Indian Peaks Wilderness, making it a tad bit tough to access.
You'll make your way along the Cascade Creek Trail until you get to the Mirror and Crater Lake Junction. You'll run across a lot of trail junctions, including the famous Buchanan Pass Trail, but all junctions are marked so don't worry about getting lost. Just follow signs towards Cascade Creek towards Mirror and Crater Lake.
Eventually, the trail will split one last time, at this point, you'll want to follow signs for Crater Lake. At this point, the tippy-top of the iconic Eagle Peak will be in view, so head towards Crater Lake, where the trail eventually ends at the water's edge.
This is actually Mirror Lake. Here you'll find the famous reflecting pool that brings you that insta-worthy view of Lone Eagle Peak.
Mirror Lake is arguably one of the most beautiful alpine lakes in Colorado, so enjoy!
Follow the creek a few hundred feet to Crater Lake, another lake right at the base of Lone Eagle Peak. The views aren't quite as spectacular from here, but still worth a visit. This is where a few of the backcountry campsites are located.
Timing Tips
Pro Tip: For the best chance at a perfect reflection, visit Mirror Lake on a low-wind morning. We arrived around 8:30 am and had calm winds. As we left (around 9:15) the winds picked up and that magical reflection was hidden in the waves.
Indian Peaks is a highly regulated area and there is a permit system in place here. Remember to always leave no trace and follow all the rules.
Driving to the Monarch Lake Trailhead
To get to the Monarch Lake Trailhead take the US 34 north out of Granby. Take the Arapaho Bay Road exit along the southern side of Grand Lake. There are plenty of kiosks to pay the day fee along this road.
Eventually, the road turns to dirt and you'll continue on towards the Monarch Lake Trailhead. It's about a two-hour drive from Denver.
Information About the Monarch Lake Trailhead
The Monarch Lake Trailhead is huge, busy, and covered in gnats and bugs. Fun (said no one)! It's actually nearly unbearable to be outside at the start of the trail. Once you pass Monarch Lake, the bugs disappear, but consider bringing a Buff or handkerchief to avoid breathing in bugs.
The entire west side of Indian Peaks Wilderness is a fee area. It costs $5 to park for the day and you can pay on your way in at one of the many fee kiosks. Most are self-serving, digital kiosks that take credit card or a ranger station. Try to have cash handy just in case a park ranger doesn't have change.
However, bare in mind that permits are only required for the Arapaho National Forest between June 1 and September 15. Permit fees are $15, the same cost of an overnight.
However, if you've got an America the Beautiful Pass, you can use it here for free entry.
The parking lot fills up quickly and the first few miles of the trail are very crowded. I'd recommend getting an early start (before 8 am) if you want to hike to Lone Eagle Peak.
Camping at the Monarch Lake Trailhead
Here in Colorado, you can camp at almost all trailheads. Parking and sleeping in your car is a popular way to get a head start on the day. However, camping in your car is prohibited at the Monarch Lake Trailhead. This includes sleeping in your car.
There are signs everywhere that say you can only camp in designated areas, but there are no signs that strictly say you cannot camp or sleep in your car in the parking lot.
We arrived late at night and gambled. We were awoken at about midnight by rangers who were asking what we were doing. However, we paid for a three-day pass, even though we were only there to do the day hike. Fortunately, we got off lucky – this is typically a $100 fine!
If you want to do the hike in a day, I would recommend camping at the nearby Arapaho Bay, Big Rock Campground (advanced reservations required) or getting a backcountry permit.
You can also enjoy backcountry camping at Crater Lake since this is one of the best campsites in the area. Just be sure to grab your permit in advance since they can run out fast!
Rules and Regulations for the Indian Peaks Wilderness
I've spent plenty of time across the countless wilderness areas in Colorado. Most of them are quiet spaces where you'll rarely see another soul. That is not the case in Indian Peaks Wilderness.
I can't stress this enough, but compared to other areas in Colorado, this place is crawling with park rangers. There are several rules to keep in mind – and there is literally a ranger around every bend to enforce them.
Your dog must be leashed at all times. There are A LOT of moose in the area (we saw 5 on the trail) so this is as much for your dog's safety as it is for others.
You must have a permit to camp.
You must have a permit to backpack. These cost $5 and must be reserved in advance (more details below)
You are required to pack out human waste.
Cascade Creek to Crater Lake Hiking Trail Facts
Miles: 14.3 round trip
Elevation Gain: 2,244 feet. Elevation gain is rather steady, and sometimes comes in bursts
Max Elevation: 10,343 feet
Type: Out-and-back
Difficulty: Moderate, but long.
Dog-Friendly?: Yes, but your dog must be kept on a leash.
Time: This hike takes between 7 to 8 hours round trip. Also a great option for an overnight.
Backpacking Permits for Lone Eagle Peak
Since the round trip distance to Lone Eagle Peak is over 14 miles, many people backpack in to break up the trip. It's one of the best backpacking trips in Colorado and having the chance to spend the night near this iconic peak is a must-do!
However, an advanced reservation is required if you plan on backpacking to the peak between June 1st and September 15th. There are 12 backcountry campsites nearby, if you snag a permit, you'll be assigned one.
Simply fill out the permit application, pay the fee, and get your permit sent back to you. Keep in mind, weekends tend to fill up months in advance, so plan accordingly.
Paper applications take around 2 to 4 weeks to process, so be sure to have a date in mind well in advance in order to snag your coveted permit!
Choosing the Best Backcountry Campsite for Lone Eagle Peak
You essentially get assigned a backcountry camp site in the Crater Lake Zone if you're awarded a permit. With 12 sites, they each offer something a little different.
First, the campsites can be a little tough to find, so plan on spending a few minutes navigating the web of social trails. Once you arrive at Crater Lake, there will be a wooden sign that will tell you approximately where each of the sites are located.
Almost all of the campsites at Lone Eagle Peak are located near rock outcroppings. Each has a sign that's marked with a number, so you'll know when you're in the right place.
Thanks to some deadfall and seclusion, a few of these sites (particularly sites 6 and 7) are tough to find!
There's a tradeoff between seclusion and beauty at the backcountry campsites. Sites 1, 11, and 12 arguably have the best views of Lone Eagle Peak.
Site 9 is a group site (8 to 12 people) and site 8 sees the highest amount of traffic from the trail.
What to Expect on Your Hike to Lone Eagle Peak
The Lone Eagle Peak hike from Cascade Creek to Crater Lake is long but well worth it for the breathtaking views of Lone Eagle Peak.
Overall, the trail trends uphill, but it isn't as grueling as say, one of Colorado's 14ers. Instead, it gains gradually, with a few points of steep terrain.
Although most of the trail is forested, it's really beautiful, with plenty of open meadows. You're almost guaranteed to spot a moose, especially if you travel early in the morning. Keep your distance and do not approach any moose – they spook easily and can charge!
We bumped into 5 moose, including a mom with twins, which although cute, is very nerve-wracking since mamma moose are highly aggressive.
Black bears and Elk are also fairly common in the Lone Eagle Peak area so be careful and be responsible with food.
There are plenty of scenic mountain views and even several waterfalls along the way like Cascade Falls. The Cascade Creek Trail is well marked, so it's tough to get lost. Lone Eagle Peak is the prize so take plenty of breaks and keep going until you reach Crater Lake.
Other Things to Do at Lone Eagle Peak
Lone Eagle Peak in Colorado is most well known for hiking and backpacking, but there are a few other things to do.
Climb Lone Eagle Peak. There are a few multi-pitch alpine trad routes on Lone Eagle Peak. This is an extreme activity that should only be attempted by seasoned climbers.
Hike to the top of Buchanan Pass Trail. An excellent idea for those who are backpacking Lone Eagle Peak.
Fish at Monarch Lake. Crater Lake probably only has a few small fish, but Monarch Lake has a bit more to offer anglers.
Explore Pawnee Lake if you have multiple days at Lone Eagle Peak..
When is the Best Time of Year to Visit Lone Eagle Peak?
The mighty mountains of Colorado hold snow until mid to late June and start to get cold in October. The best times to visit Lone Eagle Peak is between July and September (backpacking permits are required from June 1 through September 15).
Unless you're well-seasoned for traveling vast distances on snow, late June through late September is the best time of year to hike to Lone Eagle Peak. Seeing the peak reflect off of the lake is a stunning site. Check for recent trail conditions to monitor if there is still snow on the trail.
Early July you may have to manage deep river crossings and patches of snow, but in general, it's a beautiful time to visit. The wildflowers peak in July, making the scenery simply unbelievable.
Photographing Lone Eagle Peak
If you want that iconic reflective picture of Lone Eagle Peak, you'll want to start well before the sun gets up.
Plan to be at the lake no later than 8 am to get the best light for photography. After 8 am, the breeze shows up and the lake loses its mirror-like quality.
Photographers may also want to opt to backpack Lone Eagle Peak instead, to allow for extra time.
Places to Eat Nearby
You'll be starving after your Lone Eagle Peak hike, so fuel up at nearby Granby. You'll pass the massive lake on your way in and out of the Monarch Lake Trailhead.
There are plenty of places to pull over and give your achy feet a nice soak in the lake. Afterward, head into Granby to snag a meal at these hot spots:
Randi's Grill and Pub
Maverick's Grille
Pearl Dragon Cafe
Java Lava Cafe
Other Activities Near Lone Eagle Peak
There's a variety of things to do around Lone Eagle Peak. Here are a few of my favs:
Hit up the Winter Park Mountain Bike Park (summer only)
Drive up to the top of Jones Pass, one of Colorado's most scenic drives
Fish, boat, or hang out on the beach of Lake Granby or Grand Lake
What to Pack to Hike to Lone Eagle Peak
If you're planning to hike to Lone Eagle Peak in a day, don't forget the following:
Extra layers for unexpected weather.
Bug protection! The bugs are pretty bad here until August. Consider wearing long sleeves and pants if you're backpacking. A buff is handy for crossing buggy areas like Monarch Lake
A water filter. There are plenty of spots to grab water on the way. You'll want at least 2 liters of water for the hike, and you can fill up with a water filter along the way.
Sunscreen, sunhat, and sunglasses.
Plenty of snacks – it's a long day!
A first aid kit
Rain gear. Afternoon rains are common in the mountains
Hiking poles. This is a long hike that can be tough on the knees.
A fire starting kit for emergencies.
Your camera.
A GPS with a map of your route. Always bring a printed map and compass for a backup.
An emergency bivvy.
Tips for Hiking in Colorado
When it comes to hiking in Colorado, there are several important safety factors to keep in mind.
Start EARLY. Thunderstorms often plague the afternoons in the summer. Don't get caught exposed by starting early.
Know your route and do your research. Hikers get lost every year.
Pack out your dog poop (carry it with you or leave Fido at home).
Practice proper Leave No Trace and keep it better than you found it.
Tell others where you are going and when you plan to get back
Additional Colorado Hiking Resources
Check out these local resources for hiking in Colorado: