As one of the premier things to do in Colorado, visiting Rocky Mountain National Park is a part of any Colorado itinerary. With breath-taking mountain scenery and unbelievable wildlife, this gem is a fan favorite of locals and visitors alike.
I've been living in Colorado for over 12 years and I have scoured Rocky Mountain National Park. I got engaged here.
Throughout the years I've scaled her beautiful peaks, gone on leisurely scenic drives, and found ways to be in the park when no one else is around. I'm an absolute expert when it comes to outdoor adventures in Colorado. Here's the insider's Rocky Mountain National Park travel guide.
About This Guide to Visiting Rocky Mountain National Park
This post is designed to tell you everything you need to know before you visit Rocky Mountain National Park. We'll not only cover how to visit Rocky Mountain National Park, but how to travel like a local. Here's what you'll find in the Rocky Mountain National Park travel guide:
Practical travel information for getting to the park
The best time of year to visit
Weather in the Rocky Mountains
Local, practical tips for visiting Rocky Mountain National Park
Resources for planning a trip to Colorado
Where is Rocky Mountain National Park?
Located in the heart of the Colorado mountains, you'll find Rocky Mountain National Park just west of Estes Park, Colorado. The western edge of the park borders Grand Lake near the town of Granby. The park covers 265,461 acres and was established in January 26, 1915.
The park is located just two hours from Denver, making a visit to Rocky Mountain National Park an ideal choice for a day trip near Denver. The nearest city is actually Boulder, Colorado, located about an hour from the park.
Rocky Mountain National Park Map
Rocky Mountain National Park is quite unique in that it actually has several different areas that are separate from the main park including Lumpy Ridge and Wild Basin. These two areas have separate access roads with rugged, impassable mountains between them.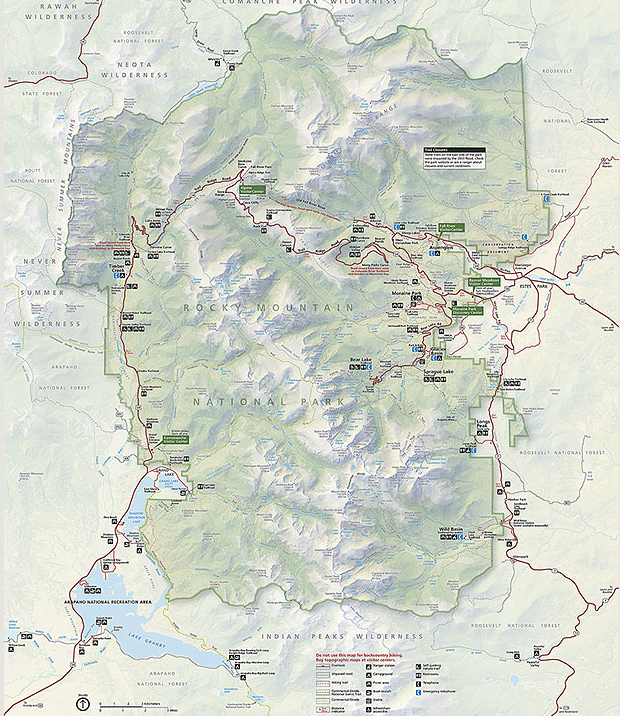 There are two main entrances to the park, the east entrance in Estes Park and the lesser-trafficked west entrance by Grand Lake. One entrance is accessible via Highway 36 in Estes Park and the other is Highway 40 (which connects to I-70) via Grand Lake.
The scenic Trail Ridge Road connects the two entrances. Keep in mind this road is not maintained in the winter, so if it's snowy (which could be into June) check to see if the road is open.
Driving through the park takes around an hour and a half. You'll be better off going through the park and returning a different way than you came.
Timed Entry Requirements for Rocky Mountain National Park in 2021
In 2021 Rocky Mountain National Park is continuing their required reservation system. From May 28th to October 28th you'll need to purchase an advanced reservation to access Rocky Mountain NP.
Permits cost the same as the entry fee and annual pass holders should check specific details.
There are two separate permits. One for the Bear Lake Road corridor which must be purchased if you're entering that area of the park between 5 am and 6 pm. You can continue to enjoy the rest of the park at that time.
A second permit is available if you are NOT visiting the Bear Lake Road Corridor from 9 am to 3 pm. This permit allows you to enter the park, but not visit the Bear Lake Corridor unless you take the free shuttle.
Bear Lake Road Corridor includes the following trailheads:
Bear Lake
Sprague Lake
Glacier Gorge
Bierstadt Lake
Hollowell Park
and any other trailhead accessed from Bear Lake Road
Permits are released on the first of the month for the following month. Meaning you can obtain timed entry permits for July on June 1. Plan accordingly and remember, permits fill up fast!
When is the Best Time to Visit Rocky Mountain National Park?
The park is open year-round, but the best time to visit Rocky Mountain National Park is between late June and mid-October. The weather this time of year tends to be warmer and Trail Ridge Road is typically open.
Fall is an amazing (yet crowded) time in Rocky. As a top national park for fall colors, don't expect solitude, but you'll have a color display unlike any other.
Other times of the year the weather is far more unpredictable and avalanche hazards may exist. Furthermore, Trail Ridge Road is often closed, making it impossible to go from the east to the west end of the park.
How Many Days Should I Spend at Rocky Mountian National Park?
When visiting Rocky Mountain National Park, you'll ideally want three full days in the park. Since this is one of the best national parks in the US you'll get a taste of every area. With that amount of time, you'll be able to hit the highlights and see all of the different areas of the park.
For true hiking enthusiasts or those looking to go alpine climbing and mountaineering may want more time. There's plenty to do near Rocky Mountain National Park and you could easily spend a week exploring the park and all of the nearby areas of interest.
If you're crunched for time, you can get a quick flavor for the park in a day. Plan on getting to the park early, perhaps enjoy a sunrise hike, then travel the stunning Trail Ridge Road by car and stop along the scenic viewpoints along the way.
What's the Weather Like?
There's a saying here in Colorado if you don't like the weather, wait 15 minutes. Mountain weather tends to be rather unpredictable, so it's best to be prepared for any conditions, even in the summer.
Winters are cold and windy with plenty of snow. Bundle up and don't expect the thermometer to rise above 45 and expect temps to dip into the teens at night.
Spring and fall are mild, with fall being a windy time of year while spring is quite wet and snowy. Temps are in the 50s with lows hovering around freezing.
Summer is sunny and beautiful with warmer daytime temperatures in the 70s. However, it's common for thunderstorms to roll in for a few hours in the afternoon. At night, the mountain air quickly drops into the 40s.
Related: Things to Do in Rocky Mountain National Park this Winter
Can I Bring My Dog to Rocky Mountain National Park?
Overall, Rocky Mountain National Park is not a dog-friendly place. Technically you are allowed to have your dog on any paved area within Rocky Mountain National Park. However, none of the trails allow dogs and you cannot bring your dog camping. It's best to leave Fido at home when you plan on visiting Rocky Mountain National park.
Where to Stay when Visiting the Park
There are many options for lodging around Rocky Mountain National Park. The two closest towns are Estes Park and Grand Lake. Both towns offer various types of lodging, but most accommodation is not budget-friendly. Even a basic motel will set you about around $230 a night during the high season.
More budget-friendly options for places to stay near Rocky Mountain National Park include:
Lyons, Colorado. Around 40 minutes away.
Nederland, Colorado. Around 40 minutes away.
Boulder, Colorado. 1 hour away
Denver, Colorado. 2 hours away.
Camping in Rocky Mountain National Park
Rocky Mountain NP is hometo some of the best camping in Colorado. There are 5 campgrounds in Rocky Mountain National Park that are available for summer camping.
Three (Aspenglen, Glacier Basin, and Moraine Park) take reservations and two (Timber Creek and Longs Peak Campground) are first-come-first-serve. Reservations are required well in advance if you plan to camp in the park.
Just outside of the park there are several paid, private campground options in both Estes Park and Grand Lake. There are some free dispersed campsites available, but they are tough to find and few in numbers.
Related: The Guide to Finding Free Camping Near National Parks
Do I Need Permits to Hike in Rocky Mountain National Park?
One of the great things about visiting Rocky Mountain National Park is that you don't need permits for the most popular hikes. The only thing you'll need permits for is bivvying (camping without a tent) at backcountry bivvy sites, and backcountry camping. Obtain your permits in advance by contacting the permit office.
Things to Do in Rocky Mountain National Park
Rocky mountain national park offers a wide variety of things to do throughout the year. A few of the highlights include:
Tips for Visiting Rocky Mountain National Park
No Rocky Mountain National Park travel guide is complete without a few handy local tips for visiting the park. After coming to RMNP for over 12 years, I've accumulated a wealth of local knowledge to help you better plan your visit.
Acclimatize Properly
The Colorado Rockies are some of the highest mountains in the country and Rocky Mountain National Park is no exception. In fact, it's one of the highest national parks in the nation with elevations spanning from 7,860 feet to a whopping 14,259 feet. Acclimatize safely by taking it slow, drinking plenty of water, and avoiding caffeine and alcohol your first 24 hours.
Buy a Parks Pass
The entrance fee to visiting Rocky Mountain National Park is $25. If you plan on spending more than three days in the park, you may want to spend the $85 and get an annual America the Beautiful National Parks Pass.
This pass grants you access to any national park in the country and includes national monuments and national recreational areas. A killer deal if you plan on visiting other national parks.
Check and Re-Check the Weather
Colorado weather is serious business. Hiking above treeline during a thunderstorm can kill you so it's essential to check the weather before heading out up until the morning you leave. Weather.gov offers the best weather information since you can even search the specific trailhead you're heading to.
Start Early
Most people don't like getting up before the sun, I get that. But watching a sun rise in Rocky Mountain National Park is a must-do activity.
Also, the park gets extremely crowded and most parking areas (Bear Lake, Lumpy Ridge, Wild Basin, Glacier Gorge) all fill up by 8 am.
You'll beat the stormy weather and be treated to some solitude in the park. Sunrise is a magical time in Rocky.
Don't Harass the Wildlife
Every year tourists and visitors to Rocky Mountain National Park make the national news because they approach wildlife for photos. Elk and moose are particularly dangerous, especially during the September rut (mating season). Steer clear and give the wildlife it's space. You wouldn't like it if a stranger approached you with a camera, give wildlife the same car.
Drive Slow
The slower you drive, the more you'll see. Rocky Mountain National Park is truly beautiful. It's home to two of the most scenic drives in the state, so take your time and drive slow. Keep in mind that animals love to jump in the road in the park so cautious driving keeps animals safe.
Pull Out in Designated Spots Only
Whenever there is wildlife people like to haphazardly jump out of their vehicles to chase it. Don't be that tourist. It's illegal, it causes tremendous traffic in the park, and it pisses the rangers off. Instead, drive slowly until you reach a proper pull-out and then explore.
Use the Bus System
If you arrive late, chances are you'll have to bus into the park. The bus system in Rocky Mountain National Park is free and easy to use.
Buses run year-round, every day from May 25 through September 13 and on the weekends only from September 14 to October 20th. They run hourly from 7:30 am till 10 am and every half hour from 10 am to 6 pm. Each stop has a ranger around to help out with any questions.
Don't Forget About the West Side of the Park
The west side of Rocky Mountain National Park is much quieter and less crowded than the east side. Although you have to work a little harder to reach the dramatic views, there is still plenty of beauty to uncover, not to mention, the wildlife loves hanging out around here.
Practice Leave No Trace
Leave No Trace is a way to honor and respect the wilderness. It's designed to keep places pristine and beautiful for the next visitor as well as preserve the natural habitat. When traveling in the alpine be sure to:
Use designated bathrooms. Poop does not decompose here. Pack out all of your poop and toilet paper in wag bag if you're out in the wilderness.
Don't feed the animals! This is so harmful to them. Sure they are cute, but your processed foods are not natural (neither is your trail mix). Feeding wildlife can kill them.
Stay on the trail. The alpine tundra is super delicate. Even the lichen on the rocks takes years to grow, so stick to designated trails only.
Pack it out! I can't stress this enough. Put your trash back in your bag and take it with you. This includes toilet paper, fruit cores or peels, snack baggies, even band-aids. If you see trash, pick it up.
This guide about how to visit Rocky Mountain National Park like a local is designed to give you everything you need to know before you plan your trip to Rocky. Enjoy the thin air, epic views, and fantastic wildlife!
Planning a Trip to Colorado? I've got you covered with these local resources: