If you only have 4 days in Colorado, you'll see quite a bit with this locally-curated Colorado road trip itinerary. As a Colorado local of over 12 years and an outdoor aficionado, I know all of the best Colorado road trip spots, so here's how to see the most of Colorado in just 4 days.
How to Use this Colorado Road Trip Itinerary Guide
This 4-day Colorado road trip itinerary brings you a taste of the highlights. Are there other amazing Colorado road trip stops? Sure, but this 4-day itinerary is designed to give you a taste of the unique landscapes of Colorado and maximize your time exploring this amazing state. This itinerary includes:
When is the Best Time to Go on a Colorado Road Trip?
The Rocky Mountains of Colorado typically have snow from October through June. Although it's a pretty time to visit, it's also a dangerous time to hike due to avalanche hazards and many of the scenic drives close down for the season. Therefore, the best time to go on a Colorado road trip is from July through early September.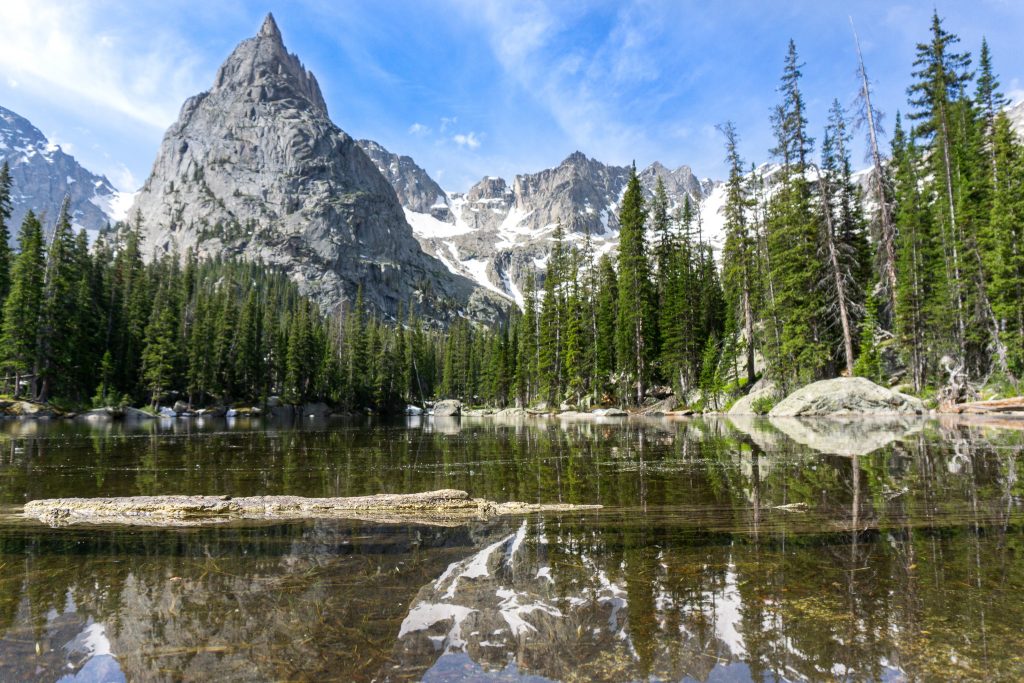 Day One: Denver to Estes Park
Since you've only got 4 days to explore Colorado, pick up your vehicle and drive straight to Estes Park. Make sure to drink plenty of water and take things slow to get properly acclimated to the altitude.
Keep in mind the Denver International Airport (DIA) is pretty far from anything. If you're arriving late, consider spending the night in Denver, and prepare for an early morning to make the most of Estes Park, Colorado.
Things to do: Catch a sunset at Sprauge Lake or the Many Parks Curve Overlook in Rocky Mountain National Park, spot wildlife in Estes Park, take a short hike at Lumpy Ridge, relax and grab a drink at the Stanley Hotel (film location for The Shining).
Drive time: 1 hr 40 mins
Where to Stay: Camp at a campground near Estes Park, find dispersed camping along Highway 34, stay in Estes Park (generally quite pricey during the high season), or stay in nearby Lyons, Colorado (cheaper, great AirBnBs).
Where to eat: Smokin' Daves BBQ and Brew (mid-range brewhouse), Scratch Deli and Bakery (breakfast, lunch, coffee), Burgers and Gyros on Moraine (cheap lunch or dinner), Notchtop Bakery and Cafe (excellent breakfast or brunch).
Get Your Free Colorado Road Trip Packing List!
Day Two: One Day in Rocky Mountain National Park
Rise and shine before the sun to make the most of your time on this 4 day Colorado itinerary. Rocky Mountain National Park gets crowded year-round, but if you're willing to get up before dawn, you can savor a few moments of solitude in the park.
Today you'll go for a hike at one of the many amazing hiking trails in Rocky Mountain National Park, then continue onwards along the scenic Trail Ridge Road to the west end of the park.
Pro Tip: Trail Ridge Road is not maintained in the winter. Always be sure to check that the road is open before heading out. You can still hike, but you'll have to drive around the west end of the park to get to Glenwood Springs if the road is closed.
Things to do: Sunrise at either Bear Lake (no walking) or continue onwards to Dream Lake (2 miles RT). Hikers looking for a challenge should check out Sky Pond via Glacier Gorge, or the Loch Lake Trail.
Drive time: Approximately 3 hr 30 min to Glenwood Springs with stops
Where to eat: Pack snacks and grab a late lunch at Grand Lake. Check out Cy's Deli or Sagebrush BBQ and Grill
Glenwood Springs Overnight with Hot Springs
After a day in Rocky Mountain National Park, head to Glenwood Springs for and relax with a soak in one of Colorado's best hot springs. If you've got some spare time and energy, snag a permit to hike to Hanging Lake, one of Colorado's most beautiful lake hikes.
Things to do: Hike to Hanging Lake (near Glenwood Springs, advanced permit and paid parking or bus ride required), soak in the Glenwood Springs hot springs, or ride the scenic Gondola to the top of the Canyon.
Where to eat: Sweet Coloradough (delicious donuts), Native Son Restuarant and Bar (tapas and great drinks), Slope & Hatch (delicious street tacos).
Where to Stay: The Hotel Glenwood Springs (pricey but convenient), two rest areas just east of town (free camping, budget option. Bathrooms are clean and it is very safe), Hanging Lake Inn (budget hotel).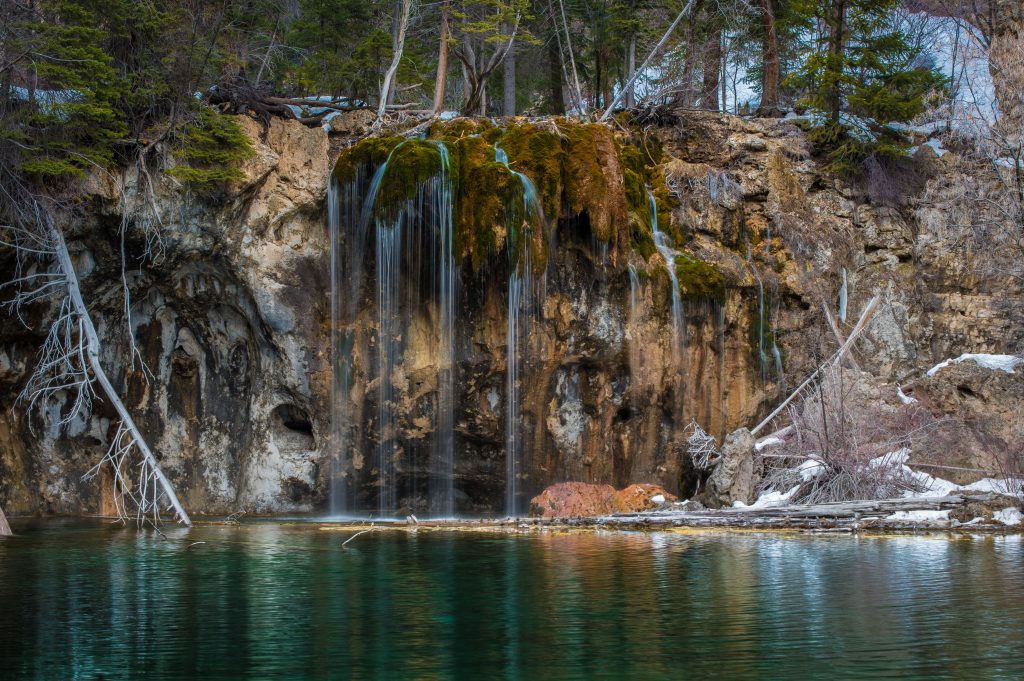 Day 3: Black Canyon of the Gunnison
In the morning, make the 2.5-hour drive to the Black Canyon of the Gunnison. Touted as the "Grand Canyon of the Rockies" this beautiful canyon plunges 2,722-feet down and is only 40 feet across at its narrowest section. It's a must-see stop on any Colorado road trip.
Drive Time: 2.5 hours to the more developed south rim, or 2 hours to the more remote north rim.
Things to do: Snap photos along the 12 scenic overlooks on the Rim Drive (Chasm and Sunset view are spectacular), hike to the bottom of the canyon (difficult, 5 hours, obtain permit on arrival), go fishing, go to a ranger program and learn about the area (the night program is amazing), go for a scenic boat ride or white water raft, rock climb in the canyon (intermediate level), check out the historic town of Cimarron and see what life was like in 1882.
Where to eat: Crash Burger (casual, tasty burger joint), Colorado Boy Pizzeria, Guru's Nepalese Restaurant (tasty Nepali food), Mimo's (breakfast burritos, a Colorado breakfast staple).
Where to Stay: Reserve a camp spot at the East Portal Campground or stay in nearby Montrose. Stay at the Canyon Creek Bed and Breakfast (highly rated, but pricier), The Country Lodge (mid-range), or one of the many standard hotel chains.
Day 4: Explore Breweries in Denver
It's time to head back to Denver today. If you're short on time, make your way directly to DIA (keep in mind traffic is poor in the city around rush hour, and it's an average of 45 minutes to the airport from Denver) or stop by one of Denver's most amazing local breweries for a delicious beer and some food.
Drive Time: 4 hrs and 45 minutes to downtown Denver. 5 hours and 20 minutes to Denver International Airport
Things to do: There's a wide array of things to do in Denver, but if you're short on time check out Red Rocks Amphitheater in nearby Morrison (you'll pass it on the way to the city), grab a drink at a local brewery, visit the Denver Botanical Gardens, or wander around the RiNo District or Union Station area.
Where to eat: Lowdown Brewery (tasty pizza and beer), The Great Divide Brewery (a Colorado classic), The Post Brewing Co (the best fried chicken and soul food).
Colorado Road Trip Quick Tips
Visiting Colorado in just 4 days is a tall order. There's a lot to see and do. For the best trip, travel like a Colorado local. When you're planning a Colorado road trip, you'll want to keep a few things in mind to make your experience better. Here's a few handy local tips:
Mountian traffic is a real problem year-round. Build in extra time when you're traveling on Interstate 70 (coming back from the Gunnison).
Colorado locals drive quickly and pass on the left. Please don't drive in the left lane unless you're looking to pass.
Fire bans are common in Colorado. If you plan on camping in Colorado, check the latest fire ban regulations for where you're traveling.
Colorado is a naturally beautiful place, be sure to do your part and practice Leave No Trace.
The airport is rather far from DIA, book in some extra time for travel.
The weather is often unpredictable and wild in Colorado, especially in the summer be prepared with a proper Colorado road trip packing list (coming soon).
Weed is legal and can be found virtually everywhere in Colorado, but it still illegal to smoke in public and smoke and drive. Respect weed laws.
Spend One Week in Colorado
If you can swing it, it's worth it to spend a few more days visiting Colorado. Although this itinerary covers some of the best Colorado road trip stops, if you've got extra time, check out these awesome Colorado road trip destinations:
The mountain town of Ouray in the San Juan Mountains
The Million Dollar Highway Scenic Byway
Gunnison and Crested Butte
Carbondale and Aspen
Buena Vista, Leadville, and Salida
Grand Junction, Fruita, and Colorado National Monument
Breckenridge, Frisco, and Dillon
Boulder
Colorado Springs
Great Sand Dunes National Park
The Royal Gorge
Mount Evans Scenic Byway
Fort Collins and the Poudre Canyon
Other Colorado Trip Ideas
Planning a big trip to colorado? Here are some local resources to help you plan:
Enjoy your Colorado road trip with this iconic 4-day itinerary. Travel like a local with this insider's itinerary.