Famously known as the Swiss Alps of America, Ouray and the surrounding areas are simply gorgeous. With so many things to do in Ouray, you can easily spend a week here and just scratch the surface.
As one of the must-see places in Colorado, Ouray and the surrounding San Juan Mountains offer up plenty of adventure and majestic mountain scenery. The unique nature of the mineral-rich peaks creates a colorful mountain display that will have you drooling.
One of the best things about visiting Ouray, Colorado is the wide variety of adventures right near your fingertips. From unbelievably scenic drives to adrenaline-pumping via Ferratas, there's an adventure for everyone.
As a long-time Colorado local, I have spent plenty of time in Ouray and the surrounding areas over the years. In fact, I make a trip down here every year to experience what just might be my favorite Colorado mountain town. With so much local knowledge, you can be assured that you're getting the best advice about things to do in Ouray, Colorado.
I'm on a mission to have you traveling like a local, not a tourist. So if you want advice about how to beat the crowds and experience the amazing beauty of Ouray, Colorado, then you're in the right place.
About This Guide to Things to Do in Ouray, Colorado
Inside this guide to things to do in Ouray you'll find local insights about:
The best time to visit Ouray
Where to find Ouray
How long you should stay in Ouray
The best things to do in Ouray, Colorado any time of year
Summer activities in Ouray
Things to do in Ouray during the winter
Tips for visiting Ouray
Additional planning resources
Is Ouray Worth Visiting?
Ouray is easily one of the best places to visit in Colorado hands-down. It's an utterly stunning gateway to some of the most beautiful scenery in Colorado. Unbelievable mountain views are easily accessible by car.
But if you want to really get into the thick of it, you can enjoy some of the most challenging hikes in Colorado too. WIth plenty of activities in Ouray, there's an adventure waiting for everyone.
What I personally love about this area is that you can have a challenging adventure, then relax and just enjoy the view. It's the perfect blend of high-octane and RnR. If this post hasn't convinced you that the best things to do in Ouray offer a little bit of everything, then I haven't done my job!
Where is Ouray, Colorado?
Ouray is located in Southwestern Colorado at the base of the mighty San Juan Mountains. It's a small, scenic town nestled in a cliff-ridden valley along Highway 550 – or the San Juan Scenic Byway. It marks the northern start of the famous Million Dollar Highway – one of Colorado's most scenic drives.
With only one way in and out of this old mining town, you really feel cozy nestled in the mountains. Nearby towns include:
Ridgeway, Colorado – 20 minute drive
Montrose – about an hour drive
Silverton – 45 minute drive
Durango, Colorado – 1 hr 45 minute drive
Denver is roughly 5.5 hours away.
Local Tip: You're going to want to have a 4WD, high clearance vehicle such as a Jeep or 4Runner here. There is a lot of exploring that requires a duty vehicle. You can certainly rent one at Colorado West Jeeps or Ouray Mountain Adventures.
When is the Best Time to Visit Ouray?
Ouray is an amazing place any time of year. In fact, you'd be surprised to learn that there are quite a few things to do in Ouray in the winter, summer, spring, and fall.
The best time to visit this "Little Switzerland" is from mid-July through September. 4th of July is crowded here and snow typically lingers into the end of June. July marks wildflower season, so if you're into experiencing some of the best wildflower hikes in Colorado, then July through early August is your time.
As one of the top places to visit for fall in Colorado, Ouray is a must-see when the aspens turn. Typically peak leaf-peeping lasts until the end of September.
October and November are great times to visit Ouray if you want a quiet experience. It's often pretty cold, so camping might not be ideal, but that doesn't mean you still can't enjoy a lot of the best hikes in Ouray and other outdoor pursuits. However, some of the high pass 4WD roads may be closed for the season.
If you're into adventure sports, winter is a great time to visit Ouray. The annual Ouray Ice Festival is a must-see – even if you're new to the sport. You can also backcountry ski to a full-service hut or soak in hot springs and enjoy the snow-capped peaks.
How Long Should I Stay in Ouray, Colorado?
I'll be honest – I would move here if it made sense for my husband. You could literally spend a lifetime exploring Ouray, Colorado and never run out of things to do.
You'll want at least two full days to truly get a feel for Ouray. If you're interested in exploring the nearby towns of Silverton and Ridgeway (which I highly recommend), you'll need about 5 days in Ouray to really hit the highlights.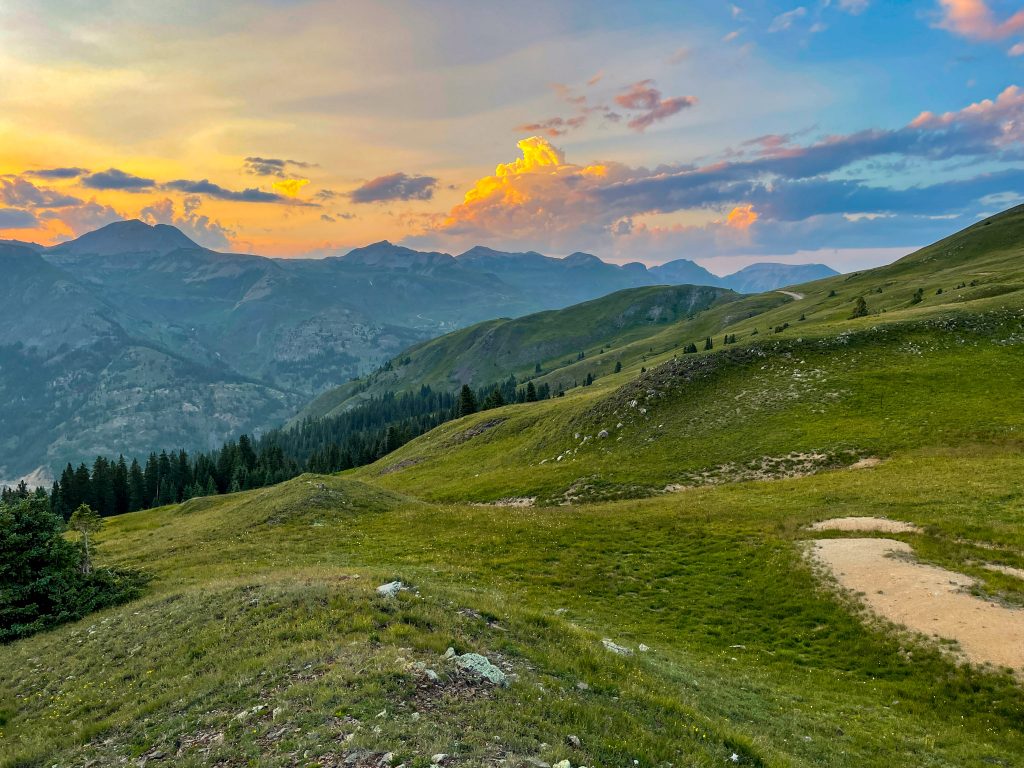 What is Ouray Known For?
Often called the "Little Switzerland of America" Ouray is most well-known for its incredible scenery. Picture-perfect peaks paired with stunning canyons give Ouray a natural, beautiful feel. When it comes to things to do in Ouray, there are a few notable activities including:
Scenic driving
4×4 roads
epic sunsets
stunning mountain hikes
The Best Things to Do in Ouray Year-Round
It doesn't matter when you visit, these amazing things to do in Ouray, Colorado are excellent any time of year.
Cruise Down Main Street
Take a walk down Main Street in Ouray. You'll see the usual tourist shops, local artisans, and plenty of great mountain food. Sometimes it's fun to sit on a patio and watch the parade of Jeeps come back in the evening. It's almost as if everyone owns either a Jeep or Toyota in this town!
Visit the Box Canyon Falls Park in Ouray
Box Canyon Falls, located just outside of Ouray offers three main easy trails that deliver excellent views of Canyon Creek. There are several 100-plus-foot waterfalls to gasp at. The mist from the falls feels so good on a hot summer's day, but be sure to bundle up in winter.
Local Tip: Most of the Ouray hikes require steep elevation gains thanks to the sharp, imposing mountains surrounding the area. The Box Canyon Falls Park offers the easiest hiking options in the area.
Drive the San Juan Skyway and Million Dollar Highway
You simply can't come to Ouray and not drive the San Juan Skyway. For starters, you need to drive the road just to access the town. The San Juan Scenic Byway starts in Ridgeway (if you're coming from the north) and loops 233 miles through Ouray, Silverton, Durango, Dolores, Telluride and back to Ridgeway.
This scenic byway is one of the prettiest drives in the US and is best done over multiple days to get the full experience. It's an excellent addition to any Colorado road trip.
One section of the San Juan Scenic Byway, from Ouray to Silverton, stretches for 25 miles of unbelievable scenic driving. This winding ribbon of tarmac (often without guardrails) is called the Million Dollar Highway. It's incredible and a must-do activity in Ouray.
Keep in mind, that the road can close in winters due to avalanche hazards. It's generally a 3-season road, but if some of the viewpoints are accessible just minutes from Ouray.
Local Tip: Drive this road during the golden hour (about 2 hours before sunset) for stunning lighting.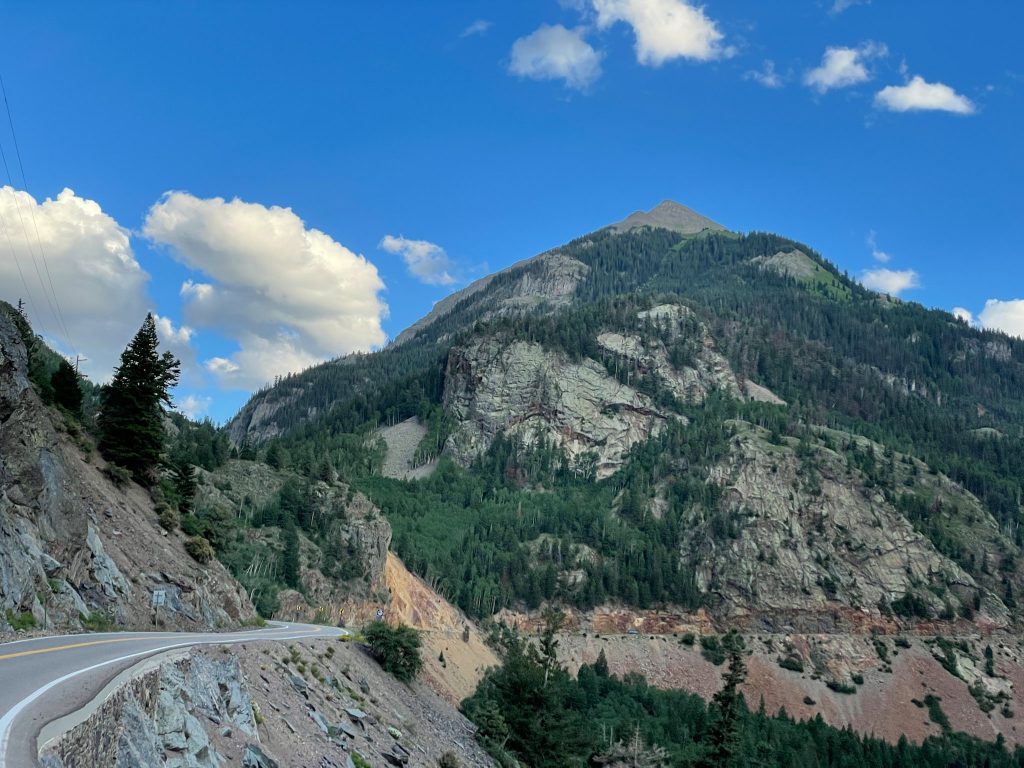 Visit the Alchemist Museum
Ouray, Colorado was one of the most successful mining towns in the Centennial State. Some of the largest silver veins in the US were found here. With that came some of the biggest medical innovations of Frontier Era Colorado. The Ouray Alchemist Museum offers an impressive display of 16th to 18th-century medical devices. Learn about the unique history of this area at the museum.
Scope Out a Brewery
If you enjoy a local brew, then you'll want to check out the (surprisingly) large lineup of breweries in the small town of Ouray. KJ Wood Distillers, Mr. Grumpy Pants Brewing, Ouray Brewery, and Red Mountain Brewing all serve up locally-sourced adult beverages for you to enjoy.
Local Tip: If you opt for Mr Grumpy Pants, don't forget to grab a burger at Maggies Kitchen. Come hungry! They are BIG!
Drive the Famous Black Bear Pass
Known as the most dangerous 4×4 road in Colorado, driving Black Bear Pass from Ouray to Telluride is bucket list activity. The 8.5-mile, one-way (descending into Telluride), is generally simple with a high-clearance 4WD, short-wheel base vehicle. However, it has a notoriously steep, narrow 1-mile section above Bridal Veil Falls in Telluride that's rated as difficult.
You'll need plenty of off-roading and 4×4 experience to navigate the treacherous bits. Considered a right of passage by many Colorado drivers, the scenery is just as drool-worthy as the challenge
Local Tip: Do NOT attempt this drive in bad weather, including rain, as rock slides and tumbles become a serious threat. Typically it's snow-free by the last week of July until early fall.
Enjoy the Ouray Eats
Ouray delivers great mountain cuisine that satisfies your post-adventure hunger. For upscale, head to BrickHouse 737 for New American fare. Get your burger fix at Maggie's and satisfy your sweet tooth at Mouse's Chocolates.
One place you can't miss is the Pitts Again BBQ in nearby Silverton. Absolutely delicious BBQ with sides to match.
Soak in a Hot Spring
Who doesn't love a soak in mineral-rich waters after a long day of adventuring? One of the best things to do in Ouray is enjoy some of the most fantastic Colorado hot springs. Both Ouray Hot Springs (just north of town – kid-friendly) and Orvis Hot Springs in nearby Ridgway (clothing optional) let you relax your weary muscles. For even more relaxation options check out the Wiesbaden Hot Springs Spa which features accommodation, treatments, and a vapor cave.
Day Trip to Telluride
Located about an hour and half away, nearby Telluride makes for an amazing day trip any time of year. With ample things to do in Telluride, it's easy to spend the day here.
In the summer you can enjoy the beautiful Main Street. Just outside of town you can hike to the beautiful Bridal Veil Falls, one of Colorado's best waterfalls. Or go on a high-flying adventure along the famous Telluride via Ferrata.
Local Tip: If you've got some driving skills and a capable vehicle, opt to take one of the famous 4×4 roads one way (and the paved highway back) to get even more mountain action. Notable 4×4 roads to Telluride from Ouray include: Ophir Pass, Imogene Pass, Black Bear Pass
During the winter months, hit the slopes and ski at the stunning Telluride Resort. Afterward, soak in a hot springs or book a delicious apres dinner at one of the many eateries in Telluride.
Fall is the perfect time to enjoy some of Telluride's best hikes since the crowds of summer are long gone.
Learn About Mining History
Ouray, Colorado got put on the map from the intense mining activities in the area. A lot of the history is rather sad and you can still see tailings, mining trash, and uniquely colored lakes and rivers throughout the area.
Visiting some of the ghost towns – like Ironton, Animas, and others gives you a unique look into this period of history. There are countless options to check out the mines. A few fan-favorites include:
Red Mountain Mine off of the Million Dollar Highway
Bachelor Syracuse Mine Tour – get a guide to show you the unique history of the area
Yankee Girl Mine
Local Tip: It's illegal and highly un-advised to enter any mining shaft. They are very unstable and prone to collapse, so enjoy from a distance.
Take a Scenic Train Ride
The Silverton to Durango narrow-gauge railway offers up secluded mountain views from the comfort of an open-air train. The ride itself takes 1.5 hours each way and delivers a stunning day trip from Ouray. As one of the best things to do in Colorado, you'll want to reserve your tickets ($115) well in advance.
Those that want a truly unique adventure can take the train into the Chicago Basin and backpack from the train. This adventure is one of the best backpacking routes in Colorado and can't be missed.
Local Tip: The train is stunning in the fall when the leaves are changing!
Check Out the Wright Opera House
This 19th-century opera house isn't just a stunning historic building, but it's home to some pretty cool events too. From live music to theater and expert talks, you can get your culture fix at the Wright. As a well-preserved building, it's on the national register of historic places. If you want, you can even host events here.
Summer Activities in Ouray, Colorado
Visiting in summer or early fall? These things to do in Ouray are perfect for soaking up that mountain sun.
Head to the Yankee Boy Basin
Yankee Boy Basin, located about an hour or so outside of town, is one of the top things to do in Ouray. You'll need a 4WD vehicle to reach the middle parking lot for Yankee Boy Basin. If you have anything less, you'll likely be stopped just after the gravel ends and the road gets rough.
Inside the basin, you'll find stunning wildflower displays, a waterfall, a short alpine lake hike, and a few other notable adventures. Mt Sneffles, one of Colorado's prettiest 14ers can be hiked from here (helmet and scrambling required).
One noteworthy hike is to hike your way to Blue Lakes Pass. The views from the top of the pass look down at nearby Telluride and offer unbelievable mountain views.
Plan for a half-day to explore the area and get there early to avoid the caravans of Jeeps.
Local Tip: Side by sides, dirt bikes, and Jeeps can navigate all the way to the end of the road. If that's not you, don't worry, a lot of people stop at the parking lot for the toilets and walk.
Hike the Ouray Perimeter Trail
For amazing views of this picture-perfect mountain town, be sure to hike the Ouray Perimeter Trail. You'll get views of the town and enjoy stunning scenes of Box Canyon, and the Ouray Ice Park. It takes about 3 hours to complete and is suitable for all abilities.
The trail features four waterfalls, five bridges, and even a hidden troll. Bring plenty of sunscreen, water, and a camera!
Drive the Alpine Loop
Arguably one of the most famous off-road routes in all of Colorado, the 63-mile Alpine Loop is a must-do for OHV enthusiasts. You'll need a high-clearance vehicle to make the journey and if you're opting for a car, it's best to tackle the loop over multiple days. There are plenty of designated spots to camp (no services) along the loop.
You'll make your way from Silverton to the Animas Ghost Town, then all the way out to Lake City and back. There's a diversity of landscapes, driving conditions, and things to scope out along the way.
The best way to drive the Alpine Loop in one day is to rent or bring a side by side. This exciting adventure takes you up and over two mountain passes – Engineer Pass and Cinnamon Pass. Engineer is much more technical, and if you're in a side by side you can drive to the top of the 13,000-foot Engineer Peak.
With lots of spur trails and side stops, you will easily spend the entire day exploring the area.
Local Tip: Rent side by sides at Rocky Pirates in Silverton for easy access to the loop.
Visit the Animas Ghost Town
If you don't want to commit to the entire Alpine Loop, a visit to the Animas Ghost Town is one of the best things to do near Ouray. This well-preserved ghost town Gives you a glimpse into the mining towns of the area. You can enter the homes and a visit is free – although you'll be traveling down a relatively well-maintained dirt road to get there.
There are bathrooms at the ghost town. Just keep in mind, venturing further into the mountains from here will require a 4WD vehicle with high clearance.
Have an Adventure on the Ouray via Ferrata
The Ouray via Ferrata is a high-flying adventure course inside the Ouray Ice Park that is accessible during the summer months. Unlike the Telluride via Ferrata, proper via Ferrata gear is required to embark on the course. If you've got outdoor rock climbing experience you can rent gear from the San Juan Mountain Guides in Ouray. If not, you'll want to hire a guide as you navigate unique obstacles by traversing steel cable bridges, iron rung ladders, and exposed cliff sides.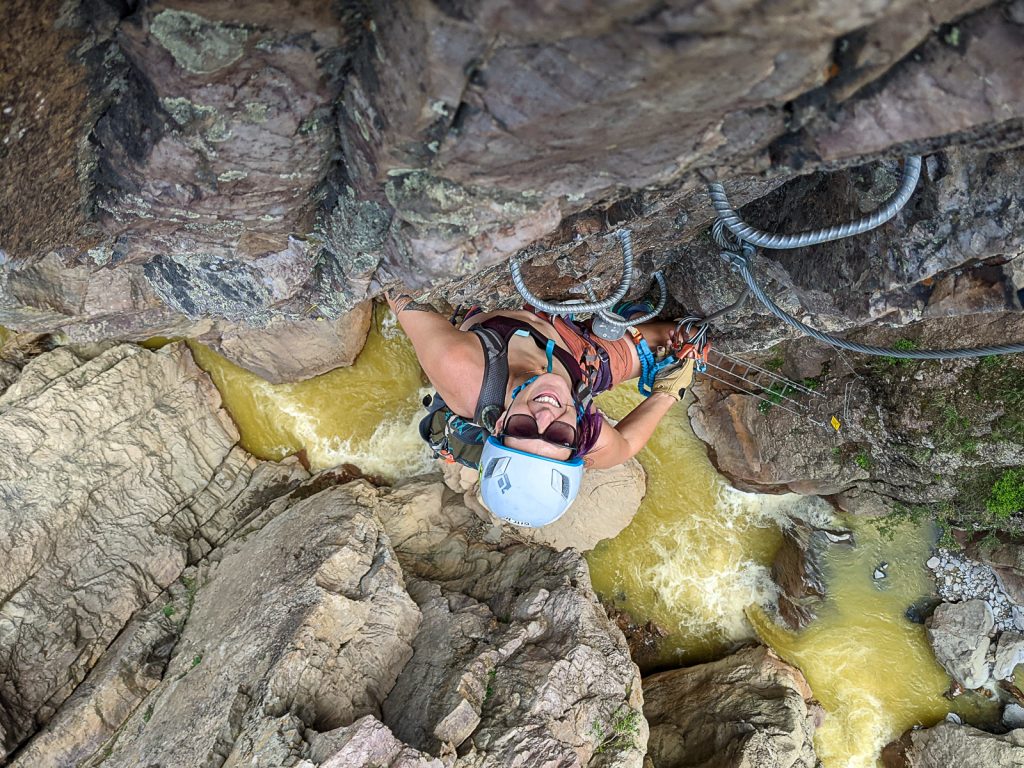 Go for a 4-Wheeling Adventure
Ouray and Silverton are world-famous for their 4WD roads. Some of the mountain passes are the highest in the US and offer up plenty of thrills. When it comes to things to do in Ouray, driving at least one of these famous passes is a must-do – even if that means renting a capable vehicle. A few must-drive routes include:
Black Bear Pass
Ophir Pass
Imogene Pass
Enjoy Some of Ouray's Best Hikes
Ouray is world-famous for hiking if you're up for the challenge. Due to the steep nature of the moutans, most of the Ouray hikes involve lots of butt-busting elevation gain. Expect a real challenge on these trails, especially if you aren't used to the altitude. A few must-do hikes include:
Columbine Lake
Bear Creek Trail
Mt Sneffles
Cheif Ouray Mine via Upper Cascade Falls
Mountain Bike
If you're into single-track then plan a day mountain biking in nearby Ridgway. The Ridgway Area Trail system, also called RAT has mouse-inspired trail names with unique and fun obstacles for all abilities.
Be sure to check out Ratus Maximus for beginner riders or the Exterminator trail for an advanced downhill thrill.
SUP in Ridgeway
Ridgway State Park features a large reservoir that's suitable for motorized watercraft and paddlers alike. You can rent kayaks and stand-up paddleboards at RIGS for a fun day on the water. The fee to enter the park is $10 and there aren't many amenities on the beach, so be sure to bring things like a shade structure and chairs if you want to plan a full day at the reservoir.
Go Fly Fishing
If you've ever wanted to test your angling abilities, then you can fish the Uncompaghre River. Take a guided lesson from RIGS and learn how to properly cast your line in some of the best honey holes in the state.
Pro Tip: Ouray's rivers don't have any wildlife thanks to poison from mining activity. You'll need to head to Ridgway for the best places to cast a line.
Winter Things to Do in Ouray
When it comes to things to do in Ouray, Colorado, winter is surprisingly still a happening time in this quiet mountain town. Ice climbing certainly rules the adventure sports scene, but with hot springs and stunning mountain scenery, there's plenty to explore.
Ice Climb at the Ouray Ice Park
Ouray is an iceclimbing mecca. What makes the Ouray Ice Park so great is that beginners and experts alike can enjoy the many different routes in the park.
Beginners can hire a guide with the San Juan Mountain Guides to learn how to climb ice using picks. Top rope options exist for those that want more experience on the ice and advanced climbers have plenty of unique terrain to choose from.
Local Tip: Get into the sport at the annual Ouray Ice Festival – being held on Jan 20, 2022.
Go Cross Country Skiing
The Ouray Nordic Council created a stunning set of trails just 7 miles from Ouray in the Ironton Cross Country Skiing Area. What is full of 5th-wheel campers in the summer becomes a serene landscape perfect for cross country skiing enthusiasts. You can rent gear in town and learn how to glide over the snowy landscapes of the San Juans.
Stay at a Full-Service Hut
One popular way to stay in Ouray is to experience a backcountry hut. These off-the-grid huts nestled in the San Juan Mountains are especially attractive in winter – since the only way in is by backcountry skiing or snowshoeing.
The San Juan Hut System ranges in accommodation types, from basic huts where you pack in all of your supplies to the full-service accommodation of the Orvis Hut, which includes multi-course meals!
Local Tip: You'll need to reserve your spot well in advance – as this popular winter pastime fills up quickly!
Take a Snowmobiling Tour
Just one hour south of Ouray you'll find yourself at Molas Pass – a beautifully stunning area that's well-known for its snowmobiling trails in the winter. Bring. your own sled or opt to go on a tour with the Ice Pirates in Silverton. In nearby Silverton, you can even snowmobile through town! There are several different trails to choose from catering to all abilities.
Local Tip: Be careful when riding snowmobiles as the avalanche danger in the San Juan Mountains is extreme. If you don't have proper avalanche training, go with a guide.
Tips for Visiting Ouray, Colorado
When it comes to things to do in Ouray, Colorado you'll have plenty of different activities to choose from. However, the last thing you want to do is enjoy these Ouray activities while looking like a total tourist. Here are a few ways to visit Ouray like a local.
Practice Leave No Trace. Always leave it better than you found it. This means picking up and packing out your trash, toilet paper, and dog poop. Follow signage and stay on trails – especially if you're in a vehicle. The alpine tundra is a fragile place. Don't swim in alpine lakes, pick wildflowers, or visit areas that are closed for restoration.
Acclimatize properly. Take it easy your first day in Ouray – you're at 7,792 feet above sea level after all! Be sure to avoid alcohol your first few days in the area, take mellow hikes, and drink plenty of water.
There is no AC in town. It can get quite warm in Ouray, especially in the summer. Most mountain towns don't have air-con, so plan on closing blinds that are in sunny windows and stay hydrated.
Plan in advance. Rentals book up quickly in and around Ouray, so plan accordingly. It's best to book things about 3 months out (more if you visit over a holiday) to reserve your spot!
Watch the road. People tend to drive very slowly along the Million Dollar Highway – and with good reason! There are no guardrails in many places and very steep drops. If you're driving slow, pull over for local traffic. Keep your eyes peeled too – deer, elk, and moose are commonly found in town and along the road.
Where to Stay in Ouray
When it comes to where to stay in Ouray, there are a few hotel options. Keep in mind, you won't have air con in your room, so plan accordingly on a hot day!
We loved our stay at the Alplily Inn. Since we love to cook while we are away, we enjoyed the small kitchenette. But our favorite part had to be the patio views. Just amazing!
Hotel Ouray gets high marks for hotels in the town too.
Is it Better to Stay in Ouray or Telluride?
Ouray offers more budget-friendly lodging and has more access to nearby activities. Although Telluride boasts some gorgeous vacation rentals (if you have the cash), it's much more isolated and harder to get to some of the most beautiful sights in the area.
Camping in Ouray
For the amount of nature nearby, we actually found the free camping near Ouray to be difficult to find – usually requiring all-wheel drive and a little clearance to reach. However, Ironton – an area about 10 minutes outside of Ouray had ample space if you don't mind sharing spots with big RVs. Otherwise, there is very limited camping along dirt roads leading to trailheads.
For campgrounds, all of the nicer campgrounds near Ouray are available on a first-come-first-served basis. A few awesome campgrounds include:
Ampitheater Campground
Thistledown Campground
Angel Creek Campground
What is Ouray Famous For?
Ouray originally became famous for its rich mining operations including vast silver veins that had prospectors flocking to the region. Today, Ouray is well-known for being the "Switzerland of America." With charming buildings, scenic mountain views, and unbelievable adventure opportunities, Ouray is a famous Colorado destination and one of the most scenic places in the state.
Additional Colorado Adventures
Planning a trip to Colorado? Be sure to check out these local resources.
PIN THIS POST