Don't let the chill in the air stop you from experiencing Colorado in November! Late fall is a fantastic time of year to explore the Rocky Mountains, whether you want to do some early-season skiing or get in the holiday spirit at lots of festive events.
I've spent nearly 15 years living in Colorado now and November in Colorado is full of fun adventures and activities. As a long-time local, I want to help you experience all that late fall in Colorado has to offer in this guide.
About This Guide to Colorado in November
In this local guide to November in Colorado, you'll find detailed expert advice on visiting during this season. Here's what you'll find:
What Colorado is like in November
Colorado weather in November
Skiing in Colorado in November
Fun events in Colorado in November
Things to do in Colorado in November
Additional Colorado travel resources
Is It a Good Time to Visit Colorado in November?
Wondering when to visit Colorado? Well, November is an awesome time to visit Colorado if you like snow-capped peaks and wintery fun!
November in Colorado is also a great time to check out the Western Slope and 4 Corners Region. The sweltering summer heat has gone, but on a sunny day it can still feel quite pleasant in these areas.
It's not quite as happening as the winter or summer months, but it's a great time to take advantage of fewer crowds and cheaper lodging prices.
Ski season has just begun, and you'll find plenty of fun things to do in Colorado in winter besides ski, too. Plus, you'll find some fun holiday celebrations and events in Colorado in November. You can even cut down your own Christmas tree near Denver if you like.
Local Tip: A lot of trailheads and camping becomes impassible or closed in the winter months, so be sure to look up where you plan to go to get the most up-to-date conditions.
What to Expect from Colorado Weather in November
If you're planning to visit Colorado in November, you probably want to know: does it snow in Colorado in November?
And the answer is yes, especially at higher elevations. While Denver and the foothills might be totally dry or have a blanket of snow (it really could go either way), you should definitely plan for snow in the mountains in Colorado in November.
Colorado weather in November can get cold, so you should definitely pack a puffy and other warm layers. In Denver, the high average is in the 50s in November, with lows getting down into the 30s at night, but expect it to be much colder in the mountains.
What is Colorado Like in November?
Visiting Colorado in November is an excellent way to avoid the summer crowds. While most ski resorts will be open, November is still early season for Colorado skiing, so the lift lines should be shorter.
The hiking trails will also be less busy, and even though some of the best hikes in Colorado might have wintry conditions, you can still do lots of hiking in Colorado in November.
The hike to Dream Lake and Emerald Lake in Rocky Mountain National Park is especially gorgeous with a dusting of snow on the ground.
November is also a more affordable time to visit Colorado since it's shoulder season – the fall colors have passed but ski season isn't yet in full swing.
This means you might be able to find cheaper flights and accommodations in Colorado in November.
Where to Ski in Colorado in November
The powder days might not be plentiful yet on the slopes in Colorado in November, but you'll still find plenty of open runs at the resorts. Here are some of the best places to ski in Colorado in November.
Arapahoe Basin and Loveland Ski Area
Just a quick jaunt from Denver, both Arapahoe Basin (known as A-Basin by locals) and Loveland Ski Area would make great day trips for some skiing.
They are both around an hour away, so you can easily get in some laps while still having plenty of time to explore more in Colorado in November.
Keystone Resort
Keystone Resort offers some of the best skiing near Denver and opens each year in October.
Their snow-making operation ensures the slopes will be good to go in November, no matter what Mother Nature does.
Breckenridge
Breckenridge is slightly farther away from Denver and typically opens a little later than the closer resorts.
But Breck should be open by mid-month, so you can still get a start on early-season skiing in November, and you'll find lots of other things to do in Breckenridge in winter.
Vail
One of the most popular ski areas in Colorado, Vail also typically targets mid-November for ski season opening day. Vail is definitely a winter wonderland, so visiting Vail in winter is a wonderful experience.
Steamboat
Steamboat typically doesn't open until late November, but you can still sneak in some skiing if you plan your visit to Colorado around Thanksgiving or later.
And if the snow conditions on the slopes aren't ready yet, there are tons of other fun things to do in Steamboat Springs in winter.
Beaver Creek
Beaver Creek also targets an opening day right before Thanksgiving.
Make your November visit into a romantic getaway in Colorado by cozying up at the Frisco Inn on Galena which has hot tubs and saunas to warm up après ski.
Crested Butte
Another resort that opens in late November is Crested Butte. CB, as it's referred to locally, is one of the best mountain towns in Colorado and makes a great Colorado road trip from Denver.
Exciting November Events in Colorado
November brings the beginning of the holiday season and lots of fun events to Colorado, from light shows to gift markets and more.
Blossoms of Light at Denver Botanic Gardens
One of the coolest holiday events in Denver is the stunning light display at the Botanic Gardens. Blossoms of Light begins in mid-November, and it is truly a must-see attraction in Colorado in November.
Local Tip: All tickets for Blossoms of Light need to be purchased in advance for timed entry. No tickets are available onsite.
Denver Christkindlmarket
Another signature holiday seasonal event in Denver is the Christkindlmarket, which opens mid-November.
The lively market is located in Civic Center Park and features local and European craft and food vendors, plus lots of live entertainment. Admission is free.
Colorado Country Christmas Gift Show
For more holiday spirit, head to the Colorado Country Christmas Gift Show in Colorado Springs.
You'll find plenty of gift ideas, as well as holiday home decor and seasonal foods, and Santa Claus will make an appearance. The show runs from Nov 10-12, 2023, and is open to the public.
Local Tip: While you're in Colorado Springs, make time to explore the hiking trails at Garden of the Gods, which will be lovely in November.
Santa's Lighted Forest at Georgetown Loop Railroad
Take a nighttime ride on the Georgetown Loop Railroad in November and experience the sparkly spectacle of Santa's Lighted Forest.
The station and forest are decorated with hundreds of thousands of lights, and Santa joins the fun on every train ride.
Denver Art Week
Celebrating the arts and culture of the city, Denver Art Week takes place November 3-11, 2023 (or the first Friday of the month).
Enjoy expanded First Friday Art Walks in several neighborhoods across the city and a Night at the Museums where many local museums will offer free admission.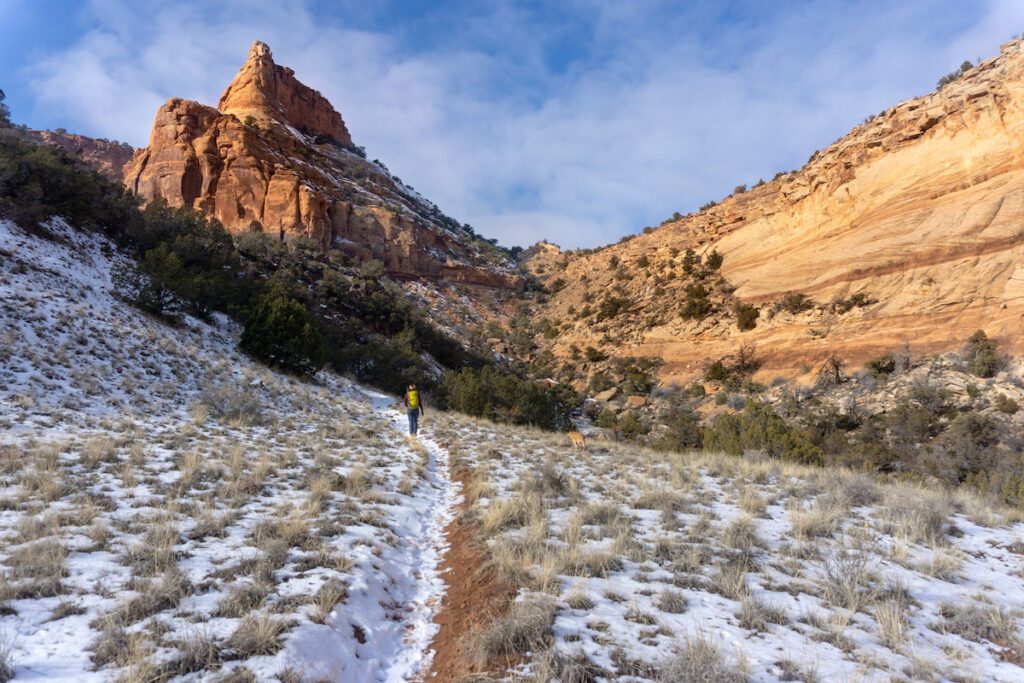 The Best Things to Do in Colorado in November
Here are a few more awesome ways to explore Colorado in November!
Get in the Holiday Spirit in a Mountain Town
Feel merry and bright with a visit to one of Colorado's many charming mountain towns which get all decked out for the holidays.
Telluride is a fantastic November vacation destination, and Steamboat Springs and Breckenridge are festive getaways closer to Denver.
Other mountain towns to consider include:
Crested Butte
Ouray (near Telluride)
Ridgeway
Winter Park
Explore the City in Denver
You could also spend lots of time in November simply exploring all the things to do in Denver.
Beyond the seasonal events mentioned above, attend an Avalanche game or lace up your own skates and hit a rink in Denver for some fun ice skating in Colorado.
Take a Scenic Drive
The scenic drives in Colorado are always stunning, and November is no exception.
The Peak to Peak Byway near Estes Park is full of mountain vistas, and the San Juan Skyway out near Ouray will take your breath away.
A few other routes include:
Loveland Pass
The Loriat Loop
Local Tip: Be aware that many high mountain pass roads close in winter, including Trail Ridge Road in RMNP, Independence Pass, Mt Blue Sky (formerly Mt Evans), and Guanella Pass.
Warm Up in the Hot Springs in Glenwood Springs
The cooler weather of November makes it a great time to visit Glenwood Springs and indulge in a hot springs soak.
While the hot springs are at the top of the list of things to do in Glenwood Springs, don't miss the hike to Hanging Lake while you're out there as well.
Local Tip: You need a permit for the Hanging Lake hike.
Local Tip: Hanging Lake has been experiencing temporary closures due to trail maintenance from the 2021 landslides. Always check on the permit website for the most accurate and up-to-date info!
Visit a National Park for Free on Veterans Day
On Veterans Day (November 11), all national parks in Colorado have free entry for everyone, making it the perfect time to visit Rocky Mountain National Park, Black Canyon of the Gunnison, Mesa Verde, and Great Sand Dunes.
Colorado State Parks also offer free admission to all veterans and active duty members of the military, military reserve and National Guard on Veterans Day.
Local Tip: Do be aware that free days in the park mean a high number of crowds. Plan to get there early if you don't want to wait in a long line to get in!
Visit the Colorado National Monument
The Colorado National Monument is truly a hidden gem. Explore red rock country with steep canyons, rock spires, and inspiring desert landscapes.
November is an amazing time to visit this area because it's not too hot (like it is during the summer). From scenic drives to awesome easy and moderate hikes, the Monument is a great way to spend the day!
You can also enjoy several Grand Junction hikes while you're here!
Additional Colorado Travel Resources
Visiting Colorado in November? Check out these handy resources to exploring the state: