For one of the most scenic mountain drives in the entire world, you can't miss the Million Dollar Highway in Colorado. Nestled in the southwest corner of the state, this slice of tarmac winds like a ribbon through the mighty San Juan Mountains.
As a part of the (almost) equally famous San Juan Skyway, the 25-mile stretch of road spanning between Ouray and Silverton, Colorado is officially known as the Million Dollar Highway. This unbelievable mountain drive will leave you utterly breathless.
Driving the Million Dollar Highway is no easy task for the uninitiated. Despite being paved, this dizzying highway is carved from the sides of steep mountains and has zero guardrails. The biggest challenge for the driver? Focusing on the road when there's so much beauty around you!
If you're looking to travel the Million Dollar Highway like a local, not a tourist, then you're in the right place. I've called Colorado home for the past 13 years. The Million Dollar Highway is a road I've been down countless times in several different seasons. I want to share my secrets to driving the Million Dollar Highway with you.
About this Guide to the Million Dollar Highway in Colorado
Inside this local guide to the Million Dollar Highway in Colorado you'll find:
Map of the Million Dollar Highway
Info about the road
The best time to drive the Milling Dollar Highway
Tips for driving the Million Dollar Highway
Things to do and see along the way
Frequently asked questions about the drive
Accommodation and camping along the Million Dollar Highway
Additional Colorado travel resources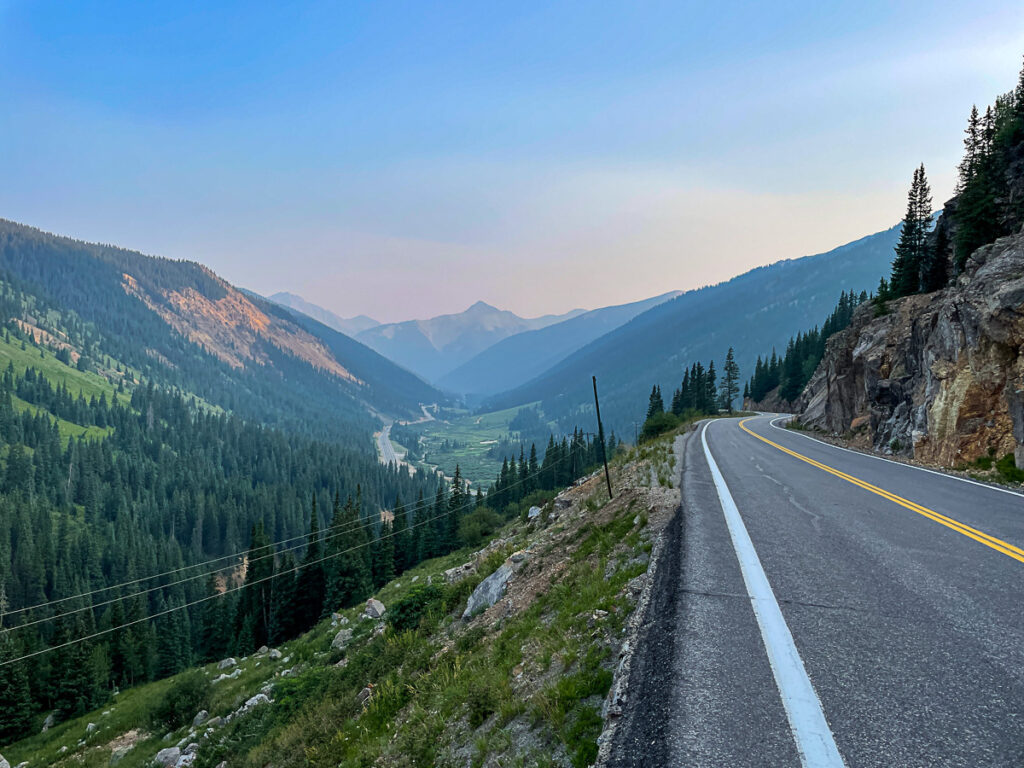 Map of the Million Dollar Highway in Colorado
Technically speaking, the Million Dollar Highway refers to canyon hugging stretch of road from Ouray to Silverton (24 miles). However, when most people talk about the Million Dollar Highway in Colorado they are referring to the part of US 550 that goes from Durango to Ouray (71 miles one-way).
Here's a map to get oriented.
Why Is it Called the Million Dollar Highway?
The legends surrounding the name "Million Dollar Highway" give nods to the unique nature of the road. Some people say the name comes from the priceless views. Others claim it's because the road has a pucker factor (read: can be scary to drive) and many people wouldn't drive it even if they were paid a million dollars.
While other myths go way back to the heyday of mining in the area. In fact, the old mines along the Million Dollar Highway were so rich it's one of the biggest silver veins in the entire country. A road (and impressive railway) has existed to access this area for quite some time.
Arguably the most popular story is that when there was a meeting proposing the rebuilding of the highway in the 1920s, someone exclaimed that it would cost one million dollars to build. Whichever one you believe, one this is certain, this is a unique road that is unmatched in its state-of-the-art design (more on that in a second) and unbelievable views.
Is the Million Dollar Highway Open?
The Million Dollar Highway is open year-round, including winter, making this one of the more unique things to do in Colorado at any time of year. Many locals use the road to commute between Durango and Ouray. Snowplows do maintain the road in winter, however, it can close due to avalanche danger or heavy snowfall for hours (or days) depending on the conditions.
Local Tip: If you're traveling the Million Dollar Highway in winter, be sure to check road conditions before heading out.
Thanks to the steep mountains and narrow chutes, the Million Dollar Highway is in an extreme avalanche zone. One thing very few people know about the highway is it's actually a road engineering marvel.
Unique designs and experiments have been conducted here along common snow slide paths to create a man-made "tunnel" for snow to go over and cars to go under. This keeps the road safer (and cheaper to maintain) during the winter months.
When is the Best Time to Drive the Million Dollar Highway?
The Million Dollar Highway is fantastic any time of year, but summer and fall are by far the most popular. As one of the top things to do in Colorado, don't expect a lot of solitude at roadside stops unless your driving the road between sunrise and 9 am.
There's rarely major traffic buildup (except by a large truck or RV moving uphill). Some holidays can have slight delays, but it's rarely bumper-to-bumper traffic.
In the winter and spring conditions can be quite unpredictable with the snow. Sometimes the road can close due to safety reasons for multiple days at a time, so plan your trip with that in mind. However, the San Juans covered in snow is a sight to behold. Not to mention there are plenty of things to do in Ouray and even the tiny town of Silverton over winter.
As one of the top scenic drives in Colorado, summer is prime time for the Million Dollar Highway. Most 4×4 trails are open, hikes are happening, and you'll be able to access dirt-road campsites. In July, the wildflowers bloom which can be particularly beautiful.
Fall is another popular time to go for a drive. In fact, the Million Dollar Highway is arguably one of the most beautiful fall drives in Colorado – and with good reason. The changing aspens highlight the red-streaked peaks that surround you along the road.
Practical Info About the Drive
Driving through one of the most scenic places in Colorado is a real treat, but driver beware! You're going to have to balance the urge to peep at the scenes unfolding in front of you with a windy road featuring steep drops and no guardrails.
Hairpin turns, steep mountain passes, and butt-puckering drops are found along the Million Dollar Highway. For us locals, it's part of the thrill of the drive (and many of us are used to this type of drive). But for the uninitiated, this road can be quite intimidating.
Of course, you can move slowly, just be sure to use pullouts to allow quicker traffic to pass when available. And be on the lookout for wildlife too! Once you reach the valley floor over Red Mountain Pass, the scenery opens up and wildlife does cross the road.
Drive Times
The 24-mile stretch of road between Ouray and Silverton takes around 45 minutes without any stops one way. There are several pullouts to soak in views, learn some history, or just allow other cars to pass. On top of that, there are plenty of awesome hikes, 4×4 roads, and other excursions to keep you busy.
If you're just driving and stopping at overlooks, plan on an hour to an hour and a half one way to get to Silverton. Silverton is worth a stop (Thee Pitts Again has excellent BBQ). For Durango budget is around 2 to 2 hours and 15 minutes.
There's even more action if you plan to go all the way to Durango (75 miles or 1 hour and 45 minutes each way). You'll likely want to get out in Silverton to stretch your legs and maybe grab a bite to eat. Durango and back (or visa versa) is certainly a full-day outing.
The San Juan Skyway
The Million Dollar Highway is actually one little slice of the bigger San Juan Skyway. Marked as one of the top road trip destinations in Colorado, this 233-mile roadway goes in a loop from Ridgeway through the Million Dollar Highway to Cortez, Delores, and even inches close to Telluride.
Driving the Million Dollar Highway
Ready to hit the road? Here are several quick tips for driving along the Million Dollar Highway.
Pack plenty of water and snacks. There isn't much in the way of services between towns (and a few "towns" labeled on maps are actually mining ruins) so come prepared. Plan on bringing 2 liters of water per person and a few of your favorite snacks.
Pay attention to road signs and pullouts. It is illegal to stop on many stretches of road including the famous Uncompahgre Gorge.
Watch the road. This one may sound obvious, but it is difficult. With tons of hairpin turns, sharp corners, and steep drops, you'll want to pay attention. Also, use pullouts if you're going too slowly.
Pro Tip: Switch drivers. If you're talking the road with a companion, switch drivers on the return journey so everyone can enjoy the views.
Get ready to take LOTS of photos. The road is stunning and many people stop at overlooks and pullouts to snap photos.
Book activities and accommodation well in advance. This area is bumpin' during the summer and fall. It's not the kind of place you can just show up at. Be sure to book activities, accommodation, permitted hikes, and camping in advance. Dispersed camping areas are hard to come by between Ouray and Silverton thanks to the steep grades.
Remember you're at a high altitude. The Million Dollar Highway tops out at 11,081 feet (Red Mountain Pass). That's almost 2 miles above sea level. Take your time adjusting the altitude, drink plenty of water, and lookout for signs of altitude sickness.
You can drive the road in any direction. I personally enjoy the jaunt from Ouray to Durango better (the views are slightly more impressive) but it's a worthwhile drive in each direction.
Cell service is spotty. Don't plan on relying on your phone while you're out and about. You're deep in the mountains and reception is hard to come by.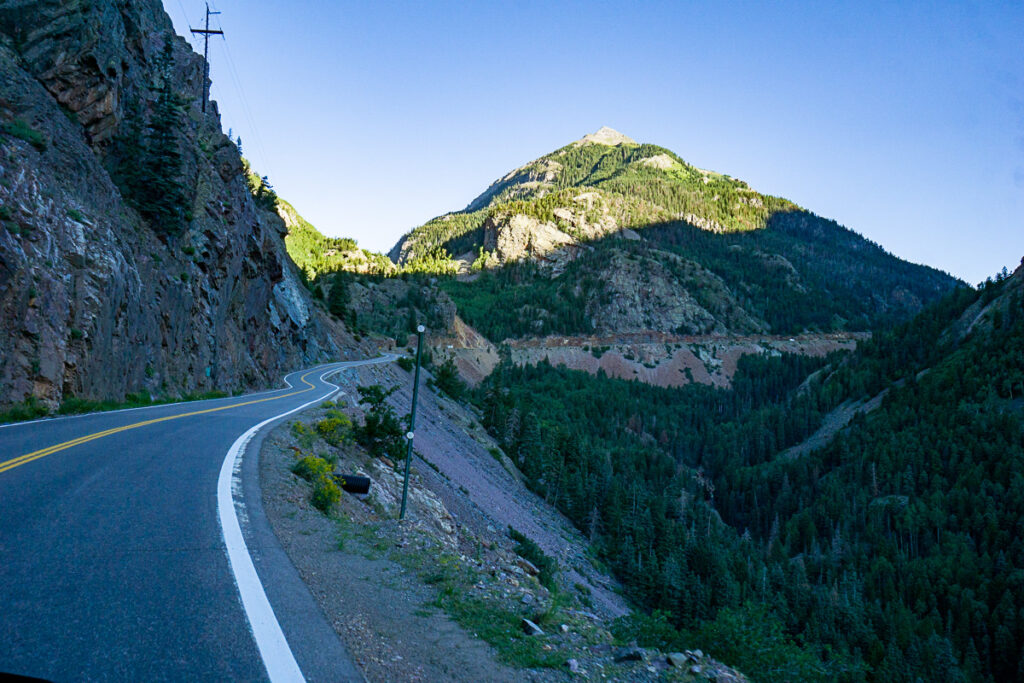 Attractions Along the Million Dollar Highway: Ouray
Known as the "Little Switzerland of America" Ouray is one show-stopping beauty of a town. I never pass up at a chance to stay in this charming town. There is enough activities in town to keep you entertained for at least 3 full days.
Thrill-seekers won't want to miss the Ouray via Ferrata (or the Ouray Ice Park in winter). While 4×4 enthusiasts will enjoy easy access to notorious mountain roads like Yankee Boy Basin, Ophir Pass, Engineer Pass, the Alpine Loop (although Silverton is more convenient), and Black Bear Pass. Not to mention, there are plenty of Ouray hikes to enjoy too.
Uncompahgre Gorge
Once you crawl up the hairpin turns while leaving Ouray, you're immediately partway up the impressively steep Uncompahgre Gorge. The first stop is the Switzerland of America Overlook which gives you a wonderful bird's eye view of Ouray.
After that, be sure to stop and peep the waterfall at Bear Creek Falls, another 1.4 miles (3 minutes) down the road.
From here, the drive gets exposed, windy, and impressive as it winds its way through the gorge. Surprisingly, you're only a few miles as the crow flies from Telluride. However, the drive to this famous Colorado mountain town is over an hour away.
Local Tip: The orange-stained Uncompahgre River and Red Mountain Creek is so polluted from Victorian-Era mining operations, no life exists here. Restoration efforts are being made, but there's still a long way to go.
You'll eventually pass under that experimental avalanche bridge I spoke about earlier. The road continues to wind, twist, and turn although the exposure tapers off a little bit. Your urge to white-knuckle the steering wheel dissipates as you climb your way through many mountain passes.
Red Mountain Pass
Eventually, you'll reach the apex of the Million Dollar Highway in Colorado – the impressive 11,081-foot summit of Red Mountain Pass. From here, you'll make your way downhill into the gorgeous alpine valley below.
Mines and Ghost Towns
Along the way, you'll pass by several abandoned silver mines and mining ghost towns from the late 1800s. Ironton and the iron-stained peaks of the Yankee Girl Mine are two obvious ruins. The area was famous for its lucrative silver vein, but lead, zinc, and copper were other resources found here.
You'll see tailings (big piles of toxic yellow rocks), mining ruins, and essentially mining trash littered virtually everywhere in the San Juan Mountains. It's impressive to ponder how people got such heavy equipment up to such impossible places, but it's also a shame to see the long-lasting impact of such selfish resource extraction.
Nearby Hikes
Aside from 4×4 drives, the Million Dollar Highway is littered with plenty of hiking trails. Due to the steep nature of the surrounding terrain, most of these hikes are difficult. However, for all the butt-busting elevation you'll do, the reward is just as impressive. A few must-see hikes include:
Blue Lakes Pass (4wd required)
Columbine Lake
Segment 24 of the Colorado Trail near Molas Pass
Spending Time in Silverton
This quiet, unassuming historic mining town is the last remaining Victorian-era mining town along the Million Dollar Highway. Don't let its age fool you – it's a happening, laid-back place. There are a few breweries and a delicious BBQ place (Thee Pitts Again) that make for a perfect break if you're continuing on to Durango.
Local Tip: If you want to make a full day of your Million Dollar Highway adventure but don't want to shlep to Durango, consider hitting the road early, heading to Silverton and renting a 4×4 OHV from Silverton Rock Pirates. From here, you can get deep into the San Juans on burly mountain roads.
For those that want a different view, you can also opt to drive to Silverton, then continue the journey to Durango on the Silverton Narrow Gauge Railway. Diverging from the main road, this scenic train ride takes you into the heart of the San Juans for a unique mountain experience unlike any other.
Local Tip: One of the best backpacking trips in Colorado leaves from a train stop along the way!
The Alpine Loop
Silverton is an excellent launch pad for those looking to drive the famous Alpine Loop. Leaving from Silverton and heading over Cinnamon Pass, then passing through Lake City before returning via Engineer Pass, this incredibly scenic drive is a Colorado bucket list item.
The 90-plus-mile loop is best done in a side-by-side OHV vehicle in a day or over the course of 3 days (camping) in a high-clearance SUV with low gears.
Molas Lake
The next big stop along the Million Dollar Highway is Molas Lake. The San Juans really start to shine here. Off in the distance, you'll see the dramatic ridgeline of the famous Vestal Group. These impressive mountains capture the heart of mountaineers every year who want to test their skills.
There's a campground and picnic area at Molas Lake, as well as mellow access to the famous Colorado Trail – a 450-plus mile-thru hike that traverses the state. If you're looking for an easy jaunt into the San Juans.
Durango
Eventually, you'll drop down into the town of Durango – a metropolis compared to Silverton. With lots of fun activities and awesome Durango hikes, you'll easily want to spend a couple of days exploring. The narrow gauge railway, golfing, and even a kid-friendly adventure park are just a few of the activities on offer.
Other Things to Do Along the Million Dollar Highway
You could spend a lifetime exploring here. In fact, I've been to the Million Dollar Highway several times and I still have just barely scratched the surface. Other things to do include:
Catching the sunset on CR 825 (low gears/high clearance required)
4×4 driving in Governer's Basin
Camping (dispersed camping at Ironton and past Silverton en route to Durango)
Fishing
Backpacking one of the many hiking trails
Can I Drive My RV or Trailer on the Million Dollar Highway in Colorado?
Yes you can! The road is safe for RVs and trailers. We've taken our pop-up out here many times. Just be aware that the higher altitudes and steep roads mean you'll be moving much slower. Keep an eye on your breaks (use low gears) and use pullouts so you don't make other drivers angry.
I won't lie, it's a heads-up road, even for a local, so take care on the spicy sections.
Is the Road Dangerous?
Overall, the Million Dollar Highway is not nearly as dangerous as the surrounding 4×4 trails and dirt mountains passes, but it is considered a dangerous stretch of highway. Fatal accidents do occur from time to time.
There are no guardrails and plenty of blind corners. Passing and pulling over isn't always an option (it's often illegal) as the road gets quite narrow. Not to mention, people aren't always paying attention when they are trying to peep views.
In winter, the road becomes exceptionally dangerous due to avalanche hazards. Always keep an eye on the weather and keep tabs on road conditions.
Local Tip: Gas up in Ridgeway or Durango before you hit the road. Gas prices are cheaper here than Ouray and Silverton and there are no gas stations or rest stops in between.
Camping Along the Million Dollar Highway
Camping is a bit limited along the Million Dollar Highway simply due to the steep terrain. Free campsites do exist for those willing to put in the work. For more learn about how to find free camping anywhere in the US.
As far as paid options the best campgrounds are:
Ampitheatre Campground (Ouray)
Angel Creek Campground
Anvil Campground (half way bwtween Silverton and Ouray)
Kendall Campground (half way bwtween Silverton and Ouray)
Molas Campground (Silverton)
Haviland Lake Campground (between Silverton and Durango)
Accommodation
There is a wide range of accommodation in Silverton, Ouray, and Durango.
You'll find chain hotels in Durango, while Ouray and Silverton feature boutique establishments. Of course, AirBnBs are always an option. Just remember, whichever you choose, it is not common to have AC in the mountains. This means days and nights can get quite hot in the summers, so be sure you have access to a fan.
A few of the best accommodations along the Million Dollar Highway Include:
Alplilly Inn (Ouray) – lovely apartment style units with a shared balcony featuring killer views
Strater Hotel (Durango) – A Victorian Style hotel with plenty of unique charm and live music.
Kendall Mountain Lodge (Silverton) – A quaint and quiet spot to rest your head after a day filled with adventure.
Additional Local Coloardo Travel Resources
Traveling to Colorado? Check out these local resources: