With everything from red rock deserts to towering snow-capped mountains there are a lot of unique things to do in Colorado. But it doesn't stop at just fantastical landscapes. Thanks to a diverse culture, there are plenty of weird things to do in Colorado too.
From funky festivals to spotting dinosaur tracks, you'll never be bored in the Centennial State.
I've lived in Colorado for over 13 years and you won't find any better info on the most unique places to visit in Colorado anywhere else on the web.
So if you're looking to experience the strange in Colorado like a local, not a tourist, then you're in the right place.

About this Guide to Unique Things to Do in Colorado
Inside this local guide to unique places to visit in Colorado you'll find:
Helpful info about visiting Colorado
Amazingly unique things to do in Denver
A look at the most unique things to do in Colorado Springs
Fun and funky Colorado events
Unique experiences in Colorado
Additional Colorado travel resources
The Best Time to Visit Colorado
Colorado is an awesome place to visit year-round, but if you want the ideal times to visit, try to plan your trip between July and September. This is also the most crowded time in Colorado, followed by the winter ski season – typically January through March.
Spring and fall are also great times to visit if you're not into camping and you want to avoid the crowds.
In essence, the best time to visit Colorado is whatever works best for your type of trip and unique personality!
How Long to Visit Colorado?
When it comes to how long you'd like to visit Colorado, that largely depends on where you are going and where you're arriving from. If you're flying into DIA, you can experience unique things to do in Denver or Colorado Springs over a quick weekend.
However, if you're looking to get into the mountains, you'll want at least 4 days in Colorado. 1-2 weeks on a Colorado road trip will let you experience the best of the state.
What is Something Unique You Might See in Colorado?
There are tons of unique things to see in Colorado. You might spot dinosaur tracks or the remains of a great ancient civilization. There's a chance you could be hiking to the top of a Colorado 14er near Denver and see someone carrying a keg of beer (yup, seen it).
The promise of an amazing sunset is possible nearly every day anywhere in the state. Or you may spot a ribbon of road that tiptoes across a steep canyon along the Million Dollar Highway.
The point is, Colorado
Unique Things to Do in Denver
When it comes to things to do in Colorado, Denver is a hub for interesting activities. From one of the few naturally occurring amphitheaters in the world to immersive art experiences you can't find anywhere else, Denver is packed with unique experiences.
Enjoy Red Rocks Amphitheater
Located in the hills of Morrison, Red Rocks Amphitheater is more than just a stunning concert venue. Catching a show at this naturally occurring amphitheater is arguably one of the most unique things to do in Colorado.
You can catch an incredible outdoor show with views of Denver in the distance, but you can also use the stairs to work out by running up and down them or participating in a yoga class. There is also a network of trails surrounding the amphitheater itself if you want to go for a hike.
Cost: Varies
Worship at the International Church of Cannabis
What looks like a traditional church on the outside is anything but traditional inside. The Elevationists of the International Church of Cannabis have decorated the interior with technicolor murals which are the perfect backdrop for getting high in the pews.
The church, located in downtown Denver, is open to the public during daily guided meditations and laser light shows.
Cost: $25
Immerse Yourself in Meow Wolf
Denver is home to the third permanent exhibition of Meow Wolf, which originated in Santa Fe. Convergence Station is a trippy immersive visual and auditory art experience that tells a narrative story.
Its completely immersive exhibits are suitable for curious adults and children alike. A visit to this exhibition should definitely be at the top of your list of unique things to do in Denver.
Cost: $35-45
Go Back in Time at the Molly Brown House
The Molly Brown House Museum brings you back to Denver in the 1880s when silver mining was booming. Molly Brown took ownership of the house in 1898 before she garnered her "unsinkable" nickname for surviving the Titanic and helping others into her lifeboat.
The museum features a self-guided tour of rooms of the house as well as interesting facts about Molly Brown's life.
Cost: $14-16
Discover Who's Buried in Buffalo Bill's Grave
Up on Lookout Mountain in Golden, just west of Denver, Buffalo Bill Cody was buried in 1917. While some residents of Cody, WY, say his body was switched and he actually rests there, you can go visit the grave and try to determine for yourself.
You'll also get some great views of the town of Golden and Denver in the distance from the top of Lookout Mountain.

Local Tip: Link this visit up with the Lariat Loop, one of the most scenic drives near Denver.
Cost: $5
Follow Dinosaur Tracks
One of the more unique things to do in Colorado is hunt for dinosaurs. Dinosaur Ridge is a stretch of closed-off road in Morrison where you can walk or take a guided bus tour to see about 300 dinosaur tracks.
Follow the footprints of triceratops and brontosaurus and even see bones from the Jurassic era at the site where the first stegosaurus was found. If you just can't get enough of the dinosaurs, you can take a tour with a geologist or visit the Morrison National History Museum.
Cost: $10-15
Savor a Steak at The Buckhorn Exchange
The original steakhouse in Denver, The Buckhorn Exchange was founded in 1893. Along with steak, the menu options include buffalo, elk, Colorado lamb, and even alligator and rattlesnake.
But the true specialty is the Rocky Mountain oysters – which aren't actually oysters at all, but a dish made of bull testicals.
Cost: Varies
Unique Things to Do in Colorado Springs
For a different adventure, head south to Colorado Springs. Home to the US Air Force Academy, tall mountains, and several interesting landmarks, Colorado Springs is a host of unique experiences in Colorado.
Marvel at Garden of the Gods
Garden of the Gods is absolutely one of the most beautiful places in Colorado. With red sandstone towers looming over the landscape, you'll encounter stunning views any way you turn on the trails that wind through the park.
Cost: Free
Get a Workout on the Manitou Incline
If the stairs-stepper at the gym is getting old, take your workout outside to the Manitou Incline. The Incline heads up 2,768 steps (2,000 feet of elevation gain) in just under a mile, so you'll definitely be feeling leg day.
And what goes up must come down, so factor in another 4 miles of descent on the Barr Trail.
Cost: Free (but reservation required)
Drive to the Top of Pikes Peak
Hiking a 14er is a right of passage in Colorado, but did you know you can also drive to the top of a 14er?
The Pikes Peak Highway takes you straight to the summit, so you can see the view without the work. (You can also drive to the top of Mt. Evans in Evergreen, one of the best 14ers near Denver.)
Cost: $10
Cross the Royal Gorge Bridge
The highest suspension bridge in America spans the Arkansas River in Cañon City. While you can just drive across the bridge, you can also visit the Royal Gorge Bridge and Adventure Park to jump on a zip line, ride a rollercoaster, and head up an aerial gondola with "gorge"-ous views
Cost: $25
Cave of the Winds
The limestone caverns at Cave of the Winds are millions of years old, and you can explore the underground labyrinth with a standard cave tour or a haunted lantern tour for a spookier experience.
You can also add on some thrill-seeking with a ropes course, a "Bat-a-pult" ride, and a climbing wall at Cave of the Winds Mountain Park.
Cost: $26-54
Paint Mines Interpretive Park
Named for the brightly colored clay that makes up the landscape, Paint Mines Interpretive Park features colorful clay formations, hoodoos, and towers of sandstone.
A 3.5-mile loop trail (one of the best hikes in Colorado) allows you to explore the interesting landscape. Be on the lookout for local animals including coyotes, mule deer, and horned toads.
Paint Mines is also a paradise for birdwatchers, who might spot a variety of songbirds, falcons, and hawks.
Cost: Free
Unique Places to Visit in Colorado
Hanging Lake
Arguably one of the best places to visit in Colorado, Hanging Lake is one of the most unique Colorado lakes in the state.
The easy to moderate 3.1-mile Hanging Lake hike takes you up a canyon right near Glenwood Springs. Once you reach the top you're treated to a fairy tale scene. Tranquil waters with trickling waterfalls await you.
Local Tip: Make a pit stop on the way back to Spouting Rock, one of the top waterfalls in Colorado.
You'll need to plan in advance, since the only way to make it to Hanging Lake is with advanced permits. Permits sell out on weekends during the summer almost immediately, so reserve yours as quickly as possible.
Cost: $12 per person
Black Canyon of the Gunnison
As one of the top weekend getaways in Colorado, the Black Canyon of the Gunnison is often overlooked in favor of its more popular cousins. Skipping out on this low-key, remote, yet stunning deep canyon is a mistake – especially the North Rim of the Black Canyon of the Gunnison.
The black and white granite walls drop an impressive 1,200 feet to the roaring river below. Avid hikers can make the intrepid journey to the bottom on one of the rudimentary trails along the north or south rim.
While adventurous rock climbers can try their luck at one of the difficult multi-pitch climbs in the area.
But if you just want to experience vertigo from the top, there are plenty of rim hikes in the Black Canyon of the Gunnison that deliver dizzying views.
Cost: $30 (or National Parks Pass)
Ouray Ice Park
Enjoying the Ouray Ice Park is one of the more unique experiences in Colorado. It's the only place in the state where you can learn to ice climb in a relatively controlled environment. As one of the top things to do in Ouray, a visit to the Ouray Ice Park needs to be on your to-do list.
Visiting the park with your own gear is totally free, or you can hire a local guide to show you the ropes. Climbing ice is a weird, yet adventure-filled sport and the Ouray Ice Park is place to do it.
Local Tip: If you do visit, consider making a small donation to keep the park running.
Cost: Free
Crystal Mill
Perched above the Crystal River in the town of Marble, the old wooden Crystal Mill is a popular photo spot. The drive to the mill is extremely rugged, and a high-clearance 4-wheel drive vehicle is required.
You can also get there via a 7-mile round trip hike which also passes Devil's Punchbowl.
Cost: Free
Canyon of the Ancients
Located near Durango, the Canyon of the Ancients is a National Monument featuring more than 6,000 archeological sites to explore – the highest density of such sites in the country.
Get into ancient history with Ancestral Puebloan structures, pottery, and more. Plenty of nearby BLM land makes it a great place to camp during your visit.
Local Tip: Visit with respect. It is a felony to remove any artifacts from this area.
Cost: $3 during peak season (March-October), free the rest of the year.
Colorado National Monument
The Colorado National Monument is a departure from the Rocky Mountains and looks like a canyon dropped in from the desert. The monument is located on the Colorado Plateau, which is also home to the Grand Canyon and Arches, and has a similar landscape.
The Colorado National Monument is truly one of the most unique places to visit in Colorado. Rim Rock Drive stretches 23 miles through the valley and up to the top of the canyon to give you an overview of this glorious area.
Cost: $25 (or National Parks Pass)
Devil's Head Fire Lookout Tower
The Devil's Head Fire Lookout Tower in the Pike-San Isabel National Forest is the last remaining actively staffed fire lookout tower in Colorado and has been in continuous use since 1912. You can check out the fire lookout at the end of a 1.4-mile hike, but be prepared to climb a serious set of stairs to reach the top of the tower.
Note: The trail to the fire lookout tower was closed for construction for all of 2021. A specific reopening date has not yet been announced, although it is expected to reopen in 2022.
Cost: Free
Mesa Verde National Park
Mesa Verde sits on ancestral Pueblo lands and showcases the cliff dwellings in the canyons and on the mesas of this stunning landscape. As one of the best national parks to visit in winter, Mesa Verde is an excellent option during the cooler months.
You can explore the park's many hiking trails, but please be aware that the area is an ancestral home that should be honored and treated with the utmost respect.
Cost: $20-30 (or National Parks Pass)
Bishop Castle
An impressive structure located in Rye (near Pueblo), Bishop Castle has been painstakingly constructed by Jim Bishop over the past 60 years.
As one of the top unique things to do in Colorado, a visit to this weird landmark is a must. Sashay through the Grand Ballroom, climb the turrets and towers and soak in the panoramic views from the bridges. And definitely don't miss the fire-breathing dragon!
Cost: Free
Four Corners Monument
The Four Corners Monument is found in southwest Colorado and marks the only place where 4 states meet. You can stand in Arizona, New Mexico, Utah, and Colorado all at the same time.
The monument is part of the Navajo Nation, and a vendors market is on the site where you can support artisans and purchase native artwork.
Cost: $5
Unique Events in Colorado
Frozen Dead Guy Days
This winter festival celebrates an actual frozen dead guy, Grandpa Bredo Morstoel, whose cryogenically frozen body was stored in a shed on his grandson's property.
Now Frozen Dead Guy Days is a yearly tradition in Nederland in March with coffin races, frozen turkey bowling, and a frozen t-shirt contest. The signature event is the Blue Ball, featuring live music, food, and specialty drinks.
Cost: $25-30
Ullr Fest
Ullr, the Norse god of snow, is the namesake for this annual Breckenridge festival celebrating all things winter. As one of the top things to do in Breckenridge, you'll want to reserver your ticket to this time-honored event.
Ullr Fest traditionally kicks off with a giant bonfire to appease the Norse god, often stoked with kindling of old skis and Christmas trees. A massive (potentially record-breaking) shotski is also part of the festivities.

Cost: TBD – 2022 prices have not been announced.
Mike the Headless Chicken Festival
Mike the Headless Chicken is a legend in Fruita, and the town honors him and his will to live (he was originally destined to be dinner) with a festival every summer. Participate in a Peep-eating contest, check out the poultry show, or join the Run Like a Headless Chicken 5K to celebrate the legend of Mike.
Cost: Free
Great American Beer Festival
Beer makers and beer lovers flock to this annual festival in Denver, which awards brewers for the best beers of the year.
Attendees get unlimited beer samples, so you can try everything from sours to stouts and belgians to barleywine. You can also participate in PAIRED, which offers unique beers paired with food creations from award-winning chefs.

Local Tip: The GABF is one of the top things to do in Colorado during fall. Tickets typically sell out immediately, so grab yours as soon as they are live.
Cost: $85-199 ($30 tickets available for designated drivers)
Unique Activities in Colorado
Summit a 14er
Standing on top of a mountain is a rite of passage for many Coloradans. As for submitting a peak above 14,000 feet high – also called a Colorado 14er – it's one of the most unique Colorado experiences.
However, even the easiest 14ers in Colorado present a real challenge. Be sure to have solid experience hiking and be prepared to hike your first 14er.

Great beginner mountains include: Handies Peak, Grays and Torreys Peak, and Mt Quandary.
Words
Cost: Free, except for Mt Quandary and Culbera Peak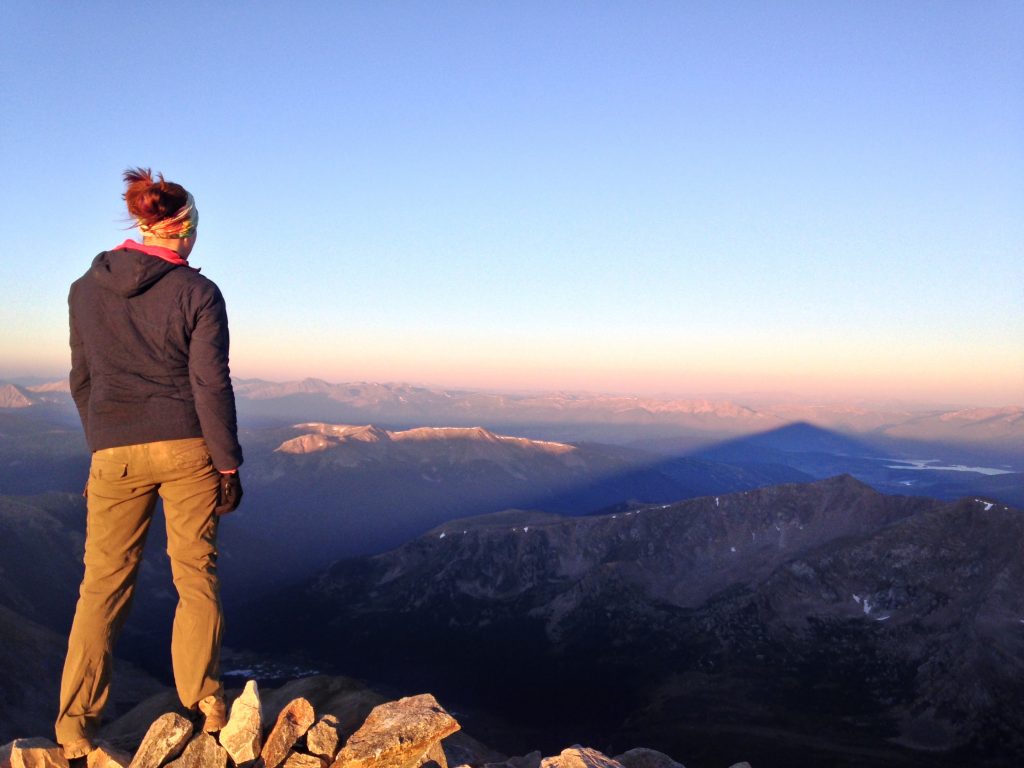 Go Rock Climbing
Colorado is a climbing mecca, no matter your style! From sport climbing at Shelf Road and Clear Creek Canyon to trad climbing at Eldorado Canyon and Lumpy Ridge, you will never run out of routes here.
If you love crack climbing, head to Escalante Canyon on the Western Slope for a taste of desert sandstone. And definitely don't miss the Flatirons, the iconic formations right in Boulder.
Local Tip: If you don't have the technical skills to rock climb outside on your own, you can hire a guide to take you out and literally show you the ropes.
Cost: Free, depending on location (certain areas may have entrance fees or permits)
Ice Skate on a Lake
If you're looking for things to do in Colorado besides ski, then grab your skates! There are several places to go ice skating in Colorado, and many of them happen to be au naturale.
Evergreen offers excellent outdoor ice skating on a frozen lake. More advanced outdoor skaters will never get bored of the countless frozen alpine lakes over winter.
Cost: Free depending on location (some areas charge a fee)
Do a Via Ferrata
A new and upcoming pastime in the Centennial State is to challenge yourself at one of the many Colorado via ferratas. Known as the "iron way" these high-altitude obstacle courses use cables and iron ladders to traverse across precarious cliffs.
Via Ferratas are growing in popularity across the state, but you don't want to miss the Ouray via Ferrata, Arapaho Basin via Ferrata, or the Telluride via Ferrata.
Avid climbers and experienced via Ferrata enthusiasts can often go on their own, while less experienced parties can always head out with a local guide.
Cost: Varies from free to a fee plus a guide.
Drive the San Juan Scenic Byway and Million Dollar Highway
If you're into top-notch mountain views from the comfort of your car, then you've got to check out the Million Dollar Highway. As one of the most unique things to do in Colorado, you can drive the scenic (and sometimes scary) stretch of road from Ouray to Silverton.
Extend your journey along one of Colorado's most scenic drives by indulging in a several-day trip across the San Juan Scenic Byway, an extension of the Million Dollar Highway that gives you even more drool-worthy mountain views.
Cost: Free
Swim in an Alpine Lake
So it's no secret that people love to enjoy the many alpine lake hikes in Colorado. But have you ever tried to take a dip into these frigid watering holes?
If the polar plunge is your thing, then you might want to hike to an alpine lake for a swim. But be warned, the bottoms are often slippery, muddy, and rocky while the water is freezing.
With countless alpine lakes available to you, there are far too many to name, but virtually all of them allow swimming if you dar.
Cost: Almost always free, but a few alpine lakes require a paid pass (varies) to access.
Raft Down a River
Rafting in Colorado is a great way to get the views and thrills. There are many amazing places to hit the white water in Colorado, with each one offering everything from beginner floats to intense class 4 and 5 rapids. A few fan favorites include:
Clear Creek Canyon
Arkansas River
Browns Canyon
Cache la Poudre
Animas River
Yampa River
Glenwood Canyon
Cost: Varies
Sandboard the Great Sand Dunes
So since this is one of the few places in the US where you can sandboard, heading to the Great Sand Dunes National Park is one of the most unique things to do in Colorado. The park is one of the prettiest national parks in the USA, mostly because it's home to the largest sand dunes in North America.
You can hike up the dunes and sandboard down for a truly unique experience. Afterward, head to camping at the Sand Dunes National Park where you'll be treated to sunset views over the dunes and the Sangre de Cristo mountains in the background.
Cost: $25 (or free with a National Parks Pass)
Stay in a Hut or a Yurt
For a unique place to stay in Colorado, spend the night in a hut or a yurt. The 10th Mountain Division rents out huts which make great home bases for skiing or snowshoeing in the winter.
In warmer weather, you can stay in one of the yurts found in six Colorado state parks – Golden Gate Canyon, Sylvan Lake, Mancos, Pearl Lake, Ridgway, and State Forest.
Cost: Varies
Go Dog Sledding
If you dream of a dog-powered adventure, you can make it happen in one of the many Colorado mountain towns which offer dog sledding tours. Alpine
Adventures in Leadville will take you on a 6-mile tour near many of the best resort areas in the state, while Durango Dog Ranch offers evening trail runs under the stars.
Monarch Dog Sled Rides provide awesome excursions along with education about the sport of mushing.
Cost: Varies
What is the Number 1 Attraction in Colorado?
Rocky Mountain National Park is the most popular attraction in Colorado. In fact, it's the 4th busiest national park in the country with over 4 million visitors annually. Thanks to its close proximity to the Mile High City, it's also one of the best weekend getaways from Denver.
In terms of unique things to do in Rocky Mountain National Park, a few favorites include:
Drive Trail Ridge Road in the early morning and spot wildlife
Go for a sunrise hike to Emerald Lake
Check out unique lakes in Rocky Mountain National Park, such as Sand Beach Lake.
What is the Prettiest Place in Colorado?
The prettiest place in Colorado is a hotly debated topic – thanks to the diverse landscapes. Rocky Mountain National Park gets high marks as does Hanging Lake.
Many people consider Lone Eagle Peak to be the prettiest mountain in Colorado. However, don't discount the beauty of the Great Sand Dunes or the Black Canyon of the Gunnison or some of the best state parks in Colorado.
Additional Local Colorado Travel Resources
Planning a trip to Colorado? Don't miss out on these local resources: