From amazing mountain towns to vibrant urban scenes, there are countless weekend getaways in Colorado that you've got to check out.
Seriously. You'll find plenty of incredible ways to spend the weekend in Colorado. Arid desert environments in the south and west deliver big on climbing and biking. While in the mighty Rocky Mountains you'll find picture-perfect mountain towns like Ouray and upscale locales such as Aspen.
If you love to sleep in a tent, then treat yourself to amazing free camping in Colorado while you explore some of the best things to do in Colorado.
The Centennial State is home to some of the most avid weekend warriors around, myself included. Sure, I may be a freelance writer for the outdoors that specializes in Colorado adventure travel, but that doesn't mean I don't still get out on several weekend getaways in Colorado each year.
I've lived in the great CO for 12 years. And as a professional hiker, camping snob, and climber, I know EXACTLY where the best weekend getaways in Colorado are at. If you're looking to spend a weekend in Colorado or head out on an epic Colorado road trip, you've come to the right place.
This is the spot to get local, expert advice on weekend getaways in Colorado. Travel like a local, not a tourist with this mega-awesome guide to amazing Colorado weekend getaways you simply can't miss.
Seriously.
Inside you'll find real, honest, local advice about making the most of your weekend. The best part? You'll get tips about how to beat the crowds at some of the most scenic places in Colorado.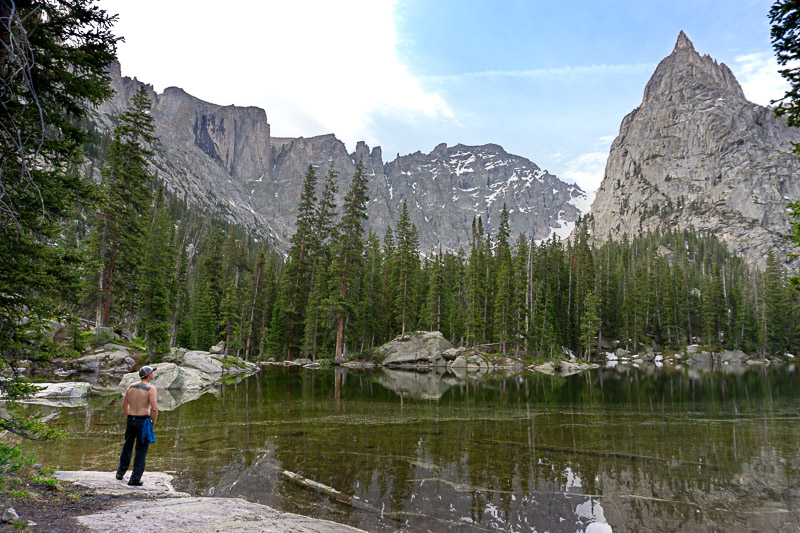 About this Guide to Weekend Getaways in Colorado
Ready to get local, honest advice about the best weekend getaways in Colorado? Let's dive right in! Here's what you'll find inside this post:
A mega-epic list of weekend getaways in Colorado you've got to check out
Info on things to do, where to eat, and where to stay at each destination
Additional Colorado travel planning resources
When is the Best Time to Visit Colorado?
Colorado is absolutely amazing any time of year. In fact, you'll find tons to do no matter what the season.
To figure out when to visit Colorado, you'll want to consider your activities. For outdoor adventures such as hiking, backpacking, and camping visit from late June through mid-September.
If you want to experience the magic of the Aspens then embark on a Colorado getaway the third week of September.
Ski season typically runs from mid-December through late March.
The low season for activity is certainly the spring and fall months. Although some things may be closed for their respective seasons, you can still enjoy plenty of beautiful scenery without the hordes of people (and notorious mountain traffic).
A Map of Weekend Trips in Colorado
There are fantastically amazing weekend getaways in Colorado throughout the state. This map highlights the different destinations that offer up drool-worthy scenery and plenty of fun-filled adventures. Be sure to check out the interactive map too!
21 Weekend Getaways in Colorado
Wanna getaway? Colorado is jam-packed with amazing outdoor getaways that will take your breathe away. Here's a look at the best weekend getaways in Colorado.
1. Denver
Denver is the biggest city in Colorado and actually has more culture to explore than the outdoors. It's definitely the best weekend getaway in Colorado for an urban adventure.
Larimer Square is the center of the city, with plenty of shops to peruse and restaurants to enjoy. For more cool things to do in Denver, pay a visit to the RiNo (River North) District for art galleries and food halls. If you want some fresh air, stroll around City Park or check out the Denver Botanic Gardens, which are beautiful in any season.
Wanna get out of town? Check out some of Denver's best hiking trails and then hit up your favorite brewery after your romp through nature. Spend the weekend in Denver and get cool urban vibes with plenty of quick glimpses into nature.
If you're visiting in the snowy season, you'll find ample things to do in Denver in winter. Don't forget to check out the best ski areas near Denver too!
Where to Stay in Denver:
While there are tons of places to stay in Denver, from hotel chains to Airbnbs, one of the coolest is Hostel Fish.
This fun and funky hostel is located right downtown and within walking distance of Union Station, so it makes a great base to get around. (I had a friend who stayed here once, so I got to check it out, and I would totally stay here if I didn't already live in Denver!)
2. Boulder
Boulder is truly the destination to get outside in the Front Range of Colorado. You'll see the iconic Flatirons immediately when you arrive in Boulder, but that's just the beginning.
Explore Chautauqua Park for great views of the Flatirons and check out Flagstaff Mountain for panoramic vistas of the whole area. Head up Boulder Canyon to dip in the creek or climb at the crags. And don't miss Eldorado Canyon State Park for some of the best hikes in Boulder and world-class trad climbing.
Where to Stay in Boulder:
The Adventure Lodge in Boulder is designed as a hub for outdoorsy fun, and you can choose a room, a cabin, tent camping, or even just a space to park your van. You could also stay right in the heart of Pearl Street at Hotel Boulderado.
3. Golden
Golden might not be as well-known as Boulder, but this cute western town is a quick day trip from Denver and offers plenty of outdoor places to play, along with a lot of breweries to grab a pint after your adventure. The town is bookmarked by North and South Table Mesas and Lookout Mountain (the M up there represents the local college, School of Mines).
Clear Creek runs through the center of town and the canyon itself is full of climbing crags and hiking trails. And the iconic Red Rocks Amphitheatre is just a short drive away in Morrison.
Local Tip: Golden is incredibly scenic in the spring. Views towards the plains are alive with vibrant greens and Clear Creek Canyon really comes to life.
Where to Stay in Golden:
The Dove Inn is on a cute little neighborhood street right downtown, and it is the place to stay to feel like you're right at home in Golden. But the historic Victorian stylings and all the extra amenities elevate your time here into a lovely getaway.
4. Colorado Springs
Colorado Springs is the perfect place to enjoy one of the best weekend getaways in Colorado. Garden of the Gods is rightfully known for its stunning sandstone formations that you can meander through along the trails – or even climb! If you're up for it, check out the ultimate outdoor Stairmaster of the Manitou Incline. The 2,744 gain 2,000 feet in less than a mile, so it's definitely a challenge.
Of course, the highlight of the scenery in Colorado Springs is Pikes Peak, which you can drive, bike, or hike to the top of.
Where to Stay in Colorado Springs:
You'll find a variety of accommodations in Colorado Springs, and you really can't go wrong when you have access to the amazing natural adventures in the area. The ColoRADo Adventure Hostel is a good option for anyone on a budget, or splurge with a stay at the luxurious Broadmoor.
5. Fort Collins
If you want to spend a weekend in Colorado playing in the water, visit Fort Collins. Horsetooth Reservoir is very close to town and is a hub of water activities from swimming, boating, kayaking, SUPing, and more. Take the adventure up a notch by whitewater rafting on the Cache La Poudre River or hiking or climbing in the canyon.
Where to Stay in Fort Collins
Spend your nights downtown at the hip and historic Armstrong Hotel, or stay right by all the outdoor action by camping at the Horsetooth Reservoir or in campgrounds located along the Cache La Poudre.
6. Glenwood Springs
Hanging Lake is a treasure in Glenwood Springs and totally worth planning a Colorado weekend getaway around. This gorgeous hike has become so popular that permits are required.
Glenwood Springs is also an awesome place to stop and enjoy some of the best hot springs in Colorado. You have a couple of different hot springs to choose from, but Iron Mountain is always my go-to since it's a little more sophisticated than Glenwood Hot Springs and has beautiful views along the banks of the Colorado River.
Where to Stay in Glenwood Springs:
The Rio Grande Bed & Breakfast offers a variety of accommodations in Glenwood Springs, from studio lofts downtown to cozy cabins to cute cottages on Red Barn Ranch.
7. Breckenridge
Breckenridge offers epic skiing and snowboarding which makes it a perfect winter weekend getaway in Colorado. The charming mountain town is also great for strolling around and après ski shenanigans.
For a bonus quirky little adventure while in Breck, take a hike on Trollstigen Trail to say hi to the troll sculpture in the woods. You'll also find some of the most scenic winter hikes in Colorado right around town.
If you're visiting Breckenridge in the summer, you'll find some incredible hiking trails in Breckenridge. Or if you want an even bigger adventure, try your luck at some of the best 13ers in Colorado. Atlantic Peak and Northstar Mountain are two favorites of mine.
Road bikers will love the many paved (and dedicated) road biking trails in the area. Opt to bike around the Dillion Reservoir or even try your luck at peddling all the way to Vail. The uphill effort is worth the effort for the downhill rush!
Local Tip: From Breckenridge, it's really easy to explore nearby Frisco, Dillion, and Silverthorne too! Traffic builds quickly coming home on Sundays though, so plan to either be on the road and through the Eisenhower Tunnel before noon or stay late into the evening.
Where to Stay in Breckenridge:
Gravity Haus is a modern ski lodge with a perfect location to walk into town or hit the slopes of Peak 9. It even has a Japanese bathhouse to pamper your tired muscles in soaking tubs and a sauna.
8. Steamboat Springs
Another amazing ski weekend getaway in Colorado is Steamboat Springs. With lots of light "champagne powder" and aspen glades for tree skiing, you won't want to leave the slopes. Not to mention the apres scene is bumping with live music and a fun party every weekend.
Local Tip: I love visiting Steamboat Springs in the fall. Buffalo Pass is one of the best fall drives in Colorado and soaking in the hot springs is a must-do after a fun-filled fall hike!
But if you do need a break, head to Strawberry Park Hot Springs. Soak your tired body in one of the many pools in a soothing natural setting.
Where to Stay in Steamboat Springs:
You can actually stay right at Strawberry Park Hot Springs to maximize your soaking time and appreciate the beautiful resort. Or spend the night downtown along the Yampa River at the vintage (but updated) Rabbit Ears Motel.
9. Aspen
Aspen is the place to be for Colorado winter activities and there's plenty to do in other seasons, too, making it one of the best weekend getaways in Colorado. Of course, the skiing is incredible with tons of terrain to run laps on at Aspen Mountain, Aspen Highlands, Buttermilk, and Snowmass.
The Maroon Bells are another iconic Aspen attraction and make Aspen one of the prettiest mountain towns in Colorado. These gorgeous peaks tower over 14,000 feet, and you can choose to hike to the summit or appreciate them from afar on other hiking trails in the area. You also can't beat Aspen for spectacular fall colors in Colorado.
Avid backpackers must put the 4 Passes Loop on their bucket list. As one of the most beautiful backpacking routes in Colorado, this stunning loop takes you up and over 4 mountain passes. It's tough, but well-worth the shlep.
Local Tip: You'll need to take a shuttle to reach a lot of the most popular hikes in Aspen, including views of the Maroon Bells. Get there early to snag one of the few parking spots, or plan for a shuttle run.
Where to Stay in Aspen:
While there are many hotels and resorts in Aspen, most of them are not exactly affordable. But the Tyrolean Lodge on Aspen's Main Street is quaint, charming, and cheap (at least by Aspen standards).
10. Grand Junction/Fruita
While a lot of people simply drive through Grand Junction and Fruita on the way to Utah, these neighboring towns on the Western Slope make for a memorable place to spend an outdoor weekend in Colorado. The Colorado National Monument is a must-see, filled with red rock canyons and towers.
This area is also a mountain biking destination with tons of trails, including the epic 140-mile Kokopelli's Trail. Fuel up after your ride at the Hot Tomato in Fruita, an east-coast style pizzeria and beloved community hub.
Local Tip: Grand Junction and Fruita get HOT in the summer. Visit during the shoulder seasons or in winter for the best weather.
Where to Stay in Grand Junction/Fruita:
If you want to dirtbag it, there's plenty of dispersed camping on BLM land in the area (just be sure to Leave No Trace). Or treat yourself to a stay in the sleek Hotel Maverick, located on the campus of Colorado Mesa University.
11. Leadville
Get a real Rocky Mountain high with a weekend in Leadville, the highest incorporated city in North America at 10,152 feet. Leadville is easily one of the best places to visit in Colorado for summer – thanks to the variety of activities around.
If you want to summit some of the best 14ers in Colorado for beginners, Mount Elbert and Mount Massive, the highest and second-highest peaks in Colorado, are nearby. Alternatively, if you prefer mountain biking, you will love the trails in Leadville.
After you work up an appetite, Treeline Kitchen is truly a treat! Both the meals and the cocktails (friends raved about the spicy marg while I was a big fan of the Colorado New Fashioned) never fail to impress.
Where to Stay in Leadville:
Leadville has some of the best campgrounds in Colorado, from Twin Lakes to Turquoise Lake to Camp Hale (where the 10th Mountain Division used to train). If you want an actual roof over your head, the Slumberyard at Freight features quirky cabins, each named after Leadville's legendary "women of the night."
12. Crested Butte/Gunnison
Black Canyon of the Gunnison National Park features awe-inspiring views of an incredibly steep narrow canyon of 2,000-foot rock walls made of gneiss and schist.
Hiking around the rim is easy, but only fit and prepared hikers should attempt to descend to the river. The Black Canyon is also a mecca for rock climbing in Colorado, and experienced rock climbers can take on the challenge of ascending the massive rock faces. For a less intense climbing experience, check out Hartman Rocks, which also features a great network of mountain bike trails.
Just a short drive away, the town of Crested Butte offers more mountain biking, as well as hiking and skiing. Don't forget to check out Crested Butte in the fall months as it's home to some of the most incredible fall hikes in Colorado.
Be sure to give yourself some time to wander down the adorable main street. Hit up The Alpineer for any technical gear you might need and check out Chop Wood Mercantile for cool outdoor lifestyle products and clothes. Spend happy hour hanging out on the porch of The Last Steep for a pint and a meal (I highly recommend the curry shrimp and coconut salad).
Where to Stay in Gunnison/Crested Butte:
Hartman Rocks is an excellent place to camp, with lots of sites with stunning backdrops (it's worth the effort to drive around for a bit to find the perfect place to pitch your tent).
In Crested Butte, Purple Mountain is a welcoming B&B with a hot tub and daily local craft beer tastings. Nearby Kebler Pass also offers some of the best free camping in Colorado.
13. Buena Vista
Pronounced "Bewna Vista" this coveted hot spot is one of the best weekend getaways in Colorado. Known as the premier adventure mountain town, there's plenty of things to do in Buena Vista.
Home to the mighty Sawatch Range, peak baggers from all over come to try their luck at one of the many 14ers. You'll also find plenty of must-see lake hikes in Colorado.
Mountain bikers also scour the hills nearby for some fast-paced single-track action. During the summer months, you can raft Browns Canyon, definitely a big bucket list item.
After you've had your fill of adventure sports, head to the famous Eddyline Brewery and Pub. Relax outdoors and soak in the quintessential Colorado vibes.
Where to Stay in Buena Vista:
Located just 2.5 hours from Denver, the best way to spend a weekend in Granby is to enjoy some of the best free camping near Denver. It's literally EVERYWHERE around here. AirBnB's are another excellent option as the town of Buena Vista is super-quaint and just minutes from amazing mountain scenery.
14. Estes Park
Estes Park is an ideal weekend getaway from Denver to visit Rocky Mountain National Park. RMNP, as it's known locally, features acres of alpine terrain to explore and is home to some of the very best hikes in Colorado. The hike to Nymph, Dream, Emerald Lake is simply stunning and should be on your Colorado bucket list. While it's super crowded in the summer, I love this hike in winter when there are fewer people, and you can walk right across the frozen lakes.
For a more challenging adventure, try your luck at hiking to the iconic Sky Pond or even climb Long's Peak, one of Colorado's most beautiful 14ers. If you're not into hiking, don't worry, there are plenty of other things to do in Rocky Mountain National Park.
Outside of RMNP you can enjoy an array of awesome things to do in Estes. Start your day off by enjoying one of the many hiking trails in Estes, followed by a drive down the Many Peaks Highway – one of the most scenic drives near Denver. Then head into town and relax at one of the awesome downtown Estes eateries and shops.
Local Tip: This is one of the most touristy areas in all of Colorado. Plan to visit Estes Park during the late spring or late fall if you're looking to avoid the crowds. Winter is nice too, but Trail Ridge Road closes and many of the park's bigger hiking trails travel through avalanche terrain. However, there are still plenty of things to do in Rocky Mountain National Park during winter.
Where to Stay in Estes Park:
If you get a coveted campsite, you can stay right in RMNP, which is definitely one of the top places to camp in Colorado. Of course, Estes Park is also home to the famous (or infamous) Stanley Hotel, featured in The Shining. If you can get over your fear of it being haunted, staying here offers a luxurious experience and amazing views of the Rockies.
15. Granby
One of the most iconic weekend getaways in Colorado is Granby. The town itself is minutes away from the mega-huge Lake Granby where you can fish, boat, hike or simply relax. You'll also find the Monarch Lake Trailhead nearby, home to the most beautiful mountain in Colorado – Lone Eagle Peak.
Enjoy world-class mountain golfing, head out on a scenic horseback ride, or opt to head north and access the lesser-trafficked west side of Rocky Mountain National Park. You'll get easy access to Trail Ridge Road, one of the most scenic drives in Colorado.
In winter you can ski at Winter Park – famous for its unbelievable tree skiing and laid-back atmosphere. If you live in Colorado, you can also come up to Granby to chop down your own Christmas tree. A time-honored tradition that also aids in forest management.
For delicious eats check out the Java Lava Cafe and the Granby Garage.
Where to Stay in Granby:
For luxurious lodging stay at Base Camp One. More budget-friendly options include Lone Eagle Lodge and the Canyon Hotel. Camping is available as well, but mostly through paid campgrounds such as the Sunrise Point Campground, Arapaho Bay Campground, and Big Rock Campground.
16. Telluride
Known as one of the best Colorado road trip stops, Telluride should be on everyone's list of the best weekend getaways in Denver. This town is drool-worthy down to every detail. Nestled right in the heart of the GORGEOUS San Juan Mountains, this town has it all.
For starters, head to the end of the main road and hike to Bridal Veil Falls, a must-do waterfall hike in Colorado. Nearby you'll also find the exhilarating Telluride Via Feratta, a fun-filled hiking and climbing adventure that uses metal cables and requires a harness. Or check out some of the other awesome hiking trails near Telluride.
You can also enjoy plenty of amazing offroad driving, 14er hikes, and world-class skiing (winter). When you're tuckered out stop by Esperanzas Tequila Restaurant or the Smuggler-Union Brewery and restaurant.
Local Tip: Telluride is home to some of the best wildflower hikes in Colorado too.
Where to Stay in Telluride:
Telluride isn't the most budget-friendly spot – in fact, an AirBnB will cost you around $200 during the busy season. However, wherever there is a nearby dirt road, you can almost promise you'll find camping. For reasonable lodging, check out nearby Ridgway.
17. Ouray
Ouray is everyone's favorite mountain town. There are so many Ouray activities, you'll come back again and again.
It's a great home base for epic hiking – like the stunning Ice Lake Basin. Come in mid-July and experience some of the best wildflower hikes in Colorado. 
The Million Dollar Highway is a must-drive, drool-worthy mountain jaunt (and a perfect gateway to nearby Durango). Ouray is also world-famous for its 4×4 roads so if you have a Jeep, ATV, or other adventure mobile, you'll be in good company.
Also, Ouray is home to some of the most scenic sections of the Colorado Trail – making this region a backpacker's paradise.
In winter, come down to the Ouray Ice Park and try your luck at ice climbing. Beginners can take lessons in a controlled environment while pros can indulge and test their skills at the annual Ice Climbing Festival.
Local Tip: This place gets BUSY in the summer. But that doesn't mean you shouldn't visit for a weekend getaway in Colorado. Simply plan ahead and hit the trails early to beat the crowds.
Where to Stay in Ouray:
The Ouray Inn is a funky, cozy spot to rest your head for a reasonable price. Or head down one of the many National Forest roads and enjoy dispersed camping for free (bring in everything you need, including a proper bathroom kit).
18. Vail
Known for its high-end accommodation and world-class skiing Vail is a high-end adventure lover's paradise. From amazing golf courses to road biking, and epic Vail hikes, you can easily spend a weekend here (or three).
In winter, skiing – both downhill and cross country – is the name of the game. Also, you'll find the world's most challenging ice climbing where it isn't unusual to spot world-class athletes.
In summer there is plenty of things to do in Vail. Enjoy the network of road biking trails, mountain bike at Vail resort, backpack to Gore Lake, or plan a golf outing.
Where to Stay in Vail:
There are some awesome campgrounds about 30 minutes from Vail or you can opt to stay at Cohabit – a budget-friendly lodge. If you want to splurge just a little, The Bunkhouse is where it's at.
19. Carbondale
As a quiet mountain town, Carbondale makes for an excellent way to spend a weekend in Colorado. The Crystal Mill is a classic location. This privately-owned mill is perched beautifully next to a river. Opt to drive (my choice) the bumpy road to the viewpoint or hike it.
Mountain bikers will drool over the endless options for single-track action. Don't forget to drive the West Elk Loop Byway to McClure Pass as well.
Afterward, head to the arts district and scope out local artisans and galleries. Then nosh at the Goat Kitchen and Bar.
Where to Stay in Carbondale:
There are so many cute AirBnB's in and around Carbondale, that's definitely my first choice. Otherwise, check into the Dandelion Inn an ADORABLE boutique hotel right in town.
20. Durango
As Colorado's best western mountain town, you've got to plan a weekend getaway to this gateway town. Featuring amazing mountain biking, fun-filled hikes, and even the quiet, pow-stuffed Purgatory Ski Resort, there's something for everyone.
One of the most unique things to do in Durango is to ride the narrow gauge railway. It's utterly scenic and if you're an avid backpacker (and peak bagger) you can ride the train to 4 amazing 14ers as well!
Don't forget to grab a bite at the El Moro Tavern or the James Ranch Grill. DELISH!
Where to Stay in Durango:
The O-Bar Cabins offer incredible self-catering accommodation for a reasonable price – and put you in the heart of the action!
21. Idaho Springs
For a quick weekend getaway in Colorado, put Idaho Springs on your list. This historic mountain town gives you quick access to some of the most scenic easy hikes near Denver and has a lot of fun activities to enjoy.
During the late spring and early summer, you can raft Clear Creek – a fun-filled day that's perfect for anyone looking to make a splash. Enjoy beginner climbing in Clear Creek Canyon after you've gone rafting and see the canyon from the top to bottom.
Drive to the top of Mount Evans, one of the closest 14ers near Denver. Afterward, enjoy a zipline adventure or go for a soak in the Indian Hot Springs. No trip to Idaho Springs is complete without a stop at Smokin' Yard BBQ or the Tommyknocker Brewery.
Where to Stay in Idaho Springs:
Idaho Springs has a lot of affordable places to stay including the Bearadise Motel or the Juniper Mountain House.
Additional Colorado Planning Resources
Wanna visit Colorado like a local, not a tourist? Check out these resource guides to plan your epic Colorado weekend getaway.
PIN THIS POST