When the temperatures drop and the snow starts falling it's time to dust off the skis and snowboards. This list of the best skiing near Denver gives you an inside look at what ski resorts near Denver are best for your slope style.
I've lived in Denver for over 11 years. That means I've had more than a decade to explore the best places to ski near Denver. Not only am I an expert in Colorado travel, but I'm a full-time writer for the outdoors.
My unique experience in both working and playing at the many ski resorts close to Denver means I've got local insight you can't find anywhere else.
About This Guide to Best Skiing Near Denver
Finding the best skiing close to Denver has never been easier. In fact, many of the resorts on this list skip the crazy traffic up I-70 and instead nestle you right in the heart of small mountain communities.
In this guide to the best skiing near Denver you'll find:
Recommendations of the best ski resorts near Denver
Information on each resort including why it's awesome, who it's best for, and any special booking requirements for the 2020/2021 season.
Additional things to know before you go skiing near Denver
More Colorado winter activity resources.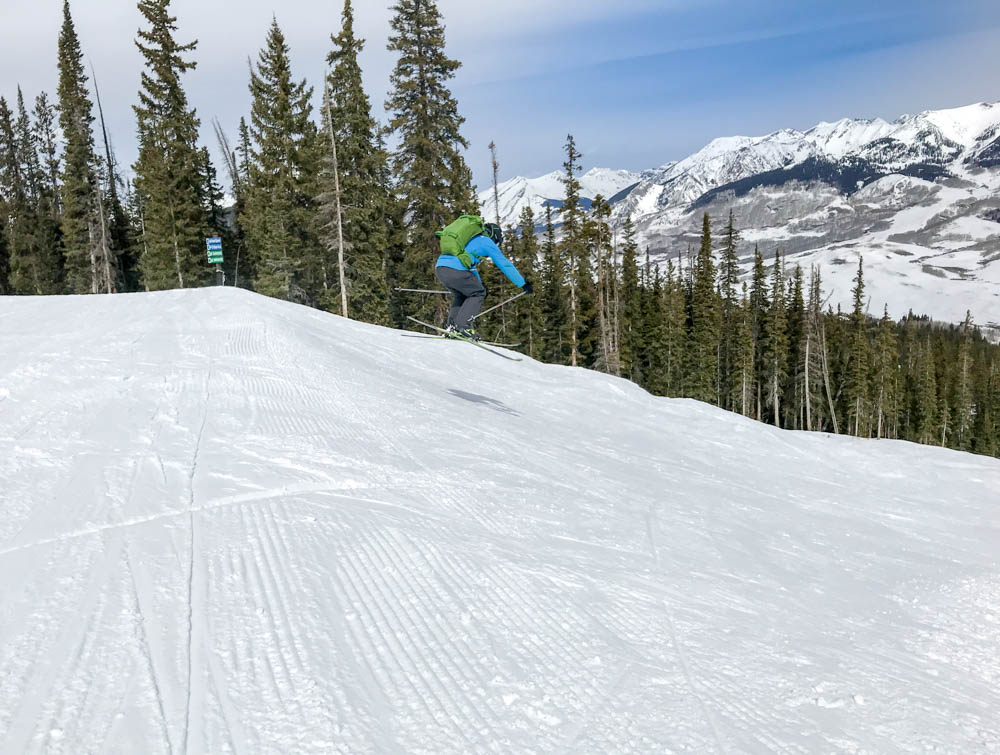 The 9 Best Ski Resorts Near Denver
Now for the part you've been waiting for. Hit the slopes in style this season with this local list of the best skiing near Denver.
1. Winter Park
Best for: Tree Skiing
Winter Park definitely deserves a spot at the top of the list of best skiing near Denver. The resort features a variety of terrain, recent lift improvements (including a gondola), and less traffic hassle than many resorts.
Local Tip: Those who love technical tree skiing will especially appreciate the technical terrain found in the Mary Jane area.
Skiing at Winter Park in 2020 and 2021: Ikon & Winter Park season pass holders get priority access (no reservations required), with limited daily lift tickets available.
2. Echo Mountain
Best for: Night Skiing
Although it's the closest ski area to Denver, Echo Mountain is often overlooked. If you're looking for budget-friendly slopes without the I-70 traffic, head up to Evergreen to shred it on the mostly intermediate terrain. Beginners will have a blast, too, and advanced skiers will find plenty of blacks as well.
But the biggest benefit of Echo Mountain is its night skiing. The intermediate terrain stays open from 4:30pm to 9:00pm Wednesday through Saturday, so you can actually ski after work!
Skiing at Echo Mountain in 2020 and 2021: There are new season pass options offering flexibility. All-day lift tickets must be bought online ahead of time.
3. Granby Ranch
Best for: Budget Friendly
Granby Ranch is a great place to grab an affordable season pass or 2 and 3-day lift packs. This place is especially enticing for beginner and intermediate skiers.
Granby is made up of two mountains. The east mountain is almost completely beginner terrain, while the west one has more technical runs that up the ante a bit.
Skiing at Granby Ranch in 2020 and 2021: Season pass holders enjoy unlimited access with no need for reservations.
4. Keystone
Best for: Families
While Keystone offers something to everyone, it especially caters to kids, making it the perfect family-friendly resort. If the kiddos are ready to learn to ski, the ski school at Keystone provides excellent lessons. Not to mention, there's even a tiny terrain park for kids ages 3 to 6 to learn to snowboard.
Keystone offers lots more kid-friendly fun, from a snow fort to ice skating to snow tubing.
Plus, the resort makes it to transport tired kids (and their gear). Cute and functional red wagons are available at corrals dispersed throughout the property.
These are just a few reasons why Keystone offers some of the best skiing near Denver for families.
Skiing at Keystone in 2020 and 2021: Reservations are required for everyone. Epic Pass holders get to pick priority days and have exclusive early season access (through Dec. 7).
5. Arapahoe Basin
Best for: Expert Terrain & Epic Bowls
Known by locals as A-Basin, this is an awesome place to bring your stoke. Test your skills on the acres of expert terrain with open bowls and awesome chutes to keep you heading back for one more run.
Arapahoe Basin sits at an elevation of 13,050 feet, making it the highest skiable terrain in North America. Not to mention, the steep runs will definitely make you feel it.
Psst: Enjoy one of Denver's most scenic drives on your way to Arapaho Basin.
Skiing at Arapahoe Basin in 2020 and 2021: Arapahoe Basin Season Pass holders have no restrictions on entry. Reservations will be required for Ikon Pass holders. Limited daily lift tickets will be available online.
6. Eldora
Best for: Easy Access
Located near Boulder (under 50 miles north of Denver), Eldora is the place to be if you want to avoid 1-70. The I-70 corridor becomes an epic traffic hell, which is why Eldora is one of the best ski resorts near Denver. You can even get to Eldora via the RTD public transit system.
Once you arrive, Eldora greets you with terrain suitable for all levels of skiers. An extra asset of Eldora is the Nordic center with miles of cross-country trails (although access to this area requires an additional pass). Don't miss out on one of the best winter activities in Colorado at the Eldora Nordic Center.
Skiing at Eldora in 2020 and 2021: If the resort closes for 21 days or more (or 7 consecutive days), passholders receive a voucher for future use.
7. Loveland
Best for: Lack of Crowds
Lots of people drive right past Loveland on the way to other ski resorts near Denver. Silly of them, because the lift lines tend to be a little less crowded here.
Loveland has two separate base areas. The first is Loveland Valley, which has mellow beginner trails. And then there's Loveland Basin, featuring more advanced terrain, including open bowls.
Loveland also now offers snowcat access to the resort's most difficult terrain. You'll find the cat along the north side of the ridge of the Continental Divide, with a free Ridge Cat pass.
Skiing at Loveland in 2020 and 2021: Reservations are not required, but all lift tickets must be purchased online. Unrestricted 4-Paks are available in advance, offering 4 lift tickets to be used by anyone on any day.
8. Breckenridge
Best for: Variety of Terrain
Breckenridge offers everything you could want in a ski resort. Breck gives you everything from some of the best skiing near Denver for all ability levels, to an amazing town for aprés ski.
You'll find five peaks at Breckenridge covering 2,900 acres. About half of the terrain is perfect for beginner and intermediate skiers. While the other 50% entices experts with high alpine terrain, open bowls, and tree skiing.
Unfortunately, everyone knows about this amazingness. You'll always find crowds at Breckenridge.
Skiing at Breckenridge in 2020 and 2021: Reservations are required, and Epic Pass holders get priority access.
9. Copper Mountain
Best for: High Alpine Terrain
Thanks to a stellar layout, it's simple to find lots of runs at your ability level in the same area. From greens to double-black trees all skiers and riders can find their secret stash.
Significant chairlift upgrades in recent years bring you a new resort experience. The new Tucker Mountain lift lets you access what was previously only available for cat skiing makes it easy to access the trails quickly.
Don't miss out on some of the best skiing near Denver. Spend the day (or three) at Copper Mountain scouring their varied terrain.
Skiing at Copper Mountain in 2020 and 2021: Pickup boxes will be available at the resort to pick up passes and tickets without having to go to the ticket window.
Quick Tips for Skiing Near Denver
Alright, before you hit up the best skiing near Denver, you'll want to be in the know. These local tips are essential for understanding how the ski resorts near Denver work. Make the most of your experience by:
If you're headed up I-70, go during the week. Traffic is horrendous, I'm talking hour-plus delays regularly on weekends. Be prepared to leave by 6 am or earlier, or pack extra snacks, drinks, and entertainment for the traffic.
Buy your passes in advance. Purchasing at a ticket office day-of is not only annoying, but it costs more.
Pack snacks, water, and lunch. Store it either in lockers or bring a small backpack. Resort food is not only overpriced but for the 2020/2021 ski season in Colorado, it's also largely unavailable.
Bring layers and sun protection. The weather in Colorado varies, so you may find yourself ditching and adding layers. Don't forget to put sunscreen under your chin and nose. Snow reflects the sun!
Rent your skis or board in town. Rentals at the resort are about $15 more on average. Christy's Sports, REI, and even a local Denver ski shop have awesome deals on rentals.
Now is the time to hit the slopes in Colorado. Don't miss out on the best ski resorts near Denver this season. Buy a multi-resort season pass like the Ikon or Epic Pass or opt to drop in for the day.
Additional Colorado Winter Adventures
Discover the best of the snowy season with these must-do winter activities: