Known as one of the most scenic drives in all of America, Trail Ridge Road in Rocky Mountain National Park is not to be missed. This high-altitude scenic byway soars across the Rockies, delivering 360-degree mountain scenes. The 48-mile stretch of tarmac spanning between Estes Park and Grand Lake is a must-do.
Whenever friends and family come from out of town, we love to take them to Trail Ridge Road in Rocky Mountain National Park. As a long-time Colorado local, you won't find any better advice about exploring the most beautiful places in Colorado on the web.
About This Guide to Driving Trail Ridge Road
Inside this local guide to Trail Ridge Road, you'll find:
Practical info about driving Trail Ridge Road
Local tips for visiting Rocky Mountain National Park
Attractions not to miss
Additional resources for visiting Rocky Mountain National Park
Is Trail Ridge Road Open?
When it comes to when to visit Rocky Mountain National Park, you'll want to plan your trip for when Trail Ridge Road is open. Trail Ridge Road closes seasonally, usually from Memorial Day (late May) through mid-October.
The road is not maintained over winter, so the timing of the opening of Trail Ridge Road changes year to year. However, winter is a great time to try snowshoeing in Rocky Mountain National Park.
It's always important to check conditions before you drive, especially if you're planning to visit near the opening or closing time. The park is open 24 hours a day, so you can drive the road at any time.
Local Tip: There's nothing more spectacular than a sunrise along Trail Ridge Road. With several different overlooks to choose from, you'll get a real alpine experience and stay one step ahead of the crowds.And if you stop by during summer you can see some Colorado wildflowers too.
Practical Info
Be in the know before you go. Trail Ridge Road is located within Rocky Mountain National Park, which requires a fee to enter. Not to mention, during certain times of the year, you'll need a timed entry permit to visit the park.
Here are a few other important pieces of info about driving Trail Ridge Road.
Entry Fee: $30 per vehicle for one day or $35 for a 7 consecutive day pass
Crowded? This is the 4th busiest national park in the country, so yes, it does get crowded.
Dog-friendly? No. You cannot take your dog off the pavement or on any hiking trails. Although you can drive Trail Ridge Road with your pup, it won't be much fun, and leaving your dog in a car on a hot day is dangerous, so plan accordingly.
Approximate Time: 1 hr and 20 minutes of driving, but plan for 2 hours with stops, more if you want to do any longer hikes.
Local Tip: If you plan on visiting more National Parks throughout the year, then purchasing the America the Beautiful Parks Pass may be a more cost-effective option.
Do I Need Trail Ridge Road Reservations?
In short, yes. If you're visiting the park from May through October, you'll need a timed entry permit. Permits on weekends throughout the summer (and during the fall colors) sell out quickly, so it's best to plan in advance.
When the permit system starts varies from year to year, so it's best to check with Recreation.gov for the latest info. Reservations can be made 30 days in advance on a rolling basis.
If you're visiting the park before or after reservation hours, you don't need an advanced permit.
Permits are free, but you'll still need to pay an entrance fee to get in.
Trail Ridge Road Elevation
You'll soar from around 8,000 feet above sea level to a whopping 12,183 feet high. The top. (and majority) of the road traverses the stunning alpine tundra, boasting incredible views along the way.
How Long Does it Take to Drive Trail Ridge Road?
The road is 48 miles long, connecting Estes Park, Colorado to Grand Lake. As one of the most scenic drives in Colorado, you'll want to budget 2 – 3 hours for the entire experience. This will give you enough time to stop, do some simple hiking, and check out the visitor's center.
If you want to embark on some of the longer hikes in Rocky Mountain National Park, you'll want to budget more time.
Local Tip: Wildlife frequently passes along the road. Sometimes the resident elk herd can block up the road for a bit, so don't be shocked if there's a bit of unusual traffic!
Is Trail Ridge Road Dangerous?
As far as Colorado roads go, no, Trail Ridge Road isn't dangerous. It's paved, two lanes, and has guard rails most of the way. However, for the uninitiated, the steep drop-offs may be a little hair-raising. Take your time and pay attention to the road.
Trail Ridge Road Map
Here's a look at Trail Ridge Road and a map to keep you oriented.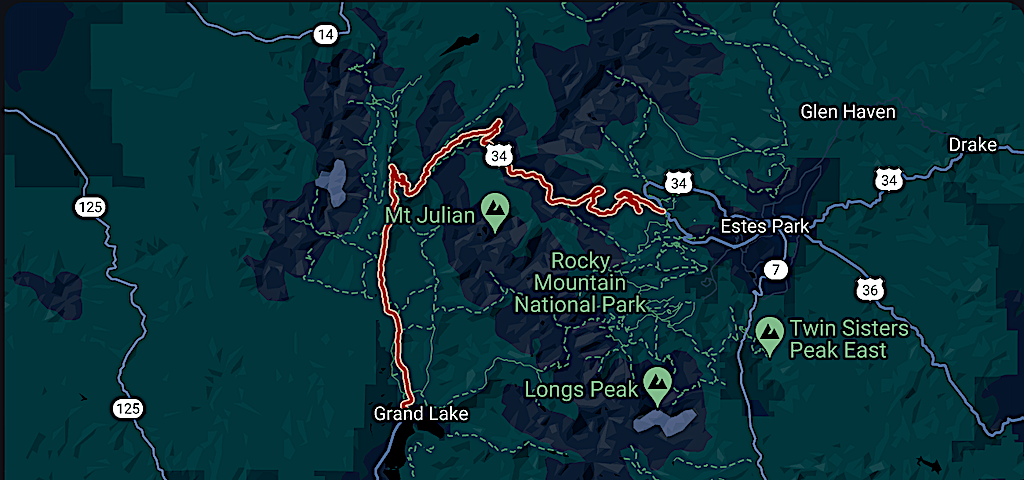 Pro Tips for Driving Trail Ridge Road in Rocky Mountain National Park
Know before you go! Here are a few local quick tips for driving Trail Ridge Road.
Start early. If you want to beat the crowds at RMNP, you'll want to get a head start on the road.
Pack layers. The weather in the mountains can be pretty unpredictable. Always pack extra layers, including rain gear, gloves, beanie, puffy jacket (yes even in summer).
Bring plenty of water. The altitude makes everything feel dry. Avoid dehydration by packing at least 2 liters of water per person.
Steer clear of wildlife. Keep your distance from wildlife. People get charged by elk every year. A good rule of thumb is to be at a distance where you can cover the animal if you hold your thumb out. Also don't feed the wildlife, this will eventually kill small mammals.
Pack it out. Don't litter. In the high alpine, waste takes longer to break down. Always pack out your trash, toilet paper (unless you're at a pit toilet), wrappers, water bottles, and fruit peels.
Bring sun protection. The mountain sun takes no prisoners. Always wear sunscreen, bring a hat, and wear sunglasses. If there's snow, you'll want eye protection to avoid snowblindness and eye irritation from the reflecting rays off of the snow.
Be aware of storms. Every afternoon thunderstorms plague the Rocky Mountains. Late June through July is known as the monsoon season. Storms come on quickly and lightning is a serious safety hazard. You'll be safe in your car, but don't get caught out in a thunderstorm above treeline.
Acclimatize safely. You'll be going up in altitude rather quickly. Be on the lookout for altitude sickness, such as headache, dizziness, and nausea. The only way to alleviate symptoms is to head down. Drinking plenty of water and avoiding alcohol or caffeine prior to your drive can help.
Things to See
If you've only got one day in Rocky Mountain National Park, then you'll absolutely want to drive Trail Ridge Road. There's so much to see along the way, and you'll never have the same experience twice.
Starting from Estes Park, here are a few noteworthy stops:
Deer Ridge Junction (8,978′)
Stunning, and expansive views of the Rockies along with sweeping valley vistas. A great stop in the fall.
Hidden Valley (9,400′)
A short detour that's really only worth it if it's sledding season (when Trail Ridge Road is typically closed). There are nice, heated toilets here though if you need to make a pit stop.
Many Parks Curve Overlook (9,691′)
Stunning alpine views, including the iconic Long's Peak, can be seen from this large overlook. There's typically plenty of parking on both sides of the road. Many Parks Curve is the last overlook that remains open while Trail Ridge Road is closed. The road typically closes just past the turnout.
Local Tip: This is an excellent sunrise perch.
Rainbow Curve Overlook (10,829 feet above sea level)
Rainbow Curve Overlook has to be one of my favorite stops along Trail Ridge Road. With exceptional views of Lumpy Ridge, Estes Park, and the Rockies, this is a must-stop overlook. Check out the Alluvial Fan in the valley below and scope the east side of the park.
Ute Trailhead (10,920′)
A small pullout marks this iconic trail that traverses the tundra. This historic trail actually once went from Utah all the way to Kansas, by way of the Ute People (they use it to migrate across the mountain west), but it's since been sliced and diced. However, you can hike the 8-mile round-trip, out-and-back section through the park.
It's a moderately strenuous jaunt with 1,037′ of elevation gain. Keep in mind the trail is largely exposed, so do not attempt if there are storms in the forecast.
Forest Canyon Overlook (11,758′). From here you can see the famous Continental Divide, where rivers flow east or west. Don't forget to check out the views along the 0.2-mile paved walkway. Prominent peaks include Long's Peek and Stone's Peak with views of the dramatic Gorge Lakes and Hayden Gorge.
Lava Cliffs (12,000′).
Scope out the ancient lava fields in the sky along this iconic viewpoint. What makes this one a little different is just how close you can get to the cliff faces, while most of the other overlooks are vista-focused.
Rock Cut (12,050 feet)
Not really a stop, but more of a feature, this high point along Trail Ridge Road cuts through rock. Be sure to pull off at the small parking area just before the road cuts into the rock. From here you can take a roughly 1-mile round-trip hike into the tundra and catch some of the best views along the road.
Gore Range Overlook (12,010′)
Catch a glimpse at some of the least accessible mountains in Colorado. The Gore Range is notorious with locals for its strenuous hikes, often requiring off-trail navigation skills. These rugged mountains throw down the drama.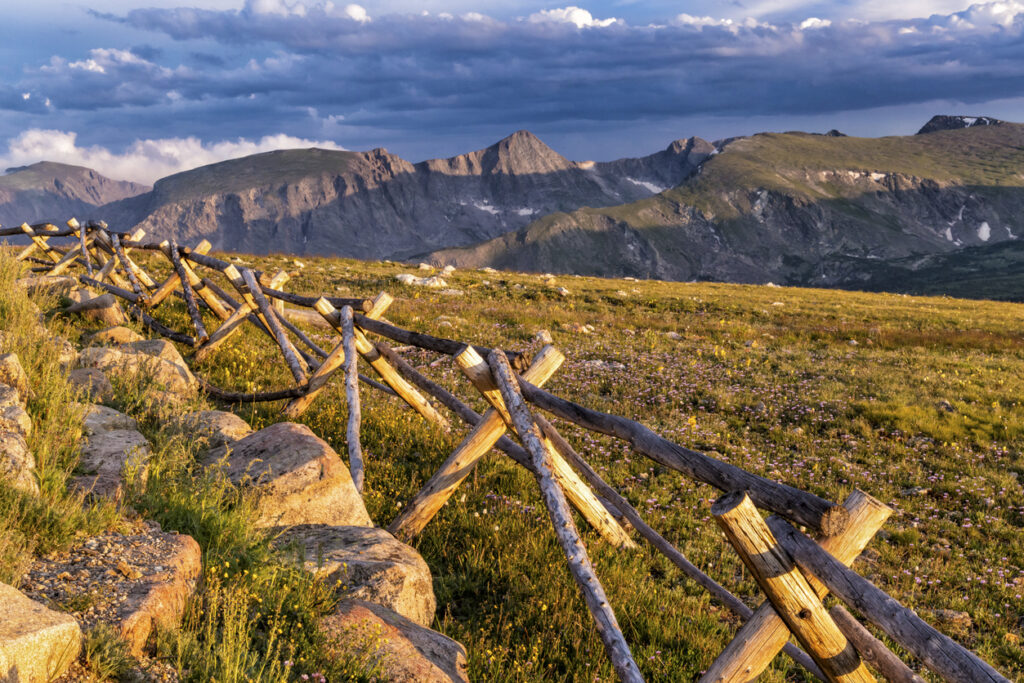 Alpine Visitor Center (11,796′)
Get your National Park stamp at the highest visitor center in the parks system. You can get the latest updates on trails, learn from rangers, and check out the store. This is the only place that has food along the drive, so stock up if you need to.
Medicine Bow Curve (11,640′)
For awesome views of the Never Summer Mountains, make a quick stop at Medicine Bow Curve. A lesser-known overlook that has all the beauty of the big players.
Fairview Curve (10,148)
The first chance at scoring big peak views from the west side of the park, Fairview Curve is worth a look. During the fall, this viewpoint lights up with color and has quite a wow factor.
Alluvial Fan (8,610″)
Alright, so technically this isn't a roadside stop, but it's a worthwhile hike if you have time. The easy 3-mile trek takes you to the Alluvial Fan. This deposit of fanning rocks was caused when the Lawn Lake Dam broke, flooding the park and Estes with over 200 million gallons of water in 1982.
Cameron Peak and East Troublesom Fire Damage
As you come out of the west side of the park, the immense damage from the famous Hayman Fire of 2020 is obvious. This burn scar affects 30,000 acres of the park. What you see along Trail Ridge Road burned up in just 4 hours. Yeah, you heard that correctly, 4 hours to burn everything your eyes can see from the road.
I was in the park the day of the fire – we were on the Cable Route of Long's Peak at the time. It was terrifying to see the smoke quickly envelop the landscape. Just a harrowing reminder of how our change in climate affects our home.
Can I Bike Trail Ridge Road?
Yes, you can bike Trail Ridge Road – but I wouldn't recommend it. A grueling uphill challenge for sure, however, the narrow shoulders and wandering eyes of tourists make the road fairly dangerous. A great alternative is Fall River Road.
However, if you do choose to cycle, wear reflective clothing, pack plenty of layers, and bring a spare tire or two.
Additional Resources for Visiting Rocky Mountain National Park
Looking to visit Rocky Mountain National Park like a local, not a tourist? You're in the right place! Here are a few amazing resources to plan your trip.