The Longs Peak Cable Route (sometimes just called the Cables Route) is an uber-classic line up to the top of Longs Peak. In fact, it's also the fastest way to the top of this iconic Colorado 14er.
However, it isn't easy when compared to simpler hikes in Colorado. In fact, if you aren't comfortable free soloing or have experience with trad climbing, then you should probably stick to the standard Keyhole Route on Longs Peak.
But if you're looking for a quieter, more direct line to the summit of one of the most beautiful Colorado 14ers, then nothing beats the Cable Route on Longs Peak.
As an avid trad climber, skilled alpinist, and Colorado local of over 12 years, I know all about the best climbs in Colorado. If you want to learn about how to make it to the top of Longs Peak like a pro, not a tourist, then you're in the right place.
About this Guide to the Longs Peak Cable Route
Inside this local guide the Longs Peak Cables Route you'll find:
Practical info for climbing the Cables Route including time, gear required, and difficulty.
The best time to climb the Longs Peak Cable Route
How to reach the climb
Quick tips for climibing 14ers.
Other things to do nearby
Additional resources about 14ers near Denver
Practical info About the Cables Route on Longs Peak
The Longs Peak Cables Route is a 1-to-2-pitch 5.4 climb that works its way up a historical route to the summit of Longs Peak. Longs Peak has been a historical icon in the Front Range. Back in the day, people used to come to the Boulder Field and stay in huts to make it to the top of this iconic peak.
In the mid-1920s, the park established inch-thick metal cables with huge eye bolts into the side of Longs Peak to make it easier for tourists to summit the mountain. Then they discovered that putting massive amounts of conductive metal on the top of a mountain is a serious lightning hazard.
The cables were removed, but the eyebolts remained, which is what makes the Cable Route on Longs Peak so unique.
Today it still remains the quickest way to the top of Longs Peak, but it requires ropes or a lot of gusto to free solo.
Here's a look at some helpful info for planning your day.
Round-Trip Distance: 11 miles with the Jim's Grove Trail shortcut (see "Approach" section below)
Elevation Gain: 4,868 feet
Difficulty: Difficult hike requiring special gear, easy trad climb
Climbing Rating: 5.4, trad, 1 – 2 pitches Grade II-III Depending on your experience.
Estimated Time: 7 – 9 hours (longer for less experienced parties). Winter ascents should double this time.
Highlights: Beautiful positioning, views of the Diamond, a direct and quiet route up to the summit, a type 1 climb with a rappel (Great intro into alpine climbing).
Gear: Small cams BD 0.3 to 1, tricams, 8 alpine draws, a double-length runner for an anchor, 60m rope, climbing shoes (optional – I did this in approach shoes with ice)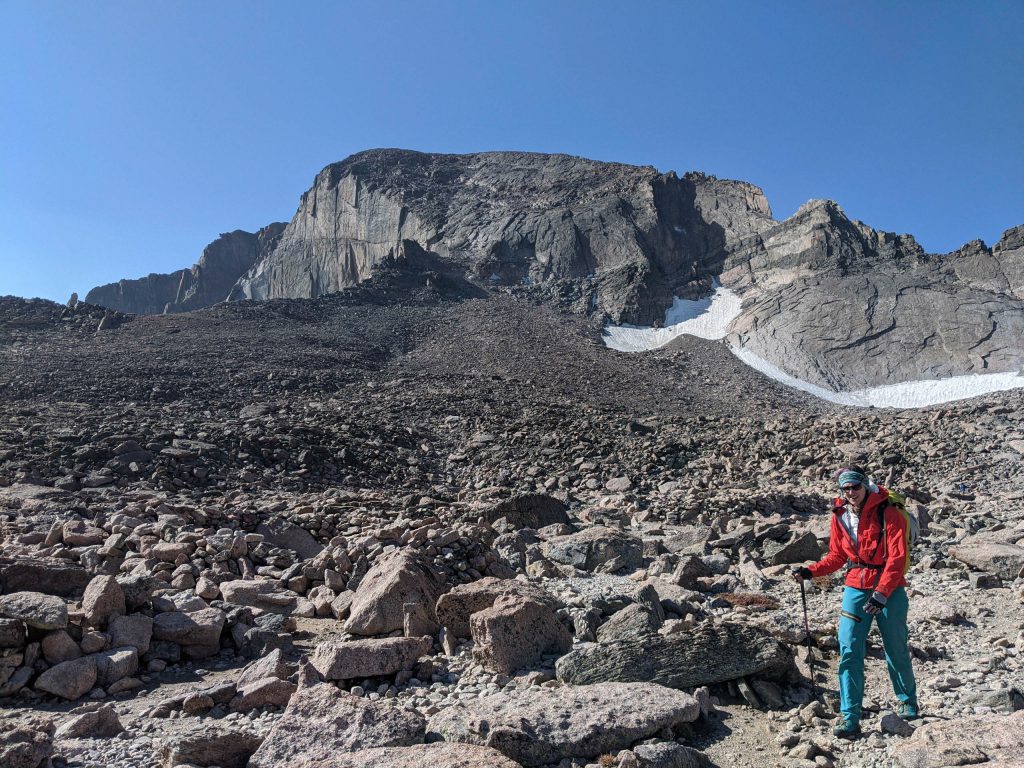 When is the Best Time to Climb the Longs Peak Cable Route?
The best time to climb Longs Peak is largely based on what you want to achieve. A lot of people opt to climb the Cable Route on Longs Peak in the winter. Although it's not my cup of tea, it's a great mixed objective. For those that just love the rock, I'd recommend climbing Longs Peak on a clear-weather day in August.
The Cables Route naturally seeps water – which is frequently iced over even in the middle of summer. We climbed the route over Labor Day and despite dry, warm temps for days, there was verglass (thin ice) all over the route – making it a little more challenging.
I labeled the climb a "thoughtful 5.4d" with the verglass. Just look for nubs of rock that aren't covered in ice and use those for your feet.
Expect water and ice, even in summer. However, the gear is plentiful (you'll also be able to clip giant eye bolts) but don't expect any purchase with ice tools in summer.
Local Tip: For fewer crowds on the approach trail, consider climbing Longs Peak during the week.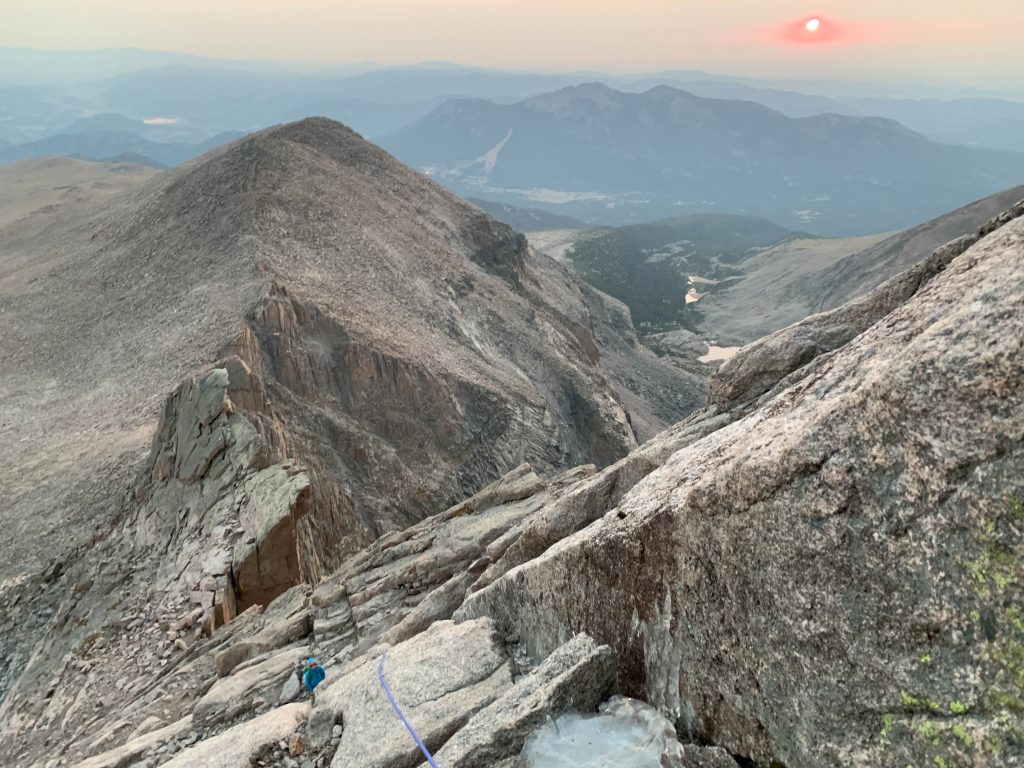 The Approach
Park at the Longs Peak Trailhead for an early start (by 2 am) and make your way up the approach trail – don't worry, it's the only trail from the lot.
The approach for the Longs Peak Cables Route is very straightforward. Simply follow the obvious trail for signs leading to Longs Peak, Keyhole Route up a series of switchbacks through the trees. We found the hiking to be more like heading uphill on a freeway and generally pretty easy.
Local Tip: The trailhead for Longs Peak fills up by 2 am, even on weekdays, so get there EARLY.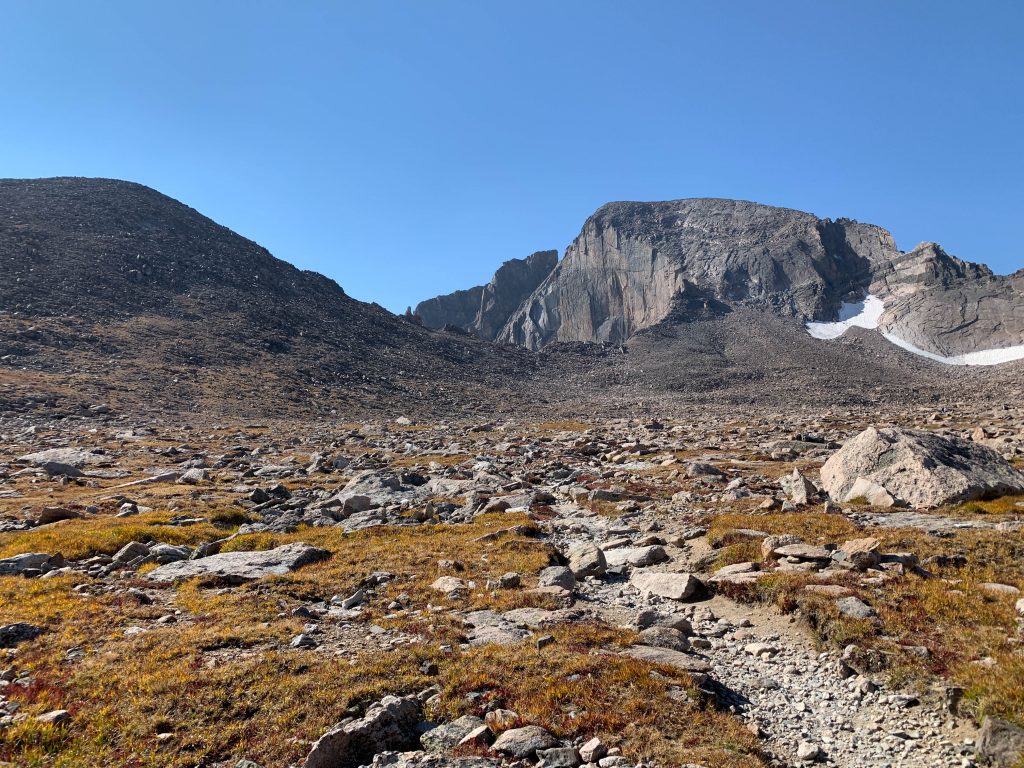 Shortcut to the Cables Route
At around 10,900 feet there is an unsigned junction where you can cut about a mile each way off of the trip. This is the Jim's Grove Trail and it's used primarily by rangers to get to the ranger station at the Keyhole. If you miss the junction, don't worry you can catch it on the way down at the very obvious enormous cairn.
This route follows a much narrower trail and instead of crossing over towards Chasm Junction, it simply goes straight up the hillside. We found it to be quite pleasant and even encountered some elk on the way up. However, keep in mind it's a bit steeper than the standard route.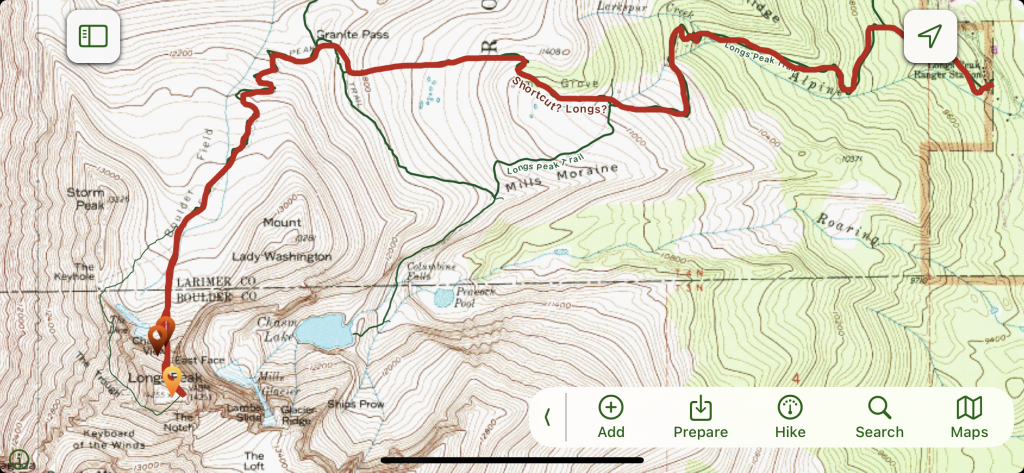 The Boulder Field to the Base of the Longs Peak Cables Route
Once the trail rejoins the main highway you're almost to the Boulder Field. Now here's where it's a little easy to get off-track. We took an early turn, which leads to us having to navigate through a series of car-sized boulders that cost us some time.
Continue towards the camping area and bathrooms and you'll see a small, rocky, trail shoot off left. The climb is about 0.25 miles from here.
Follow as you head up and to the left side of the boulder field towards a ridge. You'll pass through Chasm View (a worthwhile stop on the way back), the bolted raps into the Dimond and several excellent bivvy sites.
Scramble up a scree gully (4th class) to the trail above it and you're practically at the base of the climb.
The trail drops you at the start of a mellow, slabby right-facing dihedral. You should see a huge, old eye bolt about 35 feet up on the left side of the dihedral. You've arrived!
Rope up here and if you want, leave your bag (but pack a summit snack and some water!). Don't forget to soak in the alpenglow – it's a pretty epic position!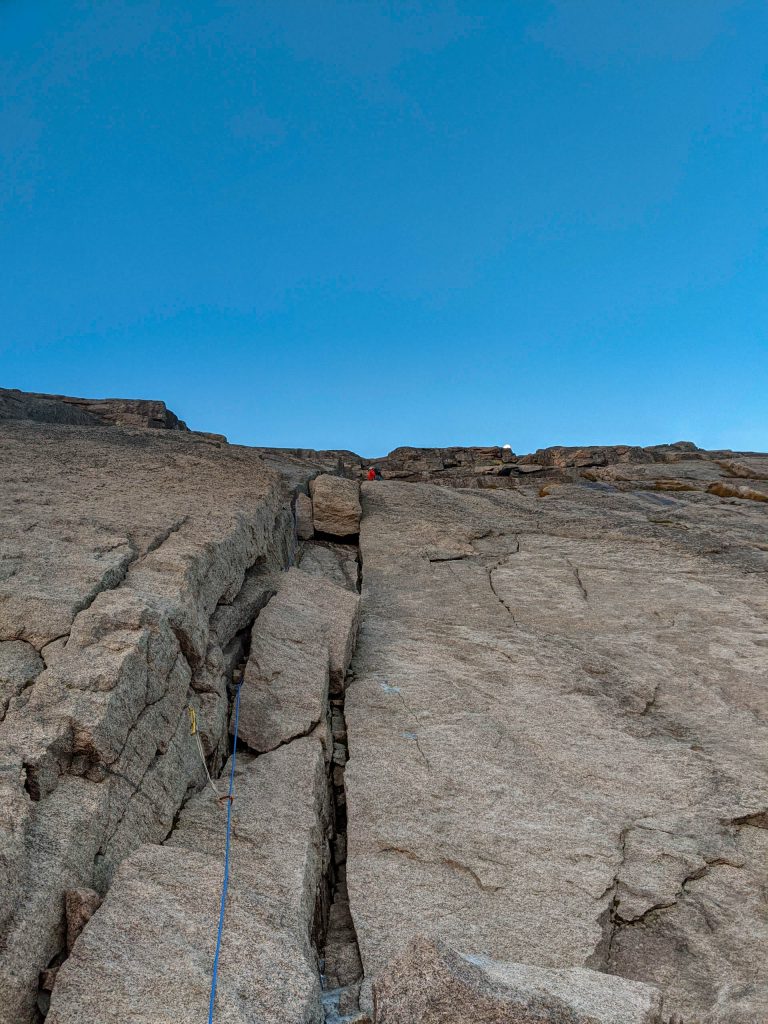 The Climb
The climb itself is a super-mellow, low-angle slab that roughly follows a small dihedral. There is gear almost everywhere so if you're nervous you can sew it up.
Some people opt to do the climb in 2 pitches, stopping at the top of the dihedral before you turn onto the face or building an anchor at the 3rd or 4th eye bolt. In my mind, that was kinda pointless. Just run the whole thing up and save time.
I climbed this in approach shoes and placed maybe 3 pieces while also clipping the eye bolts. The pieces were more for protecting extra-icy sections between the bolts. Had the route been dry I may have just placed one piece. I found that girth hitching the eye bolts was easiest since they were a little thick for the carabiners.
You'll pass by 3 (maybe 4) bolts before the cracks peter out. This particular section had quite a bit of ice – it might be where it was seeping from.
From here, step left and pull over a slight bulge out of the dihedral. The route was much drier to the top (maybe 70 feet or so) eye bolt where you can belay from. The climbing is easy
Topping Out and Descending
Bring your second up then unrope. From here it's about another 0.35-0.5 miles of loose, class 3 (with more solid 4 options) scrambling to the summit. Take note that a fall here would certainly throw you off the Diamond, which is now below you. Just watch your footing and take your time making your way up the eroding climber's trails.
Once you're on top enjoy! You'll be on the far end of the summit, which is quieter than where the Keyhole Route drops you off.
If you've free-soloed, enjoy the crap return down the Keyhole Route. If you've got a rope and harness, head back down the way you came.
A 60m rope lets you reach the bottom of the climb in one full-length and one short rappel. Rap off of the first eyebolt (knot your rope) and continue down until you find a stance next to another eyebolt that looks comfortable to you (2nd or 3rd bolts work great). You could downclimb after the first rap, but with the ice, we did 2 rappels.
Visit Chasm View
After you've packed up your bags, head towards the large, diving-board-looking rock formation. This is the famous Chasm View and the scene of the Diamond is seriously impressive. You cap spot tiny climbers on the Casual Route and get a sense for just how giant the largest alpine granite rock face in the US really is.
Make your way back down to the boulder field and back to your car from here.
It took us around 7 hours round trip to do this climb – with about a 30-minute break at the top. Granted we were in peak alpine shape and have plenty of alpine climbing experience. Oh, and I was having one of those super-hero days outside. Overall it was a light day by alpine standards, but a fun way to reach the top of the iconic Longs Peak.
Quick Tips for Climbing Longs Peak
As with all Colorado 14er climbs, there are a few important things to note.
Start early. This route takes some time and in order to beat afternoon thunderstorms, you'll want an early start. Not to mention the parking lot fills up by 2 am.
Watch the weather. Use a tool like weather.gov to check the weather before you head out. Remember, you're carrying metal and climbing along with giant metal eye bolts – lightning and afternoon storms are a real threat every day.
Give free soloers the right of way. It's unusual not to see a free soloer at work here. Most people go unroped, although given the ice potential I wouldn't recommend this unless you've done the route before.
Acclimatize properly. If you're coming from out of state, be sure to spend some time at altitude before attempting this climb. With over 4,000 feet of gain it's a lung buster even for locals.
Leave No Trace. This is a well-loved area. Don't litter. Use a WAG bag for human waste (or the toilets), and leave it better than you found it.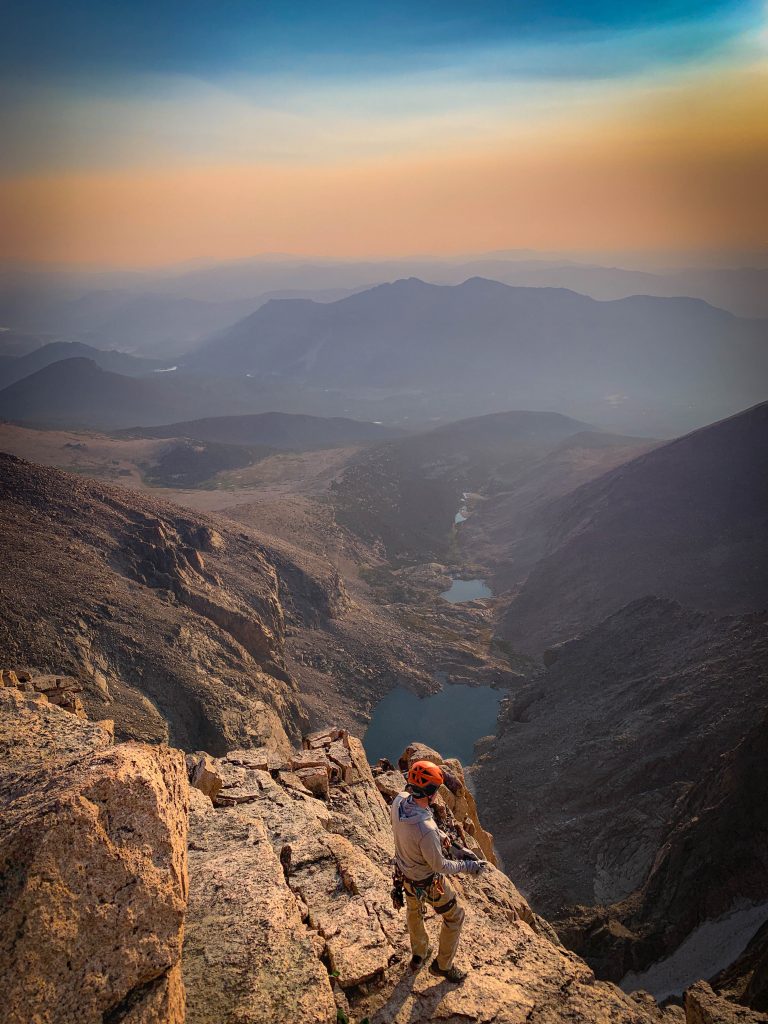 Other Nearby Attractions
There are plenty of things to do in Rocky Mountain National Park. If you're planning to spend some time here, be sure to check out these other amazing Rocky Mountain NP hikes and activities:
Head to the Notchtop Bakery and Cafe for post send eats
Drive the scenic Trail Ridge Road
Hike to Sky Pond (or do a double-whammy and climb the Petit Grippon)
Climb at Lumpy Ridge, one of Colorado's best rock climbing areas
Catch a sunrise at Emerald Lake (PS. The Great Dihedral is another excellent alpine route with low commitment nearby).
Additional Colorado Climbing Resources
Looking to get into adrenaline-pumping adventures in Colorado? I've got you covered with a completely local lineup of adventures:
PIN THIS POST