A true gem (see what I did there?) of Rocky Mountain National Park is the Emerald Lake hike. Passing by Bear, Nymph, and Dream Lake, reaching Emerald Lake, Colorado is not only a Rocky Mountain must-do, but it's accessible to everyone.
Even avid hikers love catching a sunrise at Emerald Lake in Rocky Mountain National Park.
Three picture-perfect alpine lakes (with the option for a fourth) and stunning mountain scenery make Emerald Lake one of the most scenic spots in Colorado.
Sure, the trail is stuffed with people at practically all hours of the day, but there are still many ways to beat the crowds on the Emerald Lake Trail.
I've literally done this trail about 10 times. It's a popular spot to take visitors and after living here for 12 years, I've become an expert at hiking to Emerald Lake, Colorado.
For the past five years, I've been an outdoor writer, literally getting paid to go to amazing places such as Dream Lake and Emerald Lake. It's become my mission to get you to the most beautiful Colorado hikes like a local, not a tourist.
Unlike other guides you'll find online, this is the ONLY guide to the Emerald Lake hike that's actually written by a long-time resident of Colorado and professional hiker.
So if you're looking to beat the crowds at Emerald Lake and explore Rocky Mountain National Park like a real pro, then you've come to the right place.
About this Guide to the Emerald Lake Hike in Colorado
Ready to hike to Emerald Lake, Colorado like a seasoned pro? Inside this exclusive guide to the Emerald Lake hike you'll find…
All of the practical info you need to know about the Emerald Lake hike
Where to find the trailhead for Emerald Lake
How to beat the crowds at Emerald Lake
Directions for reaching Emerald Lake, Dream Lake, Nymph Lake and more
When is the best time to hike in Rocky Mountain National Park?
Tips for hiking in Colorado
Emerald Lake hike packing list
Nearby attractions
Additional planning resources
Ditch the Crowds and Enjoy the Awe-Inspiring Beauty of Estes Park, Colorado like a Local with this Epic Itinerary!
Want the secrets to a crowd-free weekend in Estes Park, Colorado? Use this epic itinerary to discover exactly how to visit the park like a local and enjoy some of Colorado's most scenic hiking trails without the crowds! You'll get exclusive access to top tips for planning your weekend in Estes and navigating Colorado like a long-time local.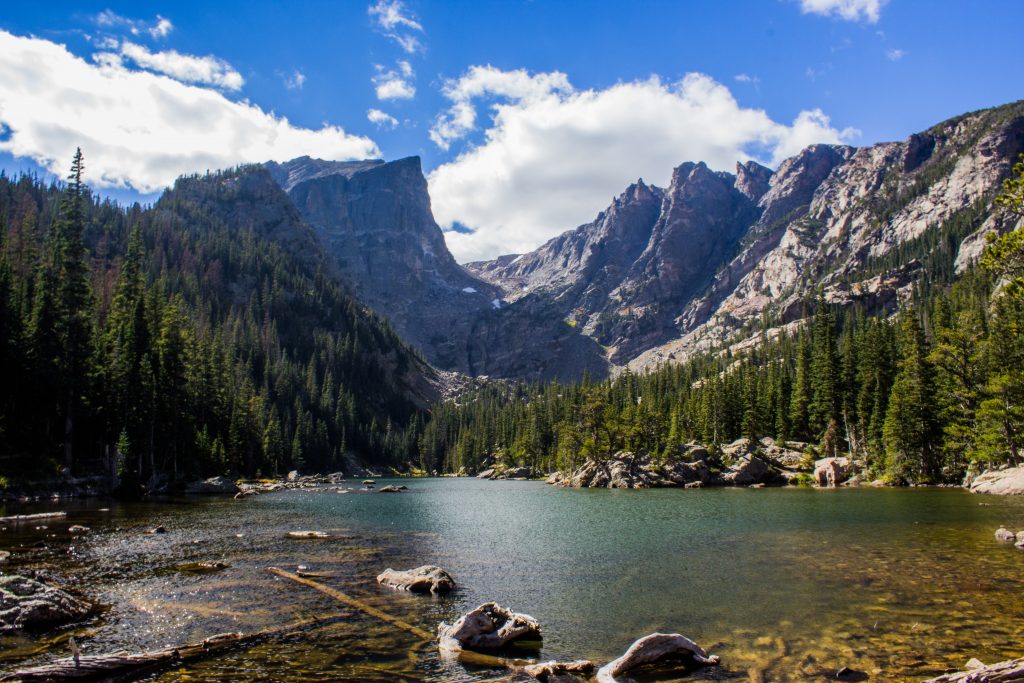 Timed Entry Requirements for Rocky Mountain National Park in 2021
In 2021 Rocky Mountain National Park is continuing their required reservation system. From May 28th to October 28th you'll need to purchase an advanced reservation to access Rocky Mountain NP.
Permits cost the same as the entry fee and annual pass holders should check specific details.
There are two separate permits. One for the Bear Lake Road corridor which must be purchased if you're entering that area of the park between 5 am and 6 pm. You can continue to enjoy the rest of the park at that time.
A second permit is available if you are NOT visiting the Bear Lake Road Corridor from 9 am to 3 pm. This permit allows you to enter the park, but not visit the Bear Lake Corridor unless you take the free shuttle.
Bear Lake Road Corridor includes the following trailheads:
Bear Lake
Sprague Lake
Glacier Gorge
Bierstadt Lake
Hollowell Park
and any other trailhead accessed from Bear Lake Road
Permits are released on the first of the month for the following month. Meaning you can obtain timed entry permits for July on June 1. Plan accordingly and remember, permits fill up fast!
Practical Information about the Emerald Lake Hike
As one of the best lake hikes in Colorado, the Emerald Lake Trail sees a lot of action. In fact, Rocky Mountain National Park sees 3.3 million visitors a year, and I can promise you that most of them visit Emerald Lake.
Overall, the hike itself is easy as far as mountain hikes go. Some people rate it as moderate because of the steep section towards the end, but overall the Emerald Lake hike is one of the easiest in the park.
Here are a few pieces of practical info to know before you go:
Trailhead: Bear Lake Trailhead
Mileage: 3.6 miles out-and-back (round-trip)
Elevation gain: 702 feet
Trailhead Elevation: 9,475 feet
Max Elevation: 10,110 feet
Difficulty: easy. to moderate
Estimated time: 1 hour 45 minutes to 2 hours
Dogs Allowed?: No dogs allowed in Rocky Mountain National Park
Permits and Fees?: No permits. $25 per vehicle to enter the park or free with an America the Beautiful annual park's pass.
Best time to hike: Year-round, extremely crowded in summer and fall.
Highlights: 4 alpine lakes, distant waterfalls, wildflowers, high-alpine mountain views, Long's Peak views, chances to spot a variety of wildlife (elk, deer, bear, pine marten) if you go early in the morning.
Drive time from Denver: 1 hour and 45 minutes

How to Reach the Emerald Lake Trailhead
In order to reach Emerald Lake, you'll need to park at the Bear Lake Trailhead. This is the BUSIEST trailhead in Rocky Mountain National Park. Parking is extremely hard to come by despite the large lot and you cannot park along the road.
Local tip: If you want to snag a spot here, be sure to arrive before 6 am anytime throughout the year (including weekdays).
The easiest way to reach the Bear Lake Trailhead is to arrive at the east entrance of the park. Once you've entered the park, take your first left on Bear Lake Road (quickly after you enter).
Continue up the road until it ends – this is the Bear Lake Trailhead.
Local Tip: You can access the Emerald Lake Trail from the Glacier Gorge Trailhead, but it will add 2.4 miles to your trip each way. Follow signed junctions to Bear Lake from Glacier Gorge.
Emerald Lake Hike Shuttle Service
If you arrive after 6 am, expect to take the shuttle to reach the parking area. Shuttle runs from 7 am to 7:30 pm every day from May 27th through October 18th and is completely free to ride.
Once you've entered the park, head to the Glacier Basin Campground along Bear Creek Road. There is a park-and-ride here. Catch the Bear Lake Shuttle. You'll stop at the Bierstadt Lake Trailhead then the Glacier Gorge Trailhead before arriving at the Bear Lake TH, where you'll start your hike to Emerald Lake.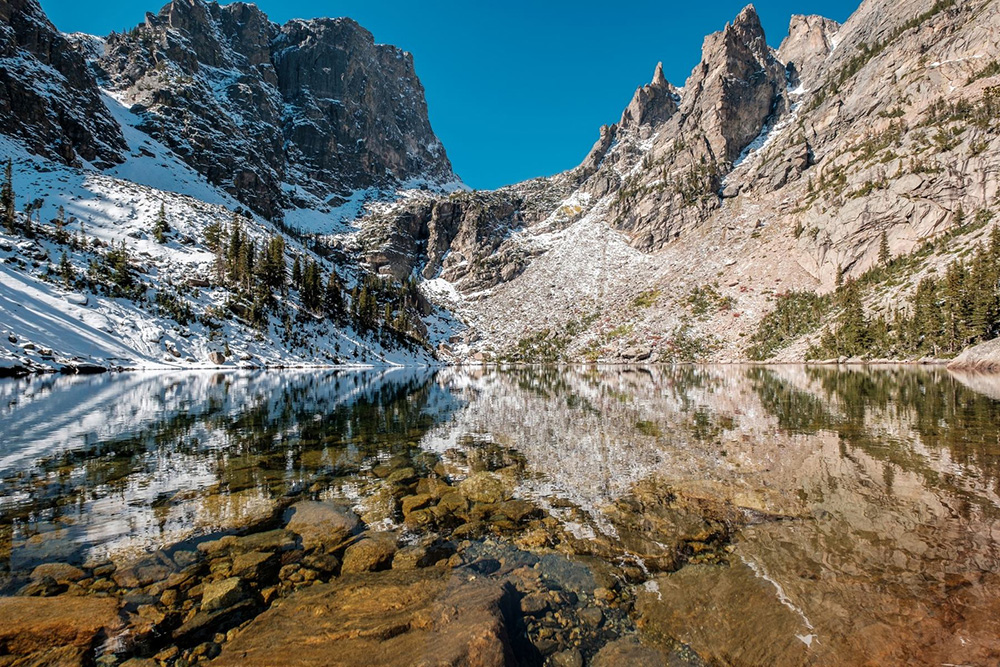 Expert Advice for Beating the Crowds at Emerald Lake
Since the Emerald Lake hike is one (if not the) best hikes in Rocky Mountain National Park, this place always has crowds. The reason is obvious – the lake is stunning no matter what time of year it is.
The most crowded time to visit Emerald Lake is in the summer and fall – yes even during the week. Of course, this is when the wildflowers are popping (summer) or the aspens ignite the hillsides (mid-September) so it is also the most beautiful time to visit.
The only way to beat the crowds at Emerald Lake regardless of the time of year or day of the week is to be at the lake for sunrise.
This means that you should be at the trailhead by 4 am in the summer.
For other times of the year, simply check the sunrise time at Rocky Mountain National Park and arrive at the trailhead 1 hour before that time.
Yes, the wake-up call sucks, but the sunrises here are utterly incredible. The magic of the alpenglow will soon have you forgetting that terrible alarm clock.
It'll still be rare to be the only people around, but you'll see a fraction of the crowds and be ahead of anyone else should you choose to extend your hike further.
Other ways to beat the crowds are to:
Visit in winter. The lakes are frozen and the wind can be fierce, but there are far fewer people in winter and the scenery is still magic.
Visit in February, early March, October, or early November. The tourist crowds have thinned out this time of year.
Come for sunrise on New Year's Day. This was the one time we were here and saw literally no one at Dream Lake and Emerald Lake.
Above all else – always come for sunrise! It's the least crowded time. Sunsets can also see slightly fewer people, but parking may still be a challenge.
Visit during the week. Yes, there are still plenty of people here, but you'll get a breather from the weekend warrior crowd.
Local Tip: Hiking in winter? Bring a GPS file. There are a lot of very extreme adventures branching from these trails (backcountry skiing, mountaineering routes, and more). Social trails are common in winter so be sure to check your location as you hike.
What to Expect on the Emerald Lake Hike
The Emerald Lake hike begins at the bustling Bear Lake Trailhead. You'll find plenty of signage, a ranger during the day, and toilets to use.
You'll start your journey at the large, marked trailhead at Bear Lake. Trails shoot off in many directions, but they are all well signed and straightforward to follow.
Bear Lake
Hike along the paved Bear Lake Trail just beyond the trailhead until you see a marked junction, head left towards Emerald Lake.
Local Tip: If Bear Lake is calm, you can snap a quick pic of the reflection of Hallet Peak on the lake. If not, consider coming back and checking out Bear Lake on the return journey.
Bear Lake offers a 0.6-mile paved trail that circumnavigates the lake. Perfect for wheelchair access.
Nymph Lake
Continue along the paved path, making your way uphill. Just before the south end of Nymph Lake, the pavement disappears.
Now you'll feel like you've wandered into a fairy tale just 0.5 miles from the trailhead.
Nymph Lake has wonderfully lush lilies and a calm, relaxing feel to it. Hallett Peak pokes its head out in the far distance, giving you a taste of the views to come.
Make your way around the small lake to the north side.
Dream Lake Hike
After you've passed around Nymph Lake, you'll encounter a short, but mighty uphill climb. Don't worry, stunning views of Longs Peak in the distance will distract you.
After the trail levels out at 1.1 miles from the trailhead, you'll hit another junction for Lake Haiyaha. This short detour is certainly worth a look, but head to Dream Lake first.
Continue along the signed junction for Dream Lake – it will be obvious, the junction is right in front of the iconic Dream Lake.
You can stop here and enjoy the views of Flattop Mountain and Hallett Peak or continue upwards just a short distance more to Emerald Lake.
You'll climb a few steps, with waterfalls cascading to your left. There's one swampy section, but a raised walkway makes the crossing quite easy.
Local Tip: Dream Lake is usually filled with photographers for sunrise. Come back after you've watched the sunrise at Emerald Lake and enjoy Dream Lake with fewer tripods.
Emerald Lake
The Emerald Lake hike continues around the north shore of Dream Lake and up a series of stairs. The stairs aren't particularly challenging, but if you're not used to high-altitude hiking, you might feel a little winded.
Just take your time as you make your way into the heart of the gorgeous Tyndall Gorge.
Local Tip: This area is popular with backcountry skiers, mountaineers, and alpine climbers. You may spot some of these extreme athletes along the route.
Once you finish your stair climb you'll follow the Tyndall Creek on your left as your wander through a gorgeous pine forest. It's just a few more minutes until you have arrived at Emerald Lake.
This absolute gem that gets its name from its rich emerald color is nestled next to the striking Hallett Peak (12,713 feet) to the south and Flattop Mountain (12,324 feet) to the north.
Relax and enjoy the stunning alpenglow in the early morning light.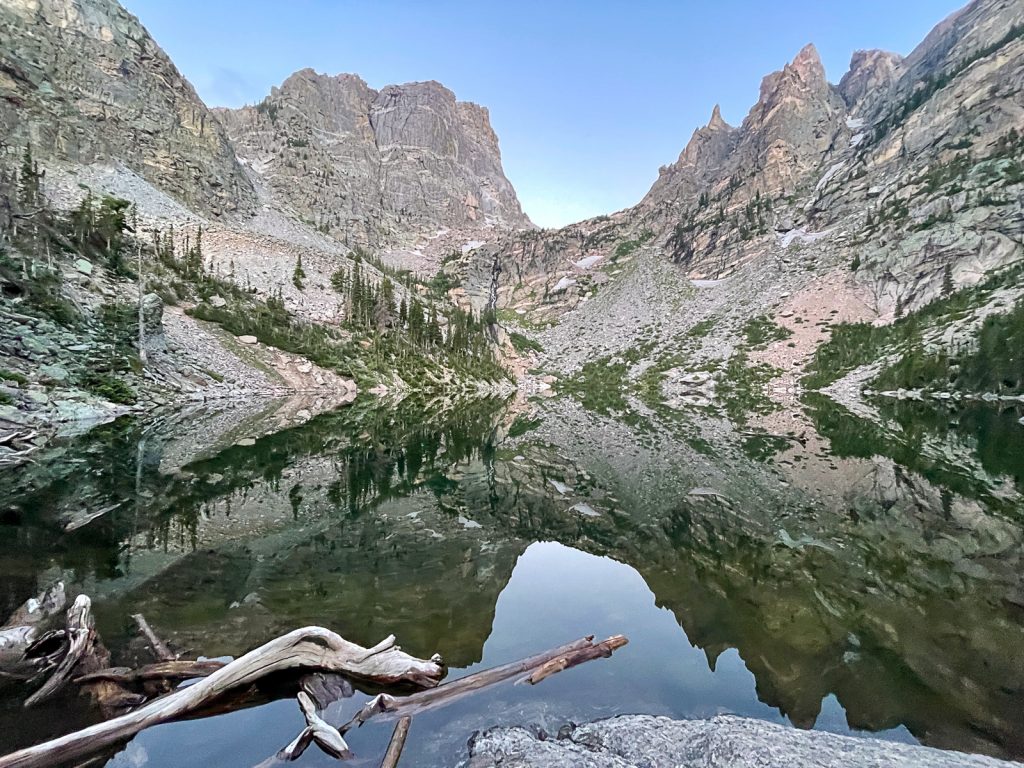 Additional Hike to Lake Haiyaha
Once you've had your fill of Emerald Lake, you can head back down to the junction at Dream Lake – don't forget to admire the views!
Then continue onwards to Lake Haiyaha. This adds 2 miles round-trip and 350 feet of elevation gain, but out of all of the lakes along the Emerald Lake trail, Lake Haiyaha is by far the quietest.
Not to mention, it's just as stunning as both Dream and Emerald Lake.
Local Tip: Lake Hayiaha is one of the most scenic winter hikes in Colorado so don't forget to add it to your bucket list.
When is the Best Time to Hike to Emerald Lake?
I can't stress enough how important it is to be at the shores of Emerald Lake by sunrise if you want to enjoy this insanely popular hike in Estes Park with as few people as possible.
You can hike to Emerald Lake at any time throughout the year, but the best time to visit Rocky Mountain National Park is from late May through mid-October.
Summer has plenty of wildflowers and is the most popular time to visit. The Emerald Lake Trail is typically snow-free by mid-June.
Local Tip: Afternoon thunderstorms are very dangerous at Emerald Lake. July through August thunderstorms come in with extreme force almost daily afternoon. Plan to be back in the pine forest by noon to stay safe.
Depending on the snowfall totals for the year, it can be easily possible without special snow gear by early June. Snow rolls in again around late October most years.
Late fall through early spring brings a dreamy, snow-filled landscape (take traction such as microspikes, waterproof footwear, and snowshoes). The crowds are slightly less this time of year.
The lakes typically freeze by November and stay frozen until May.
Rocky Mountain National Park is one of the best places for fall colors in Colorado. Peak fall color season (the third week of September) does mean large crowds, but cooler temps and fall colors make fall an excellent season to visit Emerald Lake, Colorado.
Tips for Hiking to Emerald Lake
Hiking in Colorado takes some local knowledge to navigate like a pro. Here are a few handy tips to hit the Emerald Lake Trail like a local.
Start early. Yup, I'm saying it again – literally that important. Every local knows that unless you want to hike with 1,000 of your closest tourist friends, this is the best way to see the park!
Watch the weather. Another reason to start early is because of the seasonal summer thunderstorms. They are dangerous and kill hikers every year.
Storms roll in around noon every day and include everything from deadly lightning to fierce hail. Use weather.gov to check the weather at Emerald Lake up until the day you leave.
Local Tip: Storms will be coming over the peaks guarding Emerald Lake, so you won't see them until they are on top of you.
Don't expect cell phone service. Be prepared by loading the route using a GPS app on your phone before heading out. Trails are generally well-marked – it's hard to get lost. However, while hiking in winter, trails are buried under the snow so a GPS is essential.
The parking lot for Bear Lake fills up by 7 am every day throughout the year and by 6 am in the summer.
Acclimatize properly. If you're visiting from out of town, Emerald Lake is an excellent acclimatization hike. However, don't be alarmed if you feel winded!
Practice Leave No Trace. This area sees an enormous amount of traffic so be a good steward. Say hello to fellow hikers and be friendly.
Pick up and pack out your trash including wrappers, used toilet paper, and fruit peels (and even the trash of others). Follow all ranger instructions and signage. Use the toilet and if you have an emergency while hiking, pack out your used toilet paper (required). Don't feed the animals (this actually kills them by introducing non-native food).
What to Pack to for a Hike in Rocky Mountain National Park
Don't leave for your Emerald Lake hike without these hiking essentials:
Sturdy walking shoes
First Aid Kit
Sunglasses, sun hat, and sunscreen
Warm jacket (yes, even in summer)
Rain jacket (great for blocking the wind during the winter too)
GPS app with the trail loaded
Camera
2 liters of water
Salty snack
Beanie and gloves (even in summer)
Non-cotton hiking socks (ideal to avoid blisters)
Hiking poles (optional but helpful)
Things to Do Nearby Emerald Lake in Rocky Mountain
Don't miss out on these amazing things to do near Emerald Lake.
Visit nearby Sprague Lake
Hike to the Loch at Glacier Gorge
Go for one of Colorado's most scenic drives along Trail Ridge Road
Head into town for a post-hike snack at the Notchtop Bakery and Cafe in Estes Park
Additional Planning Resources
Planning a trip to Rocky Mountain National Park? Check out these expertly curated resources:
PIN THIS POST