Over the years, I've ditched climbing Colorado's famed 14,000 foot peaks in favor of a more rugged feel. Colorado 13ers are where it's at if you desire a hiking and scrambling challenge, thin air, and few crowds. Here's a look at a few of the best Colorado 13ers near Denver.
Although these mountains don't have the same clout that the famed Colorado fourteeners have, they lack the line of hikers found on their 14,000-foot cousins. Colorado's 13,000-foot peaks require a lot more route finding and off-trail travel, making them have more of a real mountaineering feel.
About The Best Colorado 13ers Near Denver
When it comes to hiking and climbing in the mountains 13ers are where it's at. Long gone are the crowds from Colorado's famed 14ers. In this guide to the best Colorado 13ers near Denver you'll find:
Information about Colorado 13ers
Why you should tackle a 13,000-plus-foot peak
The Best 13ers near Denver
Insider information such as elevation, difficulty, distance, and special gear.
Tips for climbing or hiking a Colorado 13er
What to pack for your 13er hike
Additional Colorado hiking resources
What is a Colorado 13er?
A Colorado 13er refers to a peak that sits over 13,000 feet above sea level. Even though these peaks are shorter and more numerous (there are over 600 in Colorado alone), they are still just as challenging, if not more challenging than a Colorado 14er.
Expect to have the same amount of elevation gain as a Colorado 14er, but far more of a challenge. With so many amazing Colorado 13ers to choose from, it can be tough to choose the best Colorado 13er.
Why Climb a Colorado 13er Instead of a 14er?
Colorado 14ers became more of a novelty than a quiet mountain hike. Even the tougher 14ers have crowds of people flocking to climb them.
Not to mention, all 14ers have a trail and an app you can use to get a step-by-step guide on how to climb them. I don't know about you, but that's almost cheating in my book.
Colorado 13ers offer more of a challenge since there often isn't a trail to the top, information or beta is limited, requiring you to harness your awesome mountain skills to reach the top.
One of my favorite parts of climbing any Colorado thirteener is the solitude. Often times, you'll be the only one on the summit of these magnificent peaks.
In certain areas, like the easily-accessible Tenmile range, you can have the peak to yourself and wave to the endless sea of people on the tops of nearby 14ers.
If you like solitude and bit more of a challenge, the best mountains to climb in Colorado are the 13,000-foot peaks.
How to Find Awesome Mountains to Climb Near Denver
Finding these awesome peaks of solitude actually isn't all that difficult. Often times a well-known Colorado hiking trail terminates at the base of the thirteener. Your next step is to carefully choose your way to the top!
Resources such as this lovely blog, or Climb13ers.com, Summit Post, and Mountain Project (for technical peaks) also offer some helpful info.
1. The Sunset Jaunt: Mount Sniktau (13,240 feet)
Whenever someone mentions a great beginner 13er peak, Sniktau always makes it on the list. Located along the Loveland Pass ridgeline, this mountain provides easy access with zero approach.
The total round-trip length is only 3.7 miles, making it an ideal starter for anyone who is new to climbing mountains and a little hesitant to start on something more substantial.
If you're a seasoned vet, this mountain makes for a great perch to watch the setting sun and is one of the best hikes near Denver.
Expansive views of the Continental Divide, Eagle's Nest Wilderness, and Holy Cross Wilderness can't be beaten. On a clear day, you can see all the way to Long's Peak to the north.
Local Tip: As one of the most challenging dog-friendly hikes near Denver, don't forget your hiking pup!
Class: 1
Round-trip distance: 3.7 miles
Elevation Gain: 1,800 feet
Required gear: Hiking gear with a few extra layers
Best for: New climbers, quick summits, sunsets
Estimated Time: 2 hours
New to climbing and hiking mountains? Check out these handy resources:
2. Dynamic Duo: Cupid & Grizzly Peaks (13,117 & 13,427 feet)
Step it up a little from Sniktau with the duo of Cupid and Grizzly Peaks, which are also located at Loveland Pass and start on the same trail. So the access is just as easy, but these peaks are a little harder.
Cupid is mostly Class 1 and is fairly easy to ascend. After hitting the summit of Cupid, you'll head back down for a bit, then continue onto Grizzly. Along the way, you'll attain a false summit, but keep going up some Class 2 terrain to gain the true peak.
This is a great way to bag two 13ers in one – and if you have extra time and stamina, you can combine these with Sniktau, too.
Class: 2
Round-trip distance: 6.7 miles
Elevation gain: 2,631 feet
Required gear: Regular hiking gear plus extra layers and microspikes or other traction early in the season.
Estimated Time: 3-5 hours
3. The Gentle Hill Walk: Mount Parnassus (13,579′)
Mount Parnassus was not a fun climb for me personally, but if you're into hillwalking, this is a great peak. Despite my lack of hillwalking lust, the views from the top are beautiful.
Neighboring Bard Peak adds to the drama, the ridgeline presents itself as a fine challenge. If you're looking for a bigger challenge, then consider adding Bard to the loop. I did this peak in the winter and it's a lung buster if there is no trail in the snowpack.
Local Tip: Herman Gulch (next door) offers up some of the best wildflower hikes in Colorado if you're still itching for the alpine.
Class: 1-2
Distance: 8 miles without Bard, 9 miles to tag Bard
Elevation gain: 3,334 feet
Gear: Summer – regular hiking gear with extra layers. Winter: Snowshoes and microspikes (for the approach)
Estimated Time: 4 to 5 hours
4. The Best Beginner Winter Ascent: West Ridge of Atlantic Peak (13,841 feet)
Why not climb mountains year-round? Winter may be a tougher season, but that doesn't mean that you still can't climb mountains! If you have the correct gear and avalanche training, try for a winter peak.
Atlantic Peak in the Tenmile Range is a great beginner winter mountaineering route in Colorado.
The Atlantic Peak's West Ridge has a minimal approach of approximately three miles and plenty of ridge to enjoy. The views of the dramatic ridge between Atlantic and Fletcher make you feel like you're far off in the Himalaya.
Class: 2
Round-trip distance: 4 miles plus 2.8 miles of road walking (if the road is closed, which in winter, it is).
Elevation gain: 2,450 feet
Required gear: summer – standard hiking gear with a few extra layers. Winter: ice ax, microspikes/crampons (depending on snow), snowshoes and avalanche safety gear.
Estimated Time: 2.5 hours in summer, 8 hours in winter.
Ready for the snow? Here's a look at a few wintery posts
5. Best All-Round Climb: The Citadel to Pettingell Traverse
Hands-down one of the best all-around climbs and one of my favorite Colorado 13ers.
This climb, best done in conjunction with Snoopy's Backside Couloir offers a bit of everything. The approach is on the longer side – take the Herman Gulch Trailhead, but with twin summits, The Citadel (13,294′) provides some fantastically spicy scrambles on its own.
Combined with Pettingell, the route turns into a Class 5 traverse with lots of exposure to keep the heart pumping. The Citadel is one of the best mountains to climb in Colorado, and nobody has ever heard of it. A true gem!
The crux of the climb is a 55-foot rappel off of a vertical rock face. You can opt to continue on to Pettingell through some more Class 3 scrambling and a Class 2 walk-off or descend the steep saddle after the rappel.
Class: 3-4 rock with plenty of exposure and a Class 5 rappel
Round-trip distance: 9.7 miles
Elevation gain: 3,532 feet
Required Gear: Summer – helmet for the Citadel and a 40m rope with an anchoring system, belay device, third hand and harness for the rappel. Winter: not recommended due to avalanche danger. However, for snow climbing season you will need all of the above plus crampons and an ice ax. Snowshoes are advised depending on snowpack
Estimated Time: 8 – 10 hours for the couloir, 6 – 8 hours via the grassy slope.
6. Climb Steep Snow in the Skywalker Couloir of South Arapaho Peak (13,400 feet)
If steep snow is what you seek, you can't go wrong with the Skywalker Couloir route up South Arapaho Peak. This iconic Colorado snow climb makes its way up the southeastern face of South Arapaho Peak.
This is no beginner snow romp, with angles upwards of 65-plus degrees, you'll want an axe and a tool.
Most of this half-mile long couloir is steep and above 45 degrees. Choose between three exits: the easy out, the steep Princess Leia alpine ice exit, or the class 4 scramble (gear recommended for some) Han Solo exit.
Class: Class 2 walk-off of South Arapaho. Descend the standard route.
Round-trip distance: 6 miles via the 4th of July Trailhead
Elevation gain: 3,263 feet, with most of the gain in the couloir.
Required Gear: This climb is best done in early to mid-June depending on the snow year. You'll certainly want a helmet, mountaineering boots, crampons, an ax and one tool. Depending on conditions, newer climbers may want an ice screw or pickets and some rope for the top of Leia. Han Solo enthusiasts might want to bring a few pieces of trad gear and a rope for added protection (class IV terrain in mountaineering boots can be an experience). Remember, if you're bringing ropes, you'll need a harness and belay device with an HMS carabiner.
Estimated time: 6 to 8 hours if you take the couloir. 3 to 4 hours via the standard route.
7. Glacier Approach: James Peak (13,294 feet)
Hiking James Peak gives you the experience of summiting a 13er and crossing a glacier! Technically St. Mary's glacier is actually a permanent snowfield, but it's still a very popular place, especially since it's so close to Denver.
You can skirt the glacier up a gully or some other trails to continue on to James Peak, but for maximum fun bring crampons and an ice axe to cross St. Mary's Glacier itself.
You'll want to start early for this one, both to get down before afternoon storms and to get parking. While you won't find too many people on the trail to James Peak, a ton of people drive out here to visit just the glacier.
Class: 2
Round-trip distance: 8.3 miles
Elevation gain: 3,000 feet
Required gear: Regular hiking gear plus extra layers and microspikes or other traction if you go up the gully or crampons and an ice axe if you head up St. Mary's Glacier.
Estimated Time: 4-6 hours
8. Scrambler's Paradise: West Ridge of Pacific Peak (13,957 feet)
If you're looking for some bang for your approach buck, look no further than the West Ridge of Pacific Peak. Pacific Peak's prominent summit is screaming to be climbed.
Approach via Mayflower Gulch for only a mile or so of travel along a faint climber's trail.
You'll meet the ridge abruptly where you are greeted immediately with over a mile of Class 3 terrain. The rock is rotten in spots, but you can avoid some of it if you opt for Class 4 gullies.
The summit is often a quiet place, where you can catch a view of nearby Quandary, a popular Colorado 14er. Wave to the crowds of people on the summit while you have Pacific all to yourself.
Class: 3
Round-trip distance: 4.0 miles if your vehicle can make it to the mine, 6.8 if you park in the paved lot.
Elevation gain: 2,600 feet
Required gear: Helmet
Estimated Time: 4 hours
9. The Third Class Introduction: Father Dyer's East Ridge (13,615′)
Whenever I hear that someone wants to get into Class 3 scrambles but has some hesitation, I recommend Father Dyer's East Ridge. Once upon a time, I had a crippling fear of heights and exposure would send me into a full-on panic attack.
When I finally mustered up the courage to try some Class 3 terrain, a friend of mine recommended Father Dyer Peak. The ridge allows you to scramble without the intense exposure.
The route can easily be downclimbed, but if you aren't up for it, you can climb the Class 2 Cyrstal Peak next door.
Class: 3
Round trip distance: 6 miles
Elevation gain: 2,700 feet
Gear: Regular hiking gear with a helmet. There's no rock fall potential on this route, but I always feel better scrambling knowing that my noggin is protected.
Estimated Time: 3 hours
10. Continental Divide Ridgeline: Mount Flora (13,156 feet)
Enjoy incredible panoramic views from the top of the Continental Divide by hiking Mount Flora. The trail starts at the Berthoud Pass parking lot and is a pretty quick drive from Denver.
You'll head up some switchbacks to the ridgeline (keep an eye out for a Mount Flora sign), where you'll be able to see Rocky Mountain National Park in the distance. Then continue onto the summit at 13,156 feet.
If you want to spend more time soaking in the awesome views on the CDT ridgeline, you can also add on Mount Eva and Mount Parry.
Class: 2
Round-trip distance: 6.3 miles
Elevation gain: 1,760 feet
Required gear: Regular hiking gear plus extra layers and microspikes or other traction early in the season.
Estimated Time: 3-5 hours
11. The Arapaho Traverse
So nice it's in here twice! After summiting countless mountains, one of my all-time favorites is the Arapaho Traverse in Indian Peaks Wilderness.
During the summer months, you can scramble from the summit of South Arapaho Peak to North Arapaho Peak. South Arapaho is a class 2 walk-up (a great peak in its own right) and to tag the sister peak, you'll scramble over the ridge on excellent rock until you reach the larger, North Arapaho summit. Come back the way you came.
The route is fairly obvious, with several areas where you can choose to scramble low fifth-class rock or walk around. For an extra-burly day, hit up the traverse after you take the Skywalker Couloir.
Class: 3/4
Round-trip distance: 8.3 miles round-trip
Elevation gain: 3,500 feet
Required gear: Helmet
Estimated Time: 4.5 to 5 hours
12. Northstar Mountain in Breckenridge
Any time of year is an excellent time to jump on North Star Mountain. If you're looking to get into tougher winter terrain, hike this peak in February (check avy conditions). For those that like a long, rocky ridge, then opt to jump on this beautiful peak for summer.
Shuttle cars and snow climb up the beautiful Polaris Couloir. Exit via the ridge to avoid down climbing 45-degree snow.
Round Trip Distance: around 8 miles
Elevation Gain: 1,945 feet
Difficulty: Difficult
Estimated Time: 4 hours
13. Diamond Views: Mount Lady Washington
The easiest way up Mount Lady Washington is from the Longs Peak trailhead, so be sure to get there extra early to avoid the crazy crowds.
Take the trail until it splits off towards the famous boulder field, and then you can continue straight up the east ridge of Mount Lady Washington.
Once you reach the summit, make sure to walk on to the west summit to get the best views of Longs Peak, as well as Mt. Meeker.
Class: 2
Round-trip distance: 10.1 miles
Elevation gain: 4,045 feet
Required gear: Regular hiking gear plus extra layers and microspikes or other traction early in the season.
Estimated Time: 6-8 hours
Bonus: Mount Arkansas
If you're looking for a serious winter challenge, or a fun-filled day scrambling in the alpine, then Mount Arkansas is for you. At 13,795 feet,Arkansas is a great way to catch some air without hiking long miles. You can avoid some of the towers if you aren't up for scrambling, but what's the fun in that?
In winter, Arkansas becomes a burly objective, especially since you'll be forced to navigate cornices, blowing wind, and scramble over icy rock. It's a worthy winter objective loaded with stunning views!
Class: 3
Round-trip distance: 5.25 miles round-trip
Elevation gain: 2,750 feet
Required gear: Helmet. Ice axe, microspikes, snowshoes and helmet in winter.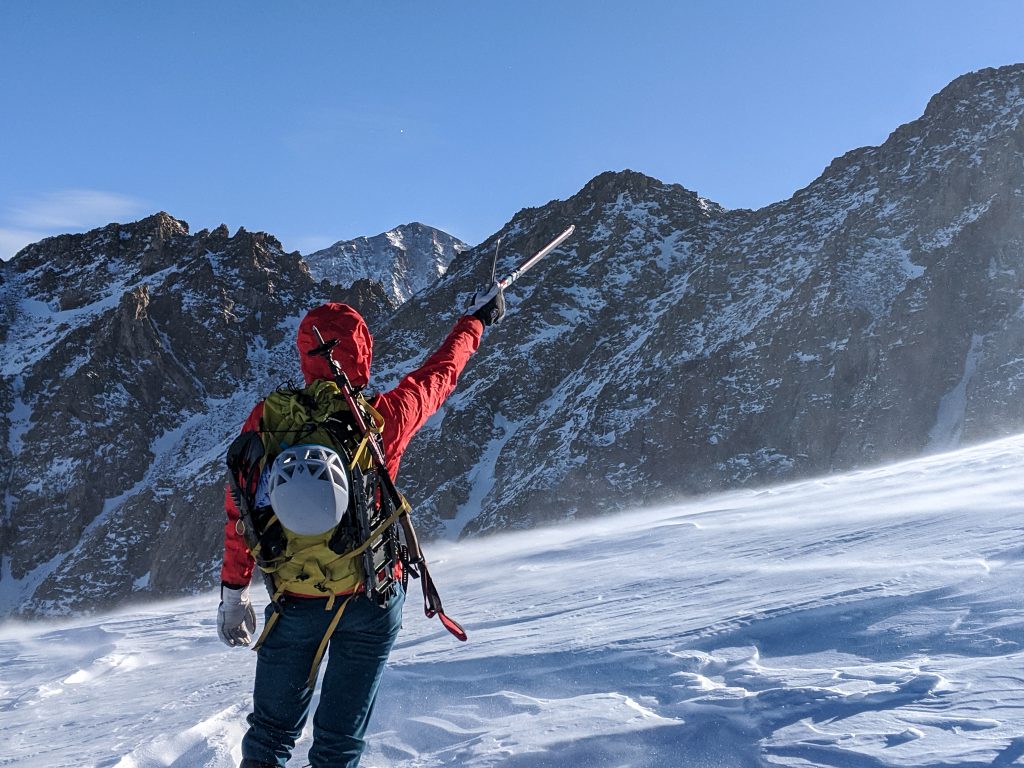 Preparing for Climbing or Hiking a Colorado 13er
Preparation for climbing the best Colorado 13er, or any mountain in Colorado for that matter, requires a few key important preparation points:
Check the weather using a reliable source like Weather.gov. Then check it again, and again, up until the night before (or the morning of) your climb.
Start before the sun rises. This is true in both winter and summer. In summer, you're trying to beat the onslaught of inevitable thunderstorms that can put you in great danger. In winter, the snow gets warm and the avalanche danger increases as the day warms up.
Pack the essentials and then some. Don't forget warm layers, even gloves and a hat. Mountain ridges get cold. Check out this complete mountain climbing and hiking packing list.
Print out maps and study your route. Try and look up recent conditions, ask forums if any special gear is needed, and get a clear sense of what you are getting into.
For more Colorado 13er preparation and tips, see these posts:
There you have it, six fantastic climbs of Colorado 13ers all within a few hours from Denver.
There are countless others, but these six offer something for everyone, whether you are the adrenaline junkie rappel freak or you're just getting started with climbing mountains.
Planning a visit to Colorado? Be in the know with these local tips: