One of my favorite views in all of Colorado is Mayflower Gulch. A gentle hike takes you directly to a magnificent alpine cirque where you'll feel like you're in the heart of the mountains. The dramatic ridgeline between Fletcher and Atlantic Peak set a scenic backdrop to a field of wildflowers, making Mayflower Gulch a picture-perfect scene.
I've been to Mayflower Gulch countless times. It's one of my favorite places to take visitors to Colorado because it's a relatively easy hike within 2 hours of Denver and Mayflower Gulch delivers big on mountain vistas, making it one of the most scenic hikes near Denver.
If you're looking to explore the scenic Mayflower Gulch, then you're in the right place. As a long-time Colorado local (over a decade and counting) it's my mission to get you on the trails like a local, not a tourist.
About this Guide to Mayflower Gulch, Colorado
Let's get into how to make the most of your Mayflower Gulch hike. Inside this exclusive local guide you'll find:
Practical info about hiking to Mayflower Gulch
The best time of year to visit
Details about reaching Mayflower Gulch
Other things to do in the Mayflower Gulch Ampetheatre
Quick tips for hiking in Colorado
Additional Colorado hiking resources
Practical Info About the Mayflower Gulch Hike
Always be in the know before you go. Overall the Mayflower Gulch hike is straightforward and easy. If you're new to hiking or coming from out of town, you may find the steady incline more of a challenge. However, as far as mountain hiking goes, this trail is considered one of the easier ones.
As one of the best hikes in Colorado, Mayflower Gulch does get crowded – like mega-crowded – throughout the year. For the best chance at beating the crowds, come here for sunrise or early in the morning (before 7 am). I promise that the views won't disappoint.
Other important info to keep in mind before your hike is:
Round-trip distance: about 4 – 5 miles (from the lower, paved trailhead) depending on how much you walk around the cirque. 2 miles from the upper 4WD trailhead.
Elevation gain: 1,000 feet, negligible from the upper TH.
Difficulty: easy to moderate
Estimated time: 2.5 hours
Dog-friendly: yes, on leash. This is one of the best dog-friendly hikes near Denver.
Kid-Friendly: Yes
Trailhead: Paved with a large parking lot. During the summer the gate is open to the Upper Trailhead. A 4×4 vehicle with high clearance (think 4Runner or equivalent) is required to reach the upper trailhead. This eliminates most of the hiking.
Distance from Denver: 85 miles, 1.5 hours
Map of Mayflower Gulch
Mayflower Gulch can be found on the east side of Highway 91 just outside of Copper Mountain Resort. You'll see a large gravel lot with an old mining road leading into the gulch. All vehicles that aren't equipped with 4WD and high clearance should stop here.
If you've got high clearance and the gate is open, you can continue up the road 1.5 miles to a smaller dirt parking lot (fits maybe 5 vehicles) and be right in the heart of the Mayflower Gulch Amphitheater. On the plus (or minus) side, heading to the upper trailhead takes out virtually all of the hiking.
Most people opt to hike the road, so if you do decide to drive, you'll be passing people constantly. The road is extremely bumpy and rugged and your average Subaru SUV will quickly get stopped by obstacles.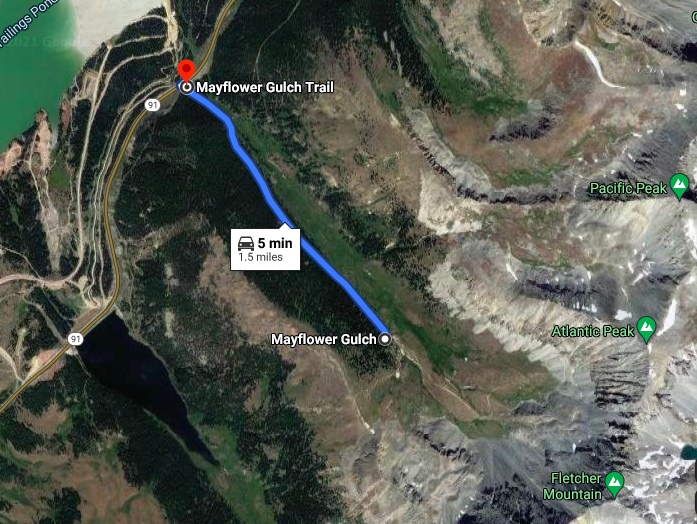 When is the Best Time to Visit Mayflower Gulch?
One of the things that makes Mayflower Gulch so amazing is that it's an excellent hike throughout the year. In fact, this trail is one of the most scenic winter hikes in Colorado – making it a viable option no matter what season it is.
In winter, Mayflower Gulch is often crowded with backcountry skiers as well as mountaineers trying for the famous Atlantic Peak – one of the best winter 13ers near Denver.
Early to mid-July is wildflower season and the cirque becomes a breathtaking scene. There are plenty of colorful flowers and lush alpine grasses dotting the landscape.
Fall is another great time to visit. It's less crowded than both summer and winter. If you're looking to summit nearby peaks or visit Pacific Tarn – the highest alpine lake in the US via Mayflower, this is the time to visit!
Spring tends to still be quite snowy and late-season storms are common. But if you want the snow without allllll the cold, then spring is for you.
Reaching Mayflower Gulch
Once you park the car, you'll make your way up 1.5 miles of an old mining road. The route stays mainly in the pine trees. The straight-forward road hugs a hillside (Gold Hill) as you climb towards the Mayflower Gulch Amphitheater.
You'll pass a few small mining ruins from the 1800s along the way. It's tough to imagine carrying all of that heavy equipment so far into the mountains.
There is a stream on your left side that slowly drifts away from you as you hike higher and higher.
The incline is fairly consistent throughout the 1.5 miles of old road walking. If you find yourself out of breath, just take your time.
As you inch closer to the top, the trees will start to thin out at around 1 mile. You'll catch glimpses of the Tenmile Range and views awaiting you. The distant, sharp peak is Pacific Peak (13,957′). Just to the right is Atlantic Peak (13,841′).
Next, you'll see the dramatic sawtooth ridgeline separating Atlantic Peak to the north and Fletcher Mountain (13,958′) to the south. I've climbed all of these peaks multiple times and they are quite an adventure for the avid peak bagger!
The road sort of peters out at a Y junction. To the left, you'll head towards the Boston Mine Ruins and the Mayflower Gulch Ampetheatre after you cross a small creek.
The right side climbs the ridge of Gold Hill for a bird's eye view of the area. You can also access the summit of Fletcher Mountain from here – but it's quite further than it looks!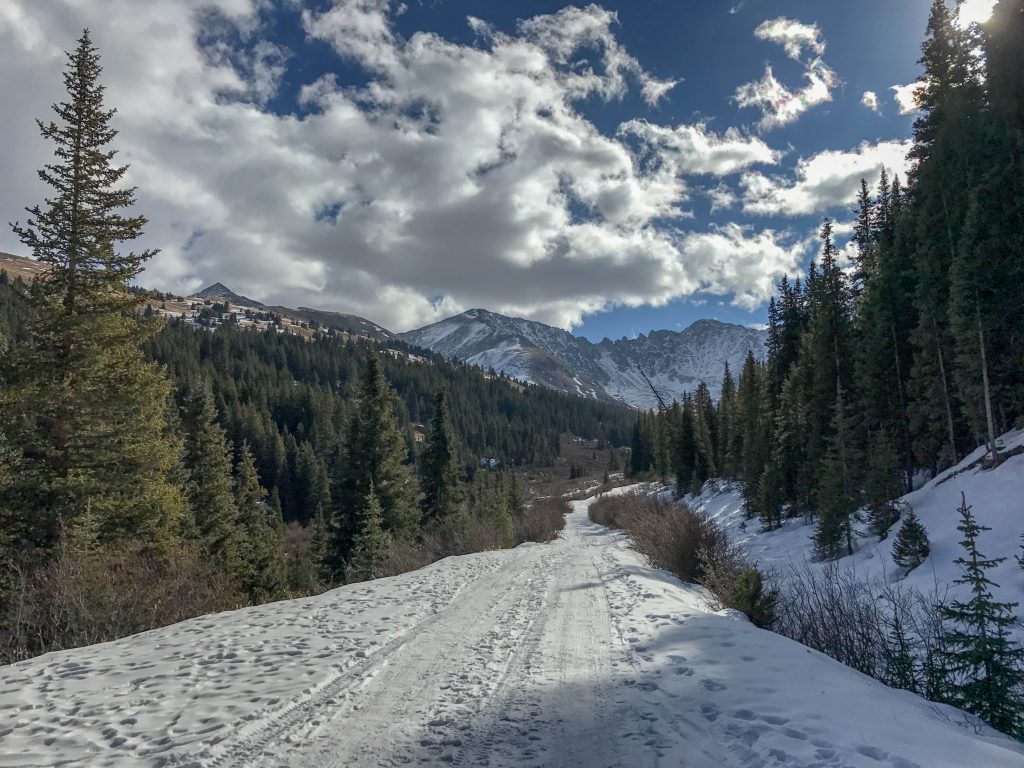 The Boston Mine Ruins
After the junction, you can spend your time wandering around in whatever direction you choose. The Boston Mine Ruins are pretty neat. You can go inside the miner's house and check out the view from their window. Rember, be careful since the buildings are falling down a bit.
Continuing up the mining road brings you directly to the heart of the cirque. You'll feel small amongst the rocky spires and towering mountains. Don't forget to look back and check out the views to the northwest too!
Other Things to Do at Mayflower Gulch
One of the reasons why Mayflower Gulch is so popular is because there are a lot of fun adventures to access from this area. Most of them require you to travel off-trail, so be sure to always practice Leave No Trace and tell someone where you are going.
A few activities in the area include:
Summiting Pacific Peak's West Ridge (class 3, helmet and scrambling required).
Backcountry skiing and snowboarding (winter, avalanche safety experience strongly recommended)
Summiting Atlantic Peak (class 2)
Summiting Fletcher Mountain (class 2)
Hiking to Pacific Tarn (difficult. One of the top alpine lake hikes in Colorado)
Very limited camping at the junction (no privacy)
Catch a sunrise or a sunset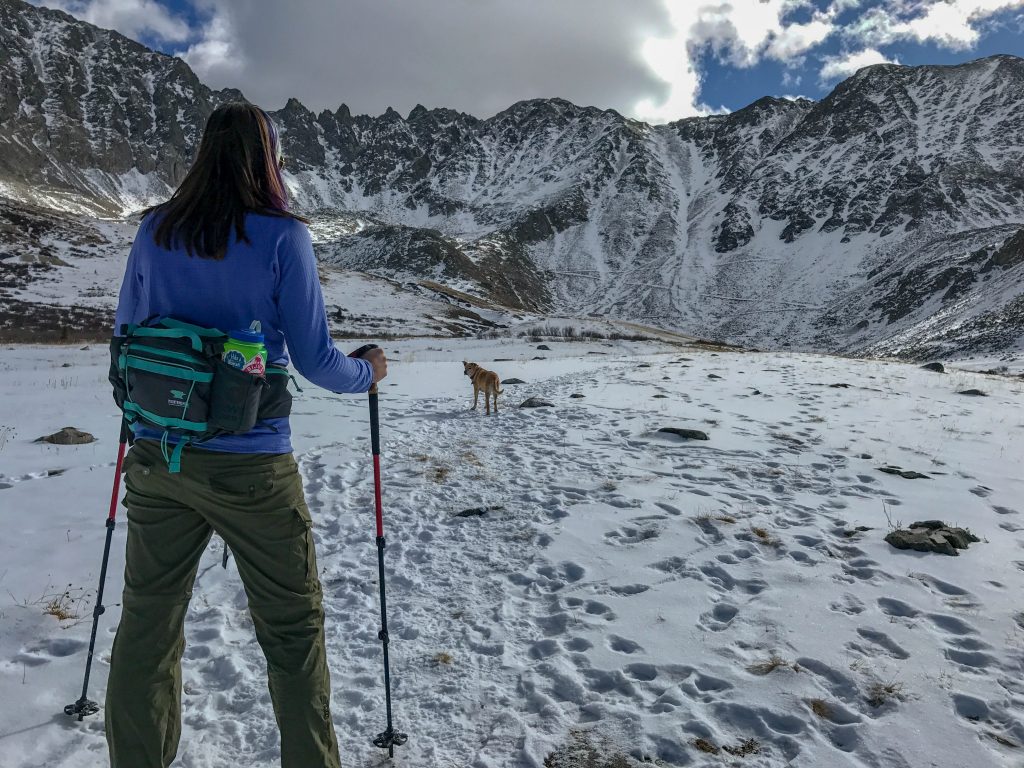 Tips for Hiking Mayflower Gulch
There are several important things to know before you know. Here are a few quick tips for your Mayflower Gulch hike.
Start early – especially in summer. Thunderstorms swoop in nearly every afternoon during the summer monsoon season. Being caught in the high alpine without tree cover can be deadly, so be sure to be back in the trees by noon.
This hike gets super crowded, so if you want some solitude, an early start is also recommended.
Pick up after yourself. Don't litter, pack out your trash, and leave it better than you found it. Don't pick the wildflowers, they take multiple seasons to grow and are a very fragile part of the ecosystem. Note that there are port-o-potties at the trailhead.
Always pack warm layers (it can get quite cold in the mountains, even in summer), a rain jacket, a first aid kit, plenty of water, and sun protection.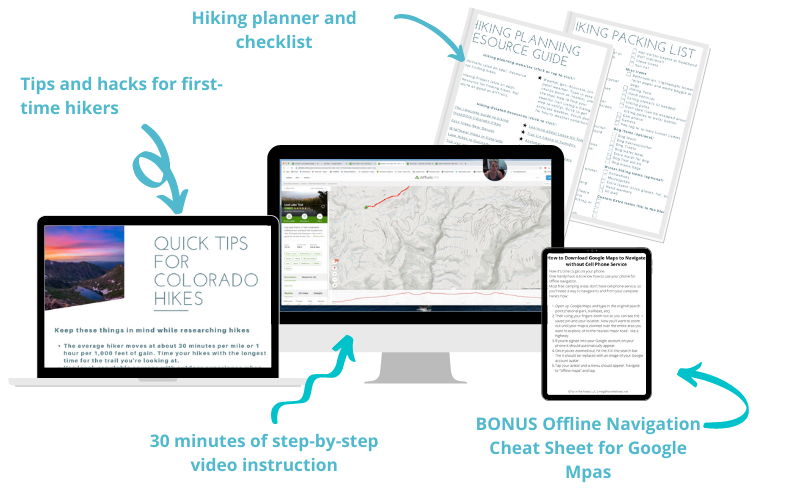 Learn to Find Amazing Hikes in Just 30 Minutes
Discover the quick and easy way to find and plan epic hikes in just 30 minutes.
This video mini-course gives you the inside scoop about how to choose incredibly scenic hiking trails perfect for your ability level.
Additional Colorado Hiking Resources
Want to hike more in Colorado? Check out these amazing local resources just for you:
PIN THIS POST