Visitors and locals alike love to head up to the mountains and soak up the summer. With so many things to do in Breckenridge in summer, you could spend a lifetime exploring what lies over every mountain ridge.
From a fun-filled mountain town packed with outdoor events to the rugged peaks of the Tenmile Range, there are Breckenridge summer activities for every type of adventurer.
Called Breck by locals, you'll find this mighty mountain town just 1.5 hours from downtown denver. As one of the best day trips from Denver, you'll relish in the fresh mountain air and scenic mountain views.
I've lived in Colorado for over 12 years and like any solid local, I've been to Breck countless times. Thanks to its central location, amazing amenities, and easy access to some stunning Colorado scenery it's a popular place.
Avoid Traffic and Enjoy Stunning Alpine Lakes with this Exclusive Breckenridge, Colorado itinerary from a Local!
Breckenridge, or Breck to us locals, is an immortal mountain town that is routinely inundated with tourists who want to attend the area's coolest festivals. But, if you want to experience some of Breck's most well-guarded secret spots, you'll need this amazing local's itinerary now! It'll teach you how to avoid over-crowded hiking trails and how to see the sunrise at some of the most gorgeous alpine lakes in the state.
Don't fret, you're in good hands. It's my mission to get you outdoors like a Colorado local, not a tourist. Unlike other guides to things to do in Breckenridge in the summer, this guide comes from over a decade of experience.
You'll get insider tips for beating the crowds and discovering some of the off-the beaten path spots in Breck.
About This Guide to Best Things to Do in Breckenridge in Summer
You're ready to get the best of Breck like a local, not a tourist. Get to know one of the most scenic mountain towns in Colorado with this exclusive local guide. Inside this guide to things to do in Breckenridge, Colorado you'll find:
The best times to visit Breckenridge during the sweet summer months
A comprehensive list of awesome things to do in Breckenridge this summer
How many days you should spend exploring Breck
Hot quick tips to visit Breck like a local
The Best Time to Visit Breckenridge
Breck is an awesome mountain hot spot that's got something different on the menu throughout the year. Since we are focused on things to do in Breckenridge in summer, I'll give you the inside scoop about how to visit Breckenridge in the summer.
First, the traffic here gets REAL. Traffic into Breckenridge can back up miles down I-70 and the main drag through town frequently sees 10 to 30-minute delays. Skip the lines and park at one of the ski parking lots (Breck Connect Gondola is a solid choice) and stay on foot if your activities are focused in town. There is a free shuttle to help you reach various hot destinations.
Also, arrive EARLY. If you're coming from Denver, be on the road before 7 am when visiting on the weekends. Traffic along I-70 commonly causes 30 minute to 1.5 hour delays every weekend between 8 am and 4 pm. Oftentimes both east and west bound.
Because Breckenridge is one of the top weekend getaways from Denver, you'll see that traffic builds pretty badly starting at 11am on Sundays heading eastbound. There is a tunnel on the freeway with a stoplight that starts running at around 11 and won't stop until 5 pm. Plan your entry and exit accordingly to miss traffic.
Local tip: Always check the weather. Thunderstorms roll in quickly virtually every afternoon. Always pack rain gear and be below treeline (at a lower elevation where the forests grow) by 11 am to avoid storms.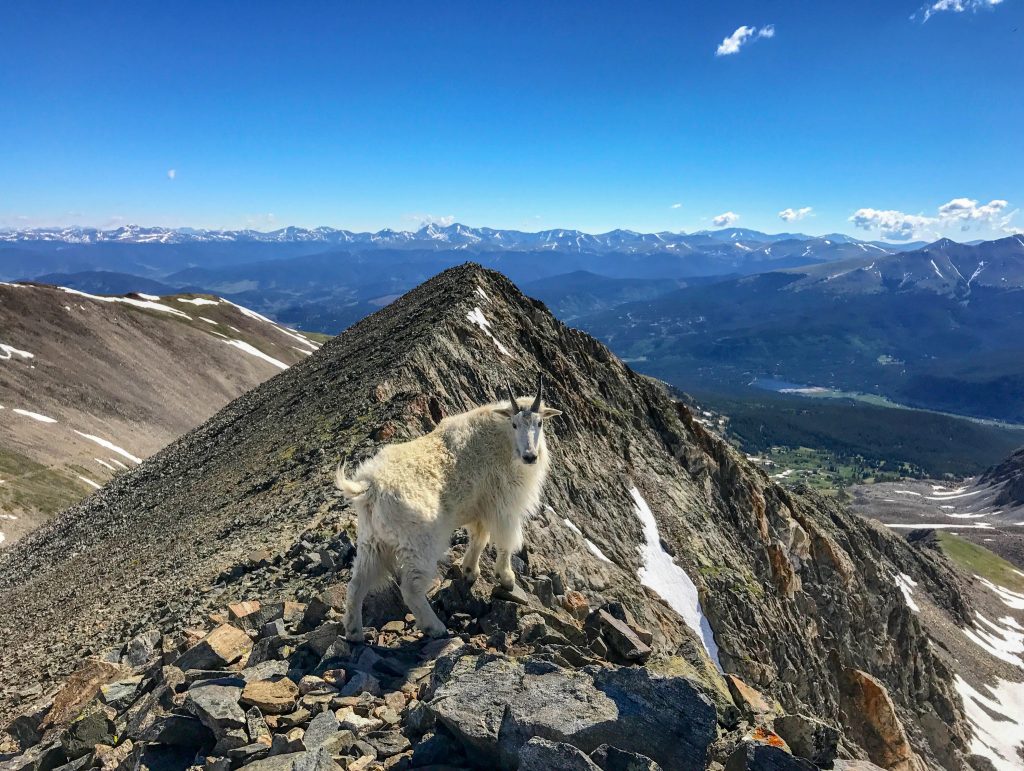 Snow and Wildflowers
The snow melts off most of the trails by mid-June (especially those that are at higher elevations). Bring proper footwear and plan your hikes and high-alpine drives accordingly if you are heading out prior to late June.
Wildflowers typically bloom from July through mid-August. The display is gorgeous, but trails tend to be more crowded at this time so start your hike prior to 7 am to beat the crowds.
16 Fun-Filled Things to Do in Breckenridge in Summer
The awesome variety of Breckenridge summer activities definitely gives the winter skiing season some competition for being the best time to visit. Here are the things to do in Breckenridge in the summer that you don't want to miss!
1. Hit the Hiking Trails
Hiking is definitely one of the top things to do in Colorado in the summer, and Breckenridge is home to some of the very best hikes in Colorado. You'll find tons of scenic hiking trails in Breckenridge, from easy strolls to strenuous summits. A couple of the top trails to explore in the area include:
Mayflower Gulch
Mayflower Gulch is always a lovely trail, with meadows, mining ruins, and mountain views, but it is an especially gorgeous Colorado wildflower hike when the colors are in full bloom in early summer.
Duration: 2-3 hours
Cost: Free
Local Tip: This trail gets MEGA crowded during the summer months. Arrive at the trailhead by 7 am to avoid the worst of the crowds. Or do it like a local and show up about an hour before sunrise for an amazing high-alpine show you won't forget.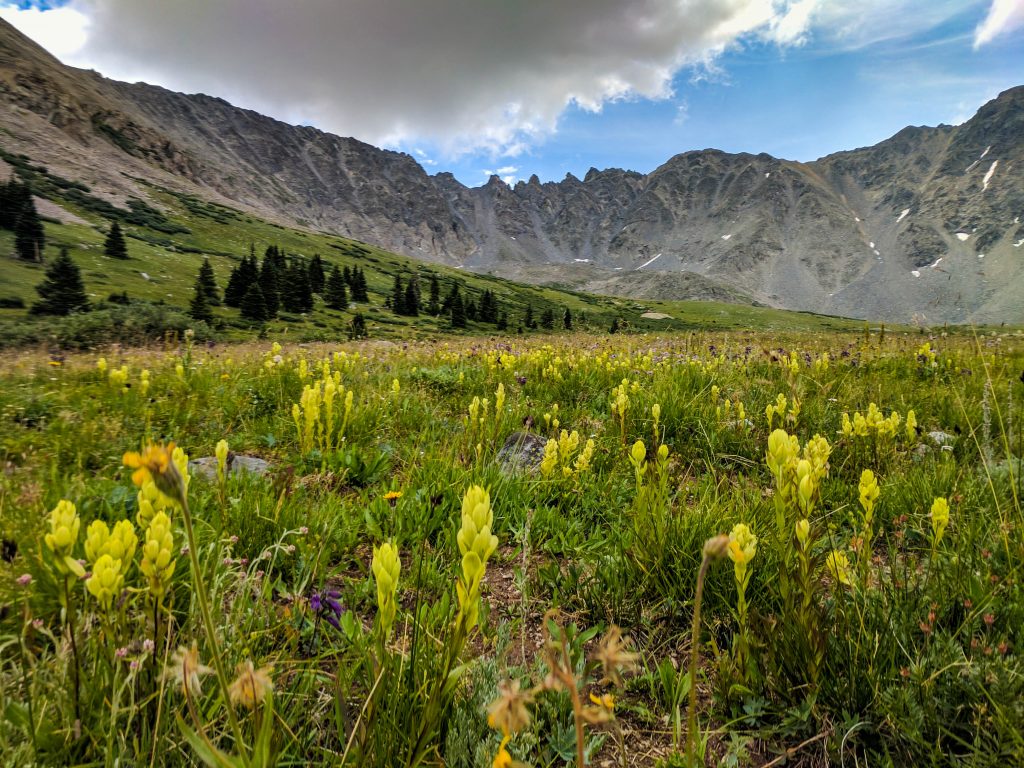 Crystal Lakes
For one of the best lake hikes in Colorado, check out Crystal Lakes. The steep uphill climb is totally worth it once you lay eyes on both these truly stunning alpine lakes.
Duration: 4-5 hours
Cost: Free
2. Climb a Mountain
Take your hiking to the next level and challenge yourself to make it to the summit of a 14er. Although there are no "easy" 14ers, Mount Quandary is considered one of the easiest 14ers in Colorado, so it's a good one to check off your bucket list. Breckenridge also features a lot of the best 13ers near Denver, which tend to offer a little more solitude if you want to get up high without the huge crowds.
Mount Quandary
The easiest trail to hike to the peak of Quandary is about a 7 mile round trip with a little over 3,000 feet of elevation gain. While it is non-technical and a very doable 14er if you're in good shape, it is a strenuous hike to the 14,265 foot summit, especially if you're not used to altitude.
Duration: 4-6 hours
Cost: Free
Local Tip: Start before 4 am to beat the crowds and the dangerous afternoon thunderstorms. Keep in mind the weather will be moving from east to west, so you won't see the storm until it's on top of you on this route. Be vigilant and turn around if the weather looks icky.
Check out more tips on how to hike your first 14er.
3. Say Hello to the Troll
One of the classic things to do in Breckenridge in the summer is to pay homage to the mighty troll. Go on a troll hunt in the woods near Breckenridge to find Isak Heartstone, a massive sculpture constructed from wood. A quick and easy hike along the Trollstigen Trail will take you to his hiding spot where he's waiting to delight kids and adults alike.
Local Tip: This is an excellent outing for kids, but I'm not going to lie, I kinda like it too!
Duration: 1 hour
Cost: Free
4. Backpack the Colorado Trail
For a taste of the trail without the commitment of a thru-hike, backpack Segment 6 of the Colorado Trail. Running 33 miles from Kenosha Pass to Gold Hill, this is the longest segment of the Colorado Trail and features beautiful mountain passes and great campsites to stop along the way. Not to mention, this segment is one of the most scenic backpacking routes in Colorado.
Local Tip: You'll need to shuttle cars from Kenosha Pass to Breckenridge. If you're on a thru-hike, the shuttle bus stops right near the trailhead for quick access into Breck.
Duration: 3 days
Cost: Free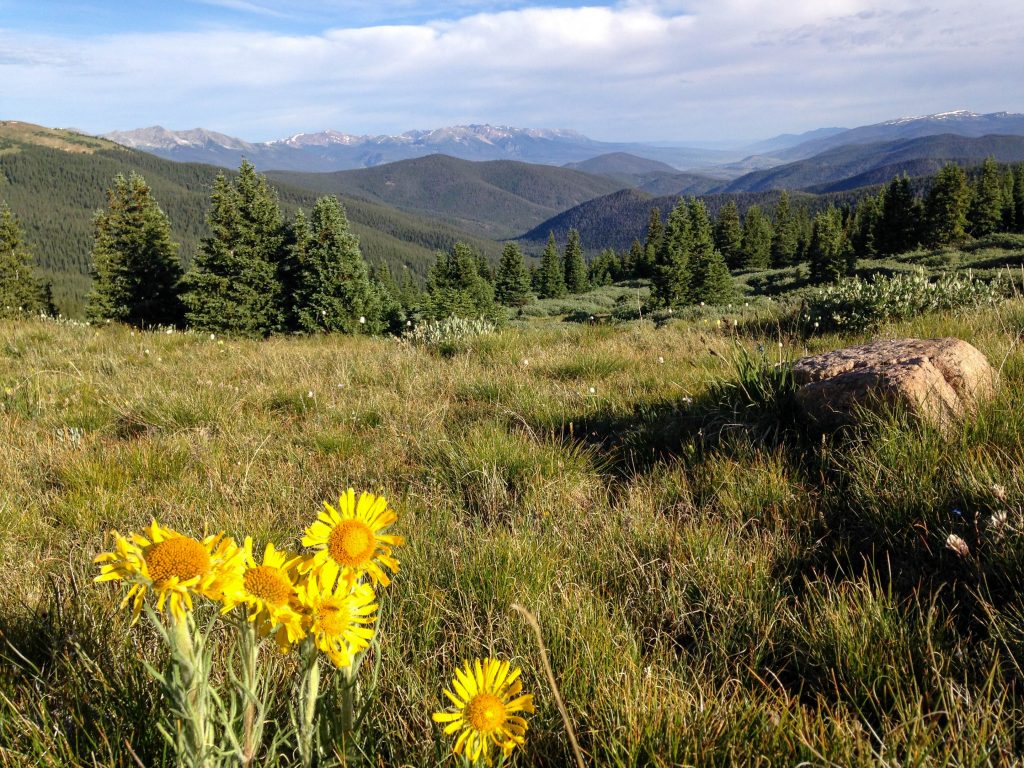 5. Shred on a Mountain Bike
Keep it mellow or go for an adrenaline rush on the miles of mountain biking trails around Breckenridge. The Slalom and Flume (Upper, Middle, & Lower) trails offer a great choose-your-own-adventure loop along with awesome views. Aspen Alley lives up to its name, winding a smooth trail through the aspen groves. Or catch some air on the downhill B-Line, with wooden bridges and berms.
Duration: Half to full day
Cost: Free
6. Get Offroad in a 4×4
Looking for a motorized adventure? Breckenridge has lots of offroading trails to experience a thrill on an ATV or Jeep. You can find many companies to rent vehicles or offer guided tours. A few of the best offroading excursions include Borea Pass Road
(a personal fave), Middle Fork Swan Road, the Wheeler Trail, and Santa Fe Peak Trail.
Duration: Half a day
Cost: Varies
7. Hop on a Horse
For a different kind of ride, jump in the saddle and go horseback riding. Breckenridge Stables offers rides right in town with excellent views of the Continental Divide. The stables can accommodate all ability levels and make a great choice for riding with children. If you're feeling more adventurous, head to Rusty Spurr Ranch for a cattle drive or trail ride.
Duration: 1 hour to half day
Cost: Varies
8. Play with Sled Dogs
Even though summer is the off-season for sled dogs, you can still take a tour and hit the trails with the Siberian Huskies at Good Times Adventures kennel. If you just want to pet the dogs, you can stay in the dog yard and learn about what goes into raising and training the dogs. You can also add on a cart tour, where the dogs will run in front of you as you ride in a golf cart.
Duration: 1-2 hours
Cost: $40-$75 per person
9. Go for the Gold
Breckenridge was a hot spot for prospectors during the Gold Rush, and although the mines have long been shut down, you can still try your own hand at panning for gold. As one of the long-time favorite Breckenridge summer activities, no trip to Breck is complete before you give this historical pastime a whirl. County Boy Mine, Washington Mine, and Lomax Mine all offer tours of historical mines.
Duration: 1-2 hours
Cost: About $20-25 per person
10. Bait Your Hook & Try Fly Fishing
With so many bodies of water, from rivers to alpine lakes, fly fishing opportunities abound in Breckenridge. Tenmile Creek, Upper Blue River, and Lake Dillon are good places to cast, and Lower Mohawk Lake is especially great in the summer for cutthroat trout (and an amazing Colorado lake hike). Check out Mountain Angler or Breckenridge Outfitter to get guidance and gear.
Duration: 2 hours to half day
Cost: Fees range from $15-100 for a fishing license (Fishing is free on the first full weekend in June)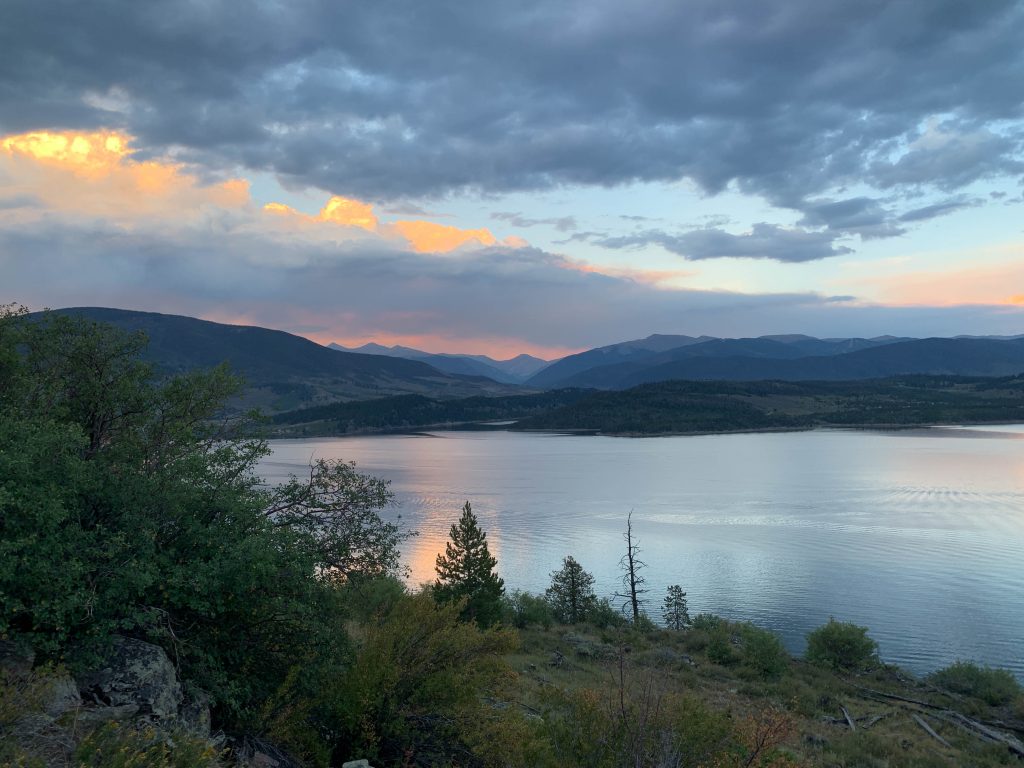 11. Cheer on a Rubber Ducky
If you've never seen thousands of bright yellow rubber ducks floating down a river, mark your calendar for Labor Day weekend and head to Breckenridge. A tradition for over 30 years, the Great Rubber Duck Race features more than 10,000 rubber ducks floating down the Blue River competing for prizes as the fastest duck in the water. It really is a sight you have to see to believe!
Duration: 1 hour
Cost: $5 per duck or free to watch
12. Paddle Your Way Around a Lake
Hit the water yourself on a stand up paddleboard or in a kayak. Maggie Pond, at the base of Peak 9, is the perfect place to try SUPing if you're a beginner. Charter Sports and Alpine Sports offer rentals, ranging from an hour to a full day. You can also get out of town and head to Lake Dillon for amazing views of the Rockies (and stick around for a stunning sunset). The marinas there offer both paddleboard and kayak rentals.
Duration: 1 hour to full day
Cost: Varies
13. Experience the Rapids While Whitewater Rafting
For a more intense adventure on the water, go on a guided whitewater rafting tour down one of the many rivers near Breckenridge. Rafting companies, including Breckenridge Whitewater Rafting and AVA offer a variety of adventures on Browns Canyon, the Arkansas River, the Colorado River, Blue River, and Clear Creek. You can choose whether you want a chill float or a ride on some real rapids.
Duration: Half day to full day
Cost: Varies
14. Grab a Pint at a Local Brewery
When you're ready to wind down from a day of adventure, visit a local brewery for some après beer. Breckenridge Brewery has a full pub menu to go along with a variety of beers, hard seltzers, and nitro cocktails. Broken Compass has two tap rooms in Breckenridge, one on main street and the original on the north end of town, pouring a range of pints from a pilsner to a coconut porter.
Duration: 1-2 hours
Cost: Varies
15. Enjoy a Meal Al Fresco
Soak in the sunshine and savor a delicious meal at one of the many outdoor dining options in Breckenridge. Satisfy that post hike hunger with one of the most relaxing things to do in Breckenridge in the summer, outdoor dining!
Rocky Mountain Underground is a local ski manufacturer with a unique retail shop that also has a front deck and backyard patio serving cocktails and great grilled cheeses. The Motherloaded Tavern is a local haunt thanks to its lively porch atmosphere and yummy comfort food like chicken and waffles and fried cheese curds.
Local Tip: The pandemic has made dining a busy experience due to limited seating. If you can, make a reservation in advance to avoid a pesky wait.
Duration: 1-2 hours
Cost: Varies
16. Listen to Live Music
No matter your musical tastes, you will find live music to love in Breckenridge. Enjoy the sounds of the National Repertory Orchestra through a series of free community concerts on the Riverwalk every summer. Or check out one of the Breck Music AirStage Block Parties, where a fully equipped Airstream trailer brings the music to different neighborhoods around town. Lots of local restaurants and bars also offer live music, including The Historic Brown, Blue River Bistro, Motherloaded Tavern, and Rocky Mountain Underground.
Local Tip: Masks are required, even outdoors, along the main drag in Breckenridge. Do your part and wear your mask, especially if you're gathered with lots of people enjoying the music.
Duration: 2-3 hours
Cost: Varies
How Long Should I Spend in Breckenridge this Summer?
You could easily spend a week in Breckenridge and still not see everything. A weekend in Breck will let you get a flavor for the place and enjoy a few of the different landscapes and summer activities on offer.
Typically, most people spend about 2 to 3 days in Breckenridge if they are enjoying one of the many Colorado road trip stops.
Choose a timeframe that works for your schedule and remember, you can always come back and dive a little deeper. Breck is one of those places that Coloradans return to again and again.
Quick Tips for Visiting Breckenridge
Experience the Breckenridge summer activities like a local, not a tourist. Here are a few handy tips to make the most of your time in this bumping mountain town.
Make your reservations early. This place is popular. Hotels, activities, and reservable campsites fill up fast.
Follow the fire bans. It's extremely common to have a ban on campfires or charcoal grills in and around Breckenridge. Check the latest fire conditions for up-to-date info.
Leave No Trace. Breckenridge sees a lot of traffic. Be respectful and pick up after yourself. Be a good steward and pack out your dog poop (carry bags with you, don't leave them on the trail), fruit peels, wrappers, trash, toilet paper, etc. Leave it better than you found it.
Acclimatize properly. Altitude sickness can strike at any time. I live in Colorado and I've gotten seriously sick during a week-long ski trip in Breckenridge from the altitude. Take your time and avoid caffeine and alcohol your first day up high.
Arrive early. I've said it maybe 20 times now, but the traffic on I-70 is horrendous and popular trailheads often fill up on parking. Arrive in Breck for breakfast (see what I did there?) in order to beat the crowds. Leave early too! Traffic builds back to Denver by 11 am.
Watch the weather. Summer is monsoon season and thunderstorms kill hikers and campers every year. Use weather.gov to get accurate, pin-point weather at your trailhead. Never hike above the trees in the afternoon and always be prepared to turn around in the skies look menacing.
Go during the week. Summer is the high season for Breckenridge. If you'd like a little more solitude (and a break from the weekend warriors) plan a trip during the week. I know that's not always an option, but even leaving really early before work on a Monday will let you squeeze in more mountain time and less time idling in traffic.
Additional Planning Resources
Ready to plan your epic trip to Breckenridge this summer? Check out these handy resources:
PIN THIS POST