I've got a secret to share with you, and that's this lineup of amazing Vail hikes.
One of the most incredible mountain ranges in the state is home to some of the most scenic Vail hiking trails. There are countless things to do in Vail, but hiking has to be at the top of the list.
Despite its resort-y nature, Vail is a must-see destination for hikers.
I'm really not kidding. Between the Eagles Nest Wilderness and Holy Cross Wilderness, you'll be spoiled for choice.
Honestly, Vail is home to some of the very best hikes in Colorado. Period.
The Gore Range holds utterly jaw-dropping scenery if you have the gusto to make it to the heart of the range. I've literally hiked every single named trail (and plenty of bushwacking with just a map and an inkling) in this range.
I'm the literal pro at all things Vail hiking trails and I'm going to give you alllll of the good stuff.
This amazing list of the best hikes in Vail caters to every ability.
For those of you that don't know, I'm a full-time freelance writer for the outdoors. And since I've lived in Colorado for over 13 years now, I am an actual local expert who literally gets paid to go on the best Vail hikes.
Explore these amazing vail hiking trails like a pro, not a tourist.
My mission is to empower you to get out there like the badass you are. So you can go further, hike harder, and see the remote beauty that Vail has to offer.
Seriously, once you get away from the highway noise of I-70, you'll find yourself in a hidden mountain paradise. Here's a look at some mega-epic Vail hikes you've got to check out.
About This Guide to the Most Amazing Vail Hikes
Like all of my Colorado hiking guides, you'll find uber-local, top-notch advice to get out into the mountains like a local. Here's what you'll find in this guide to Vail's best hiking trails:
A list of the best Vail hikes including difficulty, duration, distance, and elevation gain.
Easy, moderate, and super challenging hikes near Vail
The best time to go for a hike in Vail
Is Vail Good for Hiking?
Absolutely! One of the best things to do in Vail is hit the trails. Vail is home to a wealth of stunning hikes – many of which don't see as much traffic as other nearby places like Breckenridge.
The Gore Range is a famous Vail locale. Often times these stunning scenes are well defended with butt-busting elevation. So if you're up for the challenge, Vail hikes offer plenty of rewards.
Is it Free to Hike in Vail?
Sure is. Vail isn't known for being a budget-friendly location, especially if you visit Vail in winter. But, hiking in Vail is totally free. There are plenty of free trails and if you arrive early, you can even score free parking too.
The Best Easy Hikes in Vail
If you just need a quick breath of fresh air or are bringing kids or out-of-towners along, these hikes offer a lot of payoff for a little effort.
1. Eagle's Loop
This trail is a quick & easy way to see some of the best scenery Vail has to offer! Eagle's Loop starts near the gondola at the Eagle's Nest observation platform and continues in a loop of less than a mile, featuring views of Mount Holy Cross and the Gore Range.
Distance: 0.7-mile loop
Elevation Gain: 41 feet
Difficulty: Easy
Estimated Time: 30 min
2. Fireweed Loop
Heading from the Eagle Bahn Gondola to Gondola One, the Fireweed Loop combines Upper Fireweed and Lower Fireweed into one of the easiest Vail hikes for acclimating to the altitude.
You'll discover plenty of Colorado wildflowers in the spring, and in early fall the trail's namesake Fireweed flower is in full bloom.
Distance: 2-mile loop
Elevation Gain: 168 feet
Difficulty: Easy
Estimated Time: 1 hour
3. Strawberry Lane
The Strawberry Lane trail starts steeply from Gondola One and winds through lovely aspen groves. You'll have to make a few easy stream crossings as you head uphill. Once you reach the top, you can hike back down or take the gondola.
Distance: 2.7-mile round-trip
Elevation Gain: 717 feet
Difficulty: Easy
Estimated Time: 1.5 hours
The Best Moderate Vail Hikes
Many of the best moderate Vail hikes are either long or steep, but not necessarily both. You can pick whatever suits your mood, whether that's a quick, but intense workout or a long scenic trail.
4. Ridge Route
With fantastic views of the Holy Cross Wilderness and Mount Holy Cross, the Ridge Route is one of the most popular hikes in Vail for good reason.
The trail starts near the Eagle Bahn Gondola and can be a little confusing at first, but is clearly signed once it branches off the dirt road. If you want a longer hike, you can continue on the Ptarmigan Loop.
Distance: 2.8 miles round-trip
Elevation Gain: 664 feet
Difficulty: Moderate
Estimated Time: 1.5 hours
Local Tip: Get an early start or head up to watch the sunset on this uber-scenic hike. Don't forget your headlamp.
5. Shrine Ridge
The spectacular summit vistas make Shrine Ridge one of the best hikes in Vail. And the fact that it's a moderate hike makes it a good choice for a quick adventure, especially if you're visiting from out of town. The trail heads through pine meadows uphill until you hit the ridge and gain the view of the surrounding mountains, including Mount Holy Cross – a super iconic mountain with a big snowy cross on it.
Distance: 4.3 miles round-trip
Elevation Gain: 1,030 feet
Difficulty: Moderate
Estimated Time: 2-3 hours
6. Booth Creek Falls
The hike to Booth Creek Falls really has it all – aspen groves, views of Vail Valley, glimpses of the Gore Range, and, of course, a waterfall! Near the start of the hike you'll even pass gorgeous sandstone rock formations.
The Booth Creek Falls trail is particularly stunning in autumn when the aspens are glowing and golden. Continue onwards to Booth Lake for a real butt-busting challenge with killer scenery.
Local tip: Be aware that the parking at the Booth Creek trailhead tends to fill up super quickly. When school is not in session, you are allowed to park at the Vail Mountain School, or you can take the East Vail shuttle from the Vail Transportation Center to the Booth Falls stop, which is about a quarter-mile from the trailhead.
Distance: 4.2 miles round-trip
Elevation Gain: 1,358 feet
Difficulty: Moderate
Estimated Time: 2-3 hours
7. Upper Piney River Falls
This trail starts near Piney Lake, and you can see the Gore Range as you make your way through a wide-open meadow and then along the river valley. After making your way through aspen groves and evergreen forest, you'll find the cascading waterfall. There are plenty of spots on the rock near the water where you can rest and enjoy the view before heading back down.
Local tip: Getting to the trailhead requires a 45 min drive up a rutted dirt road to a public lot just before Piney River Ranch. The ranch is a great pit stop for a hearty lunch after your hike.
Distance: 6 miles round-trip
Elevation Gain: 731 feet
Difficulty: Moderate
Estimated Time: 3 hours
PSST…want more? If you're a well-seasoned mountain hiker, check out Knee Knocker Pass. An off-trail adventure that brings you up-close and personal to the dramatic Gore Range.
8. Lost Lake
Although the Lost Lake Trail is quite close to the Upper Piney Trail, it somehow doesn't seem to attract the same crowds as its neighbor. So if you're looking for similarly great views in a more secluded setting, add Lost Lake to your list of best hikes in Vail. On your way to the lake, you'll pass through lodgepole pine forests and see views of the Gore Range, Vail Mountain, and Mount Holy Cross.
Distance: 7 miles round-trip
Elevation Gain: 941 feet
Difficulty: Moderate
Estimated Time: 3-4 hours
The Best Difficult Vail Hikes
When you're ready to ramp it up, the best difficult hikes in Vail will give you a challenge while providing a worthy reward. While all of these could be done as a day hike, some of these trails are really the best backpacking trips in Colorado.
9. Willow Lakes
The hike to Willow Lakes is long and strenuous, but totally worth the effort once you see these three beautiful lakes surrounded by stunning peaks. While the trail can be done in a very ambitious day, it's really best to take your time and do this as a backpacking trip. Believe me, you won't regret spending the night up by one of these alpine lakes.
Local Tip: There is a large section of downed trees towards the end of this trail. It's consistently uphill and totally exposed to the sun, so try to time your hike to get through this section before or after the afternoon.
Distance: 17.4 miles round-trip
Elevation Gain: 3,424 feet
Difficulty: Difficult
Estimated Time: 2 days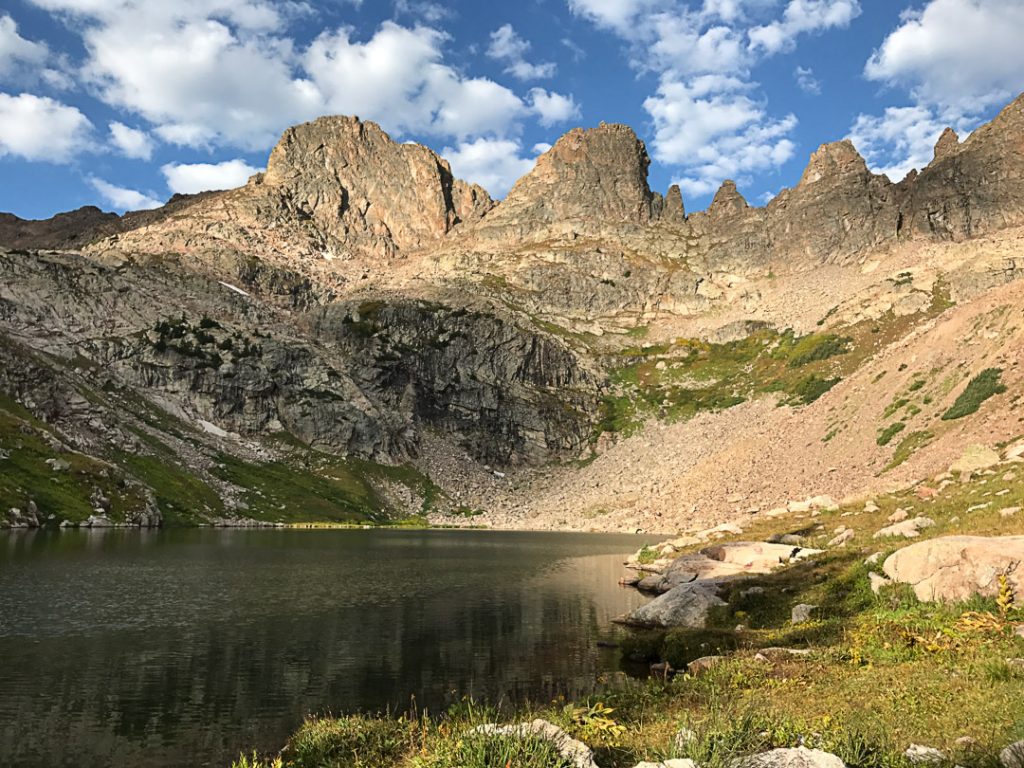 10. Berrypicker
The Berrypicker Trail begins at Lionshead Village, and the start of the trail will get your heart pumping and your quads burning. But it mellows out after a while, and you'll head through shady forests until you reach Eagles Nest Ridge. You can soak in the view, then either hike back down or take the easy route and glide back down in the gondola if it's running.
Distance: 6.2 miles round-trip
Elevation Gain: 2,286 feet
Difficulty: Difficult
Estimated Time: 3-4 hours
11. Pitkin Lake
Pitkin Lake is one of the best hikes near vail, not only because it provides views of the Gore Range, but also takes you to two waterfalls. You'll even see some moraines, or glacial debris, along the way. Pitkin Lake itself is surrounded by granite cliffs, and you can choose to camp for the night or turn back and make it a day hike.
Distance: 10.1 miles round-trip
Elevation Gain: 2,950 feet
Difficulty: Difficult
Estimated Time: 5-6 hours
Dog-friendly? Yes
Local Tip: There are lots of fish in Pitkin Lake, bring your rod and cast a line! Just remember, most trout here are too little to keep, so plan to catch and release.
12. Gore Lake
Gore Lake is a spectacular hike with a seriously breathtaking reward when you reach the alpine bowl of the lake. Spoiler alert, this is one of the best alpine lakes in Colorado. Although the hike can be a steep slog in parts, you'll pass through pretty alpine valleys that help keep you going. I highly recommend backpacking to Gore Lake, since that will give you time to circumnavigate the lake and see take everything in.
Distance: 12.5 miles round-trip
Elevation Gain: 2,890 feet
Difficulty: Difficult
Estimated Time: 6-8 hours
Dog-friendly? Yes
Local Tip: When you reach the lake, don't forget to hike up the ridge on your left or right. The views from above are mesmerizing.
Tips for Hiking in Vail
Ready to hit the Vail hiking trails like a local, not a tourist? Follow these tips.
Acclimatize! If you're not used to the altitude, head out on an easy hike first, then tackle your tough challenge the next day.
Start EARLY! Even the most challenging hikes near Vail get crowded for the first mile or so. Start before 9 am to make the most of your hike. Not to mention, during the summer months, dangerous thunderstorms roll in. Be below the trees by noon to avoid getting struck by lightning.
Remember to leave it better than you found it.
I-70 traffic is real. Especially on weekends in the summer. Plan accordingly if you're coming too and from Denver. Traffic starts to build at around 8 am and lasts well into the afternoon heading west. Heading east, expect traffic to build at 11 am and continue until around 5 pm.
Come prepared. Pack the 10 essentials: water, layers, snacks, fire starter, small emergency bivvy shelter, GPS/map for navigation, headlamp, first aid kit, personal locator beacon (optional), knife, bathroom kit with hand sanitizer and a small shovel, and sun protection.
Bring layers. The weather in the mountains changes in an instant. Know the forecast and check it up until you're leaving for the trailhead (weather.gov is the best for Colorado weather). You'll always want to carry a puffy layer, rain layer, beanie, and even gloves. Yes…I've even had to use gloves in summer.
Leave it better than you found it. Always pack out your toilet paper, snack wrappers, fruit peels, dog poop, and anything else you bring with you. Be a good steward and practice Leave No Trace.
Be courteous. Remember to say hello and keep your doggo on a leash. The uphill hiker has the right of way. Don't stomp around on wildflowers or head too far off-trail unless you're using the bathroom.
When is the Best Time to Hike in Vail?
By far the best time to hike in Vail is from mid-June through September.
The weather is generally pleasant, aside from swift, afternoon thunderstorms in July and August.
Late June through early August you'll find lush green alpine valleys that are bursting with beautiful wildflower blooms. The third week in September is one of the best times to head out to Colorado's best fall hiking trails.
Both of these times mark the busy season though. So if your goal is to beat the crowds, plan on getting to the trailhead no later than 8 am and earlier at the busier trails.
October is nice too, but all of the fall colors have come and gone. Typically it's very windy during October, which is no-fun at an exposed alpine lake. However, the crowds are long gone. November the snow starts to come in, so keep an eye on the forecast.
Avoid hiking in Vail during the winter, as many of Vail's hiking trails are super prone to avalanches.
If you're trained to handle avalanche terrain, you can hike here in winter, but certainly, keep an eye on forecasts and have your wits about you. Know the predominant avy problem before you go.
Spring isn't the best time to hike in Vail. Trails are typically very muddy or still covered in snow well into June. In fact, the Gore Range is frequently impassable without snowshoes until the 4th of July.
However, easier hikes on the Vail Resort side of town are much easier to access and can be snow-free by early June on a light snow year.
Visiting Vail
As one of the premier Colorado mountain towns, you've got to carve out some time to explore Vail. When it comes to visiting Vail, you'll want to make any reservations well in advance, even if visiting Vail in fall.
Keep in mind that there is not a whole lot of options for camping near Vail. There are a few first-come-first-served campgrounds within a 30-minute drive, but most of this area is resort and residents.
You'll find free camping along Piney River Road, but it's tucked away and harder to access. Keep in mind, parking can be limited at trailheads here too.
Some areas don't allow for overnight parking (ahem, Willow Lakes), so if you plan to backpack, do your homework before you head out or park at different trailheads and use the Gore Range Trail to access the area you want to visit.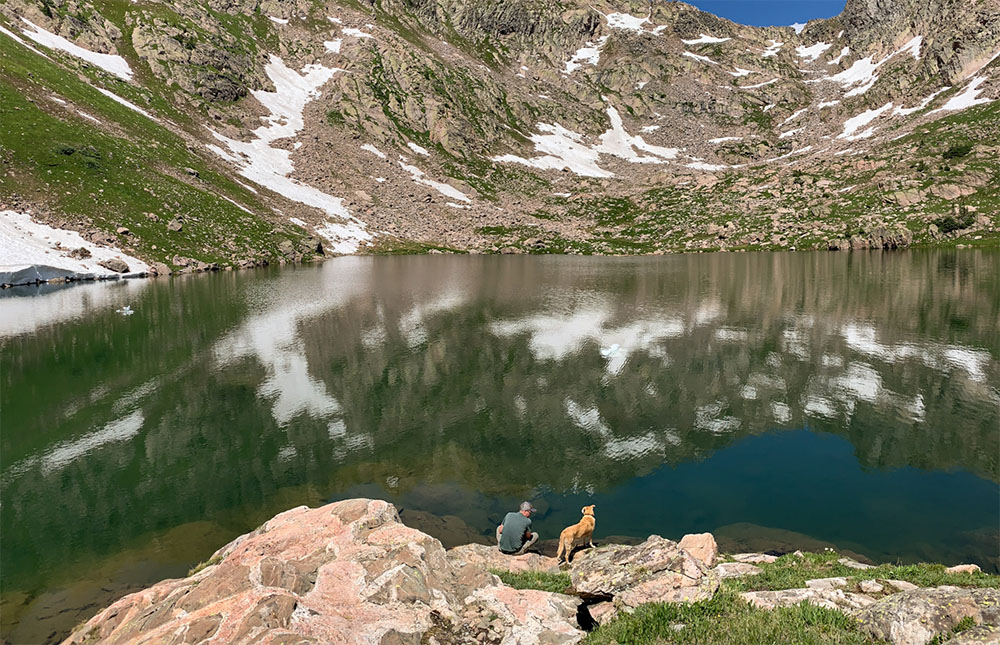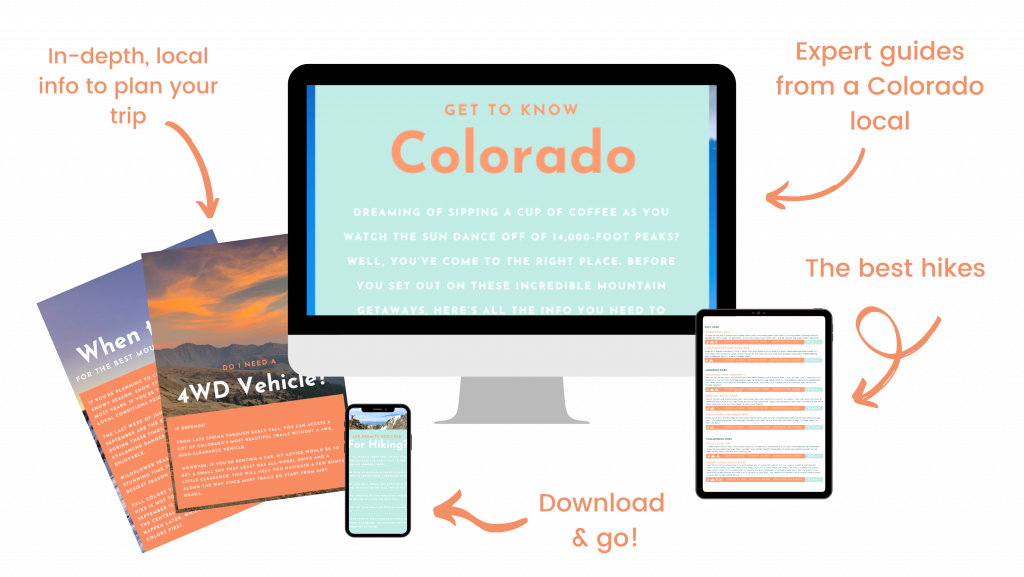 Let me plan your perfect Vail hiking weekend
Wanna experience Vail like a local, not a tourist? Let me do the heavy lifting with my fully customizable Vail Hiking Weekend Itinerary.
You'll get local hiking trail recommendations for all abilities, secret camping spots, fun-filled activities, and more in one grab-and-go digital itinerary.
Additional Resources for Visiting Vail
Planning a trip to Colorado or Vail? You've come to the right place. With expert, local advice you'll see Colorado like a local, not a tourist.
PIN THIS POST