From the snow-capped peaks of the Rockies to the surprising sandstone formations near Grand Junction, there are a lot of incredible Colorado road trip destinations.
This guide features the best Colorado road trip attractions, and we'll dive into everything you need to know hitting the pavement on a Colorado road trip. These Colorado road trip ideas give you a local look at the best places to visit in Colorado.
As a Colorado local of nearly 12 years, I know the best stops for any road trip to Colorado. From the most scenic spots in Colorado to that unknown local gem, these stops are the perfect for any Colorado road trip itinerary.
About this Guide to the Ultimate Colorado Road Trip
In this guide to the best Colorado road trip destinations, we'll cover everything you need to know about planning the perfect route. Here's what's included:
Quick tips for planning a Colorado road trip
Information about the length of your road trip
How to plan your route
The best Colorado points of interest and road trip ideas
Information on Colorado road trip attractions and top things to do at each location
The ideal duration for each stop
Additional Colorado road trip planning resources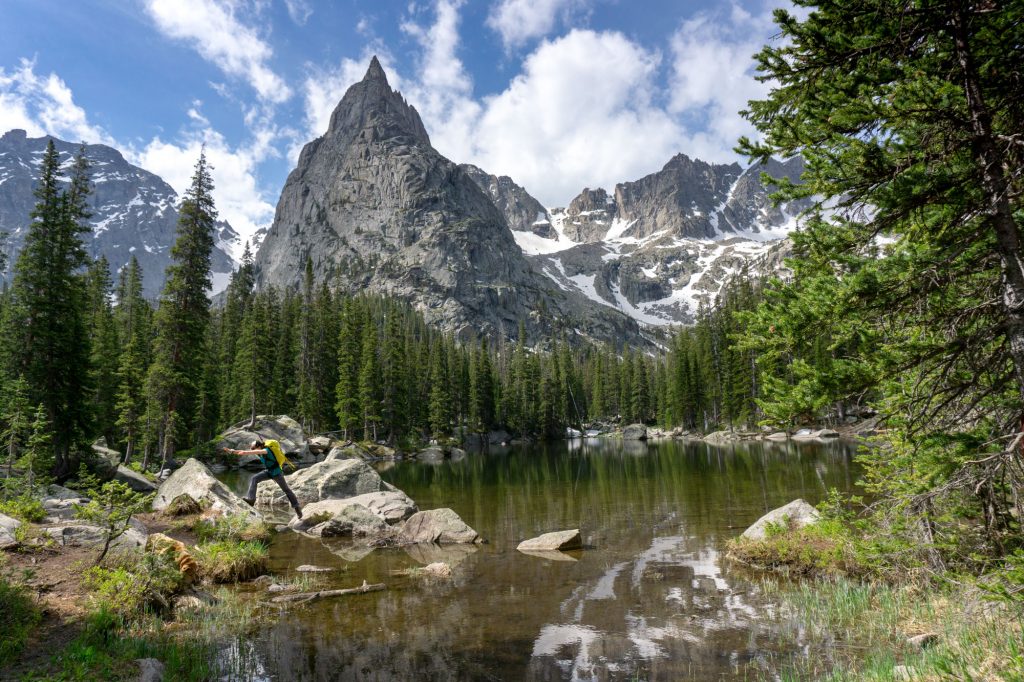 Planning a Colorado Road Trip
Step one, is to plan your ultimate Colorado road trip. First, you want to make sure you have enough time at each location. Of course, if you had months you could see it all, but if you've only got a few days, then you'll want to prioritize.
Consider the following when planning your Colorado road trip:
Your budget. This will drive where you stay and how far you go.
Your vehicle. Although you don't need a 4WD vehicle to embark on a Colorado road trip, it opens up much more terrain.
What you'd like to see. Do you want a sample or would you prefer to thoroughly explore an area?
Advanced permits. Not many places require a permit in Colorado. However, this summer you'll want to plan in advance. I've made notes of any activities that will require advanced permits.
How Long Should I Spend on a Colorado Road Trip?
Ideally, 2 weeks would allow you to experience all corners of the state. However, that's not a realistic time frame for many people. If you had only 4 days for a Colorado road trip, you can hit many of the highlights, but you'll spend a lot of time in the car.
Live in Colorado? Then all of the Colorado road trip ideas listed on this post are doable in a weekend (yippee!). You may even find yourself repeating trips to see even more of a particular area.
If you're coming into town for weekend getaway in Colorado, you'll want to stick to locations that are closer to the Front Range. Alternatively, you can simply pick one of the further driving distances and just go to one locale.
23 Best Colorado Road Trip Destinations
Over the years I've scoured the state for the most beautiful Colorado road trip stops. These amazing Colorado road trip ideas combine the best things to do in Colorado.
The list itself is (roughly) organized in order, allowing you to pick and choose your own adventure. So take a road trip to Colorado this summer and explore the incredible scenery of the great Centennial State.
1. Denver's Entertainment, Beer, and Food Scene
Almost all Colorado road trip itineraries will start in Denver, Colorado. From a bustling food scene to awesome live entertainment, the Mile High City is a great start or end to your trip. With plenty of things to do in Denver, you'll be spoilt for choice.
Points of interest: LoHi food scene, the RiNo district, Red Rocks Amphitheater, one of the many hikes near Denver.
Number of Days: 1 to 3
2. Hike and Climb in Boulder
As Denver's neighboring city, Boulder, Colorado is a college town that's nestled right against the mountains. With the beautiful Flatirons rock formations as a backdrop, Boulder has some awesome hikes, trail running, and world-class rock climbing. Spend the day exploring the town of Boulder before moving on to higher peaks.
Points of interest: Chautauqua Park, Eldorado Canyon State Park (rock climbing and hiking), Pearl Street Mall, Boulder Canyon (climbing).
Number of Days: 1
3. Inspiring Views in Rocky Mountain National Park
Located just outside of Estes Park (which is worth a visit in its own right) and only 2 hours from Denver, you'll find the incredible scenery of Rocky Mountain National Park.
Gorgeous mountain vistas, ample wildlife, and unbeatable hiking trails are just few reasons why this is the fourth most-visited national park in the country.
There's plenty to do in Rocky, from world-class hiking trails in Rocky Mountain National Park to wildlife viewing, ranger programs, stunning photography, rock climbing, scenic driving, backpacking, and more.
You can drive from the east to the west side of the park via Trail Ridge Road, one of the best scenic drives near Denver. This super-convenient route lets you move on to other mountain destinations while enjoying some of the most accessible mountain views in the state.
Points of interest: Trail Ridge Road, Lumpy Ridge, Glacier Gorge, Estes Park, Long's Peak, the Peak-to-Peak Highway, Bear Lake, Dream Lake.
Number of Days: 1 to 3
Local Tip: For the 2021 season, you need to reserve a timed permit to enter the park. Reservations can be made in advance at recreation.gov.
Related: Bucket List Activities in Rocky Mountain National Park
4. Hiking in the Indian Peaks Wilderness
If you're tired of the crowds near Rocky, head out to the Indian Peaks Wilderness.
Covering a vast area surrounding Rocky Mountain National Park, you'll find more secluded trails and plenty of stunning scenery. This local hot-spot is perfect for those iconic mountain views without the crowds.
Points of interest: Brainard Lake Recreation Area ($5 fee), Lone Eagle Peak (permit required for overnights), 4th of July Trailhead (high-clearance vehicle required), Hessie Trailhead, Nederland
Number of Days: 1
Local Tip: Indian Peaks is one of the most beautiful day trips from Denver.
5. Enjoying Estes Park
After you have a fun-filled day of exploring the natural beauty of both Rocky Mountain National Park and the Indian Peaks Wilderness, head to Estes Park for some good eats and shopping.
This quaint mountain town is home to a bustling scene. It's the ideal spot to stay if you're exploring the park, but keep in mind, there's no dispersed camping here and advanced reservations are strongly recommended.
There are plenty of amazing hikes in Estes Park to check out too!
Points of interest: Rocky Mountain National Park, Peak-to-Peak Highway, The Stanley Hotel (film location for The Shining, Rock Inn Mountain Tavern (eats), Notchtop Bakery and Cafe (breakfast).
Number of Days: 1/2 day to see the town, but a great home base for exploring Rocky Mountain National Park.
6. Exploring Grand County and Steamboat Springs
As the name implies, Grand County is simply magical. The town of Granby is a great locale to explore nearby Lake Granby, Grand Lake, Rocky Mountain, and more. Lots of lakeside recreation options as well as a few amazing horseback outings make a trip to Grand County well-worth a visit.
You can mountain bike at nearby Steamboat Springs, where the adventure bike park lets you ride a chairlift and bike down.
Alternatively, you can head northwest to the town of Steamboat Springs. Home to Strawberry Hot Springs, Steamboat Ski Resort, ATVing and more.
Points of interest: Lake Granby, Grand Lake, Steamboat Springs, Strawberry Park Hot Springs, Medicine Bow-Routt National Forests, mountain biking.
Number of Days: 2 to 3
7. Kid-Friendly Adventures in Dillon, Frisco, and Keystone
Although there's lots of outdoor activities for all ages in Dillon, Frisco, and Keystone, kids will especially love the different adventure parks and fun-filled towns. The Tenmile Range offers up plenty of hiking opportunities from easy hikes to challenging 13,000 foot mountain hikes.
Points of interest: Dillon Reservoir (kayaking, SUPing, Sailing), camping, hiking, Keystone Adventure Park
Number of Days: 1 to 2
8. Appreciate the Mountains in Breckenridge
Breckenridge is known for its skiing, but the hiking in Breckenridge is pretty stellar, too. Hoosier Pass Loop is an awesome sunrise hike, or you can challenge yourself to check off Mount Quandary, one of Colorado's easiest 14ers.
And don't miss a stroll down the Trollstigen Trail to meet Isak Heartstone, aka the Breckenridge Troll.
Points of interest: Hiking, Skiing, Ollie's Pub, Breckenridge Troll
Number of Days: 1 to 2
9. Incredible Hot Springs in Colorado
Okay so I'm going to divert from specific locations for just a hot minute. You can find incredible spots to soak in one of Colorado's best hot springs. Take a dip in both natural and man-made pools in the following locations:
Steamboat Springs
Buena Vista
Ouray
Ridgeway
Idaho Springs
Glenwood Springs
Many of the above locales are found throughout this list of Colorado road trip ideas. Simply plan to spend a few hours at one (or three) of Colorado's famous hot springs.
Get Your Free Colorado Camping Packing List!
10. Local Mountain Vibes in Buena Vista and Salida
The Sawatch Range is home to some of Colorado's best 14ers, or peaks that tower over 14,000 feet tall. The best place to explore this wonderful wilderness is to make a stop in Buena Vista (pronounced "Bewwna Vista") and Salida.
Separated by about an hour or so of driving, these two amazing mountain towns are a must-see. South Park is actually inspired by both the town of South Park (nearby) and Buena Vista.
There are plenty of incredible things to do near Buena Vista. From rafting the Arkansas River, to hiking Mt Elbert, the tallest mountain in the state, there's a lot to see!
Local Tip: The mountain roads surrounding Buena Vista, Salida, and nerby Leadville are littered with some of the best free camping in Colorado. If you like dispersed camping, this place is for you.
Points of interest/activities: Mt Elbert (Colorado's tallest mountain), Twin Lakes (hiking, SUPing, fishing), The Colorado Trail (a section-based 486-mile through hike across the state), Colorado 14ers, rafting Brown's Canyon, Eddyline Brewery (pizza and beer).
Number of Days: 1 to 2
11. Hike in the Sand at Great Sand Dunes National Park
Did you know that Colorado is home to the largest sand dunes in North America? At the Great Sand Dunes National Park you can explore this oddity of towering dunes.
The sand comes up from the ground via a spring, a sacred area for the Navajo people. Although you can't visit the spring, you can try your luck at climbing the dunes.
My favorite campground in Colorado is located inside the national park or you can try your luck at a lottery to camp out on the dunes (backpacking in).
Points of interest/activities: dune walking, playing in the stream (seasonal in spring), sand boarding, ATVing, backpacking, camping, Zapata Falls hike.
Number of Days: 2
12. Dramatic Views of Black Canyon of the Gunnison
One of the first trips I took when I moved to Colorado was to the Black Canyon of the Gunnison. We hiked to the bottom of the canyon and my dog chased a bear into a tree! It was an exciting weekend to say the least, and I'll always enjoy this breathtaking gem.
Located between Salida and Crested Butte, this must-see landmark is droopingly beautiful – one of the most scenic places in Colorado. It's well worth your time to camp near the rim of the canyon.
Activities: Hiking, visitor's center, rim walking, road biking, river cruise, excellent camping.
Number of Days: 1 to 2
13. Mountain Biking and Wildflowers in Crested Butte
Crested Butte is one of my favorite places in Colorado, hands down. With it's beautifully picturesque town, wonderful hiking trails, and world-class alpine mountain biking, it's a mountain paradise. There's plenty of things to do in Crested Butte, but one of my favorite things is to hike.
Crested Butte is a pleasant (but pricey) town. There are tons of awesome eateries here including the famous Secret Stash Pizza and the Sherpa Cafe.
Activities: Hiking, backpacking from Crested Butte to Aspen, mountain biking, shopping.
Number of Days: 2 to 3
14. Soar & Soak in Glenwood Canyon
Glenwood Springs is a great stop on a western Colorado road trip and a fun destination all on its own. Take the gondola up to the top of the canyon for some killer views or go for a soak in the hot springs. It's also the closest town to Hanging Lake.
Points of interest/activities: Glenwood Hot Springs, Iron Mountain Hot Springs, Glenwood Canyons Adventure Park, Rafting the River (spring), Yampah Spa and Vapor Caves
Number of Days: 1/2 day to one day.
15. Hike to Hanging Lake
Arguably the most iconic hike in Colorado, no ultimate Colorado road trip is complete without a trip to Hanging Lake. This 3-plus-mile round trip hike requires an advanced permit ($12). However the views are breathtaking, and Hanging Lake definitely has at the top of the list of best hikes in Colorado.
Points of interest/activities: Hanging Lake hike, Spouting Rock Falls, Fishing on the Colorado River (not allowed at the lake itself)
Number of Days: 1/2 day to one day.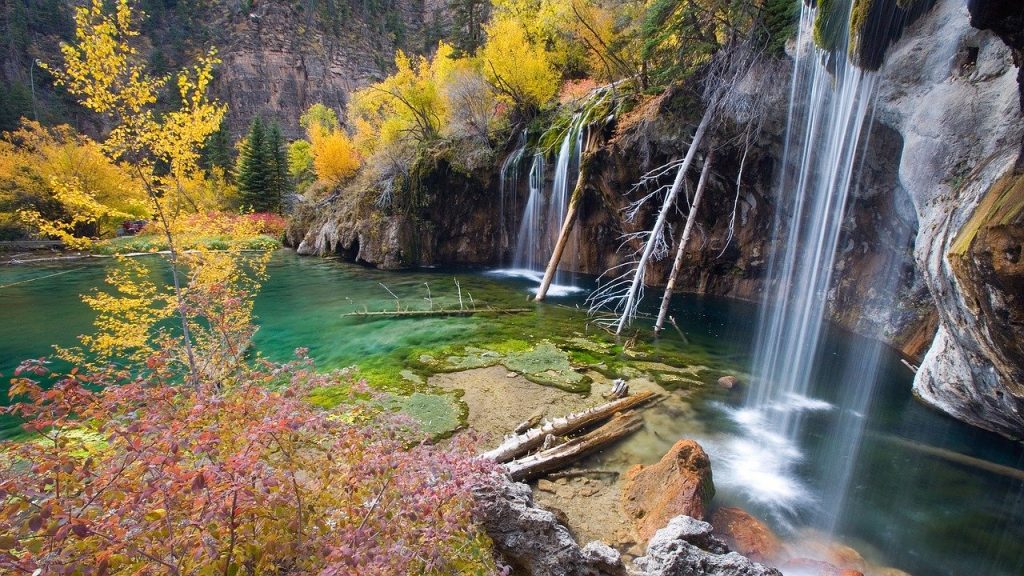 16. Stunning Mountain Landscapes near Aspen
Aspen is somewhat of an oddball when it comes to a Colorado road trip stop. On the one hand, the Maroon Bells and Snowmass Wilderness are incredibly scenic places. In fact, some of the most beautiful hikes in Colorado are here.
But on the other hand, Aspen is pretty bougie with expensive clubs, eateries, and high-end hotels. Find free dispersed camping in nearby areas such as the national forests and wilderness areas or stay in nearby Carbondale.
Activities and points of interest: View the Maroon Bells via Maroon Lake, The 4 Passes Loop Backpacking Trail, Independence Pass, Snowmass.
Number of Days: 1 to 2
17. Visit Vail and Backpack the Gore Range
While Vail might have a reputation as a fancy resort village, if you get out of town and into the mountains, you'll be rewarded with truly spectacular hikes. The Gore Range in particular features some of the best hikes in Vail, and is honestly one of my favorite places to explore in all of Colorado.
Points of interest/activities: Hiking, Backpacking in the Gore Range, Mountain Biking, Skiing
Number of Days: 2 to 3
18. Visit the Red Rock Formations of the Colorado National Monument
A couple hours drive past Glenwood Springs and the landscape completely transforms. Rugged mountains and steep canyons give way to red rock mesas, arches, and towers. You'll feel like you're in the heart of Southern Utah at the Colorado National Monument.
There's a lot of excellent hiking both inside and just outside the park. Not to mention you can drive the rim of the park for unbeatable views. Seriously one of my favorite sunset spots in all of Colorado.
Local Tip: Temps soar here in the summer, so consider hiking early or going during the spring or fall. Note that dogs are not allowed in the monument.
Points of interest/activities: Rattlesnake Arches Trail, Devil's Kitchen Trail, Monument Canyon Trail, Rim Rock Drive, Unaweep Canyon (scenic drive nearby, ideal to head to Moab and worth the extra time).
Number of Days: 1
19. Desert Single Track in Fruita
If you'd rather spend your time zipping down single-track, Fruita is the stop for you. Located just 15 minutes from Grand Junction is the mountain biker's mecca. There's a lot of awesome MTB events in Fruita throughout the year, although most events are during the cooler spring and fall months.
Points of interest/activities: Pumps, Bumps, and Rollers Trail, Chutes and Ladders Trail, Kessel Run Trail, Mojo Trail, Joes Bridge Trail.
Number of Days: 1
20. Learn Native Histories at Mesa Verde and Canyon of the Ancients
Both Mesa Verde National Park and Canyon of the Ancients National Monument seek to preserve the stunning ruins of past Native American cultures.
Both of these stops are a must-see to truly understand the original inhabitants of this land. There was once a great civilization of the Anasazi people here which dates back centuries.
Points of interest/activities: Cultural tours of the monument and parks (required to visit), 4 Corners where 4 states come together.
Number of Days: 1 to 2
21. Backpack From a Train in the San Juan Mountains
If you love backpacking, then you've got to check out one of Colorado's best backpacking routes. The Chicago Basin is famous for its many 14,000 foot peaks, but it's also one of the most unique backpacking trips in the country.
Start by taking the train (yes you read that correctly) into the heart of the San Juan Mountains. Backpackers start at the Needleton Trailhead and make the 6.5-mile trip into the Chicago Basin. Stay and hike some peaks, or just enjoy the views.
Local tip: You are required to carry out your human waste so bring Wag bags.
Points of interest/activities: Elous Peak, Windom Peak, and Sunlight Peak
Number of Days: 2 to 4
22. Get Off the Grid in Ouray and Silverton
Both Ouray and neighboring Silverton are excellent stops for any road trip in Colorado. The road stretching between the two is called the Million Dollar Highway and is one of the most scenic drives in Colorado.
Ouray has plenty of amenities for travelers while Silverton offers a much more small-town feel. The San Juans are striking mountains, with rust-stained soils and beautiful opportunities for hiking and 4-wheeling.
Keep in mind a lot of roads in the area require a high-clearance vehicle, but you can still explore plenty of incredible hikes and views right from the pavement.
Points of interest/activities: Ice Lake Trail, Blue Lakes Trail, Orvis Hot Springs (Ridgeway), Box Canyon, Million Dollar Highway scenic drive, Wildflower photography, The Colorado Trail (the best segments are out this way), camping at Molas Lake (advanced recommendations preferred), visit Telluride, via ferattas (guided tours available).
Number of Days: 2 to 3
23. Exploring Eagle & Sylvan Lake State Park
Head south of the town of Eagle to reach the hidden gem of Sylvan Lake State Park. This is a lovely place to enjoy the water in the summer, but the area is especially stunning in the fall when the aspens turn golden. Climbers will also love the crags at Lime Creek.
Points of interest/activities: Canoeing & kayaking at Sylvan Lake, Climbing in Lime Creek, Leaf peeping in the fall
Number of Days: 1 to 2
24. Drive to the Top of Pikes Peak in Colorado Springs
If hiking up a steep mountain isn't your thing, don't worry, you can drive to the top of a Colorado 14er. Pikes Peak Scenic Byway is a toll road that lets you climb to the top of a 14,000 foot mountain right at the edge of the Rockies.
Combine this half day affair with a trip to the nearby Garden of the Gods for the ultimate Colorado Springs experience.
Points of interest/activities: Garden of the Gods (nearby), Airforce Academy (nearby), Mountain Shadows Restaurant (breakfast), Painted Mines (nearby)
Number of Days: 1/2 day
25. Breathtaking Views at Garden of the Gods
For a truly unique experience, wander the walking paths and hiking trails of Garden of the Gods. The park features gravity-defying sandstone monoliths that sprout from the mountainside. Truly a beautiful place for a hike or an adventurous spot for climbers to test their skills.
Points of interest/activities: see above
Number of Days: 1/2 day
Finding the Best Scenic Colorado Road Trips
The key to planning a successful Colorado road trip is to spend as little time in the car as possible and the maximum amount of time enjoying the stunning scenery the state has to offer.
Queue up your Colorado road trip itinerary with as many scenic drives as possible. Look for scenic byway signs along different routes to enjoy the most of the time in the car. Get your cameras ready, because with plenty of scenic pullouts, you'll be awe-struck by the natural beauty.
Tips for finding scenic drives include:
Take mountain passes
Connect stops via local roads and highways
Look for the blue scenic byway signs
Key Considerations For Planning Colorado Road Trips
Definitely keep the weather in mind when planning your Colorado road trip! It's important to pick the right season for your Colorado road trip.
While you can road trip in Colorado year-round, if you want to explore outside in the best conditions, July through September is probably the best time of year to visit Colorado.
Because of the elevation, snow can stick around well into early summer in many areas. Also, lots of roads close down during the winter because they aren't maintained.
If you avoid driving on snowy and ice roads, driving in Colorado shouldn't be too overwhelming. Some mountain roads might have tight curves and drop-offs, so just follow the speed limit and drive safely.
Many roads in backcountry areas will require 4WD or high-clearance vehicles, so be sure to double-check that before hitting the road.
Always keep an eye on your gas gauge as well, since you don't want to end up running on empty in the middle of nowhere. In terms of budgeting for a Colorado road trip, gas here isn't ridiculously expensive.
Of course, if you fill up in a fancy town like Vail, you might end up paying more.
And you can keep your Colorado road trip super cheap by camping, especially at free dispersed sites, or splurge on an Airbnb or a fancy lodge. Really, it's up to you and your budget how much you want to spend on the road.
Tips for Visiting Colorado
If you're coming from out of state, or you've just moved to Colorado, there are several important things to know before you visit. Here's a few handy Colorado road trip tips to keep in mind:
Slower traffic keeps right. Locals get really upset about this on highways.
Denver International Airport is 40 minutes east of Denver. You'll feel like you've arrived in Kansas, you haven't, don't worry!
It's illegal to drive and smoke pot.
Mountain traffic, especially on the weekends, is real. Plan at least an extra 40 minutes if you're driving out to the mountains on a Friday or Saturday or coming home on a Sunday.
Roads close for avalanche mitigation, including interstates.
Acclimatize to the altitude. The struggle is real, but if you take your time, you'll find you'll get used to the thin air.
Additional Planning Resources
PIN THIS POST