Sure, Colorado is known for skiing, but the mountains are equally, if not even more, fun to explore in the summer!
Taking a Colorado summer vacation will be full of epic adventures, like summitting a 14er, rock climbing in the canyons, mountain biking singletrack, fly fishing in a creek, and camping in the wilderness.
There are so many things to see and do in Colorado during the summer, you'll be hard-pressed to repeat an adventure!
Locals and visitors alike will find countless ways to pass the days on an amazing Colorado summer.
I've spent nearly 15 years living in Colorado and have had so many amazing Colorado summer adventures.
As a long-time local, I'm here to help you experience a Colorado summer vacation like a true expert.
So dig into this guide full of ideas for a Colorado summer vacation for families, the best Colorado summer vacations for couples, and all sorts of options for a Colorado summer vacation for everyone!
About This Guide to an Epic Colorado Summer Vacation
In this local guide to the best Colorado summer vacation, you'll discover in-depth expert advice on all things Colorado in summer.
Here's what you'll find
Things to do in Colorado in summer
Why Colorado is an awesome place to visit in summer
Where & when you should Colorado in summer
The top Colorado summer vacation destinations
Additional Colorado summer travel resources
What is There to Do in Colorado in the Summer?
Colorado in summer is filled with absolutely amazing things to do! Some of my favorite Colorado summer activities include:
Hiking, from gentle forested trails to summiting 14ers
Rock climbing in the canyons
Trying out a via ferrata
Swimming or SUPing in beautiful lakes
Tubing down creeks
Enjoying outdoor concerts
Checking out the local restaurants and breweries
Exploring beautiful Colorado state parks
Is Colorado a Good Place to Visit in the Summer?
Colorado is a fantastic place to visit in the summer!
With Rocky Mountain hiking trails, rivers for rafting and tubing, and lots of exciting festivals and events, Colorado in summer is truly a playground of fun with something for everyone.
What is the Best Time to Visit Colorado?
Colorado is an awesome place to visit any time of year, so the best time to visit Colorado depends on what you want to do while you're here.
Colorado in summer offers hiking, fishing, swimming, camping, and much more. And, of course, Colorado in winter is the place to be for skiing!
Fall is another beautiful time to visit Colorado – since most children are in school and many of the hot spots are winding down for the year.
However, it's a super-popular time for locals to travel, so still, expect some crowds.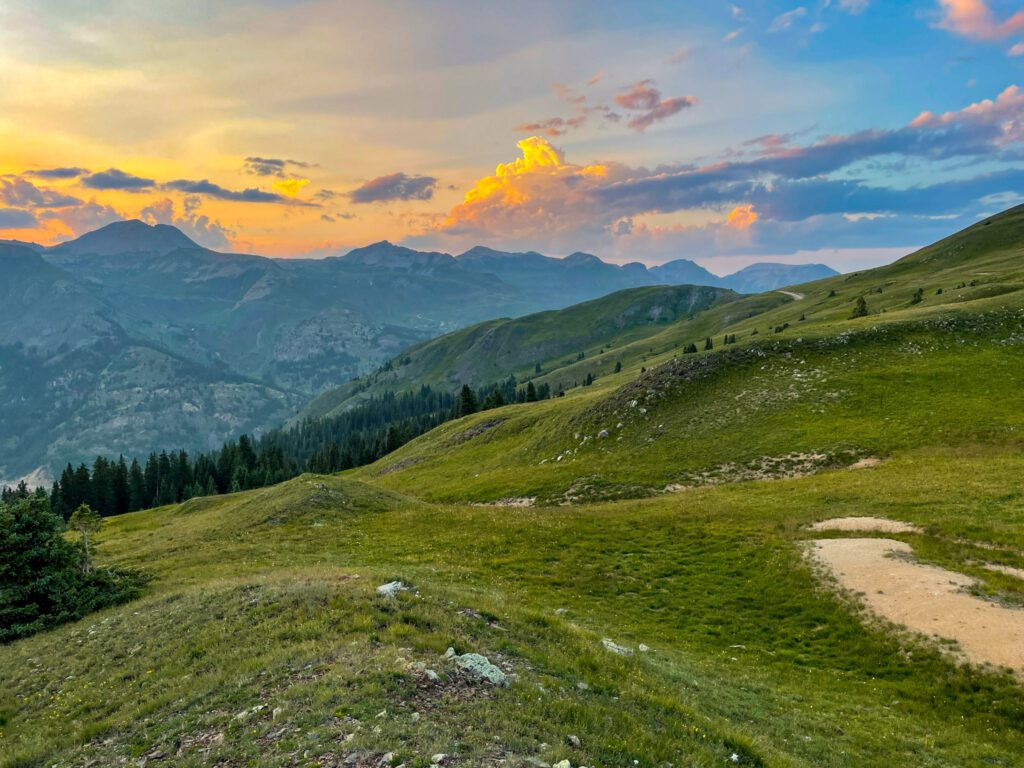 What Part of Colorado Should I Visit in Summer?
All of Colorado is amazing in the summer, but different regions are better during certain times of the summer.
If you're visiting Colorado in early or late summer, head to the lower elevation locations, like Denver, Fort Collins, and Palisade, where the snow will have already melted (or not yet started).
In the heat of mid-summer, head up to higher elevations, like Leadville, Breckenridge, Aspen, and Vail, to escape the heat.
The Best Places for a Colorado Summer Vacation
If you're seeking fun in the sun, here are the best places for a Colorado summer vacation.
From incredible national parks to quaint mountain towns to bustling cities, you'll find your perfect Colorado summer vacation here so that you can do iconic things like these Colorado National Monument hikes.
1. Denver
Denver is usually the first place people think of when planning a Colorado summer vacation, and for good reason.
The city is full of fun things to do in Colorado in the summer, and Denver makes a great home base to start for a Colorado weekend getaway.
Denver activities include brewery hopping in the RiNo Arts district, SUPing on Sloan's Lake, and getting local produce at a farmers market.
What to do in Denver: Walk through City Park, stop and smell the roses at the Denver Botanic Garden, bike along the South Platte River Trail
Local Tip: It would be a shame not to visit the mountains and just go to Denver for the summer. Ideally, you'll want to plan some time to visit the mountains.
You can easily tackle one of the top scenic drives near Denver for a day to get a taste of the high country.
2. Boulder
Boulder is beautiful in the summer and offers both outdoor adventure and cool city vibes, so it's definitely one of the best places to visit in Colorado in summer.
Eldorado Canyon State Park is one of the prettiest places in Colorado, and it offers both very mellow and more challenging hikes, so it's a perfect place for a Colorado summer vacation for families.
You may even spot climbers on one of the many famous cliffs along your hike.
Also, check out downtown Boulder, where you can splash around with the crowds in Boulder Creek, and check out the shops and restaurants along Pearl Street.
What to do in Boulder: Visit Eldorado Canyon State Park, rock climb in Boulder Canyon, cool off in Boulder Creek, shop the pedestrian mall on Pearl Street
Local Tip: Boulder is relatively close to some epic mountain scenery. Consider taking a day to visit the Indian Peaks Wilderness, Rocky Mountain National Park, or the Brainard Lake Recreation Area.
3. Estes Park and Rocky Mountain National Park
The eastern gateway to Rocky Mountain National Park, Estes Park is a must-visit in Colorado in summer and is only a 1.5-hour drive from Denver.
While there are lots of things to do in Estes Park itself, Rocky Mountain National Park is the real draw.
RMNP, as the park is known, is full of bucket list Colorado hikes like Emerald Lake.
Some of the other best hikes in Rocky Mountain National Park include Bridal Veil Falls, Sky Pond, Chasm Lake, and, if you're feeling ambitious, Longs Peak.
Local Tip: In the summer, RMNP institutes a timed-entry system, and you must make a reservation to get into the park (even if you have a National Parks pass).
What to do in Estes Park: Hike to Emerald Lake in RMNP, take the aerial tramway, visit the Stanley Hotel
Local Tip: There are many ways to spend the day in Rocky Mountain National Park. You can base yourself in Boulder, Denver, or Grand Lake for easier access.
4. Grand Lake
On the other side of Rocky Mountain National Park is the town of Grand Lake.
You can rent a pontoon or fishing boat at Grand Lake Marina to get out on the water or go kayaking, canoeing, or SUPing around the lake.
Another Grand Lake attraction is Trail Ridge Road, which runs through Rocky Mountain National Park from Grand Lake all the way to Estes Park, heading above the treeline to a high point of 12,183 feet along the way.
The road closes in winter, so summer is the time to make this beautiful scenic drive in Colorado.
What to do in Grand Lake: Boat, SUP, or swim on Grand Lake, or take a scenic drive on Trail Ridge Road.
5. Fort Collins
Head up north beyond Boulder to the charming town of Fort Collins for a fun Colorado summer vacation.
Fort Collins might not quite have the mountains of some of the other places on this list, but it offers plenty of outdoor adventure, especially if you like water.
The Cache La Poudre River is the crown jewel of Fort Collins, and you can fish, camp, and climb along its banks.
Horsetooth Reservoir is an awesome place for boating, sailing, SUPing, swimming, and simply hiking around.
What to do: Play in the water at Horsetooth Reservoir, fish in the Cache la Poudre River, walk around Old Town
6. Leadville
Leadville is truly one of the best mountain towns in Colorado, with its quaint downtown and views of mountain peaks all around.
If you want to try to summit one of the easy Colorado 14ers, Mount Elbert is just 10 miles away from Leadville.
For a souvenir, snag a coveted Melanzana (or Melly) which are only available in the Leadville shop – by appointment only.
Declared a National Monument in 2022, the Camp Hale-Continental Divide area just north of Leadville is full of outdoor recreation opportunities.
Rock climb at Camp Hale or hike and mountain bike on the Continental Divide and Colorado Trails.
What to do in Leadville: Stroll the historic downtown, check out Camp Hale, cheer on the Leadville Trail racers
Local Tip: For some of the best camping in Colorado, book a night at one of the many campsites along Tourquise Lake.
7. Crested Butte
Crested Butte in summer is an awesome place for an epic Colorado summer vacation!
Known as the Wildflower Capital of Colorado, you'll find some of the best wildflower hikes in Colorado in Crested Butte.
Oh-Be-Joyful Trail is a fantastic 14-mile (out & back) trail through one of the prettiest places in Colorado.
Crested Butte is also a mountain biking mecca, with trails for all skill levels. Beginners should check out the Lupine Trail, intermediate riders will get tested on the Teocalli Trail, and advanced riders will adore the alpine on Trail 401.
What to do in Crested Butte: Take a wildflower hike in Crested Butte, go mountain biking, peruse the shops & restaurants along Elk Avenue.
8. Buena Vista
If you love water, Buena Vista is the place to be for your Colorado summer vacation!
You can swim or SUP or have a picnic at Twin Lakes, making it a great destination for a Colorado summer vacation for families.
For more adventure, hit the whitewater of the Arkansas River in Brown Canyon National Monument.
And top it all off with a relaxing soak Cottonwood Hot Springs or Mount Princeton Hot Springs, a couple of the best hot springs in Colorado.
What to do in Buena Vista: Raft the Arkansas, SUP on Twin Lakes, soak in some hot springs, and do some of the best hikes in Buena Vista.
9. Aspen
Aspen is absolutely stunning in the summer, so it's one of the best summer resorts in Colorado.
Be sure to check out the awesome Aspen hikes, especially the Maroon Bells Scenic Loop. The Four Pass Loop is also one of the most scenic backpacking trips in Colorado.
You can also go up Independence Pass for a scenic drive on the Continental Divide, and you'll find lots of great rock climbing up there, too.
What to do in Aspen: Hike the Maroon Bells, climb in Independence Pass, fish in the Roaring Fork River.
10. Vail
If you think Vail is only a ski town, you'll be surprised by all the Vail summer activities.
Vail is one of the best Colorado summer vacations for couples thanks to the combination of awesome outdoor adventures and fancy aprés adventure restaurants and bars.
Hike the WIllow Lakes Trail for vibrant wildflowers in the summer, and then clean up and head to Sweet
Basil for a swanky meal.
What to do in Vail: Backpack in the Gore Range, bike from Breckenridge to Vail, take a scenic gondola ride.
11. Steamboat Springs
Steamboat Springs in summer is a blast! Hike or bike the Core Trail through downtown along the Yampa River or jump in and go tubing. Enjoy the foodie scene with a food tour or a meal al fresco along the river.
For something a little different, attend the Steamboat Springs Rodeo or go cliff jumping at King Solomon Falls.
What to do in Steamboat Springs: Take the Core Trail through town, visit Yampa River Botanic Park, cliff jump at King Solomon Falls
Local Tip: Top off the day with a trip to the iconic Strawberry Park Hot Springs (reservations required) – one of the top hot springs in Colorado.
12. Telluride
Don't miss one of the most unique things to do in Colorado – the Telluride via ferrata! Traverse a cliff face with technical gear for an extra special Colorado summer vacation memory.
Another super fun thing to do in Telluride in summer is to enjoy live music at the iconic Telluride Bluegrass Festival.
What to do in Telluride: Do the Telluride via ferrata, ride the gondola, hit one of the top trails near Telluride, attend the Telluride Bluegrass Festival.
13. Ouray
Ouray is known as the Switzerland of America, and you can take in the spectacular views on a scenic drive along the Million Dollar Highway from Silverton to Ouray.
Also, be sure to head to Yankee Boy Basin for tons of wildflowers, hiking, and 4x4ing.
And just an hour from Ouray is one of the most incredible Colorado national parks, the jaw-dropping Black Canyon of the Gunnison.
What to do in Ouray: Explore Yankee Boy Basin, take a 4×4 through the Alpine Loop, visit the Black Canyon, take a scenic drive on the Million Dollar Highway, hike to the iconic Ice Lake Basin.
14. Durango
Durango is definitely a destination for mountain bikers in the summer, with hundreds of miles of singletrack.
If pedal power isn't your thing, go for a different kind of ride on a steam-powered train on the Durango & Silverton Narrow Gauge Railroad.
What to do in Durango: Go mountain biking, ride the Durango & Silverton Narrow Gauge Railroad, kayak the Animas River, enjoy some of the Durango hikes.
15. Palisade
Like an oasis in the desert, Palisade is filled with vineyards, lavender fields, and its famous peaches.
Do a winery tour to try all the local vintages, and stock up on all the peaches you can take home in this peach capital of Colorado.
Speaking of fruit, head to nearby Fruita for some of the best mountain biking in the state.
What to do in Palisade: Eat all the peaches, go wine tasting, mountain bike in Fruita
16. Glenwood Springs
A truly classic Colorado vacation, Glenwood Springs has something for everyone.
Located right off of I-70 it's a great place to stop along a Colorado road trip. Be sure to book a timed entry to Hanging Lake.
This beautiful trail is truly a unique lake hike in Colorado. Afterward, spend time relaxing in one of the many hot springs.
Man standing on top of a rock in Ouray, one of the best Colorado summer vacations.What to do in Glenwood Springs: Hike to Hanging Lake, bike the paved bike paths, visit the Adventure Park, soak in Iron Mountain Hot Springs.
Additional Colorado Summer Vacation Resources
Visiting Colorado in the summer? Check out these handy resources: