Colorado offers some of the best camping in the country. Beautiful mountain vistas, stunning sunsets, and the smell of the campfire are just a few of my favorite things about camping in Colorado. However, there are some handy things to know before you go camping in Colorado.
About Camping in Colorado
Camping is one of the most budget-friendly ways to visit Colorado. In fact, some of the best places to stay in Colorado are actually campsites. You can easily camp while road tripping in Colorado to make the most of your mountain adventure. As a Colorado local of over 12 years, camping in Colorado has long been one of my favorite past times.
In this guide to camping in Colorado you'll find:
Frequently asked questions about camping in Colorado
Information about free camping in Colorado
Tips for camping responsibly and safely
Additional planning resources for your Colorado vacay
When is the Best Time to Camp in Colorado?
Unless you're super-hardcore about winter, the best time to camp in Colorado is from late June until mid September. A lot of campgrounds close for winter and many of the mountain roads in Colorado are unmaintained.
Snow tends to stick around until mid to late June depending on the year. That doesn't mean you can't camp in early June, but don't expect warm, summery temperatures.
Related: The Best Time to Visit Colorado
Where's the Best Free Camping in Colorado?
Colorado is littered with free camping, and some of the best free camping can be found right near Denver. Of course, there's free camping throughout the state.
The best way to find free camping is to simply get out there and camp! First, understand how to find free campsites and then take some time to dig in and do a little research.
You'll find beautiful camp spots all over the state, just be sure to leave it better than you found it. Remember, free camping means there are no amenities (bathroom, water sources, etc) and there's no one cleaning up after you!
Dispersed Camping in Colorado
Here in Colorado, we are fortunate enough to have swaths of National Forest and BLM land where you are allowed to dispersed camp. Dispersed camping is free camping in designated spots without any amenities. It's a first-come-first-serve deal.
Here are a few rules to keep in mind while dispersed camping in Colorado:
Pick up after yourself. Camping is closed every year thanks to people trashing campsites.
Keep your fires under control. Wildfires are a serious threat and campers set fire to hillsides more frequently than you would think.
Only camp in previously established sites. This helps minimize your impact.
PACK OUT YOUR TOILET PAPER! Animals dig it up and it's nasty. Not to mention unhealthy. Don't disperse camp if you can't follow this rule.
Don't cut live trees. It's not only illegal, but your fire will just be a smokey mess.
Make sure your vehicle can handle the roads. A lot of dispersed camping in Colorado is down 4WD roads. Plan accordingly!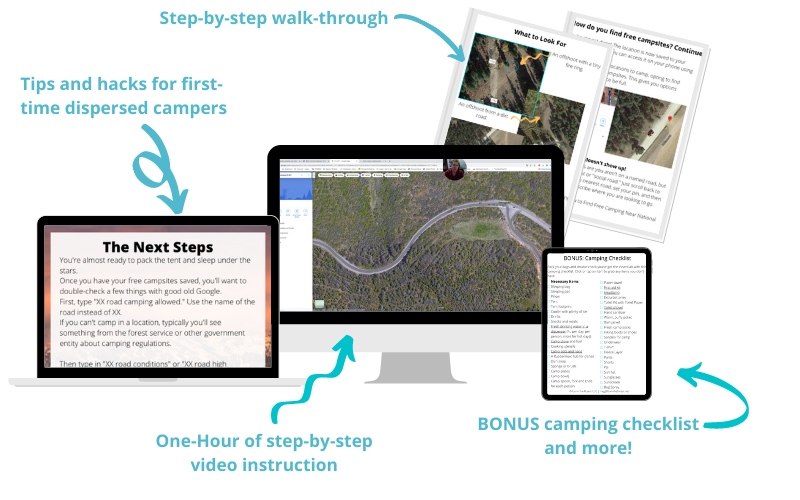 Find Free Camping Anywhere in the US!
Dream of spending the night under the stars without a noisy campground? Learn the secret method to finding picture-perfect FREE camp spots in all of your favorite locations.
This one-hour course gives you a step-by-step proven method to find incredible free camping virtually anywhere in the US. Get it now for just $7.
Is it Better to Go Dispersed Camping or Use a Campsite?
Opting for dispersed camping or planning a stay at a campsite mostly depends on you. Are you comfortable pooping in the woods and packing out your toilet paper? Or do you need a few amenities?
You should go dispersed camping if:
You're comfortable not having a toilet, water, or hookups.
You are responsible and willing to: Pick up and pack out all trash, including dog poop and toilet paper, put your fire out, only camp in designated areas.
You're looking for more secluded spaces.
You are responsible and well-versed in bear safety
You're comfortable understanding that people often go shooting at dispersed campsites in Colorado.
You should stay at a campground if:
You're new to camping and not quite comfortable without a few amenities such as drinking water, bear-proof food storage, and Leave No Trace.
You want a toilet.
You have a large group that spans different abilities and ages.
How Do I Find Campsites in Colorado?
There are several awesome resources to help you find camping in Colorado. A few of my favorite resources:
My lineup of amazing camping locations in Colorado (coming soon)
Hipcamp. A website dedicated to boutique campsites for rent.
AirBnB. If you're into glamping, you can find a lot of cabins and unique camping-ish properties.
The US Forest Service Campgrounds
National Park Campgrounds
Where are the Best Places to Camp in Colorado?
There are so many amazing campsites in Colorado, it can seem a little overwhelming. I tend to prefer dispersed camping, and I've amassed an amazing list of incredible camping in Colorado as a result.
These incredible places to see in Colorado have a variety of camping to choose from:
Twin Lakes Area
Breckenridge and the Tenmile Range
Lost Creek Wilderness
Rocky Mountain National Park and Grand Lake
Lake Granby and the Indian Peaks Wilderness
Flattops
Ouray and Silverton
Poudre Canyon
Aspen, Crested Butte, and Carbondale
Do I Need to Make Advanced Reservations to Camp in Colorado?
Yes. Absolutely. Camping in Colorado is one of the most popular things to do for visitors and locals alike. If you plan on staying at campgrounds, you'll want to make advanced reservations as soon as possible. This is especially true if you are camping over a holiday.
There are a lot of first-come-first-serve campgrounds in Colorado. These places typically fill up quickly, so get there as soon as check-in is allowed if you can. All dispersed camping in Colorado is on a first-come-first-serve basis.
Camping in National Parks in Colorado
Colorado is home to four amazing national parks most of which have a few campgrounds for you to enjoy. Before camping at a National Park in Colorado, be sure to read up and see if you can make advanced reservations. Most spots in Rocky Mountain National Park are full up to a year in advance, so plan accordingly.
Can I Camp at Hiking Trailheads?
A majority of the best hiking trails in Colorado allow you to camp at the trailhead. Do your research beforehand! We were woken up by rangers at the trailhead to Mirror Lake and Lone Eagle Peak because we didn't know we couldn't camp there!
Most places have signage and a quick Google search will let you know if it's okay to camp at a trailhead. Most folks sleep in their cars while camping at trailheads, but sometimes they'll be in vans or a small teardrop trailer.
Tips for Camping in Colorado
Coloradans LOVE to camp, and they also like to protect the natural places they love to play in. If you want to camp in Colorado, remember, the mountains are a fragile landscape. It's harsh here, and the wilderness hangs in the balance.
You'll want to make sure you're properly prepared with these Colorado camping tips.
Bear Proof Your Campsite
Black bears are quite active in Colorado. We were driving down a dirt road one night and saw two (!!!) bears sniffing around campsites. Don't leave food out or leave any smelly things in your tent (this includes items like chapstick, toothpaste, and deodorant).
Follow any bear canister regulations if you're wilderness camping (backpacking). Be sure to put grills, coolers, trash bags, and any other delicious smells in your vehicle before going to bed.
Camping and Marijuana
Marijuana may be legal in Colorado, but it's super illegal to smoke in public, even in the wilderness. Do people follow this rule? No, I won't lie to you. But be conscious of your neighbors while camping in campgrounds.
Pass on Glass
There's nothing more annoying than showing up to a campsite to find glass shards littered about. Instead of packing glass bottles, drink from aluminum cans (that you pack out of course!). Glass is dangerous and can hurt small children and dogs.
Pay Attention to Fire Bans
With our 300 days of sunshine comes a lot of dry conditions. Wildfires are a serious threat and it isn't uncommon to have fire bans in effect. Always check with your local ranger district before you head out to camp in Colorado. Obey all fire regulations – especially while backpacking or dispersed camping.
Be Prepared for Wild Weather
Colorado gets some wild weather and prime camping season also aligns with the monsoon. Violent, short thunderstorms are common in the afternoon. Seek proper shelter if you're above the trees (ie not in your metal-poled tent).
Camping above treeline may look beautiful, but it can be a real bummer if it rains. We once got caught in a sleet storm above treeline and the temperatures were FREEZING. We ended up packing up and heading to lower elevations.
Keep Fido Away from Wildlife
Colorado is a super dog-friendly state and camping with your furry friend is a great way to get outside. However, don't let your dog chase wildlife. Wild animals burn precious energy and your dog tramples the wilderness. Also, pick up their poop and toss it in your trash.
Related: Hiking and Backpacking with a Dog
Practice Leave No Trace
With more and more people getting outside, the more important Leave No Trace becomes. Don't forget to clean up after yourself! Don't graffiti rocks and carve trees. Pack out your fruit peels, trash, and toilet paper. Leave it better than you found it so others can enjoy it!
How to Deal with Poop
If you don't have a toilet where you're camping, you'll need to practice wilderness pooping. Here's what you need to know about pooping in the woods:
Dig a 6″ deep hole with a small shovel 70 adult steps from camp, water sources, or any trail.
Do your business.
Put your TP in a trash baggie. You can put some baking soda in a small plastic baggie to deal with the smell.
Cover the hole.
Wash your hands with hand sanitizer.
Can't handle that? It's okay, not everyone is comfortable pooping outside. Stay at a campground with a toilet instead.
Beat the Crowds
If you want to go to first-come-first-serve camping in Colorado in the middle of the busy season, get a head start on the crowds. If you find yourself arriving late you might not get a spot, so plan ahead.
Bring Your Trash Back to Civilization
A lot of mountain towns and rural areas don't have the infrastructure to handle the influx of camper trash. Don't dump your waste at a rural gas station, take your trash back to civilization instead. If there are dumpsters at your campground, great, but if not, pack it ALLLL the way home.
Now you're ready to camp like a pro in Colorado. These helpful tips will help you make the most of your Colorado camping adventure.
Plan the ultimate trip to Colorado with these amazing resources: