Learn how to camp off the grid with this list of the best free camping near Denver. Colorado is home to some of the best, free, dispersed camping if you know where to look. As a local of over 11 years, I know all of the secret campsites in the state.
All of these campsites offer something different in terms of natural beauty, from the stunning rocks of Vedauwoo to the alpenglow of the Sawatch.
These amazing local hot spots offer incredible free camping near Denver, so pack up the car and get the s'more sticks ready, it's time to camp!
The Best Free Camp Sites Near Denver
Listen, I never pay for camping because I enjoy the feeling of dispersed car camping. I've spent the better part of a decade amassing amazing free camping locations in Colorado. This post will cover:
The best free camp sites near Denver, CO
What to do at each location
Where to find prime camping spots within 2 hours of Denver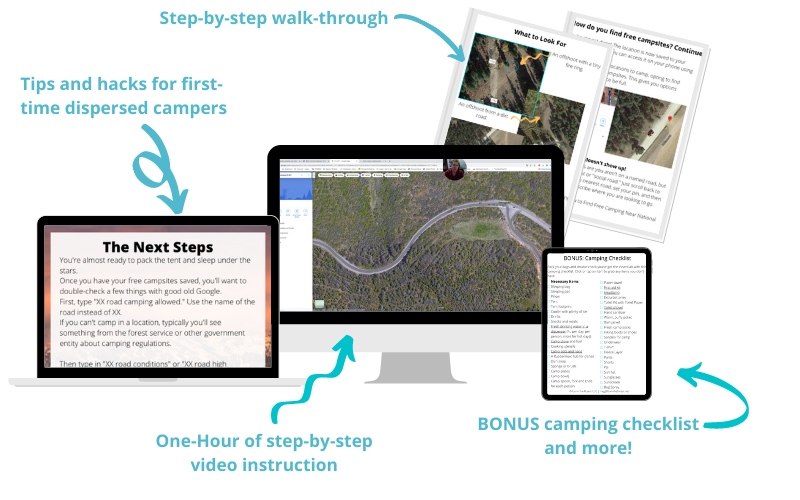 Find Free Camping Anywhere in the US!
Dream of spending the night under the stars without a noisy campground? Learn the secret method to finding picture-perfect FREE camp spots in all of your favorite locations.
This one-hour course gives you a step-by-step proven method to find incredible free camping virtually anywhere in the US. Get it now for just $7.
Escape to the Alpine at Jones Pass
Whenever I need a quick alpine getaway (think 40 minutes from the city), I head to Jones Pass. In fact, the annual pilgrimage to this place has become quite a ritual every year. As some of the best free camping in Colorado, it's great to have this spot so close to home.
Make your way down Forest Road 202 past the Henderson mine. Free camping starts almost immediately and winds its way up until you reach the pass.
Keep in mind the higher you go, the scarcer wood is and the more susceptible you are to the unruly high-alpine weather.
Pro Tip: Camp low and head up to the top of the pass at sunset. You'll practically stumble onto the Continental Divide Trail and be greeted with stunning views of Indian Peaks, Rocky Mountain National Park, and the Eagles Nest Wilderness.
One of the best things about free camping in Colorado is you almost always have a scenic mountain drive nearby.
The road up the pass is rough, but doable with most SUVs and a little care. We've taken our teardrop camper up there. Keep in mind it's only one vehicle length and turnarounds can get tricky.
Best Early Season Camping in Lost Creek
Most people don't know that you can't really camp in the mountains until mid to late June. It takes a while for the snow to melt in the Rockies, but every year, you get the itch to go camping early in the season.
Only an hour from Denver, Lost Creek Wilderness offers a variety of free dispersed camping perfect for low-elevation camping adventures.
Check out Stoney Pass Road near Segment Three of the Colorado Trail. There are also other options around the Wellington Lake area too.
Use Google Terrain to find some hidden free campsites in Colorado's Lost Creek Wilderness. Some of the best hiking trails near Denver can be found nearby.
Lost Creek Wilderness used to be a quiet spot to set up camp, but this area has been increasing in popularity. However, beggars can't be choosers when the high-altitude spots are still socked in with snow.
Head to Lost Creek early or late season for the pine-tastic camping weekend. Most camping within Lost Creek doesn't require a high clearance vehicle, but be sure to Google around your specific camp area to make sure.
Head North to Vedauwoo, Wyoming
One of my favorite hidden gems for free camping near Denver isn't in Colorado at all. About two hours north of Denver is Vedauwoo, Wyoming.
Home to stunning rock formations, mountain biking, hiking and climbing, this gem offers plenty of outdoor recreation a stone's throw from the interstate.
Strange, I know, but it's truly a fantastic place to camp. Most campsites offer some shelter with rocks to climb. The big skies mean sunsets are to die for.
This camping area is accessible with any vehicle and even RVs can boondock at these sites near Denver. It's truly an awesome spot if you're looking for a quick, easy, family-friendly free campsite near Denver.
14er Frenzy in the Sawatch
The Sawatch Range is home to 15 14,000 foot peaks, including the tallest in Colorado, Mount Elbert. The Sawatch Range contains plenty of National Forest Land, which means there are a wide variety of areas with incredible dispersed, free camping in Colorado.
A quick 2 and a half-hour drive leads you to one of my personal favorite spots, Forest Road 399.
Drive two miles past the La Plata Peak Trailhead (you're driving through private land, so please don't camp there). After you make it through the private property, plenty of quiet, secluded dispersed campsites await you.
What I love about this area is it's access to some of the best Colorado's 14ers. Keep in mind this road is rough and gets rougher the further you go. High clearance recommended.
Peep the Aspens with Free Camping near Kenosha Pass
Kenosha Pass, located off of the 285, is one of Colorado's best aspen viewing spots. The camping along Michigan Creek Road is open year-round (accessible only by snowmobile in winter).
The road slowly makes it's way up towards Kenosha Pass, where it eventually turns into a Jeep Trail (don't worry, there's plenty of space to turn around at the top).
You can climb the northeast face of Mt Guyot from the top, join up with the Colorado Trail, or just admire the view.
Most SUV's can make it to a majority of the camping, however, keep in mind that Michigan Creek Road is meant for high-clearance vehicles. This is one of the best free campsites in Colorado for fall camping enthusiasts.
Free Camping Outside of Breckenridge
Home to some of Colorado's best 13ers and the most beautiful alpine lake hikes, Breckenridge should be at the top of everyone's camping list.
Head just outside of Blue River to the Spruce Creek Trailhead. You'll find a variety of tent-only campsites near the parking lot for the trailhead. Remember to pack it out, there are no facilities here.
Those with high-clearance, 4WD vehicles can head up towards Upper Crystal Lake for a variety of dispersed, pull-in campsites.
Just remember, the road is in ultra rough and shouldn't be attempted with a stock vehicle (you'll at least want larger tires or a lift kit).
Free Camping Near Mt Elbert
One of the best places to camp near Denver is right near Mount Elbert. Head toward the Halfmoon Campground for plenty of beautiful free camp spots near Denver.
These campsites offer plenty of wooded protection against the elements. There's also a score of hiking trails nearby, including the trail to Mt Elbert, Colorado's tallest peak.
What You Need to Know About Free Camping in Colorado
Here in the great mountain state of Colorado, we are absolutely spoiled with free camping. Dispersed, free camping in Colorado can be found nearly anywhere.
Most National Forest Land has plenty of established free campsites for your enjoyment. This means that there are countless options if you know where to look.
If you're not ready to dive into dispersed camping in Colorado, you can check out some of the best campgrounds in Colorado that offer up a variety of different amenities. Some even take advanced reservations.
How to Find Free Camping
Finding the best free camping near Denver takes a little bit of research and few nuggets of knowledge. In fact, you can learn the proven step-by-step method to learn how to find free camping virtually everywhere with my Find Free Camping Anywhere Mini-Course.
This course includes a video tutorial and worksheet designed to teach you how to find epically beautiful camp spots without paying a dime. Say goodbye to guesswork and hello to finding free camping near Denver like a total pro!
How is free dispersed camping different than staying in a campground?
Dispersed camping or boondocking refers to free campsites that are available for you to use.
There is almost an endless supply of free campsites in Colorado. However, since these campsites are free, this often means that there are no amenities.
Be prepared when you go to a dispersed campsite near Denver (or anywhere). Bring a trash bag (and use it), know how to go to the bathroom in the outdoors, bring all of your water and responsibly source your firewood.
These are no-frills campsites with nothing but a fire ring and some cleared land. Always be sure to only camp in designated areas and leave it better than you found it.
Leave No Trace at your free campsite near Denver
It doesn't matter where you are camped, it's important to practice Leave No Trace when you camp.
For those of you that are accustomed to having amenities such as running water, waste receptacles and bathrooms, free dispersed camping takes some getting used to. Here are a few rules to keep in mind:
Designate a bathroom area. This should be 200 feet (or 70 adult steps) from water sources. Dig a hole for number 2 and bury it. Put your toilet paper in your trash, animals love to dig this stuff up and it's unsightly.
Pack out all of your trash. Don't burn your trash (this releases harmful chemicals and attract wildlife) and remember to take that waste home with you. Don't dump camping trash in rural communities – your waste system at home is more than enough.
Fire bans are common in Colorado. Follow all fire bans and regulations. If you don't know, ask! Call the local ranger station to get the most up-to-date information before heading to your free campsite near Denver.
Don't cut live trees to burn. It not only destroys the natural balance of the forest, but it simply produces smoke without the flame (read: it doesn't help you). Only use fallen or dead branches that you can break with your hands or feet.
Don't be the ass that brings glass. Use cans for adult beverages. No one likes broken glass strewn about camp.
Watch your fire. I can't count how many times I've driven by an unmanned campsite with a fire still burning. If you aren't there, put it out. An easy way to do this is to bury it.
For more on Leave No Trace, check out this post to keep you environmentally friendly this camping season!
Dispersed, free camping near Denver is a fun, free way to enjoy the wilderness. This list of free camping in Colorado promises plenty of adventure and beautiful scenery. Always remember to leave it better than you found it!
Headed on a Colorado camping adventure? Start here: