Just 40-minutes outside of Denver, you'll find a wonderful world of high-alpine adventures. As some of the best free camping near Denver, Jones Pass offers up killer mountain views and plenty of activity. Here's the complete guide to visiting Jones Pass, Colorado.
As a Colorado resident of nearly 11 years, I make it a point to visit this beautiful landscape every year. Hands-down it's one of my favorite day trips from Denver. From simply driving to the top of Jones Pass to enjoy a sunset to a weekend of camping in some of Colorado's best wilderness, I'm an expert in Colorado travel.
About this Guide to Jone's Pass, Colorado
Learn about this local Colorado hot spot with this complete guide to Jones pass. In this post, I'm giving away some of the best-kept secrets in Colorado. We'll cover:
Practical info about visiting Jones Pass, Colorado
Free camping at Jones Pass
Vehicle requirements for visiting
Things to do near Jones Pass
Nearby attractions
Additional Colorado adventures
Where is Jones Pass?
Head up I-70 and take the Hwy 40 exit. Make your way up towards Berthod Pass and turn onto Forest Road 202 in Berthod Falls, right near the mine. Continue straight along the dirt road.
Eventually, you'll reach an alpine basin with a parking area. Several wooded campsites dot the area and are free to use on a first-come-first-serve basis. Keep in mind there are no amentities.
Continue upwards until the trees give way to an alpine environment. There are several more spots up here, although most of them are small and may require a small walk to get to.
All of this beauty is within a 40-minute drive from downtown Denver.
When is the Best Time to Visit Jones Pass?
You can visit Jones Pass year-round, however the road is snow-free from late June until mid-October. The pass itself is usually snowed in until August. But you can reach the ridge and hike your way up to the Continental Divide Trail for killer alpine views.
Late June through early July is a beautiful time to visit. The Colorado wildflowers are blooming and the scenery is to die for!
Keep in mind, there is no winter maintenance on this road and it can be quite treacherous in bad weather!
We nearly flipped our car and tumbled down a hillside when we hit an unexpected patch of ice in early November so certainly take care.
Many people travel the road via snowmobile in winter. However, there is substantial avalanche risk so do your homework before heading out.
Camping at Jones Pass Colorado
The best part about Jones Pass is the incredible alpine camping. Although there are zero amenities and you will have to practice Leave No Trace to camp here, there's plenty of free camp spots.
Typically, all the spots fill up by Friday evening, so certainly arrive early if you plan to camp in the summer. Typically you can snag a spot on Saturday too, if you arrive early in the afternoon.
Pro Tip: There are a LOT of active bears here! We've seen two in one day! Be sure to keep food and trash stored properly (away from your tent, sealed up in a car with the windows rolled up and doors locked).
Dispersed Camping in the High Alpine
Since most of the camping is above treeline, come prepared! Here are a few handy tips for camping at Jones Pass:
Pack it out! This is a sensitive environment and there are no toilets, no trash cans, and plenty of hungry wildlife. Don't leave your TP, food scraps, or other trash in this area.
Camp in designated spaces only. The alpine tundra is ultra-sensitive so only use previously-established sites.
Follow all fire ban regulations. This area is frequently a no-burn area. Follow instructions. Source wood locally or from lower elevations, there isn't much wood to salvage at the higher-up spots.
Bring warm layers! Temps frequently drop below freezing at Jones Pass, even in the dead of summer. You're at a high elevation (above 11,000-feet) after all!
Do I Need a High Clearance Vehicle?
4WD and high-clearance is highly recommended to reach the upper camping and the top of the pass. I've done this drive in an Acura RDX with only minor scrapes along the bottom of my vehicle, but the going was a little tough.
You can always camp low and hike high. This road is also ATV-friendly. A small SUV shouldn't have much trouble reaching the parking area at the base of the climb. However, above that the road gets substantially more rugged.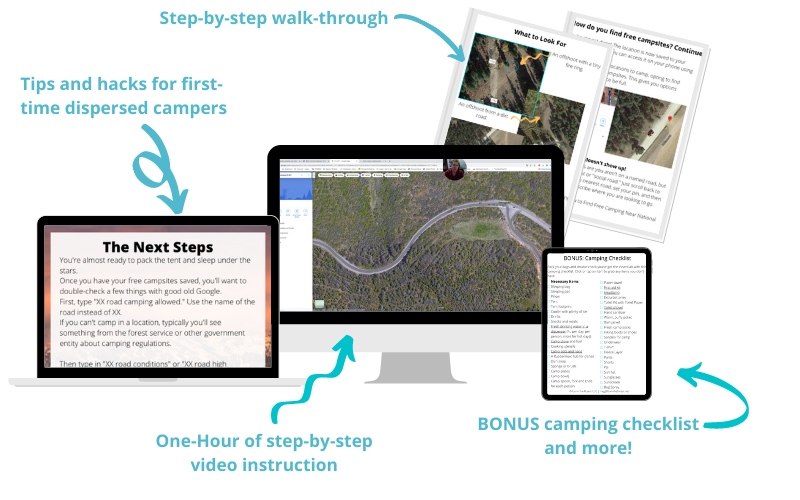 Find Free Camping Anywhere in the US!
Dream of spending the night under the stars without a noisy campground? Learn the secret method to finding picture-perfect FREE camp spots in all of your favorite locations.
This one-hour course gives you a step-by-step proven method to find incredible free camping virtually anywhere in the US. Get it now for just $7.
Things to Do in Jone's Pass, Colorado
There are a lot of things to do at Jones Pass. Although I typically use this area as a nice, liesurely overnight camp spot, there are a few hiking trails nearby. Here's some fun-filled activities along the pass.
Hike to the top of the Pass. From here you can find the Continental Divide Trail and sweeping views of the Colorado Rockies. From the Tenmile range all the way to Long's Peak.
Hike the nearby Ruby Gulch Trail.
Take an ATV ride to the top of the pass
Take a scenic drive to the top of the pass for sunset (highly recommend this!)
Fish along Woods Creek, West Fork Clear Creek, or Ruby Creek.
Relax and camp in beautiful mountain scenery
Mountain bike the road. Just beware of cars!
Jones Pass Colorado in Winter
Jones Pass is a popular spot with backcountry skiers and riders as well as snowmobile enthusiasts. It's one of the few places near Denver where you can snowmobile.
So, be sure to stop by during the best month to ski in Colorado. Then afterward, you can even check out some of the best ski towns in Colorado too.
Backcountry skiers will love the mellow terrain with plenty of options for some steep stuff. There's a variety of options, including skinning the trail and skiing trees or making your way up to the low-angle bowls.
Pro Tip: This is prime avalanche country and plenty of people have triggered slides and even died here. Do your homework and plan accordingly for backcountry travel.
Nearby Attractions
Located in the heart of the Rockies, there's a lot of adventure close to Jones Pass. With such excellent free camping, this area makes a great home-base to explore other areas. A few notable places to check out include:
Jones Pass, Colorado is an excellent city break for the nearby Denver-metro area. It also provides beautifully stunning mountain scenery.
Additional Colorado Adventure Resources
Wanna learn more about things to do in Colorado? Check out these resources:
PIN THIS POST