I like to say that Wyoming doesn't do foreplay. You'll find yourself riding along the boring interstate in an endless sea of rolling plains. Then BAM epic landscape! It's how many people describe some of Wyoming's most notorious landmarks such as the Tetons and the Wind River Range. Vedauwoo is no different. Just a mere two and a half hours from downtown Denver a rocky, spiritual landscape erupts from the plains of southern Wyoming. Here's your guide to climbing, biking, hiking and camping in Vedauwoo, Wyoming.
Where is Vedauwoo, Wyoming?
Located just a stone's throw from I-80, the Vedauwoo area appears out of nowhere. Suddenly you're greeted with stunning rock formations reminiscent of southern Utah. It's as if Colorado's Lost Creek Wilderness and Goblin Valley State Park had a love child. Nearby towns include Laramie and Cheyenne. We set out on a Friday afternoon for Vedauwoo and it took us two hours and 45 minutes from Denver to reach our campsite, not bad for rush hour on a Friday.
For Vedauwoo's close proximity to Denver combined with the easy access from the freeway, the place is surprisingly quiet. The camping areas were full (even the free campsites were pretty packed) but there is enough space for everyone.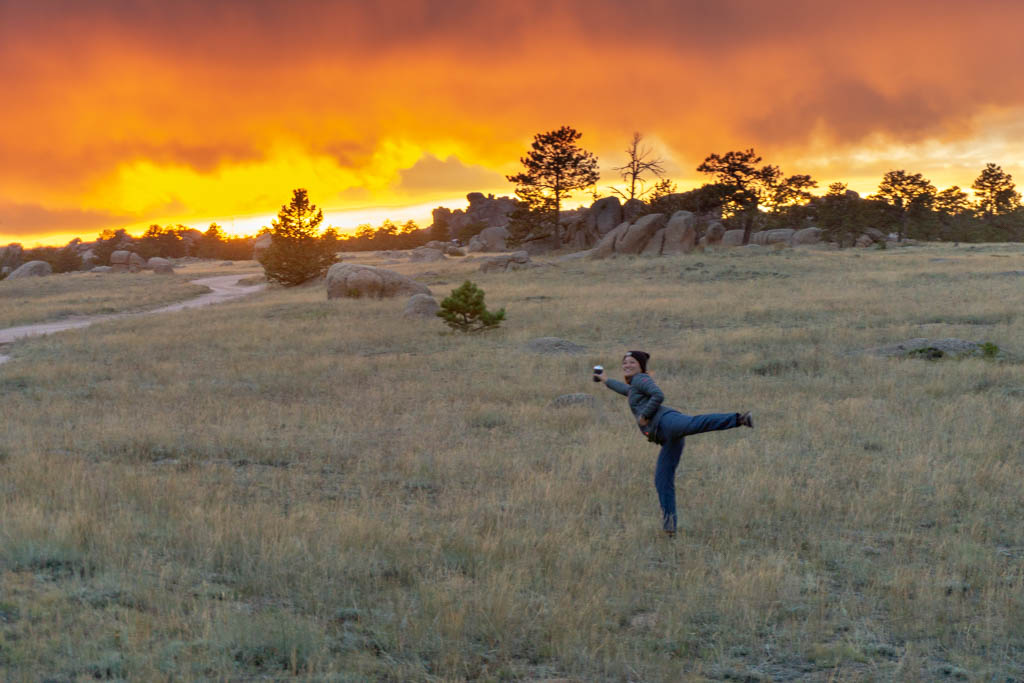 The best places for free camping in Vedauwoo, Wyoming
There is a paid campground right off of the freeway exit. For paid camping (something I never do) the sites looked pretty pleasant and the place gets rave reviews. For those that prefer BLM dispersed sites, there is plenty of free camping in Vedauwoo, Wyoming to choose from. Over 70 designated sites exist along Vedauwoo Glen Road (road 700) and subsequent branches. Each one feels super private, with a rock outcropping or forested area to provide some privacy.
The roads, even ones that were described as "rougher" didn't require any high clearance or special vehicles. Any car can drive down Vedauwoo Glen Road. To reach the sport climbing area a standard SUV will do the trick.
Even though we found some micro-trash (including a heroin needle?!?) these campsites were shockingly clean. If you do enjoy camping at Vedauwoo please be sure to leave campsites better than you found them. Also, gathering wood was quite simple, it wasn't picked clean the way most of Colorado is, which was a huge relief.
Things to do in Vedauwoo, Wyoming
Vedauwoo, meaning "land of the earthborn spirit" in Arapaho, offers plenty of adventure for the outdoor lover. Impossibly stacked rocks appear out of thin air in this small, wooded slice of paradise. What is unexpected is just how tall these formations are. Climbers will delight in the challenge of off-width sends, while hikers will enjoy getting up close and personal to these mammoth features. If mtb is more your thing, head toward Curt McGurdy Stat Park for some sticky single track that's guaranteed to please.
Vedauwoo Climbing Areas
One of Vedauwoo's most notable activities is off-width trad climbing. With over 990 climbing routes, there's something for every crag enthusiast. 90 percent of the are is trad climbing, ranging from mellow 5.6 sends to full out 5.12 sufferfests. The rock is an unusual conglomerate that will cut you to pieces, but its ultra grippy.
If sport climbing is more your game, check out the Beehive Buttress. Loaded with tons of moderates, a few tough variations and tons of shade to belay from, it's a beautiful slice of rock. You'll find nicer rock that's a bit more forgiving on the hands. Just be prepared for limited beta, most route descriptions, even in guidebooks simply say "bolts," but a set of 14 draws should serve you wrong. Lastly, bring slings as some of the anchor bolts aren't in the most ideal locations.
Oh and it's worth noting that the belay area is HUGE, making it a perfect spot for families and crag dogs. Nina enjoyed napping in the shade of the aspens while we played on the rock.
Mountain Biking in Curt McGurdy State Park
In the southern Vedauwoo area, you'll find some awesome single track at Curt McGurdy State Park. This area is a fee area, but the terrain is pretty on point. There's a variety of trails that include plenty of rock to navigate. Two lakes offer a sweet spot to cool off and enjoy a bite.
Vedauwoo, Wyoming offers an awesome quick getaway from the normal alpine activities in Colorado. Given that it is only a two-and-a-half hour drive from Denver, this diamond in the rough may not look like much from the highway, but the camping in Vedauwoo, Wyoming offers plenty of outdoor adventure for everyone.