About an hour past the turnoff for Moab lies a little-known nook in the Utah desert. Gaint sandstone monoliths stack against one another like ancient books nestled on a sandy shelf. Each crevice creating its own microcosm of life, beauty and wonder. I'm talking about the magnificent San Rafael Swell. If you love red dirt, stunning slots canyons, and sandstone wonders without the crowds, go canyoneering in the San Rafael Swell.
The Best BLM Primitive Camping in the San Rafael Swell
The Utah desert is all about primitive camping. Never before have I discovered camp spots with so much to explore, steps from your tent. There are plenty of isolated camp spots along dirt roads in virtually any direction. If you're traveling during the off-season, or don't mind a few people nearby, I encourage you to check out the areas off of road 1013 just north of Goblin Valley and Temple Mountain Road. If you aren't towing a larger RV, you can easily find your own nook of desert paradise.
Off the Beaten Path Canyons in the San Rafael Swell
My favorite lesser-tracked trails on the south side of the Swell is Chute and Crack canyons. Both canyons lack any tough terrain or super slot-like features but don't be fooled, there's plenty to explore with the trained eye. Chute offers an array of offshoots where you can scramble high up imposing amphitheaters. We actually ended up skipping Crack Canyon in favor of bouldering and exploring the rock faces of Chute. We hardly saw anyone aside from a couple of horses and the rogue hiker. The road to Chute requires a bit of clearance due to some shelfy bits of rock, but we did see a beat-up Volvo make the run.
Get Your Free Desert Road Trip Packing List!
Scrambly Slot Canyons: Ding and Dang
Located just past the swamped Little Wildhorse Canyon, Ding and Dang make an excellent choice for the scrambling enthusiast. The potholes are large, there are some slot sections and a few choice areas to navigate. The entire canyon system is doable without technical gear, making it a great step up from other canyons in the area without getting too advanced. You can make chockstones and other obstacles as difficult or as simple as you would like.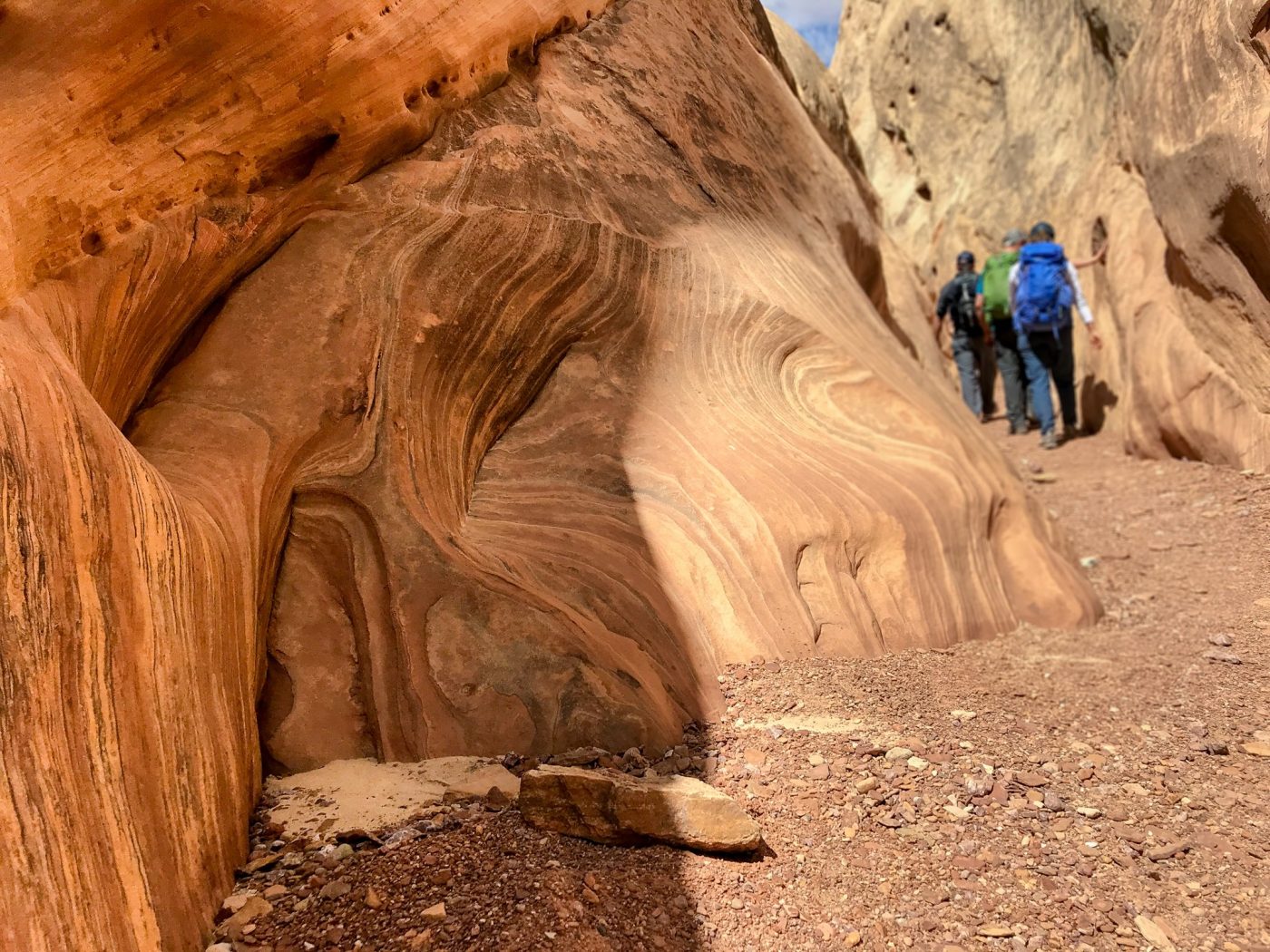 Rappel into the Chamber of the Basilisk at Goblin Valley State Park
Adrenaline junkies will love the straight-forward rappel into the Chamber of the Basilisk. Start off by navigating the hoodoos of Goblin Valley until you reach a non-descript hole in the ground. Canyoneering in the San Rafael Swell offers plenty of weird, and rappelling into an 80-foot hole in the ground is certainly different! A piece of 20-foot webbing and some rap rings will do for the rappel, although anchors are usually in abundance here, there were three perfectly good anchors when we rapped down. The hike to the rappel is 1.5 miles round trip, making it an easy approach with mind-altering scenery.
Looking for more desert destinations? Check out these guides: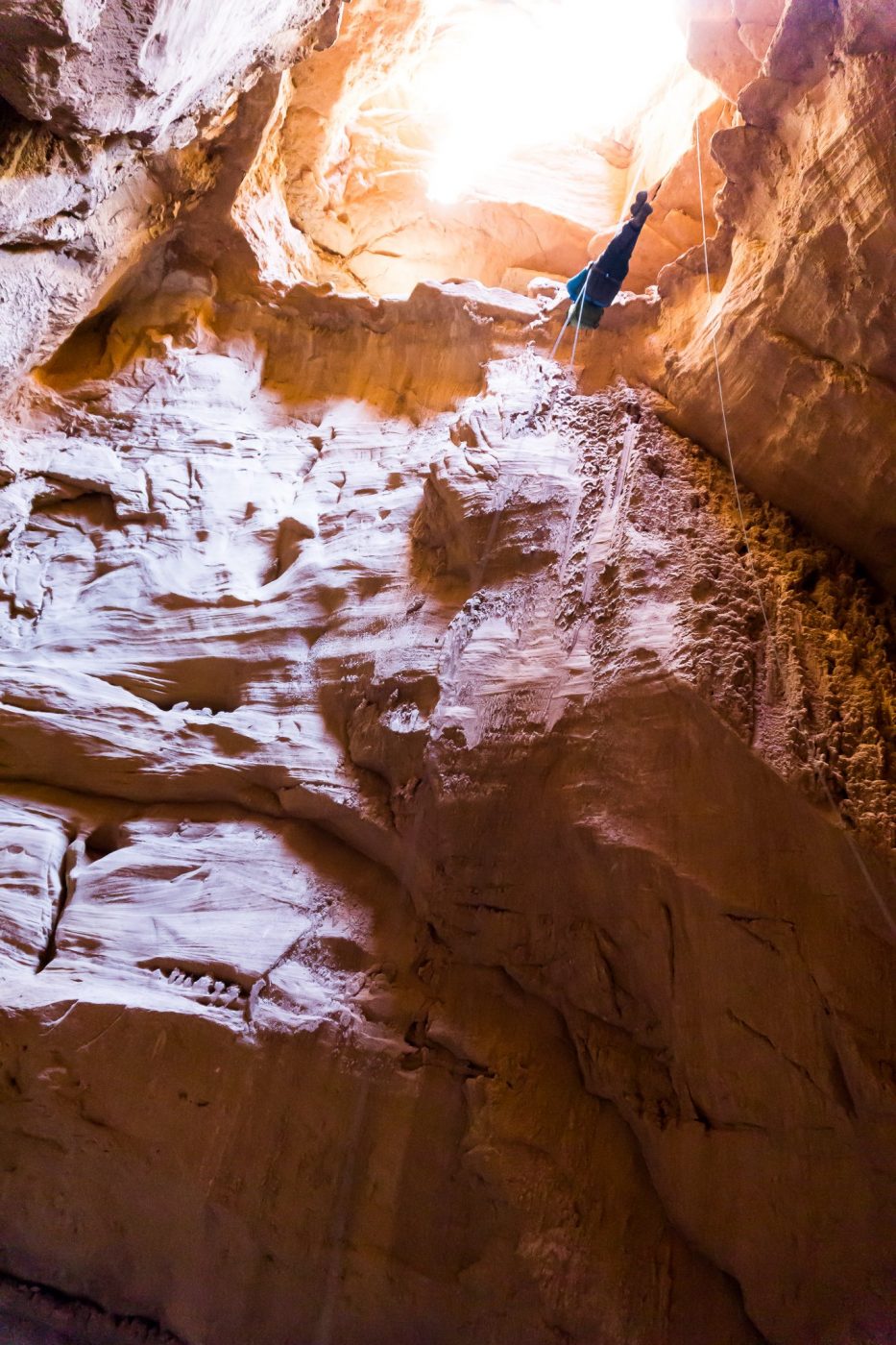 How to Beat the Crowds and Hike Little Wild Horse Canyon and Bell Canyon
Out of all of the well-marked canyons in the San Rafael Swell, Little Wild Horse is the most popular. It's easily accessible, not too difficult and jaw-droppingly beautiful. This experience canyoneering in the San Rafael Swell doesn't require any special gear and offers a great beginner slot to explore. But be prepared to share this slot with everyone, unless you go that extra mile. Opt to start early in the morning, or go in the middle of winter. We ran this canyon with a couple of friends in January and didn't see a soul the entire eight and a half miles.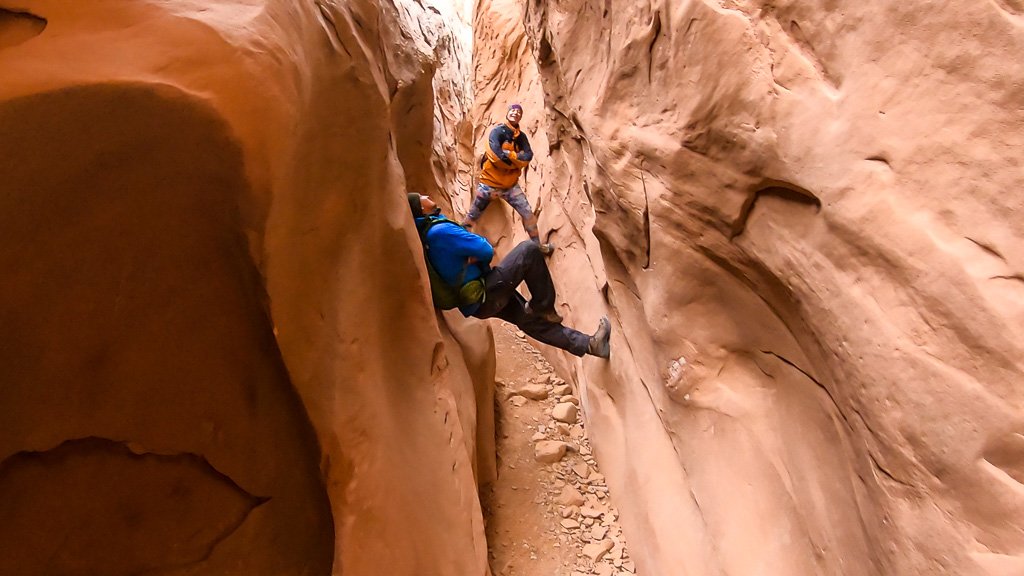 Leave No Trace in the Desert
There are a few things you need to know before going on a desert hike. Many people don't understand just how fragile this ecosystem is.
Unfortunately, people think that it's ok to leave trash, human waste and almost anything else you can think of. Simply put, don't be that person. These spaces are under threat and the last thing we need is more trash. Pack it out, that includes your dirty toilet paper. Desert foxes and other small creatures dig this stuff up and it gets strewn everywhere like confetti.
Also, avoid stepping on the black cryptobiotic soil. Like anything in the desert, this stuff takes forever to grow and plays a vital role in a healthy desert ecosystem. It keeps soil from blowing away, which allows the small amount of vegetation to take root here. It also gives micronutrients like nitrogen a home in the desert, allowing the gentle chain of life here to keep on surviving.
The next time you head into the desert be prepared with these 22 desert camping hacks.
The San Rafael Swell offers a break from the crowds that swamp the many national parks in southern Utah. Canyoneering in the San Rafael Swell is just one of many activities for the adventurous soul in the area. Get out there and enjoy your public lands responsibly.