For the true mountain town experience, you can't beat Leadville, Colorado which is the highest incorporated city in North America.
With a backdrop of stunning peaks, this lovely town is a must-visit in Colorado, especially since it's less than 2 hours from Denver.
The list of things to do in Leadville, CO is long, from summiting the highest 14er in the state to heading underground to learn about the mining history of this Gold Rush town.
I've lived in Colorado for almost 15 years, and Leadville is one of my favorite places to visit. It's close to Denver but has that true mountain town vibe.
So if you're looking to travel like a local, not a tourist, then I've got everything you need to know about things to do in Leadville, CO in this post.
About this Guide to Leadville
Inside this local guide to awesome things to do in Leadville you'll find:
Why Leadville is worth visiting
What Leadville is known for
A map of Leadville
Things to do in Leadville, organized by season
Additional local Colorado travel resources
Is Leadville CO Worth Visiting?
Yes, Leadville, CO is absolutely worth visiting! Leadville is a truly charming mountain town that makes a perfect base for a variety of outdoor adventures.
From hiking to history to skiing to shopping, Leadville is one of the best weekend getaways from Denver, since it's just under 2 hours away.
What is Leadville Known For?
Leadville is famous for being the highest incorporated city in North America at 10,152 feet, so be prepared to adjust to the altitude if you're coming from sea level.
Leadville also has a history of mining from the Gold Rush era, which you can still see vestiges of around town.
Is Leadville a Fun Town?
Leadville is quirky, cool, and full of fun for everyone. The town itself is cute with several bars, restaurants, and shops to hang out in.
Plus, Leadville is a great jumping-off point for lots of outdoor adventures. Honestly, Leadville is truly at the top of the long list of best mountain towns in Colorado.
Map of the Best Things to do in Leadville CO
The Best Things to Do in Leadville in Summer
Summer is an awesome time to explore the things to do in Leadville, CO – especially the hiking trails and water activities at nearby lakes.
1. Summit Mt. Elbert
While Colorado has over 50 14ers (peaks above 14,000 feet), Mt. Elbert is the tallest of them all at 10,440 feet, and second only to Mt. Whitney in the contiguous US. It's also surprisingly one of the easiest 14ers – Class 1 the whole way – so it's one of the best Colorado 14ers in terms of bang for your buck!
The trailhead is only about 10 miles from Leadville, so you can easily stay in town and still get an alpine start.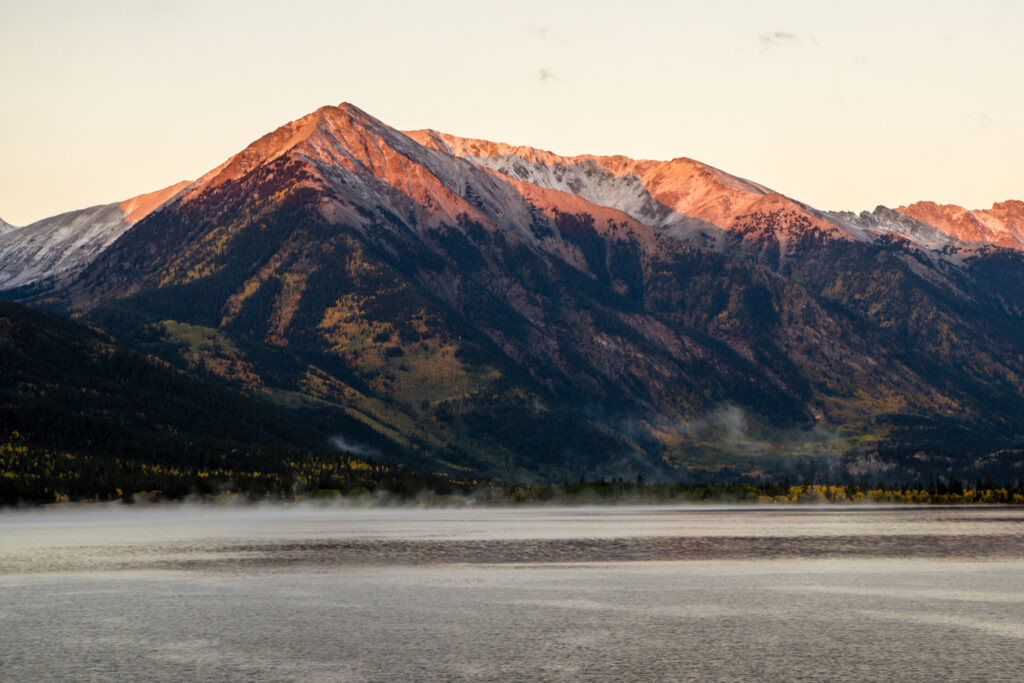 2. Hike Mount Massive
You can also bag the second-highest summit in Colorado at 14,421 feet by hiking to the top of Mount Massive.
This peak actually has the most area above 14,000 feet in the lower 48 states, with a 3-mile-long summit ridge.
3. Splash Around in Twin Lakes
Nearby Twin Lakes is the place to be if you want some summer fun on or in the water.
Stand-up paddleboarding is one of the most fun Leadville things to do in the summer, and Twin Lakes SUP & Cycle provides rentals so you make a splash on Twin Lakes.
4. Stop & Smell the Wildflowers on the Mayflower Gulch Trail
One of the best hikes in Colorado is Mayflower Gulch, which is just a short drive from Leadville.
The relatively easy trail leads you to an alpine cirque, providing a stunning backdrop for fields of wildflowers in the summer.
Local tip: The main trailhead starts from a lower paved parking lot (the round trip hike is 4-5 miles), but in the summer, the gate is open to an upper parking lot accessible by 4WD vehicles (2-mile round trip hike).
5. Colorado Midland Centennial Trail
The Colorado Midland Centennial Trail is a cool hike along the tracks of what used to be the highest railroad in the world.
If you want to check out the Hagerman Tunnel, you can take the Rogers Spur to Hagerman Lake and the tunnel just beyond it.
6. Enjoy Turquoise Lake Recreation Area
Turquoise Lake is one of the best Colorado lakes and is extremely popular as a recreation destination for fishing and boating.
While there are around 300 campsites in 8 campgrounds in the area, they fill up fast in the summer, so plan ahead if you want to spend some time camping here.
Local tip: While camping is only allowed in campgrounds in the Turquoise Lake Recreation Area, there is some good free camping near Denver nearby along County Road 48.
7. Visit the Leadville National Fish Hatchery
For one of the unique things to do in Leadville, CO, check out the Leadville National Fish Hatchery.
The hatchery is open to the public, and you can take a self-guided tour to learn about the fish production process.
8. Healy House Museum & Dexter Cabin
This Greek Revival house was originally built in 1879, and you can walk through and see the restored Victorian furnishings.
You can also stroll the well-tended gardens and peek in the log cabin on the grounds.
9. Top of the Rockies Scenic Byway
One of the top Leadville things to do is take a drive along the Top of the Rockies Scenic Byway which runs from Minturn through Leadville onto Aspen.
The stunning views along the way feature Mount Elbert, Mount Massive, and more.
10. Take a Scenic Drive Over a Mountain Pass
For more scenic drives in Colorado, check out these other options near Leadville:
Independence Pass – heads over the Continental Divide between Leadville and Aspen
Mosquito Pass – unpaved road through the Mosquito Range in Pike National Forest
Hagerman Pass – unpaved road following the old Colorado Midland Railroad from Turquoise Lake
Local tip: Along Hagerman Pass, you'll find great dispersed sites for free camping in Colorado.
The Best Things to Do in Leadville in Winter
Sitting so high in elevation, Leadville is an absolute winter wonderland, especially if you're looking for things to do in Colorado besides ski.
11. Ski (or Snowboard) Cooper
For budget-friendly skiing in Colorado, it's hard to beat Ski Cooper. With soft snow and no crowds, skiers and snowboarders will love this hidden gem of an old-school ski resort near Leadville.
12. Try Your Hand at Dogsled Mushing
Alpine Adventures Dogsledding offers the incredible experience of dogsledding near Leadville! Guided tours give you the chance to ride in a sled pulled by huskies and even try driving the sled yourself.
13. Slide Down Dutch Henry Hill
Let your inner child out to play by sledding or tubing down Dutch Henry Hill in Leadville. The hill is open from December through February, and a small warming hut provides a place to get out of the cold.
14. Glide Around Huck Finn Ice Rink
Lace-up your skates and hit the ice at the largest and highest man-made ice rink in Colorado.
After enjoying some great ice skating in Colorado, you can spend a little time relaxing and warming up by the fire pit.
15. Cross Country Ski at Tennessee Pass Nordic Center
Have some winter fun on the groomed trails at the Tennessee Pass Nordic Center. It's a haven for cross-country skiing and is also a perfect place to explore snowshoeing in Colorado.
The Best Things to Do in Leadville Any Time of Year
No matter the season, you'll find plenty of things to do in Leadville, CO – both indoors and out!
16. Snag A Coveted Melanzana Fleece
You've probably seen the famous "Melly" on outdoor enthusiasts all over Colorado, even if you didn't know it at the time.
This fleece hoody is only officially available at the shop in downtown Leadville where they're made in limited supply, so a stop in Leadville is not complete without a stop at Melanzana.
Local tip: Due to the incredible popularity, appointments – available on the Melanzana website – are required to visit the shop.
17. Sip a Drink at the Silver Dollar Saloon
The old west is alive and well in the Silver Dollar Saloon, which was originally established in 1879. Step inside for a blast from the past and enjoy a beer, whiskey, or a full meal.
18. Stroll Around Downtown Leadville
Harrison Ave is Leadville's quaint "main street" through downtown.
One of the best things to do in Leadville is to simply take a walk down Harrison and peruse all the local shops and dining & drinking establishments.
Western Hardware Antiques – Over 70 vendors selling mining and Western memorabilia
Elevation Goods – A variety of goods from Colorado makers
Golden Burro – Vegan diner with tasty food & cocktails
Treeline Kitchen – Upscale American restaurant with lovely outdoor patio & roof deck
City on a Hill – Cafe to fuel your day with coffee, breakfast burritos, sandwiches, & more\
Two Mile Brewery – America's highest brewery where you can sample a local pint (or two!)
19. Tabor Opera House
Built-in 1879 to bring the arts to the remote mining town of Leadville, the Tabor Opera House has gone through extensive restoration to preserve the beautiful architecture of the historic building.
You can now tour the premises or take in a show on the stunning stage.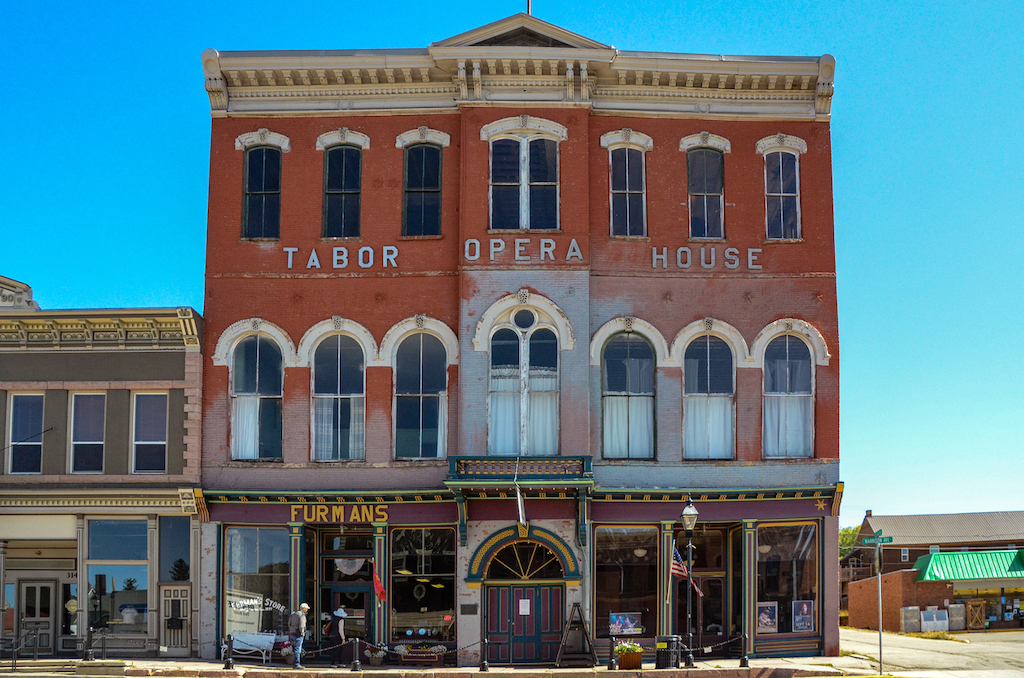 20. Go Underground at the National Mining Hall of Fame
Learn all about the history of mining in Colorado at "the Smithsonian of the Rockies."
At the National Mining Hall of Fame, you can pan for gold and explore replicas of the old mines and caves.
21. Fly High on the Top of the Rockies Zipline
Top of the Rockies features six zip lines including single lines, twin lines, and even triple lines.
In the spring, summer, and fall, a monster truck or 4WD vehicle will take you on a scenic ride to the zipline departure deck, and in the winter, you'll ride a snowcat to the top.
22. Explore the Mineral Belt Trail
Designed as a recreation resource for the community, the Mineral Belt Trail is a nearly 12-mile loop paved trail around and through Leadville.
In the warmer months, you'll see walkers, bikers, and skaters, and it makes a great winter hike in Colorado, too.
23. Tour the Hopemore Underground Mine
A former underground mine worker owns Hopemore Underground Mine and offers tours into its depths. Visitors are transported down the mine in a cage similar to what was actually used in the original mines.
24. Check Out the Events at Freight
Formerly Leadville's train depot, Freight now serves as a unique hotel and community gathering space. The space hosts a variety of community events from trivia to storytelling to live music.
25. Take a Ride on the Leadville Railroad
Ride the rails past the peaks of the Rocky Mountains on the Leadville Railroad. The train offers 2-and-a-half-hour round-trip scenic rides starting in Leadville, through San Isabel National Forest, and up to the Continental Divide.
A ride on the railroad is definitely one of the can't-miss things to do in Leadville, CO.
How Much Does It Cost to Ride the Train in Leadville?
Fares for a round-trip ride on the Leadville Railroad are $54/adult and $32/child. You can also reserve a table in the lounge car for $155 (seats 1-2 people) or $310 (seats 1-4 people).
Additional Local Colorado Travel Resources
Looking for even more adventures in Colorado? I've got you covered with this amazing lineup of local travel resources: