The fresh feel of crystal clear water in Colorado lakes feels absolutely divine on a hot summer day. With over 4,000 lakes in the Centennial State there are plenty of ways to enjoy Colorado's watering holes.
From picture-perfect alpine scenes to large reservoirs offering plenty of recreation opportunities there are countless different Colorado lakes to explore.
As a local for the past 12 years, I've been scouring the state to bring you this list of the best Colorado lakes.
It's my mission to bring you the best of Colorado so you can discover the beauty and excitement of this state like a local, not a tourist.
About this Guide to the Best Lakes in Colorado
If you're looking for the best lakes in Colorado, you're in the right place. Here's what you'll find in this guide:
List of amazing Colorado lakes you can visit for swimming and outdoor recreations
Incredible Colorado lakes you can hike to
An in-depth look at how to reach each lake
Activities for each lake
Additional Colorado adventure resources.
Best Colorado Lakes to Visit
Does the summer heat have you ready to jump in and swim? These Colorado lakes have easy access to sit on the beach or quench your desire to play on the water.
1. Chatfield Reservoir
Just south of Denver proper, Chatfield Reservoir is the place to be for summertime water activities. From swimming to SUPing, boating to kayaking, you can have all sorts of summer fun here.
The reservoir is stocked with fish, including rainbow trout, so it's a great spot to cast your line as well. If you want to spend more than a day playing here, you can reserve a campsite at the Chatfield State Park Campground.
Fees: $10/vehicle per day
Recreational Activities: Swimming, Boating, Kayaking, SUPing, Fishing, Biking, Hiking, Camping
2. Lake Dillon
This large alpine reservoir has is located right off of I-70 offers easy access to some fantastic recreation opportunities. With over 50 miles of road biking trails, you can opt to pedal around the lake. MTBers who are looking for an gentle warm up (or newbies like me) should check out the Frisco Bay Peninsula for a few fun trails.
If you're into SUPing, boating (no wake), or kayaking, you'll want to utilize one of the marinas in Dillion or Frisco. Don't forget to catch a sunset on the lake.
Local Tip: You can't swim in the lake, since its a freshwater source.
Fees: None
Recreational Activities: SUPing, kayaking, sailing, road biking, mountain biking.
3. Twin Lakes
Situated at the base of Indepence Pass this fishing haven is a must-see Colorado lake. WIth camping, fishing, and easy hikes around the lake there are a lot of different ways to relax. Spend the weekend camping at the White Star Campground – one of the best campgrounds in Colorado.
Wake up early and try your luck hiking up Mount Elbert. KNown as the Roof of Colorado this 1,400-plus foot mountain is one of the easier 14ers in Colorado and the high point of the state. Or try your luck fishing for rainbow trout in the prized Twin Lakes.
Fees: Day use, none, camping $21 per night
Recreational Activities: Fishing, hiking, backpacking, and peak bagging.
4. Lake Granby
The third largest lake in Colorado, Lake Granby offers plenty of room to play on the water. Boating is big on Lake Granby (there's a yacht club and three boat launches on the lake), and the lake is popular for swimming and fishing as well. Lake Granby is located on the west side of Rocky Mountain National Park, so you can camp nearby and easily check out some Rocky Mountain hikes.
Fees: $5/vehicle per day
Recreational Activities: Swimming, Boating, Fishing, Hiking, Camping
5. Grand Lake
Grand Lake lives up to its name as both the largest and deepest natural Colorado lake. The lake is surrounded on three sides by Rocky Mountain National Park, which provides a stunning mountain backdrop as you swim or boat across the clear water. Since the town of Grand Lake is the western gateway to RMNP, it's a great weekend trip from Denver to enjoy the lake and explore the park.
Fees: None
Recreational Activities: Swimming, Boating, Kayaking, SUPing, FIshing
6. Horsetooth Reservoir
Horsetooth Reservoir is an awesome oasis right near the city of Fort Collins. The narrow reservoir is 6.5 miles long, making it great for boating and sailing.
You'll find a couple campgrounds on the banks if you want to spend the night and explore the nearby hiking and mountain biking trails. And be sure to bring your crashpads if you like pebble wrestling, since the area is littered with lots of quality boulders.
Fees: $9/vehicle per day
Recreational Activities: Swimming, Sailing, Boating, SUPing, Fishing, Camping, Bouldering
7. Prospect Lake
The centerpiece of Memorial Park near Fort Collins, Prospect Lake offers tons of recreational fun. Swimming is allowed in the small designated beach area, and you can boat with a permit. A lot of Colorado lakes don't allow swimming, so Prospect is a must-visit if you're looking for fun in the sun.
A trail surrounds the lake for running or walking, and you'll even find a velodrome for cycling in the park.
Fees: None
Recreational Activities: Swimming, Boating, Running, Velodrome Biking
8. Brainard Lake
While Brainard Lake is located in the beautiful Indian Peaks Wilderness north of Nederland, the recreation area is accessible by car. The lake is situated at 10,300 feet of elevation, so it's most pleasant to visit in the hottest summer months of July and August.
You can take non-motorized boats on the lake or just relax on the shores. You can also spend the night at one of the sites at Pawnee Campground or hit the trails and backpack into the wilderness.
Local Tip: Brainard Lake is a great little picnic place after a hike in the surrounding recreation area.
Fees: $12/vehicle per day (reservations are required for timed entry)
Recreational Activities: Fishing, Non-motorized Boating, Camping, Hiking, Backpacking
9. Blue Mesa Reservoir
The massive Blue Mesa Reservoir near Gunnison offers a plethora of ways to play in the water. Several arms branch off the 29 mile long reservoir to entice boaters into gorgeous canyons. A few beaches provide nice swimming areas amidst the mostly rocky shoreline. And the fishing is absolutely amazing, fully stocked with trout and wild kokanee salmon. Elk Creek Campground is a great base for the night on the shores of Blue Mesa, especially as part of a Colorado road trip.
Fees: None
Recreational Activities: Boating, Fishing, Swimming
10. Lake San Cristobal
Lake San Cristobal puts the "lake" in Lake City! As Colorado's second largest natural body of water, it's a fantastic place to visit for boating and fishing. Due to the cold waters of the alpine lake, trout are especially plentiful in Lake San Cristobal, so grab a fishing license and play catch. Wupperman Campground offers beautiful lake views if you want to spend the night.
Fees: None
Recreational Activities: Fishing, Boating, Kayaking, Camping
Best Colorado Lakes You Can Hike To
If you want to get a little farther out into nature before you hit the water, check out these cool Colorado lakes you can hike to. Some of these are super popular, while others will provide seclusion when you crave it.
1. Hanging Lake
As one of the absolute best hikes in Colorado, you've got to hit the Hanging Lake hike. You'll need an advanced permit to hike this stunning trail into Glenwood Canyon.
The relatively easy trail (moderate if you aren't used to steeper hikes) takes you into a fairytale landscape. The emerald pool of Hanging Lake is surprisingly large, and with plenty of waterfalls (in spring, check out Spouting Rock – one of the best waterfall hikes in Colorado) there's a lot to gawk at.
Local Tip: May is an excellent time to visit, as the waterfalls are full and the crowds are fewer.
Distance: 3.1 miles out & back
Elevation Gain: 1,187 feet
2. Gore Lake
Arguably one of the most scenic backpacking routes in Colorado, Gore Lake delivers alpine beauty unlike anything else. Make your way up the challenging trail to an alpine scene that literally looks like a painting.
Backpack Gore Lake and catch a sunset in this unbelievable landscape. You'll be surrounded by jagged peak, stunning summer wildflower displays, and crystal clear waters.
Distance: 12.5 miles out & back
Elevation Gain: 2,890 feet
3. Ice Lake
If big mountain views and challenging inclines are your thing, then you've got to check out Ice Lake Basin. This other-wordly Colorado lake features rust-colored jagged peaks and a lake so iridescent blue, you won't believe what you're seeing. No one will argue that Ice Lake is one of the most gorgeous alpine lake hikes in Colorado.
Although you'll earn your visual feast with greuling switchbacks and a steep trail that leads to the top. It's worth it though, especially in July when the wildflowers are popping. Located just outside of Ouray, this iconic lake puts you into the heart of the San Juan mountains.
Local Tip: This trail is closed for restoration in 2021.
Distance: 6.2 miles
Elevation Gain: 2,400 feet
4. Willow Lakes
Another jaw-dropping scene, Willow Lakes brings you to some of the most rugged mountain ridgelines in the entire state. As one of the best Colorado lakes for alpine scenery, you'll certainly want to backpack to Willow Lakes in order to soak in every minute of beauty.
The backdrop is the famous Zodiac Ridge, named after the rugged gendarmes (rock pinnacles) that share their names with the signs of the Zodiacs.
Local Tip: Fish here are plentiful, but none are large enough to legally catch and eat.
Distance: 11.9 miles out & back
Elevation Gain: 2,716 feet
5. Sandbeach Lake
From the Wild Basin area of Rocky Mountain National Park, you can hike into this stunning alpine lake with surprisingly sandy beaches. The trail has plenty of elevation gain, so it's somewhat strenuous but that just makes jumping into Sandbeach Lake at the end of your hike that much sweeter!
If you're lucky, you can snag a reservation for a backcountry campsite right on the lake and spend your night under the stars on the shoreline for a quintessential weekend getaway in Colorado.
Distance: 9 miles out & back
Elevation Gain: 2,086 feet
6. Bear Lake
An easy hike near Estes Park, Bear Lake is one of the most popular and crowded trails in Rocky Mountain National Park, especially for families. If you have small children or out-of-town visitors, this is a great way to introduce them to RMNP and an alpine lake.
A loop of less than a mile brings you from the trailhead around the entire lake. The same trailhead can also lead you to several more alpine lakes, including Nymph, Dream, and Emerald, if you want to explore more.
Distance: 0.7 mile loop
Elevation Gain: 49 feet
7. Crater Lake
The Maroon Bells and Pyramid Peak provide an almost unbelievable backdrop to the already beautiful Crater Lake. This is a popular area thanks to the stunning scenery, but many of the crowds only make it to Maroon Lake. Continue on to Crater Lake to experience unforgettably picturesque views. This is definitely a hike where you want to bring your camera along!
Distance: 3.5 miles out & back
Elevation Gain: 688 feet
8. Mirror Lake
The Cascade Creek to Mirror Lake hike might be mega-long, but you'll be delighted with a view of the famous Lone Eagle Peak, one of the most beautiful mountains in Colorado. Located outside of Grand Lake in the Indian Peaks Wilderness, this epic hike delivers big on views.
The trail itself isn't too difficult, but it takes most of the day to hike out and back. If you're lucky, you can snag one of the few backpacking permits and spend the night here, but if not, be sure to hike before the sun gets up for your best chance at a reflecting view of Eagle Peak.
Distance: 14.6 miles out & back
Elevation Gain: 2,040 feet
9. Lake Isabelle
Not only is Lake Isabelle itself simply stunning, but the views of the Niwot Ridge as you approach the lake will absolutely take your breath away. This is a well-traveled hike in the Indian Peaks Wilderness, which in warm weather is a moderate 5.5 mile round trip with only about 500 feet of elevation gain. You can also add on a couple miles to get to the Isabelle Glacier.
But keep in mind that while the trail to Lake Isabelle is one of the best winter hikes in Colorado, the road through Brainard Lake Recreation Area is closed in the winter, which doubles the distance and the elevation gain of the hike.
Distance: 5.5 miles (11 miles in winter)
Elevation Gain: 551 feet (1,030 feet in winter)
10. Chasm Lake
For a taste of Longs Peak without the commitment of that classic and challenging 14er, hike to Chasm Lake. Don't get me wrong, this is still a strenuous hike with a lot of elevation gain, but it is more doable and still makes for an incredible experience. You'll start at the Longs Peak Trailhead, but will eventually branch off at a junction to head toward the lake. And when you reach Chasm Lake, you'll be treated to a close up view of Longs Peak, one of the most beautiful 14ers, in the background.
Distance: 8.2 miles out & back
Elevation Gain: 2,542 feet
11. Emerald Lake
Arguably the most scenic Rocky Mountain National Park hikes, scoping out a sunrise on the Emerald Lake trail is an absolute must-do Colorado lake experience.
This easy to moderate trail is short, but leads to one of the most beautiful places in Colorado – Emerald Lake. Watch the sunrise over dramatic cliffs and enjoy a little solitude before this mega-popular lake in Colorado sees it's usual crowds.
Distance: 3.2 miles out & back
Elevation Gain: 698 feet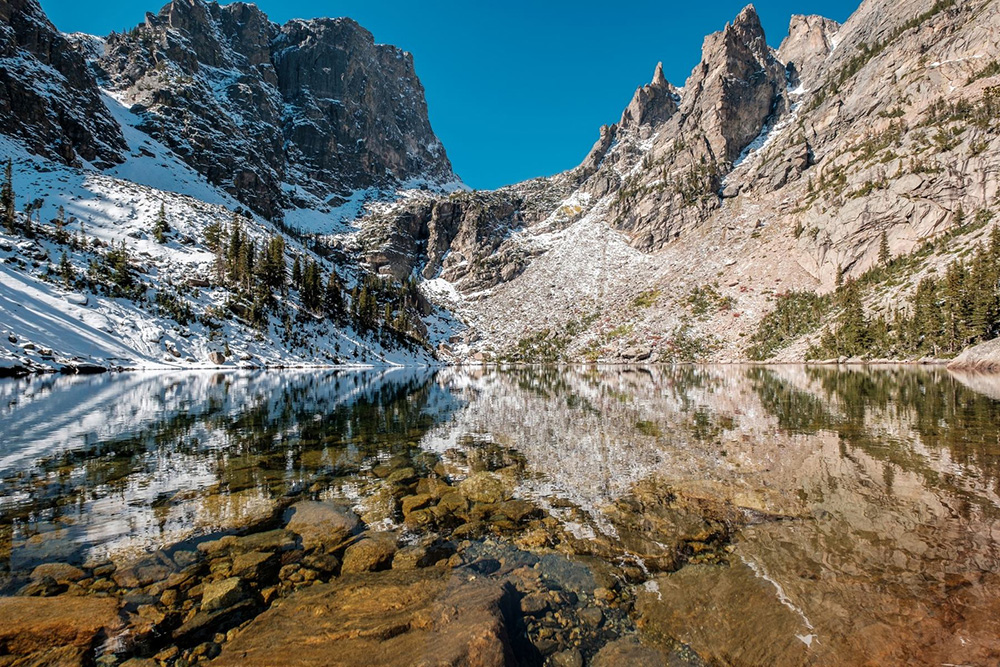 12. Blue Lakes
As one of the best hikes in Breckenridge, you absolutely cannot miss the Blue Lakes Trail. An easy trail will take you right around Blue Lakes – at just 1 mile. But if you want more mountain beauty, be sure to hike up the trail branching right. It's steep, but quickly gives way to a stunning mountain cirque.
You'll see cascading waterfalls in nearly every direction from June through July along with plenty of beautiful wildflowers. The rugged West Ridge of Mount Quandary, one of the famous Colorado 14ers, sits imposingly above you. As you make your way back down to the car, you may spot mountain goats with your bird's eye view of Blue Lakes.
Local Tip: This road is not maintained in winter, so check local conditions before heading out.
Distance: 2 miles out & back
Elevation Gain: 378 feet
Additional Colorado Adventures You Can't Miss
Ready to explore Colorado like a local, not a tourist? Then check out these insider guides to the most amazing spots on the Centennial State:
PIN THIS POST