Toutes as one of the best hikes in Colorado, Ice Lake Colorado features some of the most jaw-droppingly beautiful mountain scenery you could possibly imagine.
Seriously, the red mountain tops, Kool-Aid blue lakes, and brilliant wildflowers create a mountain scene straight out of your wildest dreams. Hiking to the Ice Lake Basin in Colorado is no easy task, but with a little effort, you can immerse yourself in this iconic Colorado hike.
As a professional writer for the outdoor industry, I've seen a lot of beautiful, places, but Ice Lake, Colorado certainly tops the list. As a resident expert in all things Colorado hiking, this is the only resource you'll need to hike to Ice Lake and nearby Island Lake.
So the hike to Ice Lake Basin in Colorado had been on my bucket list for quite some time.
I absolutely love colorful nature scenes, and after drooling over plenty of social media photos, I thought, I must visit this gem for my bachelorette party. So I got my favorite group of humans together to hike to Ice Lake.
About this Guide to Hiking to Ice Lake Basin, Colorado
Before you hit the trail, there's a lot to know about visiting Ice Lake, Colorado. In this post, you'll get expert, local knowledge on one of the most beautiful hikes in Colorado. Here's what to expect:
Trail facts about Ice Lake, Colorado
How hard is it to reach Ice Lake?
What to expect along the trail
Backpacking to Ice Lake
When is the best time to hike?
Tips for hiking the Ice Lake Trail
Practical Information about Ice Lake, Colorado
Before you head out on any hike, it's important to be informed. This amazing hiking trail has one major route that winds it's way up a series of steep hills until reaching the famous Ice Lake.
There are options to hike above to nearby Island Lake (about 30 minutes further, round trip) and there is an upper Ice Lake as well.
Keep in mind, Ice Lake Colorado is not only one of the most beautiful alpine lakes in Colorado, but it's also one of the most popular destinations in the state. This trail sees quite a bit of use and there is usually a ranger around on weekends.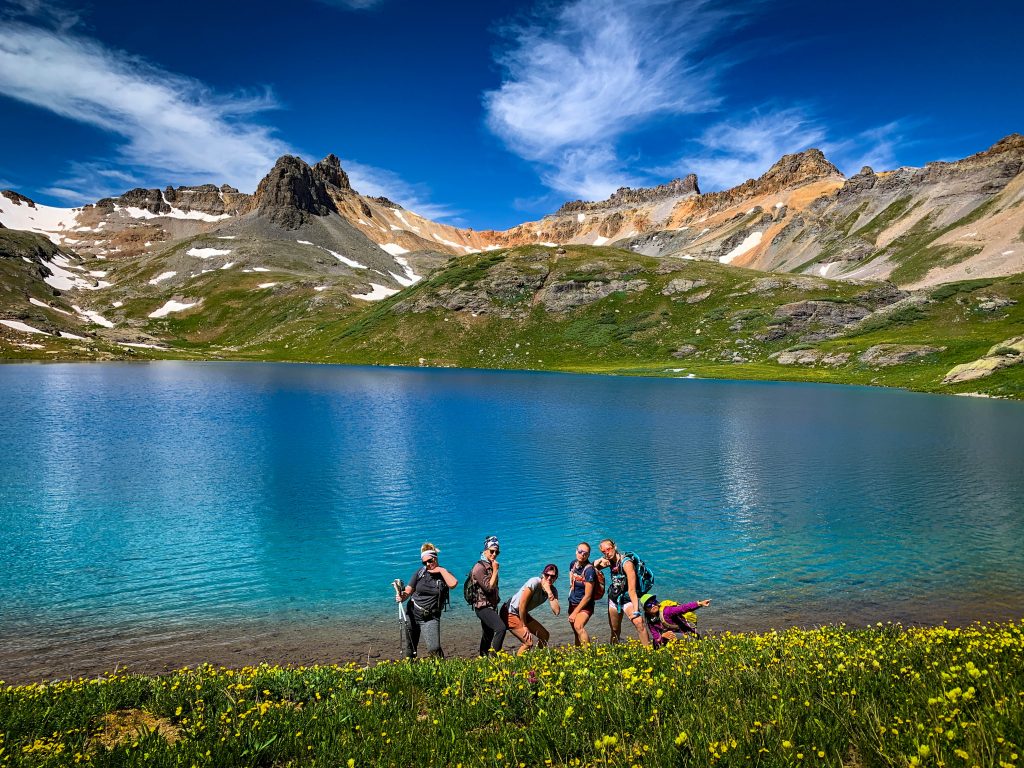 Since it's so popular, be prepared to start early, like before 7 am early, if you want to find parking anywhere remotely close to the trailhead.
Remember this trail is tough (but not impossible) and the area is prone to afternoon thunderstorms during the summer months. An early start lets you beat the storms and hike the butt-busting uphill in cooler temperatures.
Local Tip: You are not supposed to park in the meadow or along the road and risk getting ticketed, so if you arrive late, wait for a parking sport or enjoy another hike in the area such as Highland Mary Lakes or Columbine Lake
Here's a look at some key facts about Ice Lake Basin:
Round-Trip Distance: 6.2 miles, 7.2 miles to include Island Lake and 8.2 miles to include Upper Ice Lake
Elevation Gain: 2,400-ish vertical feet to Ice Lake, 2,670 feet to Island Lake, and 2,700 feet to Upper Ice Lake
Difficulty: Difficult
Starting Elevation: 9,840 feet
Highest Point: 12,270 at Ice Lake and 12,392 at Island Lake
Estimated Time: 4 hours plus stops for breaks, 3 hours if you are used to big elevation gains.
Dogs Allowed? Yes, on leash
Restrictions: You cannot camp at the lakes. You must bring human waste disposal bags and pack out human waste.
Where is the Ice Lake Trailhead?
You'll find the start to this Colorado gem at the South Mineral Campground in the San Juan National Forest.
To reach the trailhead (from Ouray), head south out of town on US-550 or the Million Dollar Highway. This extremely scenic road is worth a trip in its own right, so plan some time to check out the sites on the way back from your hike.
After several miles, you'll drop towards Mineral Creek. Make a sharp right on Forest Road 7 (dirt). Continue down the road until it terminates at the trailhead. A 2WD vehicle can easily make it to the trailhead.
How Hard is the Hike to Ice Lake Basin?
As far as hikes go, Ice Lake Basin is fairly difficult. The trail immediately heads uphill, unrelentingly, until you reach a big, wide valley. You've done about half of the elevation gain, and this is not the steepest part of the hike.
Once you're in the wonderful, wildflower-studded meadow, your next big obstacle is the steep hill in front of you. This one is really killer and will certainly have you sucking in air.
If you aren't acclimated properly, you'll likely struggle with the thin air, but there are plenty of places to take a break, so don't worry! Plan on taking your time and perhaps add about an hour to the time listed above.
Folks who regularly hike 14ers and indulge in type 2 fun will find this hike to be challenging, but not too tough.
The trail itself is well-maintained and marked. There are a few rocky sections, but nothing super strenuous or exposed.
What to Expect on the Ice Lake Basin Hike
After reaching the trailhead, sign the register and immediately head uphill. You can't see too much beautiful scenery quite yet.
Keep on the main trail (there are a couple of spurs that act as a shortcut to Island Lake, but don't worry about them) and head up! You'll continue to crawl along an endless sea of switchbacks and forest, but the views improve I promise.
After roughly 2.5 miles you'll pop up onto a gorgeous high alpine meadow with a series of streams running through it. Throughout much of summer, you can spot waterfalls on the nearby cliff sides.
Make your way through the wildflowers (anyone else singing the Sound of Music yet?) until you cross a stream. There is no bridge, so take your time stepping over the rocks.
Next up, you'll see a gigantic hill. Okay, so maybe it's a mountain, but so what? Your goal is to gain the ridge. The trail doubles in steepness and winds its way up switchbacks for another half mile.
This is the real butt-buster – gaining over 1,000 feet a mile is no joke, so be sure to take your time. Don't worry, unlike the last big push, there is plenty of unbelievable mountain scenery to distract you.
After you gain the ridge, you'll be just steps away from Ice Lake if you continue straight. At Ice Lake, you'll be treated to a delightful cirque of 13,000-foot peaks. A fork out to the right by a large boulder leads up to Island Lake, just as beautiful and a fraction of the crowds.
Head towards Island Lake and stop at Ice Lake on the way back down if you want to get the uphill grind finished. It's about another 15 minutes of uphill to reach Island Lake (and it's oh-so-worth-it!).
Backpacking Ice Lake Basin
Backpacking to Ice Lake Basin has become a popular backpacking destination.
However, given the number of people who day hike this trail, I actually wouldn't recommend backpacking it. Instead, check out some of the other (far more worth it) amazing backpacking trails in Colorado.
There are a few reasons for this. First, you are not allowed to pitch a tent at Ice Lake or Island Lake.
We saw COUNTLESS people doing this anyway, and it was truly unfortunate. You should always be at least 200 feet from a water source, and this place is swarming with people, so don't expect to have a camp to yourself.
Secondly, the Ice Lake, Colorado looks the bluest during a sunny day. This means that the lake actually looks less blue as the sun sets and better during the busier parts of the day.
If you do choose to backpack, pitch your tent in the beautiful meadow below the final push to Ice Lake. There is ample, stunning camping in the meadow.
Also, you're required to pack out all of your human waste using Wag Bags, so if you aren't comfortable pooping in a bag, just day hike this wonderful spot.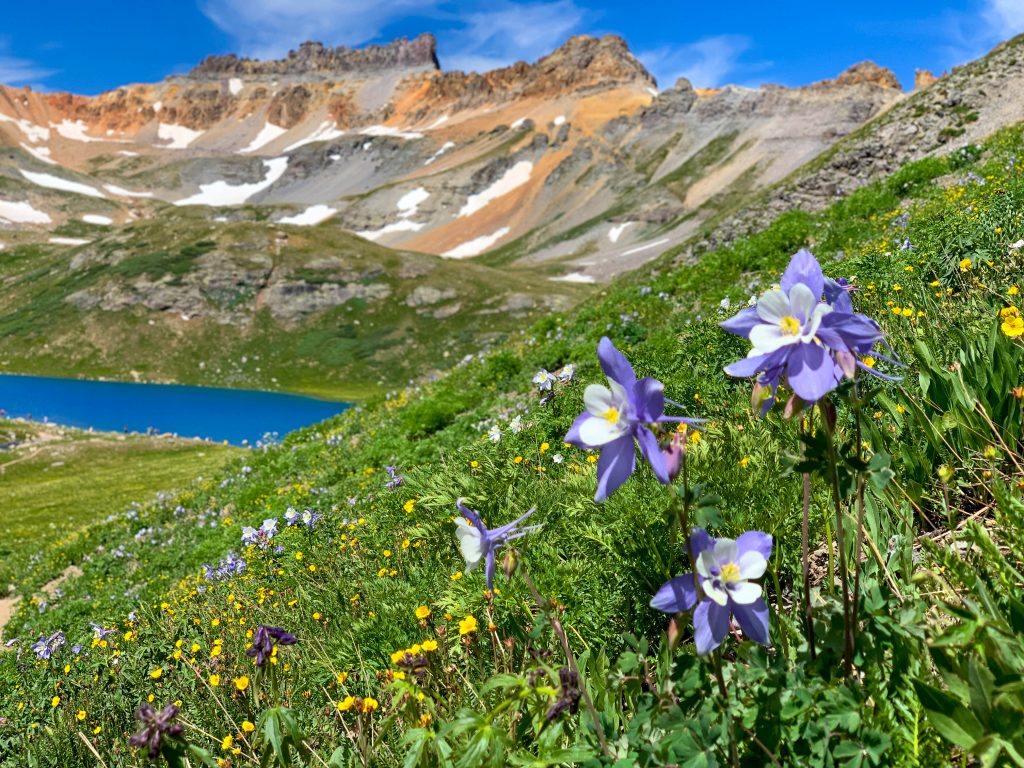 Camping Near Ice Lake, Colorado
If you're looking for a spot to car camp near Ice Lake Basin there are ample choices in the San Juans. Along Forest Road 7 you'll find four or five different campgrounds (first-come-first-serve) with basic amenities such as fire rings and a vault toilet.
People are also camped all over the road here. This isn't really allowed. In fact, you should avoid camping within 200 feet of the river or water source, and you shouldn't trample vegetation for camping.
It was really disheartening to see so much bad behavior here, and I wouldn't be surprised if the area became permitted and rather strict in the coming years.
Do your part to follow the rules and visit responsibly so everyone can enjoy this gorgeous landscape.
When is the Best Time to Hike?
Figuring out the best time to hike to Ice Lakes, Colorado is slightly tricky. First, you want to visit during the right time of year.
Both Island and Ice Lakes remain frozen for much of June, although late June might be nice depending on the snow year.
July and August are the best seasons to hike Ice Lake for wildflowers. We hiked in July and I can understand the appeal. The landscape was utterly mesmerizing.
September and October are less crowded, but the drama of the contrasting greens, blues, and red-stained peaks is a little lost.
The Million Dollar Highway is one of the most dangerous roads for avalanches and is not advisable to drive on between November and Mid-April. Snow is still abundant in May.
Tips for Hiking Ice Lake Basin, Colorado
When it comes to hiking in Colorado, there are a few key things to know. Here are a few tips to help your Ice Lake hike be a little more enjoyable.
Always practice Leave No Trace. This area sees heavy use, so do your part to leave it better than you found it.
Don't step off the trail. If the trail is muddy, walk through the mud, if there are people, keep on the trail to let them pass. The erosion on this trail is pretty real and it ruins the nearby landscape, so take care to stay on the trail.
Don't swim in the lake. Again, a lot of bad behavior here, but the lake will lose its color from the oils, sunscreen, bug spray, what-have-you on your skin.
Pack out your human waste. This is a requirement for visiting this area.
Start early! There is a serious lightening risk on the trail so plan your hike to be back in the trees by noon to avoid pesky thunderstorms.
Pack plenty of water, snacks, and sun protection. There isn't much shade on this hike. You can certainly filter water, but if you don't have a filter, you'll want at least 2 liters (bring an extra liter for the car too).
Nearby Attractions and Post-Hike Eats
After your hike, head to Ouray or Silverton to enjoy a little mountain town magic. Take your time returning to Ouray and stop at one of the many scenic overlooks along the Million Dollar Highway.
Some of my favorite spots to grab some food in Ouray include:
Thai Chili Ouray
Maggies Kitchen
BrickHouse 727
Red Mountain Brewing
Ice Lake Basin offers truly idyllic Colorado scenery. So strap on your hiking boots and hit the trail this summer with this beautiful Colorado lake hike.
Additional Colorado Hiking Resources
Wand more Colo-radical adventures? Check out these resources:
PIN THIS POST