Jagged rocky peaks, red-stained soil and lush alpine valleys await you on the best hikes in Telluride. The San Juan Mountains, lovingly referred to as the "Alps of America" are truly a sight to behold.
As a Colorado local for over 12 years, I still can't get enough of the Telluride hiking trails. From unbelievable alpine lakes to stunning wildflower blooms there's a lot to see.
Uncover the Majestic Beauty of the "Alps of America" with this Insanely Awesome Telluride, Colorado Itinerary!
Skip the hordes of tourists and uncover the enchanting beauty of the aptly named, "Alps of America." It's a stunning mountain town with plenty of hidden gems that are just waiting to be discovered – if you know where to look. So, get this epic Telluride, Colorado itinerary now to uncover jaw-dropping alpine lakes and exquisite free camping that will blow your mind.
Telluride is hands down a hiker's paradise.
As one of the best weekend getaways in Colorado you'll definitely want to check out a few Telluride trails.
Iconic mountain scenery, some of Colorado's most beautiful drives, and plenty of breathtaking views await you in Telluride.
And I want you to experience the magic of one of the most scenic places in Colorado like a local, not a tourist.
As an outdoor writer, I've become a literal pro at moving through the landscapes of Colorado and beyond. This is my home and it's my mission to empower you to get outside like a pro.
You won't find any better information about the most amazing hikes near Telluride than right here.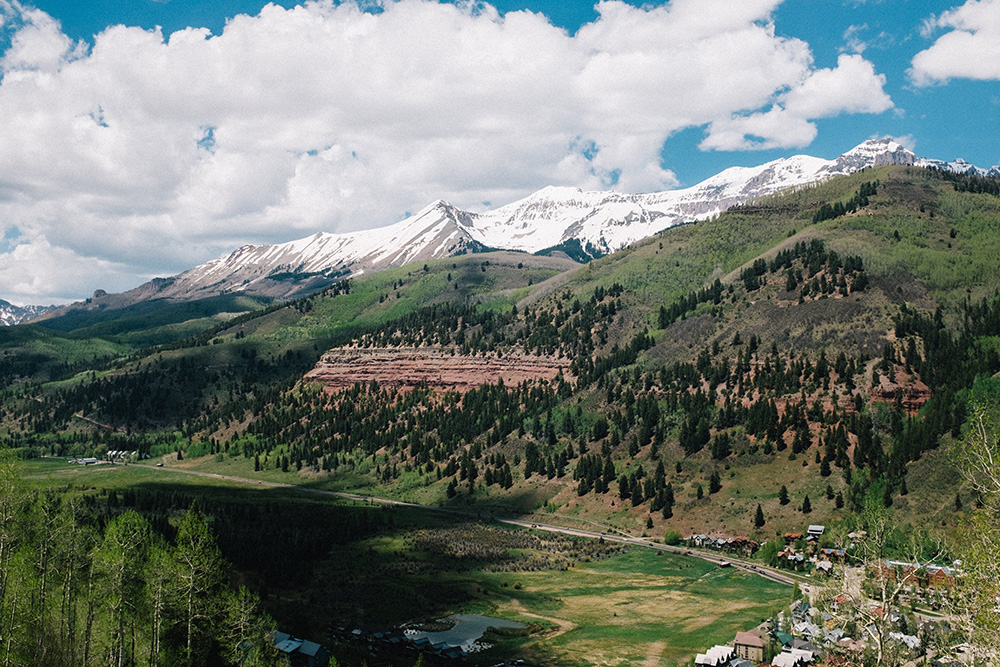 About this Guide to Best Hikes in Telluride
Out of all of the best things to do in Colorado, heading out on one of the best hikes in Telluride must be on your list. Sure, it's over 6 hours from Denver, but it's still one of the best (if not THE best) Colorado road trip stops and worth every ounce of effort to drive out here and hit the trails.
Inside this guide to hikes in Telluride you'll find:
The best easy hikes in Telluride
Moderate Telluride trails
Challenging Telluride hiking trails you can't miss
Additional planning resources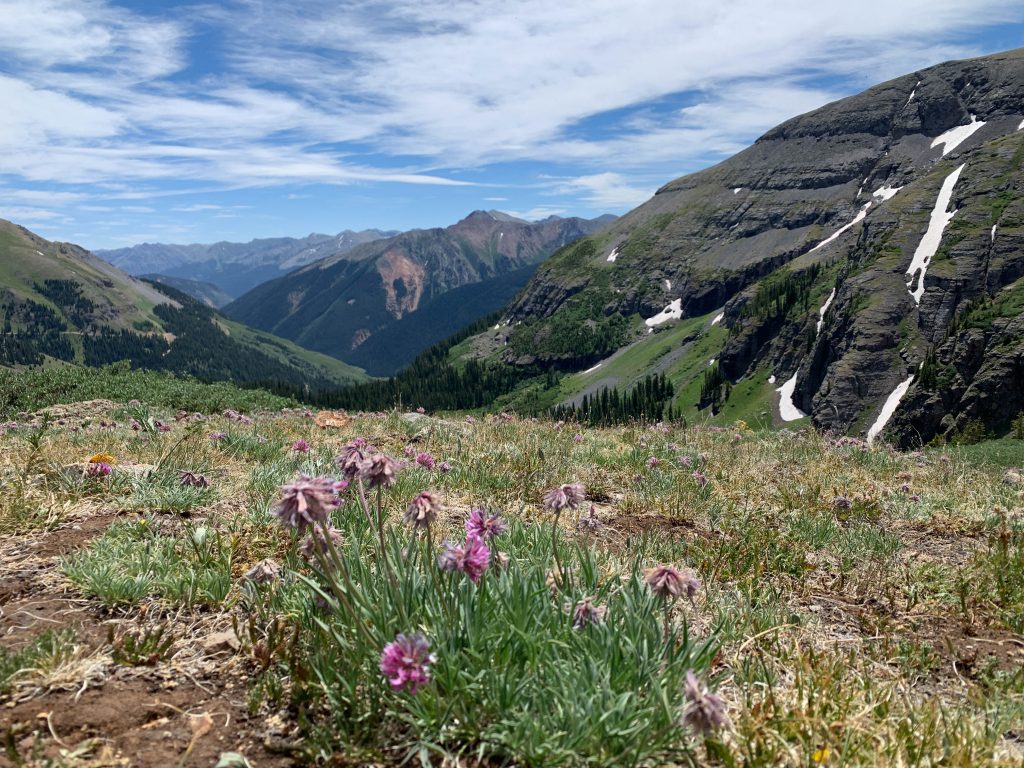 The Best Easy Hikes in Telluride
While Telluride is home to a lot of challenging trails, these easy hikes make a perfect intro to the area and can be enjoyed by just about anyone.
1. River Trail
Take an easy stroll through the town of Telluride on this trail along the banks of the San Miguel River. The River Trail officially begins in Town Park, but you can pick up the trail from many different streets in town, so you can adjust the length of the hike if you're short on time. Afterward why not grab a few tacos at Gnar.
Distance: 4.1 miles out & back
Elevation Gain: 242 feet
Difficulty: Easy
Estimated Time: 1.5-2 hours
Dog Friendly: Yes, on-leash
2. Jurassic Trail
This hike is short but still manages to pack in some impressive views of the San Juan Mountains as well as the town of Telluride itself. Don't let the town sites fool you, Telluride is utterly scenic. You can also add on Big Billie's Trail or Meadow's Trail if you want to do some extra exploring in the area.
Distance: 1.7 miles out & back
Elevation Gain: 321 feet
Difficulty: Easy
Estimated Time: About an hour
Dog Friendly: Yes
3. Keystone Gorge
Keystone Gorge is a lovely trail that winds along the San Miguel River through a pine forest and aspen groves. You'll even get to see some old mining ruins along the way. Bring a lunch (locals swear by Cindybread), because beautiful picnic spots abound on this trail.
Local Tip: Come for the fall colors in mid-September for an amazing fall hike in the aspens.
Distance: 2.5 mile loop
Elevation Gain: 508 feet
Difficulty: Easy
Estimated Time: 1-1.5 hours
Dog Friendly: Yes, on-leash
The Best Moderate Hikes in Telluride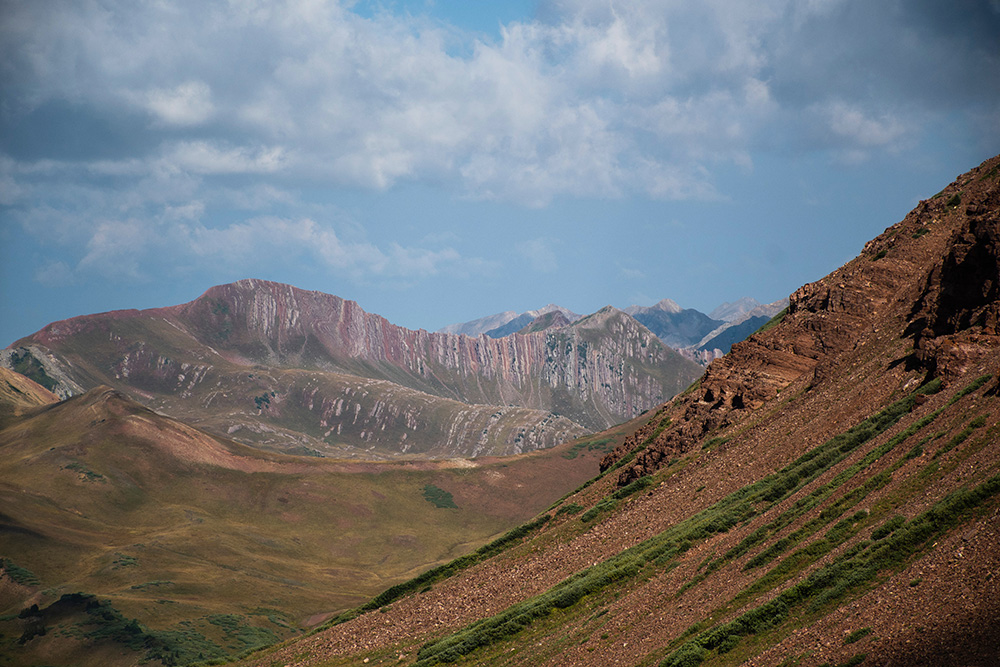 These moderate trails are truly some of the best hikes in Telluride, offering everything from waterfalls to alpine lakes to panoramic views of the town.
4. Cornet Creek
This short but steep hike rewards you with up close views of Cornet Creek Falls, a stunning 80-foot waterfall. You'll also get a nice peek of Telluride Ski Resort from the trail. Despite being so short, this trail is rated moderate because it's so steep and requires you to manage loose terrain of dirt and rock.
Distance: 0.6 miles out & back
Elevation Gain: 301 feet
Difficulty: Moderate
Estimated Time: Under an hour
Dog Friendly: Yes
5. Jud Wiebe Trail
At the top of the list of classic Telluride hiking trails, the Jud Wiebe Trail starts right in town. This 3-mile loop gives you a taste of everything this area has to offer.
You'll see great panoramas of Telluride, walk through conifer forests and aspen groves, and take in the power of the mighty San Miguel River. This is one of the first trails in town to melt out in the spring (though you might want to pack traction for the shady sections). Later in the spring or early summer, the wildflowers bloom beautifully along this hike.
Distance: 3.1 mile loop
Elevation Gain: 1,213 feet
Difficulty: Moderate
Estimated Time: 2 hours
Dog Friendly: Yes, on-leash
6. Bridal Veil Falls
This trail leads to the epic Bridal Veil Falls, the tallest waterfall in Colorado at 365 feet. Park at the end of mainstreet in town and take the hiking trail to the falls. Ambitious hikers can continue to the historic home at the top of the falls.
In the warmer months, the hike to the falls is a pretty trail through the woods, but in the winter, the regular trail closes due to avalanche danger, and you will have to hike on a 4×4 road instead. Don't forget to dip your feet in during the summer!
Local Tip: This area is highly trafficked (drivers and hikers alike) so if you're looking for solitude consider coming early in the morning.
Distance: 4.8 miles out & back
Elevation Gain: 1,368 feet
Difficulty: Moderate
Estimated Time: 2-3 hours
Dog Friendly: Yes, on-leash
7. Bear Creek Trail
Bear Creek is an all-time favorite waterfall hike in Colorado. One of the most popular Telluride trails, the Bear Creek Trail is a great day hike through Bear Creek Preserve. You'll hike among forests of evergreens and aspens as well as through meadows that offer amazing views. Stop to appreciate Lower Bear Creek Falls, then continue on to Upper Bear Creek Falls, where the trail culminates.
Distance: 4.6 miles out & back
Elevation Gain: 1,092 feet
Difficulty: Moderate
Estimated Time: 2-3 hours
Dog Friendly: Yes, on-leash
8. Blue Lake
This trail starts the same way as Bridal Veil Falls but branches off to head toward this serene alpine lake. On the way, you'll pass through a meadow featuring an old mining cabin where you can take a break before the final push to Blue Lake. Once you arrive at one of the best lake hikes in Colorado, the mountains of Three Needles and Bridal Peak provide a breathtaking backdrop. Definitely don't forget to bring your camera!
Distance: 5.7 miles out & back
Elevation Gain: 1,843 feet
Difficulty: Moderate
Estimated Time: 4 hours
Dog Friendly: Yes, on-leash
The Best Difficult Hikes in Telluride
These hikes are not for the faint of heart, with intense elevation gain, loose, rocky terrain, and lots of exposure, but the challenge is what makes them some of the best hikes in Telluride.
9. Ice Lake Basin
The hike to Ice Lake Basin is both incredible and intense. The elevation gain on this trail is no joke, but once you reach the banks of the sapphire blue alpine lake, surrounded by the peaks of Pilot Knob, Golden Horn, and Vermillion Peak, you'll forget the pain of getting there. 
Known for begin one of the most epic Colorado wildflower hikes, this is a must-do trail!
It helps that once you crawl through the wooded switchbacks the trail is jaw-dropping the rest of the way. Not to mention, this is one of the most scenic Colorado hikes.
Note: The Ice Lake Basin Trail is currently closed due to damage from the Ice Fire in fall 2020. Check out the Forest Service page for updates on the closure status.
Distance: 7 miles out & back
Elevation Gain: 2,562 feet
Difficulty: Strenuous
Estimated Time: 5-6 hours
Dog Friendly: Yes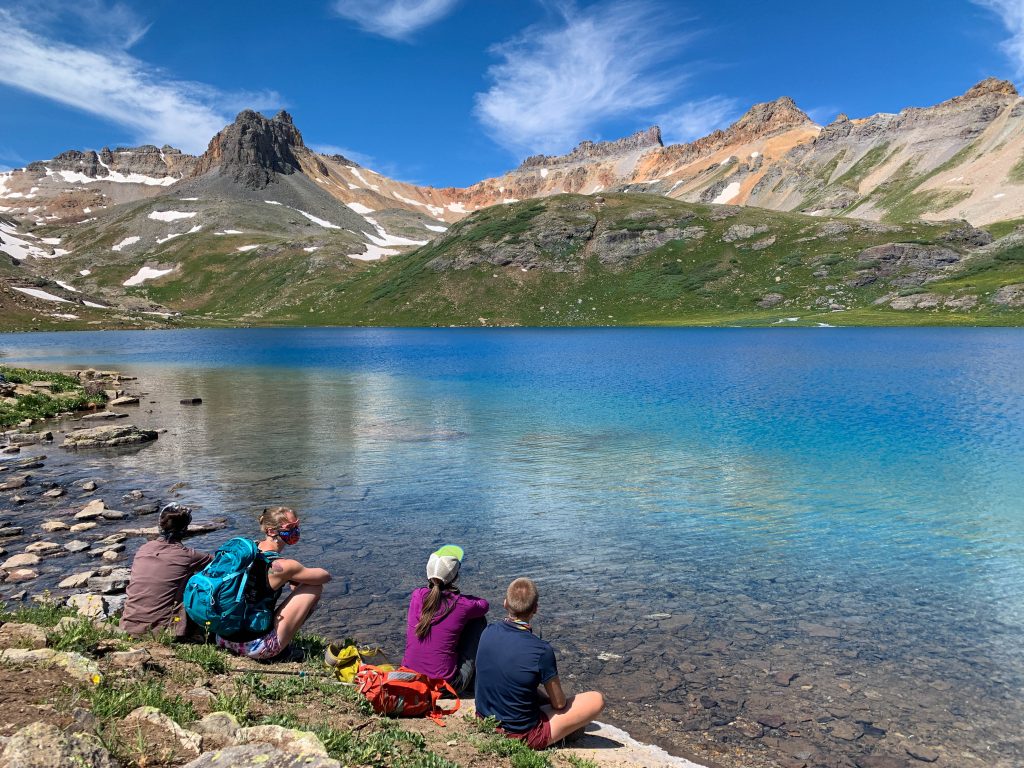 10. Ballard Mountain
Ballard Mountain is beautiful, but the climb is an absolute killer. If you want to challenge your legs and your cardio fitness, tackle the steep switchbacks up through a spruce forest for what seems like forever. Eventually, you'll reach the ridgeline and then scramble your way to the summit for some spectacular views of Telluride, the Sneffels Range, and more.
Local Tip: This is a class 3 route and requires some route finding on rock and helmet.
Distance: 6.4 miles out & back
Elevation Gain: 3,933 feet
Difficulty: Strenuous
Estimated Time: 6-7 hours
Dog Friendly: Yes
11. Mount Sneffels
While it might not be one of the easiest 14ers, Mount Sneffels is an amazing hike that experienced hikers will really enjoy. You should be comfortable with some exposure, and be prepared to tackle a scree field and some easy 3rd class scrambling to reach the summit. Once you're on top at 14,150 feet, take your time to appreciate the incredible views of the snow-capped San Juan mountain range. This is definitely one of the most scenic 14ers! Also, the main trail to Mount Sneffels goes through Yankee Boy Basin, which explodes with color during wildflower season.
Local tip: Be in the know before you go with a few handy tips for your first 14er. Start this hike before 6 am to beat the crowds and the afternoon thunderstorms.
Distance: 7.1 miles out & back
Elevation Gain: 3,320 feet
Difficulty: Strenuous
Estimated Time: 7-8 hours
Dog Friendly: No
12. Telluride Via Ferrata
At the top of the list of cool things to do in Telluride is the Via Ferrata. Meaning "iron way" in Italian, a via ferrata is a system of metal rungs and cables attached to the rock wall to help you safely traverse across.
The exposure and air under your feet is a unique experience, but perhaps not for those who are afraid of heights. You need specialized equipment (a via ferrata lanyard, a harness, and a helmet) to attempt the Telluride Via Ferrata, and you can either hire a guide or go by yourself if you're a skilled rock climber. The Telluride Via Ferrata is definitely an adventure to add to your bucket list!
Distance: 2 miles
Difficulty: Technically Challenging
Estimated Time: 2-3 hours
Dog Friendly: No
13. The Colorado Trail Segment 25 Molas Pass
Known as one of the best backpacking routes in Colorado this amazing thru-hike can actually been done in sections. Either as a day hike (with a shuttle) or as a multi-day backpacking adventure. Typically, segment hiking the Colorado Trail involves a shuttle, but as one of the most beautiful sections of the Colorado Trail, backpacking it as an out and back isn't necessarily a bad thing.
Distance: 19.8 miles one way
Difficulty: Challenging
Estimated Time: 2 – 3 days if done as an out-and-back, 10 hours as a one way.
Dog Friendly: Yes
Quick tips for Hiking in Telluride
The best way to enjoy one of Colorado's most iconic mountain towns is to hit the trails. When it comes to hitting the best hikes in Telluride like a pro, you'll want to be in the know with these hiking tips.
Start early. Telluride isn't exactly a secret and many of these hikes see big crowds. If you start before 7 am on regular trails and 5 am for mountain summits, you'll beat the crowds.
Not to mention that dangerous afternoon thunderstorms are common from June through August, nearly ever-day occurrence. If you plan to hike above the trees (usually above 11,500 feet) you'll want to be back down below the trees before noon to beat the storms.
Weather.gov gives pinpoint weather reports for specific trails (yes, it's really that good).
The best time to hike in Telluride is from late June through September. October is also possible, but remember, the area gets very snowed in for winter.
Always pack plenty of layers, sun protection, rain gear, a hat, and gloves. The weather really changes that quickly on a regular basis so you'll want to be prepared.
Hiking poles are extremely helpful for mountain hikes. Consider if you need hiking poles and which ones are right for you.
Leave it better than you found it. Listen, it's exciting to see everyone getting outside, but as the outdoors increases in popularity so do things like human waste (gross), dog poop bags (also yuck), and trash. Bring a small baggy for your trash. Carry your dog poop bags with you. Don't trample flowers and stay on the trail. Don't feed wildlife for a trendy IG photo (you're killing the animal by introducing food that isn't their normal diet). Pack out your used hygiene products and used toilet paper.
Additional Planning Resources
Wanna discover even MORE Colorado beauty? Check out these Colorado travel resources:
PIN THIS POST