Just a quick 40-minute drive from downtown Denver (okay, without traffic) you'll find yourself in a world of beautiful foothills and stunning rock formations. Boulder, Colorado has plenty of awesome natural areas to explore. In this list of the best hikes near Boulder, we'll dive into some incredibly scenic trails that you've got to check out.
As a professional writer for the outdoor industry and Colorado local of over 12 years, I know a thing or two about the best hikes near Boulder, Colorado. As an expert hiker, I've tackled each of these trails over the years to give you the inside scoop on Boulder's best hiking trails.
About this Guide to the Best Hikes Near Boulder
Although there are amazing hikes throughout Colorado, Boulder offers up some excellent hiking trails right near town. Each of these hikes is within an hour's drive from downtown Boulder. Here's what we'll cover:
When to hike near Boulder, Colorado
An in-depth look at the best hikes near Boulder
Trail details including distance, difficulty, elevation, and any red tape
Tips for hiking near Boulder
Additional Colorado hiking resources
When to Hike Near Boulder
You can enjoy hikes near Boulder year round. In fact, you might even get lucky during the winter months, and be hiking on a beautiful, sunny day with 60-degree temps!
Hiking near Boulder isn't so much about the time of year (you can learn more about what to expect during different seasons with my guide to hiking in Colorado). Instead, it's about the time of day.
Hiking trails near Boulder get insanely crowded. And I mean full parking lots, hordes of people, and big groups of hikers. It may feel more like being in a city than out on a trail.
My biggest piece of advice? If you're looking to go on a hike near Boulder, get there early! Trailheads such as the Hessie Trailhead, Chautauqua Open Space, and even Eldorado State Park area almost always full, especially on weekends.
If solitude is what you seek, then get to the trailhead before 7 am during the summer months, 8 am in the winter. If you want to hike on a weekend, be starting by 7 am to avoid big crowds.
The 14 Best Hikes Near Boulder
There's a reason that Boulder trailheads get so crowded, it's because you can find world-class hiking just minutes from the city. The best hikes near Boulder offer breathtaking beauty.
With unique rock formations such as the Flatirons, pristine wilderness areas, and top-notch state parks nearby, there's plenty of trail miles to log. This list of the best hiking trail near Boulder, CO is organized by difficulty, so scroll down for the real doozies!
1. Chautauqua Trail
One of the best easy trails near Boulder, the Chautauqua Trail features stunning views of the Boulder Flatirons. Although this easy jaunt is only 1.2 miles, you can make a look with other nearby trails such as the Baseline Trail, Ski Jump Trail, and Bluebell Mesa Trails.
Pro Tip: This trail system is crowded almost every day, due to being located right in Boulder. Get here EARLY to avoid the crowds.
Distance: 1.2 miles
Elevation Gain: 419 feet
Difficulty: Easy
Dog-Friendly: Yes, leashed.
2. Fowler Trail
For an easier, more accessible hiking trail near Boulder, check out the Fowler Trail in Eldorado Canyon State Park. The first half mile is wheelchair accessible, making it one of the best spacious trails near Boulder. For a bigger challenge, follow some of the branching climbers' trails along this route.
Distance: 4.0 miles
Elevation Gain: 433 feet
Difficulty: Easy
Dog-Friendly: Yes, leashed.
3. Red Rocks Trail
For an easy, quick loop hike just outside of Boulder, head to the Red Rock Trail. You can mix and match various nearby trails to make this loop shorter or longer. However, the eye-catching surprise are the tall fins of red rock. You just might be able to trick yourself into thinking you're in Bryce Canyon!
Distance: 1.3 miles
Elevation Gain: 393 feet
Difficulty: Easy
Dog-Friendly: Yes, leashed.
4. Eldorado Canyon Trail
Home to some of the best rock climbing in Colorado, Eldorado Canyon is an iconic place to visit. Steep red cliffs dotted in neon-green lichen offer up scenic views of the foothills. On a clear day, you can even spot the Continental Divide. Eldorado Canyon offers up some incredibly hiking trails near Boulder, Colorado. Start with the Eldorado Canyon Trail and branch out.
Distance: 6.2 miles
Elevation Gain: 1,945 feet
Difficulty: Moderate
Dog-Friendly: Yes, leashed.
5. Gregory Canyon
Another excellent loop located right on the edge of Boulder. Take the Gregory Canyon Trail to the Range View Junction, head right then turn onto the Flagstaff trail to complete the loop. You can shave some distance off the journey by veering right at the Ute trail too. This one is steep, but worth the effort.
Distance: 3.6 miles
Elevation Gain: 1,197feet
Difficulty: Moderate
Dog-Friendly: Yes, lesahed.
6. Green Mountain West Trail
Flagstaff Road has quite a few hiking trails near Boulder and the best is the Green Mountain West Trail. If you're looking to up your elevation gain, make your way along the relatively gentle trail. The the final push is a steep, butt-busting crawl to the summit of Green Mountain. But the views of nearby Boulder make this well-worth the effort
Distance: 3.7 miles
Elevation Gain: 702 feet
Difficulty: Moderate
Dog-Friendly: Yes, leashed.
7. Lost Lake via the Hessie Trailhead
One of the best hikes near Boulder is actually accessible by bus! During the summer months take the Boulder Green Ride in Nederland to the Hessie Trailhead. Here you can make the 4.4-mile journey to Lost Lake. This trail is not only one of the best backpacking trips in Colorado for beginners, but it's also a pleasant day hike. You'll be treated to an alpine lake with options to continue onwards via the Devil's Thumb or King Lake Trail.
Distance: 4.4 miles
Elevation Gain: 807 feet
Difficulty: Moderate
Dog-Friendly: Yes, leashed
8. 4th of July Trailhead: Arapaho Pass Trail
The 4th of July Trailhead isn't just one of the best hikes near Boulder, but it's also one of the most amazing hikes near Denver too. Yes, it's just THAT good. There are several options for hikes at this trailhead. When the road is open (it's not maintained in the winter) park at the 4th of July Campground day use area.
The easiest way to catch a stunning glimpse of the Indian Peaks Wilderness Area is to head to the 4th of July Mine via the Arapaho Pass Trail. Experienced hikers can reach for the summit of South Arapaho Peak, one of the best 13ers in Colorado, via the Arapaho Glacier Trail.
Pro Tip: Mountaineers absolutely must climb the Skywalker Couloir. This challenging shoot of snow has over 60-degrees of steep snow. Delicious!
Distance: 4.1 miles out-and-back to the 4th of July Mine
Elevation Gain: 1,4131 feet
Difficulty: Moderate
Dog-Friendly: Yes, leashed.
9. Mt Sanitas
Mt Sanitas is a good standby if you're looking to get your elevation gain on. Located near the Chautauqua Trailhead, this 3.2 mile loop brings you to the top of mighty Mt Sanitas. Crowds are prevelent, so be prepared to wake up before the sun or share the trail.
Pro Tip: If the Chautauqua parking lot is full, you can park along the road, but you may have to pay, so check the pay stations.
Distance: 3.2 miles
Elevation Gain: 1,256 feet
Difficulty: Moderate to difficult
Dog-Friendly: Yes, must be leashed
10. The First and Second Flatiron
This is one of the most iconic hikes near Boulder. Hike up the steep trail that winds its way up between the First and Second Flatiron. If you're up for a challenge, you can free solo the Second Flatiron (only attempt if you know what you're doing) and take this trail back down to solid ground. Keep in mind, you'll need to use your hands in a couple of spots.
Distance: 3.9 miles
Elevation Gain: 1,446 feet
Difficulty: Difficult
Dog-Friendly: Yes, leashed.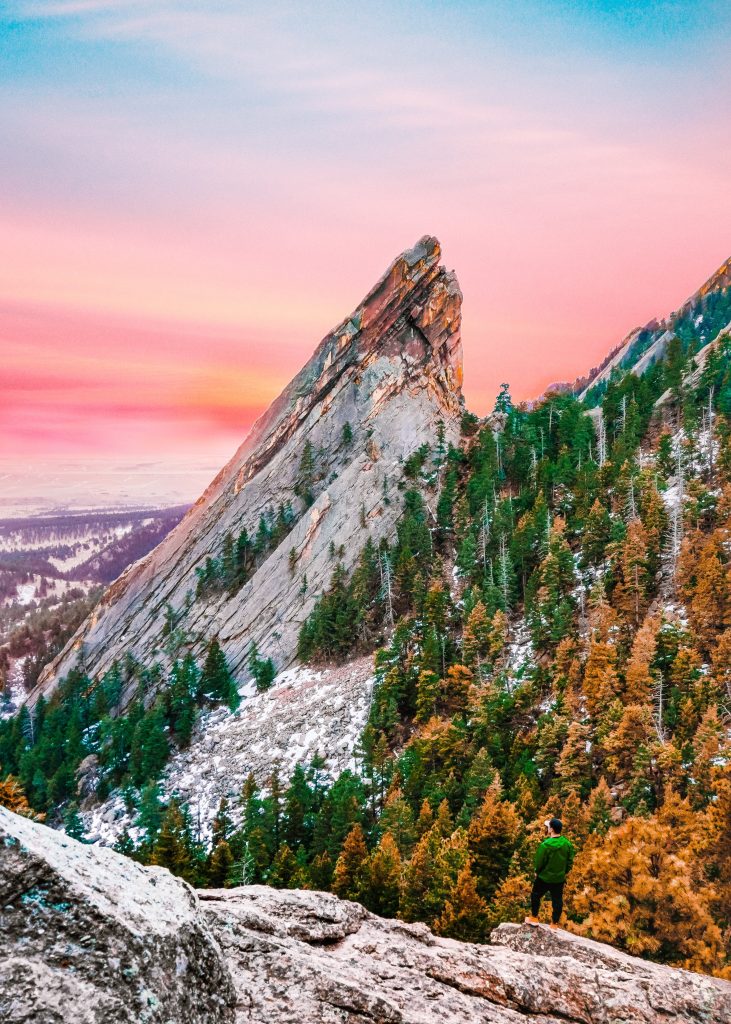 11. Bear Peak Trail
For a lot of elevation gain and some mileage, hit up Bear Peak. Make your way up this 8-plus mile out-and-back trail for killer views. The trail starts out pretty mellow, and gradually gets steeper as you make your way to the summit. Expect to earn the last mile. Although there's a well-marked way, you may need to use your hands towards the top.
Pro Tip: There's a $5 fee to park.
Distance: 8.1 miles
Elevation Gain: 2,847 feet
Difficulty: Difficult
Dog-Friendly: Yes, leashed.
12. Royal Arch
Who knew that the Flatirons were also home to one spectacular arch? Take the Chautauqua Trail and follow signs to towards the Royal Arch. Out of all of the hikes around Boulder, Royal Arch delivers something a little different. It's quite the effort to reach the arch. Make your way over steep, rocky terrain until you reach a rock formation that defies gravity. This is, hands down, the best hike near Boulder for sunrise.
Distance: 4.0 miles
Elevation Gain: 1,492 feet
Difficulty: Difficult
Dog-Friendly: Yes, leashed.
13. Boulder Skyline Traverse
Those who enjoy a good sufferfest, but don't want to go too far from home, should check out the Boulder Skyline Traverse. This mega-epic, classic line crosses the summits of five peaks: Bear Peak, South Boulder Peak, Green Mountain, Flagstaff Mountain, and finally Mount Sanitas. You'll need to shuttle a car or have a friend come grab you unless you want to do the whole thing in reverse.
Distance: 14.4 miles, one way
Elevation Gain: 1,427 feet
Difficulty: Very difficult
Dog-Friendly: Yes
BONUS: Rocky Mountain National Park
Okay, so I don't necessarily have one hiking recommendation here, but there are plenty of must-do hikes in Rocky Mountain National Park for all abilities.
For beginners: Hit up the Bear Lake Trail area. It's got lots of different routes to choose from, including hiking to Lake Haiyaha, one of my personal favs.
Intermediate hikers: Check out the Black Lake Trail or the Ute Trail to Tombstone ridge.
Expert hikers: Must-do Long's Peak, one of Colorado's best 14ers. If you REALLY love to suffer, scope out the Mummy Traverse.
Pro Tip: You'll have to pay to enter the park and no dogs are allowed on hiking trails. For more info, check out the Complete Guide to Visiting Rocky Mountain National Park.
Tips for Hiking Near Boulder
Boulder offers up amazing hiking trails for beginner hikers, all the way to the expert, long distance trail runner. Regardless of your skill level, you'll want to go into every hike, big or small, prepared. Here are a few quick tips for hiking near Boulder:
Check trail conditions and trail closures. These past few years a lot of hiking trails near Boulder have closed due to maintenance and upgrades, so check to make sure you can actually hike!
Check the weather. Colorado is known for some wild weather, so be sure to check local weather conditions before heading out.
Be prepared. Always take the proper hiking gear with you. Never leave home without the Ten Essentials. Colorado is super-dry so I like to leave an extra water bottle in the car and either driving slippers (with a sole) or sandals to treat my feet afterward!
Practice Leave No Trace. It's okay to be new to hiking, but it's not okay to trash the trails. Always pick up after yourself (this including packing out dog poop, toilet paper, and fruit peels).
Additional Colorado Hiking Resources
Wanna hike in Colorado? I've made it my life's work to give you expert, locally-curated hiking advice for Colorado. Here are a few things to check out: