A true Colorado classic, driving the Mount Evans Scenic Byway is a must-do. Personally, I find this to be a much more exciting drive than the schlep up Pikes Peak. With plenty of scenic stops and activities to do along the way, you'll never be bored on Mt Evans.
I live literally less than an hour from the Mt Evans entrance, so I drive this byway several times a year. We frequently take out-of-town friends to the top and a couple of times a year we tackle a big outdoor objective along the Mt Evans Scenic Byway.
As a long-time Colorado local (almost 15 years and counting), this guide will give you in-depth knowledge about the Mt Evans scenic drive. So if you're looking to explore Colorado like a local, not a tourist, then you're in the right place!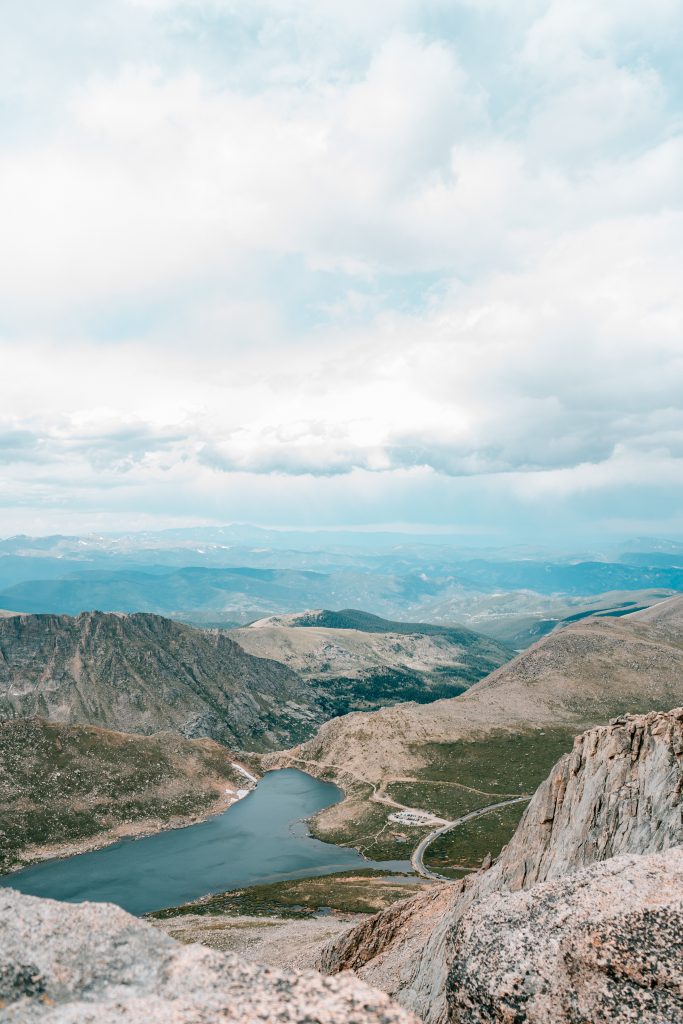 About this Guide to the Mt Evans Scenic Byway
Inside this local guide to driving Mt Evans you'll find:
A map of the Mt Evans Scenic Drive
Hot info about what to expect during your visit, including when to go, how to beat the crowds, and what to expect from the weather
Things to do along the scenic byway
Tips and tricks for a stellar drive
Info about bringing the kiddos
Additional local Colorado travel resources
Where is the Mt Evans Scenic Drive?
The Mt Evans scenic drive is found right outside of Idaho Springs. Most people access the scenic drive this way, but you can also get to the drive from Evergreen via Squaw Pass.
Local Tip: Doing the route in a lollipop loop lets you experience two of Colorado's mountain towns as well as the summit.
To reach the drive, you'll want to head west on I-70 to Idaho Springs. Take exit 240 (signs point to Mt Evans). Follow the road until you reach Echo Lake Park. From here, there are signs that will direct you to the welcome station.
At the Welcome Station, you'll need to show your reservation. Continue up the road until it ends, about a 10-minute walk from the summit.
Coming from Evergreen, you can take Squaw Pass Road to the junction with the Mt Evans Welcome Station and Echo Lake Park.
Practical Info
There are a few important things you'll need to know when it comes to visiting Mt Evans. First, the road is paved the entire way – meaning when it's open, it's completely accessible for passenger cars.
You'll also want to know that you'll need a timed entry permit to get in. I've got more info on that below, but be sure to reserve your spot in advance. Coveted time slots tend to fill up about a week in advance, although slots are released 48 hours in advance as well.
Here are a few pieces of juicy info to get you oriented.
Round-trip distance: 56 miles
Approximate time: 2 hours without stops
Highest elevation: 14,261′
Danger factor: This road is paved, but there are minimal guardrails and steep drops so take care.
Dog Friendly? Yes, on a leash
Kid-Friendly? Yes.
Red tape: Reservations are required. The road closes from mid-fall to late spring.
Highlights: Stunning views, hiking opportunities, alpine lakes, and you're pretty much guaranteed to see mountain goats.
Cost: $2 per vehicle with an America the Beautiful Pass annual national park pass. $12 per vehicle with no pass.
Mt Evans Reservation Info
In order to drive the Mt Evans Scenic Byway, you'll need a timed entry. Over the years, timed entry used to be quite tough to get, but now it's a bit easier.
Since Mt Evans opens at a different time every year (usually sometime around Memorial Day) and typically closes around early to mid-October, you'll want to check with the recreation.gov website for the most up-to-date reservation info.
Passes are available on a 30-day rolling basis with 25% of the time slots opening 48 hours in advance. Typically weekends and holidays will fill up quickly, but you can usually snag a spot about a week in advance.
Local Tip: Timed entry starts at 8 am, but if you want to access the road prior, you'll still need an 8 am reservation slot. Therefore, these time slots tend to fill up first.
There are several different types of reservations. The easiest one to manage is the all-mountain ticket. They all cost the same, so it's really not a big deal to grab the all-mountain reservation and only use it for a specific area.
Can You Drive Up Mount Evans Without a Reservation?
No. You will get ticketed if you attempt to do this. There is also a gate where they check reservations, and you'll be denied entry without it.
Local Tip: There is no cell service at the welcome station, so be sure to download your ticket in advance so you can get in!
The Best Time to Drive
The best time to drive the Mt Evans Scenic Byway is July through September. As one of the top spots in Colorado for fall colors, September can be a busy time.
The Colorado wildflowers bloom in July, making the drive a colorful experience.
You'll want to reserve a morning or evening time. With morning having a slight advantage over the evening. Mornings tend to be cool and clear, while the afternoons have dangerous thunderstorms that plague the mountains almost daily throughout the summer.
When is the Mt Evans Scenic Byway Open?
The Mt Evans Scenic Byway typically opens around Memorial Day and closes by mid-October. The road is not maintained over winter, so the timing of opening and closing changes each year.
You can access the road prior to the earliest timed entry – 8 am – because many people opt to hike from Summit Lake to the top of Mt Evans, but you can only enter during the 2-hour window on your ticket.
Is the Mt Evans Scenic Byway Worth it?
Absolutely! It's really not a hassle and as one of the most scenic drives in Colorado, driving to the top of Mt Evans is one of the best things to do in Colorado.
Personally, I think the views from the top of Mt Evans are better than Pike's Peak (the other Colorado 14er you can drive to the top of). There's a lot to do nearby too, making this excursion a perfect day trip from Denver or a part of a wider Colorado road trip.
Mt Evans Scenic Byway with Kids
I get asked a lot about kid-friendly activities in Colorado and I'll almost always suggest the Mt Evans Scenic Byway.
There are a lot of cool stops to make, which means you can have the goal of reaching the top of the mountain, but if your kiddo just isn't having it, you'll still have options to get outside and enjoy the scenery.
Since I've got a toddler, having the option to turn around, but still see and do something is a massive win!
A lot of people are (understandably) concerned about the altitude, especially if you're visiting Colorado. Having the car nearby means you'll be able to quickly descend if you notice your child suffering from the effects of altitude too.
The first time we took Baby M to Mt Evans, she was 8 weeks old. We live at a high altitude, so her doctor wasn't concerned. She didn't like the cold, whipping wind on the summit, and mainly cried the whole time, but it was still a pretty doable trip for us.
Young and older kids will enjoy the scenery, ample wildlife, and plenty of activities along the way!
How to Beat the Crowds
As one of the most beautiful drives near Denver, Mt Evans does see its fair share of crowds. Summit Lake and Echo Lake in particular can be quite busy. (Echo Lake is typically the most crowded).
To avoid the crowds, opt for an earlier time slot. Most people drive the road from 10 to 4, so snagging an earlier time slot does a lot to cut down on the crowds.
Local Tip: The 8 am time slot is ideal to beat traffic on I-70 too – just be sure to be on the road by 7 to avoid the incredibly real mountain traffic.
However, when compared to other beautiful places in Colorado, such as Rocky Mountain National Park, there are far fewer people on Mt Evans.
The timed entry does quite a bit to thin the herd, but a weekday time slot is best if you want even more solitude.
Things to Do Along the Mt Evans Scenic Byway
There's a lot to do and see along the Mount Evans Scenic Byway. Stops can take as little or as along as you'd like. Here's a look at some of the popular things to do along the road.
Echo Lake
Echo Lake is the first stop before you reach the welcome station. You don't need a parking permit or reservation to visit Echo Lake, so this area tends to be particularly crowded, especially at the picnic sites.
You can opt to hike the challenging Chicago Lakes Trail (also accessible from Summit Lake) or you can meander around the lake and snag a spot for a picnic.
Mt Goliath Trail and Interpretive Area
Partway up to the summit, you'll see a pullout for the Mt Goliath Trail and Interpretive Area. There's a visitor's center here that has a variety of programs and cool things to see (great for kids).
You're not quite above the trees, but you'll still get stunning views from the pullouts. Just be aware of the aggressive ground critters (pika, chipmunks, and squirrels). Don't feed the wildlife!
Summit Lake
There are a few stops between Echo Lake and Summit Lake, but most people opt to pull out at Summit Lake. Interestingly enough, this area is maintained by Denver Parks, which is unique.
If you're looking to hike the official route to the top of Mount Evans (one of the easiest Colorado 14er routes) then you'll stop at Summit Lake.
You can also get out and hike to a few scenic viewpoints that are easy and gentle. Yes, you can swim in the lake, but it's practically freezing, so most people don't take a dip.
Local Tip: You're pretty much guaranteed to see mountain goats here. They can be pretty aggressive, so keep your distance. To be honest, they are after your pee (their diet lacks enough salt).
Summit Parking Lot and Hike
If slogging it up a steep hill isn't your idea of reaching the summit of Mount Evans, you can practically drive to the top. The road stops at a large parking area that includes a weather station and a bathroom.
From here, it's about a quarter mile or a 15-minute walk to the true summit of Mount Evans. You'll get a sky-high view of Summit Lake.
At 14,261 feet above sea level, you'll certainly feel the thin air! If you're struggling up the trail, just take your time.
Off to the west, you'll see the Sawtooth and jagged ridgeline between Mt Evans and Mt Beirdstadt.
Local Tip: Does it look like thunderstorms are in the vicinity? Don't get out of your car! Every year lightning strikes injure and kill hikers, so don't hike in a storm.
Things to Do Nearby
You may spot people pulled over at random pullouts for bouldering at Mount Evans. But if climbing rocks at high altitude isn't your thing, there's plenty to do nearby. Here are a few fan favorites:
Grab BBQ at Smokin' Yards in Idaho Springs
White water raft Clear Creek Canyon
Go ziplining in Idaho Springs
Drive to the top of Jones Pass
Paddle at Evergreen Lake (rentals available)
Enjoy amazing hiking trails in Evergreen
Tips and Tricks
New to visiting Colorado? Here are a few quick tips to stay safe and have an amazing time at Mt Evans.
Pay attention to the road! It's a 2-lane road, at times it's narrow, windy, and steep. So keep your eyes on the road as wildlife encounters are quite common. Pull over if you're moving slower than posted speed limits.
Acclimatize safely. It's not the best idea to show up in Denver and then head to the top of Mt Evans. Take a day to acclimatize to the altitude in order to stay safe.
Keep it clean. Pack out all trash (including dog poop and toilet paper). Use toilets and trash facilities. Stay on marked trails, and follow signed instructions.
Pack layers. It can be sub-freezing at the top of Mount Evans, even in the summer. Bring plenty of non-cotton layers, including a rain jacket (afternoon thunderstorms are very common).
Bring water and salty snacks. Pack in your own water (budget 2 liters per person, more if you're planning to hike) and plenty of salty snacks to stay hydrated.
Sun protection is key. Bring a sun hat, sunglasses, and even a sun shirt to avoid the brutal mountain rays.
Additional Local Colorado Travel Resources
Looking to travel to Colorado like a local not a tourist? Check out these amazing resources: