For a fun-filled, challenging day in the mountains, the Chicago Lakes Trail has a lot to offer. With easy access from Denver, this is one of the most rewarding hikes in the Front Range area.
With a few options for reaching these stunning lakes, you can certainly choose your own adventure. So if you're looking for a breathless experience in the mountains, look no further than the Chicago Lakes hike.
I've been a long-time Colorado local for nearly 15 years. One of my favorite outings is to head to Chicago Lakes. Having done this hike throughout the year from multiple locations, I've got the inside scoop on how to hike to Chicago Lakes.
About this Guide to the Chicago Lakes Trail
Inside this local guide to the Chicago Lakes Trail you'll get insider info on:
Where to find Chicago Lakes
Practical info about the hike, including two distinct routes
How to obtain a parking permit for Chicago Lakes
Quick tips for your hikes
Things to do nearby
Additional Colorado hiking resources
Where is Chicago Lakes?
You'll find the Chicago Lakes along the side of Mount Evans. There are two access points, or trailheads for the Chicago Lakes Trail: the Echo Lake Trailhead and the Summit Lake Trailhead. Choosing an access point depends on what time of year you're visiting and which kind of adventure you'd like to have.
Practical Info about the Chicago Lakes Hike
The most important thing to know about hiking the Chicago Lakes Trail is that there are two main access points. Summit Lake accesses the lakes from the top, while Echo Lake hikes uphill towards the lakes (with one steep downhill section to start).
Here's a local insight into what you need to know to get the most out of your hike.
Is Chicago Lakes Crowded?
In a nutshell, yes. This used to be a quiet trail, but as one of the top lake hikes in Colorado, it's grown in popularity over the years.
Also, as a top Denver area hike, both trails see a lot of traffic. However, it's not an easy trail. This keeps some people at bay, but overall don't expect solitude on the trail.
When is the Best Time of Year to Hike to Chicago Lakes?
The Chicago Lakes Trail is the most beautiful from late June through September. The Blue Sky (formerly Mt Evans) area is famous for wildflowers and fall colors, so you can't go wrong hiking during this time. However, it's the most crowded time to hike and you'll need a permit to park.
Winter is another amazing time to hike. There are many Colorado winter hikes, but Chicago Lakes is really special. However, it's an extremely tough winter jaunt. You'll have to start at Echo Lake. The beginning and end are steep, butt-busting grinds!
Access from Summit Lake
The shortest way to Chicago Lakes is to take the Summit Lake Trail from above. This exceptionally steep, rocky 2.4-mile trail goes to the upper Chicago Lake.
Take the switchbacks from the signed trail at the Summit Lake Overlook down towards the lake below you. You'll be hiking on terrain that loses and gains over 1,000 feet per mile – meaning it's STEEP.
Local Tip: You can only take this trail when the Mt Evans Scenic Byway is open. You'll need a timed entry permit to access the road.
Once you reach the lake, you can continue downwards to the lower lake, but keep in mind you'll be descending steep terrain that requires you to scramble or use your hands.
And what goes down, must come up! Don't forget you'll have to hoof it back up to your car.
Trail Details
Distance: 2.4 miles to Upper Chicago Lake, out-and-back
Elevation Gain: 1,117 feet of descent and gain
Difficulty: difficult
Estimated time: 2 – 2.5 hours
Dog-friendly? Yes, must be on leash
Red tape: Permit required for parking (see permit info below)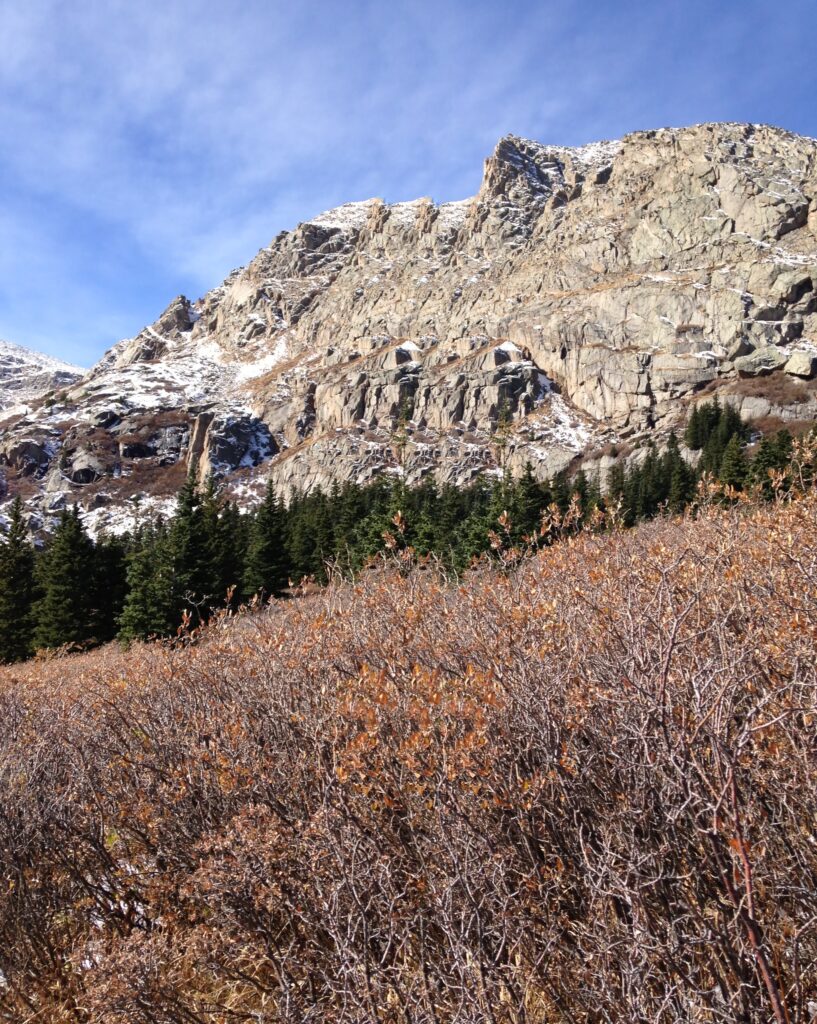 Echo Lake Trail Access
Echo Lake is the traditional way to access Chicago Lakes. If you're opting to backpack, you'll want to take the Echo Lake access point, since this trailhead leads you to the best camping. It's also the trailhead for the winter route.
This out-and-back trail is a half-day day hike or a one of the top backpacking routes in Colorado. You'll start off at Echo Lake, which is a great family-friendly location with picnic tables and beautiful views.
From here you'll descend a STEEP series of switchbacks to a valley floor. From here you'll hike a short way along a dirt road until you reach the Idaho Springs Reservoir. Here you'll find a few cottages.
Follow the trail past the reservoir and continue up a long, stunning valley. You'll reach the end of the valley and Lower Chicago Lake.
From here, you must ascend another highly steep section, some of which requires you to scramble up and around a few boulders, to reach Upper Chicago Lake.
From here you can hoof it up to Summit Lake or onwards to the summit of Mt Blue Sky, but it's a long day (add another 1,050 feet of gain, and 2.4 miles to your day to reach Summit Lake). Summit Lake is stunning, but it's accessible by road, so your end destination would be more or less a parking lot with a view.
Local Tip: If you're backpacking, there's great camping at Lower Chicago Lake. Upper Chicago Lake is well above treeline and exposed.
To return, come back the way you came.
Do I Need a Permit to Hike to Chicago Lakes?
In short yes if you're coming from Summit Lake. You need a reservation to access the Blue Sky (formerly Mt Evans) Scenic Byway (Summit Lake) from May through October. The road opens once the snow has melted, so the time varies every year.
The Echo Lake Mountain Park is open year-round and does not require a permit to park. However, since this is one of the most beautiful Colorado hikes, on fall and summer weekends the parking will fill up, so plan for an early start.
Backpacking to Chicago Lakes
Chicago Lakes offers up some easy access backpacking near Denver It's a great outing, but certainly popular. The only way to backpack to Chicago Lakes is from the Echo Lake Trail access since you can't park overnight at Summit Lake.
Most people opt to pitch their tent below the upper lake. I'd recommend this for ease and for protection against the elements. Upper Chicago Lakes has some flat spots to pitch a tent 200 feet away from the water (required), but it's above treeline, so you'll be exposed to any wind or weather.
Quick Tips
Here are a few expert tips to keep in mind along the Chicago Lakes Trail.
Plan for bad weather. The mountains can be unforgiving so always pack a few layers, rain gear, a warm hat, and gloves. Yes, even in the summer!
Protect yourself from the sun. The mountain sun is harsh! Bring sun protection to help protect your skin.
Pack it out. Bring a small baggy to pack out your trash. This includes dog poop, fruit peels, granola wrappers, and toilet paper.
Keep Fido leashed. This is a dog-friendly trail, but it's important to keep your dog on a leash. It's a sensitive environment and chasing wildlife is not okay. Once while I was hiking, there was a woman 5 minutes behind her dog. I almost had to use pepper spray since the dog was running at me and I didn't know the dog. It's better to be safe!
Is the Chicago Lakes Trail Open?
The Chicago Lakes Trail is open year-round. However, winter conditions can be real, so be sure to check for updates often.
Summit Lake closes seasonally, usually by October, and the access road re-opens around Memorial Day. This varies every year, so be sure to check before you head out.
Can I Swim in the Idaho Springs Reservoir?
Since the Idaho Springs Reservoir is used for drinking water, you're not allowed to swim in it. You'll pass the reservoir along the Echo Lake Trail.
Things to Do Nearby
There are plenty of things to do in Idaho Springs. A few awesome activities nearby include:
Drivin the Mt Blue Sky Scenic Byway
Go on a zipline tour
White water raft in Clear Creek
Visit nearby Evergreen
Additional Colorado Hiking Resources
Looking to get outside in Colorado? Check out these amazing hiking resources: