When the air gets cool and crisp, the fall colors begin to come out, it's time to hit the road for the best fall drives in Colorado. If you love fall colors, these seasonal scenic drives will show you all the fall foliage Colorado has to offer.
Fall in Colorado is a special season, and you can find amazing fall foliage across the state. The bright yellow hues of aspens are the signature fall colors in Colorado, but you will encounter the full spectrum from red to orange to golden brown when you explore autumn in Colorado.
After living in Colorado for 12 years, I've become an expert in things to do in Colorado for fall. I planned my wedding around fall in Colorado and I've been an avid fall explorer for well over a decade. One of my favorite pastimes is taking a scenic drive.
About This Guide to Fall Drives in Colorado
This guide is your one-stop resource for finding the best scenic drives for fall foliage in Colorado – along with local insider tips for your autumnal adventure. In this post, you'll find the following info:
The peak time to see the fall colors in Colorado
11 of the best fall drives in Colorado
Quick tips for viewing fall foliage in Colorado
When to See the Peak Fall Foliage in Colorado
The peak season for fall foliage in Colorado varies by location. Fall colors will show up first in the northern part of the state, then migrate to the central region, and finally hit southern Colorado.
The best fall colors in Colorado can be found anywhere from mid-September in northern areas to early October in southern parts of Colorado.
Local Tip: Check my Fall Hikes post for weekly updates on color status. I frequent trails throughout the state in the fall and compile what I find there.
The 11 Best Fall Drives in Colorado
These scenic drives cover different regions of the state, so you can find the most beautiful fall foliage in various areas of Colorado.
1. Kebler Pass
Connecting Crested Butte to Paonia, Kebler Pass goes through the gorgeous Gunnison National Forest. You'll hit a high elevation of 10,007 feet, as you make your way along the alpine aspen groves and evergreen forests.
Mileage: 30 miles (approximately 2 hour drive)
4WD/2WD: 2WD is fine for the gently-graded gravel road.
Camping: There is dispersed camping available for free on both sides of the pass, and paid campgrounds include Lost Lake Campground and Paonia State Park.
Nearby Towns/Attractions: Crested Butte has a cute main street for shopping & dining, and offers tons of outdoor recreation options, especially mountain biking.
Red Tape: Closed during winter conditions, so watch out for snow.
2. Trail Ridge Road
Designated an American Scenic Byway, Trail Ridge Road stretches through Rocky Mountain National Park from Estes Park to Grand Lake. It's one of the most scenic drives in Colorado and really comes to life in the fall when you stop at places like Rainbow Curve Overlook.
Trail Ridge Road is the highest continuous paved road in the United States. It will take you above treeline all the way up to 12,183 feet. Treat yourself to spectacular views of the fall colors in Rocky Mountain National Park.
Local tip: Start your drive early! This is a very popular drive, so expect to share the road with lots of tour buses and RVs during the day. The road closes when it snows, so check the weather.
Lastly, don't forget to check out some of the amazing hikes in Estes Park too!
Mileage: 48 miles
4WD/2WD: 2WD is all you need for this paved road.
Camping: You will find several campgrounds within RMNP, but they fill up fast, so make sure to make a reservation if you plan to camp.
Nearby Towns/Attractions: You will encounter an abundance of opportunities to stretch your legs and hike in Rocky Mountain National Park.
Red Tape: Currently, a timed entry permit or camping reservation is required to enter Rocky Mountain National Park between 6 am-5 pm. The road also may have temporary closures in the fall due to snow.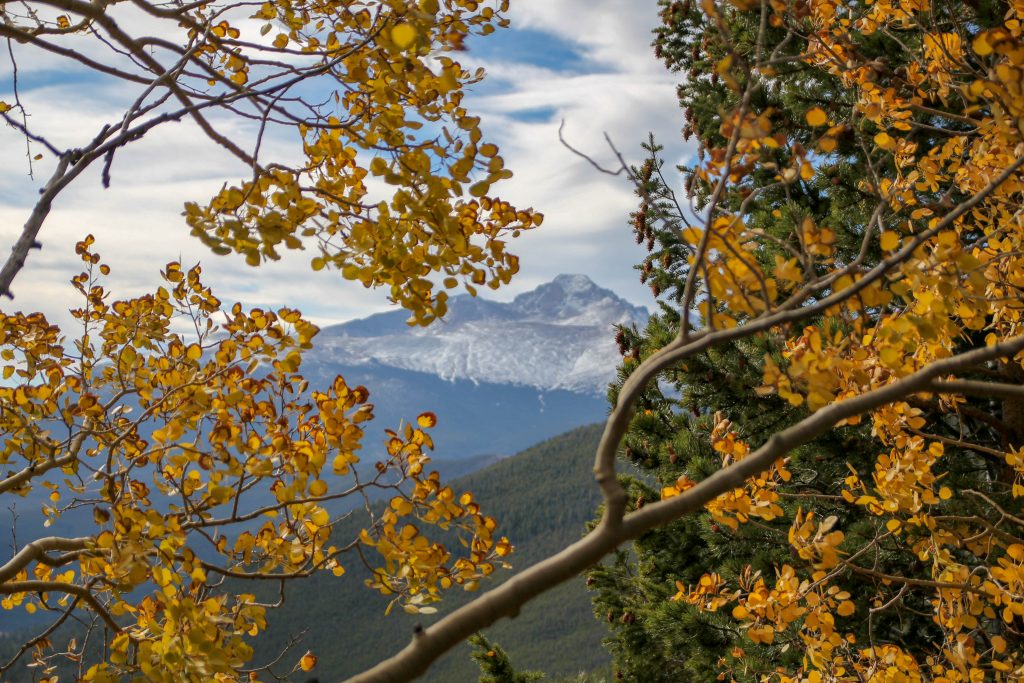 3. Last Dollar Road
This former mining road has become a hidden secret drive for beautiful views of the San Juan Mountains between Telluride (one of the most famous Colorado mountain towns) and Ridgway. It is even more spectacular when fall colors are at their peak with the aspens in their golden glory. Don't miss Last Dollar Road for one of the most scenic fall drives in Colorado.
Mileage: About 20 miles (approximately 2-3 hour drive)
4WD/2WD: 4WD is best for this unpaved road, but 2WD vehicles with high clearance should be able to make the drive in dry conditions.
Camping: Lots of dispersed camping is readily available along the road.
Nearby Towns/Attractions: You can hike and mountain bike on trails along Last Dollar Road, and you'll find plenty of charm in the mountain town of Telluride.
Red Tape: Since the road is mostly dirt, it can get very messy and muddy after rain. It also closes after significant snowfall.
4. Guanella Pass
Running from Georgetown to Grant, Guanella Pass crosses through Arapaho and Pike National Forest, providing plenty of views of changing leaves. The summit of the pass sits right at the treeline at 11,669 feet, and you'll be able to see Mount Bierstadt looming in the distance.
Mileage: 22 miles (about an hour drive)
4WD/2WD: The pass is paved, so 2WD is totally fine.
Camping: Four established campgrounds are located along Guanella Pass, along with lots of dispersed camping.
Nearby Towns/Attractions: Georgetown is a former miners camp with lots of historical treasures to explore, including the Georgetown Loop Railroad.
Red Tape: Guanella Pass is open year-round, but occasionally a big snowstorm will shut it down.
5. West Elk Loop
This approximately 200-mile loop winds through the mountain wilderness from Carbondale to Paonia. You'll passing by Crested Butte and Gunnison along the way.
The largest aspen grove in the state of Colorado can be found just west of Kebler Pass. If you catch it at the peak moment, you will be treated to a massive display of the aspen's golden foliage.
Mileage: 205 miles (approximately an 8-10 hour drive)
4WD/2WD: 2WD is all you need.
Camping: Since West Elk Loop is quite long, there is no shortage of camping along the way, depending on where you want to stay the night.
Nearby Towns/Attractions: This drive is a great way to check out the mountain towns of Carbondale, Crested Butte, and Gunnison, as well as the stunning Black Canyon of the Gunnison.
Red Tape: The Kebler Pass section of the drive is closed from November-April.
6. Independence Pass
The scenic drive over Independence Pass crosses the Continental Divide on the way from Twin Lakes, near Leadville, to Aspen. This scenic Colorado fall drive not only brings fall goodness straight to you, but there's plenty of camping too!
You will encounter plenty of the namesake aspens showing off their fall colors along this drive. Not to mention, you'll also catch a view of Colorado's tallest mountain, Mount Elbert.
Mileage: 36 miles (about an hour drive)
4WD/2WD: 2WD vehicles will do just fine on the pass.
Camping: There are several campgrounds in the national forests on each side of the pass, as well as lots of dispersed camping.
Nearby Towns/Attractions: Leadville is a charming little town with restaurants and shops, and Aspen has all the amenities of a resort town.
Red Tape: The pass closes from around October until the snow melts out in the spring.
7. Peak to Peak Scenic Byway
While this drive is clearly beautiful in any season (it has "scenic" right in the name!). It is especially stunning in the fall when the colors are out in full force. As one of the most scenic drives near Denver, this is a must-see.
This byway takes you from Estes Park down south to Golden. Drive through a mixture of aspens and evergreens for a beautiful golden and green palette of colors.
Mileage: 55 miles (an approximately 2-hour drive)
4WD/2WD: 2WD is all you need.
Camping: You can camp in Rocky Mountain National Park near Estes or Golden Gate Canyon State Park in Golden.
Nearby Towns/Attractions: Nederland is a quirky little town worth visiting, and it is near the Indian Peaks Wilderness area where you can hike and backpack.
Red Tape: None really, except that you might hit some traffic, especially near I-70.
8. Top of the Rockies
This National Scenic Byway takes you from Aspen to Leadville. At an elevation of 9,000 feet or more for nearly the entire drive. Views of Mount Elbert and Mount Massive, the two tallest mountains in Colorado, provide a backdrop for gorgeous changing fall colors.
Mileage: 82 miles (about a 2 hour drive)
4WD/2WD: 2WD will work for this drive.
Camping: There are established campgrounds at Camp Hale and Twin Lakes, and there is plenty of dispersed camping around as well.
Nearby Towns/Attractions: You can explore the charming main street of Leadville or check out Camp Hale, a historical site where WWII soldiers used to train for winter mountain conditions.
Red Tape: The Independence Pass section closes during the winter.
9. San Juan Skyway
Winding through the San Juan Mountains, this loop passes through the mountain towns of Durango and Telluride, with sensational scenery and fall colors along the way.
The stretch of the Skyway between Ouray and Silverton is dubbed the Million Dollar Highway, possibly because of the gold ore left behind from mining or because the views are worth a million bucks – you decide! As one of the top things to do in Ouray, this part of the drive is not to be missed!
Mileage: 235 miles (about a 7 hour drive)
4WD/2WD: 2WD is fine for this drive.
Camping: You can find established campgrounds in Ridgway and Mancos State Parks, and there is dispersed camping on the National Forest land.
Nearby Towns/Attractions: The towns of Durango and Telluride make great stops, and you will also pass a few natural hot springs if you could use a relaxing soak.
Red Tape: Some sections of this drive have very steep drop-offs that are not protected with guardrails, so drive cautiously and make sure you feel comfortable with that.
10. Buffalo Pass
This short but steep and rugged drive takes you from Steamboat Springs through the fall foliage of lodgepole pines, aspen groves, and spruce-fir forests.
Mileage: 15 miles
4WD/2WD: 4WD is necessary for the top of the pass, and high clearance is recommended.
Camping: Campgrounds are located at Dry Lake and Summit Lake, with dispersed camping nearby.
Nearby Towns/Attractions: Steamboat Springs is the starting point for this scenic drive, and offers plenty to do, both indoors and out.
Red Tape: Snow can be an issue, and the road is closed from the beginning of September to the end of June.
11. Highway of Legends
To find the fall colors in southern Colorado, take the Highway of Legends from Walsenburg to Trinidad, through San Isabel National Forest. You'll also head over Cuchara Pass with views of the Spanish Peaks and volcanic formations.
Mileage: 82 miles (about a 2 hour drive)
4WD/2WD: 2WD will be enough.
Camping: Campgrounds are located in Trinidad Lake and Lathrop State Parks.
Nearby Towns/Attractions: The remains of coal mining ovens in Cokedale are a unique sight.
Red Tape: The gravel section of Cordova Pass closes in the winter.
Where is the Best Fall Foilage in Colorado?
There are plenty of must-see places for fall foliage in Colorado. Honestly, you can't really go wrong. A few of the hot spots for fall colors in Colorado include:
Crested Butte
Aspen
Ouray
Guenella Pass
Idaho Springs
Vail
Rocky Mountain National Park
Each of these places has scenic fall drives in Colorado that you can enjoy as you explore the magic of the colorful season!
Quick Tips for Viewing Fall Foliage in Colorado
While fall foliage is abundant in Colorado, so are the people exploring the fall colors. You want to be prepared for both crowds and weather when taking a scenic fall drive in Colorado.
Here are some tips to keep in mind for the best fall foliage viewing experience in Colorado:
Head out early or during the week to avoid traffic. The natural beauty in Colorado is not a secret. The popular drives will get extremely busy in peak fall season. If you can plan your scenic fall drive for a weekday, you will avoid the biggest crowds. But if you can only go on a weekend, be sure to get an early start.
Check the weather before you go. Snow is always a possibility in Colorado during the fall. Some of these drives could become dangerous (or the roads might even be closed) if it snows.
Wear layers! Fall in Colorado is a fickle season, and you can find yourself comfortable in a tank top during the middle of the day, but needing a puffy and a beanie to stay warm at night. If you plan to take a fall hike during your scenic drive, definitely make sure to bring warm layers.
Don't destroy the scenery for others. If you stop at a scenic pull-out or stretch your legs on a quick hike along your drive, make sure to leave no trace. Pack out all food and other waste (including dog poop and toilet paper), and always stay on the trail to avoid trampling the delicate fall foliage.
More About Fall in Colorado
Looking for a few more resources to plan your amazing Rocky Mountain adventure? I've got you covered:
PIN THIS POST