If you're looking for an adrenaline-pumping adventure then look no further than the Ouray via Ferrata. With unique obstacles like a cable bridge and the jusssst past vertical Sky Climb there are plenty of reasons to jump on the via Ferrata in Ouray.
The best part? The route itself is completely free (minus the cost of a guide or renting gear if you need it). With an easy-to-access location right in town, this family-friendly adventure will certainly get your heart pumping without a whole lot of effort.
Having done many of the Colorado via Ferratas, the via Ferrata in Ouray is certainly at the top of the list. With two distinct routes there is plenty of challenge and type 1 fun to be had if you're an avid rock climber. For those that are new to this way of moving through nature, you'll have the adventure of a lifetime.
Ouray is one of the most beautiful places in Colorado. And the via Ferrata offers up one of the most unique ways to experience this stunning area.
As a long-time Colorado local of over 12 years and a full-time freelance writer for the outdoors, I know Colorado. If you're looking to explore Colorado like a local, and not a tourist, you've come to the right place.
When I'm not sitting in front of my screen giving you all the juiciest details about how to get outside and have an adventure, I'm actually out rock climbing, camping, and hiking. As an avid rock climber, I just had to jump on the Ouray via Ferrata when we decided to take a week-long trip to Ouray.
I don't see how you couldn't go through either the Downstream (most popular) and Upstream (more technical) routes and not have a dumb smile on your face. So here's how to make the most of your Ouray via Ferrata experience.
About this Guide to the Ouray Via Ferrata
Inside this local, pro guide to the Ouray via Ferrata, you'll not only get the inside scoop about how to beat the crowds, but you'll also find:
Ouray via Ferrata location
Practical info about the Ouray via Ferrata including gear, cost, difficulty, and time to complete
Details about the Ouray via Ferrata downstream route
Info about the newly-opend Upstream route
What to pack
Where to rent via ferrata gear or hire a via ferrata guide in Ouray
Additional things to do in Ouray
More travel planning resources
Where Does the Ouray Via Ferrata Start?
You'll find the start of the Ouray via Ferrata course at the Ice Park Loop Trail located about a 2-minute drive outside of Telluride.
Take the Million Dollar Highway south out of town until you reach the first hairpin turn. You'll see a parking area within the hairpin and a sign that points to Camp Bird, Yankee Boy Basin, Box Canyon, and Governor's Basin. Take the dirt road (road 361 or Camp Bird Road) and follow the left fork.
You'll pass a building and a dirt pullout marked as a day-use area. Park here.
Then simply head up the dirt road, over the bridge and you'll see a yellow sign with a "VF" logo on it pointing to a trail just over the bridge.
Follow the trail for about 5 minutes (you'll pass a port-o-potty) until you reach a signed and obvious left-hand turnout to the start of the Ouray via Ferrata.
Someone will check your gear and show you the start of the route from there.
Local Tip: There is a small side trail along the Ice Park Loop – it leads to a maintenance area. Stay on the main (bigger) trail to reach the entrance.
Practical Info
Italian for "iron way" via Ferratas are a unique way to move through mountains and canyons. Essentially, you'll be using iron rungs, cables, and rock features to climb your way through the stunning Ouray Ice Park. There are plenty of thrills to be had along traversing handrails, sky bridges, ladders, and more.
With over 4,000-feet of cable protecting the trail you'll certainly have ample opportunities to enjoy optional technical exits or learn how to move like a climber through this beautiful sky-high obstacle course.
A special safety system designed just for via ferratas keeps you safely tied in at all times. If you've got rock climbing experience, you can head out solo (like we did). Or if you're brand new to the world of via Ferratas, you can opt for a guided adventure to show you the ropes.
Do I Need Special Gear?
Yes. Unlike the Telluride via Ferrata, you'll need several specific pieces of gear or you won't be admitted. People will check your gear, so be in the know before you go. You'll need:
A climbing-specific helmet
A rated climbing harness
Proper footwear (closed toed shoes) hiking shoes or boots or approach shoes are strongly recommended
A rated via ferrata tether system with No other tether systems are allowed due to the danger of a fall. You can rent tethers in Ouray.
Do I Need a Guide for the Ouray Via Ferrata?
The answer depends. If you have ample outdoor rock climbing experience, understand the risks of factor falls, and know how to operate a redundant anchor system, then you can certainly complete this route without a guide. As avid multi-pitch trad climbers, we opted for a guide-free experience and never felt unsafe.
If you don't have any outdoor rock climbing experience or you're totally new to via ferratas, then you are required to hire a guide. I love the San Juan Mountain Guides. They were not only influential in the development of this route, but they are a locally-owned guiding company that knows the area well.
Local Tip: Keep in mind, that although the Ouray via Ferrata is engineered to worldwide safety standards, this is a dangerous activity. If you don't know what you're doing – hire a guide, simply because a fall or improper use of the equipment can kill you.
How Difficult is the Ouray Via Ferrata?
The official rating system for via ferratas is the Fletcher/Smith Italian via Ferrata Rating Scale. According to this scale, the Ouray via Ferrata is a 4b. The first number is a technical rating, with 5 being the highest, while the second rating is a commitment rating – meaning how long does it take?
4B signifies that this route is pretty technical and has some commitment. For comparison, the Telluride via Ferrata is rated a 2B. The newly-opened Upstream Route at the Ouray via Ferrata Course is a 5B.
But just because it's a higher rating doesn't mean you can't enjoy the Ouray via Ferrata if you have no experience. The minimum physical requirements are:
Reasonable level of fitness
Ability to climb ladders
Be okay with some heights or exposure
Be able to reach 62″ high from the ground
Get to Know the REAL Colorado.
Explore Colorado like a local, not a tourist. Discover all the secret hiking spots and the most incredible Colorado scenery, sans the crowds with my customizable hiking itineraries that will have you uncovering the best Colorado has to offer!
How Long Does the Ouray Via Ferrata Take?
For inexperienced parties, plan on spending 3 to 4 hours on the Downstream via ferrata route. Of course, if you're stuck behind a lot of people it'll take longer since you'll be waiting. Don't forget to budget time to take lots of photos!
If you're a climber the route will take around 2 hours. We started at 8:30 am on a Friday and were one of the first people on the course. With all of our experience, we moved pretty quickly and finished the Downstream route in 1 hour and 45 mins and the Upstream route in 1 hour and 15 minutes.
When Can I Climb the Via Ferrata in Ouray?
Since you'll be climbing your way through a canyon, there Ouray via Ferrata is only open from spring through fall. It closes for the ice park season starting on October 31st. Hours of operation are from 8 am to 4 pm every day of the week.
Is the Ouray Via Ferrata Free?
Yes! I still can't believe that this experience is totally free. In fact, the Ouray via ferrata is one of the top free things to do in Colorado.
Of course, if you don't have your own gear or don't have the experience you'll need to hire a guide or rent gear. However, access to the Ouray via Ferrata is totally free.
If you want, you can donate to the building and upkeep of more routes to keep the area free.
About the Climb
Okay so you've made it to the entrance, you got your gear checked, and now it's time to set out on a truly exciting adventure! You'll clip both ends of your tether into the Ouray via Ferrata cable system and you won't fully unclip until you exit.
There are two distinct routes – the Upstream and Downstream route. Most people opt to do the more developed Downstream Route. However, if you've got time, you can certainly head upstream – although this route is a bit more technical.
We did both for a half-day of completely fun via Ferrata action!
Local Tip: If you're experienced and planning to do both, start with the Upstream Route first. It's less hiking (since you'll pass by the entrance while walking back), and the Downstream Route is a classic finisher that drops you right near your car.
Entrance Bridge
The Downstream Route has an exciting start as you cross the Uncompahgre River over a cable bridge that feels like an added tightrope walk. Walk with your feet at a slight angle to maximize your grip on the cable. Don't worry, you're clipped into two different cables.
Mars Wall Traverse
The fun doesn't let up as you make your way across the Mars Wall. At this point. you're hovering just a few feet above the roaring river. The mist is a welcome cool-off after the sweat-inducing bridge. This is one of the more physical sections of the Ouray via Ferrata. Once you reach solid ground, you'll be walking along a cabled path for quite a bit. Don't forget to soak in the views!
Stairway to Heaven Climb
The next big technical section is the Stairway to Heaven. Working up the side of a dihedral, this sustained and steep climb takes you up near the top of the canyon. Get ready for big views and some puckering exposure!
Afterward, it's another section of narrow trail walking. Again, keep yourself tethered to the cable system. You'll also pass an early exit about a third of the way in if you find that the Ouray via Ferrata isn't for you.
Arrowhead
It's time to climb yet again as you work your way up a rock formation shaped like an arrowhead. You'll go up, up, up, and then traverse across. Soak up those views until it's time to step around a blind corner and descend back to a rocky trail.
Sky Ladder Finish
Work your way down the cabled route until you reach a junction. Now it's time to make a choice. Your first option is a 70-foot sky ladder that climbs a 30-degree angle. I'm not going to lie, just looking at this thing got my heart racing. It's the only cabled ladder of its kind in North America.
We didn't end up doing the ladder and chose the more technical Sky Climb instead. The Sky Ladder is the easier way for sure, but that doesn't mean it won't give you that adrenaline rush you were looking for.
The Thrilling Sky Climb You Can't-Miss
If ladders aren't your thing, then your next option is the advanced Sky Climb. This steep, at times overhung work-around feels quite a bit like rock climbing. You'll work your way up an exposed arete in a thrilling adventure that requires some physical effort.
After you top out, you'll have a challenging downclimb to re-join the main route after the Sky Ladder.
My face in the photo sums up my excitement pretty darn well!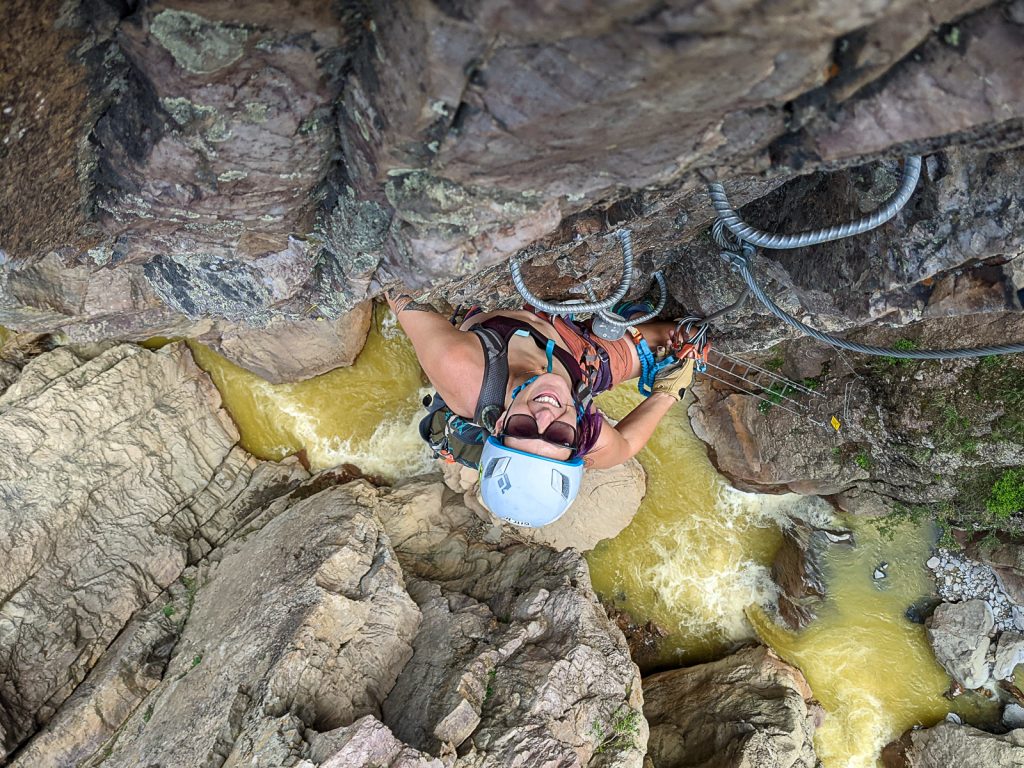 Afterward, you'll continue through a few easier sections that go under the bridge for a finish right by the parking area.
The More Challenging Upstream Route
Want even more action on the Ouray via Ferrata? Head to the more technical Upstream Route.
The route had just opened in August of 2021 and it's quite a thrill! Start from the even higher Sky Bridge and work your way down and over to a free-hanging vertical ladder.
This made me wince a bit (I don't like ladders), but it's more stable than it looks. Climb sky-high to the more technical route.
This route has less foot rungs and feels a lot more like rock climbing. Several sections deliver you some thoughtful footwork to tackle. It wasn't uncommon to have one hand on a small rung, and your other hand using the rock to stay stable. Some of the reaches to the rungs are a bit further apart, requiring you to use rock climbing skills such as stemming and really trusting your feet to propel you forward.
A fun, pumpy, and overhung downclimb leads to an exit bridge to finish off the route.
We were literally some of the first people on this route, so it has a bit more lichen and pebbles than the Downstream Route, and it looks like it will be even longer in the future.
Overall, this route involved a bit more thinking than the Downstream Route and certainly felt more physical. However, it's not as dramatic as the more popular Ouray via Ferrata route.
At half the distance, it's clear they are still creating more obstacles. However, if you've rented the gear and you're there – it's well worth it to do the Upstream Route too.
Where to Rent Via Ferrata Gear in Ouray
If you're an outdoor rock climber chances are you have a helmet, harness, and appropriate shoes, but the via Ferrata-specific tether might not be in your gear bag.
You can rent the tethers at the San Juan Mountain Guides shop right in Ouray. It's $25 to rent the tether for the full day (they also rent helmets and harnesses for extra).
They will go over some safety info, issue you a harness, give you directions and send you on your way!
You can't reserve tethers in advance and guided parties have first dibs, so if you want to rent gear, I'd recommend showing up at 8 am when they open in order to ensure that you snag a tether.
Local Tip: June, July, and August weekends can get quite crowded. Be sure to show up at 8 am on a weekend or aim to do the via Ferrata on a weekday for your best chance at snagging gear.
What to Pack
Aside from your safety gear, you're going to want to bring a few essentials with you on the Ouray via Ferrata. We managed to get all of our stuff in one pack (I love the REI Flash 22), but if you have bulkier items, each person may want to carry their own bag.
Here's what to bring on the Ouray via Ferrata:
2L of water (when the sun hits the rock it gets hot and sweaty quick). Water bladder is preferable for hands-free drinking.
Sunscreen, sunglasses, sunshirt (optional), and a brimmed hat for under your helmet
Snacks
Leather climbing gloves. I loved my Metolious fingerless gloves. Strongly recommended just so you don't have to deal with gripping hot metal
A lightweight jacket – they canyon can be cold in the morning
Rain jacket (weather changes quickly and suddenly in Colorado)
Additional Things to Nearby
Ouray, Colorado is an adventure-lovers paradise. Seriously. There are plenty of things to do in Ouray throughout the year, and since the via Ferrata is so close to town, you're literally steps from plenty of outdoor action. A few must-do nearby activities include:
Tackling some of the most scenic Ouray hikes, like the Box Canyon Falls, Ouray Perimeter Trail, and more.
Take a scenic drive on the Million Dollar Highway, arguably one of the most stunning drives in Colorado.
Go on an OHV adventure in nearby Governor's Basin or scope out the wildflowers in the Yankee Boy Basin.
Relax and grab a burger at Maggie's Kitchen in Ouray – a no-frills eatery for a post-send meal.
Go for a soak in the Ouray or Orvis Hot Springs to relax those tired muscles
More Local Colorado Planning Resources
Are you traveling to Ouray and beyond? Get the inside scoop with real, local Colorado travel hacks you won't find anywhere else on the web. Be sure to check out:
PIN THIS POST