Imagine the peaks of the Rocky Mountains covered in snow and a lovely village glowing in the winter light. You'll find that idyllic scene is actually real when you visit Vail in winter.
If you want to experience Vail in winter like a local, not a tourist, then you're in the right place. For the past 14 years,
I've been living and exploring in Colorado, and every year I visit Vail in the winter, which means you'll get the most up-to-date local travel advice
About this Local Guide to Vail in Winter
Inside this detailed local guide to visiting Vail in winter, you'll get advice from a long-time Colorado local about:
What to expect from weather in Vail in winter
How to get to Vail in winter
Things to do in Vail in winter – even if you don't ski
Places to stay in Vail in winter
Additional Colorado travel resources
Is Vail Worth Visiting in Winter?
Vail is a winter wonderland, and it's absolutely worth visiting Vail in the winter! It offers world-class skiing, but even if you don't ski, you will enjoy Vail in the snow.
Vail is one of the most charming mountain towns in Colorado, where you can cozy up for a little après, glide in a gondola or go for an old-fashioned sleigh ride to celebrate all that winter has to offer.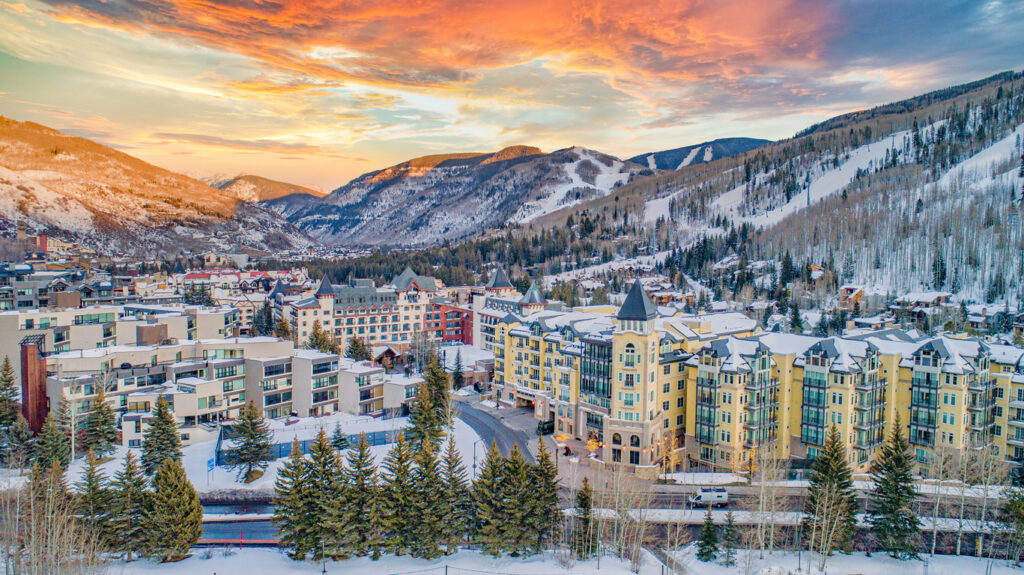 Can You Go to Vail if You Don't Ski?
Yes! There is so much to do in Vail in winter that you can skip skiing completely and still have a wonderful time.
You can explore all the awesome Vail hikes on snowshoes, feel like a kid snow tubing down a hill, or rev up a snowmobile. And that's just the start of all the awesome Vail winter activities!
Is Vail or Aspen Better?
While it's easy to want to compare Vail and Aspen, since they both are well-known as some of the best skiing in Colorado, they each offer different things.
Vail is closer to Denver, so you'll spend less time in traffic on I-70. And although Vail is not exactly cheap, Aspen tends to be even more expensive. Aspen does have more cultural activities and attractions to explore, but Vail still offers plenty to do. So really, it's up to you!
Of course, both places get plenty of snow, but Vail tends to get slightly less, with Vail Resort averaging 232 inches of snow per year compared to Aspen's 278 inches annually.
Things to Do in Vail in Winter
Although skiing certainly tops the list of Vail winter activities, that's really just the tip of the iceberg of things to do in Vail in winter.
From some of the best winter hikes in Colorado to cross-country skiing to fireside aprés ski, here are some of the many ways to enjoy Vail in winter.
1. Hit the Slopes
Vail is clearly one of the very best ski resorts near Denver so if you do ski, you should definitely enjoy a day (or several) on the slopes.
With 195 trails and two terrain parks, every skier and snowboarder will find something to love. Sun Up and Sun Down Bowls provide panoramic views of Vail, and you can head to Blue Sky Basin for an in-bounds backcountry experience.
Pro Tip: You can also hit the slopes while checking out some of the best things to do in Winter Park, Colorado.
2. Go Snowshoeing
If you're looking to go snowshoeing in Colorado, snowshoeing in Vail is some of the best you'll find. You can take guided snowshoe tours at Vail Resort or check out the trails at the Vail Nordic Center.
Paragon Guides and Walking Mountains offer more adventurous backcountry snowshoe tours in the White River National Forest. The Betty Ford Alpine Gardens also feature lovely snowshoe tours of the local landscape.
Local Tip: If you have time you can also try snowshoeing in Rocky Mountain National Park too.
3. Take a Sleigh Ride
A horse-drawn sleigh ride will transport you through a beautiful alpine setting in Vail.
Bearcat Stables offers aprés ski sleigh rides with your favorite beverage, and 4 Eagle Ranch provides sleigh rides followed by an authentic ranch dinner complete with fireside s'mores.
4. Lace Up Your Ice Skates
Vail has two outdoor ice rinks to glide around while you appreciate the picturesque alpine setting.
Twinkling lights line Lionshead's Alderhof Ice Rink in Vail Square, while the Solaris Ice Rink in Vail Village features panoramic views of Vail mountain for a backdrop.
5. Ride the Gondola
Don't miss out on a ride in the gondola up Vail mountain just because you don't ski! Winter scenic rides are available up Eagle Bahn Gondola or Gondola One, and the epic views of the Gore Range and Mount Holy Cross will take your breath away.
You can spend some more time on the mountain by adding a lunch voucher to use at Mid Vail & Eagle's Nest Marketplace.
6. Indulge in a Spa Day
Take a winter break with a relaxing spa day in Vail. Treat yourself to the signature S'more Indulgence Facial (with a marshmallow whip hydrating mask) at the Four Seasons Vail, or enjoy a couples massage with a soaking tub for two at The Lodge at Vail.
Visit the Sonnenalp spa for a full variety of spa treatments plus an oxygen bar to help with the effects of altitude you might feel in Vail.
7. Enjoy Après Ski
Nothing says Vail in winter like après ski! Locals love Bart & Yeti's in Lionshead for its dive bar vibe, cheap beer, and signature green chili. Garfinkel's is another favorite, especially if you are a fan of chicken wings.
For a fancier après scene, sip a creative cocktail at The Remedy Bar at the Four Seasons Vail.
8. Delicious Dining
If you need more than just an après snack, Vail has plenty of amazing dining options. Check out the Slope Room at Gravity Haus Vail, an alpine bistro featuring unique dishes starring local ingredients.
Visit The Drunken Goat for a lively atmosphere and tasty bites including fondue for two, or get a hearty helping of curry and fresh naan at the Himalayan-influenced Annapurna.
9. Glide on Cross-Country Skis
Vail cross-country skiing is a wonderful way to spend a winter day. The Vail Nordic School at Vail Resort is a great place to learn with lessons, tours, and gear available to rent.
You can also explore over 10 miles of groomed trails for skate or classic skiing at the Vail Nordic Center.
10. Go Snowmobiling
A great way to explore Vail in winter is on a snowmobile. You can hire one of many Vail snowmobiling guide services to give you a tour of the backcountry.
You can also rent a snowmobile and visit Vail Pass Winter Recreation Area, a 55,000-acre mecca of snowmobiling in Colorado.
11. Let It Roll & Bowl
BOL brings city vibes to the mountain at this chic bowling alley with custom white lanes.
Spend a fun night knocking down pins with friends while sharing small plates or a full meal right at your lane. Sip on a special house cocktail while you keep score.
Where to Stay in Vail in Winter
You'll find a ton of options of where to stay in Vail, but most lodging here tends to be fairly upscale (meaning pretty pricey!). For options that are a bit more budget-friendly, check out the nearby towns of Avon and Minturn.
Some nice places to stay in Vail include:
Gravity Haus Vail
Tivoli Lodge
The Arrabelle
Minturn Inn (Minturn)
Local Vail Resources
Looking to travel to Vail like a local, not a tourist? Check out these handy resources.