Once the leaves shed from the trees and temps drop, things change throughout the Centennial State. In fact, Colorado in the winter is a lovely time to explore. From cozy cabins to ski vacays, there's plenty of ways to enjoy the snowy season.
What a lot of people don't know about winter in Colorado, is that it's actually quite diverse. Sunny, warm-ish days are common in the Front Range, while the mountains get dumped with fresh, fluffy snow.
In fact, there are a lot of things to do in Colorado in the winter. Snowshoeing, dog sled rides, scenic drives, and skiing of course are just a few of the activities on offer. Visitors and locals alike love to get outside and enjoy the mountain sun, even if it's chilly.
I've spent over 12 winters in Colorado and know a thing or two about what it's like to enjoy the Rocky Mountains in the snow. If you want to explore winter in Colorado like a local, not a tourist, then you're in the right place.
About this Guide to Colorado in Winter
Inside this local guide to winter in Colorado you'll find:
Info about the weather
What are considered winter months in Colorado
Is Colorado a good place to visit during the winter?
The best places to take a winter vacay in Colorado
Things to do in Colorado in the winter
Snow in Colorado and what to expect.
What Are Winters Like in Colorado?
Sure, Colorado gets plenty of snow in the winter, but it also gets plenty of sun! That combination makes Colorado in winter an awesome outdoor playground.
Denver winters can often actually feel surprisingly mild but head to the mountains if you seek more snow and can handle the cold weather at altitude.
If you're prepared with warm layers (a puffy and a beanie is the Colorado winter uniform) and check the weather forecast regularly, winter can really be the most fun time in Colorado!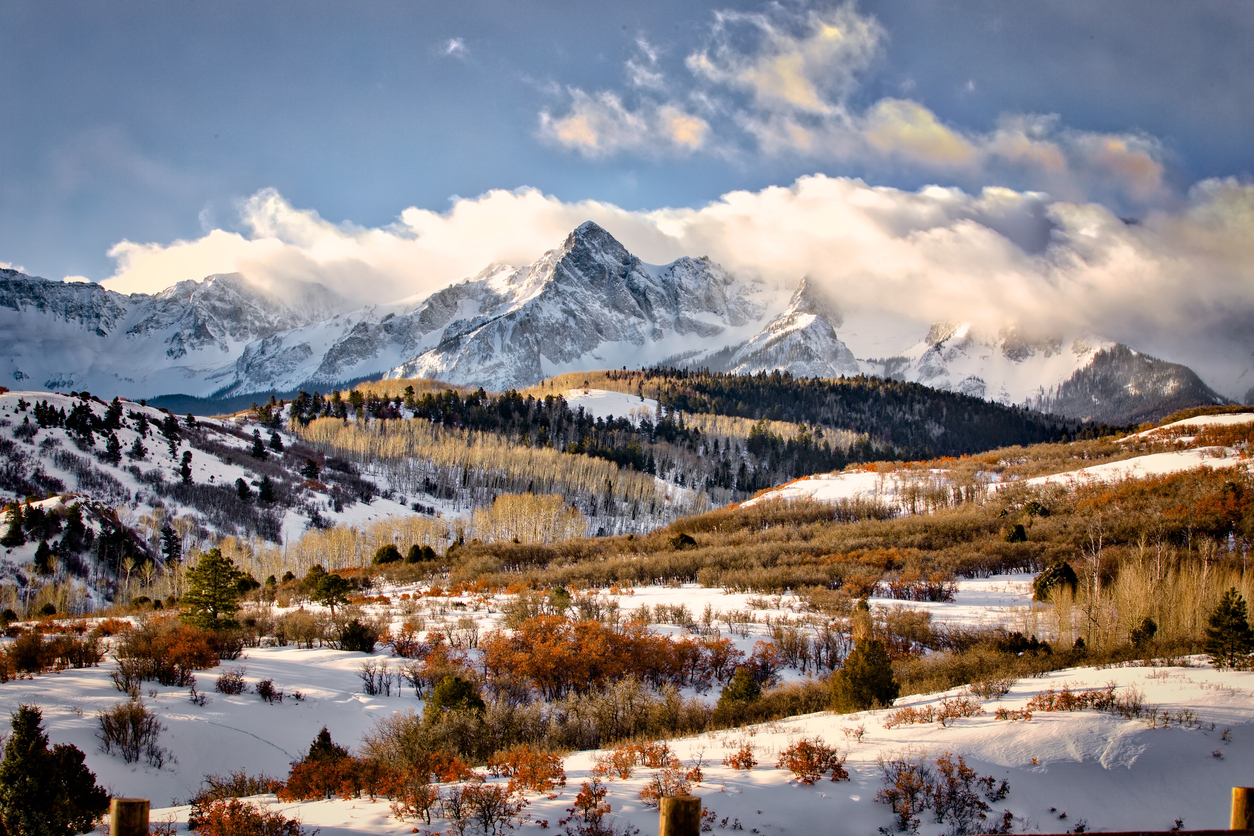 The Winter Months in Colorado
While, technically, meteorological winter consists of the months of December, January, and February, it often feels like winter in Colorado by November and the chill can linger through March.
Here is basic info about what to expect in each of the winter months in Colorado, but keep in mind that winter weather can be fickle and altitude can make a huge difference in conditions. The average temps listed are for Denver.
November
Average Temps (High/Low): 57°/27°F
Climate: The temps begin to dip and snow is a real possibility everywhere, though there will definitely be more in the mountains. It can be windy in the Front Range (Denver, Boulder, Fort Collins, Colorado Springs)
Notable Events: Ski season starts! November is when most Colorado ski resorts open for the winter, so if you're itching to hit the slopes, this feels like the true beginning of winter.
Local Tip: The ski resorts don't fully open until January. Usually, just a couple of runs will be available for those that want to kick the season off early.
December
Average Temps (High/Low): 47°/19°F
Climate: Winter is officially here, and the snow is in full force. Expect plenty of snowflakes balanced out by some sunny days.
Notable Events: Ullr Fest, a tribute to the Norse God of Snow, is a raucous 10-day party in Breckenridge every December featuring lots of Viking finery and festivities.
Local Tip: Holiday prices are in full effect anywhere where there is a ski resort in the state. Plan ahead.
January
Average Temps (High/Low): 49°/20°F
Climate: Bring hand warmers for what is usually Colorado's coldest month, and get ready for lots of snow accumulation.
Notable Events: The Winter X Games has brought extreme sports competition to Aspen every winter for the past 20 years, while the Ouray Ice Festival brings beginners and pros alike to the Ouray Ice Park in a celebration of ice climbing.
Local Tip: Ski season is in full swing. If you're planning to base yourself in the Mile High City and hit some of the closest ski resorts to Denver, plan on sitting in traffic unless you leave by 5 am. Always plan to sit in traffic coming back from the resorts. Delays can last hours.
February
Average Temps (High/Low): 49°/21°F
Climate: The snow keeps falling, even though it might be getting slightly warmer all around.
Notable Events: A true western winter festival, the Steamboat Springs Winter Carnival turns the main street into a snow-covered path for horses to pull children on skis and features a Night Show Extravaganza.
March
Average Temps (High/Low): 58°/29°F
Climate: While the temps really start to rise, and on some days it can feel like spring is here, the chance of snow is nowhere near over. March can actually be the snowiest month in Denver.
Notable Events: A unique winter festival in Nederland, Frozen Dead Guy Days celebrates, well, a real frozen dead guy with coffin races, ice turkey bowling, and brain freeze contests.
Local Tip: Spring break is a popular time to visit Colorado. Expect long lift lines at ski resorts, with variable conditions depending on the year. Just because there is a lot of snow, doesn't mean there still aren't spring skiing conditions.
How Bad Are the Winters in Colorado?
Listen, I'll be honest with you – I actually hate the cold. I've got poor circulation and that makes winters difficult for me. In general, Colorado winters tend to be pretty mild. This is largely due to the dry air.
Dry, cold air actually feels warmer than moisture-rich cold air. With that being said, winters can be quite cold if you're from a warmer climate. However, if you're coming from the Midwest or the East Coast, the winters here are pretty tame.
Snow doesn't tend to linger in the big cities of Denver, Boulder, and Colorado Springs. The dry air combined with the sunshine usually melts snow pretty quickly. The mountains are a different story.
Storms roll through and drop several inches, sometimes a foot or two of snow in the mountains. Mountain storms bring tremendous avalanche dangers. Skiing in the resorts is generally quite safe, but backcountry skiing, snowmobiling, and snowshoeing can be quite dangerous if you aren't trained to identify avalanche hazards.
Local Tip: If you live in the area, take a free avalanche awareness clinic (offered at outdoor shops and rec centers all over the state). If you're visiting, stick to easier, flat trails that are safe from avalanche dangers. You can always ask locals what is best!
Is It Good to Visit Colorado in the Winter?
Short answer, yes! Colorado is truly a winter wonderland, with snow-capped mountains and fairy-tale forests. You'll find epic winter hikes in Colorado, from easy alpine lakes in Rocky Mountain National Park to a winter 14er. And, of course, the state is a mecca for skiing and snowboarding in the winter, both at the awesome ski resorts in Colorado and in the backcountry.
While the ski towns will obviously be crowded, the winter is actually a great time to explore other areas of Colorado in more solitude. There are so many things to do in Colorado in winter besides ski!
Just be aware that a lot of mountain roads are unmaintained and closed in the winter, so be sure to double-check that you can get where you want to go when you're making plans for Colorado in winter.
Also, avalanches are a real risk, and not just for skiing. Many hiking and snowshoeing trails also are in avalanche danger zones, so you need to do your research and know the terrain before you head out on a winter adventure.
Best Places to take a Winter Vacation in Colorado
The list of places to visit in Colorado in winter is long, so here are the very best winter vacations in Colorado:
Vail
With a world-class ski resort and an awesome mountain town, Vail is a fantastic spot to spend winter in Colorado. Beyond skiing and snowboarding, you'll find plenty of things to do in Vail in the winter, from shopping to spa days to sleigh rides.
Breckenridge
If your passion is skiing or snowboarding, Breckenridge is absolutely where you want to be during winter in Colorado. You can also explore so many more things to do in Breckenridge in winter, like snowshoeing, nordic skiing, and ski biking.
Telluride
Located in a box canyon nestled in the San Juan Mountains, Telluride might just be the most jaw-droppingly beautiful place to visit in the winter in Colorado. While there is a plethora of things to do in Telluride in the winter, don't miss carving turns down the resort slopes or skinning to a hut in the San Juans.
Ouray
Ouray is known as the "Switzerland of America" and the Ouray Ice Park is the epicenter of the world of ice climbing. And when you need to warm up during a cold Colorado winter, pay a visit to Ouray Hot Springs or the clothing-optional Orvis Hot Springs.
Colorado Springs
Colorado Springs in the winter is usually mild, and Garden of the Gods is gorgeous in winter, with snow dusting the stunning red rock formations. If you're into rock climbing, you can visit nearby Cañon City for excellent winter rock climbing at Shelf Road and a trip to the Royal Gorge.
Aspen
This glitzy and glamorous mountain town is a true star of winter in Colorado. With top-tier skiing, luxury shopping, fine dining, and spectacular views of the Maroon Bells, Aspen attracts crowds all winter long.
Crested Butte
Crested Butte is a charming mountain town that offers much more than just skiing. Stroll the cute main street or go snowshoeing on one of the many nearby winter hiking trails.
Top Things to Do in Colorado in the Winter
You could explore all winter long in Colorado and never run out of things to do! Here are some of the top things to do in Colorado in winter:
Snowshoeing & Winter Hiking
Snow doesn't signal the end of the hiking season in Colorado. While some trails are treacherous in the winter, you'll find plenty of trails all over the state to use your snowshoes or microspikes. Look for some of the best winter hikes in Colorado in Rocky Mountain National Park, Aspen, and in the Front Range near Denver.
Local Tip: Snowshoeing near Denver is a real treat. It's a great way to escape the city and get into nature – don't forget to pack a thermos of hot chocolate!
Skiing & Snowboarding
The biggest draw during winter in Colorado is definitely skiing and snowboarding. Some of the must-visit ski resorts in Colorado include Vail, Aspen, Breckenridge, and Telluride. And if you're experienced (and trained in avalanche safety), you'll love the backcountry terrain in Rocky Mountain National Park, Loveland Pass, Pikes Peak, and more.
Ice Skating
Lace up the skates and hit up one of the many ice rinks in Colorado. Many ski towns have skating rinks, including Telluride, Vail, and Aspen. Just outside of Denver, take a spin around Evergreen Lake, a huge natural outdoor rink (that is Zamboni-groomed) offering both skating and ice fishing.
Sledding
All the hills in Colorado make for great sledding. You can find lots of smaller hills all over, and most ski resorts also have sledding and snow tubing areas for the kids – or kids at heart! Check out Frisco Adventure Park for some serious tubing time.
Scenic Driving
The snowy mountain scenery makes for some stunning scenic drives in Colorado in winter. But keep in mind that many mountain roads (like Trail Ridge Road in RMNP) close completely during the winter, and others, like Loveland Pass, close in bad conditions. And even the roads that stay open can be treacherous, so it's wise to check the weather, avoid roads when they're sketchy, and take detours when necessary.
Hut Trips
One of the coolest things to do during winter in Colorado is getting a group together to take a hut trip. The 10th Mountain Division has a network of huts that can be accessed by snowshoeing or skiing, and they make a great place to spend a weekend in the mountains.
Local Tip: Plan ahead, because the huts get reserved WAY in advance.
Hot Springs
What could be better during chilly winter weather than a relaxing soak in the hot springs? Luckily Colorado has lots of hot springs scattered across the state. Warm-up in the water in Glenwood Springs, Steamboat Springs, Ouray, Cañon City, or the San Luis Valley, just to name a few. Or make it a true winter adventure and snowshoe 8.5 miles (one way) with 2,400 feet of gain to Conundrum Hot Springs in the Maroon Bells-Snowmass Wilderness near Aspen (a camping permit is required).
Tips for Preparing for Winter in Colorado
It doesn't matter if you live here or you're just visiting, being prepared for Colorado in the winter will make a difference between a fun-filled day outside and a bone-chilling experience. Here are a few quick tips for visiting Colorado during the winter months.
Dress in layers. When the sun is out and you're moving about, it's easy to get warm. Avoid sweating by wearing non-cotton layers. Base layers, fleece layer, puffy layer, and a waterproof shell are essential for getting outside in winter in Colorado.
Bring sunscreen. The sun's rays are brutal in Colorado year-round. Be sure to apply extra sunscreen in winter. You'll want to put sunscreen under your chin and nose to avoid getting burned by the snow reflecting the sun. Wear sunglasses or UV goggles in order to prevent snow blindness.
Drink plenty of water. The air is thin and dry throughout Colorado in winter. Drink plenty of fluids (avoid caffeine and alcohol while you're out and about). Take your time on the first day in Colorado – the altitude takes some getting used to!
Be prepared for lots of traffic. Winter is a popular time to explore Colorado – ski traffic along the I-70 corridor is very real. Book in at least 30 extra minutes (even more if you're leaving between 6 am and 10 am or 1 pm to 4 pm) if you're traveling on I-70 in the mountains on a weekend.
What is the Snowiest Place in Colorado?
Crested Butte often boasts about being the snowiest place in Colorado. With an annual snowfall average of 216.6 inches of snow, "bury the Butte" is a popular catchphrase. But you can find lots of snow across the Rocky Mountains. Vail, Breckenridge, Aspen, Telluride, and Ouray all have plenty of snow too.
Additional Colorado Travel Resources
Traveling to Colorado? Explore like a local, not a tourist, with these handy resources:
Breckenridge in Winter (coming soon)
Things to Do in Telluride (coming soon)