Do you dream about immersing yourself in those drool-worthy fall photos surfacing on your IG feed these days? I do, like always. Since fall is my favorite season, I wanted to give you an exclusive list of the best National Parks for fall colors.
As an outdoor expert and full-time freelance writer, when I'm not in front of my screen bringing you the best of the outdoors, I'm out there exploring the best fall colors in the US.
However, with so much ground to cover, I decided to enlist the help of local, expert bloggers to bring you the best national parks for fall. So settle in with your PSL and let's chat about the most amazing national parks to visit this fall.
About this Guide to The Best National Parks for Fall Colors
Inside this guide to the best national parks for fall colors, we'll give you an exclusive, local look at some of America's best fall scenery. You'll find:
A mega-list of national parks to visit this fall
When is the best time to visit each park for fall colors
Information on visiting national parks in 2020
Additional planning resources
When to Visit National Parks in the USA
So fall is a fickle season. Many people don't realize that the fall colors depend on rainfall. This means that peak fall foliage in the US varies each year.
In general, you'll want to visit national parks for fall colors between September and November. Keep in mind, each geographic region has different times for the fall peak. We've included these times in this guide.
The US Parks Service has created a mostly online system for timed reservations, daily parks pass purchases, and permit reservations. Check in advance for your specific park. Buy your digital entrance passes and other reservations in advance at Recreation.gov.
Pro Tip: Planning on visiting a few national parks in a 12-month period? Consider getting an America the Beautiful annual pass to save some money.
The Best National Parks in the USA for Fall Colors
You can find amazing national parks for fall colors across the USA. In fact, there are so many great spots to visit, you may want to just plan a road trip this fall!
From the epic views of Yosemite to the aspens of Rocky Mountain, and the incredible coastline of Acadia, there is plenty to get stoked on.
Rocky Mountain National Park Fall Foliage
Rocky Mountain National Park boasts some of the most epic fall scenery of all time. As one of the best places to see fall colors in Colorado (and the entire US) it's a must-visit national park.
The peak fall colors vary year to year, but typically planning a trip the third week of September works best. Although keep in mind, the weather can be unpredictable so check to see if notable Rocky Mountain NP attractions, such as Trail Ridge Road are open before your visit.
One of the best ways to experience the fall foliage is to embark on one of the best hikes in Rocky Mountain National Park. With a variety of trails, from the easy Emerald Lake hike to the intense hike to Sky Pond, there's a trail for every hiker.
Local Tip: Arrive early to not only snag parking, but hear the elk bugle.
Another great way to enjoy Rocky Mountain National Park this fall is to hit the road on one of Colorado's best scenic drives. Both Peak-to-Peak Byway and Trail Ridge Road give you epic views.
Fall marks the Elk rut Rocky. Check out Elk Fest, one of the best things to do in Colorado this fall, to learn about these amazing creatures.
Bring a zoom lens, approaching these often-sighted, yet dangerous creatures with your camera phone spells trouble! People die each year from getting trampled in search of the perfect elk selfie!
What to Know for a 2021 Visit to Rocky Mountain National Park
Any visit to Rocky Mountain National Park before 6 am requires an advanced reservation. Reservations can be made online and space fills up fast!
For weekends, you'll want to reserve your timed entry slot months in advance. It doesn't cost any extra, but you pay your park fee up front.
Buses are still running, all trails are open, and backpacking as well as camping permits are still available.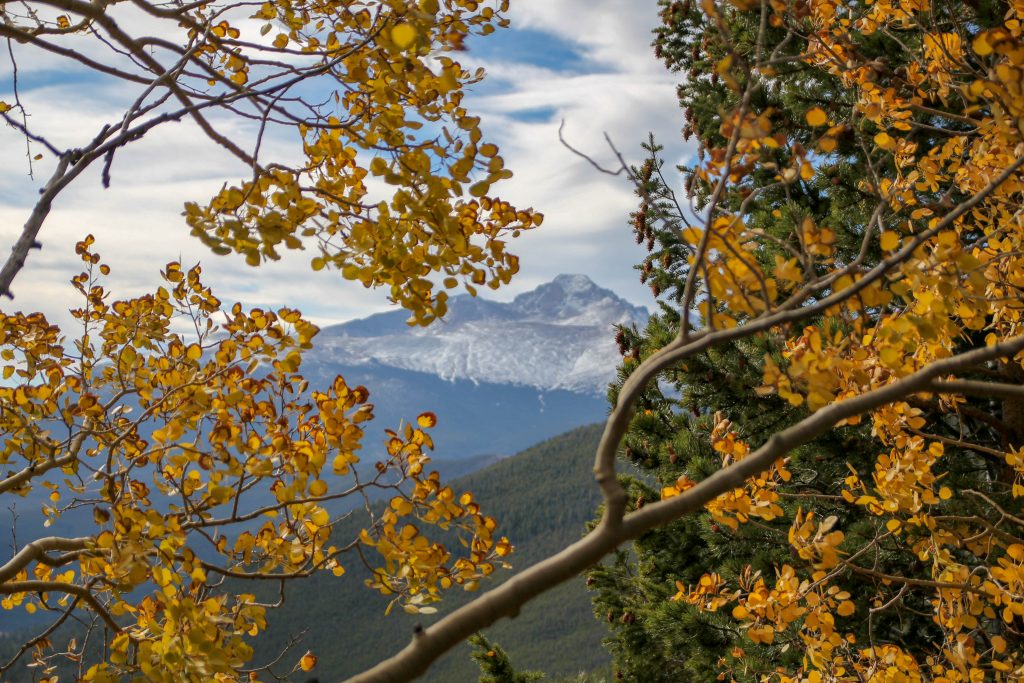 Shenandoah National Park has Amazing Fall Foliage
by Erin of Go Hike Virginia
For dramatic fall colors, there's nothing more satisfying than reveling in the vibrant bursts of gold and fiery orange leaves at Virginia's Shenandoah National Park.
As the foliage display prepares to get underway in October, it's time to plan a breathtaking leaf-peeping escape.
The display of colors and plenty of ways to experience them makes Shenandoah one of the best national parks for fall colors in the USA.
Along Skyline Drive, more than 75 scenic viewpoints entice park visitors to pull over for far-reaching views across the majestic Shenandoah Valley.
Each is more picturesque than the last as splashes of amber and persimmon cover the landscape. Favorite viewpoints include Gooney Run Overlook (milepost 6.8) and Jewell Hollow Overlook (milepost 35.6).
For trail-seekers, a rock scramble hike to the top of Bearfence Mountain rewards with colorful, foliage-filled 360-degree views.
Alternatively, take on one of three routes to the top of Hawksbill Summit, the highest point in the park. For waterfall-watchers, savor vibrantly-colored leaves as you hike to Rose River Falls or Dark Hollow Falls.
Make it a weekend at Skyland Resort, which boasts a full-service restaurant and easy access to several of the best Shenandoah National Park hikes, including Stony Man.
For those who prefer to pitch a tent, consider Loft Mountain Campground. The park's largest campground wows with sweeping views of the Blue Ridge Mountains.
What to Know for a 2021 Visit to Shenandoah National Park
At this time, all picnic grounds, visitor centers, campgrounds and hiking trails are open.
However, days and hours of operations have been modified at visitor centers and masks are required for entry into all facilities. Massanutten Lodge and Rapidan Camp historic structures remain closed.
Mt Rainier National Park in Washington State
by Lotte from Gezond Weekmenu
Mount Rainier National Park is one of the best places to visit in autumn because of its splendid fall colors and fewer crowds.
The best time to admire the fall foliage is late September to early November, as there are many types of trees (such as willows, aspen, and tamarack trees) that don't all turn color at the same time.
The Alta Vista trail offers amazing views over the snowy mountains, colorful trees, and of course the star of the park: Mount Rainier. The Skyline Trail is also excellent for a stunning display of fall colors.
There are several fall activities organized in the park, such as huckleberry picking. You don't need a permit and it's entirely free! Mushroom picking is also possible, though you will need to pick up a (free) mushroom picking permits (issued by the US Forest Service).
What to Know for a 2021 Visit to Mt Rainier National Park
Due to Covid-19 the Park Visitor Centers and the Paradise Inn are closed. Park roads, restrooms, and trails are accessible. Check the National Park website for more COVID info.
Yosemite National Park for Fall
By Jenny of Limitless Hiker
Yosemite National Park is one of the most scenic national parks in fall. The weather is milder with cooler evenings and mild days. The park is usually quieter compared to how busy it can get in the summer months. As one of the best national parks in the US, Yosemite has to be on your bucket list this fall.
Fall colors usually start to show themselves at the end of September and peak around mid-October.
The Half Dome cables are usually up through early October, so that is a perfect time to do this iconic hike if you get permits. The Half Dome hike is one of the most challenging hikes in California and should be on every hiker's bucket list.
Your chances of getting permits are higher since the crowds are fewer, the days are mild, and at the start of October, you'll start to see fall colors along the trail.
Taft Point is another beautiful hike that's shorter than Half Dome and doesn't require advanced permits that offers beautiful views of the Valley below.
From there, take a drive to Tuolumne Meadows. You can also day hike or backpack to Catherdral Lake or Glen Aulin.
The best way to experience Yosemite is to camp. Upper Pines, Lower Pines, and the North Pines Campgrounds are right in the Valley. You'll be within walking distance to different trails and at night you can walk around and see the rock climbers on El Capitan with their headlamps on.
What to Know for a 2021 Visit to Yosemite National Park
For 2020, day-use permits or camping reservations are required prior to entry. You can get a day-use permit or a campground reservation through recreation.gov.
Arches National Park in Autumn
The fall marks the best time to visit Arches National Park. Located right near Moab, this incredible national park boasts plenty of beautiful scenery. With an array of amazing (and accessible) Arches National Park activities, you can easily spend a weekend here.
In the fall months, temperatures begin to drop, making the desert more enjoyable. You might even get a dusting of snow on the nearby La Sal Mountians, a real treat with dramatic arches in the background.
Home to many of Moab's best hikes, Arches is a beginner hiker's mecca. Check out Devil's Garden or the iconic Delicate Arch (best at sunrise to avoid the crowds). Or you can check out other easy hikes in Arches National Park with this handy Arches National Park itinerary.
Double Arch makes for an excellent sunset perch as you watch the sun dance across the La Sal Mountains.
What to Know for a 2020 Visit to Arches National Park
Many programs and visitor's events are closed at this time. Campgrounds, restrooms and roads are open. However, you cannot get permits to the Fiery Furnace until further notice.
Joshua Tree National Park
If you're looking to escape the cooling temperatures, then consider visiting Joshua Tree National Park this fall.
Even just one day in the park allows you to experience plenty of scenic Joshua Tree hikes and really immerse yourself in this truly iconic landscape.
From enormous desert cliffs to funky fauna, there are a lot of things to see in Joshua Tree. Although you may not get a change in fall colors, you'll be greeted with plenty of beautiful scenery, incredibly colorful sunsets and desert magic.
What to Know for a 2021 Visit to Joshua Tree National Park
Right now all ranger programs are cancelled. Visitor centers are open with limited capacity and masks are required. Campgrounds are available only on first-come-first-served basis.
The South Rim of the Grand Canyon
By Agnes from The Van Escape
South Rim of Grand Canyon National Park is worth visiting any part of the year, but it certainly is one of the best national parks in fall. During the Fall scenery is much more spectacular, colors are more expressive.
The light is warmer but not burnout, so it is easier to take beautiful pictures. Moreover, the weather is more pleasant, it is a bit cooler, so you can go to one of the most exciting hiking trails. The best months to see fall colors are October and November.
South Rim of Grand Canyon has an extensive selection of accommodation at any budget. You can stay at hotels or campgrounds, just be sure to make your reservations in advance, as this is the most crowded national park in the USA.
As far as enjoying the fall colors, there are plenty of activities. There is a free shuttle bus in the South Rim of the Grand Canyon. Shuttles arrive every 10 minutes on most routes and stop at virtually all of the most scenic views in the Grand Canyon.
Alternatively, you can opt to hike the Grand Canyon. For the best views for minimal effort check out the Rim Trail, a 12.8-mile one-way trail with plenty of options to make it shorter.
What to Know for a 2021 Visit to Grand Canyon National Park
Desert View and the East Entrance remain closed because of COVID-19 lockdowns on the neighboring Navajo Nation. So, you must enter and exit the park through the South Entrance (Tusayan).
The North Rim of the Grand Canyon Boasts Plenty of Fall Foliage
Although technically the same national park, the North Rim of the Grand Canyon presents an entirely different experience than it's southern neighbor.
For starters, the North Rim of the Grand Canyon is over 1,000 feet higher, meaning you'll get an even better view of this mighty landmark.
The North Rim of the Grand Canyon also sees one-tenth of the traffic of it's southern counterpart.
Although the entrance to the North Rim (separated from the south by a 5-hour drive) closes on October 15th, doesn't mean you can't enjoy the best of fall in the Grand Canyon.
The North Rim features high-alpine fall foliage, along with killer canyon views such as Cape Final Trail and the Cape Royal viewpoints. Visit during mid-September through closing for some of the best fall scenery.
Take your time and hike one of the amazing North Rim hiking trails to really experience this unique landscape.
When it comes to visiting the Grand Canyon in 2021, the entrance is open and permits are being issued for the backcountry and camping.
Zion National Park
by Andrea of Beautahful World
While the gorgeous red rocks of Southern Utah may not be the first place you think of when looking for the best US National Parks for fall colors, Zion National Park is actually the perfect place to visit in the fall.
After the temperatures drop from the summer heat, the desert of Zion National Park actually starts feeling much more pleasant and much less crowded.
When looking for where to stay near Zion National Park, your best option is actually within the park itself at Zion Lodge. However, if this is unavailable, staying just outside the park in Springdale, UT is the next best choice.
While visiting Zion National Park, some of the best fall colors will be located outside the main canyon on Kolob Terrace Road which begins near Virgin, UT. This area of the park is less popular but perfect for glimpsing beautiful leaves.
The hike to The Subway (permit required) is best done in the fall and the trailhead begins off of Kolob Terrace Road.
Other hikes that should definitely be on your list for Zion National Park are Angel's Landing, The Narrows, and Canyon Overlook Trail.
What to Know for a 2021 Visit to Zion National Park
The shuttles in Zion National Park are currently operating by reservation only.
Shuttles must be booked either month before your trip with some last-minute options available.
Many hikes including Angel's Landing chains section and The Subway are currently closed until further notice.
Backpacking in Canyonlands National Park
Canyonlands National Park has to be one of my favorite places to visit for fall. You'll get loads of epic fall colors with a scenic drive into the Needles District and plenty of opportunities to enjoy warm-weather backpacking.
Island in the Sky, located just 30 minutes from downtown Moab, is an excellent choice for those looking for sweeping views. You'll get loads of amazing fall colors with spanning vistas of the canyon systems below.
Mesa Arch, White Rim Overlook and, Grand Viewpoint Overlook are must-see attractions for fall. While the White Rim Road delivers a multi-day tour through stunning canyons with amazing fall colors by the river,
Drive an hour and a half south, and you'll reach the Needles District. Don't let the drive time fool you, this iconic drive passes by Newspaper Rock (stunning rock art), and the iconic Indian Creek that's literally bursting with fall magic.
Once at the Needles District, you can enjoy plenty of hiking among the tall, "needles" or rock spires that jut out of the landscape. This is the best place to hike in Canyonlands. Be sure to check out Chesler Park, Elephant Canyon, and Druid Arch.
Advanced planners can snag a permit to backpack into the Needles District. A must-do for the intrepid traveler. You'll need to carry in all of your water and use human waste disposal bags, but it's oh-so-worth the effort to spend a few nights in this insane landscape.
What to Know for a 2021 Visit to Canyonlands National Park
Canyonlands is largely open, with few restrictions in place. However, advanced permits are strongly recommended and can only be reserved online.
Bryce Canyon National Park in Fall
Despite its higher elevation and colder temps, visiting Bryce Canyon is a bucket list activity.
As one of the best national parks for fall colors, this park gets crowded, but you can easily create a 1-day itinerary to beat the crowds in Bryce Canyon.
There are countless epic viewpoints including both Sunrise and Sunset Point. The best Bryce Canyon viewpoints offer up excellent opportunities to truly experience the immense scale of this landscape.
With plenty of other scenic hiking trails in Bryce Canyon, you'll want to be prepared for a full day of hiking amongst the wild cathedral of hoodoos. Hike Queens Garden for sunrise to have plenty of solitude amongst the changing aspens. Check out the Fairyland Trail for a more remote experience.
What to Know for a 2021 Visit to Bryce Canyon National Park
The park is completely open with limited hours for services. Keep in mind that you'll need to reserve any camping or permits in advance, online.
Cuyahoga National Park in Ohio
by Noel of Travel Discovery
One of the more surprising and wonderful fall experiences is actually in the heartland of the country and in Northeastern Ohio.
The only national park in the state, Cuyahoga impresses year-round but is also more spectacular during the autumn season when all the colorful trees change to their vibrant orange, reds, and yellows in the park.
With the many trails leading you to spectacular landscapes, you'll see all the vivid autumn colors head-on with your visit to Cuyahoga National Park.
One of the most spectacular hikes is to the stunning Brandywine falls. This trail skirts the top of the canyon area. At the end, you're greeted to a gorgeous waterfall view from above.
Local Tip: Take the stairs down to the falls for better photo opps.
Ohio's only national park offers up some of the most wonderful fall scenery in the USA. Be sure to spend more time exploring the Cleveland metro parks to preview some of the gorgeous autumn colors.
Great Smoky Mountains National Park
by Carrie of Trains, Planes, and Tuktuks
Great Smoky Mountains National Park, located in both North Carolina and Tennesee, offers some of the best fall colors in the U.S.
The leaves start changing on the 6,000-foot peaks in September. The colors last until early December in the lower regions, making it one of the best national parks for fall colors.
Autumn is a peak tourist season in the Smokies. So skip the popular viewpoints like Clingmans Dome and Newfound Gap and head for the remote northern or southern sections of the park.
You'll find the best views are from day hikes to Mount Sterling, Gregory Bald, and Mount Cammerer. These amazing hikes in North Carolina deliver big on views.
Backpackers should plan a night at Tricorner Knob — one of the most isolated shelters on the entire Appalachian Trail — and hike the Sawteeth ridgeline. You may not see another human all day (but you'll spot plenty of bears!).
Visiting the Smokies is free. Backcountry camping reservations cost $4 a night. If you prefer the comfort of a hotel, stay on the North Carolina side of the park — in Bryson City or Cherokee.
What to know for 2021 Visit to the Great Smoky Mountains
Most front country campgrounds are closed, except Cades Cove, Deep Creek, Elkmont, and Smokemount. Backcountry campsites are at full capacity and campers may tent-camp outside of shelters.
If you stay on the North Carolina side of the park, you'll find most people wear masks, and bars are closed. In Tennesee, it's a free-for-all. Gatlinburg, Pigeon Forge and Sevier County are COVID hotspots, so take care.
Unfortunately, few people wear masks and social distance in the park. That's why for your 2020 visit I recommend sticking with remote areas.
And as a local, I encourage you to follow mask and distancing guidelines to reduce the spread in our tiny mountain communities with limited healthcare access.
Glacier National Park
by Alex of Alex on the Map
In terms of the best national parks for fall colors, spending at least a day in Glacier National Park has to be on your bucket list!
The park usually has all of its facilities open until the end of September, and the crowds have significantly lessened.
What is also amazing about Glacier National Park is the changing colors—most coniferous forests don't tend to get those pretty reds, oranges, and yellows like New England, but Glacier does!
Not only do you have beautiful tamarack trees turning golden colors, but the hiking is really at its best this time of year.
The trails aren't nearly as busy with people, and you can avoid some of the hot weather that takes over July and August in Montana.
What to know for a 2021 visit to Glacier National Park
Service is a bit more limited this year, which includes no shuttle service and the East Glacier entrance is closed.
Due to the popularity of the park this year, you'll want to get up as early as you can so you don't have to wait at the entrance for up to an hour.
Acadia National Park in Maine
by Ale of Sea, Salt, and Fog
The fall colors in New England are stunning, and there's no better place to see them than at Acadia National Park.
Acadia sits on the northeastern coast of Maine, near the town of Bar Harbor (where you should stay) and is made up of gorgeous forests that stand in sharp contrast with the blue Atlantic.
Fall comes to Acadia in September, with soft yellows starting to peep through the forests as early as Labor Day weekend.
However, the best time to see the full fall colors in the park is the beginning of October, and one of the best views is at Cadillac Mountain. From the summit you can see the sunrise light up the colors of the dense trees below, all the way to Bar Harbor and the Porcupine Islands.
The many carriage roads in the park provide plenty of hikes to be surrounded by vibrant colors.
The hike to Witch Hole Pond is easy and will have you walking through tall trees in full fall splendor. Visiting Jordan Pond requires less walking, and will also give you stunning views.
You'll want to spend at least two days in Acadia National Park for the best experience, but it's likely you'll never want to leave.
What to know for a 2021 visit to Acadia National Park
Note: Beginning October 1, 2020, reservations are required to access the road to Cadillac Mountain for the sunrise. Campgrounds are closed, and the Island Explorer shuttle is not running for the rest of 2020.
Relax on the National Lakeshore in Wisconsin
by Pualina on the Road
The National Lakeshore is a scenic archipelago in extreme Northern Wisconsin, U.S., at the South-western end of Lake Superior. It offers an experience to the visitors where water meets land and sky.
Visitors can hike, sail, paddle, or cruise to experience the jewels of Lake Superior. In addition to this, the visitors can also explore 21 Islands that dot the border of Lake Superior offering cliffs and beaches.
For lodging, you can stay in nearby hotels, luxury resorts in Wisconsin, or opt to camp.
The National Lakeshore in Wisconsin is around 12 miles of mainland. Furthermore, it also invites visitors to experience historic lighthouses that shine over Lake Superior.
Fall is an ideal season to visit and there are plenty of things to do in the area! Take a scenic hike along the shoreline, kayak to a remote island, or check out one of the mainy viewpoints in the park. As such, it's one of the best National Parks for fall colors.
The fall season usually arrives in the last week of September and the first week of October. The colors are mesmerizing and give a retreat to the eyes.
What to Know for a 2021 Visit to the National Lakeshore
Many campgrounds within the National Lakeshore are closed until further notice and permits are only being accepted online. Keep in mind that you can only travel on loop trails in a clockwise direction. Check in with the park prior to your visit, as rolling closures are common.
Now that you've got a wide variety of the best national parks for fall colors in the USA, you can plan an amazing road trip for the best of the season! With so many beautiful landscapes, it's hard to choose. But there's no shortage of incredible fall views to be had this year.
Grand Teton National Park
Located in Northwestern Wyoming, Grand Teton National Park sits near the Idaho border and is known for stunning fall foliage that elevates the natural beauty of Jackson Hole.
If you can, visit in the third week of September since fall foliage will likely be at its best and brightest.
Also, with the colder temperatures that fall brings, the park's Teton Mountains may receive a fine layer of snow that adds to the mystique of one of the best national parks for fall colors.
Additionally, many animals begin to migrating to their winter homes in the fall. Therefore, you will likely see Pronghorn, Bison, and Elk if you stop by one of the best national parks in in the fall in the USA.
You can also enjoy fun things like rafting on Snake River, canoeing on Jenny Lake, hiking Cascade Canyon to Lake Solitude., and visiting Taggart Lake.
However, because of Grand Teton National Park's remote location, it can difficult to visit. So, you can fly into Jackson Hole (it's a small airport and this can be expensive) or Salt Lake City International Airport.
Yes, Salt Lake City is a five-hour drive from the park but it might be worth it since you can save a lot of money on your flight.
Then, when you're ready, spend the night inside the park at Jenny Lake or head outside the park to epic spots like Springhill Suites by Marriott.
Pro Tip: If you have time be sure to explore Yellowstone National Park while you're in the area.
North Cascades National Park
Nestled along the border between northern Washington and Canada, North Cascades National Park is best visited between September and mid October.
Not only is fall foliage at its finest, making this one of the best national parks for fall colors, but you won't have to deal with any mosquitoes either.
Plus, you can pick ripe blueberries and huckleberries along some of the park's best hiking trails, like Trapper's Peak, Blue Lake, Sourdough Mountain, and the Heather/Maple Pass Loop.
Just be aware that this is one of the best national parks in the fall in the USA for people who like to hike and do some mountaineering.
So, if you want to see stunning scenery from your car window then this is not the park for you since the best things to do (and views) are only accessible by foot.
Therefore, if you still want to visit, be sure to fly into Seattle and drive 2.5 hours to the park from there.
You can also spend the night at one of the park's campgrounds or try booking a room at Ross Lake Resort inside the park.
Death Valley National Park
Because Death Valley is one of the hottest places in the world (hence the name), this park in Eastern California, near the border with Nevada, is best avoided between April and September.
However, once October rolls around this becomes one of the best national parks in in the fall in the USA since temperatures are cooler.
This way, you can easily visit places like Dante's View, Zabriskie Point, Badwater Basin, Mesquite Flat Sand Dunes, Artists Drive, and Twenty Mule Team Canyon in around 2 days.
Just be sure to pack plenty of layers since the park does get cooler in the evening. You'll also want to fly into Las Vegas since this city is only about a 2-hour drive from the park.
Finally, book your accommodations inside the park since Death Valley is the largest national park in the US, outside of Alaska.
Therefore, if you stay at hotels like The Ranch at Death Valley and Panamint Springs Resort you won't have to spend your entire trip driving all over the place.
Big Bend National Park
Nestled along the border with Texas in the Southwestern corner of Texas, Big Bend is home to both the Chisos Mountain Range and a large portion of the Chihuahuan Desert.
It is also one of the best national parks to visit in the fall in the USA since crowds are minimal and temperatures are much cooler once the fall season comes around.
To visit, fly into the airport in Midland/Odessa, rent a car, and drive 230 miles to the park. Upon arrival you drive along the Ross Maxwell Scenic Drive that will take you to the ruins of Sam Nail Ranch.
You can also explore Santa Elena Canyon with its stunning limestone cliffs and relax at Boquillas Hot Springs, which are just a short walk from the associated parking lot.
Just try and visit in either October or November since temperatures are at their best for hiking the Lost Mine Trail, exploring Balanced Rock, and kayaking the Rio Grande.
You can also stay Terlingua Ranch, which is home to cool eco-friendly cabin that are well-located near thew park.
Additional National Park Resources
Plan your picture-perfect fall getaway with these additional resources:
PIN THIS POST