Nestled deep in the Needles District of Canyonlands National Park, you'll find Druid Arch. A semi-challenging hike through the other-wordly Elephant Canyon brings you to this absolutely monumental landmark.
It takes a lot to really wow me these days – since I literally hike for a living, but the Druid Arch Trail really took my breath away.
We visiting the famous Druid Arch in Canyonlands as a part of a backpacking trip, and seeing the sunset over the arch was a real treat.
My day job is a freelance writer for the outdoors. This makes me an expert hiker, and I was actually on assignment for a project when I hiked to Druid Arch.
This expertise gives me an edge. I can deliver absolute pro hiking advice direct to you. I know every detail of this hike and you won't find a better guide to Druid Arch – I promise.
About this Guide to Druid Arch
If you're looking for everything you need to know to visit Druid Arch in Canyonlands, you've come to the right place. In this guide you'll find:
Practical info on hiking to Druid Arch
Permit information
A map of the Druid Arch Trail
An in-depth guide to hiking to Druid Arch
Where to go post-hike
The best time to visit Canyonlands National Park
Practical Information for Visiting Druid Arch in Canyonlands
Druid Arch is hands down one of the most amazing hikes in Canyonlands National Park.
To get to Druid Arch, you'll need to be a reasonably fit hiker. The trail itself crosses over a variety of terrain, from slick rock walking to deep sand. At the end, there's quite a climb.
You'll need to use your hands in several spots towards the end – there's even a ladder to help you out.
A few spots tip-toe past steep drops, so this hike isn't suitable for anyone who is squimish with heights.
Other handy information to know includes:
Mileage: 10.4 miles round-trip
Elevation Gain: 1,614 feet
Difficulty: Moderate to difficult
Estimated Time: 5 to 6 hours
Dog Friendly: No dogs are allowed in Canyonlands National Park
Highlights: GORGEOUS canyon views, impossibly tall sandstone spires, and one BIG A** ARCH!
Trailhead Location
You'll find the start of the Druid Arch hike at the Elephant Hill Trailhead inside of the Needles District. Follow signs once you're inside the park to Elephant Hill.
Continue straight down the (gentle) dirt road past the campground until you reach the Elephant Hill Trailhead.
This is the jumping off point for many of the best hikes in Canyonlands so don't expect a vacant lot! Show up before 8am or you may be adding a few miles of road walking (you can park at the campground) to your journey.
Park at the trailhead (duh). But there is a continuation of the road that is a 4×4, high clearance, permited road only called Elephant Hill. Confusing I know.
You'll find the start to your hike towards the front of the parking lot, making your way up a steep hill. Most trails into the Needles District start here so it can get busy.
Fee Information
All entry into Canyonlands National Park requires a fee to enter. The day rate is $30 per vehicle. If you're there for a few nights, and don't leave the park, you only pay once.
There are no in-and-out tickets, so once you're here, you're here.
In 2020, you can now pay at the entrance pay station.
Pro Tip: If you're visiting multiple national parks in a 12-month period, consider getting the America the Beautiful Parks Pass.
Do I Need a Permit?
All day trips to Druid Arch are permit-free. However, if you plan on backpacking in the Needles District (which I STRONGLY recommend putting on your bucket list), you'll need a permit.
You can reserve permits on the 11th day of the month, up to 4 months in advance. Overnight backcountry camping permits are $15 per itinerary.
They fill up FAST in the spring and fall, so plan ahead if you want to score a spot in this incredible landscape.
A Map of the Druid Arch Trail
Druid Arch is tucked quite a ways back in the Needles District. There are several options for reaching Druid Arch, but the most direct is via Elephant Hill to Elephant Canyon.
If you're spending some time in the Needles District, I'd highly recommend picking up the National Geographic USGS Map of the area.
For the most part, trails are extremely well marked. Signs are found at every junction. Cairns, or rock piles, mark the way if you're traveling over rocky surfaces or at wash junctions.
Hiking to Druid Arch
Getting to Druid Arch is relatively simple thanks to well-marked trail junctions. You'll start your journey climbing up some slickrock to enter the greater Needles Area.
Once you top the mesa, be prepared to be WOWED! You can see just how vast and crazy this landscape is. And you are about to get. UP. IN. IT!
Local Tip: See the splotches of black soil? That's actually a living organism called cryptobiotic soil, or crypto. Don't bust the crust! Avoid stepping on this soil as it's vital to protect the desert against erosion.
The Trail to the Small Slot Canyon
Keep following the trail and cairns (rock piles) along stunning vistas that bring those Insta-worthy views right to your eyeballs.
If you feel lost, just look up. Another cairn will mark the way. The rock that's been traveled on is also slightly lighter and more worn looking.
At 1.5 miles, you'll reach a trail junction. Follow the signs to Elephant Canyon/Druid Arch.
After just a few more minutes, you'll be treated to this lovely squeeze and walk between two towering "needles."
It's one of the coolest features on the hike, and a bit challenging with a bulky, overnight backpack!
Reaching Elephant Canyon
Continue to drool over the weird mushroom-shaped rocks that dot the landscape. They are seriously mezmorizing and it's like playing that game when you were a kid guessing what type of animals and shapes the clouds were.
And yes – it's also kinda tough not to keep your mind out of the gutter with this hike. *wink*
I digress. Keep on hiking for another 2.1 miles and you'll want to make a left to access the Elephant Canyon Wash.
It's a bit more uphill, but nothing too strenuous.
Traveling through Elephant Canyon
Once you hit Elephant Canyon, you're into slog territory.
The hike from here traverses in and out of a very sandy wash to hard rock surfaces.
When I hiked this trail, I had 13 quarter-sized blisters on my feet from climbing at Red Rock, so I did the whole thing in socks and Chacos. The deep sand murdered my ankles, but I survived.
Be prepared to stop many times to empty shoes, and try to stick to rocky surfaces when possible.
Local Tip: The wash is prone to flash-flooding so never attempt this hike with rain in the forecast.
The Final Challenges to Druid Arch
Even though the going starts to get tough here, you'll be so distracted by the wild and weird Elephant Canyon, you won't even notice your achy feet.
You'll want to go through this section either early in the morning (think 6 to 7 am) or in the evening (bring a headlamp for the hike out). The sun is brutal, shade is limited, and the rocks reflect heat like no other.
Either way, be prepared with plenty of water, as you're not likely to encounter any on the hike.
Eventually, the wash run ends and the scrambling begins. Time to celebrate, you're almost to Druid Arch!
The first obstacle is a slabby slickrock drop you'll need to scramble up. People usually place some rocks to help you, and the rock is sticky. It looks intimidating if you've never scrambled before, but it isn't too bad. Just take your time.
Next, you'll tip-toe 50 feet above the canyon bottom. From here, you'll have a few more dryfalls (scrambly rock sections) to navigate before you reach a ladder.
The ladder leads to a small railing and then the hardeest part of the hike.
You'll navigate virtually straight up a series of rocky, loose switchbacks. There are several different cairns and ways to go here, but stick to the left gully for the easiest route.
Just as you're cursing yourself for a butt busting uphill, you're there!
Photographing Druid Arch
Once you reach the top of the chossy gully, you'll literally be knocked off your feet. This thing is HUGE. Druid Arch has to be seen to really be appreciated.
The impressively massive Druid Arch is right there. Take your pick for your favorite view, and wander aroudn to truly appreciate the landscape.
Every direction is utterly stunning, so be sure to bring your camera.
We arrived here for sunset, and caught the sun peeping through the arch. Not to mention, it was a Saturday, and we were the only people around. What a freakin' TREAT!
Sunset is certainly the best time to visit if you don't mind hiking out in the dark.
Make your way back the way you came, or add a few extra miles in Chesler Park for a mega-hike.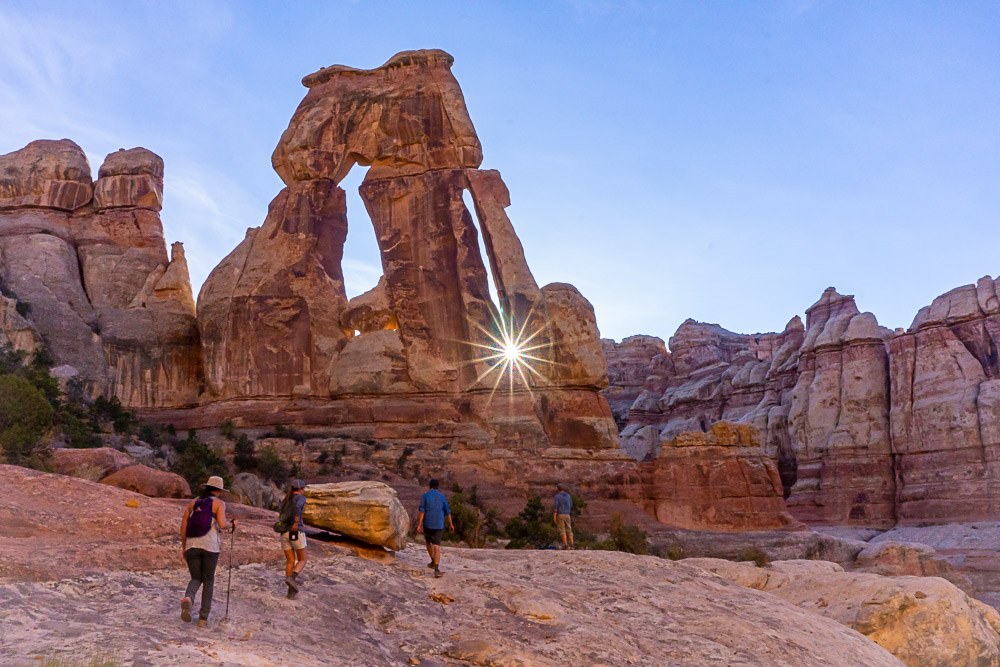 Where to Go Post-Hike
Alright, so the Needles District is hours from anything. Moab is a 1.5 hour drive from the park entrance, and there's really not a whole lot around.
If you're hunkering for a snack check out the Needles Outpost. Located right outside the park, it has a few essentials (expensive) gas, showers, ice, and snacks. I always stop here whenever I visit the area simply because the folks who run the place are uber nice.
I would recommend adding Druid Arch to your Needles backpacking trip. Spending the night here is an exceptional treat. Elephant Canyon site 2 and Chesler Park 1 are two must-see backcountry camp spots (permit only).
For camping, you can post up at the Hamburger Rock Campground, Superbowl Campground, and Indian Creek Campground. Free camping can be found if you know where to look (learn how to find free camping).
Other areas of interest include:
Indian Creek Climbing Area, one of Moab's best climbing areas
Newspaper Rock Petroglyph
Looking Glass Rock
Wilson Arch
Chesler Park
An array of things to do in Moab
When is the Best Time to Do the Druid Arch Hike?
The best time to visit Canyonlands and see Druid Arch is during the spring and fall. In the spring, the weather is a windier, and there's more of a chance for rain.
The fall is gorgeous, less wind, but also a little busier. Alternatively, you can come in the dead of winter and have the place to yourself.
Avoid Druid Arch in the summer. It's not only hot as the Devil's you-know-what, but it's busy as all get out.
Quick Tips for Hiking in the Desert
Desert hiking takes a few handy skills to master. Here are a few quick tips for your Druid Arch hike.
Start early or late. The heat of the day is no joke. Be prepared with PLENTY of sun protection (sun shirt, hat, sunscreen, sunglasses).
Don't step on the crypto, stay on the trail, and practice Leave No Trace. You're required to poop in bags here if you can't make it to the toilet at the trailhead. Carry a WAG Bag.
Bring at least 3 liters of water. There is no reliable water source and it's illegal to filter water along this trail since wildlife relies on it.
Walking on sand takes it out of you. Don't expect to hike as fast as normal once you reach Elephant Canyon.
Carry a GPS or map. We found the area to be well-marked, but it's always a good idea to have some navigation know-how.
What to Pack for Druid Arch
Aside from the must-have gear you need to go on a hike. You'll want a few extra items for your Druid Arch experience:
Additional Expert Canyonlands Resources
Wanna visit Canyonlands like a PRO and not a tourist? Check out these resources:
PIN THIS POST