For never-ending views of snow-dusted red rock canyons, you've got to visit Canyonlands National Park in winter. With the massive crowds of spring, summer, and fall long gone, this iconic national park becomes a sleepy, stunning place.
I've been to Canyonlands at least a dozen times at this point, and my favorite visits have been during the winter months. There's just something indescribable about seeing such an expansive sea of red and orange rock dusted in snow.
From the weird and whacky landscape of the Needles District to the bird's eye views of canyons layered like cake in Island in the Sky, there's more than one reason to visit Canyonlands in Winter.
Note: This post contains affiliate links, meaning if you click a link and make a purchase, I get a small kickback at no added cost to you. You can read more about my affiliate policy here.
About this Guide to Canyonlands National Park in the Winter
If you're looking to experience the magic of Canyonlands National Park in winter like a total pro, and not a tourist, then you're in the right place. As an absolute expert at getting out into the heart of Utah's red rock country, you'll get top-notch advice about making the most of your wintery visit.
Inside this pro guide to Canyonlands in winter you'll find:
A look at what is open in Canyonlands in the winter
Info about the weather during the winter in Canyonlands
Conditions in each of the park's three districts
Things to do in Canyonlands National Park in the winter
Tips for what to wear, what to pack, and where to stay
Additional expert Moab travel resources
Is Canyonlands National Park Open in Winter?
The short answer: yes. Canyonlands National Park remains open year-round. However, sometimes the park may close for a few hours or a day or two to clear roads if there has been a big snowstorm. Always check for up-to-date conditions before entering the park.
With that being said, some areas and attractions may see longer closures. For example, the rugged Maze District may be closed for weeks at a time due to road conditions. And it's likely during your winter visit that the famous Shafer Switchbacks along the White Rim Road will be closed since they ice over and stay in the shade for most of the winter.
But that doesn't mean that there still isn't plenty of things to see in the park.
What's the Weather Like?
A lot of people are surprised to learn that Moab and the surrounding areas get quite cold in the winter. Temperatures are frequently below freezing throughout winter – especially at night.
Sunny skies are fairly common, with clouds moving in when snow falls. Typically snowstorms only drop a few inches of the white, fluffy stuff. On sunny, western-facing slopes, the snow can melt in a matter of hours after a storm.
However, northern and eastern cliffs tend to hold snow for a long time, since they are in shade. This means it's fairly easy to spot snow in Canyonlands National Park in winter – great news for photographers!
The winds can be quite variable. In general, the rims of canyons get quite blustery, especially in the winter. So be prepared for cold winds. However, having a still, sunny day isn't uncommon and can actually feel quite pleasant.
Temperatures are as follows:
November: Average high of 56 degrees, low of 30 F
December: Average high of 45 degrees, low of 23 F
January: Average high of 44 degrees, Low of 22 F
February: Average high of 52 degrees, Low of 28 F
About Canyonlands National Park
Before we dive into visiting Canyonlands National Park in winter, it's important to get a lay of the land. Unlike other national parks, Canyonlands is separated into three distinct districts:
Island in the Sky: Easiest to access. 40 minutes from Moab.
The Needels: Remote, but paved roads throughout most of the district. 1 hour and 30 minutes from Moab.
The Maze: Rugged, remote, 4×4 roads requiring high clearance and low gears to enter. 4 hours from Moab.
These three districts each have a unique flavor and offer different things to do. Here's a map to get oriented:
Entering the park is a $30 entry per day (no ins-and-outs) or free with an America the Beautiful Annual Parks Pass.
The park is not dog-friendly, they are not allowed on hiking trails, dirt roads, or in some places they can't even leave the vehicle, so leave your pup at home.
Lastly, cell phone service is minimal to none in the park, so don't expect to be able to use your phone.
General Winter Tips for Visiting Canyonlands National Park in Winter
The desert is an unforgiving environment, and winter is no exception. You're expected to be prepared for emergencies and be able to visit Canyonlands self-supported.
There is no gas, food, or lodging available inside the park, so bring in everything you need for the day. Toilets are still open and maintained year-round.
Trail and road conditions can vary. Roads can close for snow removal (although it's not too common). And dirt roads may become impassable for weeks. Check conditions prior to heading out.
Even a little bit of snow and ice can make hiking treacherous, so bring along traction devices like microspikes for snowy trails. Cairns frequently get covered with small snowdrifts, so also be sure to bring a GPS to navigate.
Permits are still required for day use of White Rim Road and for overnight backcountry adventures like backpacking in the Needles District. Get your permits in advance, since visitors centers aren't always open every day.
Pro Tip: If you're camping, bring your own water, as there is no water at any campgrounds over winter in Canyonlands National Park.
Conditions and Opening Hours in Island in the Sky in Winter
As the easiest district in the park, Island in the Sky is open in the winter. The visitors center is closed Tuesdays and Wednesdays from January to early March and on public holidays.
Potable water is available at the visitors center only from 9 am to 4 pm on the days it is open, but the park expects you to bring your own water.
Permits: Permits are still required for day use of White Rim Road and any backcountry trips, including overnights along the White Rim Road.
What to Expect at the Needles in the Winter
The Needles Visitor Center closes from late November until early March. Plan your trip to the Needles in advance and get any permits you may need online. There is a payphone for emergency services and rangers are present.
Water is available outside of the visitor center, but plan on bringing all of your water with you.
The Needles District is a bit more remote with the nearest gas station over 1 hour away in Spanish Valley. There are no services after you pass Spanish Valley, so be sure to bring in everything you will need for the day.
Pro Tip: The Needles Outpost – the only service center near this area of the park – closes over winter.
Permits: All overnight travel in the backcountry requires an advanced permit as do day-use trips to Elephant Hill.
Accessing the Maze District During Winter
The Maze District is about as rugged and "out there" as it gets. To access the Maze, you will need to travel down rugged, 4×4 roads with a high-clearance vehicle for hours. There are no services anywhere near the Maze and you are expected to bring everything you need.
Pro Tip: There is no water here, so bring it with you.
Unlike other districts of the park, the Maze in winter does not have any maintained roads. Roads can become impassable for long periods of time after it snows. Therefore, winter really isn't a great time visit the Maze, since you can easily get stuck out here for far longer than anticipated.
The Hans Flat Ranger Station is open from 8 am to 4:30 pm daily to check you in if you're lucky enough for roads to be open.
Permits: Any activities in the Maze require an advanced permit year-round.
What is There to Do in Canyonlands in the Winter?
Despite the colder temperatures, there are lots of incredible things to do in Canyonlands National Park in the winter. Some activities, like winter camping, may be a bit adventurous, but there are lots of amazing hikes in Canyonlands, epic viewpoints, and scenic drives to enjoy.
Driving the White Rim Road
As one of the most iconic scenic drives near Moab, the White Rim Trail has to be on your bucket list. This 100-mile long 4×4 road takes you into the heart of Canyonlands National Park. Surround yourself with stunning cliffs and red-rock canyons that go on for miles and miles.
In the winter, it might not be possible to do the entire road (check conditions for the Shafer Canyon Switchbacks), but you can head down the Mineral Bottom switchbacks and spend a few days winter camping along the road without a soul in sight.
You'll need an advance permit – even for day trips, so be sure to book yours before heading out.
Average time: 2 to 3 days
Difficulty: Moderately difficult if you have experience 4×4 driving, difficult if you do not.
Hiking in the Needles During the Winter
For a truly out-of-this-world hiking experience, you've got to check out the Needles District. I've been all over the American Southwest, and there's really nothing quite as unique as these towering spires.
The Needles offers several different hiking trails catering to all abilities, which makes it an excellent option for families and skilled hikers alike.
For a true adventure, head to Druid Arch, deep in the heart of the Needles. Easier trails include The Chesler Park Loop, Devil's Pocket, and the Elephant Hill hiking trail (not to be confused with the Elephant Hill 4×4 Road).
Average Time: 1/2 to a full day
Difficulty: Easy to difficult depending on your route
Winter Hikes in Island in the Sky
Hikes in the Island in the Sky District are a particular treat in the winter. You'll get spanning views and incredible scenery along these amazing trails. Choose 1 longer hike or a few short ones to have a fun-filled day hiking and soaking in views. A few must-see trails include:
Mesa Arch: 0.7 miles, easy, 15 minutes.
Grand View Point: 1.8 miles, easy, 1 hour
Aztec Butte: 1.7 miles, moderate, 1 hr.
Upheaval Dome: 1.3 miles, moderate, 45 minutes
Syncline Loop: 8.6 miles, difficult, 4.5 hours
Check out the Thelma and Louis Viewpoint for Sunset
One of the best hidden gems in the park is Thelma and Louis Viewpoint – yes, the place where they flung the car off the cliff. This jaw-dropping location is along the bottom half of Shafer Canyon Road. It's an absolutely stunning view and one of the top things to see in Canyonlands National Park in winter.
Pro Tip: Go for sunset, you certainly won't be disappointed and chances are, you'll be the only ones around.
Average Time: 2.5 hour-drive from Moab (or 3 hours from the top of Shafer Canyon Road in Canyonlands National Park), but you'll likely spend at least a half-hour checking out the view too.
Difficulty: Easy
Visit the Green River Overlook
Often passed by in favor of other viewpoints, the Green River Overlook is one of the top viewpoints in Island in the Sky. Another noteworthy sunset spot, this overlook delivers dreamy views of the Green River and has incredible lighting during the sunset hours.
Average time: 15 to 30 minutes
Difficulty: Easy
Visiting Mesa Arch in the Winter
Arguably the top attraction in Canyonlands National Park, Mesa Arch is a unique feature found in Island in the Sky. Photographers from all over the world flock to Mesa Arch for sunrise in order to capture that sunburst peeking above the canyon walls.
But with such fame, comes endless crowds. In the summer, there can be up to 150 people here on a given morning. Trust me, it's a small space, and that's quite the crowd!
Photographing Mesa Arch in winter is a real treat because the crowds tend to be far fewer, and you can wake up a little bit later for that iconic shot, thanks to the shorter days.
Just be sure to pack duty gloves, a warm beverage, and keep extra camera batteries close to your chest for warmth.
Pro Tip: Don't expect solitude! I photographed Mesa Arch for sunrise on Christmas Eve and there were still around 20 people lined up at sunrise.
Average time: 15-minute hike. If you're photographing the arch, get there about 1 hour prior to sunrise to snag a good spot for your tripod. you'll likely shoot for another half hour to an hour. Total time is around 3 hours.
Difficulty: Easy
Scenic Driving in Canyonlands National Park in Winter
Don't want to deal with the cold? Enjoy the stunning views from the comfort of your vehicle. There are lots of impressive drives in Canyonlands National Park that are perfect during the winter months. Keep in mind some roads require higher clearance and low gears to complete. A few must-see drives include:
Grand View Point Road: Island in the Sky, 1 hour, paved.
Elephant Hill Road: Needles District, half day. 4×4 vehicle with high clearance. Permit required.
Shafer Canyon Road: Island in the Sky, half day. An SUV with AWD and low gears recommended.
BLM Road 211 to Needles Main Park Road: Needles District, 3 hours. Paved.
Pro Tip: If the top of Shafer Canyon Road is closed, you can access the route Via Potash Road from the bottom. You won't be able to drive to the top, but you can make your way through some stunning canyons and stop at amazing views.
Hiking Grand Viewpoint in Island in the Sky
Part hike and part epic viewpoint, the Grand View Point takes you to the southern-most tip of the top of the Island in the Sky canyon system. This 1.8 mile, easy hike has mind-blowing views the entire way. You can see the mighty White Rim Canyon, Maze District, Orange Cliffs, and so much more from this stunning hike.
Average time: Your hike time is just under 1 hour, but you'll spend plenty of time gawking at the scenery, so plan for 2 hours.
Difficulty: Easy
Winter Camping in Canyonlands National Park
For the truly adventurous who don't mind the cold (or for those that have portable heaters) camping in Canyonlands in winter is a real treat. First, you'll have plenty of solitude, winter camping isn't exactly popular. But secondly, you'll be able to hit up many of the top attractions during unique hours of the day, making your winter trip to Canyonlands one to remember.
There are two campgrounds open in Canyonlands over winter: The Needles Campground and the Willow Flat Campground in Island in the Sky. Both campgrounds are available on a first-come-first-served basis over winter.
Pro Tip: Bring in all of your own water, since the spigots get turned off at campgrounds during the winter months. Toilets are still open.
Go Stargazing in Canyonlands in Winter
Even though the temperatures can drop to teeth-chattering levels overnight in the desert, the winter is the absolute best time to go stargazing in Canyonlands National Park. The winter air is crisp, clean, and provides the best views of the night sky.
The Needles and the Maze are the best districts for stargazing, simply because you won't get the glow from Moab in the distance and these are true Dark Sky Territories. But the Island in the Sky can be just as cool, especially if your views face south or west.
Plan your stargazing experience by heading out during a new moon. Use a tool like weather.gov to check sky coverage in your chosen district of the park before heading out.
What to Wear
The weather in Canyonlands National Park in winter is quite cold. You'll want to be prepared with plenty of warm layers. That way you can shed 'em when you don't need 'em and bundle up when the wind starts to bite. Here's what you should wear.
Thermals
Synthetic thermals will keep you warm no matter what and you can strip down to these essential layers if need be.
A fleece jacket
Perfect for bundling up quickly or using as a light layer on warmer, calm days.
Fleece-lined pants or durable hiking pants
Avoid jeans, leggings, or anything that's too thin. The wind will cut right through you and jeans get quite cold.
A large puffy jacket or parka
I love my Mammut Parka. It's great for when I'm just doing easier light hikes and checking out viewpoints. For longer excursions where I'm fairly active, I'll bring along my RAB Puffy Jacket. Down is ideal, but whatever is warmest will do.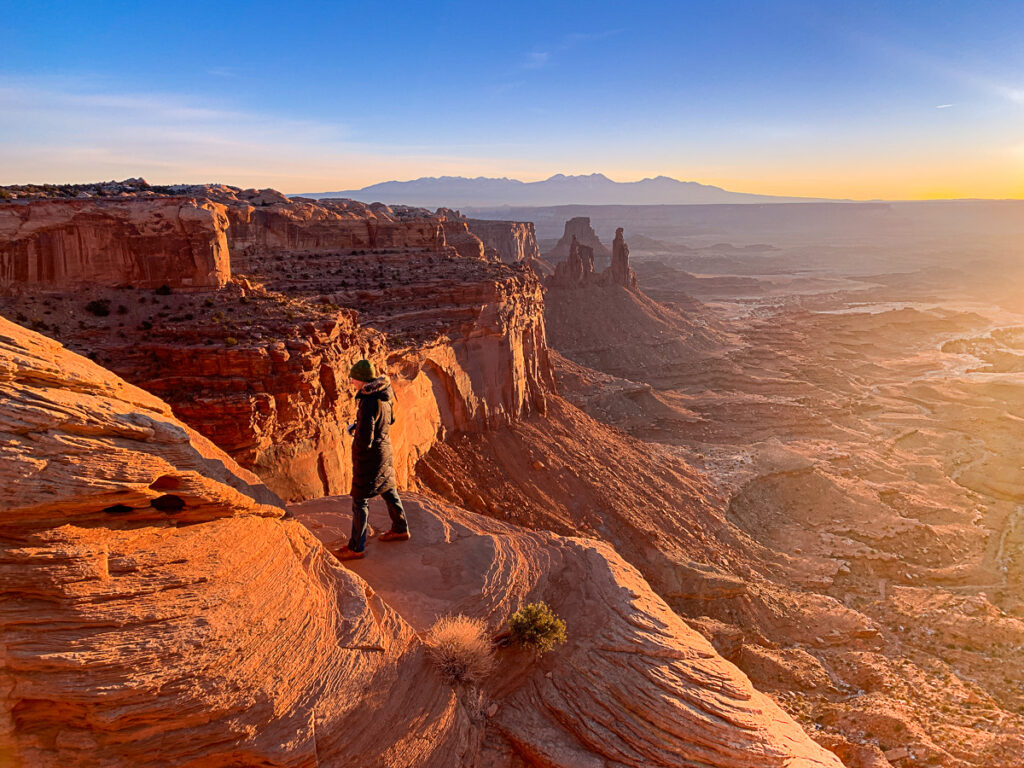 A windbreaker
Windbreakers are great for taking breaks or waiting for a sunrise on the canyon's edge. The wind in the desert bites hard, so always pack this layer.
Fluffy, non-cotton socks
Unhappy feet equal an unhappy hiker. Wear fluffy wooly socks to stay warm.
Pro Tip: Pack a spare pair for the car. Warm them up on the dash when you're done with your hike for a fresh, warm sock to treat your feet.
A beanie
This easy layer does quite a bit to keep you warm. Remove it if you work up a sweat for instant cooling.
Glove liners
Perfect for hiking in Canyonlands in the winter.
Duty gloves
If you're checking out viewpoints on a cold-weather day, you'll want robust winter gloves to keep your fingers warm. Choose a glove with some dexterity for snapping photos.
Pro Tip: The last time I visited Canyonlands in winter, I had just had shoulder surgery. I wasn't moving around much and my duty gloves kept my already numb arm warm enough to burn with pins and needles.
Sturdy hiking boots with solid traction
You'll want hiking boots in the winter to keep your tootsies warm and give you steady footing. If there hasn't been much snow, you won't need waterproofing, but a lot of moisture, waterproof boots will be helpful. I find that my approach shoes, although helpful on the slick rock, just don't give me the warmth in the winter.
What to Pack
Since there are no services in Canyonlands National Park during the winter, you'll want to bring everything in with you. Of course, your activities are going to determine what you really need. But for a day spent in Canyonlands National Park in the winter, you'll want the following:
Water
Bring along enough drinking water for the day. Even though it's cold, the desert is still a dry place and dehydration is still a threat. Plan on bringing 4 liters of water per person.
A warm beverage
Pack a thermos with your favorite hot beverage. I love my Java Press by GSI Outdoors.
Snacks and food for the day. Bring along plenty of delicious snacks and tasty food. Leaving the park means you'll pay again to re-enter, so plan on spending the entire day in one area. If you want something hot, heat up your favorite dish and pack it along in a Hydroflask Food Flask.
A small hiking bag
I'm permanently attached to my REI Flash 22 and REI Flash 18. A small hiking bag that can carry a few layers and a handy snack for a short hike is key.
USB charger for your camera and phone plus extra camera batteries
The cold winter air does a number on phone and camera batteries, so be prepared to charge your camera and phone as you drive from one viewpoint to the next. For longer days out, pack an extra camera battery and carry it close to your body.
GPS and navigation device
You won't have any cell service in the park, so come prepared with your maps pre-downloaded for offline use and load all of your planned hikes onto the GPS device of your choosing (I use my Garmin InReach Mini). Trails are generally well-marked, but it's best to come prepared.
National Geographic Paper Maps of the park
I found both the Needles District Map and Island in the Sky Map to be very helpful. You'll get info on hikes, attractions, and more.
A small first aid kit
Help is hard to find in Canyonlands over winter. Be prepared with a small first aid kit to keep you found.
A National Parks Pass
If you plan on visiting Canyonlands for more the 3 days, or you plan on visiting more than 3 national parks in the span of 12 months, then this annual pass is completely worth it.
Where to Stay near Canyonlands National Park in Winter
If winter camping isn't your thing, don't worry, there are plenty of lodging options near Canyonlands over the winter months. Your best bet is going to be to stay in either Moab or Spanish Valley.
Spanish Valley puts you about 10 minutes closer to the Needles District and 10 minutes further from Island in the Sky, while Moab puts you about 40 minutes from Island in the Sky.
Either option is great, I've done both, but I personally prefer Spanish Valley. It's slightly cheaper, quiet, and has excellent views right out of your doorstep.
You can score some great deals on lodging in both locations. Hotels and AirBnBs alike are substantially discounted over winter. Personally, I prefer renting an AirBnB since I enjoy cooking for myself and frequently used to travel with my doggo Nina before she passed away.
Is Moab Good to Visit in Winter?
Absolutely. Just like Canyonlands, there are plenty of things to do in Moab, even over winter. The only real downside to visiting Moab in the winter is that some of the more touristy shops and restaurants are closed. While a few of the year-round, more local establishments have reduced hours. However, if you don't mind being a little flexible and you don't need to visit every generic t-shirt shop in town, then you'll still have an excellent time in Moab in the winter.
Nearby Attractions
There are plenty of must-see attractions around Canyonlands National Park. A few worth while adventures include:
Additional Expert Moab Travel Resources
Planning a trip to Moab? I've got you covered with this incredible list of expert travel resources: