Moab is like a second home to me. I visit this fantastic desert oasis at least six times a year, sometimes more. Over the years I've amassed a mega-list of the best hikes in Moab, Utah.
The key to enjoying the many Moab hikes is to have a plan. Many hiking areas in Moab are located in clusters.
For example, Potash Road has several dog-friendly hiking trails, while Arches and Canyonlands offer clusters of hiking trails that don't allow pets.
Over the years, I've come to Moab COUNTLESS times. What can I say? The red rock desert is what dreams are made of.
This landscape gets watered by my drool every time I visit.
You'll get advice from all kinds of hikers, myself included in this epic guide to hikes in Moab.
About this Guide to the Best Hikes in Moab, Utah
Use this guide to plan your itinerary of the best hikes in Moab. In this guide you'll find info on:
The Best Hikes in Moab, Utah
With two national parks, one state park, and endless BLM hiking trails, there are a lot of hiking trails in Moab.
The best hikes in Moab can be found throughout the area and range in difficulty.
However, each of these Moab hikes offers something a little different than the last. You could spend a lifetime exploring here, so let's dive in!
1. Make a Splash on the Mill Creek Trail
Tired of the sweltering heat? Hit up one of the few Moab hikes that feature a waterfall, Mill Creek. This 7.5-mile trail features a waterfall and is an excellent place to stop for a dip.
The easy terrain makes this watering hole both kid and dog-friendly. So go ahead and splash around! Don't forget your bathing suit!
Difficulty: Easy
Distance: 7.5 miles
Elevation: 672 feet
Time: A 3.5 to 4-hour hike, excluding swim time
Red Tape: None
2. Wander the Rim at Dead Horse Point State Park
by Lori of Fitz 5 on the Go
Don't let the name discourage you, Dead Horse Park has one of the most beautiful views in Moab (and that's saying a lot for a city full of amazing views).
With some of the best hikes near Moab, Dead Horse Point offers a variety of easy hiking trails that are suitable for the whole family. These kid-friendly hikes go right along the rim, offering breathtaking views to the canyon far below.
Dead Horse Park is featured in many movies like that ending scene in Thelma and Louis. Because the canyon is not as wide as the Grand Canyon it's more photogenic, making it one of the best things to do in Moab.
On any trip to Dead Horse Park, you can bike or hike! The trail itself is easy and family-friendly but it's worth remembering that the park is located at the top of a canyon ridge.
Pro Tip: I don't recommend taking kids that are prone to wandering off. It's also probably not the best choice if you're afraid of heights (but that knocks out most of the rest of Moab too).
The best time to visit the park is at sunset and the experience can be magical. If you're looking for some outstanding views in the Moab area, Dead horse Park should be at the top of your list.
Pro Tip: Take the scenic Gemini Bridges 4WD road to the park for even more luscious canyon views.
Difficulty: Depends, but the Dead Horse Rim Loop Trail easy
Distance: 5 miles
Elevation: negligible gain
Time: 5 to 7 hours
Red Tape: There is a small fee to enter the park ($20), but dogs are welcome as long as they are leashed.
3. Chase the Sunset at the Hidden Valley Trail
Located in the small town of Spanish Valley, the Hidden Valley Trail is just that – HIDDEN!
As one of the quieter Moab hikes, this trail delivers you beautiful views of nearby Moab and Spanish Valley.
At sunset, you'll catch the La Sal Mountains glowing in the beautiful red hues of the setting sun and slowly fade to a purple landscape.
Pack your headlamp for this dog-friendly hike. The beginning is a bit steep, but it gets much easier once you gain the first mesa.
Difficulty: difficult
Distance: 6 miles
Elevation: 1,171 feet of gain
Time: 3 hours
Red Tape: None
4. Wander along the Grandstaff Trail
Another great option for beating the crowds at the national parks, the Grandstaff Trail is one of the top Moab hikes.
One of the few hikes in Moab that allows dogs, you'll find plenty of awesome ways to stay entertained.
Moving from sandy bottom to stream crossings (when it's flowing) and some light scrambl-y sections you've got it all at Grandstaff.
You'll find this hike along Highway 128 to Cisco. This is one of the most scenic drives in Moab, so don't miss out!
Difficulty: Moderate
Distance: 5.7 miles
Elevation: 836 feet of gain
Time: 3 hours
Red Tape: None
5. Fisher Towers Hiking Trail Near Moab, Utah
This moderate hike winds its way up mind-altering muddy rock formations that jut out of nowhere the Colorado River basin. The Fisher Towers Trail is a great option for those who are headed in and out of Moab via route 128.
Many people climb the weird, muddy rock (as a climber, don't ask me why seems sketchy to be honest!) and it's an excellent place to spot climbers and wander around the weird scenery. Bonus points to this hike for being dog-friendly.
Pro Tip: This is also one of the most iconic climbing spots in Moab, so check out the amazing rock climbers as you hike around.
Difficulty: moderate
Distance: 4.7 miles
Elevation: 1,820 feet of gain
Time: 2.5 to 3 hours
Red Tape: None
6. Go for a Sunset Hike to Corona Arch
Corona Arch is the perfect afternoon hike. Located just outside of Moab on Potash Road, you'll find plenty of adventure.
In fact, this area is home to some of the best things to do in Moab such as finding dinosaur tracks and petroglyphs, climbing, and more arches.
The hike to Corona Arch is three miles over slickrock and moderate difficulty, mostly for the end cable sections. There is one ladder to help you out too.
Use the green lines painted on the ground to find your way. You'll also find a few cairns (stacked rocks) to mark the trail.
Just before getting to the arch, you'll pass two cable sections and have to climb a ladder. The first cable section isn't too tough, but the second was fairly steep, but nothing impossible.
They claim this is a dog-friendly hike, but most larger pups will struggle with the 6-foot ladder. Be prepared to carry your dog in your pack or use a harness to lift and carry your four-legged friend.
Local tip: Bringing Fido? Go to nearby Pinto Arch instead. On the same trailhead, you'll see a marked turnoff for the arch.
Difficulty: Easy
Distance: 2.3 miles
Elevation: 469 feet of gain
Time: 1.5 hours
Red Tape: No climbing the arch. Dogs are welcome, but it's not a dog-friendly trail.
The Best Hikes in Moab: Arches National Park
Known as the gem of Moab, Arches National Park is a must-see. The park features plenty of accessible, easy hikes with big rewards. In fact, it's one of the best national parks for hiking.
Some of the best views in Moab can be found here. Photographers will love the opportunity for unique landscape shots, so pack your camera.
There are countless amazing hikes in Arches National Park. So be sure to explore all the park has to offer.
7. Devil's Garden Loop in Arches National Park
This difficult, yet doable trail makes its way through fun and exciting rock formations. Arch enthusiasts will be on cloud nine with the ability to spot six different arches along the trail.
Devil's Garden Trail meanders a bit and scrambles over various rock formations, so be prepared to use your hands.
The back end of the loop is "primitive." However, things are well marked, looked for cairns and signs but carry a GPS just in case.
Difficulty: difficult
Distance: 7.5 miles
Elevation: 1,069 feet of gain
Time: 4 to 6 hours depending on how well you scramble and how many stops you make.
Red Tape: No dogs. $30 park entry fee
8. Hike the Double Arch and Windows Loop Trail in Arches National Park
With over 2,000 naturally formed arches in Arches National Park, it certainly lives up to its name.
The park is only 5 miles north of Moab and with so many amazing hikes in Arches National Park, it can be tough to choose.
One of the best hikes is Double Arch Trail and the Windows Loop. These sister arches show off the impressive power of both wind and rain. This trail features two arches and the famous Windows rock formation that perfectly frames the La Sal Mountains.
During summer you may want to get there early for sunrise if you are planning to do some hikes and photography. You do not want to be hiking during the midday heat.
Pro Tip: Visit for sunset, then head to the Double Arch after the sun goes down for amazing astrophotography.
Difficulty: Easy
Distance: 0.5 miles,
Elevation: 32 feet of gain
Time: A half-hour to an hour, depending on how long you marvel at the formations.
Red Tape: No dogs. $30 park entry fee.
9. Challenge Yourself in the Fiery Furnace
If you love to scramble up and over rock through wild and tight canyons, then you've got to check out one of the most challenging Moab hikes – the Fiery Furnace.
Don't let the low mileage fool you – this hike requires just as much use of your hands as it does your feet. You'll be crawling through a canyon system that feels more like an obstacle course than a hike. But if you're into scrambling (light rock climbing that uses your hands), then you can't miss the Fiery Furnace.
Don't forget to check out Surprise Arch too!
Inexperienced parties are encouraged to register for a guided permit, while avid desert hikers can go on a solo adventure (permit required).
Pro Tip: No guided permits are being issued in 2021 but solo permits are available.
Difficulty: Challenging
Distance: 1.7 miles
Elevation: 387 feet of gain
Time: 1 – 2 hours
Red Tape: No dogs. Advanced permits are required, released one week at a time. $30 entry fee for the park.
10. Check out Delicate Arch for Sunrise
Delicate Arch is certainly one of the best hikes in Moab. In fact, it's one of the most beautiful hikes in the US.
However, it's also insanely crowded. I'll let you in on a little secret: visit for sunrise in the winter to beat the crowds. We enjoyed this spot with literally 4 other people for a gorgeous sunrise on Christmas Day.
The Delicate Arch hike is relatively easy and straightforward. Follow trail signs up a hill and then up a steeper slickrock section.
After that, follow the wash until it leads up some more slickrock and past a small window with steps before it (check out the view of Delicate Arch).
Just around the bend is the view you've been waiting for!
Local Tip: Scramble around for different viewpoints of the arch. It's truly a wonderful landscape!
Difficulty: Easy to moderate
Distance: 3 miles,
Elevation: 610 feet of gain
Time: 2 hours
Red Tape: No dogs. $30 park entry fee.
11. See the Largest Arch Span in the World at Landscape Arch
If you don't want to tackle the entire Devil's Garden Loop, at least make a pit stop at Landscape Arch.
This is one of the easiest hikes in Moab and terminates at the impressive Landscape Arch. This delicate rock formation spans 155 feet and is only 11 feet at its widest point.
It's an inspiring sight and would make an excellent place for astrophotography.
Local Tip: Add Tunnel Arch and Pine Tree Arch to your trip for an additional easy 0.4 miles.
Difficulty: Easy
Distance: 1.9 miles
Elevation: 259 feet of gain
Time: 1 hour
Red Tape: No dogs. $30 entry fee.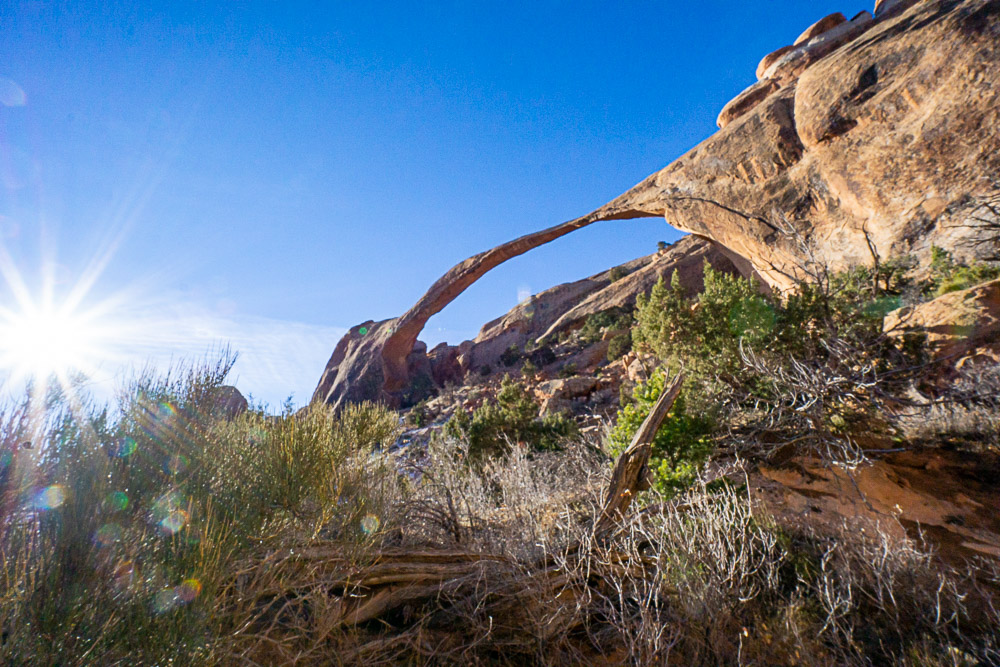 Amazing Hikes Near Moab: Canyonlands National Park
Canyonlands National Park is divided into three sections. The Island in the Sky District is the closest to Moab and is home to gorgeous overlooks and easy Moab hikes.
The Needles in Canyonlands is about 1.5 hours south of Moab and features plenty of challenging trails.
The Maze is 4 hours from Moab and offers the best in cross-country, challenging excursions that should only be attempted by experts.
Either way, there are plenty of scenic hikes in Canyonlands National Park to keep you occupied.
12. Grand View Point Trail in Canyonlands National Park
If you're looking for sweeping canyon views, then head to the Grand Viewpoint Trail in the Island of the Sky district of Canyonlands National park.
This 2-mile trail meanders its way to a panoramic viewpoint where you'll enjoy the sweeping scenery of the deep canyon systems. Take care of the cliff edges and follow cairns if you get lost.
Difficulty: Easy
Distance: 2 miles
Elevation: 32 feet of gain
Time: A half-hour to an hour, depending on how long you marvel at the formations.
Red Tape: No dogs. $30 entry fee.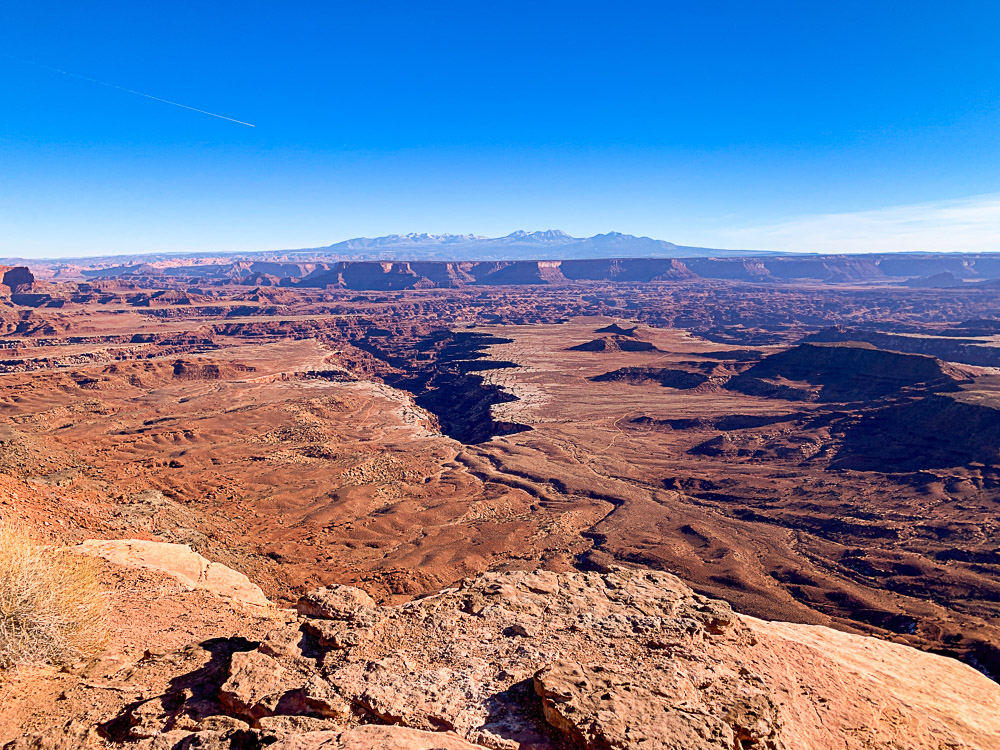 13. Experience History at the False Kiva
Another classic hike in Canyonlands, this moderate walk takes you to some of the most important histories of our nation.
The False Kiva is an old Kiva, or meeting room for the ancient Puebloans. Kivas are still a part of many important Native American Tribes today.
Not to mention, the view is incredible from here.
Difficulty: Easy
Distance: 1.9 miles
Elevation: 426 feet of gain
Time: 1 hour
Red Tape: No dogs. $30 entry fee.
14. Soak Up a Sunrise at Mesa Arch in Canyonlands National Park
This picture-perfect, short hike offers easy viewing of one of the most stunning natural windows in the world. Rise and shine before dawn for this must-do hike near Moab.
Be prepared to share the view, it's quite a popular short hike for photographers. We were here for sunrise on Christmas Eve and there were about 15 other people sharing the experience with us.
Located in the Island of the Sky district of Canyonlands, the Mesa Arch sunrise hike is easily accessible from Moab.
The sun rises directly underneath Mesa Arch, illuminating the stunning, spanning canyon below, making it one of the best hikes in Moab.
Pro Tip: Visiting Canyonlands National Park in winter lets you experience this magical sunrise hike without the hordes of people.
Difficulty: Easy
Distance: 0.6 miles
Elevation: 62 feet of gain
Time: A half-hour of hiking, and endless time to enjoy the views.
Red Tape: No dogs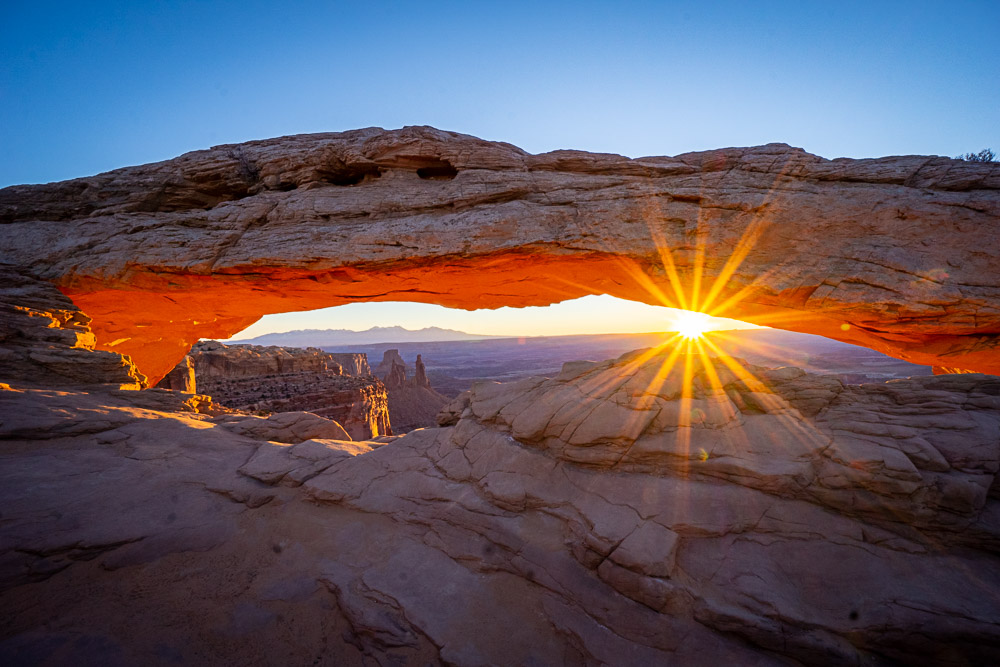 15. Taste it all on the Cave Spring Trail in Canyonlands National Park
For an all-in-one experience, you'll want to check out the Cave Spring Trail. As one of the easiest Moab hikes this trail packs a punch. The 0.6-mile loop features beautiful views of the Needles District of Canyonlands, historical artifacts, and even a few fun ladders.
The Cave Spring Trail is one of the most perfect Moab hiking trails if you're short on time. Just note that the trail is in the Needles District of the park – about an hour and a half drive from Moab.
Difficulty: Easy
Distance: 0.6 miles
Elevation: 62 feet
Time: 15 minutes.
Red Tape: No dogs. It is a $30 entrance fee to get into the park unless you have an America the Beautiful Annual Parks Pass.
16. Hike Murphy's Loop in Canyonlands
Murphy's Loop is an incredible, 10.8-mile loop trail in Canyonlands National Park. If you're looking for some of the best things to do in Moab with sweeping views and wide-open landscapes, look no further!
It's also perfect if you want to get away from the craziness of other more visited Utah national parks like Arches and Zion. We hiked this trail on a Saturday afternoon and only saw two other hikers the entire time.
The trail is not for beginner hikers or those with a severe fear of heights or exposure. That being said, the trail is well-marked, well-maintained, and there are no scrambles.
The trail starts with a flat walk on top of the mesa to the edge, where you'll get spanning, wide-open views, and dramatic landscapes. From here, the path snakes down for 1,000 feet into Murphy Basin, with steep switchbacks and sharp descents.
At one point, you'll cross a wooden bridge with no railings that spans a steep drop-off. Once you get to the bottom, the trail continues around various rock formations, steep cliffs, and canyons with more otherworldly views.
Depending on how fast you walk and how long you linger, this is a solid day hike of 6-7 hours (no permit required). Bring plenty of water and food!
Difficulty: Hard to moderate
Distance: 10.1 miles
Elevation: 1,614 feet of gain
Time: 5 to 7 hours
Red Tape: No dogs. $30 entry fee
17. Discover the Hoodoos Along the Chesler Park Loop in Canyonlands National Park
The Needles District, located in the remote southern region of Canyonlands National Park is a must-see.
Hike along a maze of towering sandstone spires and visit spanning vistas of this unique landscape.
Located about an hour and a half from Moab, this area is remote but jaw-droppingly beautiful.
The Chester Park Loop makes an awesome day hike, or you can snag a backpacking permit and spend the night in this fascinating landscape.
Difficulty: Moderate
Distance: 11.6 miles
Elevation: 1,935 feet of gain
Time: 6 hours including time to stop and admire the landscape
Red Tape: No dogs. Permits are required for overnight use. $30 entry fee
18. Hike the Joint Trail in the Needles District
As one of the best hikes in Moab, you'll have to earn the views along this magnificent trail. But don't worry, the 1.5-hour drive from Moab is well worth the effort!
Wander your way through the pointy Needles District in the southern end of Canyonlands National Park.
The Joint Trail makes its way through two perfectly vertical slices of rock for a weird, other-worldly feel! Add an additional 5 miles to your trip and hike all the way out to Druid Arch, an icon of Canyonlands.
Difficulty: Moderate
Distance: 4 miles
Elevation: 528 feet of gain
Time: 2 to 3 hours
Red Tape: No dogs, 4WD, high clearance required to reach the trailhead. $30 entry fee
19. See the Monolith of Druid Arch in the Needles
The hike to Druid Arch is a doozy, but worth it! This 10-plus mile hike brings you into the heart of the Needles.
You'll make your way through everything from a small slot, deep sand, scrambly dry-falls, and plenty of insane views of Elephant Canyon before you reach the end.
A ladder and chain help you before you endure one more butt busting uphill. Keep going! It's worth it.
Local Tip: Backpacking the Needles is one of the most amazing things to do in Canyonlands National Park, so snag a permit at Elephant Canyon 2 and spend the night.
Difficulty: Moderate
Distance: 10.4 miles
Elevation: 1,614 feet of gain
Time: 5 hours
Red Tape: No dogs, permit required for backpacking. $30 entry fee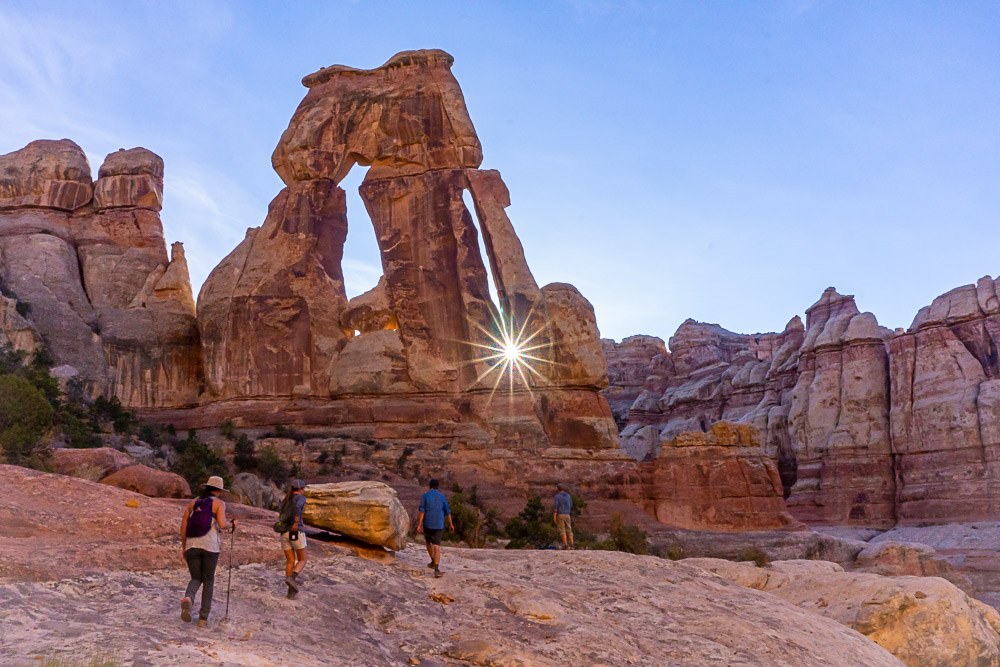 A Map of the Best Hikes Near Moab
Get oriented with this map of the best Moab hikes. Be sure to check out the interactive map too for more info.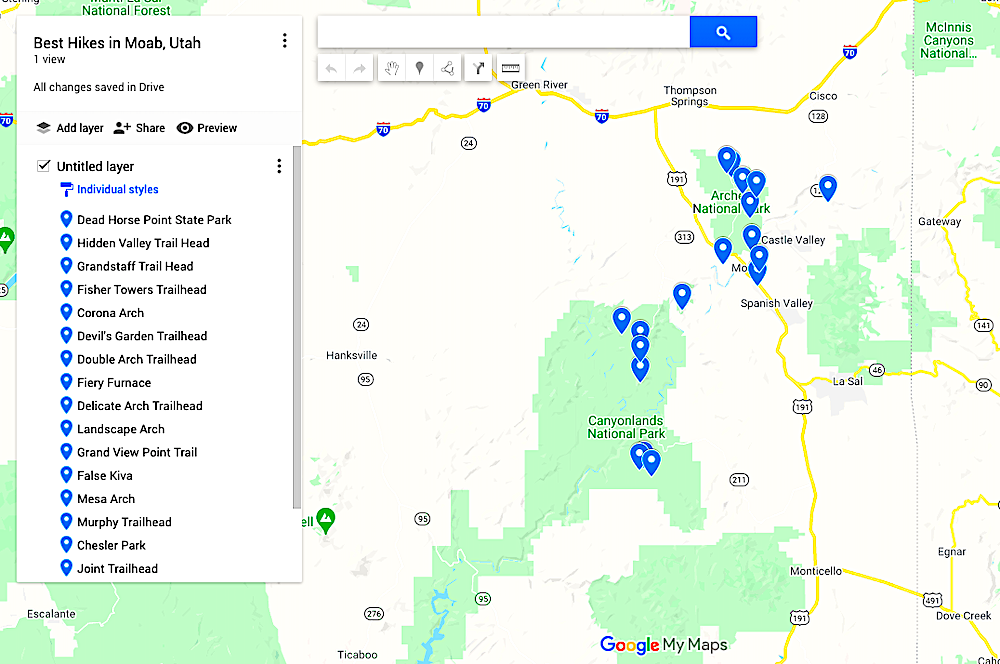 How to Find the Best Hikes in Moab
Not finding the perfect hike? You can discover your own hiking trails in Moab by utilizing this guide to finding hikes nearly anywhere.
Whether you love sweeping views, big rock formations, or splashing in the water, there's a hike for everyone in Moab, Utah. This action-packed list of the best hikes in Moab, Utah will get even the most hesitant of hiker out on the trail.
How Many Days Should I Spend Hiking in Moab, Utah?
That all really depends on how hard you'd like to hike. There is a wide variety of activities to do near Moab, but hiking is surely one of the best (and most cost-effective) ways to see the sites.
If you're an avid hiker, you could spend your entire trip hiking the various trails. Newbie hikers have plenty of options for shorter, scenic in Moab. Plan to spend at least two full days hiking around. Keep in mind that trails are sometimes far apart, and often located down dirt roads (some require high clearance).
How to find top-notch Moab lodging
Moab knows that it's a world-class desert playground and unfortunately that means cheap lodging is tough to come by.
Expect to pay at least $120 per night at a hotel and around $150 per night at an Airbnb. Factor in meals and other expenses and staying in town can quickly hike up any budget. However, sometimes it's nice to have a little luxury.
Camping in Moab, Utah
Camping is the popular choice in and around Moab and it's easy to see why. Moab offers tons of options for any type of camper, from the full-on RV to the BLM-hungry dirtbag. You can reserve a few commercial campgrounds in advance, as well as camping in either Arches or Canyonlands.
If dispersed camping isn't your thing, consider a glamping adventure. With a splash of luxury, you'll feel right at home under the stars while glamping in Moab.
Your other option is to try your luck at BLM campgrounds in Moab. These areas require a small fee ($20 per night, cash or check), minimally serviced campsites that are available on a first-come-first-serve basis.
Be aware that they are almost always full during the spring and fall. Your other option is to find free-dispersed camping near Moab on BLM Land.
These sites are typically a coveted secret with fellow BLM camping enthusiasts and take a little digging to find, but that's half the fun!.
If you plan on camping on BLM land be sure to be prepared for desert camping and boondocking, bring your own water, pack it out, and don't expect to find a bathroom or hookups.
Free BLM camping is an awesome way to have a Moab adventure. However, keep in mind Moab is very strict when it comes to free BLM camping, so be sure to check on local allowable camping areas.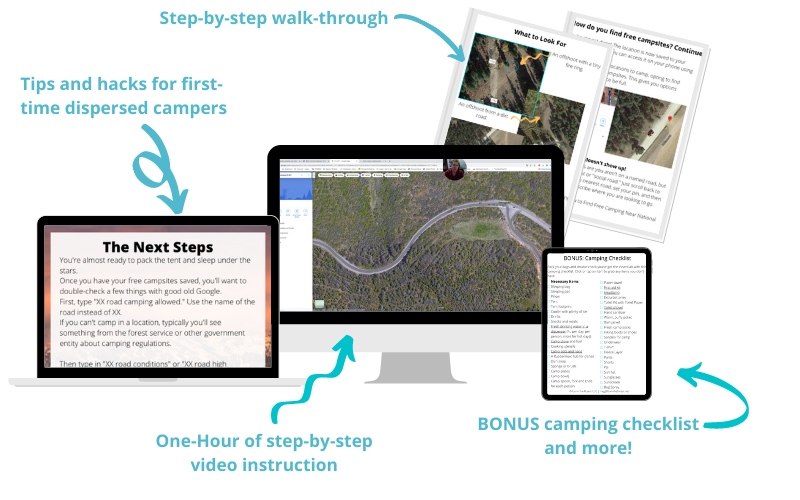 Find Free Camping Anywhere in the US!
Dream of spending the night under the stars without a noisy campground? Learn the secret method to finding picture-perfect FREE camp spots in all of your favorite locations.
This one-hour course gives you a step-by-step proven method to find incredible free camping virtually anywhere in the US. Get it now for just $7.
Learn More about camping in the Desert
When to Visit Moab, Utah
When it comes to the desert, you'll want to avoid the heat. Trust me, nothing screams brutal more than 120 degree days with hot rocks.
Avoid the dead of summer, where it is not only unbearably hot but also surprisingly crowded.
Winter is an excellent time to visit Moab if you don't mind the cold. There will be next to no one around and you might even get a snow-capped desert – a real treat!
For the best weather and beautiful views, visit Moab during the spring or fall. Temperatures are typically less extreme and you can do some of the best Moab jeep tours too.
There are still a fair amount of crowds, but the milder weather makes up for it.
Personally, I enjoy visiting the desert between late October and March for the best weather and low crowds.
Tips for Hiking in Moab
Hiking in a desert environment requires a few special skills. Some of the best hikes in Moab that aren't popular don't really follow much of a trail at all.
Keep in mind that most trails aren't well marked. In fact, they often cross through natural drainages that constantly shift and change with water flow.
This can make hiking in Moab a bit of a challenge for the inexperienced. Be sure to have some route-finding skills if you want to venture off-the-beaten-path.
With that being said, popular hiking trails throughout Moab are well-marked, especially within the national parks.
Lastly, always stay on the trail. The desert is a sensitive environment that hangs on to life by a thread, meaning your impact makes a huge difference here.
There's a saying for hiking in Moab called "don't bust the crust." Be sure to avoid the black blobs of dirt (sometimes they look like tiny towers).
These are cryptobiotic soils – meaning they are alive – that do a lot to control erosion. When you step on them, you undo years of growth and damage the desert ecosystem.
What to Pack for Your Moab Adventure
Packing for the desert is a bit of a challenge. Temps can still be quite chilly at night, even during the summer, so always bring a few warmer layers. If you're camping, be sure to consider your waste and water.
I bring around half a gallon per person per day, and even more if it will be hot. I often use less water, however, I don't want to be stranded without water. In the desert, you'll always want sun protection, even in the winter or if you're doing one of the best rafting tours in Moab.
When it comes to hiking in Moab be sure to have sturdy shoes and a small daypack. You won't need trekking poles if you plan on wandering through canyons or scrambling lots of rock (unless you're backpacking or wild camping). Here's what you should pack in your bag:
Moab Packing List
For a more comprehensive look at hiking in the desert, check out the ultimate list of the best hiking gear for women.
What Should I Wear to Hike in Moab?
Hiking in the desert requires a few special items. First, you may be tempted to wear tank tops or go topless in the summer months.
Take note that the brutal sun will turn your skin crispy if you don't protect yourself. Consider wearing a long-sleeved sun shirt with a hood to protect you from the rays. These shirts are designed to be cool and breathe well.
You might be tempted to wear sandals on your hike. However, keep in mind the desert bites back.
Many of the plants and animals have defense mechanisms that scratch, bite, sting, or prick. These things often contain irritants and can itch or burn for hours.
Therefore, wear at least ankle-high socks and hiking shoes. The exception to this rule would be if you decide to go hiking near water sources, in which case, a sandal might be a good option.
A great pro-tip I learned from a seasoned desert hiker is to soak a cotton tee shirt or bandana in cool water. Then pack this in a plastic zip baggie. During the heat of the day, slip on your damp clothing for a natural evaporative cooler.
Does Moab Have Dog-Friendly Hikes?
Although dogs are not allowed in either Arches National Park or Canyonlands National Park, there are plenty of places to go hiking with your dog in Moab.
Always be sure to obey leash laws and don't let your pup chase wildlife or stick their nose in holes. Snake bites are a real concern, as is cactus so keep an eye out.
Consider the time of year you're visiting Moab. During the summer months, Moab is not a suitable place to take your dog, especially if you're camping.
Dogs have a much lower tolerance for heat, and can easily develop heatstroke or worse in extreme temperatures. Don't forget to keep your dog hydrated while hiking, even during the cooler seasons.
Get out and hike the best hikes in Moab, then spam me with photos of your adventures. I mean, who doesn't love a drool-worthy desert hike?
Additional Moab Travel Resources:
Planning a trip to Moab? You've come to the right place. Travel like a local not a tourist: