The Fiery Furnace in Arches National Park puts you in the heart of one of the most epic landscapes in the American Southwest. A unique, choose-your-own-adventure kind of hike, the Fiery Furnance feels like you're wandering about cross country in the desert.
Slickrock scrambling, hidden arches, and surprise views await the adventurous hiker. As one of the top hikes in Arches National Park, the Fiery Furnace needs to be on your list.
As a long-time pro hiker (literally – I used to write for the outdoor industry) I'm an absolute expert at hiking in Arches. I've been to the park countless times and whenever I can I opt to snag a permit to the Fiery Furnace. So if you're looking to get expert advice about hiking this iconic trail, you're in the right place.
About This Guide to the Fiery Furnace Hike
Inside this expert guide to hiking the Fiery Furnace you'll find:
Practical info about the Fiery Furnace including location, time, and difficulty.
Permit information about the Fiery Furnace and ranger-led tours
Tips and tricks for hiking the Fiery Furnace
Things to do nearby
Additional expert resources for traveling around Moab
Where is the Fiery Furnace Hike?
The Fiery Furnace is located in Arches National Park, just off the main drag through the park.
You'll find the start of the amazing Fiery Furnace adventure at the Fiery Furnace overlook. There are several parking spots and a pit toilet at the overlook. Many people stop by just to check out the overlook. Hiking past the overlook is only possible with a permit and the trailhead often has a ranger checking for permits.
The trailhead is about 36 minutes from Moab, along Arches Scenic Drive.
Pro Tip: It's $35 to enter Arches National Park or free with an America the Beautiful Parks Pass.
The Best Time to Hike
The best time to visit the Fiery Furnace is earlier in the morning in the spring or fall. Early morning means you'll have a quieter experience and you won't have to worry about the parking lot is full. You'll also beat a lot of the ranger-led tours which is an added bonus.
Spring and fall have the best weather. Temperatures are cooler than the sweltering summer months, the park is slightly less crowded, and there's less chance of rain.
Winters are fun too (that's my personal preferred time to hike), but the trail can close due to snow. This is largely because you can't see things like vegetation and cryptobiotic soils.
Pro Tip: Arches National Park frequently closes due to over-capacity, even if you have a permit. In order to ensure you'll get into the park, showing up before 7 am during holidays, and late spring through fall is best.
Trail Facts
Interested in the Fiery Furnace hike? Here's a look at some important info.
Distance: 2.1 miles
Elevation gain: 492 feet
Difficulty: Moderate to challenging depending on experience
Average time: 2 – 3 hours
Highlights: Skull Arch, Surprise Arch, hidden slot canyons, beautiful views, scrambling
Red tape: Permit required. Must carry a toilet system (WAG bag) for human waste. No children under 5 and children under 12 must be accompanied by an adult.
Dog-friendly: No dogs are allowed
Keep in mind that there is not a real "trail" at the Fiery Furnace. In fact, you'll be following tiny white arrows the entire hike. It's easy (and fun) to get lost and explore random offshoots and canyons.
It is a bit challenging for those who haven't had this kind of experience before. Be prepared to use your hands, drop into squeezes, walk on narrow ledges, and scramble around.
If you're not experienced with desert hiking or scrambling, this will be a tough journey for you (I'd recommend going on a guided tour instead). However, if you're like me and you've got plenty of cross-country desert experience, are used to navigating narrow canyons and scrambling rock formations, and are adventurous this is a simple class 3 jaunt into a stunning landscape.
Either way, the trail is designed to let you get lost a little bit, which adds to the fun!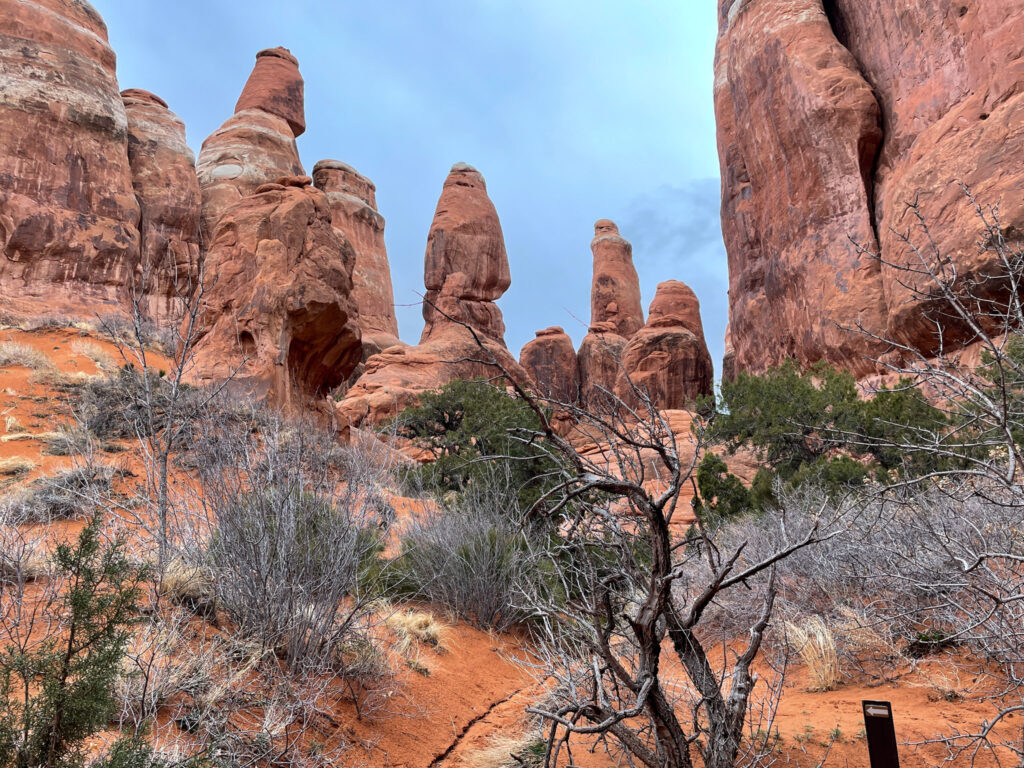 Permits for the Fiery Furnace
In order to hike the Fiery Furnace, guided or not, you'll need an advanced permit. Permits are $10 per person and are available one week in advance of the hiking date.
You can reserve your permits online, but you'll have to head to the ranger station the day before to pick up your permit (9 am to 4 pm). You'll be asked to watch an orientation video prior to hiking.
Can I Hike the Fiery Furnace Without a Permit?
Nope! You must have a permit to hike the Fiery Furnace. Permits can be quite competitive from spring through fall, especially on weekends. As one of the best hikes in Moab, this trail does see a bit of attention!
How Many Fiery Furance Permits Are There?
There are only 75 permits available for each day. The permit system keeps the natural feel of the hike, as well as allows for solitude along the hike.
Permitted groups are not allowed to link up. This is to preserve the quiet nature of the trail and have your own intimate experience in the Fiery Furnace.
Ranger-Led Tours of the Fiery Furnace Hike
If you're nervous about finding your way through this maze of rock, then opt for a ranger-led tour. Available spring through fall, ranger-led tours cost $16 per person and follow the same rules as the individual permits. The ranger knows the way so you won't have to worry about navigating the area.
Pro Tip: If you've never scrambled (used climbing moves on exposed sections of rock) through the desert before, a ranger-led tour is an awesome option. You'll get pointers about how to move through this challenging landscape.
How Hard is the Fiery Furnace Hike?
Honestly, it depends. For the uninitiated, it's a tough go despite this short distance. This is because there is no real defined trail. You'll be following small brown and white arrows, with lots of room for interpretation on which way to head.
You'll also be using your hands to climb up and down sections of rock.
With that being said, I did this hike when I was 30 weeks pregnant without much of a problem. Granted, I'm a rock climber with plenty of scrambling and off-trail desert hiking experience. We did get lost, several times, but that was part of the fun!
Tips for the Fiery Furnace Hike
So I'm not going to spoil your Fiery Furnace experience by giving you a play-by-play of the hike – that will literally ruin the point of the route! However, there are a few important things you'll want to keep in mind as you hike around.
Wear Sturdy Footwear
Grippy hiking footwear or approach shoes are a must on this hike. You'll be scrambling up sandstone rock and good traction keeps your feet steady. Sandals aren't allowed in the Fiery Furnace.
Pack Out Your Trash
This is a pristine landscape. You're required to pack out all of your trash. This includes toilet paper, poop, wrappers, fruit peels, water bottles, and other trash. Leave it better than you found it!
Don't Follow the Footsteps
Following other footsteps won't help you navigate. Lots of people wander around and many people get lost in the Fiery Furnace. Instead, look for the brown and white arrows. Just remember that it's not always super obvious as to where you need to go.
Explore Washes and Small Canyons
There are a few fun gems to find on the Fiery Furnace hike. There's Skull Arch, Surprise Arch, and a natural bridge. You can also find some fun squeezes and slot canyons if you're looking carefully.
What makes this hike so unique is the ability to get a little lost and discover something cool. There are some signs that let you know if you're headed toward a dead end.
Pro Tip: Don't climb up what you can't get back down. Climbing up is always easier than climbing down. It's also illegal to walk across any arch or natural bridge in Arches National Park.
Stay on Sturdy Surfaces
Always hike on sturdy surfaces or in sandy washes. This means sticking to the slickrock or sandy river beds. Don't step on the lumpy black soil – it's actually alive and a key part of the desert ecosystem. Also, don't step on plants, including grasses – as these plants take a while to grow, and stepping on them can kill their roots.
Soak in the Views
Along the hike, you'll find quite a few spots with peek-a-boo views of the greater Fiery Furnace area and Arches National Park. These views are often to the side or even behind you. Don't forget to look around and really soak in the landscape! It's truly unique and feels quite like a maze that's full of delightful surprises.
Start Early
We started our hike just after sunrise and had the entire area to ourselves. It was a real treat. So if you're a solitude seeker like myself, get an early start!
In the summer months, it's better to start early in order to hike in the cooler weather. You'll also avoid the potential for the afternoon monsoon rain to flood out your hiking plans.
Bring Sun Protection and Plenty of Water
Even though you'll be wedged between impossibly-tight slabs of rock, you'll still want plenty of protection from the sun. There's no drinking water on this hike, so be sure to bring at least 2 liters (more in the heat of the summer). Even though the hike is only 2 miles, you'll be hiking more simply because you'll get lost.
Pro Tip: The start of the hike is a little steep and really exposed, so be sure to bring a hat, sunscreen, and plenty of water!
Expect to Get Lost
Getting lost is part of the fun of the Fiery Furnace. Even if you're well-versed in desert hiking, you'll probably get stumped a time or two trying to find the next arrow. Enjoy the journey!
We got lost twice, once we ended up in some pretty squeezy slot canyon before we turned around. However, it was nice to slither around the rocks and enjoy the expansive landscape.
It adds time to your day, so plan accordingly!
Nearby Attractions
Looking for other things to do in Arches National Park? Check out these nearby destinations:
Additional Arches National Park Resources
Planning a trip to Arches National Park? I've got you covered with this lineup of amazing expert resources: