As the two crown jewels of Moab, many people debate between Arches vs Canyonlands National Park. Which park is better? Where should you go on your next Moab adventure?
Well, for starters, both parks offer up incredible desert scenery and certainly make the list of the most beautiful national parks in the US. I'm talking drool-out-the-side-of-your-mouth-while-your-jaw-hits-the-dirt kind of beauty.
Both parks offer relatively easy access from Moab and each one features some of the most beautiful scenery in the USA. In fact, I'd argue that both parks make the list for the best national parks in the country.
So how do you choose between the two?
For starters, it's certainly possible to visit both parks in a weekend (more on that later). This means you may not even have to choose!
Since both parks offer different levels of activity and different types of scenery, they cater to different desires.
I know the differences between Arches vs Canyonlands National Park because Moab is practically my second home.
Throughout the year I'll come out to the Moab area at least 5 or 6 times – meaning I've scoured the area for the absolute best of both parks.
It's my mission to empower you to travel like a local, not a tourist. So in this guide to Arches National Park vs Canyonlands, you'll get expert advice on how to visit these desert jewels.
About this Guide to Arches vs. Canyonlands National Park
Inside this guide to both Canyonlands and Arches National Park you'll find:
Information about Arches National Park
What makes Canyonlands National Park different from Arches National Park
How to go from Arches to Canyonlands in one day and hit the highlights
Canyonlands National Park Vs Arches and how to choose
Additional planning resources
Arches National Park
Even though both Arches and Canyonlands offer superb desert magic, what differentiates their landscapes is the fact that the views in Arches are all about, well… arches!
Arches National Park is your go-to if you're feeling in the mood for short and easy hikes. Because Arches is a pretty small national park, it's possible to cover a lot of ground in just a day which makes it perfect for those who don't have a ton of time in Moab.
Moreover, Arches is ideal if you've never been hiking in the desert before. Most trails are short, sweet, and well-marked, so it offers some of the best hikes in Moab for beginners. It's also the place to go if you're not necessarily crazy about hiking and would rather do one of the most scenic drives in Moab to see the main viewpoints.
The downside of choosing Arches vs Canyonlands, however, is that Arches sees a significantly higher number of visitors than Canyonlands does, so you should expect to share the main trails and landmarks with lots of people.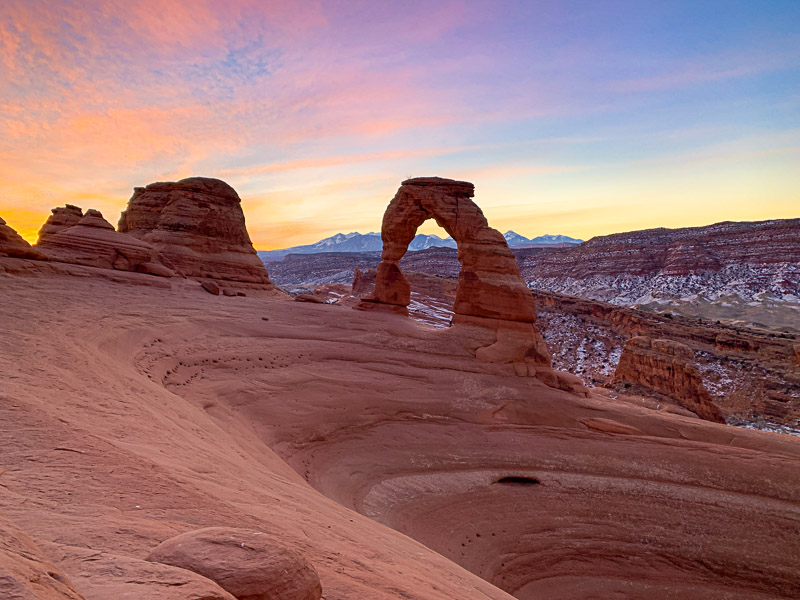 Canyonlands National Park
Canyonlands, on the other hand, is more about soaking up bird's eye views, canyons, and strange-rock formations lining the sky.
Pro Tip: There are a few arches to be found in Canyonlands as well (ahem -. Mesa Arch – ahem, which happens to be one of the best things to do in Moab).
Canyonlands National Park is humongous, so it's the perfect place to visit if you want to see an array of different desert views and experience Moab's magic in its full splendor.
Because Canyonlands is so huge, it's divided into three different sections: Island in the Sky, The Needles, and The Maze. Each section offers vastly different experiences and is suited for different travel styles.
Island in the Sky
Visiting Island in the Sky is very similar to visiting Arches in the sense that you'll get to choose from a ton of easy, shorter hikes. This section of Canyonlands offers some of the most scenic viewpoints in Utah.
Keep in mind, thanks to its easy access from Moab, it sees larger crowds than the other two districts.
The Needles
If you're looking for some solitude and tougher trails, The Needles District is the place for you. Not only does it offer some of the best hikes in Canyonlands for day-hikers who are up for the challenge, but it also offers some superb backpacking options if you manage to get the proper permits needed to overnight here.
The Maze
The Maze is only for very intrepid travelers. It's extremely rugged and offers some of the quietest and most fascinating desert trails in the United States.
Do note you'll need a permit to enter as well as a high-clearance vehicle to even get to the park (yep, you know a place is extremely remote when even getting there is a challenge!)
Can you visit Arches and Canyonlands National Parks in One Day?
If you're still a bit torn between Arches or Canyonlands, it's totally possible to see the highlights of both Arches and Island in the Sky in one day. It will be a busy and tiring day, but absolutely worth it if you start early.
If possible, I recommend two days for the feat, but one day should be enough if you don't mind rushing a little bit and sticking to the main features of each place.
Suggested Arches and Canyonlands Itinerary:
For the chance to see both parks in one day, I'd recommend the following Arches and Canyonlands itinerary. Keep in mind, this itinerary is designed to beat the crowds at both parks, which means you'll do things in a different order than most itineraries would suggest.
PSST: You'll have to pay the fee to access both parks which totals to $60 for the day. If you're visiting multiple parks or spending multiple days in each park, you can buy the America the Beautiful Pass for $89 and gain access to every National Park and Recreation Area in the country for 12 months.
Arches in the Morning
Rise early and kick off the day with some of the best things to do in Arches National Park:
Sunrise at Delicate Arch – It's a relatively easy and short hike and one of the most famous spots in Moab for sunset. Yes, the views are THAT good, so expect some crowds. Tip: Get here are early as possible (before 7:30), you'll get a lot more solitude that way, trust me.

Distance: 3.0 miles (round trip)
Difficulty: Easy to moderate
Time: 1.5 hours

Visit the Double Arch – A super easy hike in the Windows Area of Arches that features two of the most beautiful arches in the park.

Difficulty: Easy
Distance: 0.5 miles,
Time: Half-hour

Hike to Landscape Arch – The longest natural arch in the USA. This is one of the easiest hikes in Arches, which makes it a perfect stop in your Arches itinerary.

Distance: 2.3 miles (round trip)
Difficulty: Easy
Time: 1 -2 hours

Drive the Scenic Drive through Arches – A beautiful way to say goodbye to Arches is to drive to see some of the highlights from a distance (Balanced Rock, The Windows District, and Fiery Furnace). This drive is short and sweet (36 miles in total), but do note you'll be making a lot of stops along the way to take in the beauty of the landscapes.
Time to leave Arches and head to Canyonlands! Drive to Moab for a quick lunch break before continuing on to Island in the Sky via Gemini Bridges (note that you'll need a 4WD, high clearance vehicle to drive this road).
Don't have high clearance? The regular route into the park is paved.
Canyonlands Island in the Sky in the Afternoon
Mesa Arch – Thought you were done seeing arches? Not just yet! Mesa Arch is officially part of Canyonlands, but it's also one of the most famous arches to see in Moab, so it's worth a stop. This is also the shortest and easiest hike in Canyonlands, so it won't take up much time out of your itinerary.

Distance: 0.5-mile loop
Difficulty: Easy 
Estimated Time: 30 min

Hike the Grand Viewpoint – The Grand Viewpoint is set in the southernmost point of the district and offers unbelievable views of the White Rim Trail, The Maze, The Needles, and the La Sal Mountains.

Distance: 2 miles (round trip)
Difficulty: Easy 
Estimated Time: 1.5 hours

Optional: If you have time left, head to the Green River Overlook for a kickass sunset. This viewpoint offers an unbeatable view of the Green River and the surrounding Colorado Plateau. 
If you don't have enough time to make it for sunset, don't fret! The Grand Viewpoint is also an excellent spot to witness a sunset in Canyonlands.
Distance: 0.3 miles (round trip)
Difficulty: Easy
Estimated Time: 1.5 hours
Pro Tip: If you absolutely must photograph Mesa Arch for sunrise, you can reverse this itinerary, but you'll be on a significantly more crowded tour of the parks.
Arches Vs Canyonlands National Park, What's Right for Me?
At the end of the day, both parks offer up something different for every kind of desert adventurer. If you want a lighter, easier romp through the desert and don't mind the crowds, then Arches is your top park.
If you're looking for more of a challenge or want to experience spanning canyon vistas then Canyonlands is your park.
But why not visit both? You'll get a true flavor for the most incredible landscapes in the USA.
Additional Moab Planning Resources
Planning a trip to Moab? Don't miss out on these expertly curated resources so you can travel like a local, not a tourist.
PIN THIS POST