So I've been all over the American Southwest, but I can't help coming back to the Needles in Canyonlands.
Maybe it's the epic tower climbs. Or perhaps it's the phenomenal hiking amongst sandstone giants.
Either way, the scenery in the Needles District of Canyonlands will simply blow. Your. Dang. Mind.
Photos don't quite do the area justice. And seeing the sea of towering red rock hoodoos from afar beckons you for more.
I've visited the Needles in Canyonlands National Park countless times over the years. Its certainly one of the most beautiful national parks in the US.
As such, this place is like a second home to me. I can spot the landmarks from an airplane, my friends.
And if you've ever been able to pick out a desert tower from way high up in a plane, you know that means you absolutely know your stuff.
It's my mission to bring you the best of the outdoors. I want you to feel empowered when you step outside for an adventure.
I'm all about giving you expert advice for your Needles District adventure so you can get outside like a pro, not a tourist.
About this Guide to the Needles in Canyonlands National Park
If you're ready to dig deep and discover how to visit the Needles in Canyonlands like a pro, then you'll want to keep reading. Here's what to expect inside this post:
Who will love the Needles in Canyonlands
Where is the Needles District?
The most amazing things to do in the Needles
Quick tips for visiting Canyonlands National Park
Additional Moab resources
Who Will Love It
The Needles District is THE place to go in Canyonlands if you're up for some serious backpacking, remote hiking in the desert, unique tower climbs, and fun off-road adventures.
It's a great alternative for Island in the Sky if you want to get more up-close and personal with the area, get to see sweeping vistas of unique spire-filled canyons, and explore its rugged landscape in a much more quiet atmosphere.
The scenery here is other-worldly weird. Giant sandstone pinnacles pierce the sky and create weird and wonky canyons.
Around every bend is a new view that simply captures your attention. It's so vast and so…well…pointy, you can even see it from an airplane!
It's one of those places where the photos don't really do it justice and you just have to see to believe.
Where is the Needles District?
The Needles District is one of three distinct sections in Canyonlands National Park. You'll find the Needles District at the southern-most corner of the park.
Head south out of Moab for 1.5 hours until you reach the park entrance. You'll turn right on BLM road 211. Signs lead the way.
Wind your way through Indian Creek (don't forget to stop at Newspaper Rock) until you reach the entrance to the park.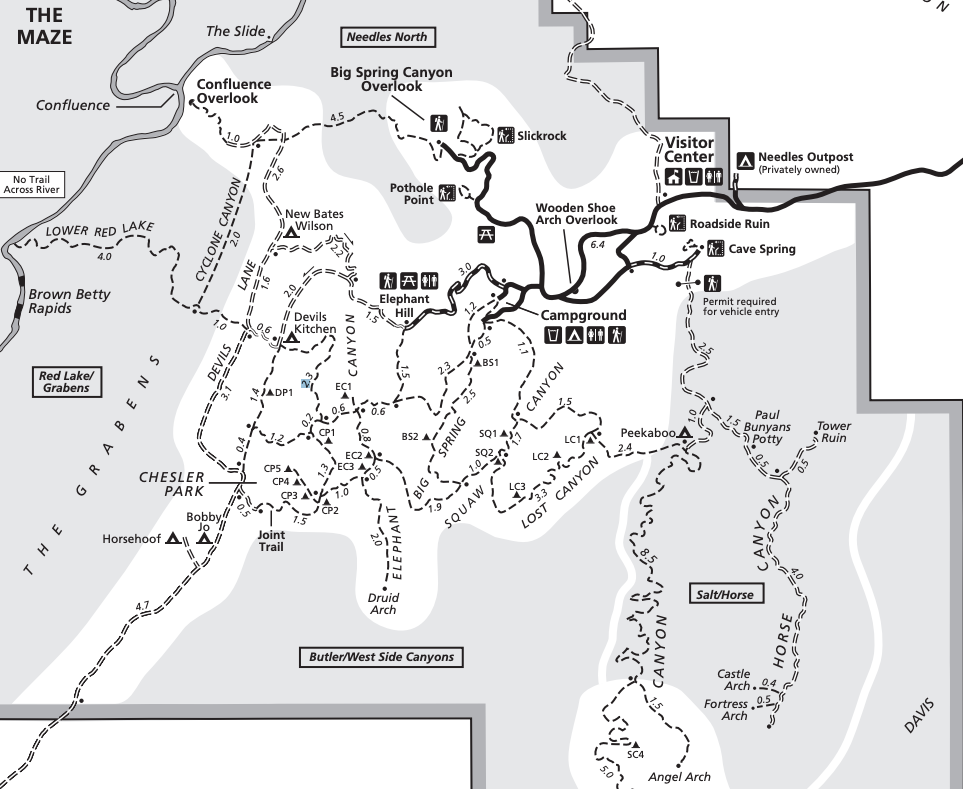 Things To Do In The Needles District
Remote hiking is king here, and you could easily spend over a week exploring some of the best hikes in Moab without ever getting bored.
The Needles boasts over 60-miles of interconnected trails, and for me, the best itinerary to get started with is by spending a couple of days backpacking the Chesler Park, Elephant Canyon, and Druid Arch.
Other awesome things to do are going on a 4×4 adventure (note that these are only for experienced drivers), go mountain biking, or spend a night or two camping beneath the stars (The Needles is considered one of the best spots for stargazing in Utah).
Unmissable Hikes in The Needles
The Needles district offers some of the best hikes in Canyonlands National Park, and this is your go-to place if you're up for longer, more challenging trails in the park.
Pro Tip: The Elephant Hill Trailhead has ample parking, but it's pretty normal for the lot to fill by 8 am – even during the week – during the spring through fall. Arrive early to snag a spot!
The district offers over 60 miles of interconnected trails and while many different itineraries are possible, these are the best to get started with: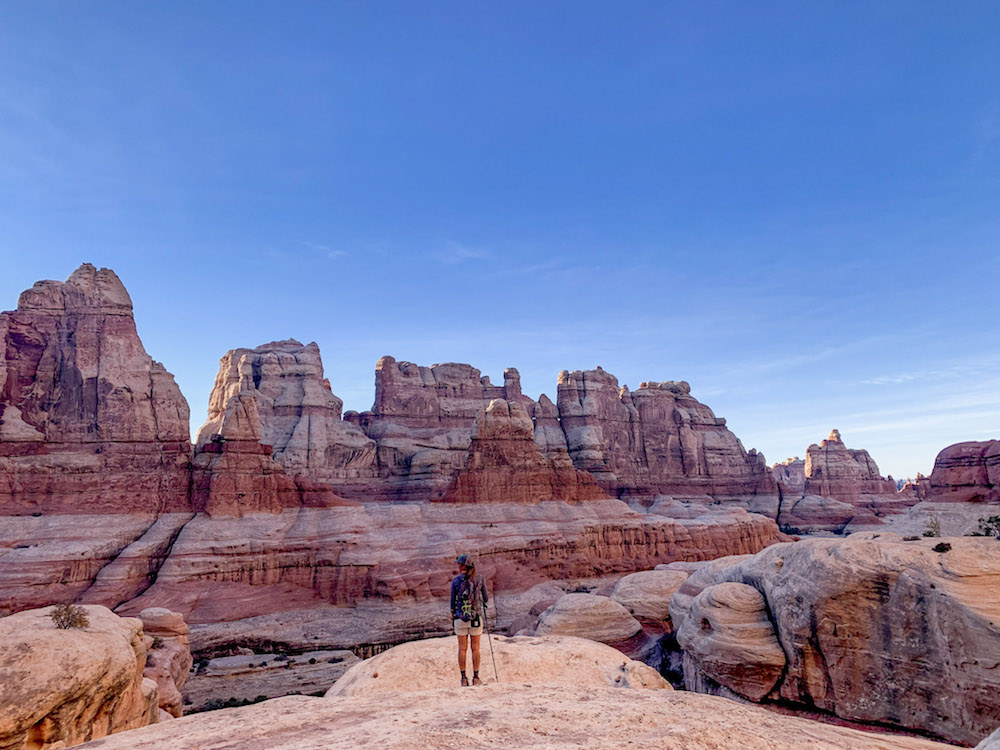 Chesler Park:
Starting at Elephant Hill, Chesler Park is a 10.4-mile loop that takes you deep into Canyonlands.
I would consider this one of the most rewarding hikes in Canyonlands. As you weave your way through the trail, you'll squeeze through canyons, walk past pinnacles, and marvel at the beautiful views that will greet you every step of the way.
This hike is technically doable in a day if you start really early, but for a more pleasant experience, I recommend splitting it up into two days and camping within the park (more on that below).
Mileage: 11.6 miles round-trip
Elevation Gain: 1,935 feet
Difficulty: Moderate
Estimated Time: 6 hours including time to stop and admire the landscape
Red Tape: No dogs, permits are required for overnight use.
Elephant Canyon:
This trail follows Chesler Park down to Elephant Canyon and offers a truly special view of Druid Arch and The Needles District.
Note that the final quarter-mile involves a steep climb and some super-mellow scrambling, but once you're past that, the views are so worth the effort!
Pro Tip: If you want a mellow overnight backpacking trip, try to snag the uber-scenic Elephant Canyon 2 (EC2) site.
Mileage: 5 miles
Elevation Gain: 800 feet
Difficulty: Moderate
Estimated Time: 3.5 hours
Red Tape: No dogs are allowed in Canyonlands National Park
Druid Arch:
Druid Arch is probably the most monumental landmark of the Needles District. Seriously, a visit to Canyonlands is not really complete without seeing it with your own eyes.
The arch is nestled deep within the Canyonlands, and it takes a semi-challenging hike through Elephant Canyon to reach it. It's an absolutely lovely trail that can take up to 5.5 hours (11 miles) to complete.
The hike will take you through a variety of terrain including deep sand, slick rock, pinnacles, narrow channels, and grassland.
Be ready to use your hands and be cozy with a little exposure towards the end.
Mileage: 10.4 miles round-trip
Elevation Gain: 1,614 feet
Difficulty: Moderate
Estimated Time: 5 hours
Red Tape: No dogs are allowed in Canyonlands National Park
Camping in the District
Canyonlands National Park is one of the best settings to experience what camping in the desert is like, and The Needles is an awesome setting for it if you're keen to linger a while longer.
The Needles Campground is made up of twenty-six different sites with views of the rocky spires.
During the spring and fall, it's possible to make reservations ahead, but any other time of the year, it works on a first-come, first-served basis.
Note that sites tend to get booked up quickly during the spring and fall, so reserve as far out in advance as you can to ensure a spot.
Moreover, they offer three group sites which you can reserve ahead between mid-March and mid-November.
Backpack Across Canyonlands
So day hiking is entirely possible, but if you really want to experience the magic of the Needles in Canyonlands, you'll want to backpack.
The sunsets and dark skies are absolutely stunning here and it's well worth the effort to head out on a backpacking adventure.
There are countless backpacking routes in the Needles. First, snag a Nat Geo map of Canyonlands, so you can plan your route.
Snag your permits and prepare for your trip. Keep in mind, there is no water anywhere in the Needles.
So although the hiking may not be too tedious along most of the trails, you'll be hauling water, sometimes over deep sand (yuck) so plan accordingly.
Go on an Overlanding Adventure
If you're into burly Jeep trails, then – surprisingly – the Needles District has a few notable routes you'll want to check out. Most national parks don't allow for Jeep Trails, but Canyonlands is an exception.
Even day use for these trails requires a permit. Definitely snag your permit in advance – especially if you're traveling from spring through fall.
Take the Elephant Hill Trail to the Devil's Kitchen Campground. Sleep in the heart of the Needles and watch as the shadows dance around the red-rock spires.
Or, continue onwards along the Devil's Lane Road to reach the famous Joint Trailhead. You can opt to hike from here and enjoy lesser-trafficked hiking trails in the Needles District.
Pro Tip: The end of the Elephant Hill Trail has quite a big squeeze, wide trucks may struggle here and have a few scratches as a souvenir.
Tips for Visiting The Needles
Cellphone and GPS signals are rare to find in the Needles, so make sure to bring a physical map. Download your GPS files in advance, including Google Maps so you don't get lost.
Bring lots of water. Rivers and creeks are scarce in the area, so bring enough water for your stay (at least one gallon per person, per day).
The Needles visitor center is open every day from spring through fall, but it closes from early December through February.
There are no services offered inside The Needles, but you can stock up on groceries and fuel at the Needles Outpost on S.R. 211. Prices are steep, but the staff is friendly and it works well in a pinch.
When is the Best Time to Visit?
Canyonlands is one of the best national parks to visit in the fall for pleasant weather and beautiful hiking opportunities. Spring is another great option (but avoid spring break at all costs).
Winters can get cold and reach freezing temperatures at night, but it's worth considering a visit if you want to have the entire place practically all to yourself.
Costs & Permits
Entrance fees are good for seven days and are as follows:
Per person (no car): $15 for walk-ups
Per vehicle and its occupants: $30
Per motorcycle and its riders: $25
Note that your ticket also includes entrance to the other sections in Canyonlands National Park.
Permits are required for overnight trips. You can reserve them up to four months in advance.
I recommend doing it as early as possible if you're planning to visit during the spring or fall. Permits fill up quickly so plan accordingly!
Amazing Nearby Attractions to See Next
South and North Six Shooter Peaks: The Six-Shooter Peaks are two striking desert towers located just east of The Needles District and the Indian Creek crack climbing area.
Both towers offer some of the best climbing in Moab, so it's an excellent place for beginner mountaineers to test their skills.
Both South and North Six-Shooter Peaks tower over the Bridger Jack Mesa area, a region rich in ancient history with dwellings and petroglyphs covering every major rock.
South Six-Shooter is considered one of the easiest towers to climb in the area, and North Six Shooter provides some thrilling crack climbs like Lightning Bolt Crack.
Newspaper Rock:
If you want to get your history buff on, a great place to hit up next is Newspaper Rock State Historic Monument, which sits a thirty-minute drive from the Needles visitor center.
This attraction is home to one of the oldest petroglyph record collections and while exploring, you'll get to see engravings that detail the story of the Native Americans that lived here over 2,000 years ago.
Island in the Sky:
The more popular district of Canyonlands National Park but well worth a visit to check out the famous Mesa Arch and Grand View Point, as well as go on extremely scenic drives.
Keep in mind that although Island in the Sky is technically the neighbor of the Needles, it takes two hours to drive between them.
Arches National Park:
Arches National Park is yet another of the can't miss things to do in Moab and is a great spot to add to your itinerary.
It's located around an hour and a half drive away from the Needles and boasts thousands of striking arches (ahem – Delicate Arch – ahem), giant mesas, red sandstone rocks, and incredible hiking ops.
When it comes to Arches vs Canyonlands, don't fret, you can easily visit both parks in the same day!
Additional Expert Travel Resources for the Moab Area
Planning a trip to Moab? I've got you covered with a wide variety of amazing resources so you can travel like a pro, not a tourist.
PIN THIS POST