The Delicate Arch hike is world-famous for a reason. There's something uber-inspiring about this arch.
First, it stands alone in a picture-perfect slickrock bowl. With the Windows Section and the La Sal Mountains in the background, the arch seems to frame some of the best scenery in Moab with effortless grace.
Delicate Arch should be on everyone's Arches National Park itinerary at least once..
I gotta admit, I put off hiking the Delicate Arch Trail for YEARS. Plowing through crowds of people isn't how I like to spend my time outdoors. #sorrynotsorry
But as one of the most beautiful hikes in Moab, if not one of the best hikes in the world, it was time to check out Utah's license plate.
So on Christmas Day, we chose to head out to Delicate Arch at sunrise.
It did NOT disappoint. In fact, there were only 4 other people around.
Here's everything you need to know to head out on the Delicate Arch hike and experience one of the best things to do in Moab, Utah.
As an expert in photography and beating the crowds in the world's most saught-after landscapes, you're in the right place.
I've been to Moab countless times in the past 6 years. This place is my second home. So get the inside scoop on how to enjoy the Delicate Arch Trail like an expert, not a tourist.
About this Guide to the Delicate Arch Hike
You may not have noticed – cue sarcasm – but I've dedicated this entire blog to getting outside and hiking.
My day job is writing for the outdoor industry and I'm on a mission to deliver you the expert know-how you need to go on the Delicate Arch hike.
As one of the best hikes in Arches, you'll want to know how to visit Delicate arch like a seasoned desert rat. Embrace the term, it's a good thing!
In this guide to the Delicate Arch trail you'll find:
All the important info for your hike including the Delicate Arch hike time, mileage, gain, difficulty, map, and location.
A step-by-step guide to reaching the arch
Information on Delicate Arch at sunrise
How to successfully beat the crowds at Delicate Arch
Delicate Arch for sunset
The best time to visit Delicate Arch for photography
Unique views of the arch
Additional tips for visiting Arches National Park
Practical Information about the Delicate Arch Trail
Before you head out on any hike, it's important to get those practical details out of the way.
For starters, you'll find the Delicate Arch trailhead (38.735889, -109.520618) along Delicate Arch Road, just 18 miles from Moab, Utah.
Take Highway 191 north until you hit the entrance for Arches National Park on the right. Take Arches Scenic Drive, one of the many Moab scenic drives, for several miles until you reach a junction (signed) for Delicate Arch Road.
Insider Tip: It's a $30 fee to enter the park. You don't get any in-and-out access, so plan to spend the day in Arches National Park. No dogs are allowed outside of vehicles in the park, so leave Fido at home.
The whole way is paved, there's a toilet, and the parking area is HUGE, but it does fill up during the day from March through October.
Get. Here. Early. Like no later than 7:30 am early since this is one of the best things to do in the Mighty 5 National Parks in Utah. You'll have a LOT more solitude, trust me.
Delicate Arch Trail Facts
Here are a few important things to know about hiking to Delicate Arch:
Delicate Arch Trail length: 3 miles round trip, with a few quick side trips available to petroglyphs and Wolfe Ranch at the start of the trail.
Elevation Gain: 610 feet
Delicate Arch hike difficulty: easy to moderate depending on how easy you hike uphill.
Highlights: Slickrock hill with sweeping views, Ute petroglyphs (side trail), Wolfe Ranch homestead (side trail), Frame Arch (along the way), opportunities for side exploration around the main Delicate Arch bowl.
Delicate Arch hike time: 1.5 hours, plus 20 to 30 minutes at the arch if you're taking your time.
Nearby Attractions: Upper and Lower Delicate Arch Viewpoints, Panorama Point, Arches Scenic Drive.
The Delicate Arch Hike
The hike starts off on an obvious path through a wash system with a rocky hillside in front of you.
Overall the trail is very easy to follow – even in the dark. Although we got a little lost chasing the colors of the rising sun towards the end, you really can't get lost here.
Look for signposts and large cairns, or rock piles along the way.
There will be a well-marked spur trail (0.1 miles) leading to Wolfe Ranch homestead. Check it out for some interesting history – I recommend seeing it on the way back.
Cross a sturdy bridge over the wash and there will be another junction leading to some interesting petroglyphs. It's about a 5-minute walk and worth checking out on the way back.
Next, you'll hit a paved section. This is the first hill – and it's pretty darn small.
Crest the hill and follow the now you'll be on a well-established trail that eventually leads to a large slick rock dome.
Once you reach the dome, the trail is less defined. Look for stairs chopped into the rock, cairns, signposts on the horizon, and worn spots in the rock.
The general direction is up, so again, it's hard to get lost. We did this with ease wearing headlamps. Don't forget to look back and admire the view.
It's a bit of a lung-buster if you're not acclimated to hiking up large hills. However, it's very manageable. I did it just 2 weeks after shoulder surgery in a sling and didn't huff and puff too hard.
Just take your time.
Reaching the Arch
Once you get to the top of the dome, the trail winds its way around a wash (veering right). The scenery is super beautiful, but you still can't see the arch yet.
All of the different social trails can be tough to follow, but in general you want to hug the left side of the large rock wall to your right.
Eventually, you'll see a ramp upwards with steps leading the way. you're almost done with the Delicate Arch hike, so get pumped!
Frame Arch is at the top of the stairs. If you're here for sunrise, come back later for some fun photo opps!
The rock ramp is obvious at this point, simply follow it until you reach a ridge and on the other side is the beautiful Delicate Arch.
Insider Tip: There are some cool views (not of the arch, just the desert) if you skip the rock stairs and keep going. Certainly worth checking out on the way back).
Visiting Delicate Arch for Sunrise
Don't know if you noticed – but I'm a total photo nerd. But I also hate large crowds. A lot of people recommend visiting Delicate Arch for sunset if you're on a photography mission.
I don't doubt that recommendation (see below). But do not discount the unbelievable beauty of Delicate Arch for sunrise.
This is by far the least-crowded time of day to go on the Delicate Arch hike. It's also a pretty fantastic time to photograph the arch.
If you're seeking solitude and a few awesome photo opportunities, then definitely hike Delicate Arch at sunrise.
Proof below my friends!
In winter, the sunrise at Delicate Arch is behind a rock that sit directly northeast of Delicate Arch. This gives the whole scene an elegant glow without the glare.
I didn't have high expectations, since literally everyone recommends visiting Delicate Arch for sunset, but the scenery blew me away.
How to Beat the Crowds at Delicate Arch
The best time to visit Delicate Arch without the crowds is to go during the winter months since this is one of the best national parks to visit in winter. Particularly for sunrise.
Winter is the low season for Moab – it's cold, duh. But it's also the best time to hike to Delicate Arch.
We made moves for a sunrise hike on Christmas Day and had the entire Delicate Arch to ourselves. There were 4 other people around. Full stop.
The hillsides and La Sal Mountains were dusted in snow, creating a stunning, tranquil scene. Just peaceful nature, the way it was intended.
If you are in the area during spring through fall since this is one of the best national parks for fall, you'll want to head out for a sunrise hike at Delicate Arch. You'll have far fewer people, and less scorching heat.
Just after sunrise is another great time to visit, but you'll thank yourself for seeing a sunrise in this fantastic landscape.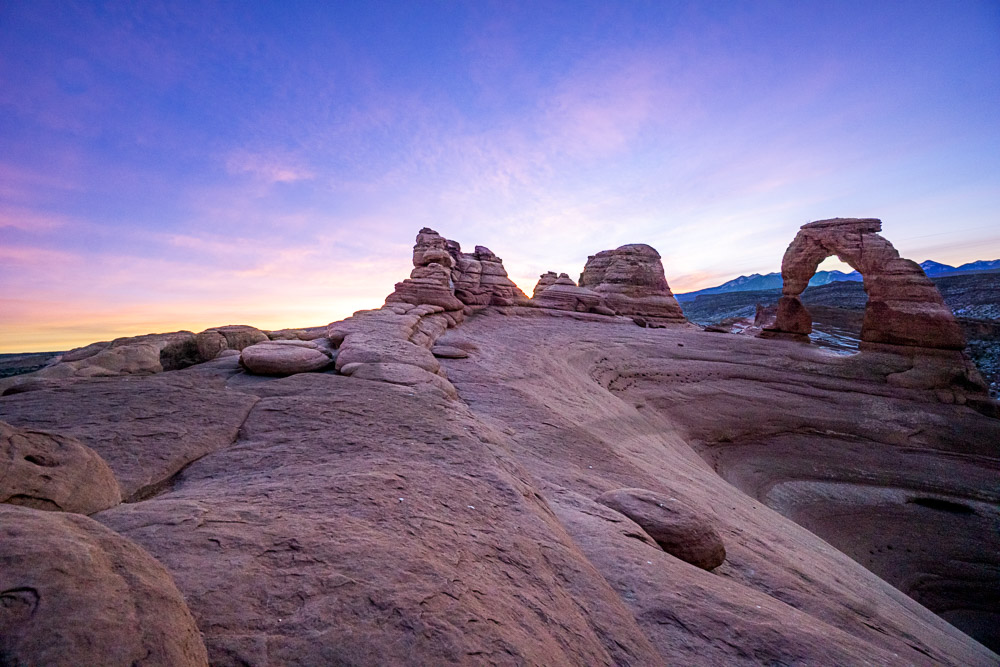 Delicate Arch for Sunset
The shadows and lighting often make a Delicate Arch sunset a high priority on any Moab bucket list.
However, be prepared to share that moment with hundreds of people, particularly during the spring, summer, and fall.
There are literal lines to reach this spot during the busy months, so although it may be recommended to hike to Delicate Arch for sunset, you won't get a very natural experience.
Either way, a sunset at Delicate Arch is a nice escape from the heat. Especially if a sunrise hike isn't an option.
The Best Time to Photograph Delicate Arch
People flock from all over the world to photograph Delicate Arch. As a fellow photographer, I get it.
Honestly, I thought photographing Delicate Arch was more rewarding than Mesa Arch.
If you're into photography, hit the Delicate Arch for a winter sunrise, or sunset. Astrophotography is also possible from here as well.
Avoid coming after the sun has been up for a few hours and throughout the day. After years of photographing the American Southwest, 9 am through 3 pm (5 in the dummer) is simply the worst time for photography – especially on a cloudless day.
Getting the depth, shadows, and scale that really enrich these landscapes is nearly impossible during those times.
Unique Views of Delicate Arch
So everyone wants that super iconic view of Delicate Arch.
On a busy day, people are lined up for the "standard" views. Of course, get these snaps, you've come all this way!
Insider Tip: Take a moment and look up! Delicate Arch is super stunning standing underneath it.
Insider tip: Be kind! Don't take up too much time if there are people waiting. And if you're visiting during sunrise, don't ruin other people's photos by standing in the arch at the glory moment, wait a minute for that pick
However, if you swing to the west of the bowl you'll get a cool perspective of the nearby landscape.
The eastern side has a small ridge and a totally unique viewpoint of the arch as well.
If you time it right, Frame Arch also provides some unique vantage points.
The point is, take your time to explore and wander around.
Insider Tip: Respect the land. Don't step on any black, pointy soil (this is alive and protects the desert from erosion). Also, it's illegal to climb or scramble up any named arch in Arches National Park.
Additional Tips for Visiting Arches National Park
Don't visit Arches National Park like a tourist – get advice from the literal pro. Here's how to make the most of your time at Arches National Park.
Be a good steward. There is a lot of graffiti carved into the rocks at Delicate Arch. Don't be that asshole. Period.
Pack out your trash! Better yet, bring a small baggy and pick up what you see along the way. Pass. It. On my friend!
Pack plenty of water, salty snacks, and sun protection. Even in the winter the sun and dry air can really take it out of you. Come prepared.
Consider getting an America the Beautiful Annual Pass. An economical option if you plan on visiting multiple national parks for multiple days.
Arrive early! Arches NP frequently has a line to get in after 9:30 am.
Avoid weekend travel when possible. Especially from April through October. You can EASILY sit in an hour of traffic just to leave Moab. Plan accordingly.
Additional Expert Resources for Visiting Arches National Park
Ready to get out like an expert and not a tourist? Check out these amazing resources for your Arches National Park adventure.
Then hit me up on socials and tell me about your journey. I love seeing you get out there!
PIN THIS POST