Arches National Park is a crowded, happening place year-round. However, it is possible to have an Arches National Park itinerary the (mostly) beats the crowds.
I can't blame this place for being crowded. Arches NP is a stunning place. The hikes are generally easy and there are literally thousands of sandstone arches that dot the landscape.
The La Sal Mountains stand majestically in the background and the entire park sits on a hill, which really amplifies those drool-worthy views.
If you're not into hanging out with hordes of people, then you'll want to dive right into this Arches itinerary.
You can easily spend one day in Arches National Park and get a sense of the highlights. A weekend in Arches National Park gives you the most of your visit, but with so many things to do in Moab, you might want to consider seeing someplace else too.
Either way, this Arches National Park itinerary is designed to show off the most amazing scenery in the park while also staying one step ahead of the crowds.
If there's one thing I don't do, it's getting outside with hordes of people.
I've spent the better part of 6 years combing the beautiful areas in and around Moab. Seeing the desert (or anywhere for that matter), without the bus fulls of tourists is my thang.
I've literally seen Delicate Arch without anyone else around. And I'm going to share how you can do it too.
Why? Because it's my mission to help you get outside like a local, not a tourist. So let's dive into this amazing Arches itinerary so you can make the most of your visit.
About this Arches National Park Itinerary
Inside this amazing Arches itinerary, you'll find plenty of tips and tricks for visiting the park without the crowds.
You'll get insider access to how to explore without looking like a newb (even if you are!). Here's what you'll find:
Practical info for visiting Arches NP
How to spend one day in Arches National Park and stay ahead of the crowds
Additional info for spending the perfect weekend in Arches National Park
Quick tips for visiting Arches like a pro
Additional Moab travel resources
Things to Know Before You Go
You'll find Arches National Park just 10 minutes from downtown Moab. Head north on Highway 191 until you see a signaled turnout for the park entrance.
Get here early. Like before the sun rises early. This is one of the most popular national parks in the US. It's common for the park to have a gigantic line – even during the low season.
It's $30 to enter the park and there are no ins-and-outs. If you plan on visiting other national parks in a 12-month span or spending multiple days in Arches, snag an America the Beautiful Pass.
Once you're in the park, there's one main, paved road – one of the most scenic drives in Moab I might add. This will be your lifeline throughout the park. Signs to attractions are well marked.
Keep in mind you might not get cell phone service here, so download your maps for offline navigation before you enter the park.
Dogs are not allowed anywhere aside from parking lots inside the park. And honestly, it's dangerous (and cruel) to leave your dog in the car if the temps dip above 70 degrees. So do yourself a favor, and don't bring your dog along.
Pro Tip: Plan on seeing the most popular attractions at off-beat times. You'll have a far better experience, and you won't have to contend with literally thousands of tourists.
When to Visit Arches National Park
The best time to visit Arches National Park is October through March. The crowds tend to be thinner and the weather more tolerable.
Arches is not only one of the best national parks for fall, but it's also an amazing national park to visit in winter too. Winters tend to be cold, so bundle up, but you're more likely to have famous landmarks to yourself.
Arches National Park Itinerary Map
Before we dive into this epic one day in Arches National Park itinerary, get a lay of the land with this map highlighting the different attractions in Arches.
One Day in Arches National Park
Today is all about ticking off the big highlights in your Arches National Park itinerary.
You'll be focused on one thing. And that's you guessed it… arches!
We'll focus on some of the best hikes in Moab (if not the US) and the main things to see in the park in a way that will beat the crowds.
Even though there is a ton to see inside the park, it's a relatively small place, so you can cover a lot of ground on a weekend.
If you only have one day in Arches National Park, this is how to spend it:
Pro Tip: Crowds are relative. Some things will inevitably be crowded if you're looking to see the highlights in a day. But this Arches itinerary focuses on ensuring that the must-see Arches attractions are done in a way that maximizes on solitude!
Delicate Arch
Delicate Arch is the main thing to see in your Arches National Park itinerary. Hell, it's probably one of the most iconic US hikes considering it's pictured on its license plate!
It's an absolute must-see on your visit. So here's a little secret to avoid the waves of people: Visit it for sunrise.
We visited on Christmas Day for sunrise and had the entire place to ourselves. Even on a busier weekend, the crowds are thin for sunrise here.
Honestly, I don't know why. The colors were unbelievable, and the shadows are at a minimum. Not to mention, it's empty here – a rarity indeed.
Pro Tip: Delicate Arch is THE place to go for sunset. Photographers say this is the best time for photos – but you'll be in a literal line to get there.
I took stunning photos early in the morning and I didn't have to weave my way through other photographers to get the shot. So don't believe the hype, unless you don't care about big crowds.
Trail info:
Distance: 3.0 miles (round trip)
Time: 1.5 hours, plus 20 to 30 minutes at the arch
Difficulty: Easy to moderate
Landscape Arch to Devil's Garden
Landscape Arch is one of the top hikes in Arches National Park. In fact, Devil's Garden is home to many amazing hikes in Arches.
What makes it special, you ask? Well, it's the largest natural arch in the United States and the fifth in the world.
This arch is part of one of the most challenging hikes in Moab, Devil's Garden, but it's one of the first stops. After Landscape Arch, the trail gets rugged and scrambly.
You may want to grab have an early lunch here.
Pro Tip: Adding on Devil's Garden is an AWESOME adventure for the avid hiker. You'll be scrambling over rock and navigating in the sand. Come prepared with a GPX file, since the back end of Devil's Garden isn't well-marked.
Pro Tip: Landscape Arch is so thin – only 11 feet at its thinnest section. You can't walk up to the arch – it's fenced, but there are some amazing opportunities for photos – including some interesting Astro possibilities.
Distance between Delicate Arch to Devil's Garden Trailhead: 8 miles (15-20 minute drive)
Trail info:
Distance: 2.3 miles (round trip) with optional add-ons to other signed arches
Time: 1 -2 hours depending on the stops you take.
Difficulty: Easy
Pro Tip: Stop here for lunch! The views are lovely and you can pack a picnic to eat at one of the picnic tables. Vault toilets are also available.
Soak in the Views Along Arches Scenic Drive
Now you'll be making your way back towards the park entrance. Take your time cruising Arches Scenic Drive.
It's beautiful and there are plenty of awesome pullouts and small viewpoints along the way.
Take your time. Pullover where the scenery interests you. Scope out a quiet viewpoint.
The point is, there isn't a rush here, so kick back and enjoy the scenery.
Check Out the Views at Balanced Rock
Balanced Rock is one of the most renowned landmarks in Arches National Park that isn't actually an arch.
Despite its name, it's not very balanced at all or even a single rock. However, the shape of this hoodoo (rock tower) makes it look like an egg-shaped rock is balanced precariously on a point.
It's expected to come tumbling down as the landscape continues to transform. That said, now is the best time to visit it before it's gone, so make sure not to miss out.
It's actually located on the road before you get to Arches, so you'll definitely see it when you get here. To get a closer look, leave your car in the parking lot nearby and walk a short distance to reach it.
Distance between Devil's Garden Trailhead and Balanced Rock: 8.7 miles (15-20 minute drive)
Trail info:
Distance: 0.3 miles (round trip)
Time: 15 minutes
Difficulty: Easy
The Windows & Double Arch
Sunsets in Moab are something special. Most of the visitors will head to Delicate Arch to cross it off their Arches itinerary.
However, you're smart, you've already been there. Instead, we'll now focus on another trail where you're guaranteed to see fewer crowds.
Start out at Double Arch for yet-another red rock wonder. Marvel at this super-architectural arch. You can walk around it, behind it, all over (except on top – that's illegal throughout the park).
Pro Tip: If you're an astrophotographer or simply want to get a good shot of Arches at night, this is an ideal spot for that, so make sure you linger a while longer after sunset.
There is another side trail that leads to a different set of arches that are also interesting (Cove Arch and Cove of Caves).
Next, head out towards the Windows. This area is so amazing for sunset. Typically, there are crowds galore, and you'll likely still see a fair amount of people here.
But you'll have far fewer people and lots of space to spread out. It's easy to find your own cozy spot to watch the sunset.
Even though the Windows hike is pretty short, it's still amazing!
There is a ton for you to see along the way, including three spectacular arches: The North Window (great photo ops here), the South Window, and Turret Arch.
Pro Tip: Pack a blanket and some snacks. Just relax and watch the sun go down on a picture-perfect day.
Trail info:
Distance: 1.8 miles (round trip for both the Windows and Double Arch)
Time: 1 to 2 hours if you're lingering for a sunset.
Difficulty: Easy
Distance between Balanced Rock and Windows Trailhead: 2.6 miles (5-10 minute drive)
Got extra time? Check out These Attractions:
This Arches National Park itinerary is designed to let you explore at a leisurely pace. But I know some people visit things more quickly than others.
If you find yourself with spare time and you have just one day in Arches, check out highlights from Day 2 of this post.
Here for a full weekend in Arches? If you've got an America the Beautiful Pass, head outside the park and check out Dead Horse Point State Park, Corona Arch, or Gemini Bridges. Then pop back in for sunset.
Don't have a pass? See "Day 2 Extra Attractions" below for more ideas.
Weekend in Arches National Park: Day 2
After hitting all the main highlights during day one, it's time to spend another day hiking to see some of the lesser-known, but equally incredible arches and spots to complete a perfect weekend in Arches National Park.
Catch The Sunrise at La Sal Mountains Viewpoint
For a seriously epic sunrise, head to La Sal Mountains Viewpoint located a short distance inside Arches. You'll get an exclusive view of the red rock landscape backdropped by the captivating La Sal Mountains in the distance.
Trail info:
Distance: 0.1 miles
Time: 10 minutes
Difficulty: Easy
Park Avenue To Courthouse Towers
At this point, you might feel a bit jaded with all the arches you've seen. Arch fatigue? Is that a thing? Maybe…
Anyway, it's time to do something slightly different and focus on other rock formations.
The Courthouse Towers viewpoint overlooks a set of stone columns that tower over the desert. This is one of the most scenic vistas in Arches National Park that many don't get to see.
To get there, you must follow a short trail that will take you through some other interesting red rock canyons along the way.
Distance between La Sal Mountains Viewpoint and Park Avenue Trailhead: 0.6 miles (less than 5-minute drive)
Trail info:
Distance: 2 miles (round trip)
Time: 1+ hours
Difficulty: Easy
Do a Loop to Hit Three Arches in One Go
Next, go on a short-ish hike where you'll get to see three of the less popular arches in the park: Sand Dune Arch, Broken Arch, and Tapestry Arch.
Start at the Sand Dune Arch parking lot on the Scenic Drive Road and hike your way to Sand Dune Arch.
From there, make your way to Broken Arch and continue to Tapestry Arch which is hidden in the Devils Garden Campground. From here, you'll loop back to your starting point.
Pro Tip: Devils Garden Campground is a lovely spot for a picnic.
Distance between Park Avenue Trailhead and Sand Dune Trailhead: 13.7 miles (20 – 30 minute drive)
Trail info:
Distance: 2.7 miles (loop)
Time: 1 -2 hours depending on how long you stay at each arch.
Difficulty: Easy to moderate
Skyline Arch
This is one of the shortest hikes in Moab and one you can definitely squeeze into your jam-packed Arches itinerary.
The trail is flat and only 0.4 miles long, which means you can easily do it in less than fifteen minutes from the car park on Scenic Drive Road.
Distance between Sand Dune Trailhead and Skyline Arch: 0.8 miles (less than 5-minute drive)
Trail info:
Distance: 0.4 miles (round trip)
Time: 15 minutes
Difficulty: Easy
Optional Extras for Day 2
If you're feeling up to even more adventure, here are a few things to do to complete your itinerary!
Fiery Furnace
Even though I'd love to include Fiery Furnace as a must on this Arches itinerary, I decided to leave it as an optional activity because it's not always open to the public.
Not to mention it's a difficult, scrambly, and sometimes confusing adventure that requires a little navigation know-how to do without a ranger guide.
First, you need a permit to make it happen. It's best to reserver your permits in advance, but you can sometimes snag them day-of.
If you're able to make it, though, make sure to visit. Fiery Furnace is an Arches highlight and an exciting adventure.
Along the way, you'll be hiking and crawling through a sandstone labyrinth, cross towering walls, squeeze through rock cracks, and scramble your way through rock formations.
Note that this is usually a ranger-led hike (reservable in advance), although sometimes it's possible to go on your own if there are day-use permits available.
Note: At the time of this post, the Fiery Furnace is closed until further notice.
Distance between Skyline Arch and Fiery Furnace: 2.9 miles (5 – 10 minute drive)
Trail info:
Distance: 2.3 miles (loop)
Time: 3 hours
Difficulty: Moderate – Strenuous
Dead Horse Point State Park
Dead Horse State Park is another wonderful park to visit in Moab that is often outshined by its neighbor. Regardless, it's worth a visit to spend a few hours in a place that barely sees any crowds.
Not only does it offer some of the best canyon views in Utah, but it also provides excellent hiking trails for beginners as well as other fun activities like mountain biking.
Distance from Arches National Park: 29 miles (40-minute drive)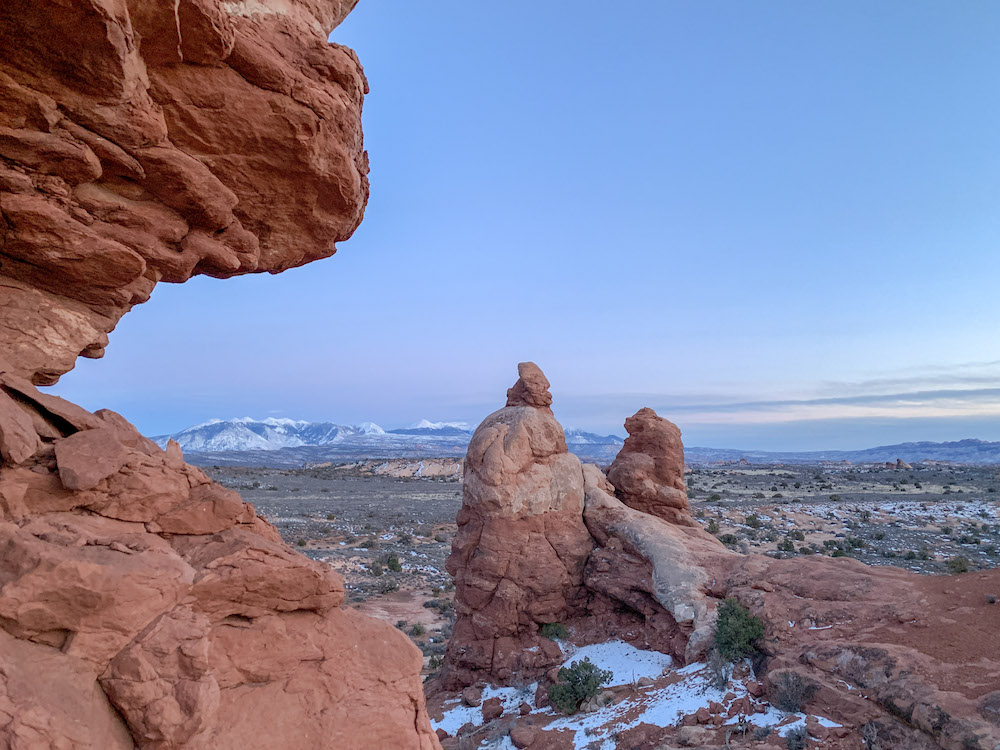 Island in the Sky in Canyonlands National Park
If you still have some energy left after hiking and can't get enough of seeing arches, then the Island in the Sky District is another great option to finish off your Moab itinerary.
Think short hikes to see sprawling vistas gawk at canyons (Mesa Arch and Grand View Point can't be missed), and experience another unforgettable sunset with some of the best views Moab has to offer.
Distance from Arches National Park: 14.4 miles (25-minute drive)
Where to Stay in Arches
The only place to stay inside of Arches National Park is Devil's Garden Campground. You'll absolutely need to reserve your spot 6 months in advance if you want a fighting chance of snagging a campsite.
This place is always bumping, even during the winter months.
Given that Moab is literally a 15-minute drive, most people opt to stay in Moab to explore Arches. Of course, there are plenty of options for camping near Moab.
Tips For Visiting Arches National Park
There are no restaurants within the park, so for lunch, you have to either drive to Moab or better yet, bring your food along! Pack in everything you'll need – including water and bring a small baggie so you can put trash in it.
Trash bins are at every trailhead – don't be shy and use them.
Hotels and lodging don't exist in the park Arches National Park. Most visitors stay in nearby Moab, which is just 15 minutes away.
There is, however, the option to camp at Devils Garden Campground. Reserve in advance from spring to fall, although they do accept walk-ins if there's space available (super-rare, arrive early).
Some hikes are partially shaded, but many aren't, so pack lots of sunscreen, a sun hat, and even a sun shirt.
Spring and fall are good times to visit weather-wise but do expect some crowds. Winter in Arches is a very charming time to be in the park as the weather is generally manageable and you're bound to get a more secluded experience.
Summers get super hot, so avoid visiting at this time of the year if possible.
Additional Moab Travel Resources
Planning a trip to Arches and Moab? Get more expert guides so you can travel like a local, not a tourist.
PIN THIS POST